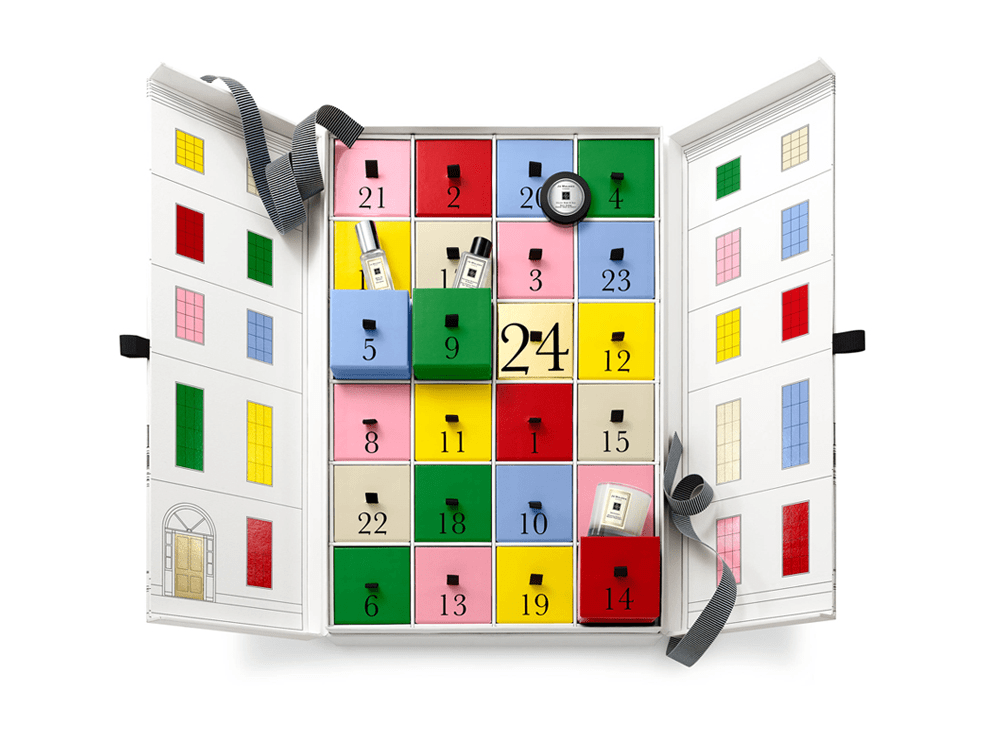 The 2017 Jo Malone Beauty Advent Calendar is available now for the US directly from Jo Malone. The price for this calendar is $450, £300 in the UK
Bold. Bright. Bursting with festive surprises. Colourful doors, Colognes, Candles and more. The perfect gift for them, an indulgent treat for you.
Here's everything in the 2017 Jo Malone Beauty Advent Calendar!
Sweet Almond & Macaroon Miniature Candle 35g
Orange Blossom Cologne 9ml
154 Body Wash 15ml
Orris& Sandalwood Cologne Intense 9ml
Basil & Neroli Cologne 9ml
Red Roses Bath Oil 15ml
Amber & Lavender Cologne 9ml
Tuberose Angelica Cologne Intense 9ml
Nectarine Blossom & Honey Body Wash 15ml
Black Cedarwood& Juniper Cologne 9ml
Dark Amber & Ginger Lily Cologne Intense 9ml
Wood Sage & Sea Salt Body Crème 50ml
Lime Basil & Mandarin Cologne 9ml
Grapefruit Miniature Candle 35g
Oud & Bergamot Cologne Intense 9ml
Peony & Blush Suede Cologne 9ml
Blackberry & Bay Bath Oil 15ml
Earl Grey & Cucumber Cologne 9ml
Pomegranate Noir Cologne 9ml
Velvet Rose & Oud Body Crème 15ml
English Pear &Freesia Cologne 9ml
Green Tomato Leaf Miniature Candle 35g
Myrrh Cologne Intense 9ml
Geranium & Walnut Body Scrub 50g
FYI, when you check out at Jo Malone, you'll get free shipping and 3 free samples with your order. For $450 – you'd better! Let me know if you're indulging this year!
Looking for even more advent calendars? See all the Beauty Advent Calendars or check out all our posts on Advent Calendars or check out the very best Beauty Advent Calendars!