Goddess Provisions is a monthly vegan lifestyle box with tools to nourish your inner goddess and grow your spiritual practice. For 33$ per month, you'll receive a mix of 4 to 6 full size products including tea, crystals, aromatherapy, apothecary beauty, super food snacks, and tools for spiritual growth. Everything is cruelty-free and always vegan! You can always skip a month if you want.
If you want a monthly surprise, be aware that they sometimes post full spoilers on their social media before shipment.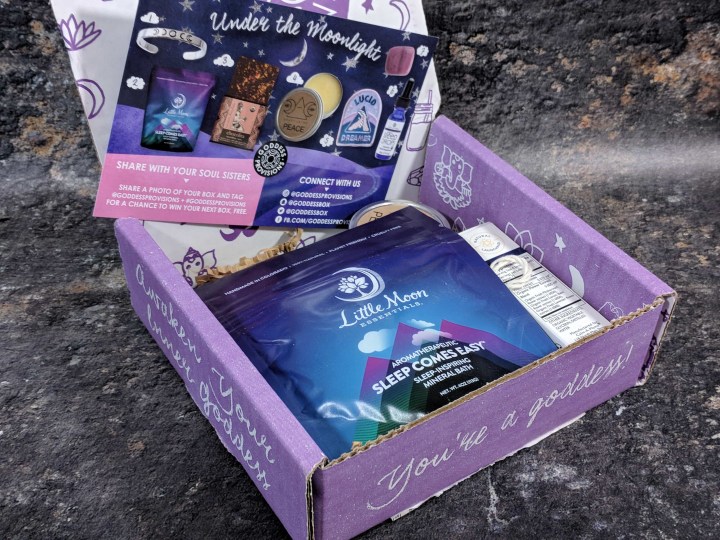 Everything is neatly packed in the cute little purple box.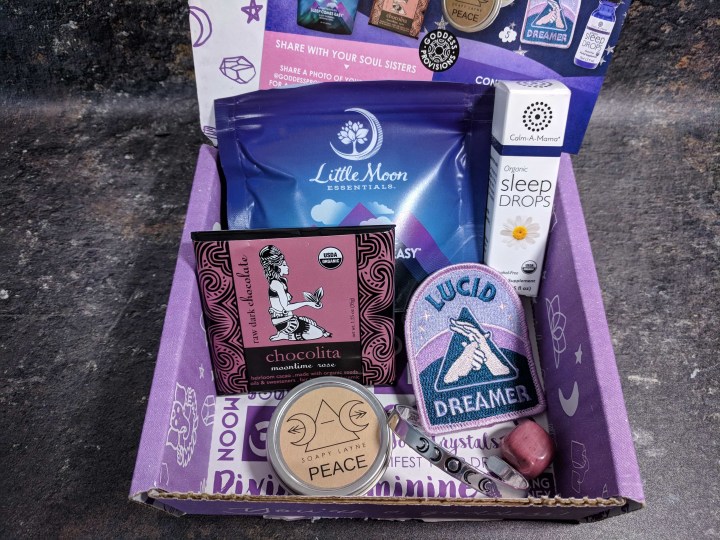 Everything in the box! Chocolate! Bath Salt! Jewelry!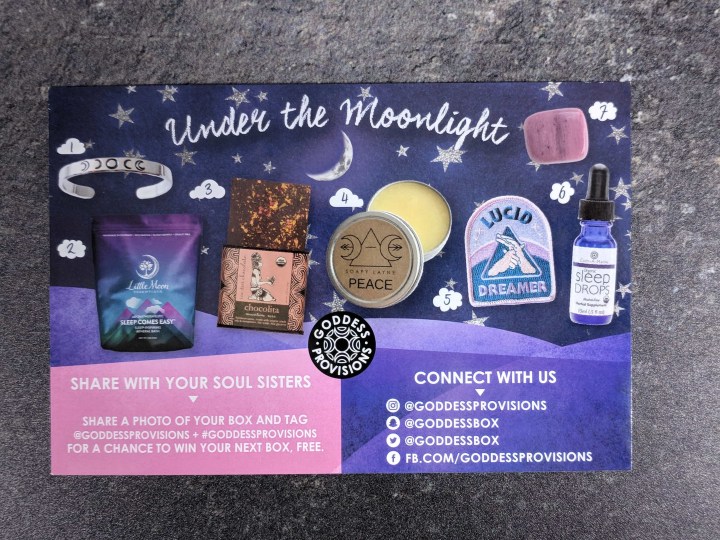 This month's theme is Under the Moonlight and brings you items to Dream On!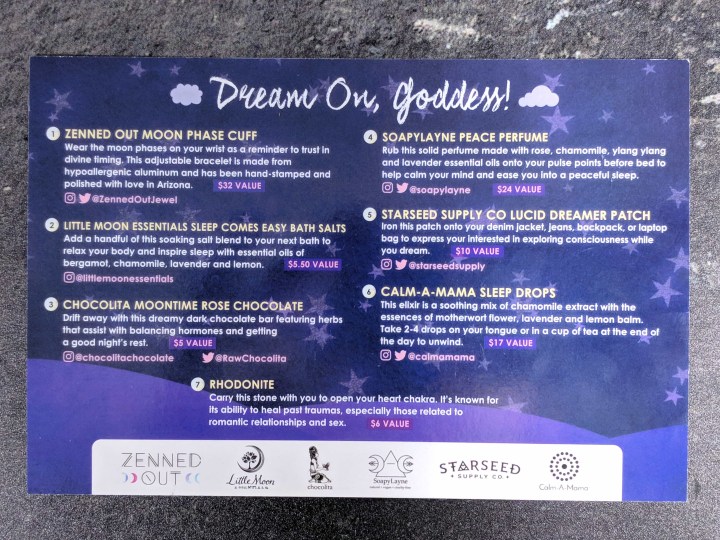 The card gives a link to all the artisans, which is awesome if you want more of a favorite!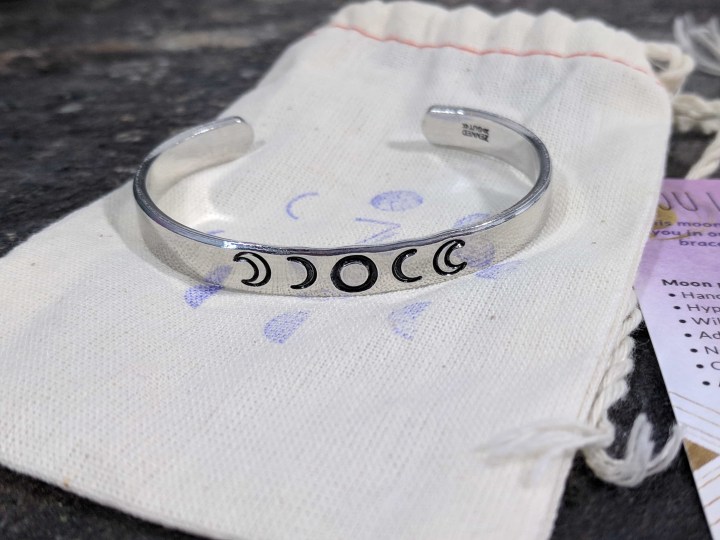 Zenned Out Moon Phase Cuff. Made with hypoallergenic aluminum and hand-stamped, this lovely bracelet will show your love for the moon! It is lovely, easy to wear (it is so light that you barely feel it). It is a rather small cuff, and not everyone will find it comfortable to wear, but it's easy to bend it the way you want (aluminum is very flexible). I have small wrist, so this bracelet fits perfectly without trying.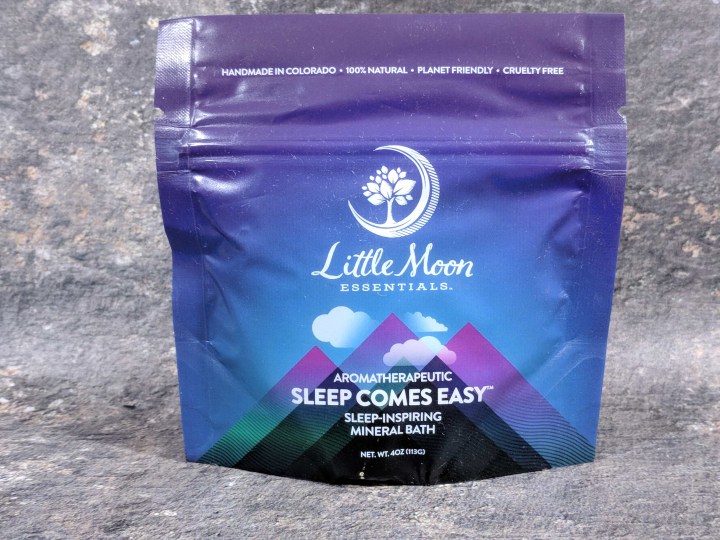 Little Moon Essentials Sleep Comes Easy Bath Salts. I love bath salts! This one is made with Epson salt and Sea salt.
These ones are made with essential oils of bergamot, chamomille, lavender and lemon. It definitely smells like lavender, but I can live with it as the mix with the bergamot gives is a more woody scent while the lemon brightens it up! I really love the combination.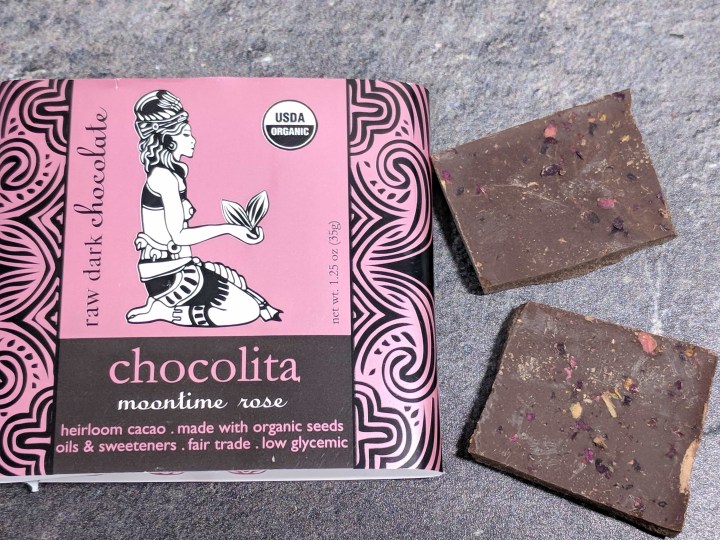 Chocolita Moontime Rose Chocolate. Raw chocolate made with pink rose petals, vitex berries, vanilla, cramp bark, valerian and maca. It is sweetened with coconut sugar, this bar was designed to help balancing hormonees and getting a good night sleep. I was a good chocolate, but I didn't really tasted the rose petals. For me, this was a chocolate to enjoy one piece at a time, not the whole package!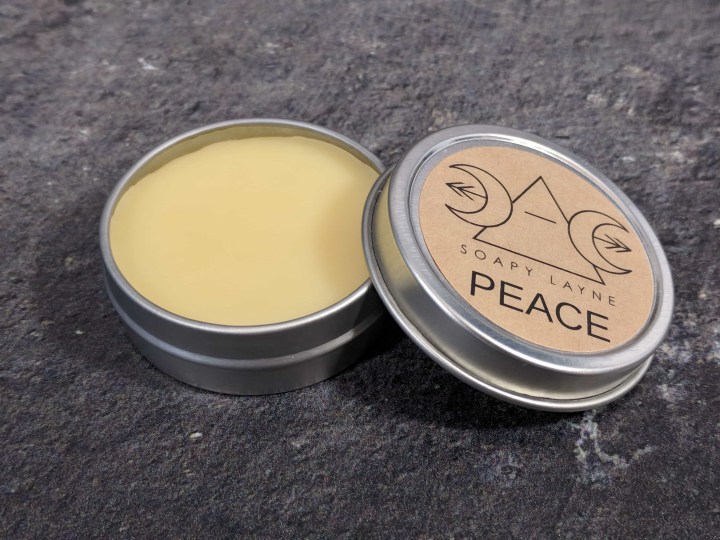 Soapylayne Peace Perfume. I've never tried a solid perfume before, and I'm impressed! The tin is big enough to easily rub the thumb on the perfume and the smell was to die for! It has rose, chamomile, ylang ylang and lavender essential oils, all of which are known to help relax. I don't care for lavender, but it wasn't overpowering and the rose and ylang ylang were the main notes to me. To me, it was more a comforting scent than a relaxing one, so I could see myself using it on my pulse point whenever I need a calm pick me up.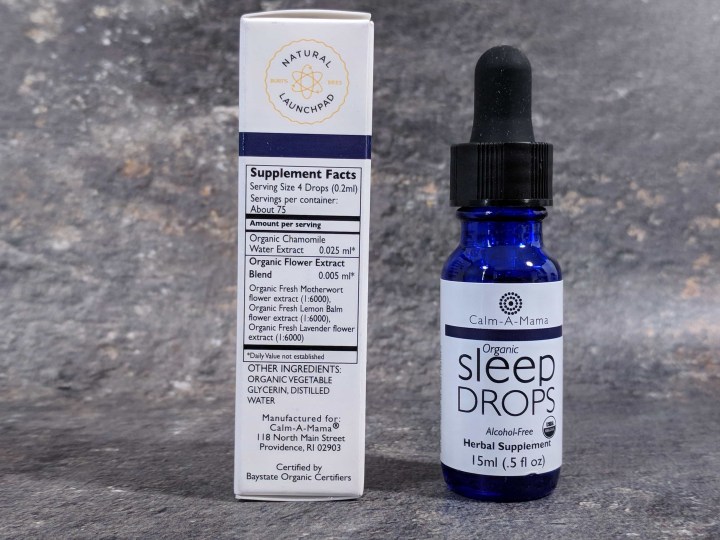 Calm-A-Mama Sleep Drops. A mix of chamomile extract with essences of motherwort flower, lavender and lemon balm. You can take 2-4 drops on your tongue or in a cup of tea to unwind. I was actually surprised of how sweet it tasted! It was like intense chamomile flavor for a second, then the sweetness hit me! It has Organic Vegetable Glycerin, so if you take it directly on your tongue, you'll feel an oil film that helps the taste to last longer. I really like it! I don't know if it works, but I like my chamomile tea before bed, so I don't see why this product wouldn't give me the same calm feeling!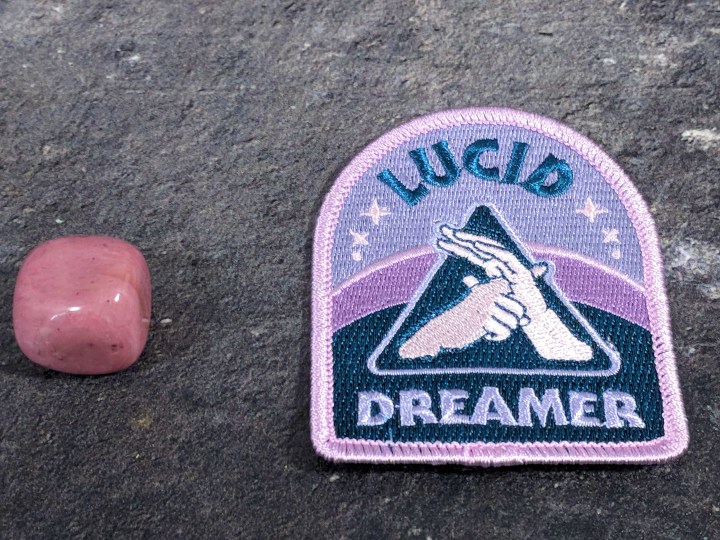 Starseed Supply Co Lucid Dreamer Patch. This is cute patch, I really love the color scheme. I'm a huge fan of lucid dreaming, it's a fun way to explore my creativity. You can iron or hot glue it on jeans, backpack or any other heavy fabric you want.
Rhodonite. As much as I'd like to say that what I received is a Rhodonite, I have a feeling that I received a Rhodocrosite instead. Rhodonite usually are pink with brown or dark veins, while Rhodocrosite are pink with reddish-brown and grey sections. The description given with this stone is also closer to what would be a Rhodocrosite. Both stones are pretty awesome! Rhodonite is associated to the heart and the root chakras, and is the stone of self-worth, where one discovers his or her true purpose and talents. Rhodocrosite is associated to the heart and the solar plexus chakras, and helps healing from past wounds.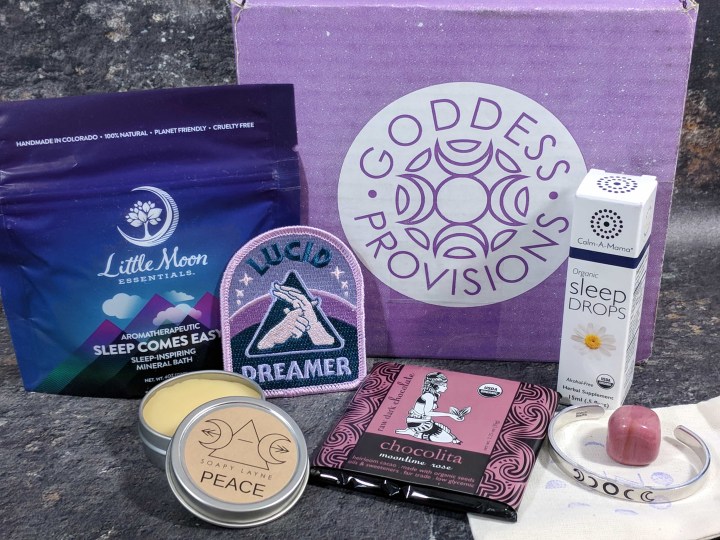 This was my first Goddess Provisions and it was such a great box to discover! I loved everything in it, and the theme flow perfectly from one item to the other one. It wasn't too heavy on the metaphysical, just enough to give it that fun vibe. This is a box that you don't need to believe in crystals to appreciate! It's a box to take a moment to ourselves and enjoy doing something good to our mind and body!
What did you think of October's Goddess Provisions?