Geek Chic Monthly is a monthly geeky fandom jewelry subscription box to satisfy your geeky bling craving! Each month features a theme and you are sent 4-6 jewelry items for $15 per month.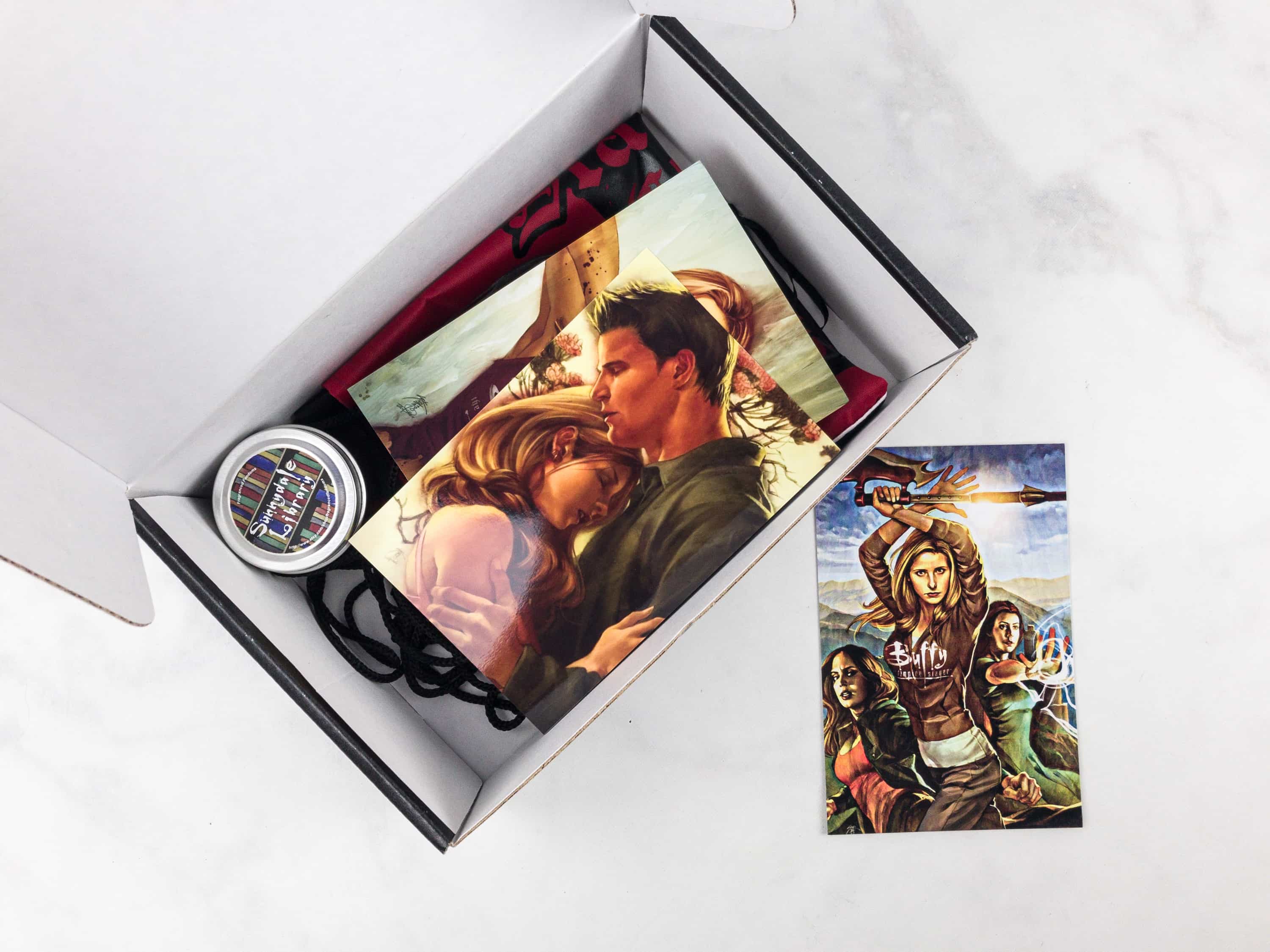 This is a review of the Geek Chic Monthly Limited Edition Buffy the Vampire Slayer box! This box is no longer available. It was $33 + $6 shipping.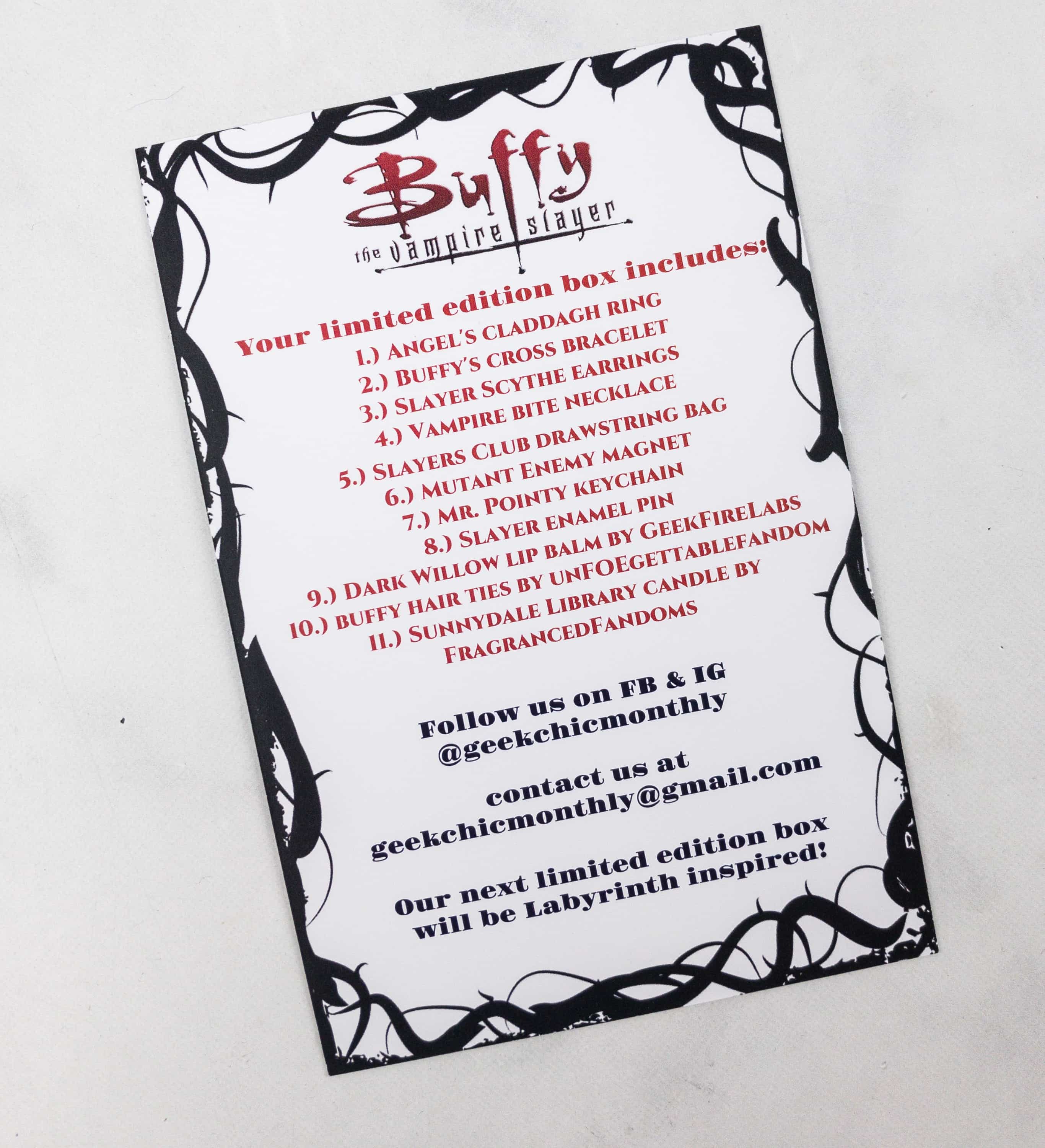 The information card is simple. It gives you a list of all the item names, plus Geek Chic Monthly's social media accounts.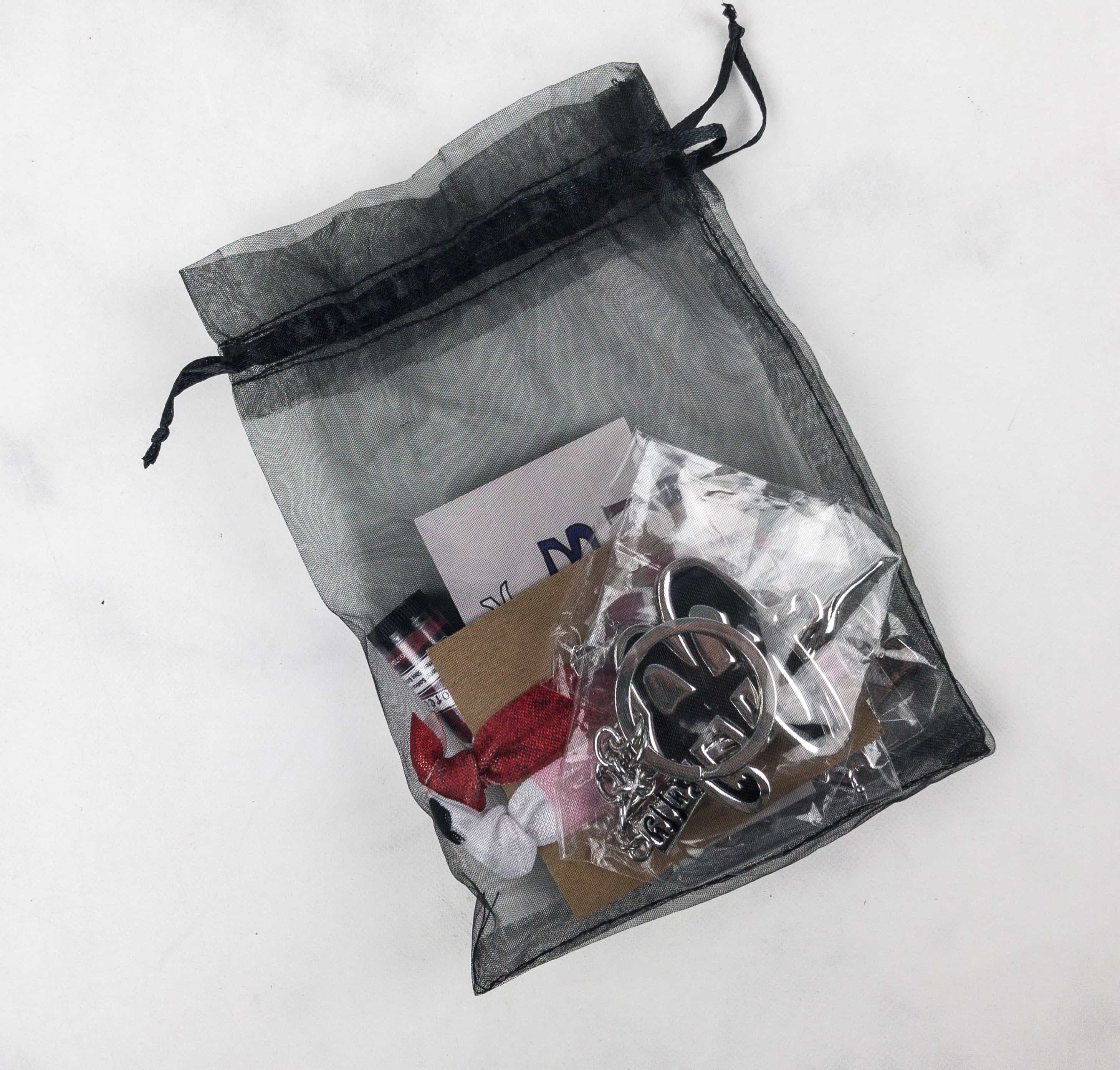 All the jewelry is secured in a black organza pouch.
Everything in the Buffy Geek Chic Monthly Limited Edition Box!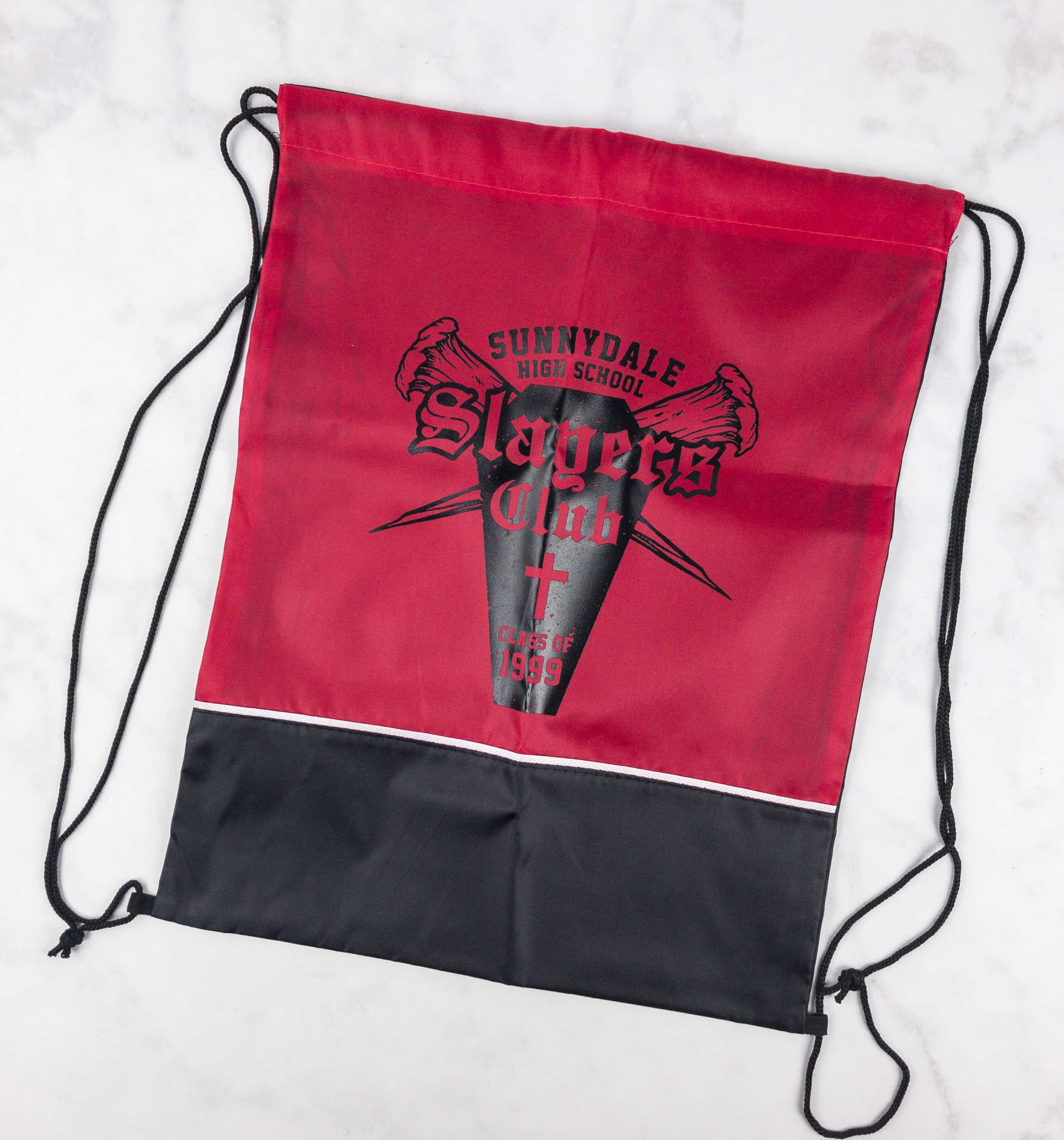 Slayers Club Drawstring Bag – Buffy is not your typical girl-next-door. She is a slayer, bound to fight vampires, and other evil entities. This drawstring bag looks great and I am sure to use it. This is a certified proof that I am a member of Sunnydale's Slayers Club!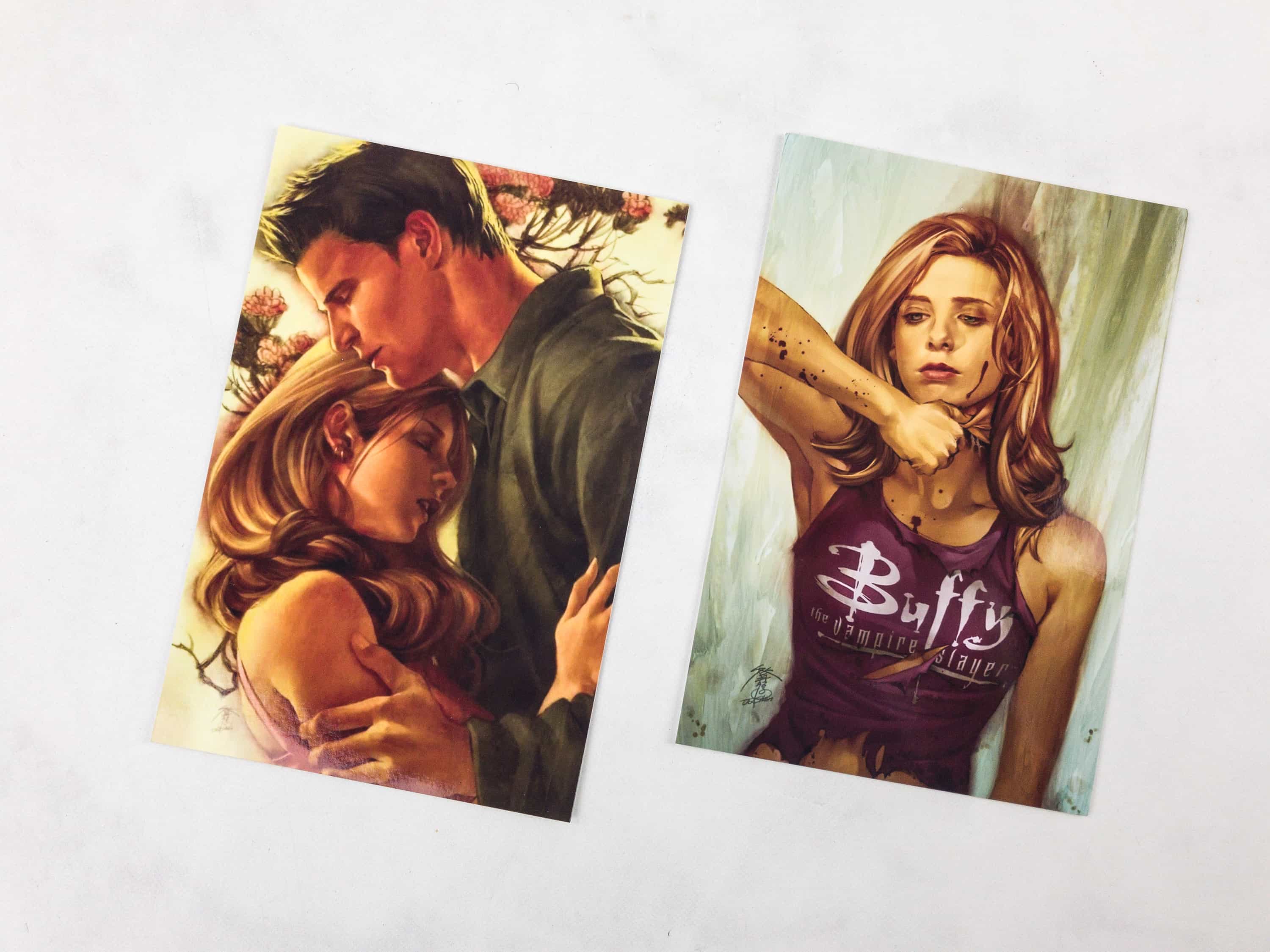 Buffy The Vampire Slayer Art Prints – Sarah Michelle Gellar played the character of Buffy and I can say, she's given justice to the role. These art prints show why she's perfect for the role. And there's Angel! <3 <3 <3
In case you didn't know – SMG has her own subscription now – it's Foodstirs!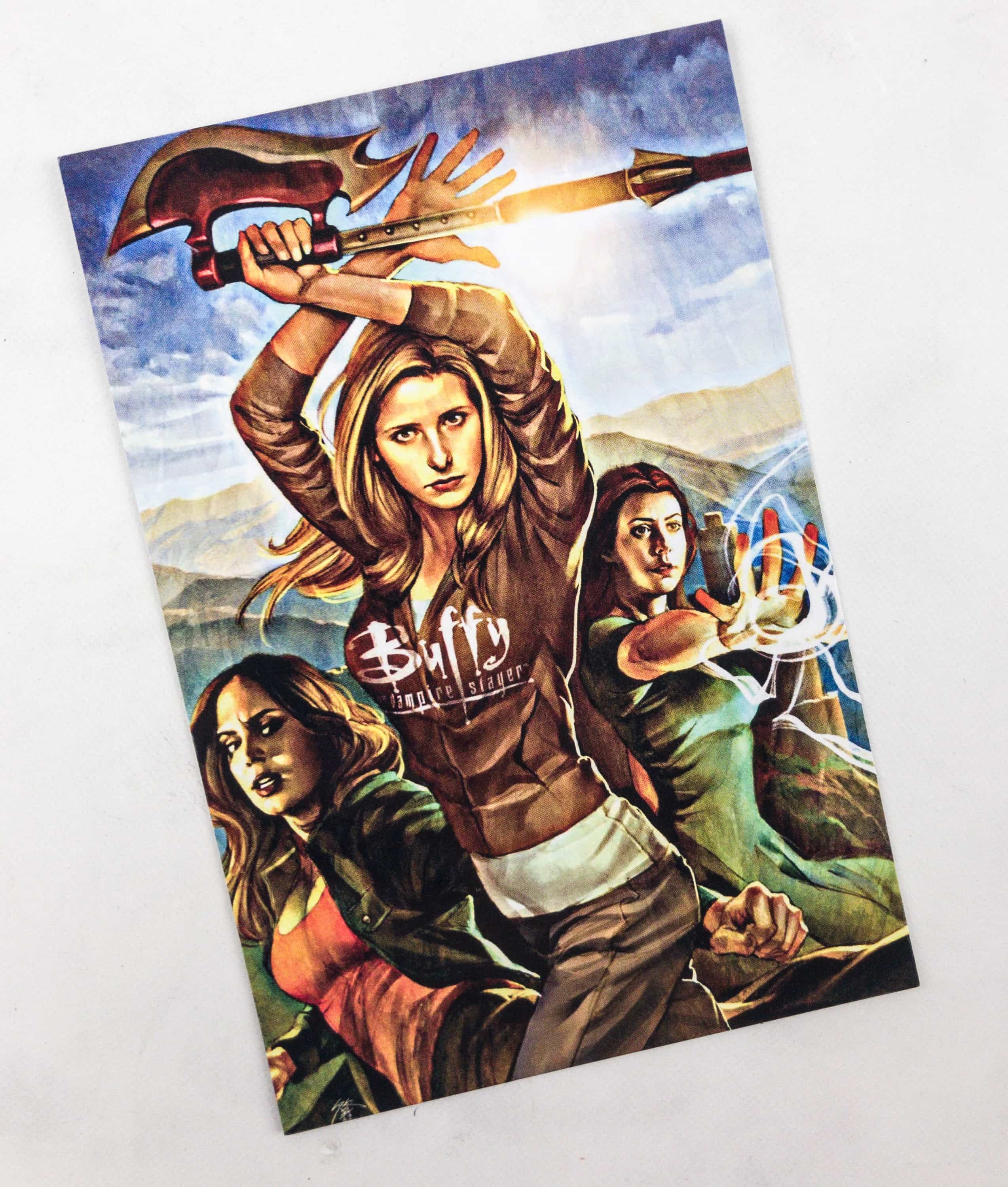 Buffy The Vampire Slayer Art Print – Unlike Buffy's predecessors, she had developed a team to help her on her mission. We got Willow and Faith here.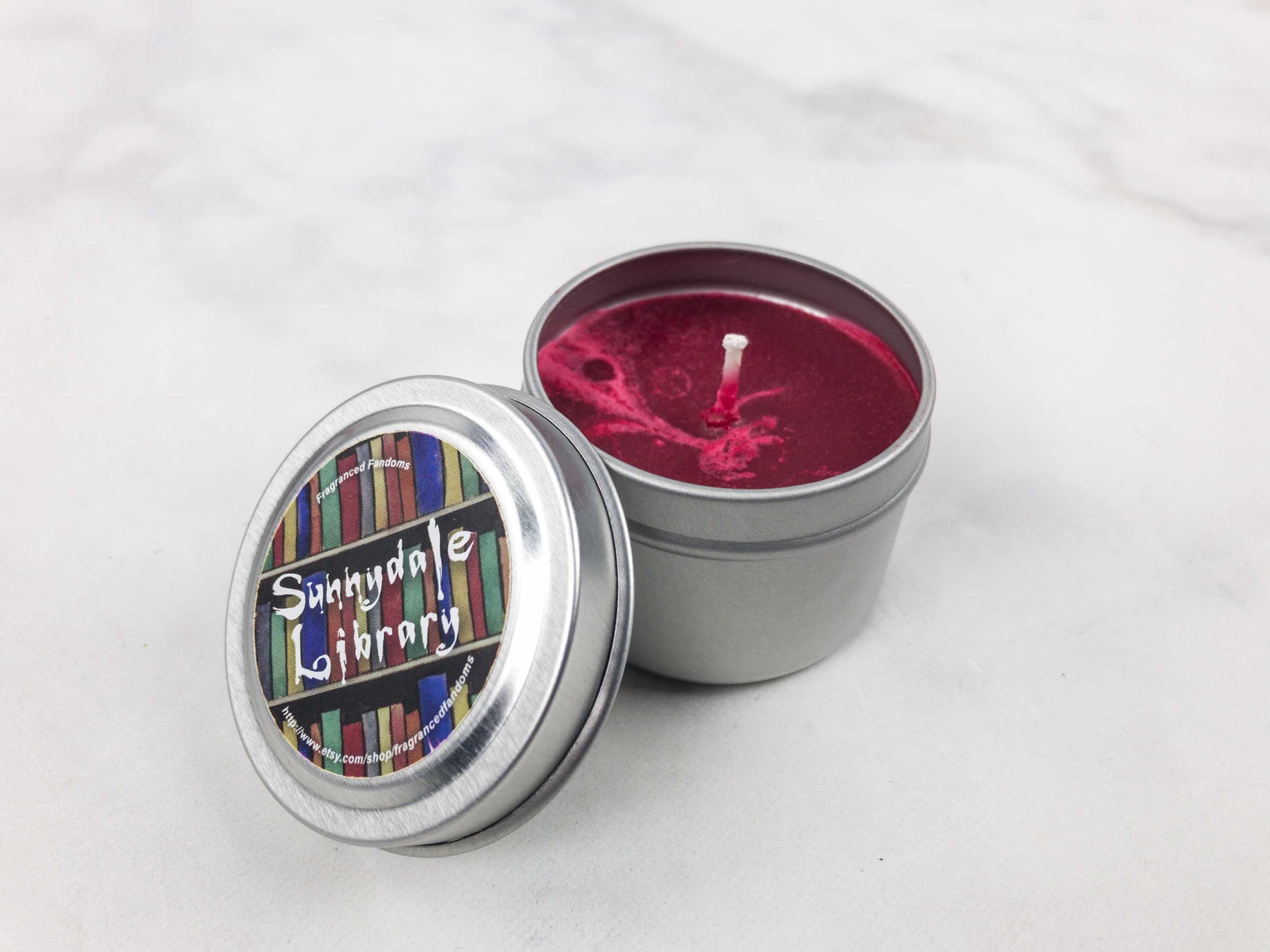 Fragranced Fandoms Sunnydale Library Candle – This candle is nostalgic, I can imagine how Buffy and friends meet on the library not just to hang out, but to plan on their missions ahead! Smells a little like hellfire, a little like the library.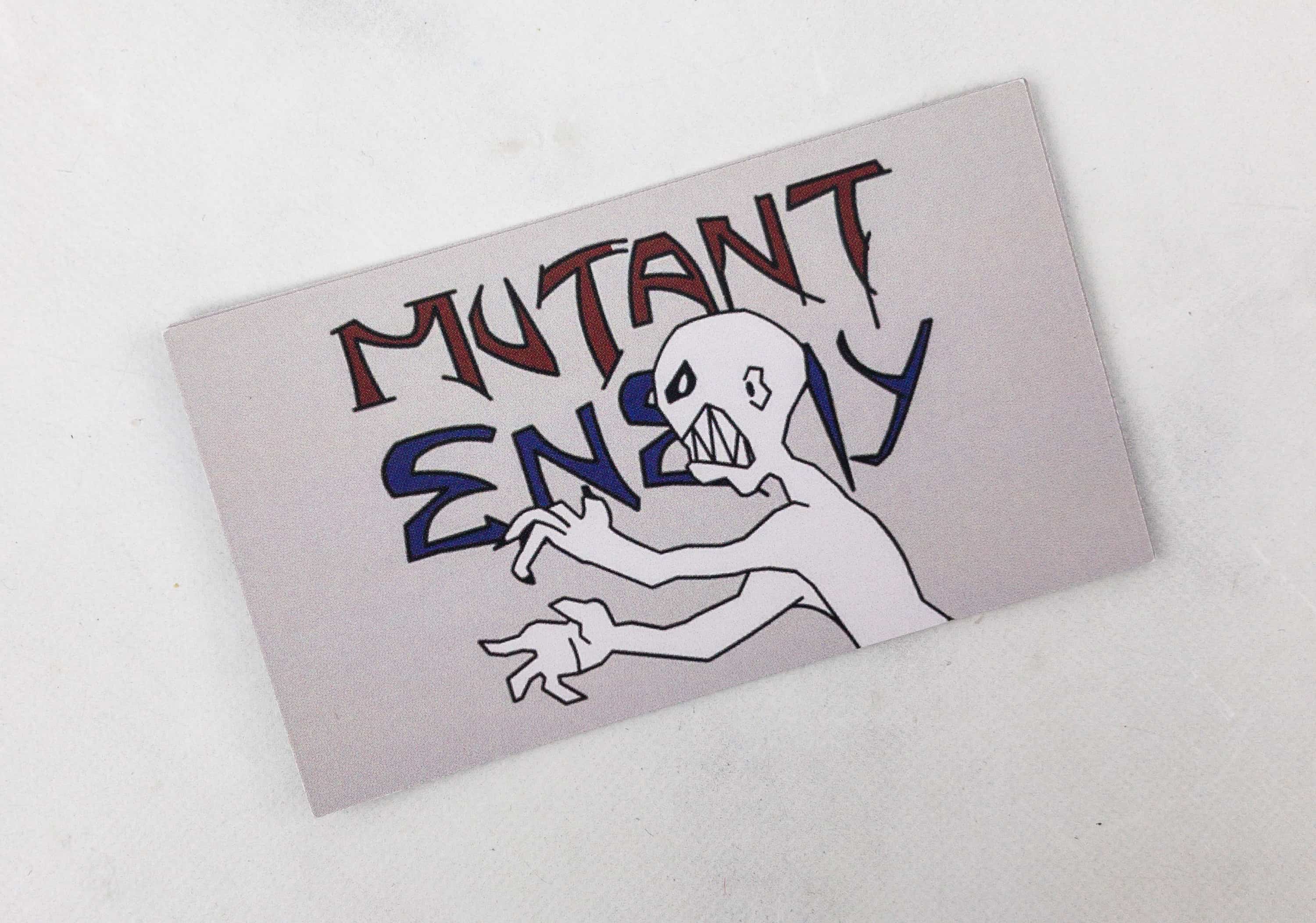 Mutant Enemy Magnet – I still don't know if this is a vampire, a monster or an alien but I'll still use it on my refrigerator to hold my bills. Grr argh!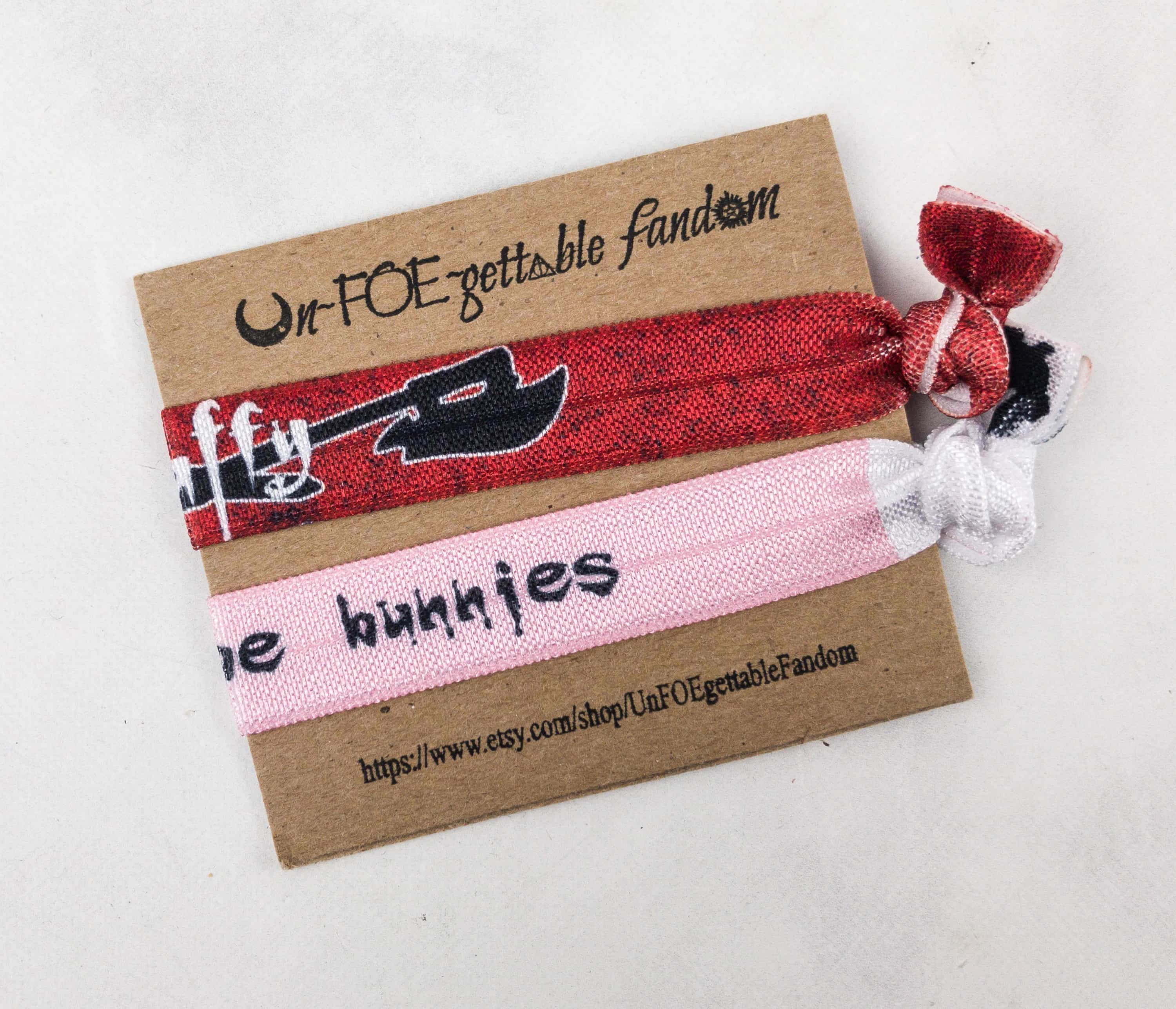 UnFOEgettable Fandom Buffy Hair Ties – When in combat, you need to tie your hair! Use these cool Buffy hair ties and keep your hair fixed even after a fight.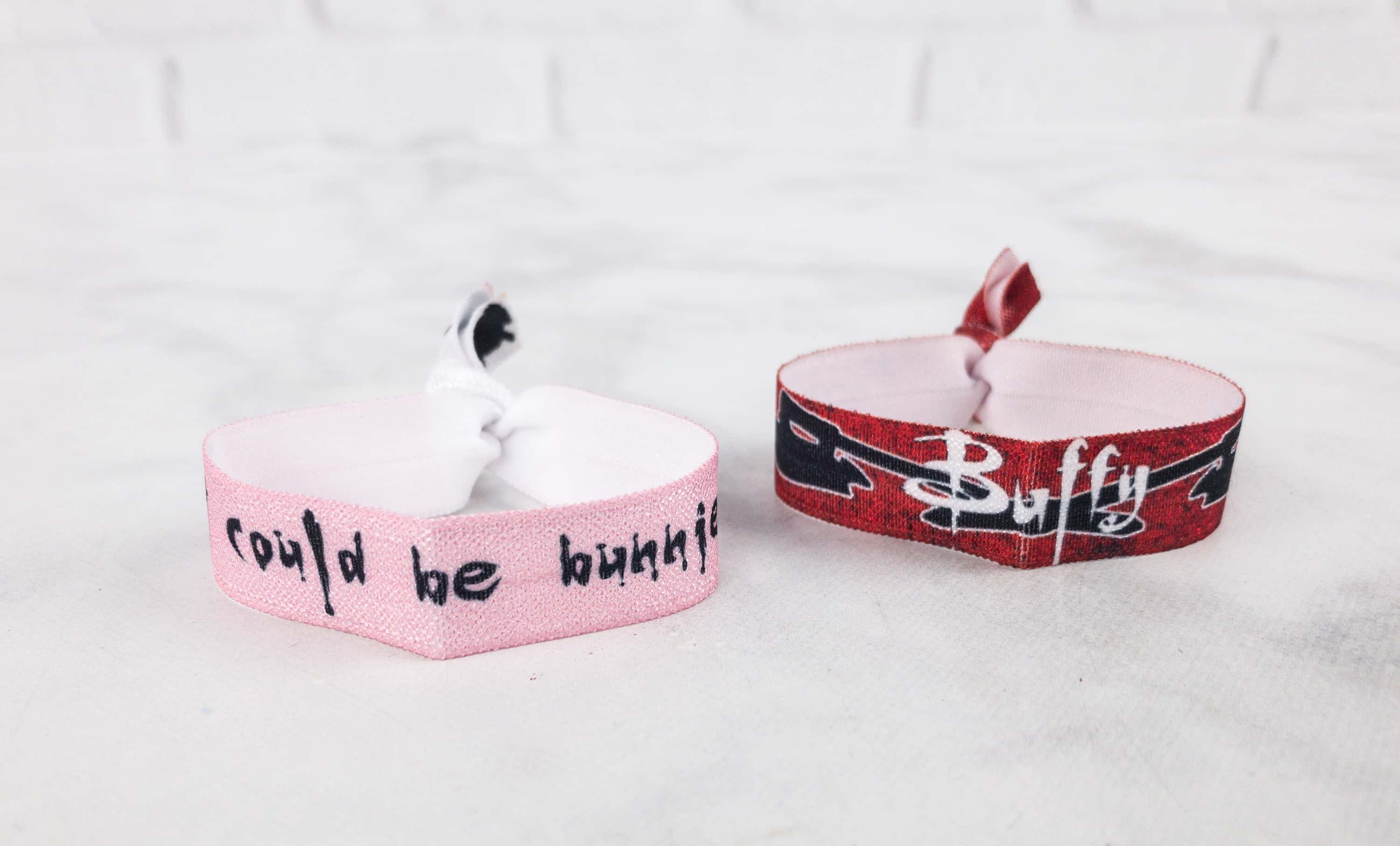 We got two, a red 'Buffy' tie and a pink 'It could bunnies' tie (from Anya).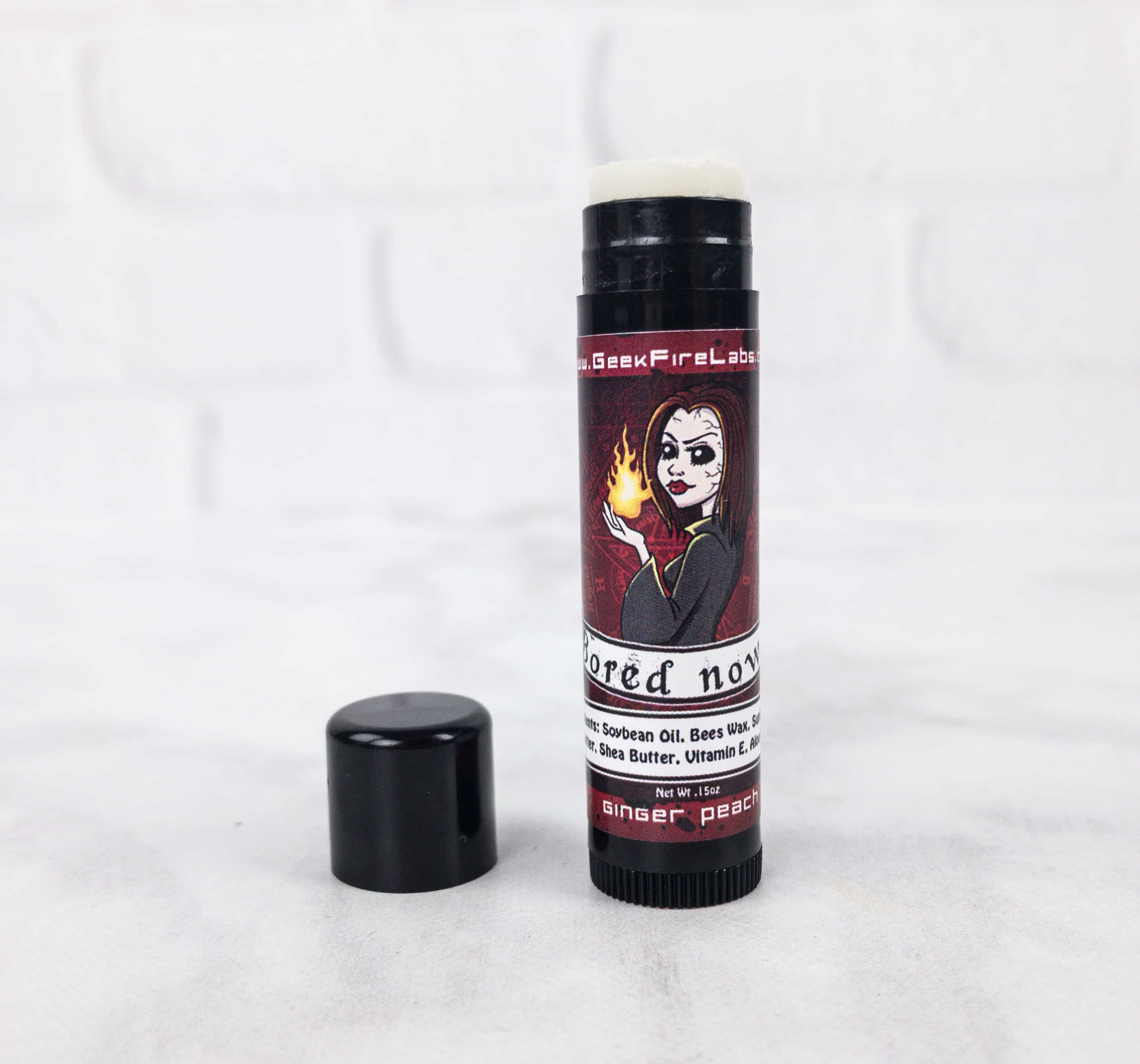 Geek Fire Labs Dark Willow Lip Balm – Bored Now! In a ginger peach flavor. This made me laugh, it's perfect!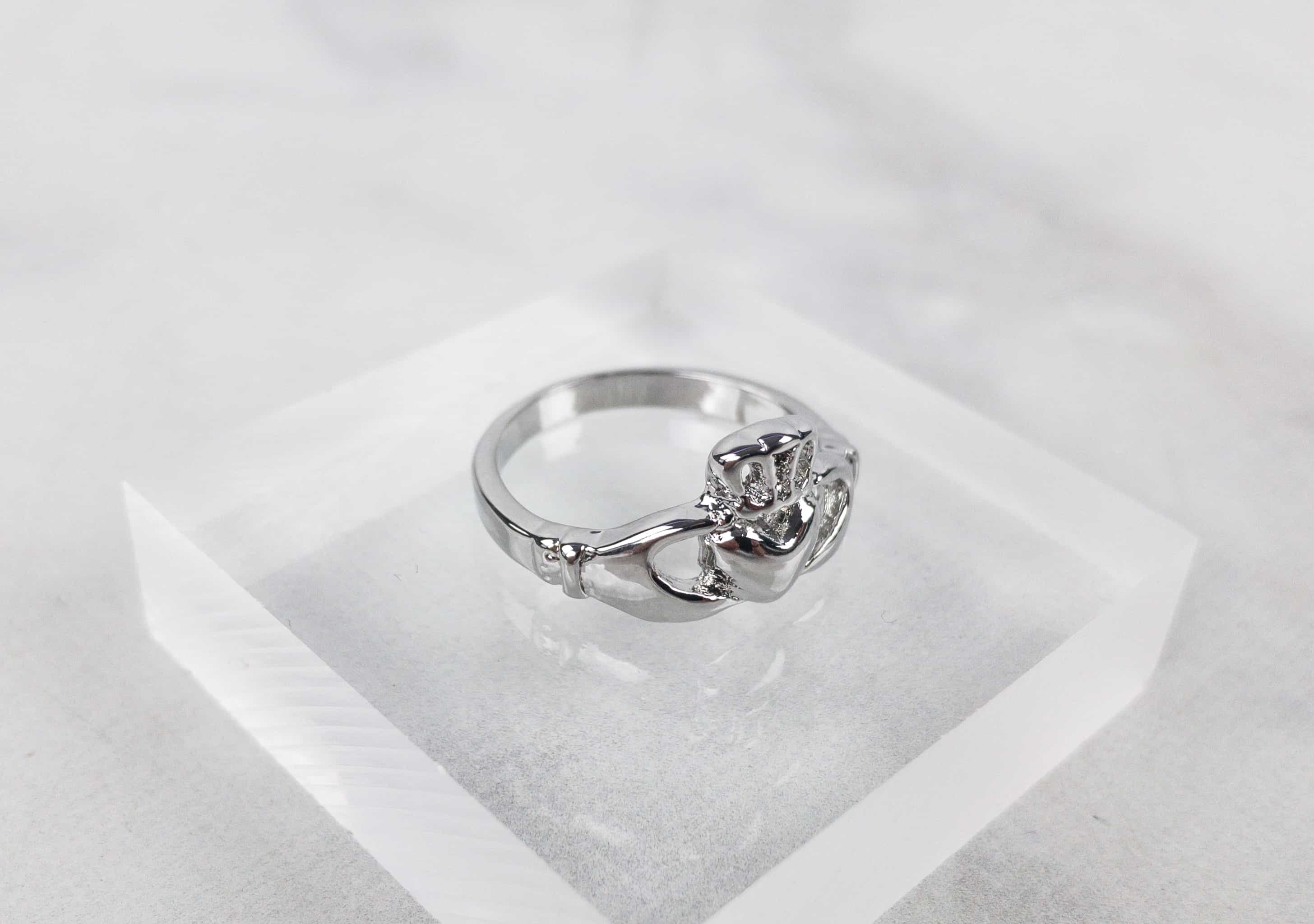 Angel's Claddagh Ring – It's a replica of Angel's birthday gift to Buffy!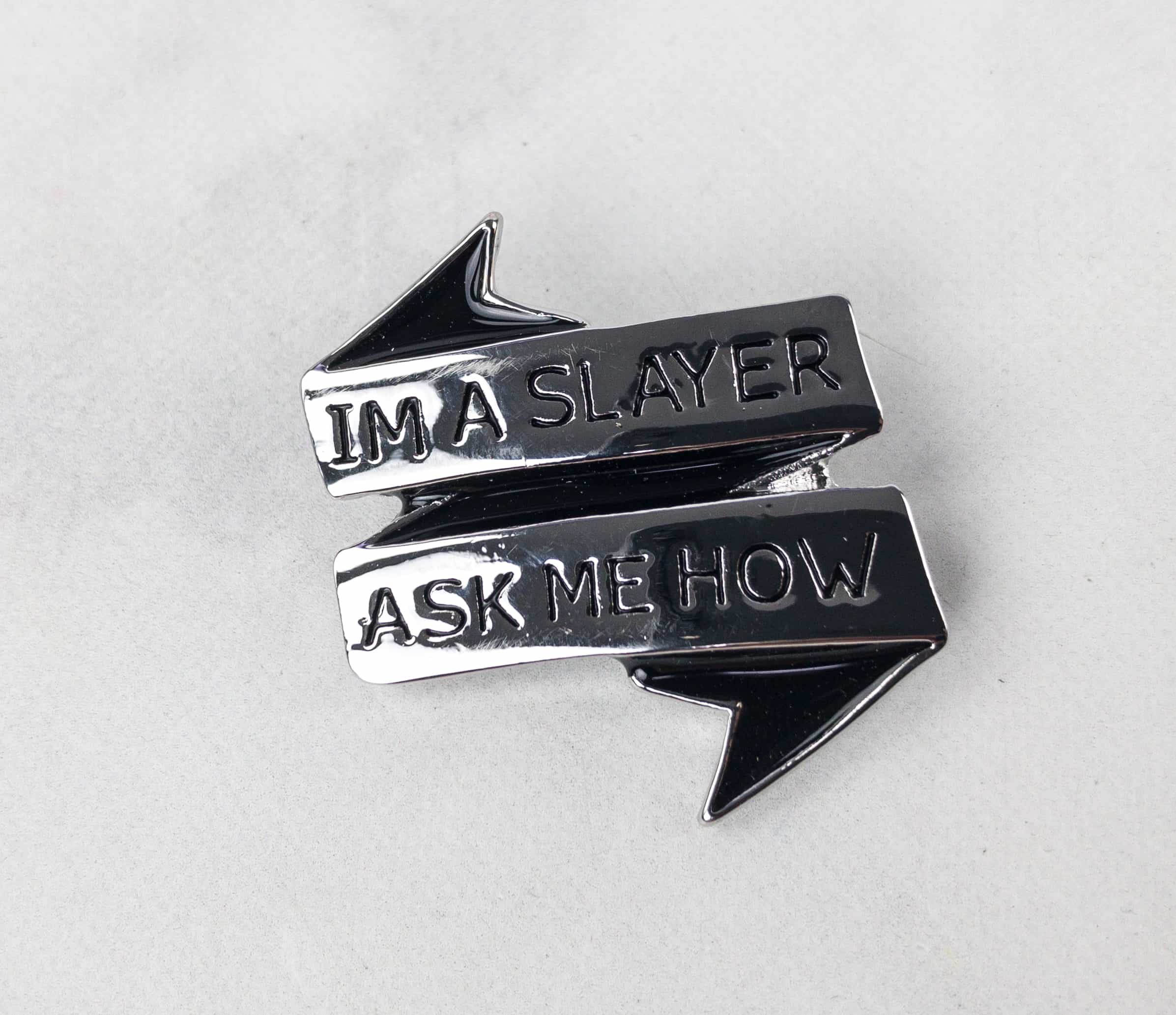 Slayer Pin
Giles: If your identity as a slayer is revealed, it could put you and all those around you in grave danger.

Buffy: Well, in that case, I won't wear my button that says 'I'm a Slayer – Ask Me How.'
Mr. Pointy Keychain – I'll never lose my keys again. This key chain looks cool with the B!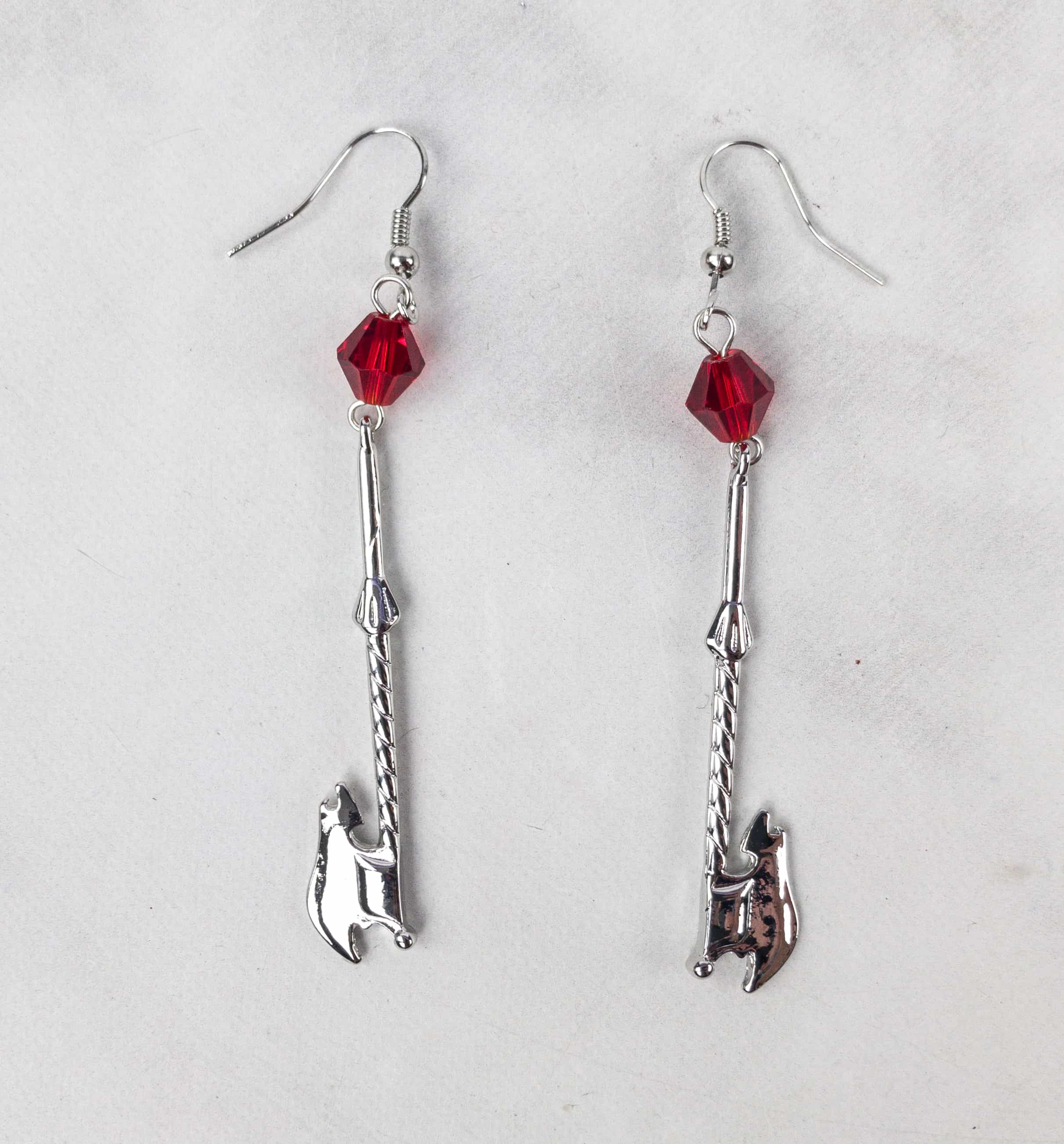 Slayer Scythe Earrings – I wish I could transform these scythes to real ones when I need them.
Buffy's Cross Bracelet – Vampires have no chance on this one, look at the cross!
Vampire Bite Necklace – This completes the Buffy fashion statement.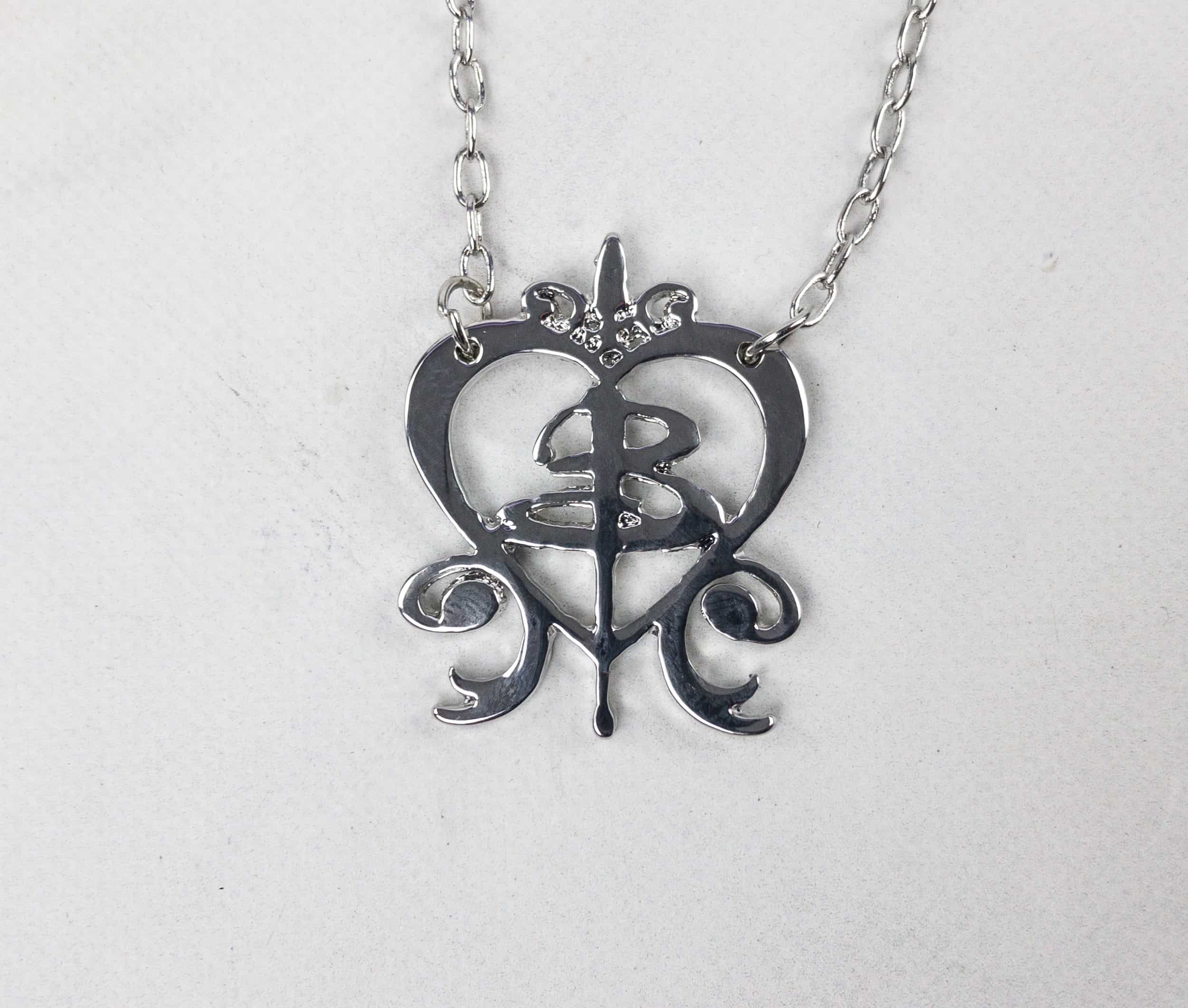 "The hardest thing in this world is to live in it. Be brave. Live." – Buffy
This limited edition Buffy the Vampire Slayer box is not just girly – it looks like anyone will be ready to fight evil in style with everything that's included in the box. If you grew up watching the series, this box is a great throwback. I love the complete jewelry set and the drawstring bag. Like what Buffy said, "Seize the moment, 'cause tomorrow, you might be dead!" It was a fun box!