Five Four Club is a men's clothing monthly subscription club – sign up, pick a style profile and your sizes, and get clothes every month. The subscription is a $60 flat monthly fee, and traditionally subscribers receive a variable number of items each month, depending on the value of the month's selections (months with several items usually include a tee-shirt or other lower value item). This subscription ships at the end of the month.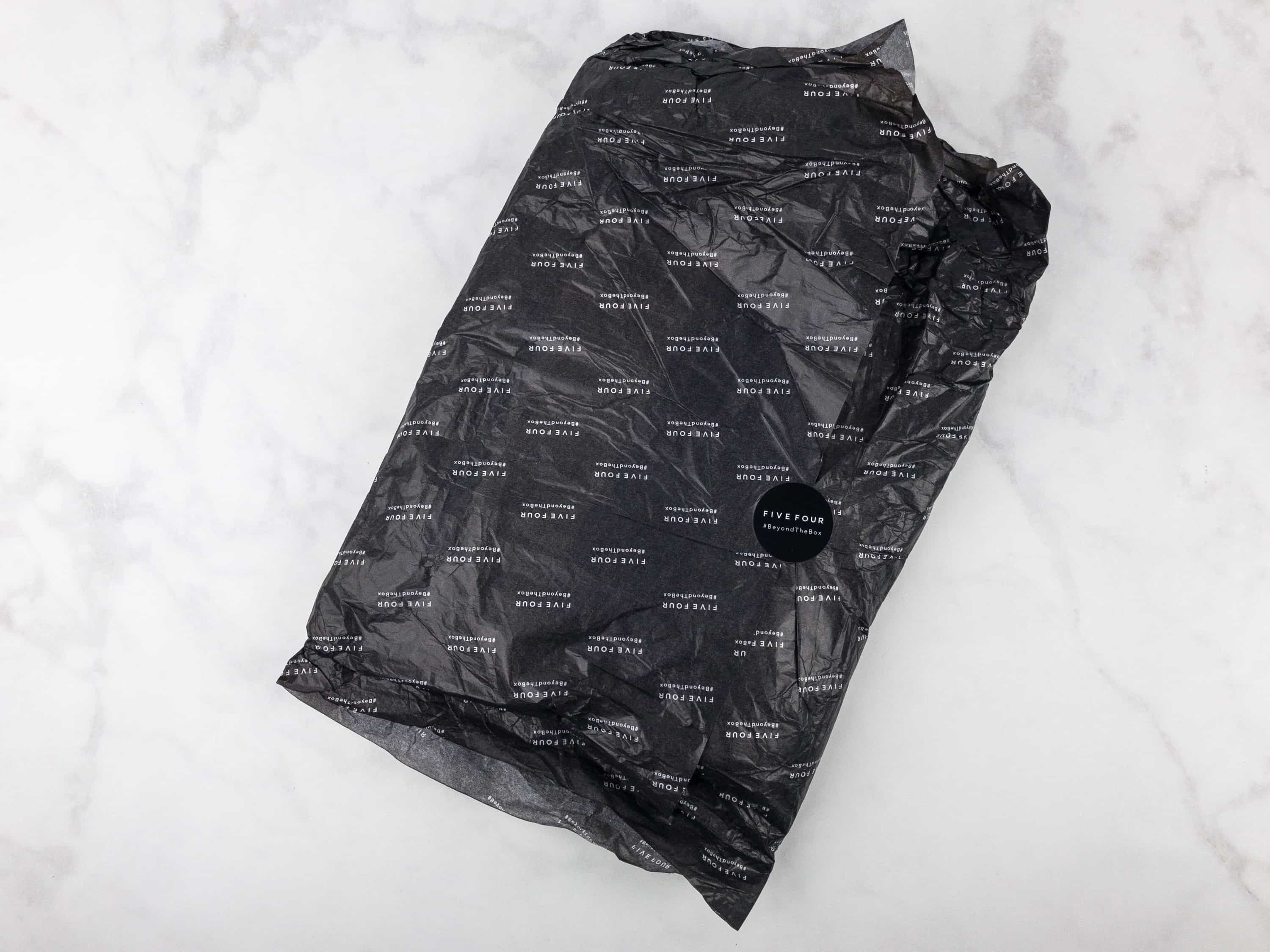 Five Four Club has been shipping clothes in padded envelopes and wrapped in tissue to keep the items neat.
DEAL: You can save 50% on your first box with code TB50OFF!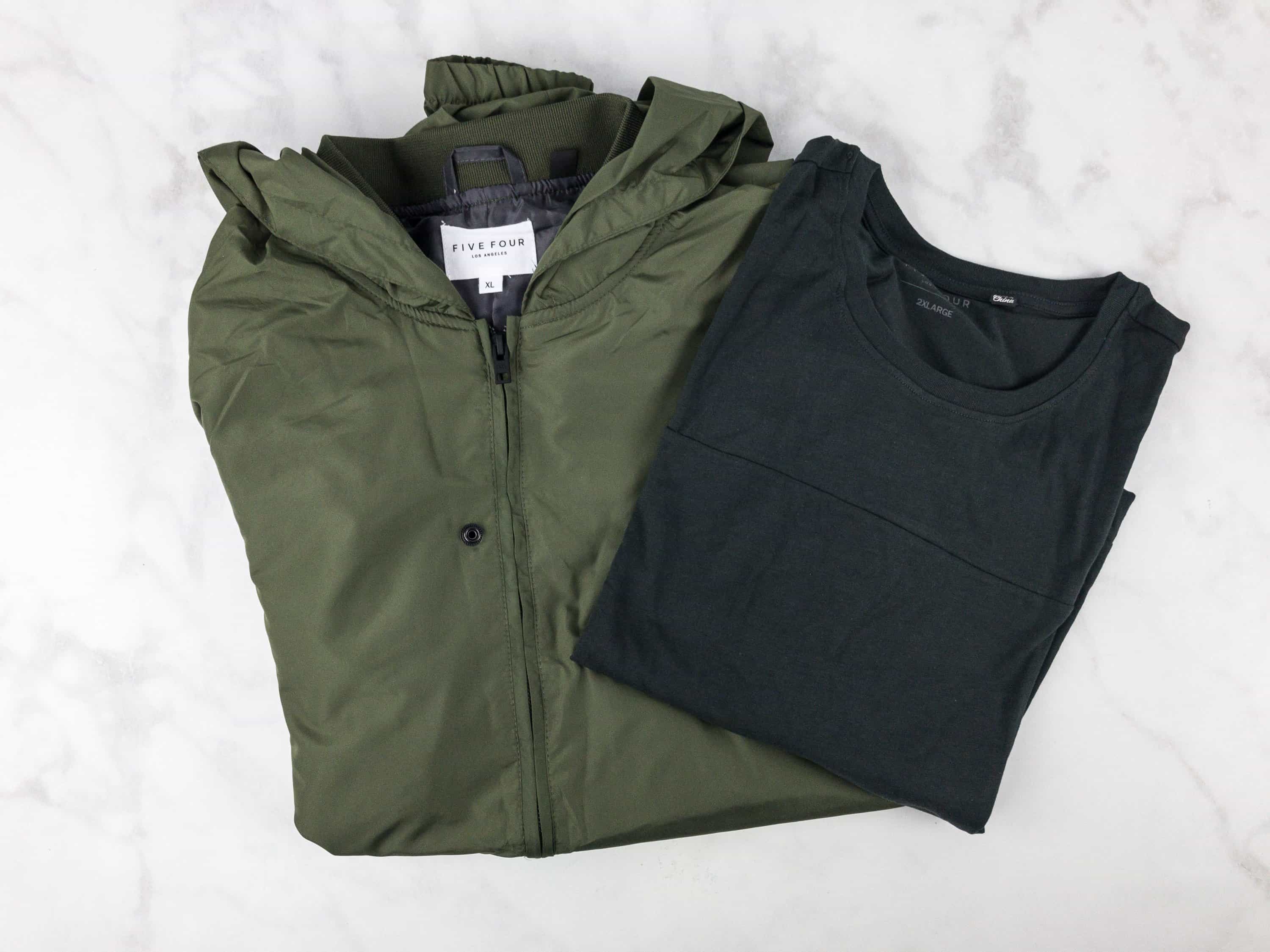 Everything in this month's box!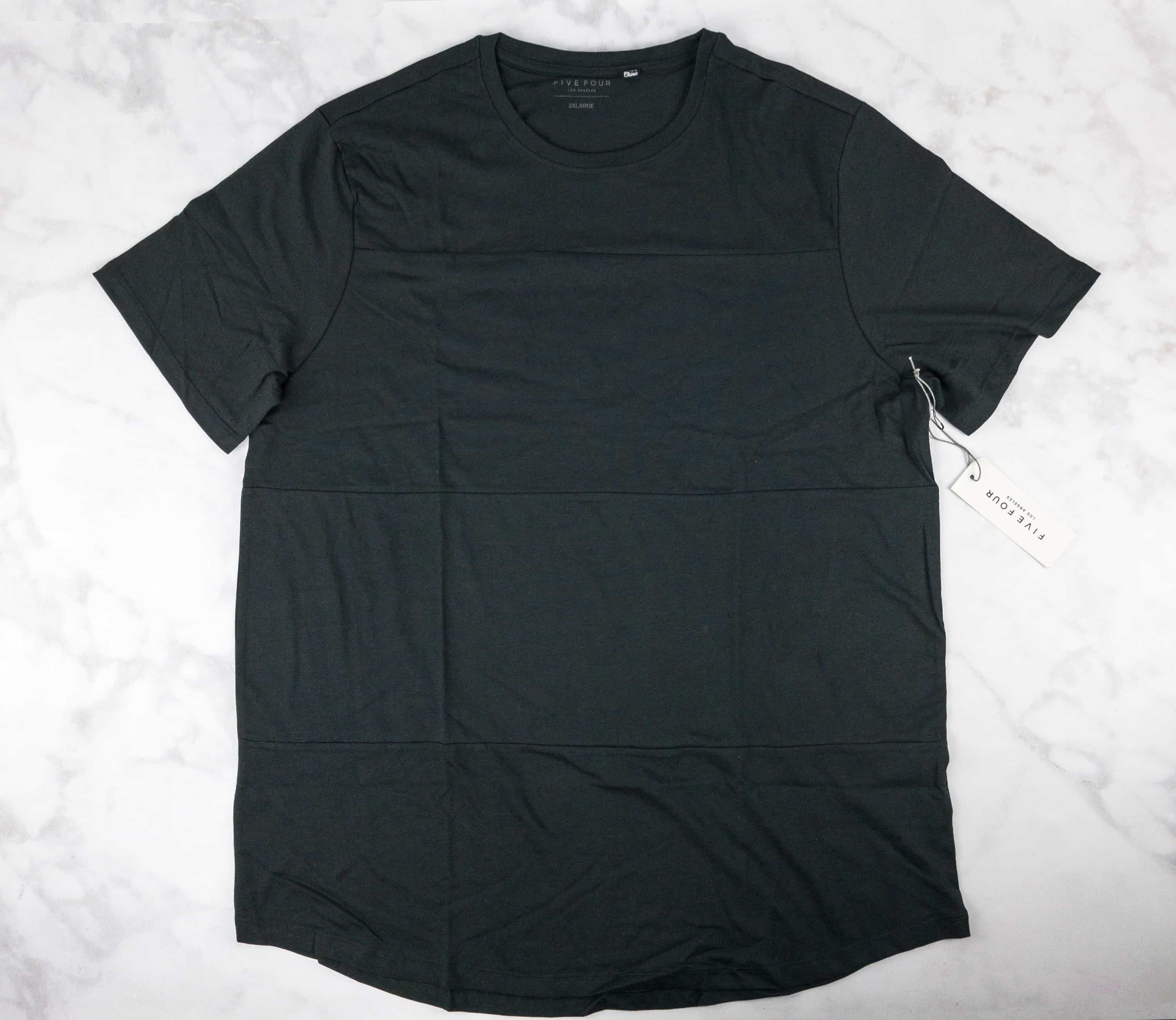 Barcalso Fashion Tee: This tee is very soft and has a generous fit. It has four horizontal panels, each the same black / dark charcoal color, to add some interest. I like the look of the shirt, as it has a bit of style without using colorful panels or graphics.
Slater Jacket: I love this jacket! It is styled like a rain jacket, though it makes no mention of any water resistance. It is 100% polyester and wears like a baseball jacket, though it looks like a short, furless parka.
It is described as an anorak, but it has a front zip closure.
The lining is a silvery gray. The sleeves have a slightly drawn cuff. There are two zippered front pockets and a small, open-sided pocket at the breast, just inside the zipper. It looks like a pocket for sunglasses, as it is to shallow for a traditional wallet, and it has no closure.
The jacket has a non-stowable hood and a ribbed collar. With the hood down the ribbed collar and color give it the look of a flight jacket.
As an alternate look, it has a small strap with a button closure. You can use this to hold the jacket in place without using the zipper. When not in use, it snaps away inside the jacket.
I was really happy with this set of clothes from Five Four. The tee was very wearable, and it has great potential as part of a slightly dressed up ensemble. The jacket is a great piece for Fall and Spring. It is light and great for layering. I like the ribbed collar — it makes the jacket feel more fitted when the hood is down, and, coupled with the silky feel of the fabric, it avoids the "I shouldn't be wearing a jacket" feeling you get when wearing a true anorak inside.
Five Four is an easy way to expand your wardrobe. You choose your fashion profile, so you get items that fit in with your general fashion sensibility, but you also tend to get items your wouldn't have thought to seek out. Returns are allowed for sizing issues only – this is not a try-before-you-buy service, but the items are generally such that they will easily find a home in your wardrobe. Five Four does designer collaborations and now offers a la carte pieces in their online store to further leverage your subscription items.
Have you tried Five Four?