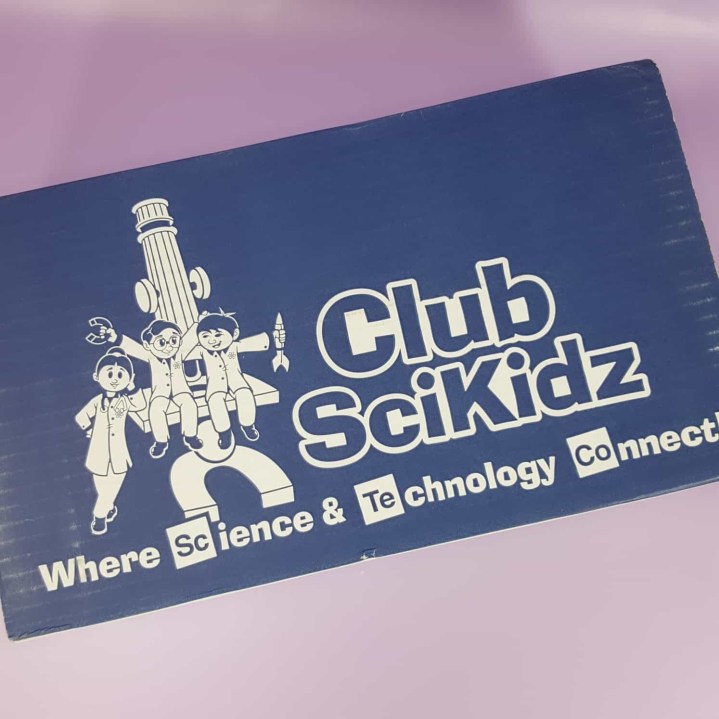 Club SciKidz introduces children to the mysteries of science and technology through terrific projects and experiments. Each box contains a variety of career based activities such as: Veterinary Medicine, Robotics, Food Science, Programming, etc. In addition, your scientist will be able to start their own home lab with the supplies provided! This is our first box and we are so excited to get started.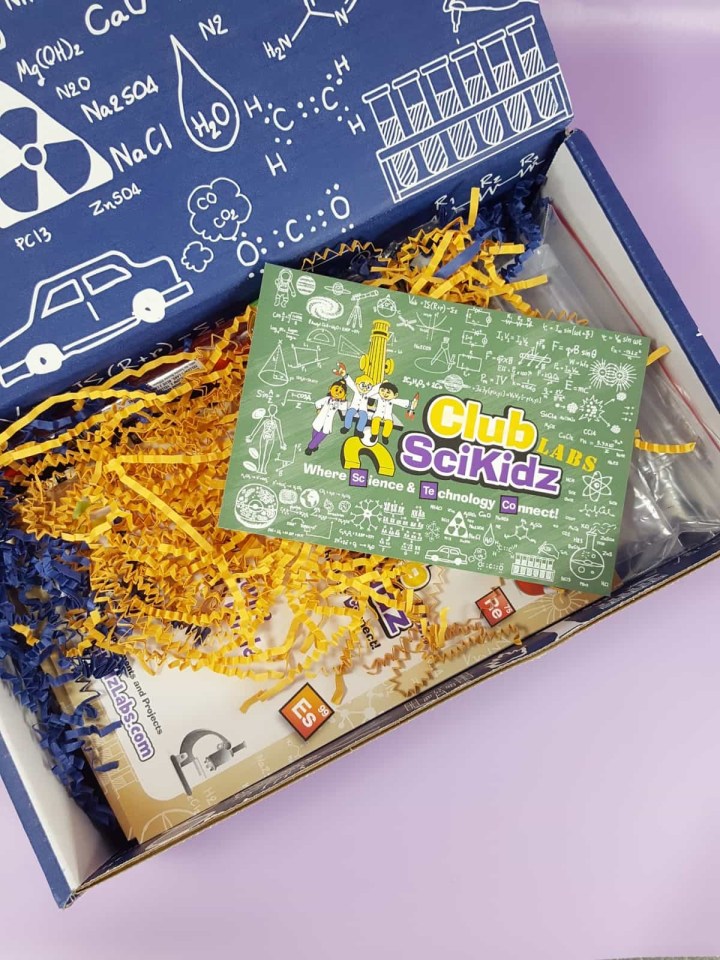 DEAL: Save 10% off on any subscription! Use coupon code Boxlabs17.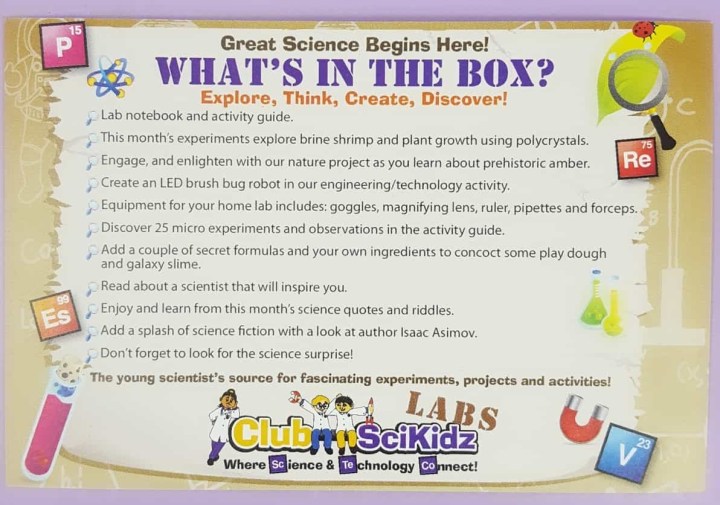 With this being our first box, we weren't sure what to expect. First came the info card that tells us what is included.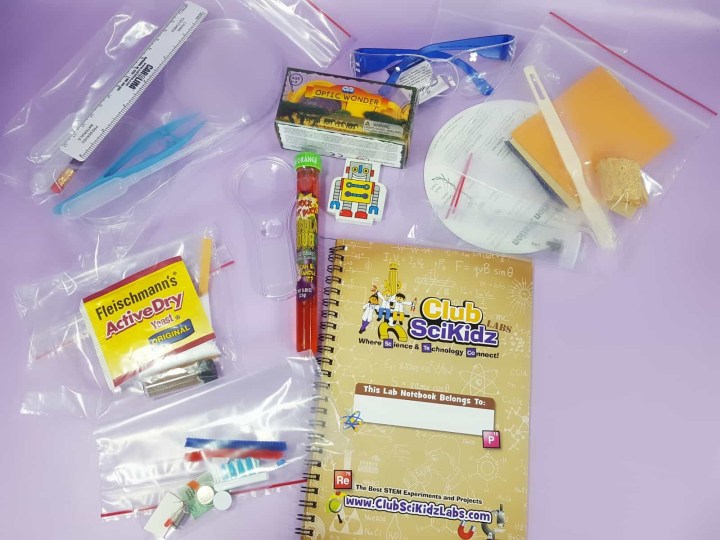 All of the supplies in this month's box. The experiments are in different bags with some of them taking more then one baggie.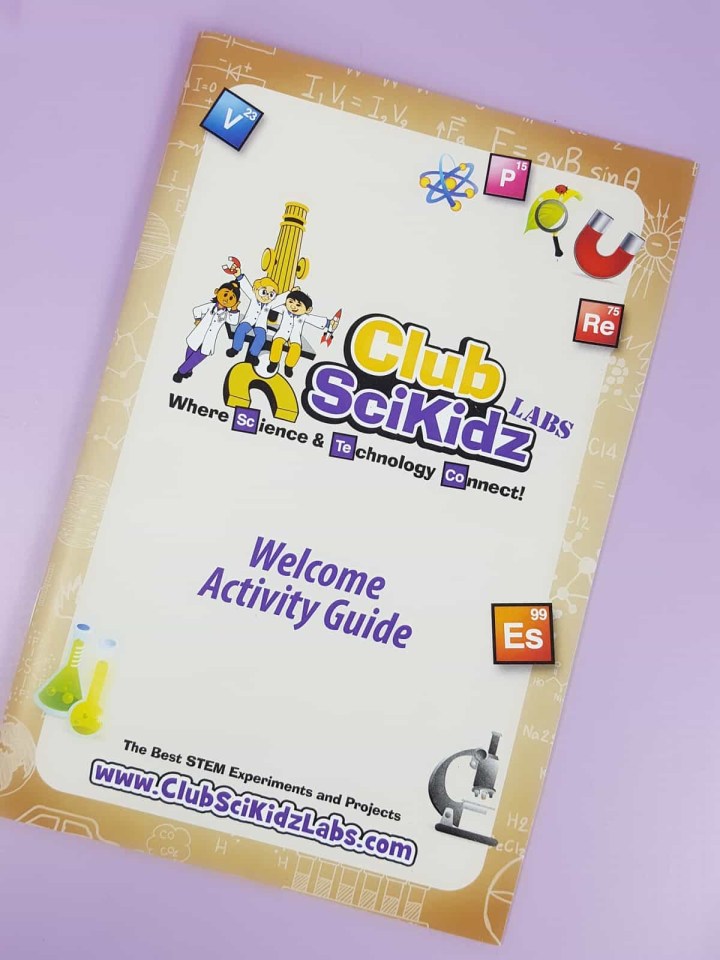 The activity guide is what is going to lead us through the experiments.
Our first box came with a note telling us about the box and what we can expect each month. We also have read and looked over the lab rules. My 6-year-old is a stickler for rules so we will be following these I'm sure.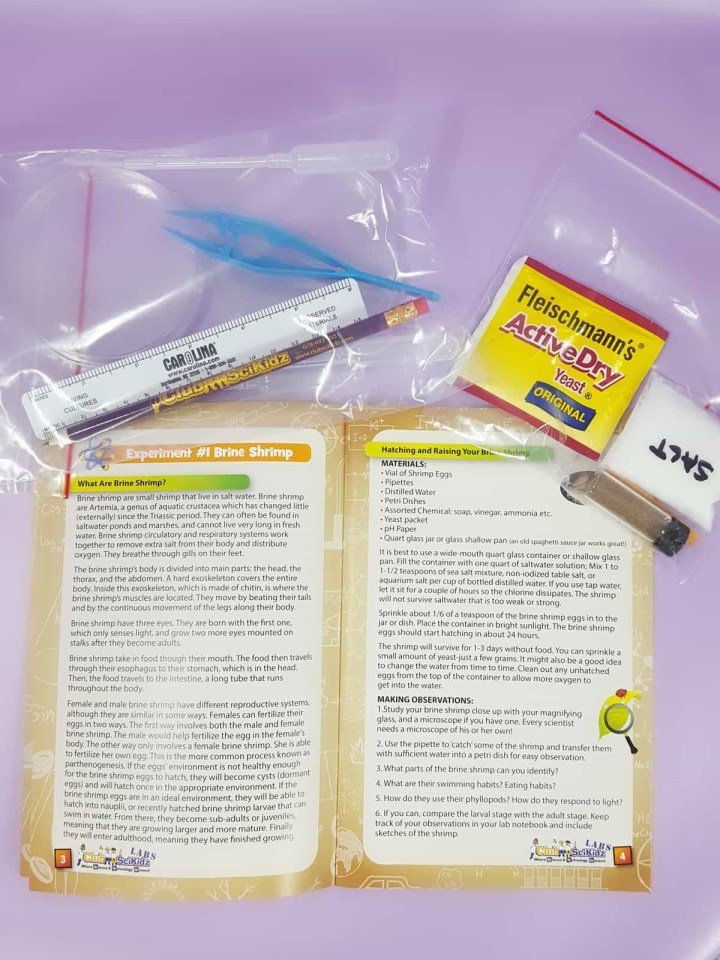 Our first experiment is to grow some Brine Shrimp. I remember doing these as a kid but it has been a long time.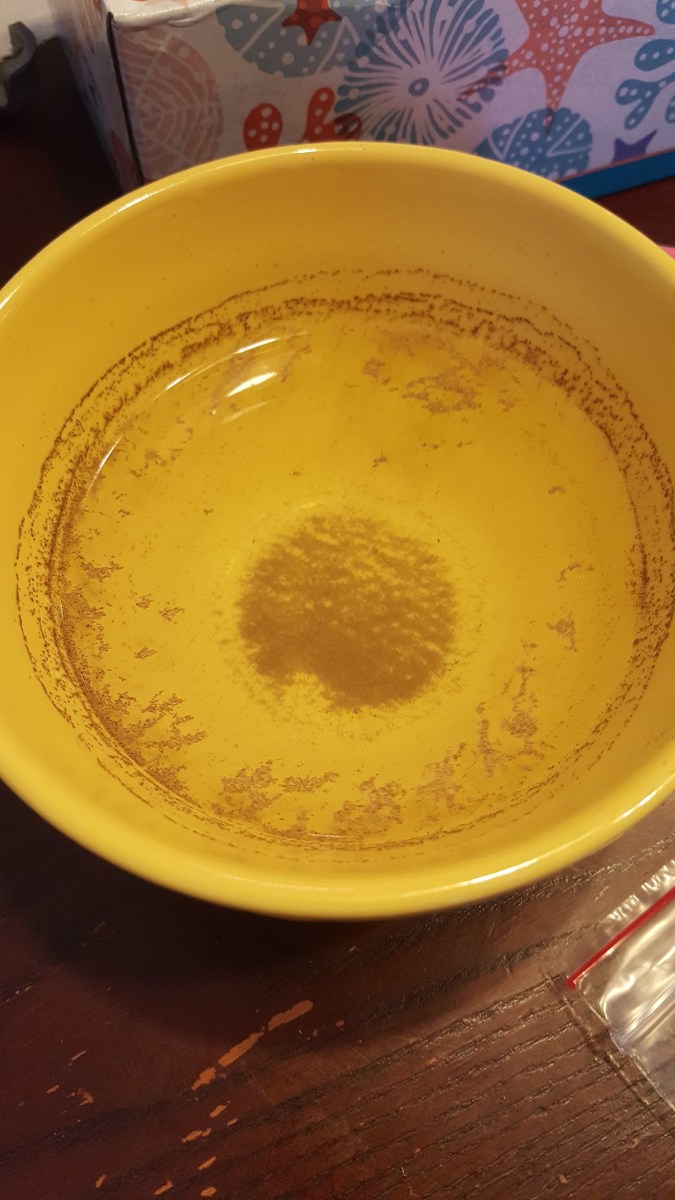 I misunderstood what kind of container we needed so I just grabbed a bowl. We are watching them grow in here and once they get a bit bigger I'm going to transfer them to a glass car so we can watch more easily.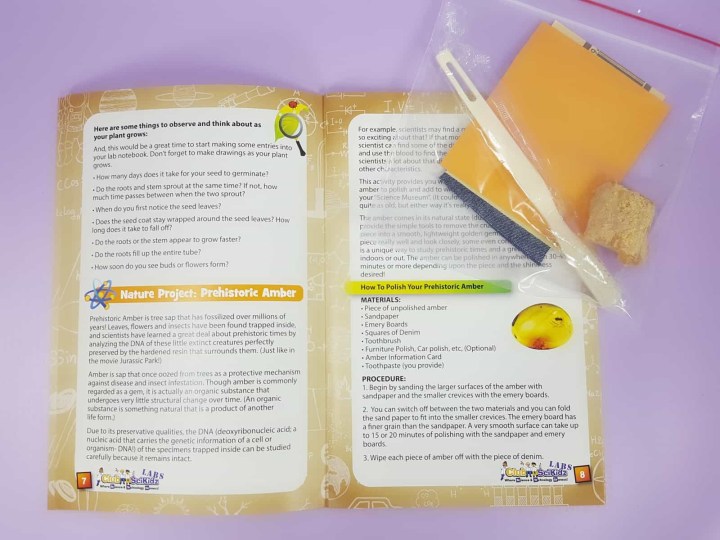 Next up is amber. We've been cleaning this rock with the tools and he says it is going to take awhile. I forgot to get a picture of where we are and since he is studying rocks in school he took this one with him. It was perfect timing for his school lesson and home fun together. We will finish polishing it up when it gets back home.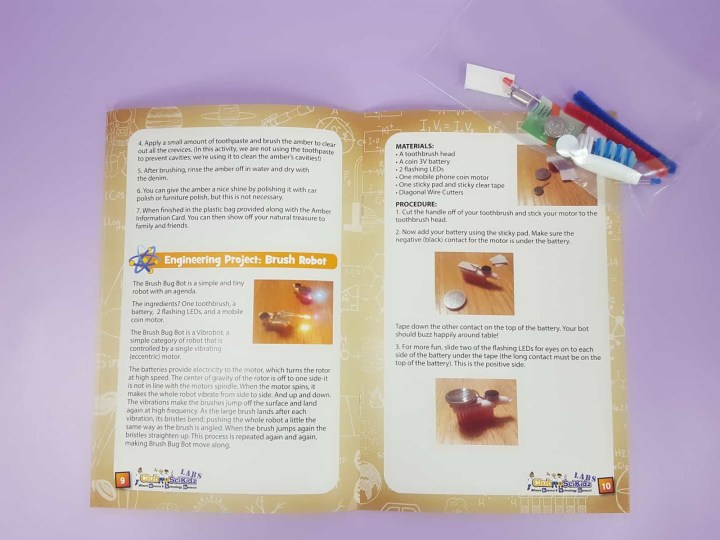 Next up is making a brush robot. SciKidz even sent the broken off toothbrush for us to use!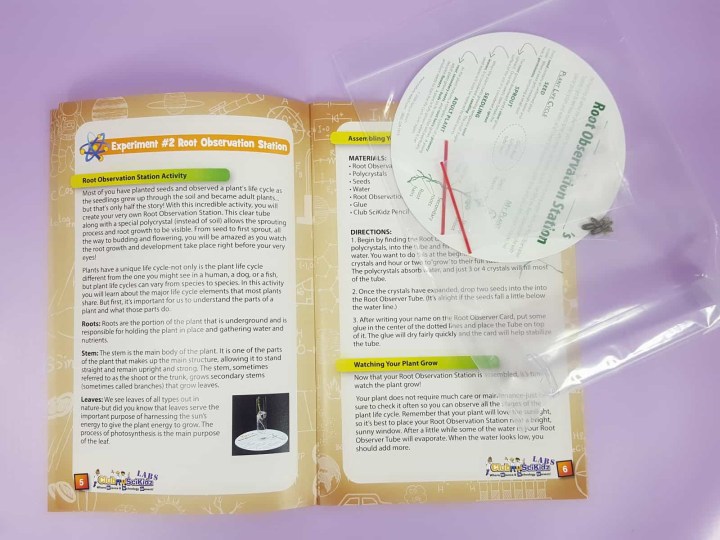 We love growing things so the Root Observation was an instant favorite.
This was the start and it didn't take long for the crystals to grow and be ready for seeds. We did this one afternoon and after dinner they were all the way up the tube.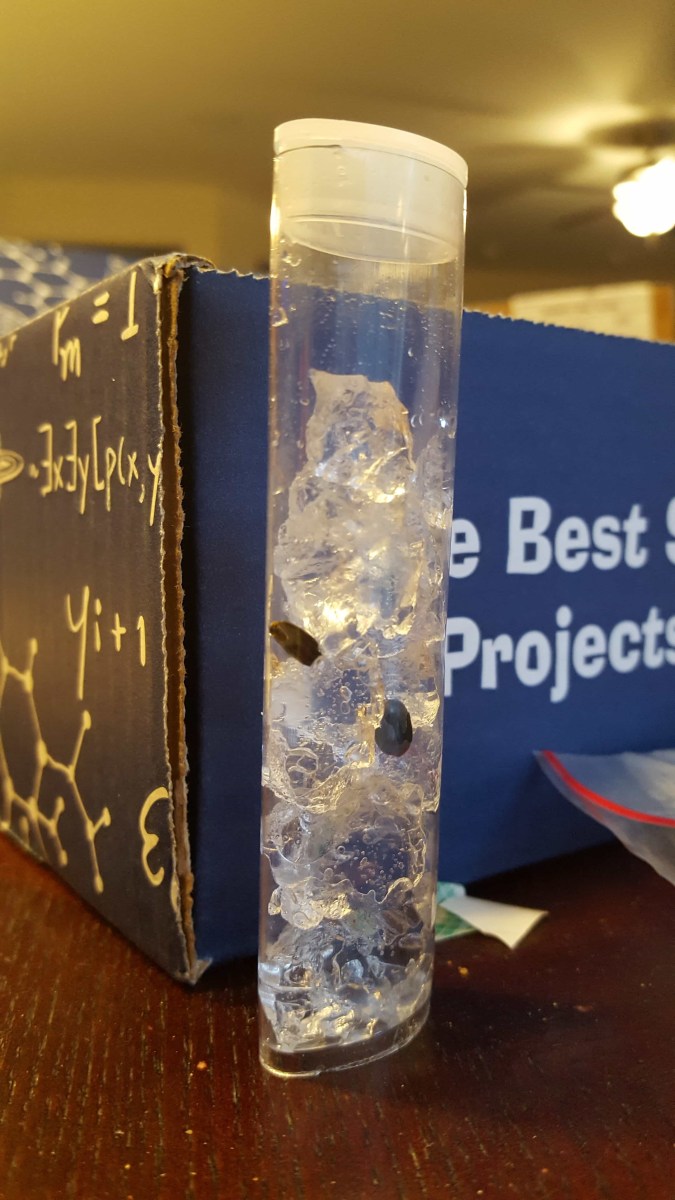 We decided on two seeds to get started. They are mystery seeds so we are anxiously waiting to see what they turn into.
A couple days later and we have some sprouts. My son is so excited and checks on it everyday when he comes home from school.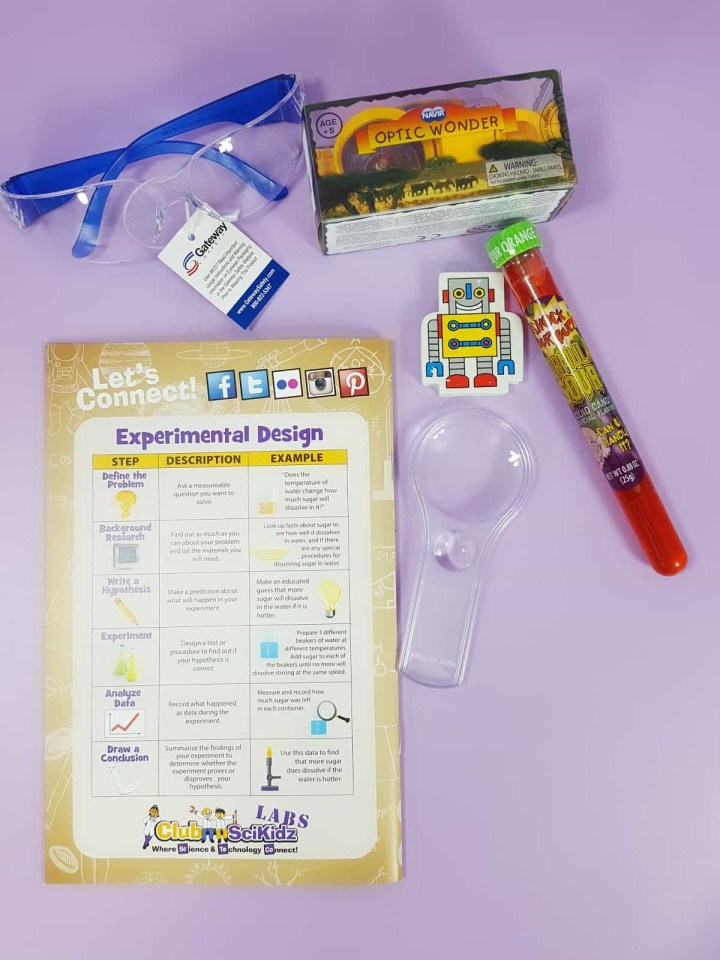 Here are some of the extras we got in the first box. These will help us to set up our lab and work on our experiments. Plus a little snack to go in a test tube.
As you can see the super sour candy was a big hit. He wants to know what we can fill the test tube back up with so he can eat out of it again.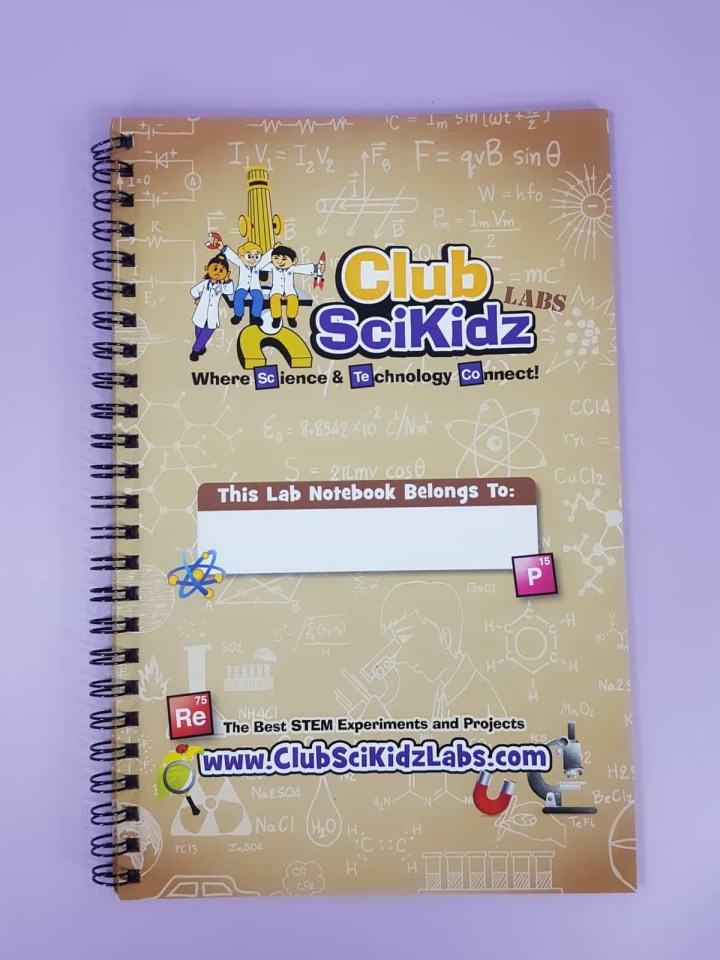 Being that we are scientists we NEED a notebook! That is what my son was telling me and Club SciKidz knows the kids and they sent one along to write down all of our observations.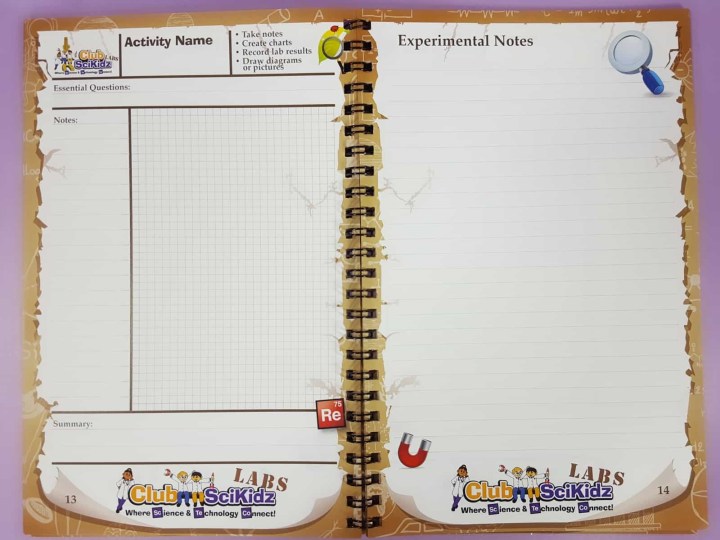 The inside is full of pages to write notes and ideas and experiments in.
We are thoroughly enjoying our first Club SciKidz. There are so many experiments in here that we have already done and more mini observations to make as we watch the things grow and change. We have a little area set up as our lab now and can't wait to see what they send and include in future boxes to add to our studies and our experimentation fun! I was very impressed with out first box and how in depth everything was. I love when we can have fun while learning and I can't wait to see what we get to do next time.