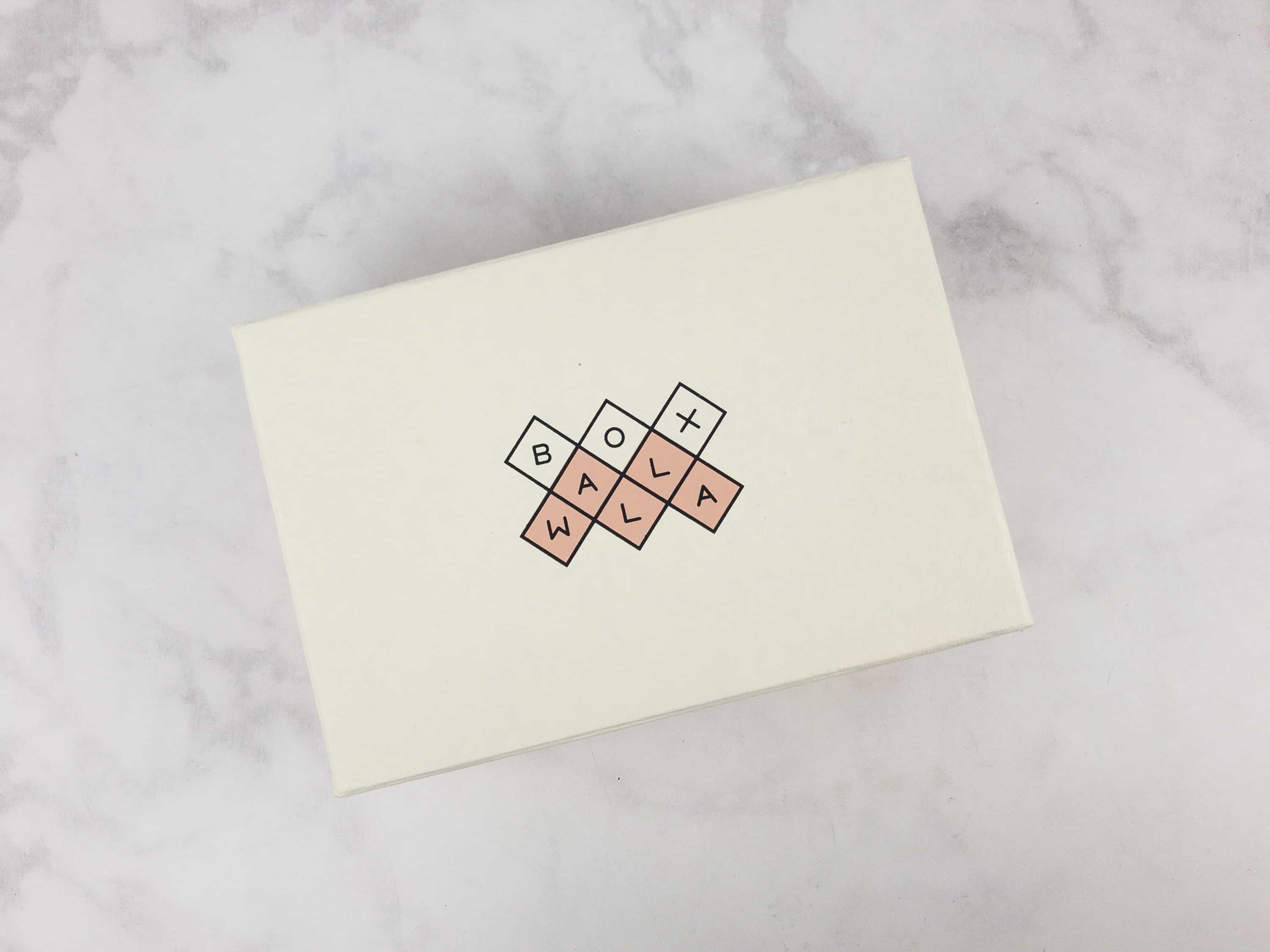 The Boxwalla Food box contains delicious artisan crafted foods and goodies from all across the US! Boxwalla is a bi-monthly subscription service that offers four themes: natural beauty, artisanal food, international film, or books! In Boxwalla, you'll be able to discover great artisans and artists from across the globe. After your first box you can switch themes, but of course you can subscribe to more than one box as well.
The food box focuses on small-batch goodies, but only the best!
I love the box itself, which is gorgeous, and save all of mine. The box itself is a luxe cotton rag paper covered box handcrafted by artisans in Rajasthan, India, and no child labor is ever used. The outside of the reusable box indicates which variety of Boxwalla you received. I love how the box itself supports socially and environmentally conscious goals.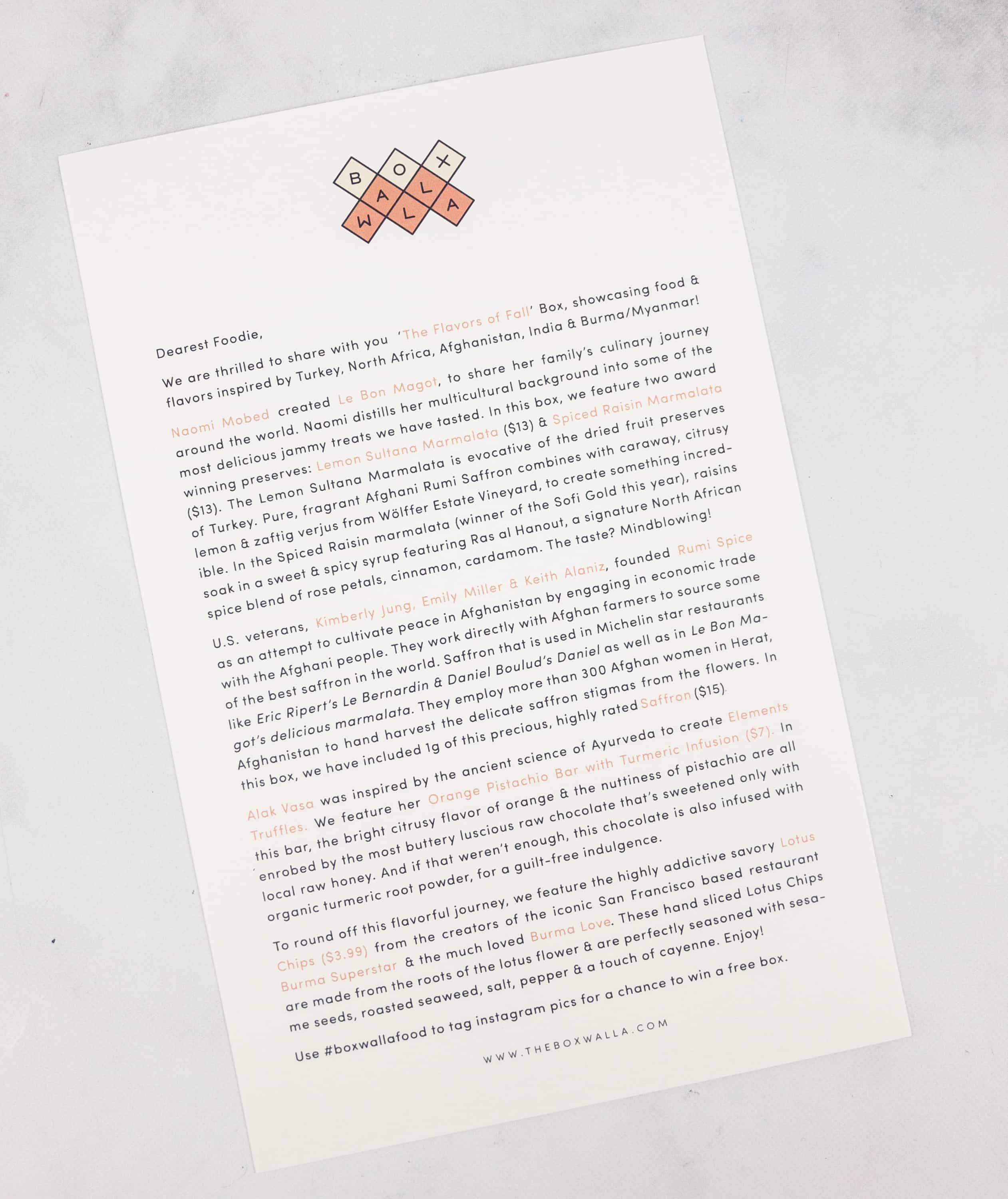 The information card is a letter from "The Drunken Boxwallas" detailing each of the products.
There's a new theme for the year – Story of the World Through Food – the October Box was themed "The Flavors of Fall."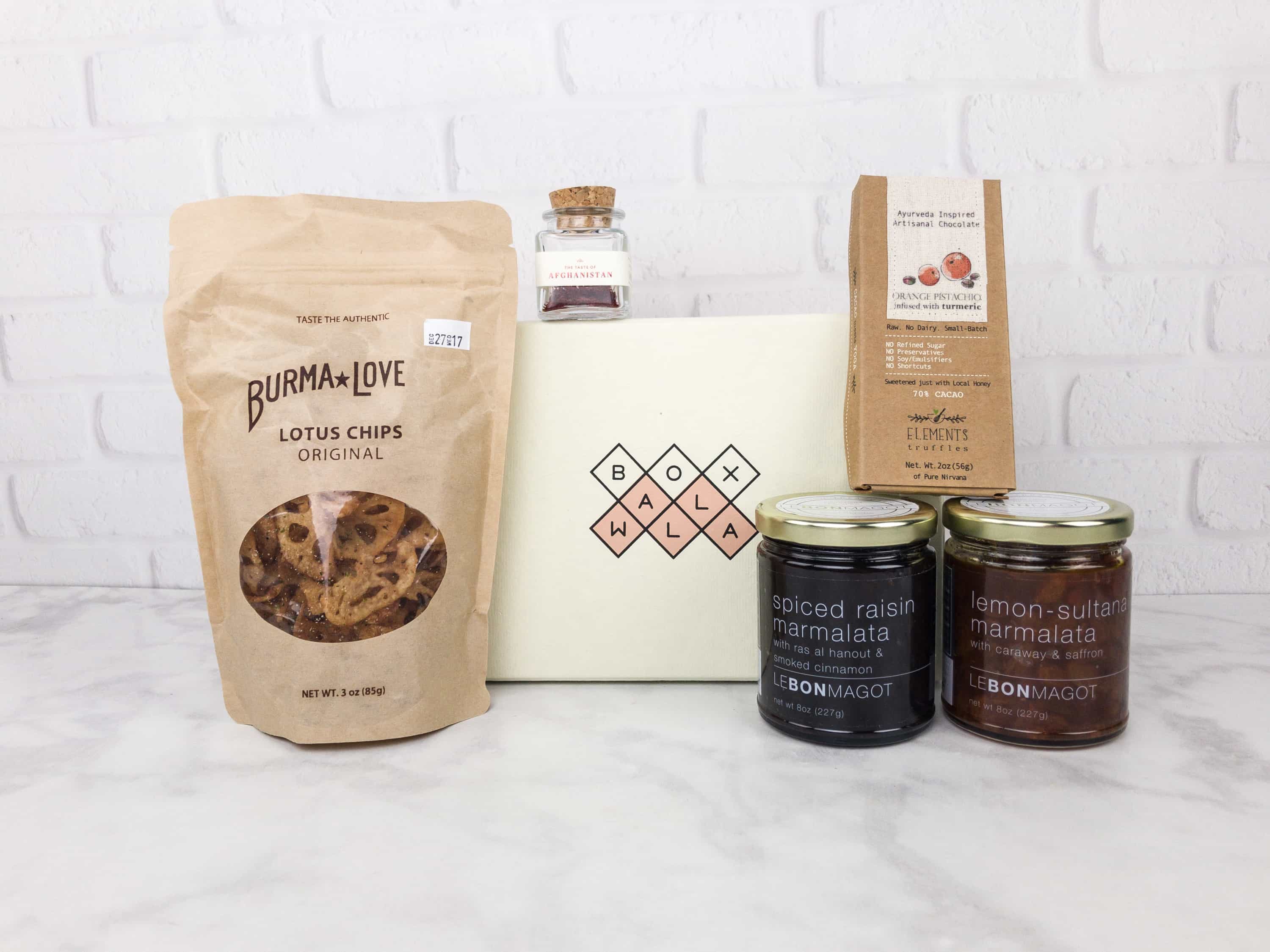 Everything in the October Boxwalla Food Box!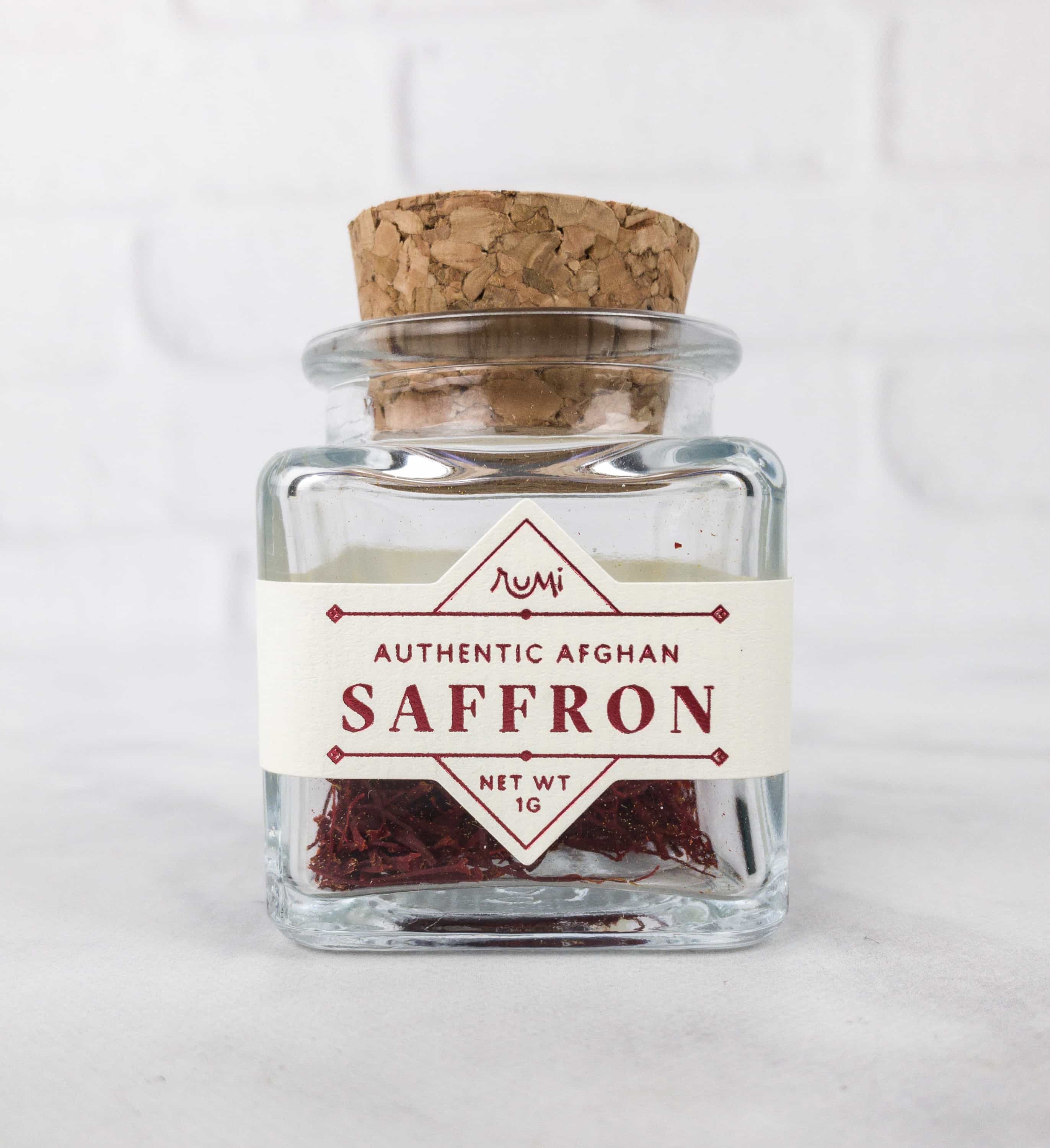 Rumi Spice Saffron ($15) This queen of all spices comes in a corked bottle. It's non-GMO, gluten-free, and vegan. No added preservatives and additives.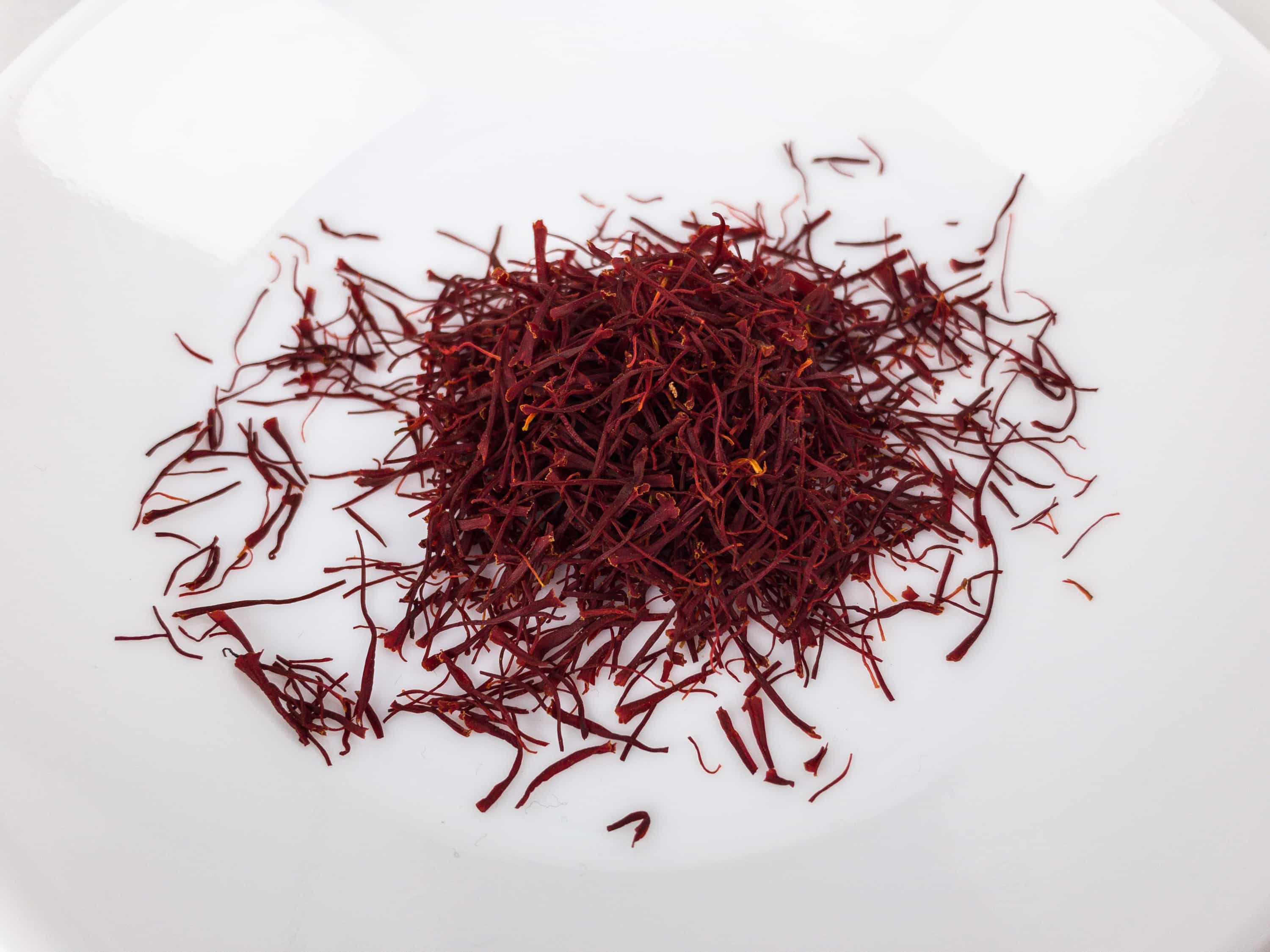 Also known as "red gold", this spice is a perfect addition to rice/risotto, paella or soups. It doesn't just add flavor, but color as well. It's amazing such a giant quantity came in the box! The quality is also very superb — very fragrant, the stamen are larger, and their color much deeper than that usually seen.
Here's a little background about the Rumi brand. The project is the brainchild of American vets who were deployed in Afghanistan. They realized that saffron was twice as valuable as poppies a cash crop, so they further developed their relationship with Afghani farmers to establish saffron as the post-conflict crop of choice, one that would enable the farmers to avoid participating in the drug trade and violence it entails.
It also comes with recipes using saffron, like Saffron Risotto with Roasted Butternut Squash and Rumi Saffron Flan Napolitano. Each is relatively simple and a great showcase for the vibrant color of the saffron.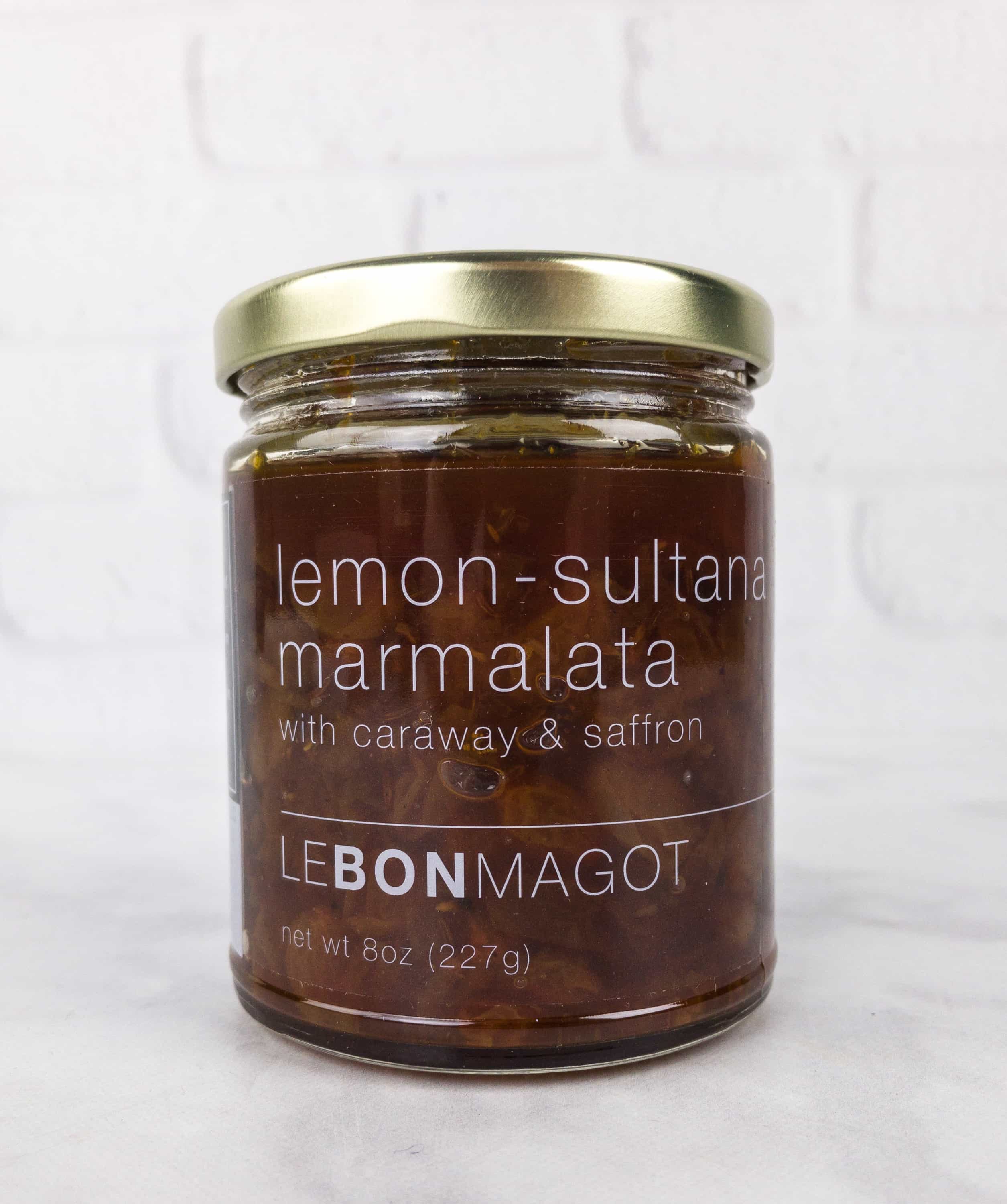 Le Bon Magot Lemon Sultana Marmalata ($13) This marmalade is made of golden sultanas, distilled white vinegar, verjus, sugar, lemon, crystallized honey, caraway, saffron, sea salt, and spices.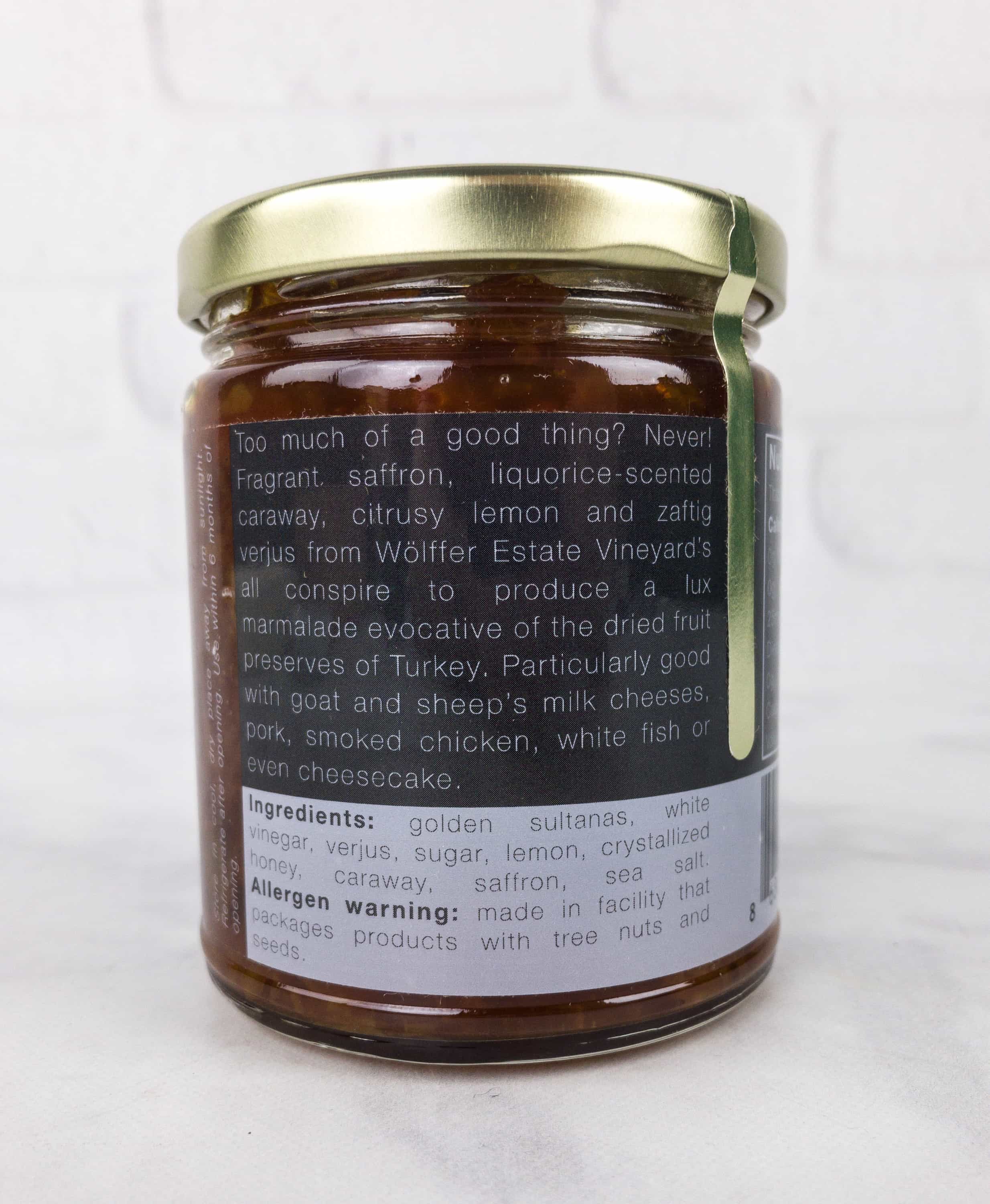 It is a unique style of preserve, as it is neither a purely sweet jam nor a spicy chutney. Instead, it has a very forward vinegar note, with the sweetness of the sultanas supported by a hearty note of caraway and the glow of saffron.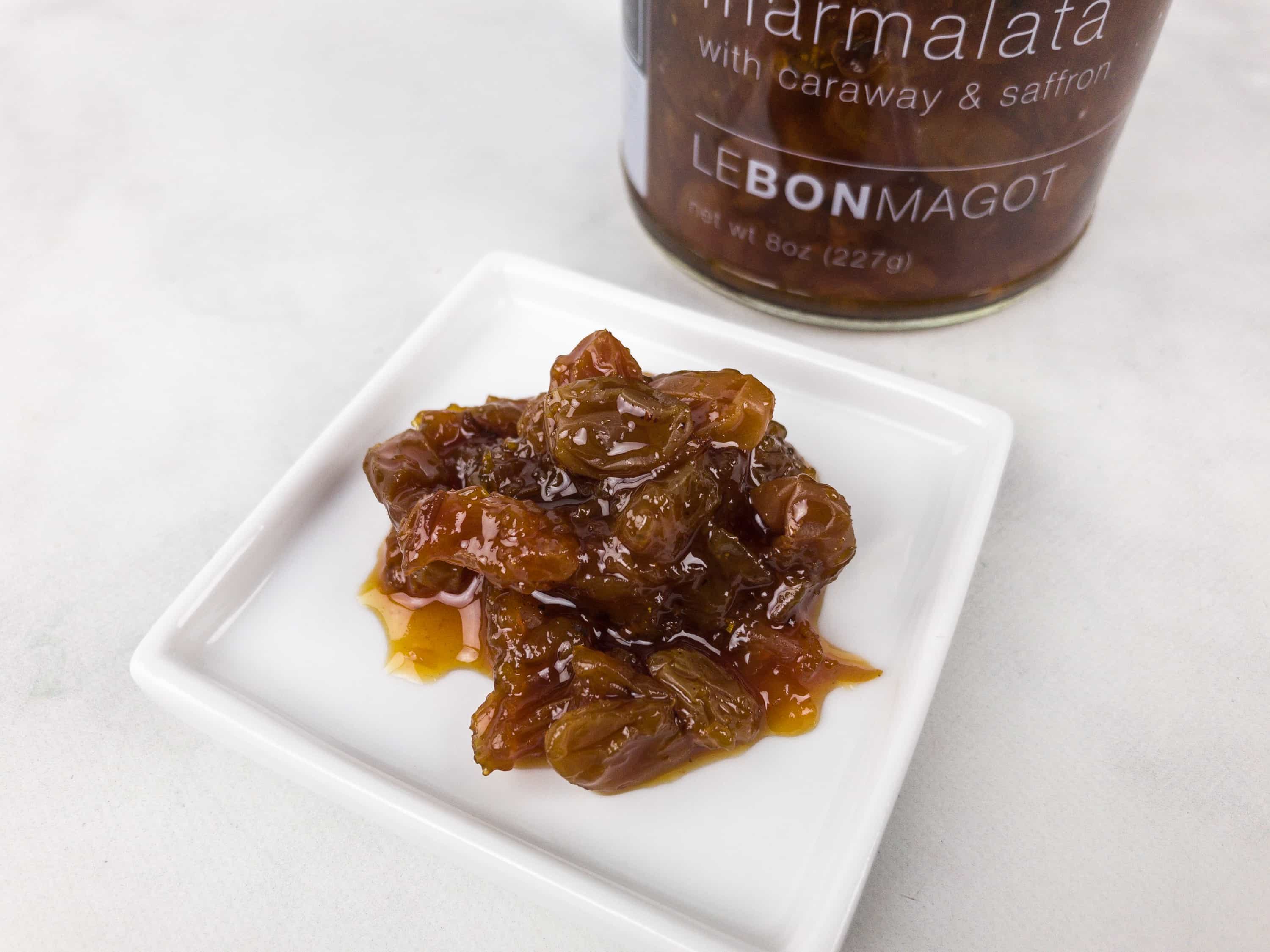 The careful balance of flavors makes it a good accompaniment for items that take well to a bit of sweetness — goat and sheep's milk cheeses, pork, smoked chicken, white fish or even cheesecakes.
Le Bon Magot Spiced Raisin Marmalata ($13) A taste of North Africa is brought by this unique spiced raisin marmalade.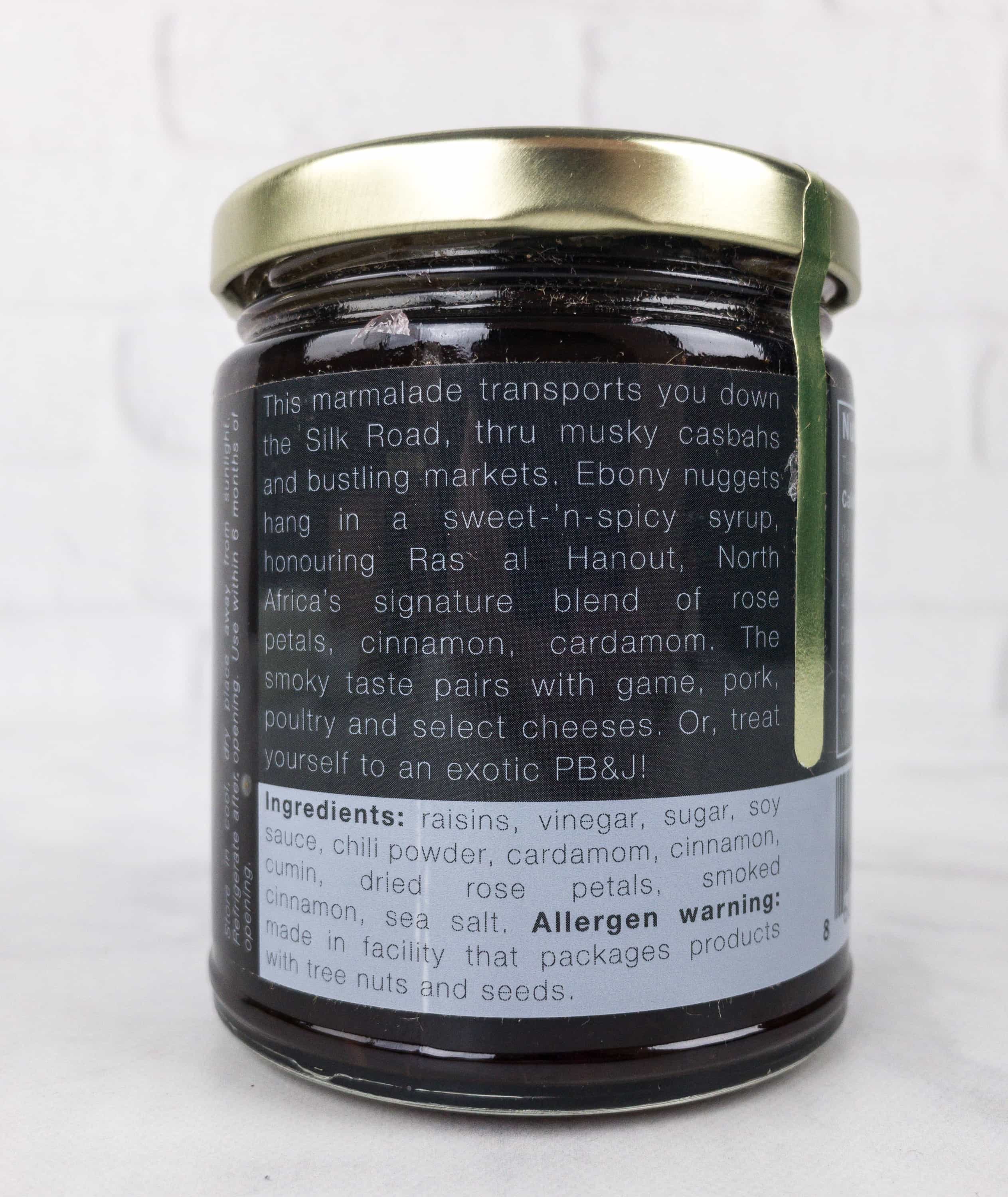 This one is made of raisins, apple cider vinegar, sugar, soy sauce, chili powder, cardamom, cinnamon, cumin, dried rose petals, smoked cinnamon, sea salt, and spices. This version also has a vinegar-forward profile, but the sweet and spicy follow-through is more focused and pronounced.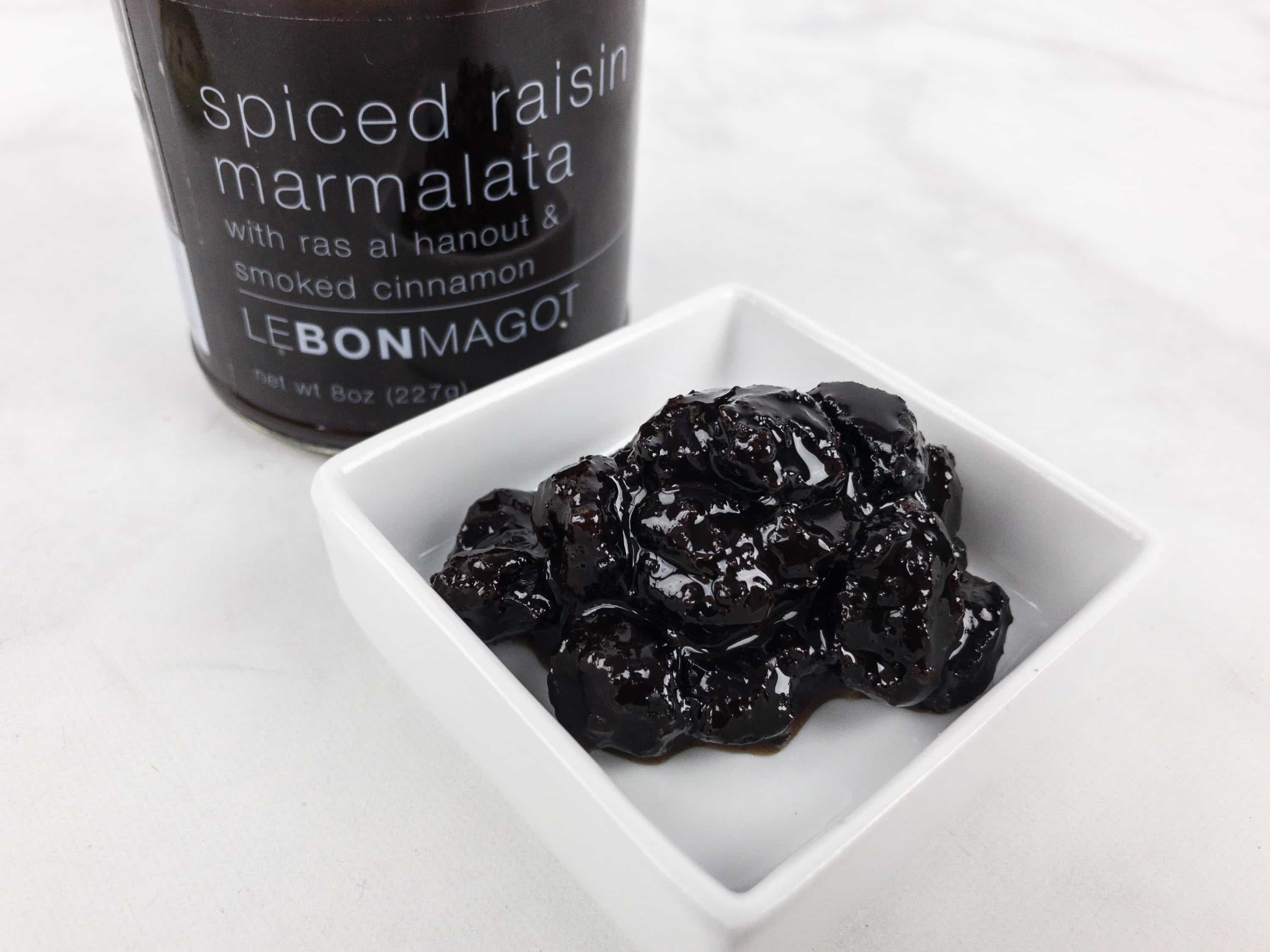 It goes well with game, pork, poultry and select cheeses. It's also a great alternative for usual jams when you're making PB&J!
Also included in the box are recipe cards.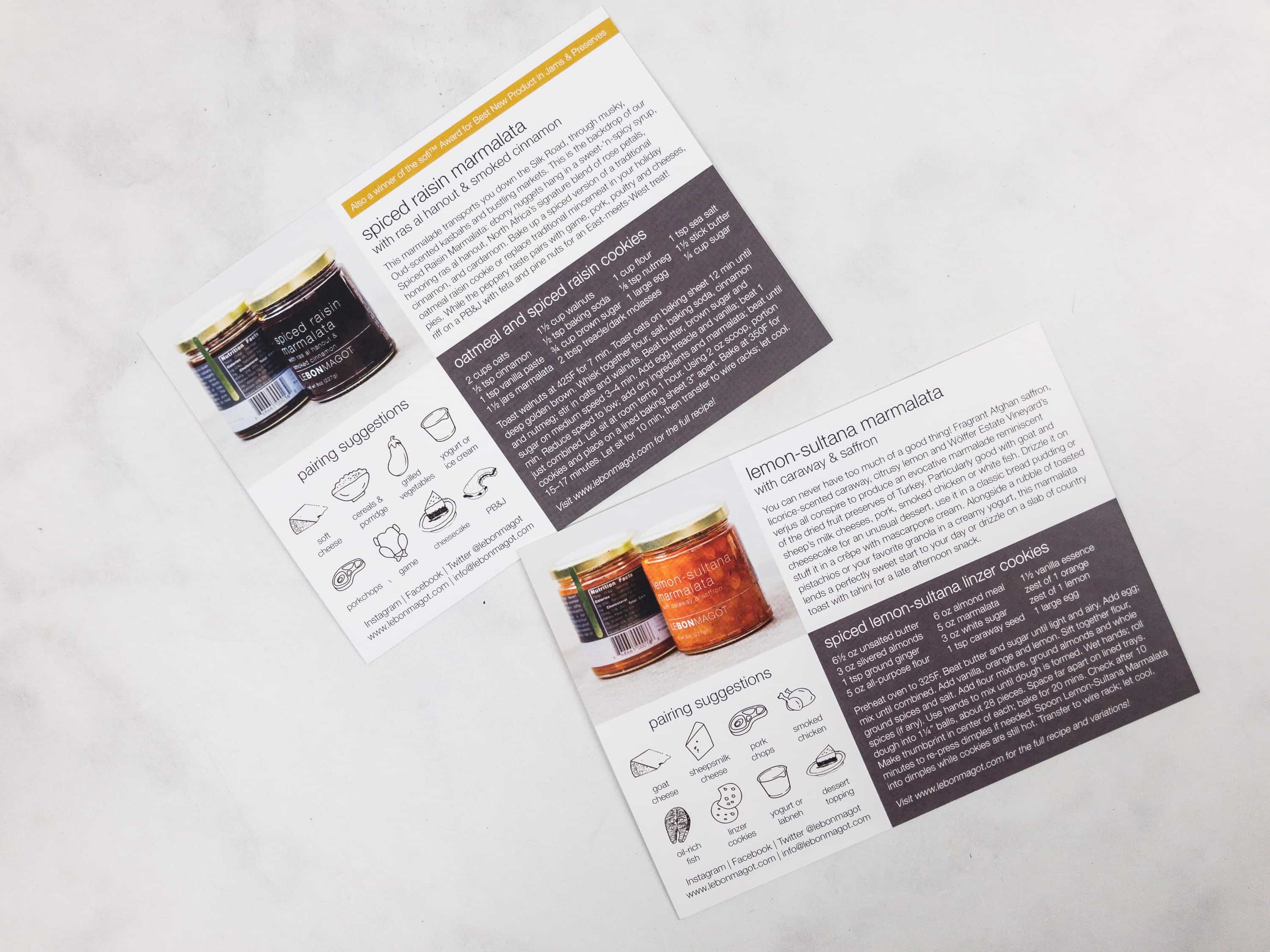 Each contains additional ground about the marmalades, plus recipes and and several pairing suggestions!
Elements Truffles Orange Pistachio Chocolate Bar with Turmeric Infusion ($7 on card, $8.50 on Amazon) This artisanal chocolate is made unique by refreshing oranges and pistachios infused with turmeric.
The cacao is fair-trade, organic, and ethically sourced from Peru.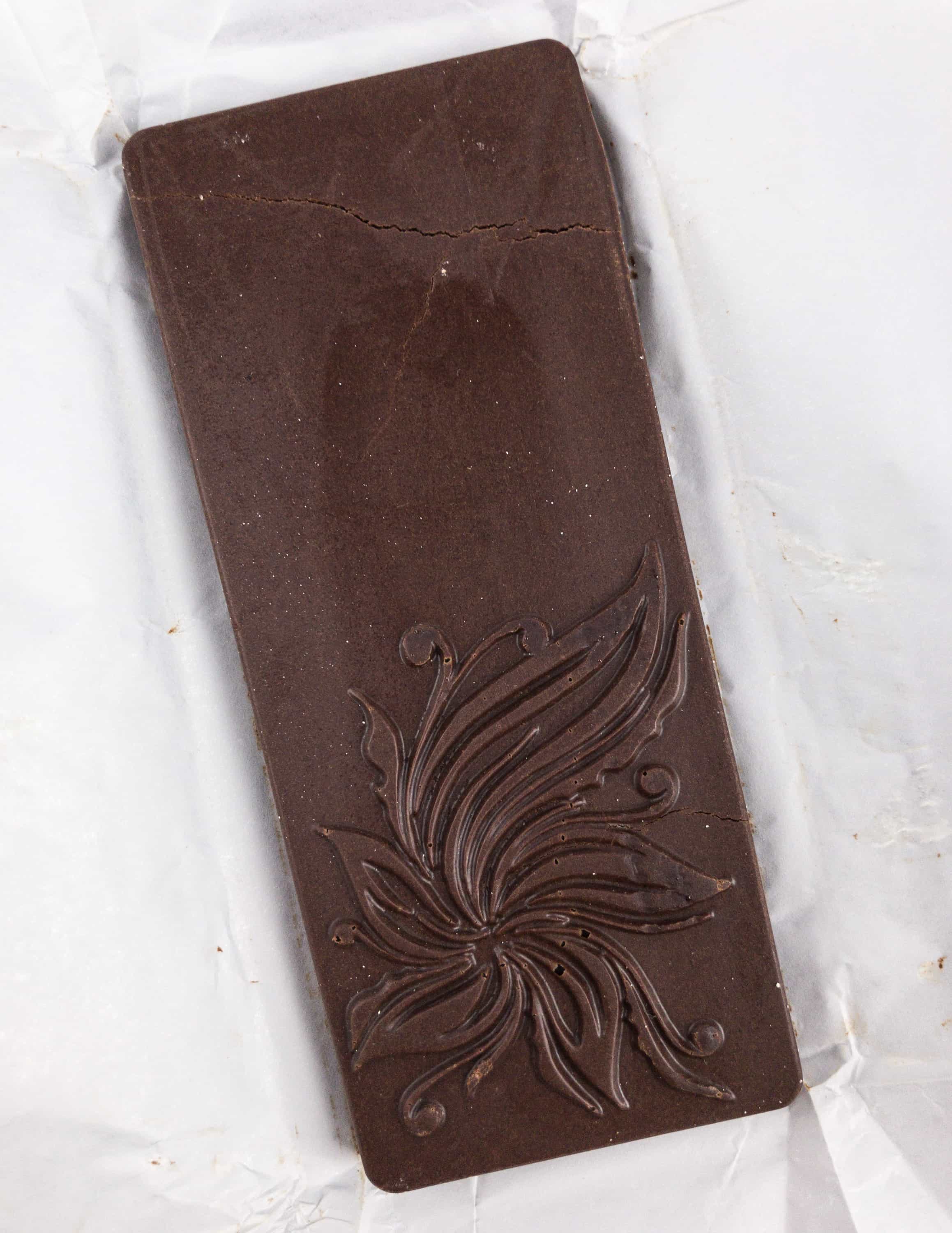 It's a guilt-free treat! It doesn't contain any dairy, sugar, nor synthetic sweeteners. The texture is very soft and a bit more granular than more heavily processed chocolate.
Instead of sugar, it was sweetened with local honey, and the character of the sweetener really shines in the flavor. Mmm, so luscious!
A sprinkle of pistachio bits adds a little crunch, although the chocolate is softer because of the honey.
Burma Love Natural Foods Lotus Chips ($3.99 on card, $10.49 online) These hand-sliced lotus chips are made from the roots of the revered lotus flower and are naturally savory and crunchy.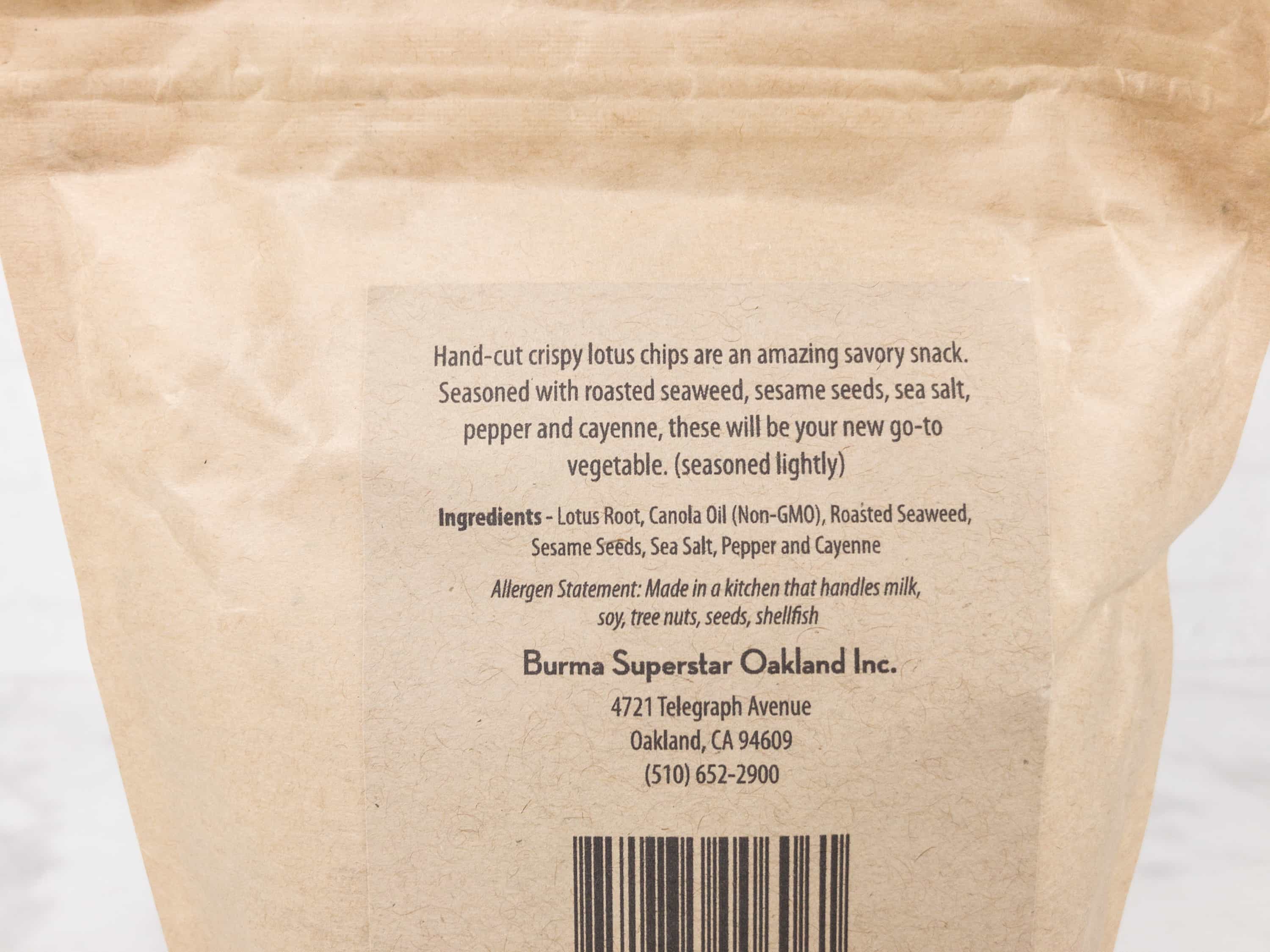 They are seasoned with roasted seaweed, sesame seeds, sea salt, pepper and cayenne, and they're seasoned lightly. No worries on your sodium intake! The flavor of the lotus itself is very neutral, and it reminds me of cassava. The seasoning blend is also very lightly applied, and I didn't pick up any fishy notes from the kelp.
It is an excellent alternative to the usual potato chip! Pair it with your favorite dips or spreads and you're good. They have the satisfying greasy quality of a kettle cooked potato chip, but they aren't as violently crunchy.
Another fun, fun food box from Boxwalla. This month, they introduced us to various fall flavors, with a mix of sweet and savory stuff for a well-balanced palate. The contents are perfectly suited for personal snacking, but the marmalata and saffron could surely find a home on a Thanksgiving menu. We also like that the food included are all healthful and made by people who give back to the community as well. Excited for the next box already!
What's your favorite food item this month?