Bargain Bead Box is a monthly bead subscription service. Each month, you'll receive over $40 worth of top-quality jewelry supplies. It can be a mix of loose beads, bead strings, findings, and pendants. You can share your creation on their social media for a chance to win a $25 gift certificate for their sister store Bead Box Bargain. Boxes are $15.95 per month. Shipping is free in the US and $7.50 to Canada. Even if it's technically a subscription box, it comes in a teal bubble mailer, which is less expensive than a box so they can send more beads! And more beads is more fun!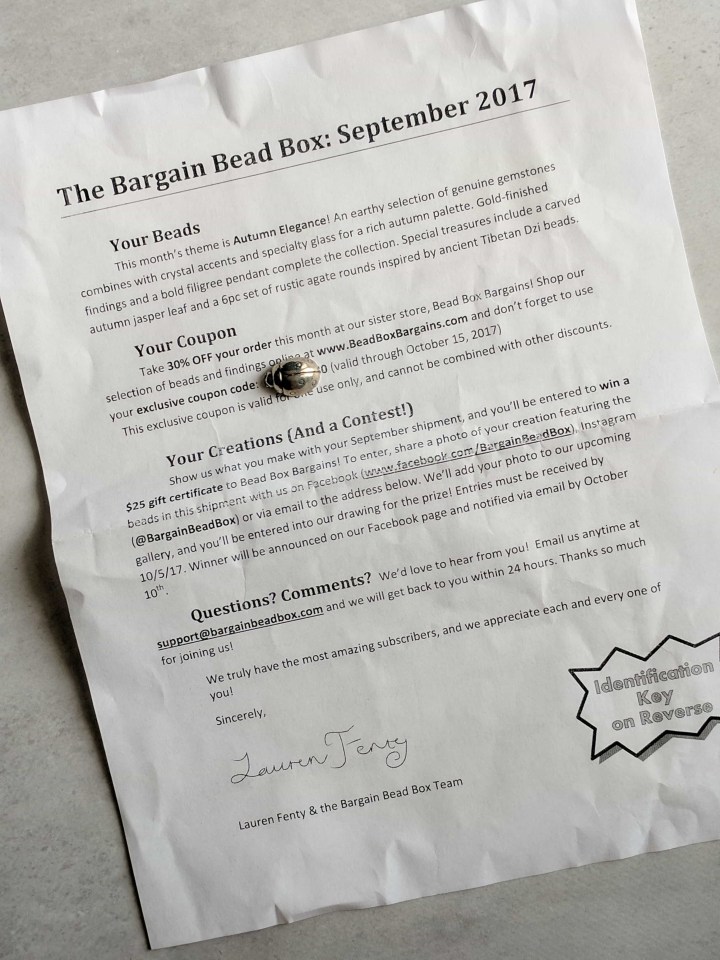 Each month is curated around a different theme and all the beads and findings are coordinated. This month's theme is "Autumn Elegance," with Gold-Finished Findings! You also get a discount code for their sister store. I've used it a couple of times and it's totally worth it!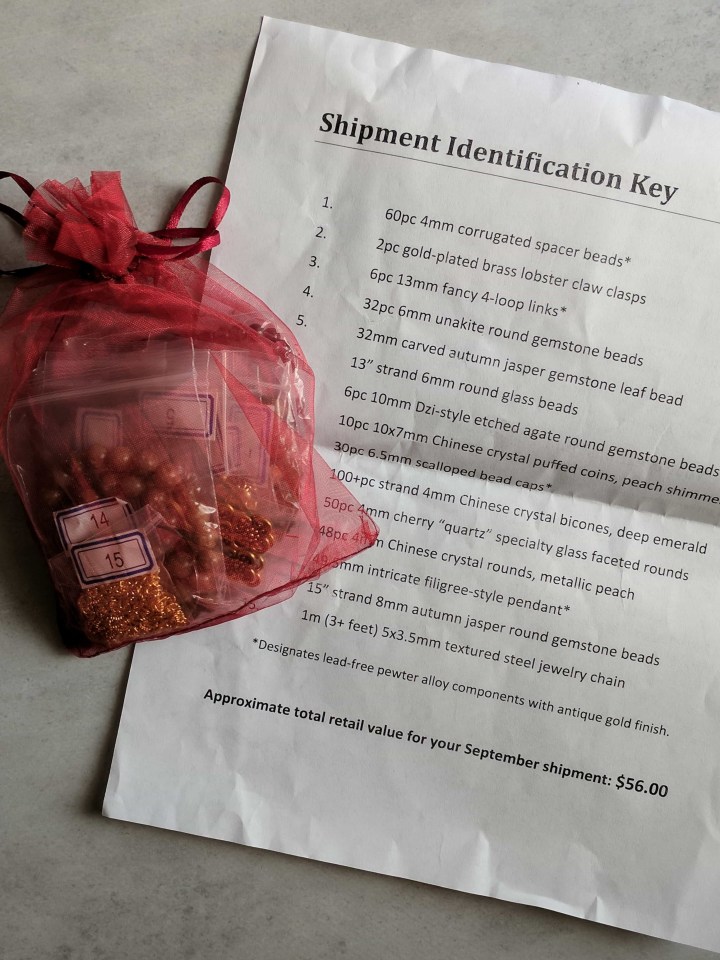 On the reverse of the introduction letter, we get a description of all the items in this month's box, with some gemstones (I love my gemstones!), and other subtle colored beads.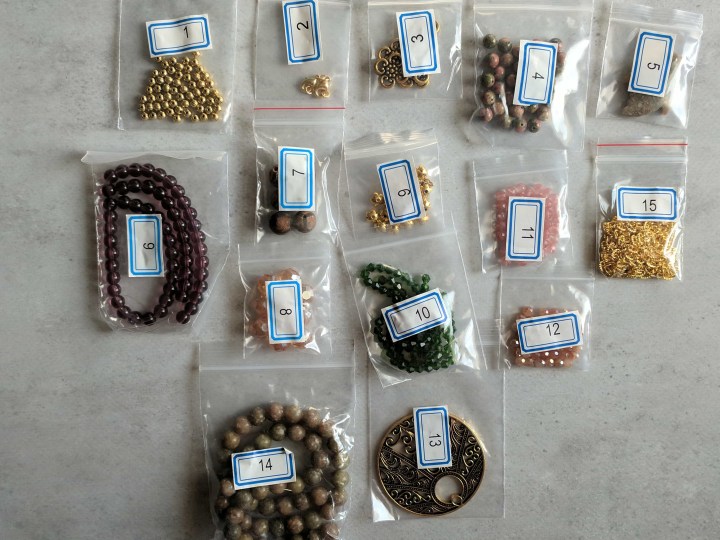 I've spotted all the gemstones already. They are mine!!!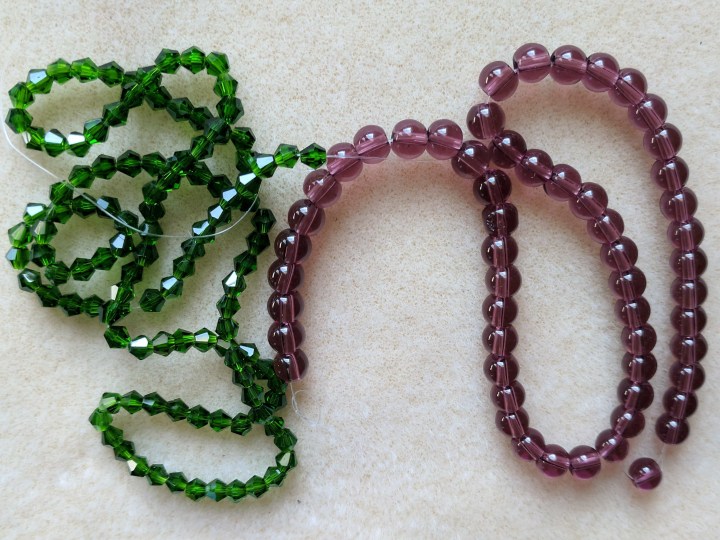 4mm Chinese crystal bicones, deep emerald. Bargain Bead Box loves their small crystal bicones, and I do too! The colour is so pretty, and crystal bicones add sparks even in small packages!
6mm round glass beads. In deep amethyst colour, they remind me of the grapes in my backyard! Together with the green bicones, they are the perfect pairing for a wine inspired jewelry piece! I love how they can easily be paired with bead caps for a great look.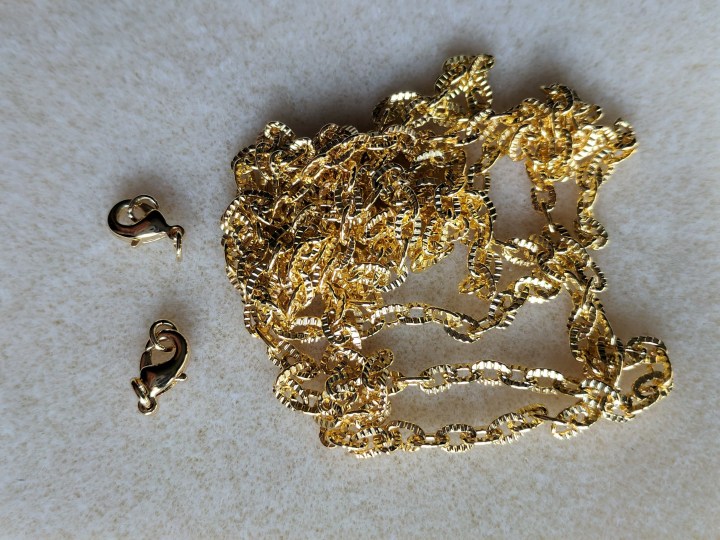 Gold-plated brass lobster claw clasps. Every month, we get some findings staples, such as at least two clasps to really help put a finishing touch to any design.
1m 5×3.5mm textured steel jewelry chain. Most of the months, we also get chains, and I love what came with this month's selection!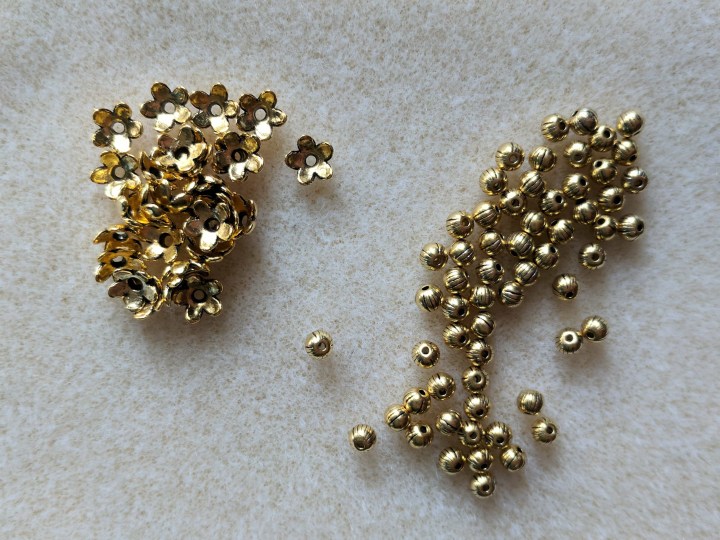 60pc 4mm corrugated spacer beads. Spacer beads are an other staple in Bargain Bead Boxes. They help adds some interesting details to bead heavy design.
6.5mm scalloped bead caps.  Bead caps are also a nice staples in this box. They upped the look of simple beads (like the amethyst round glass ones).
6pc 13mm fancy 4-loop links. They can be use as simple links in a chain-like design, or as links with dangles, or for chandelier-like earrings.
49.5mm intricate filigree-style pendant. I used to not use big pendants like this one, but so much can be do with this one! Turquoise or redish varnish (for a vert-de-gris or rusted look),  could be applied to it, and the pendant could be paired with pearls for a Victorian-style necklace. There's also a possibility to add dangles all around it for a statement piece.
32mm carved autumn jasper gemstone leaf bead and 8mm autumn jasper round gemstone beads. Gemstones! I love love love gemstones! I love how earthy and very autumn-like colours these jasper stones are. I like that we get a cute leaf pendant in the same kind of stone, even though I ended up not using it in my final design.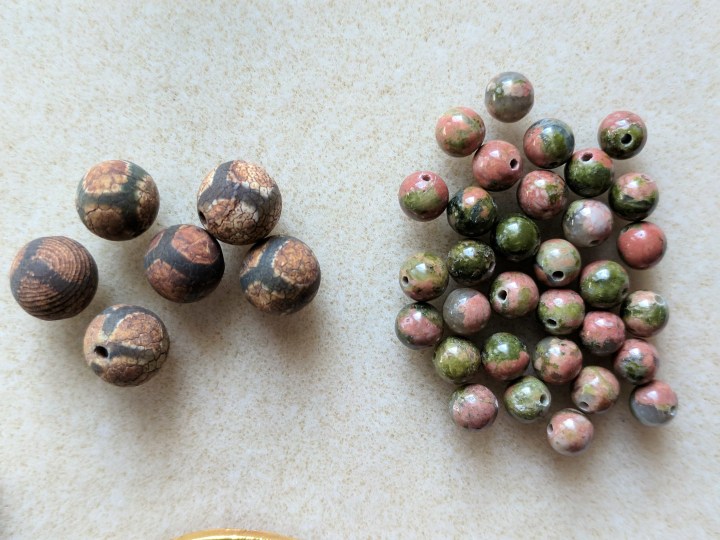 32pc 6mm unakite round gemstone beads. More gemstones! They are super cute mixed with the jasper, while adding some fun pink color!
10mm Dzi-style etched agate round gemstone beads. They are terra-cotta like, but smooth to the touch. I wish I had more to make a necklace with some lava stone beads.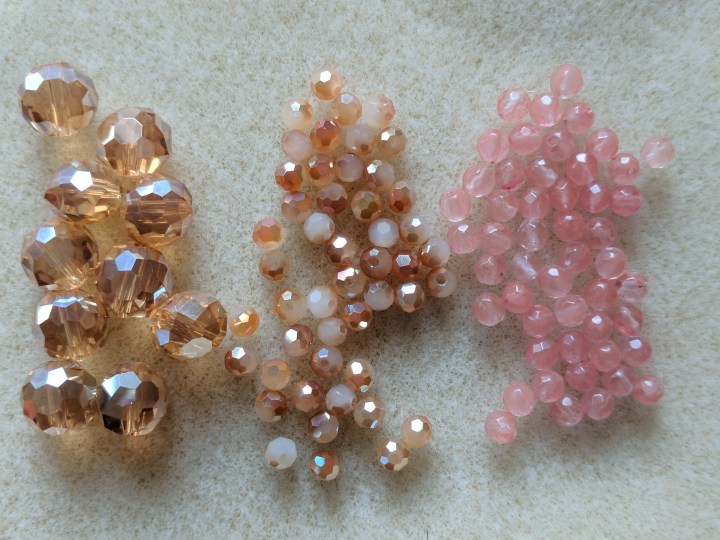 10x7mm Chinese crystal puffed coins, peach shimmer. I would not have called them coins, as they are not as flat as I would have expected. I love the colour, it really is in season!
4mm cherry "quartz" specialty glass faceted rounds. Even though they are not real gemstones (they are fancy glass beads), they are really pretty, with soft facets and they mix well with the green and pink unakite.
4mm Chinese crystal rounds, metallic peach. I love these tiny crystal rounds! The colour is soft, while being shiny!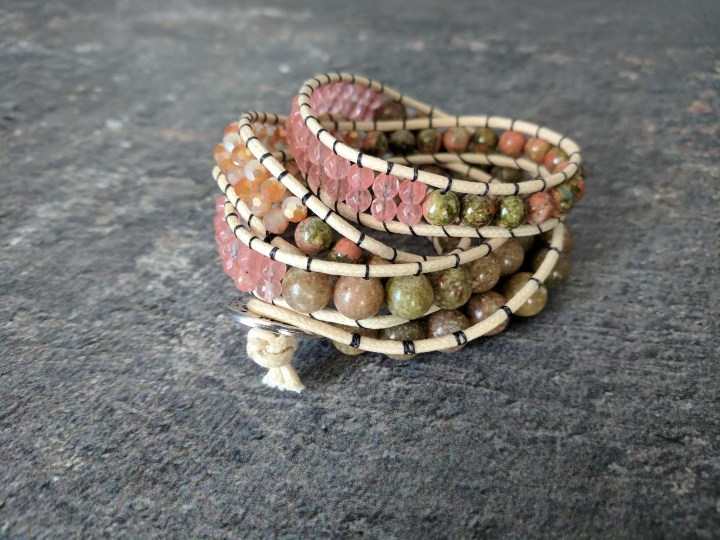 When I saw both the jasper and the unakite gemstones, I knew I wanted to do something to mix them together. I used almost all the unakite and the jasper, and I mixed them with all the cherry "quartz" and the crystal rounds to add colour and sparks!
Every month, I love seeing the selection we get from Bargain Bead Box. It's always season-friendly, we often get gemstones (and who doesn't like getting gemstones in the mail!), and even though we always get the same basic findings, they always come with a twist, and every month is a new fun discovery!
What did you think of this month's Bargain Bead Box?