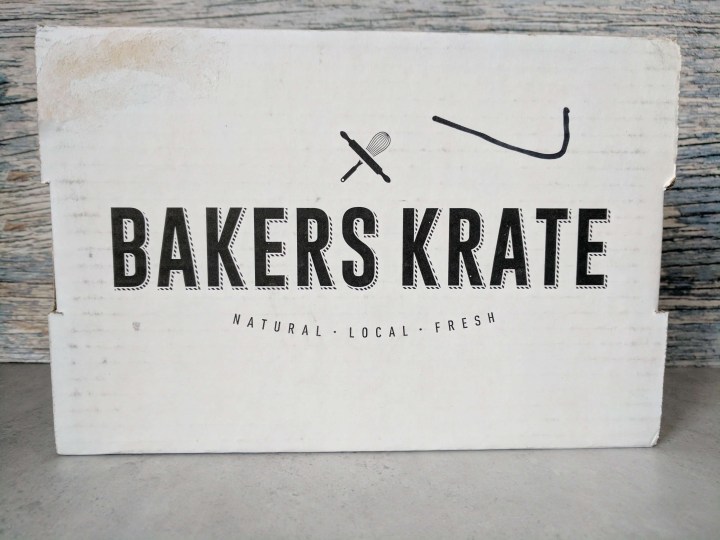 Baker's Krate is a Canadian subscription that sends you a box of delicious desserts once a month. The bakeries featured are all Canadian! This box features goodies mostly from Ontario. This box is $19.99 CAD and shipping is $9.99 across Canada (except to the Territories).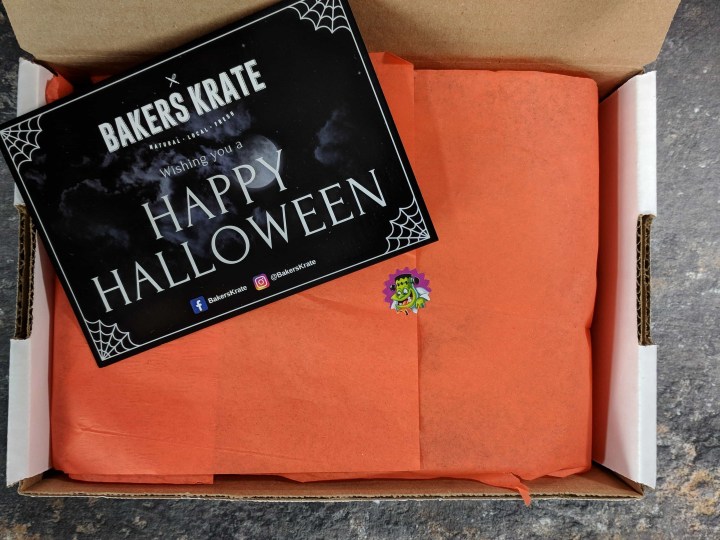 DEAL: Save 10% on your first month with coupon code SWEET.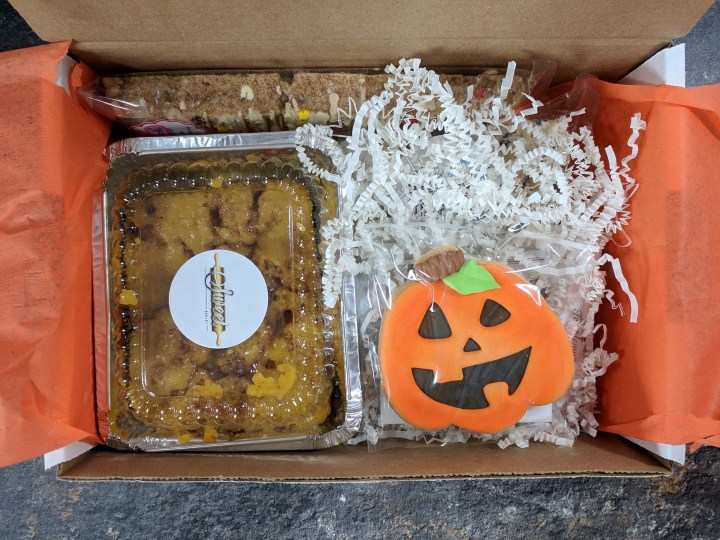 Everything in the box! Look at that happy little pumpkin!
All the bakeries featured in this box have their little introduction with their web address so you can order more of your favourites!
A second card tells us a bit more about all the sweets we get to discover.
An in-depth ingredients list is also included for all of the items on the reverse. I appreciate that, it's easier to avoid whatever could contain an allergen. I also like that you have an expiry date for each items, which is good if you intend to pace yourself (we don't).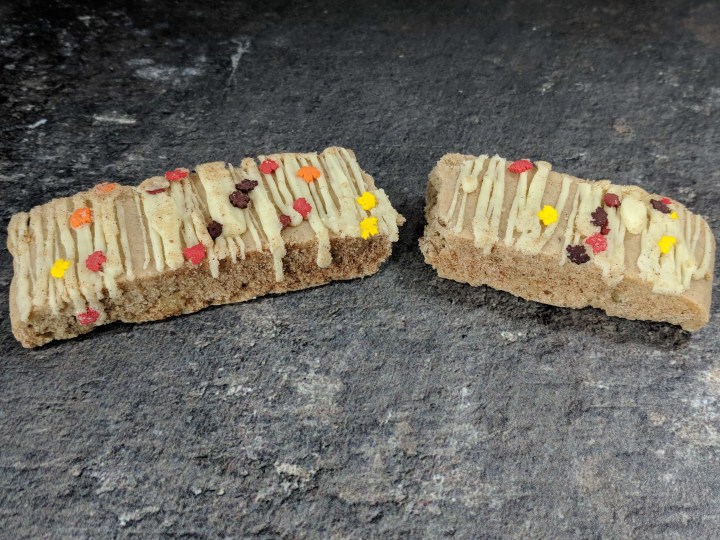 Pumpkin Pecan Spice by Hotti Biscotti. The hint of ginger, cinnamon, nutmeg and all spice really brought Fall flavors into this biscotti! The biscotti itself was a bit crumbly, as it should be, and really tasty with the right amount of sweetness from the icing, and the maple leaves sugar pieces were so cute!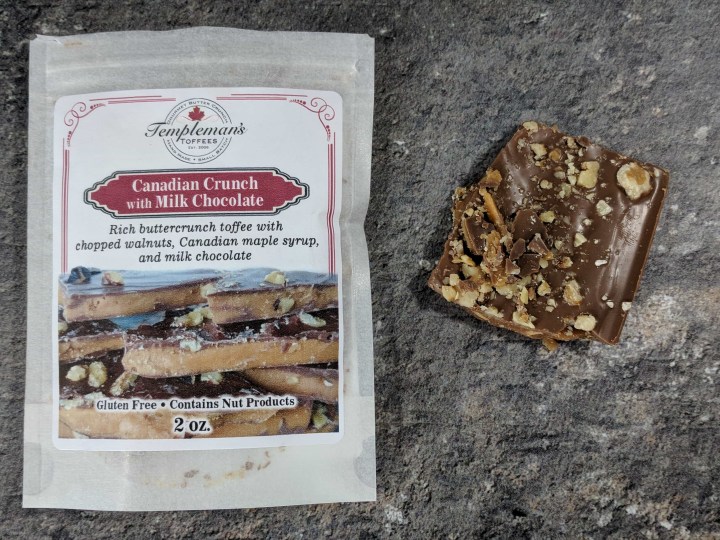 Canadian Crunch by Templeman's Toffee. Buttercrunch toffee infused with real Canadian Maple syrup with chopped walnuts, covered with a smooth and velvety milk chocolate and topped with more walnuts. I loved it!
The caramel was sweet, hard but easy to break apart, and the pieces of walnuts inside the hard caramel were small enough to add taste, without getting in the way of slowly melting caramel in the mouth.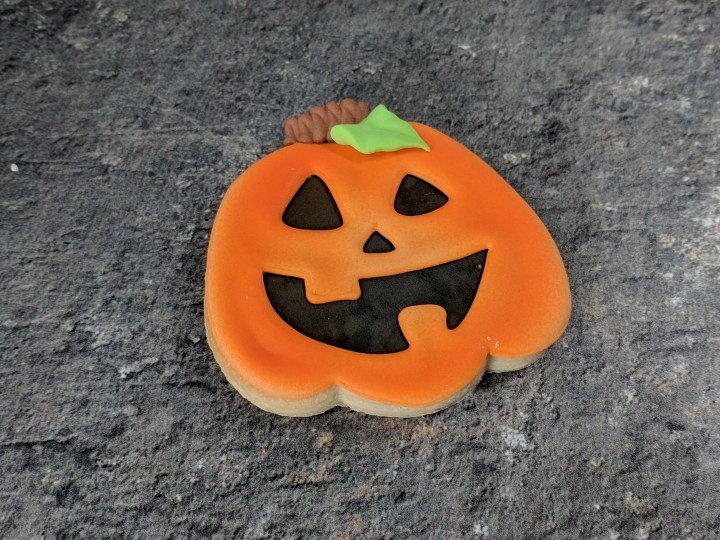 Halloween Cookie by Frosted Flour Co. Such a cutie! The cookie was easy to break apart without leaving me with a lot of crumbs, the frosting was light and sweet. We love simple yet tasty vanilla sugar cookies, and this one was great!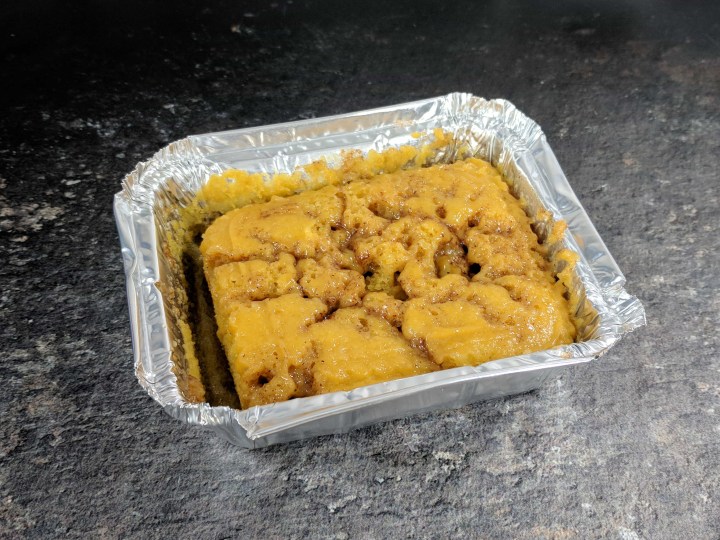 Pumpkin Maple Cake by Sweet Bakery. It was hard to take a good picture of that cake, but it tasted so good! This is not your usual cake. Not only is it moist, it is wet! But wet in a good way, as it feels like the batter was cooked in the pumpkin puree. It's gooey, sweet, satisfying. Would eat again!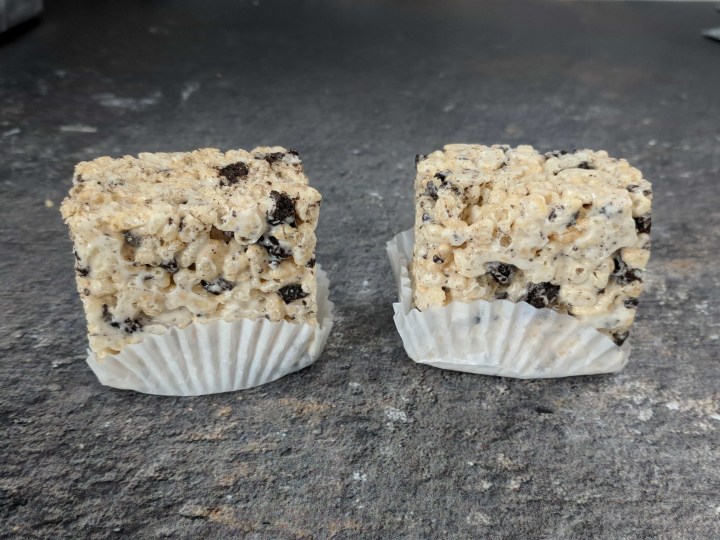 Cookies and Cream Crispy Cubes by OccaSSions. Rice crispies squares, but with bits of oreos. It was soft, sticky, with the right amount of marshmallow to give it that melty and tasty texture!
This was a great month for Bakers Krate! My favorite was the Canadian Crunch, but that's because I have a weakness for caramel, especially one made with maple syrup. The cake was amazing, and I really liked that we got enough of it to share! The cookie was adorable, the biscotti was a nice fall treat and who doesn't like marshmallow rice crispies! I really enjoyed my October's Bakers Krate!
What do you think of this month's treats?