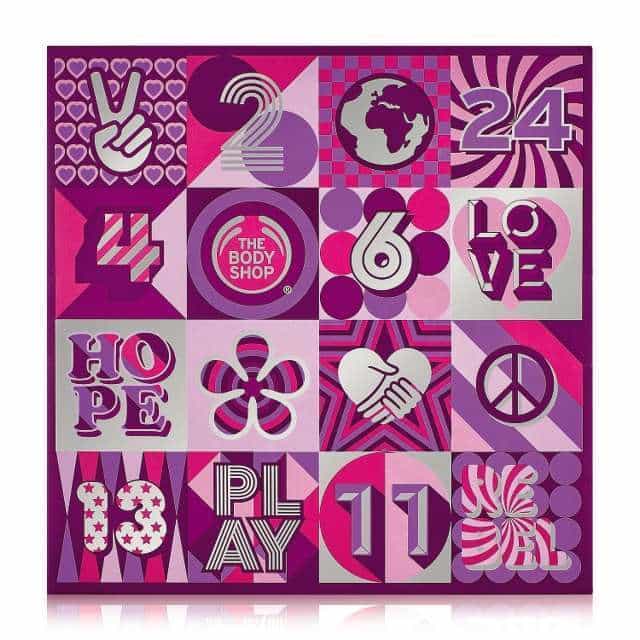 The 2017 Body Shop US 24 Days of Beauty Advent Calendar is available now!
FYI, we may see 2 more calendars appear shortly!
24 Days Of Beauty Advent Calendar ($55)
With 24 days of feel-good, naturally inspired discoveries, this beauty advent calendar makes a great gift idea for someone new to The Body Shop. Expect a whole load of mini essentials, from Body Butter to hand cream to shower gel. Countdown like crazy with us and treat yourself or someone special with our classic advent calendar.
This set includes:
Lip Butter Mango .34 FL OZ
Shower Gel Mango 2 FL OZ
Soap Frosted Plum 1 Piece
Shower Gel Coconut 2 FL OZ
Nail File
Shower Gel Pink Grapefruit 2 FL OZ
Soap Frosted Berries 1 Piece
Hand Cream Coconut 1 FL OZ
Eyelash Curler
Body Lotion Mango 2 FL OZ
Bath Lily White
Soap Vanilla 1 Piece
Eye Definer Black .038 OZ
Facial Cleansing Sponge
Shower Gel Strawberry 2 FL OZ
Lip Butter Shea .34 FL OZ
Gentle Eye Make Up Remover Camomile 2 FL OZ
Hand Cream Almond 1 FL OZ
Gloves Bath Red
Body Butter British Rose 1.69 FL OZ
Brush Brow/Lash Comb
Born Lippy™ Lip Balm Strawberry .34 FL OZ
Body Lotion White Musk 2 FL
Looking for even more advent calendars? See all the Beauty Advent Calendars or check out all our posts on Advent Calendars or check out the very best Beauty Advent Calendars!