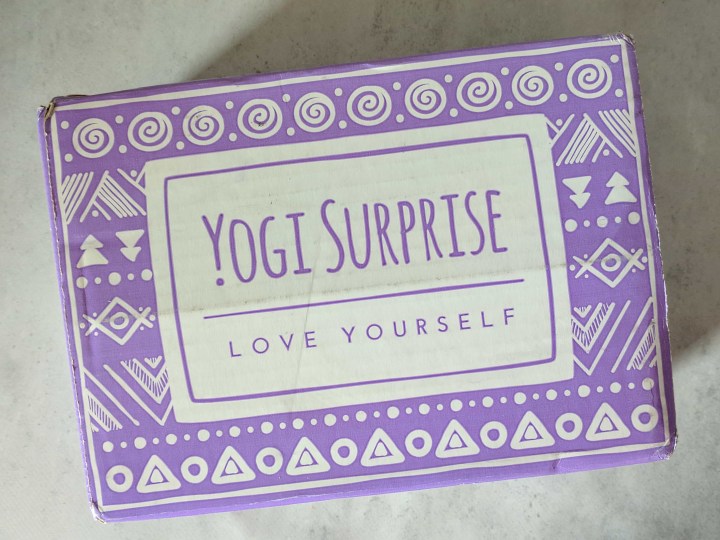 Yogi Surprise is a yoga-inspired monthly subscription box designed to complement your way of living. Each monthly box contains 6-8 products picked by experienced yogis to complement your yoga practice and your life! It's like getting a care package every month!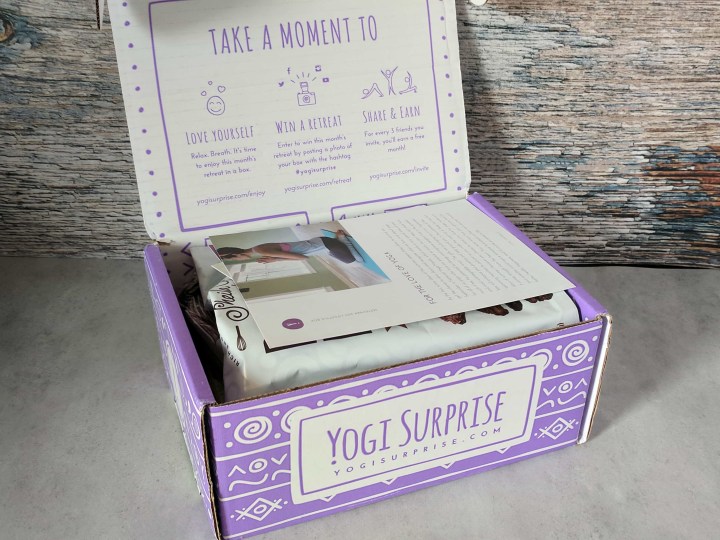 DEAL: Take 15% off your membership for life! Use coupon code HELLOYOGI.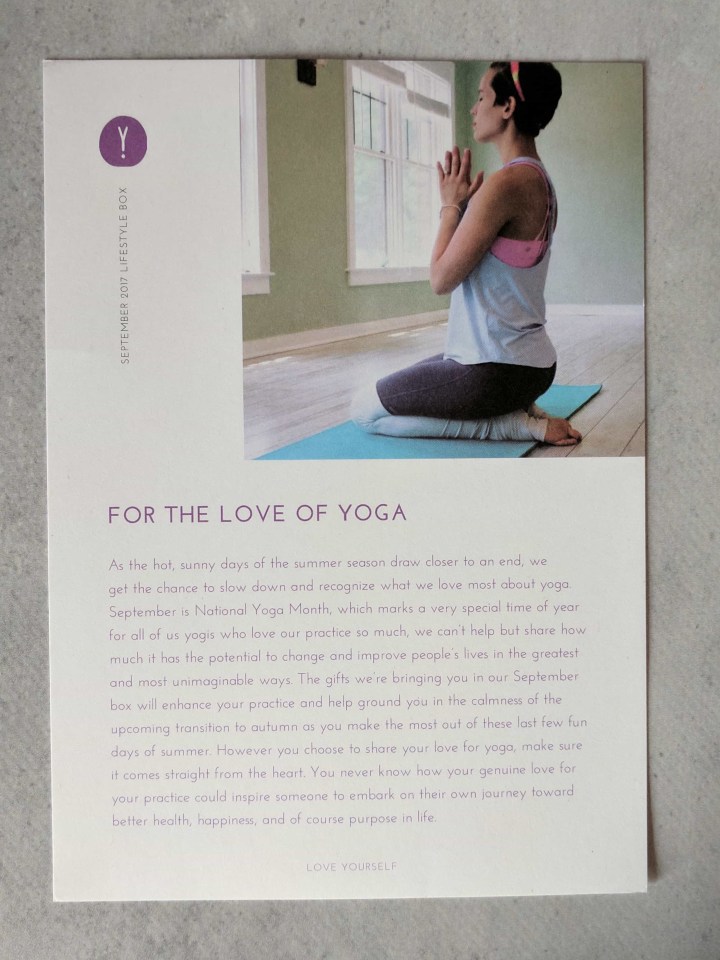 September's theme is For the Love of Yoga as we celebrate the National Yoga Month. It is time to slow down and recognize what we love most about yoga. This month's gifts will enhance our practice and help ground ourselves in the calmness of the upcoming transition to autumn.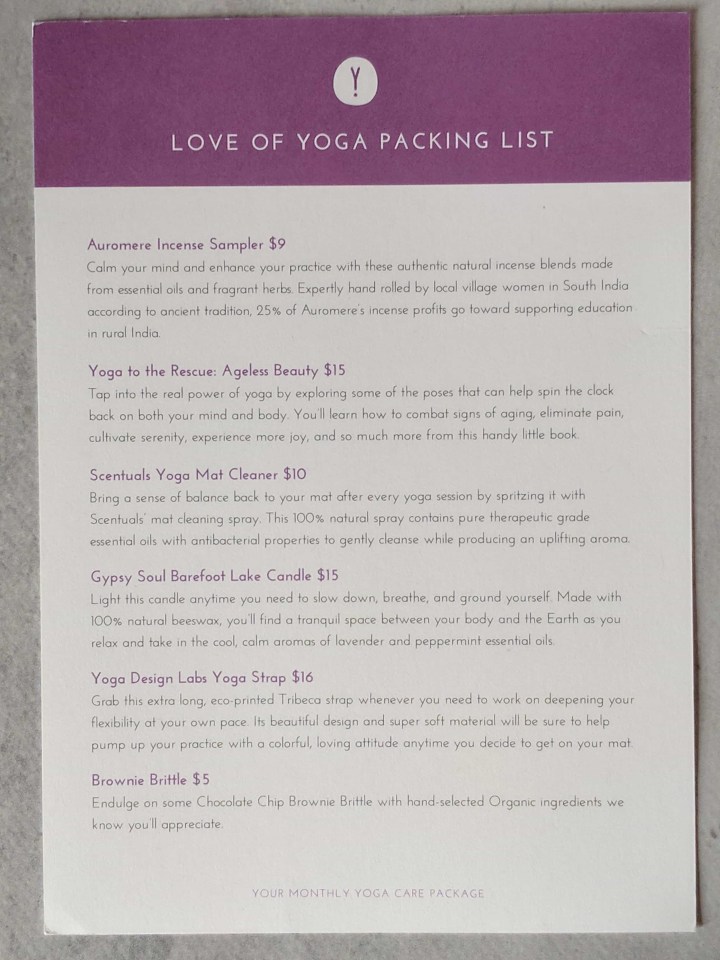 This month's packing list tells us what are the item.
Yogi Surprise Yoga Sequence Series Card. Every month, you receive a little card with a sequence of poses to celebrate the month's theme.
I love getting these sequences! This month, is about reflecting on what yoga has brought us as we flow through the sequence and ignite the fire within. I carry my sequence cards in my yoga bag for when inspiration is a problem! Fun fact: you can download all the previous sequence cards on the yogi surprise website so you can have your own little inspiration book!
If you share your Yogi Surprise photo on social media, you are automatically entered to win a Yoga Retreat.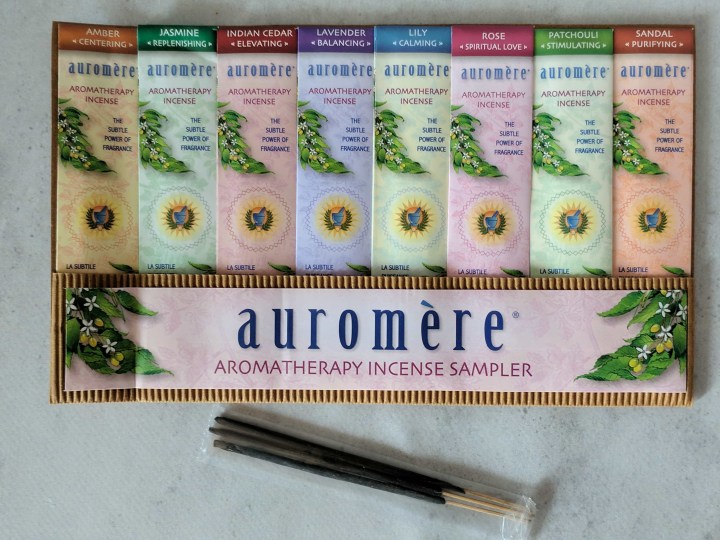 Auromère Incense Sampler ($9). Each of the eight package has three small incense sticks and everything smells amazing! I don't know which one I prefer, maybe the jasmine one, no the rose one! I don't usually burn incense sticks, but I like to keep some in a side pocket of a bag to make it smells nice, or just on my bookshelves. I like everything from auromère, and this doesn't disappoint! At the back of the package, there's a list of the properties of each aromatherapy blend.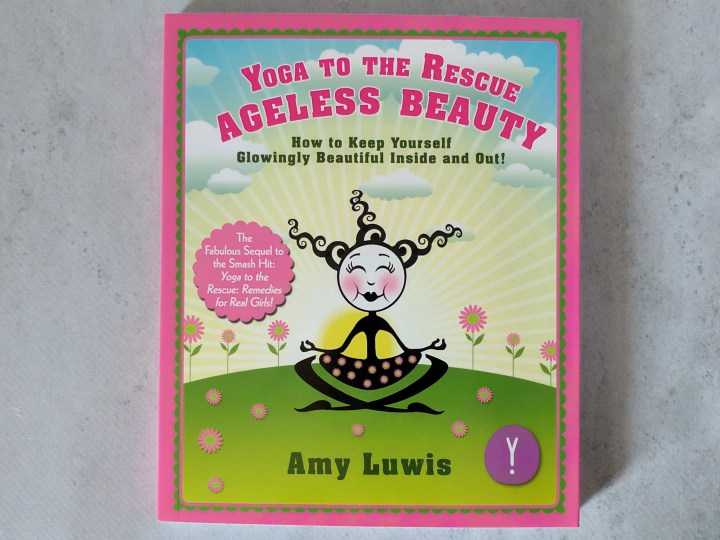 Yoga to the Rescue: Ageless Beauty. A fun little book to learn how yoga poses can affect your health.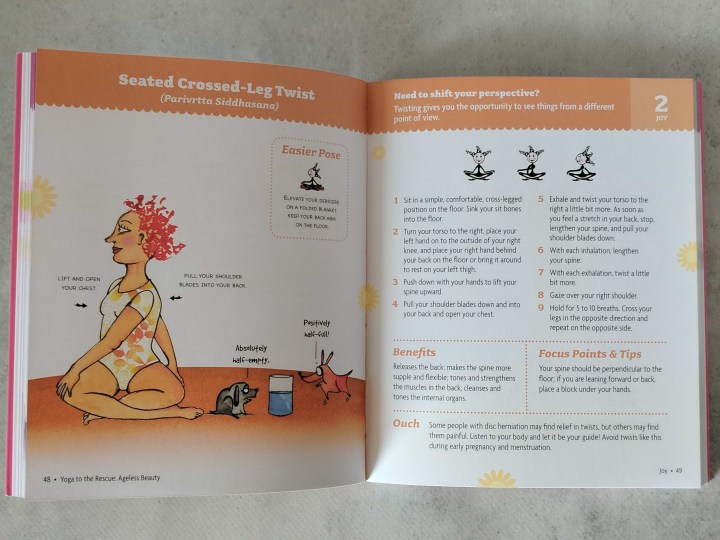 Each pose is shown and described. You also get the benefits of the pose, and what to avoid while doing it. The book is not to big, so it's easy to carry in a yoga bag for the yogi-on-the-go.
Scentuals Yoga Mat Cleaner. Yoga mats can, and will, become nasty. Most of us will roll our yoga mat right after our practice, without leaving it time to dry. And when we roll it, we don't usually clean the surface that came into contact with the ground, so everything gets nicely rolled together with our sweat! Not fun! So having a mat cleaning spray is such an important part of a practice, it should be part of our routine.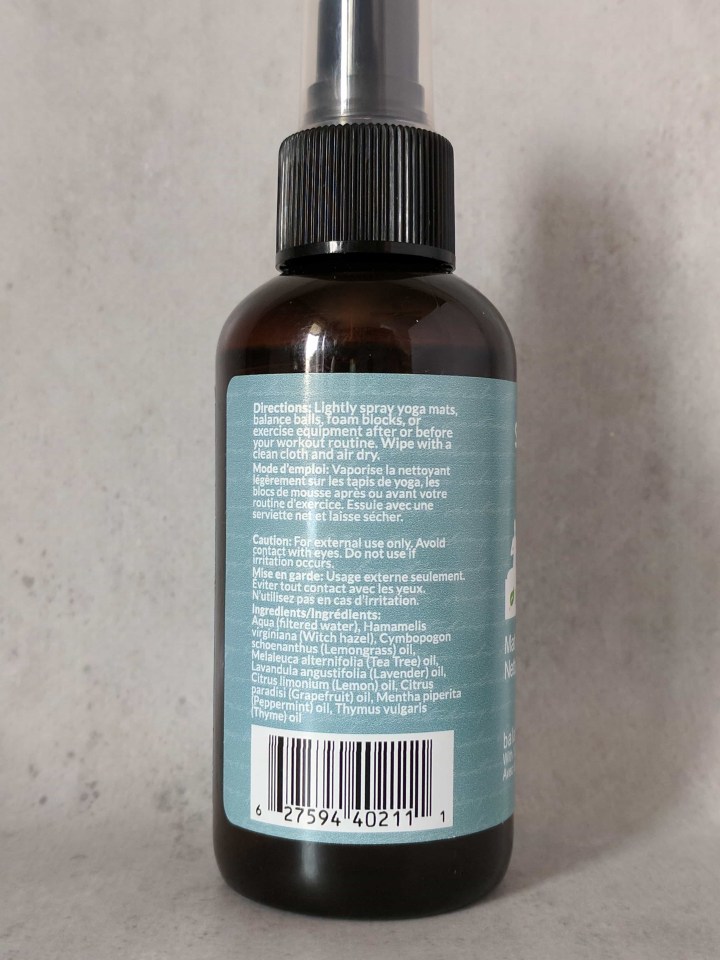 It can also be used to clean yoga blocks. It's made with nice essential oils, and it smells quite nice! Spray, wipe and let it dry. Perfect before or after a practice (or both, my mat is old enough that I need to clean it all the time).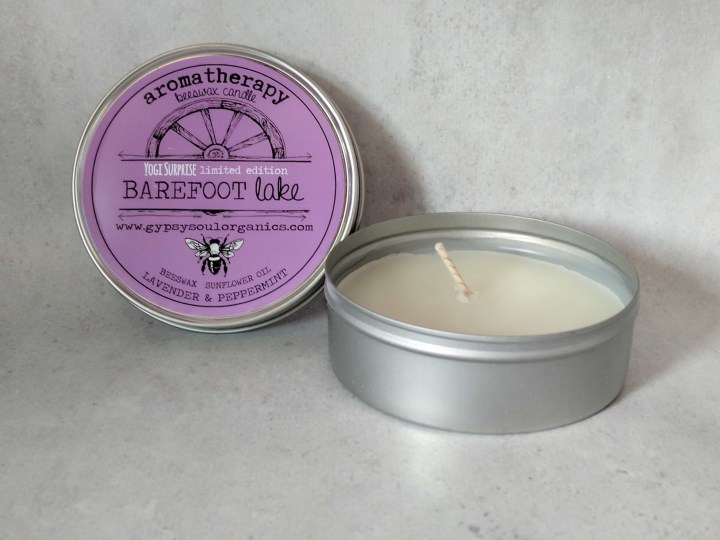 Gypsy Soul Barefoot Lake Candle. I'm not a big fan of lavender, but there's something about it when it's mixed with something like peppermint that makes me want to smile. It's a nice thin beeswax candle. You also get a 20% discount code on your next order in the box.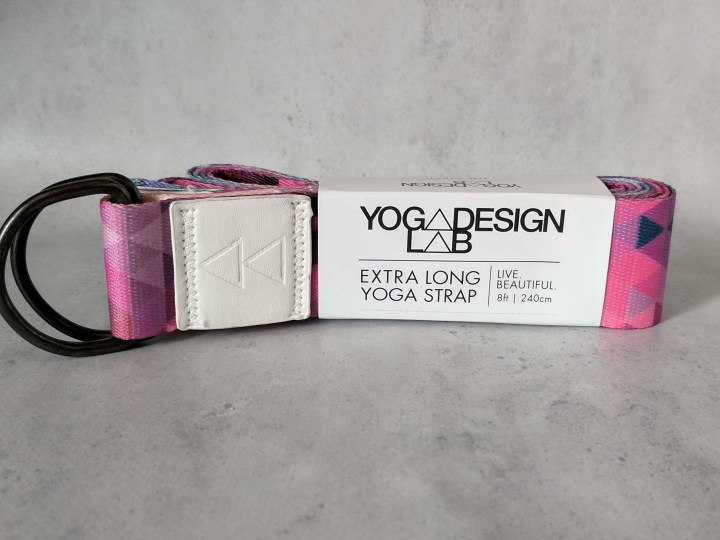 Yoga Design Labs Yoga Strap. Extra-long strap (8ft), it's soft, sturdy and so colorful! I know that for long-time subscribers, we do get a lot of yoga straps, but I always find the new one useful. I keep one in the living room to stretch while binging on some series, one in my office for when I need a break, one in my yoga bag, and so on. And this one is sooooooo pretty! I want the mat that matches it!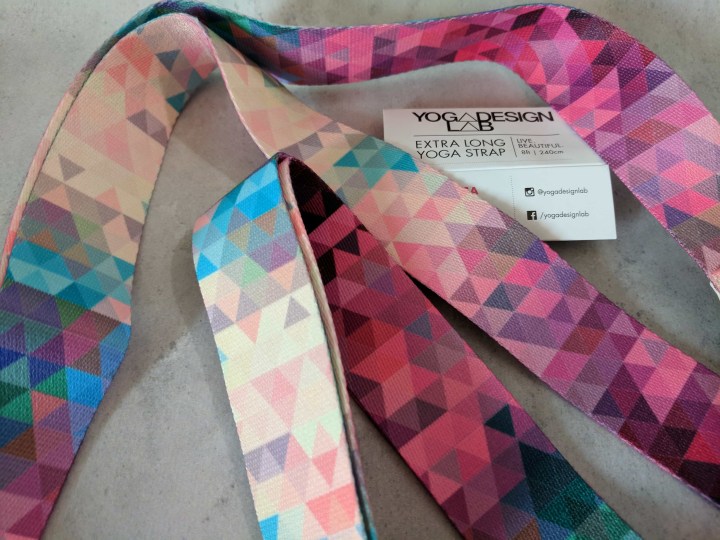 You can wash it in the washing machine. Yoga Design Labs also make pretty mats and towels and other yoga essentials, and we received a 15% off discount code in the box.
Brownie Brittle. They are sooooo good!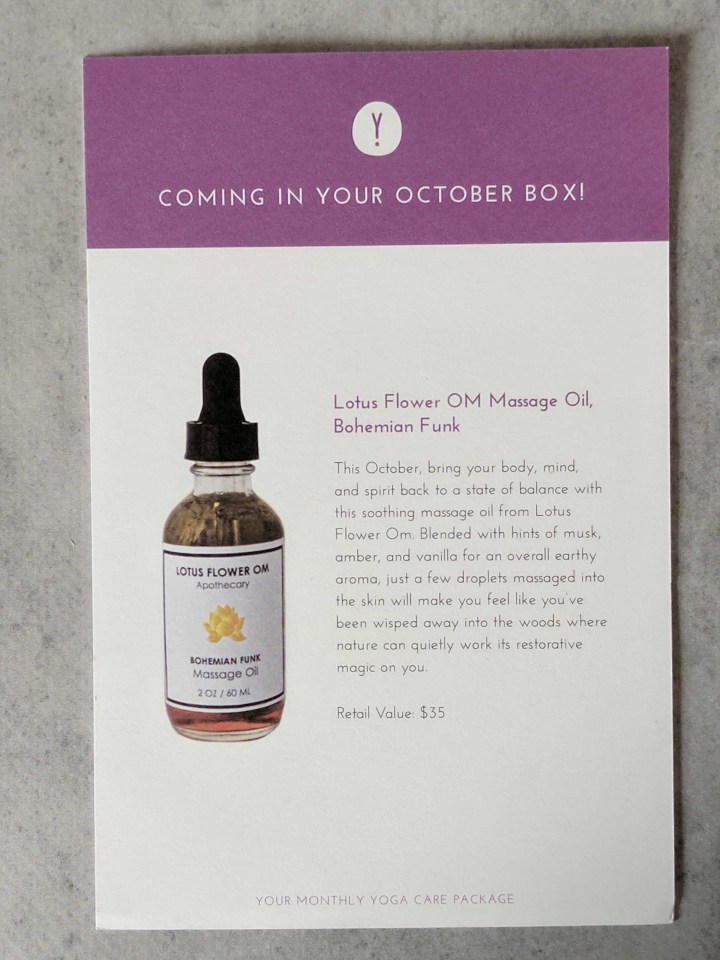 Included in the box, a spoiler for October's Yogi Surprise Lifestyle box: lotus flower OM massage oil.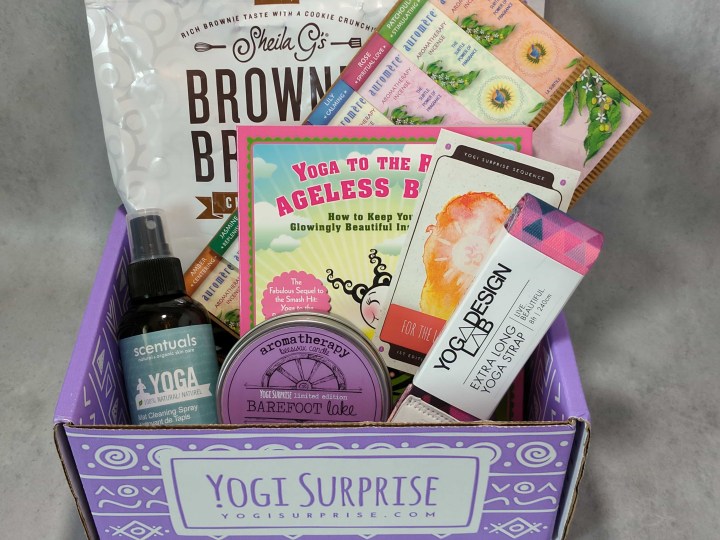 I'm always looking forward to my purple box in the mailbox! Once again, this month didn't disappoint. This was also a very fragrant box, I could smell it before opening my mailbox! I'm always a fan of books in subscription box, and the mat cleaner is so useful. The candle smells great and the brittle was to die for. An other great box!
Are you a Yogi Surprise subscriber? What did you think of the box?