VINEBOX is a monthly wine-by-the-glass subscription box that provides its subscribers with three wines to taste for $29 a month, or save on a longer subscription. The wines sent are very nice wines that are usually at least $30 a bottle so this is the ideal wine club for people who enjoy high-end boutique wines but want to try them before committing to purchasing an entire bottle. You can choose from reds, whites, or a mix, plus you can choose Adventurous, Classic, or Newcomer to get the best experience for your comfort level. Because the wine has been repackaged from its original bottles, the shipped tastings will only last for approximately 3 years from date of receipt. I decided to drink mine within just a couple of days!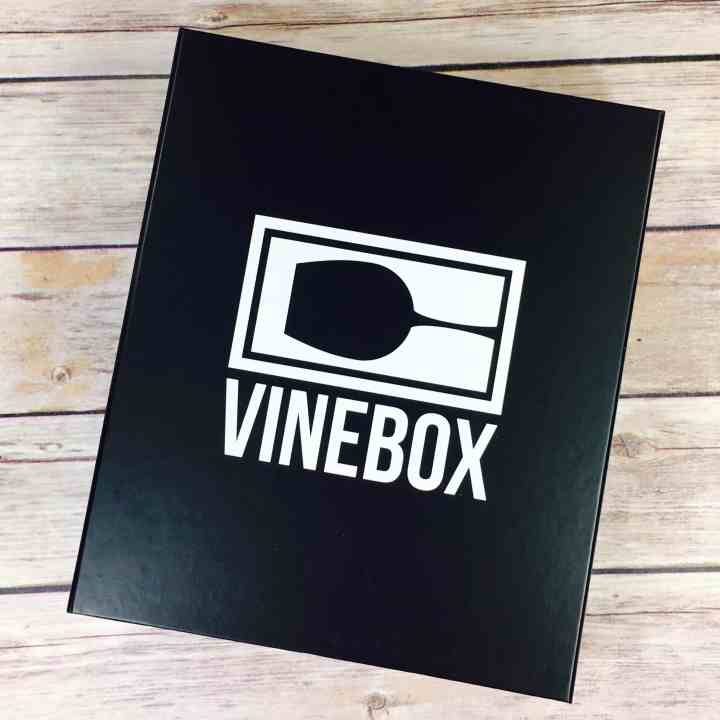 DEAL: Save 5% on all products including memberships, additional glasses purchases and limited edition boxes! Use coupon code HELLO5.
For a limited time save $10 on your first box with code SPRING10!
The three glasses of wine arrived packaged inside of a sleek black box with cushioning to keep them safe. Mine were delivered by FedEx and keep in mind that an adult 21 or older must sign for the package, or you can arrange to have it delivered to a FedEx site for pickup (mine is at a local grocery store). Tasting note cards are contained in an attractive envelope.
You can find information on each wine under "Wines" on the VINEBOX website.
I received two reds and a white this month!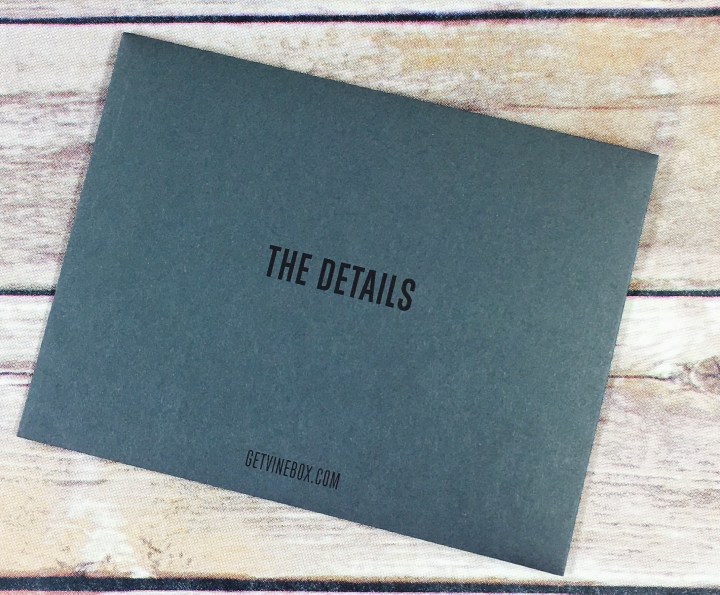 The presentation is sleek and sophisticated and I found a simple black envelope in the box.
I found a card to go with each of the wines. Each card has a quote on the front and tasting notes, food pairings, and other info on the wine.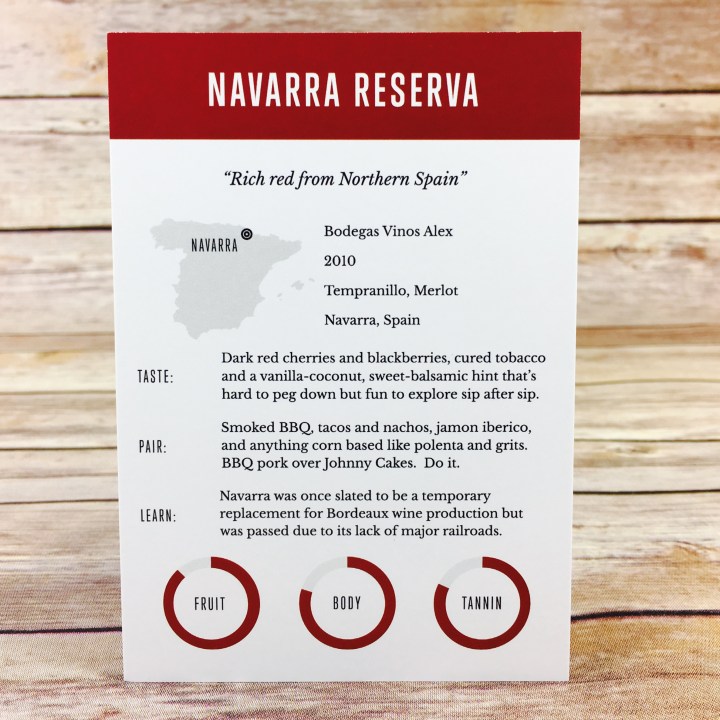 2010 Navarra Reserva is a bold red wine from Spain made with Tempranillo and Merlot grapes.
My husband said this one was very good, and it had a floral nose and was smooth and dry. It's supposed to have notes of dark red cherries and blackberries, but I couldn't pick that out.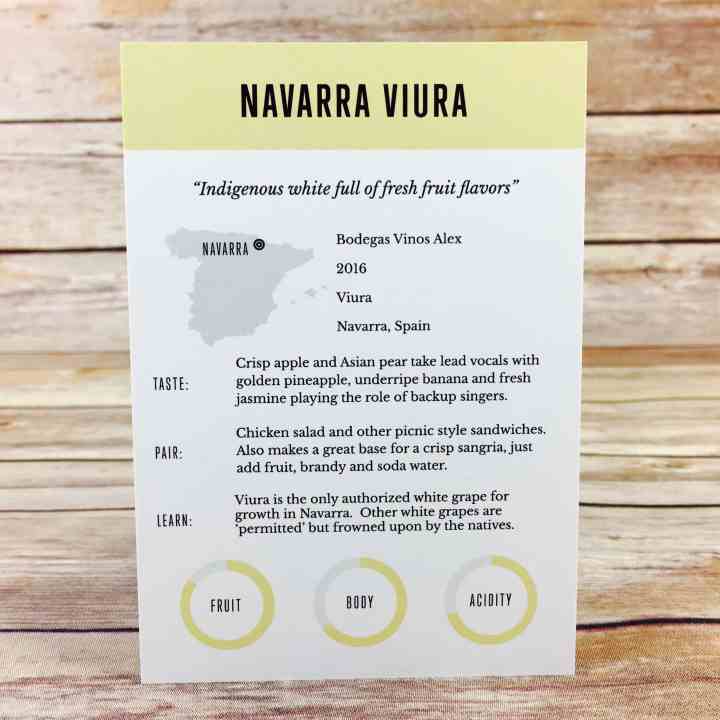 2016 Navarra Viura is also from Spain, in fact, it's from the same vineyard as the red above! This white is made with Viura grapes and was my favorite from this month's selections.
Smooth, sweet, and fruity make this super sippable in my book!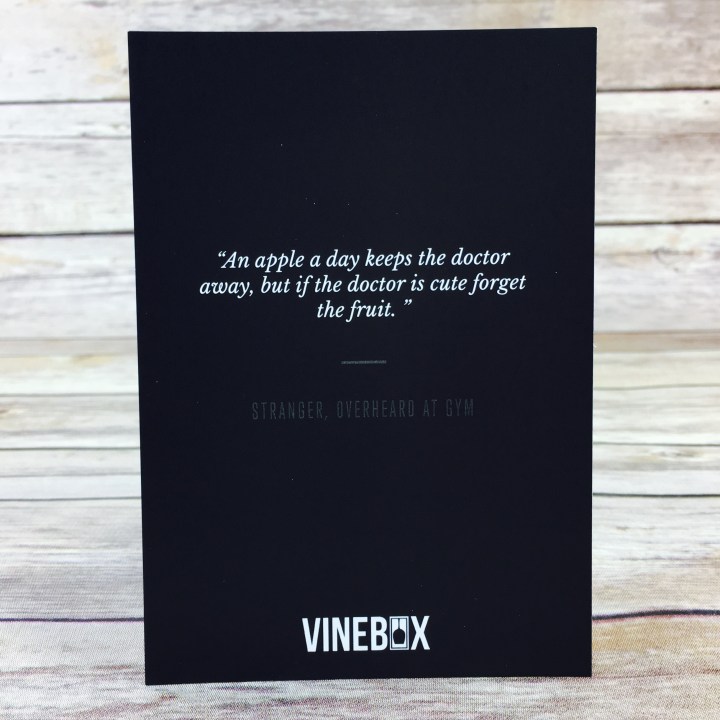 2014 Sette Aje Nero D'Avola is made of Nero D'Avola grapes from Sicily.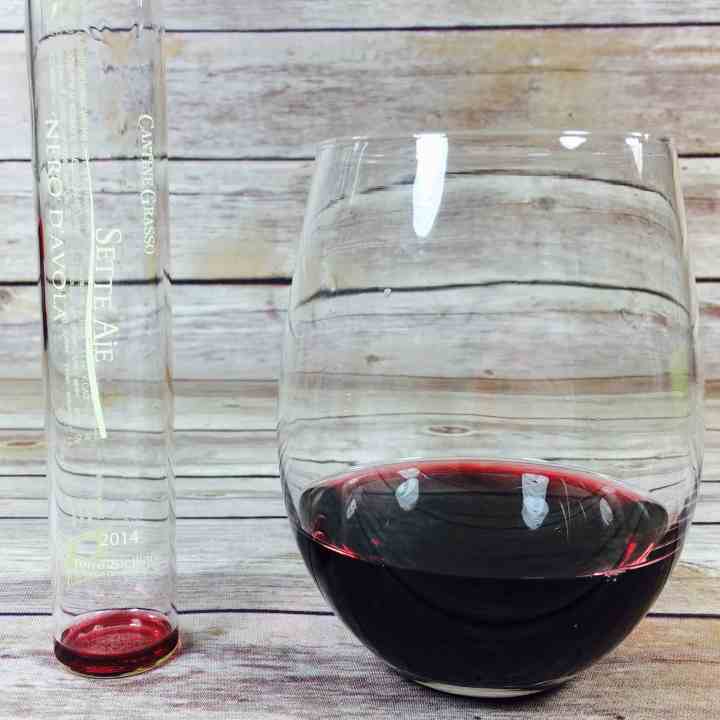 VINEBOX calls this wine "fruit forward AF" and likens it to a black cherry fruit leather! Martin said it smelled musky and detected a hint of smoke. He said it was rich and smooth and easy on the palate.
I really enjoy my monthly VINEBOX! I loved how they had tasting notes and info on the cards. I like to drink a little wine at a time (otherwise I feel ill) so this amount was perfect for me, plus the screw top lids meant that I could enjoy a few sips and then place back in the fridge to enjoy another time. I also appreciate that I can choose which types of wine I would like to receive. My husband said that he thought the quality of the wines was very nice – he expected them to taste watered down and weak but they are pretty potent!
Have you tried VINEBOX?