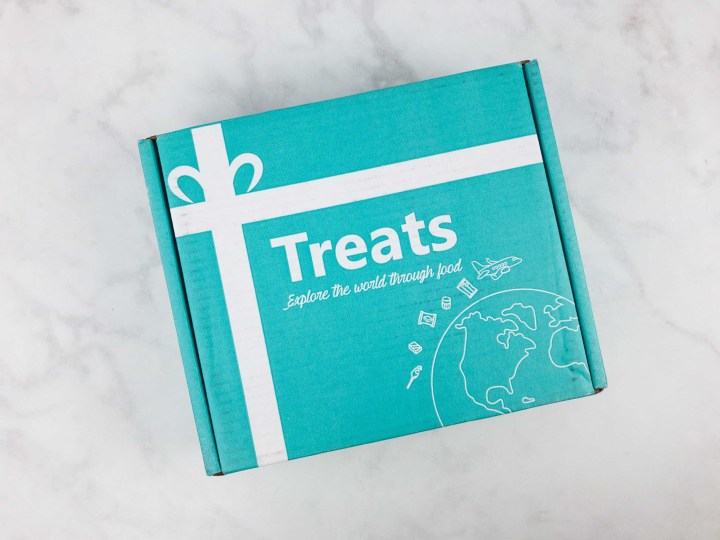 Treats is a monthly snack subscription full of snacks from around the world. You can expect to receive eclectic and interesting snacks that you've never sampled before (unless, of course, you've lived in the featured country recently)! The Standard Pack offers 4-5 snacks, while the Premium box offers 8-10. This, of course, is the Premium Box. It's quick to enroll, and you'll get your first box within a few days of when you subscribe.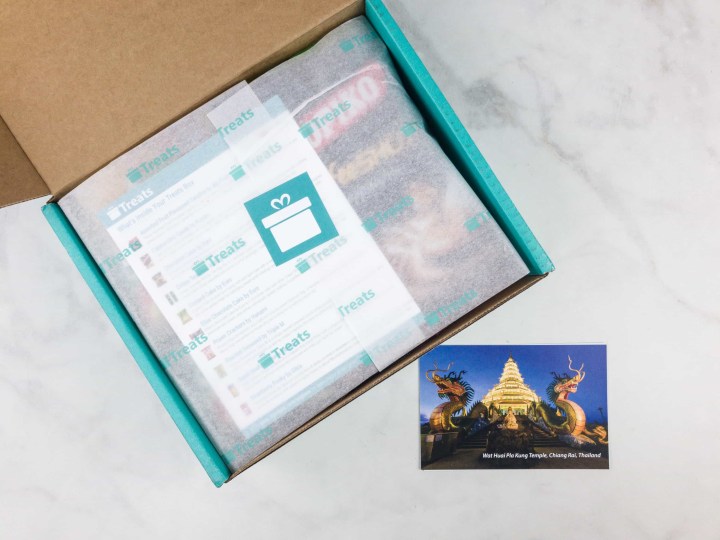 The packaging is simple and elegant. Tissue paper keeps the contents a surprise until you are ready to immerse yourself in the destination country's food culture.
The box is crowned with a beautiful postcard welcoming us to this month's Treats destination – Thailand!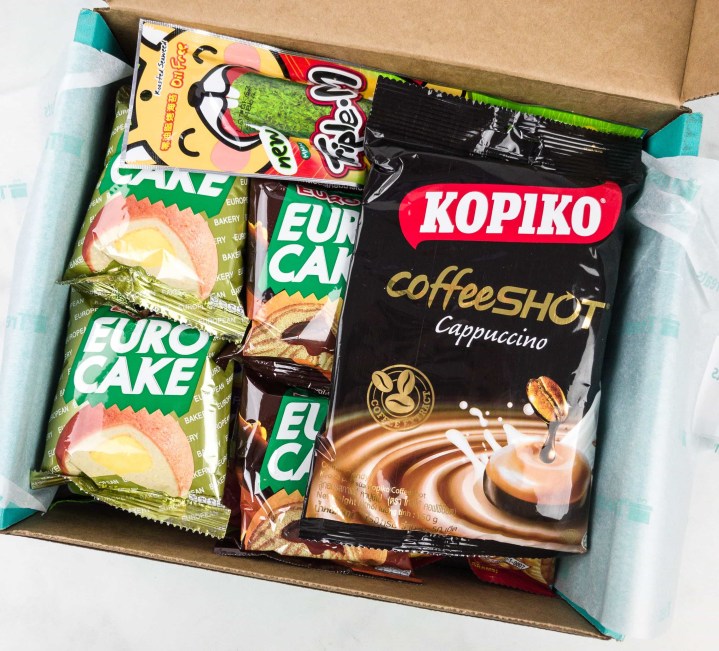 The box is filled to the top with goodies! Everything comes in its original packaging, often solely in the language of the featured country – sometimes it's just as much fun to see the unique package styling as it is to try the snacks!
DEAL: You can save 15% on your first month with coupon code HELLO15.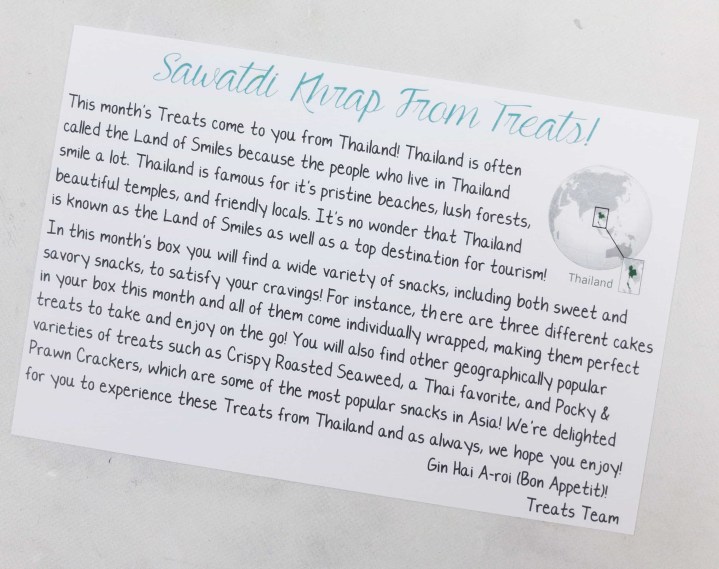 What a treat, a Thai themed box! The introduction card tells a little about the snack culture. It notes the Thai love of cakes and seaweed, something I hadn't previously associated with Thai cuisine.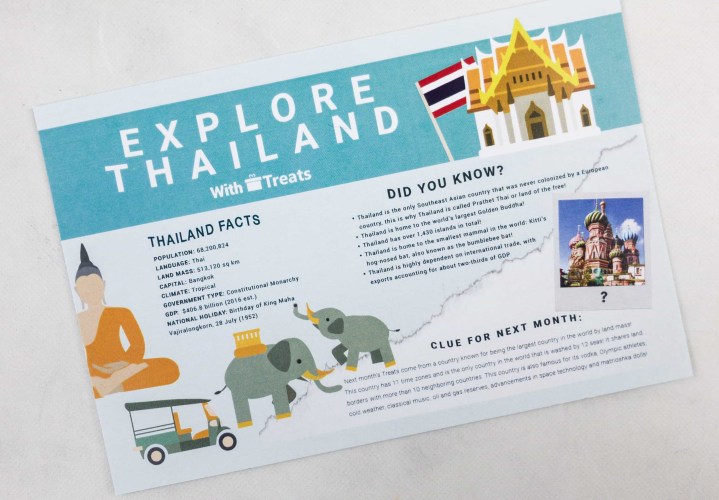 Treats now includes an additional card in each box that gives even more info on the destination country and its culture. There is also a blatant giveaway of next month' s destination – I'm thinking it must be Russia.
There's also a recipe card for a traditional Thai Ice Tea!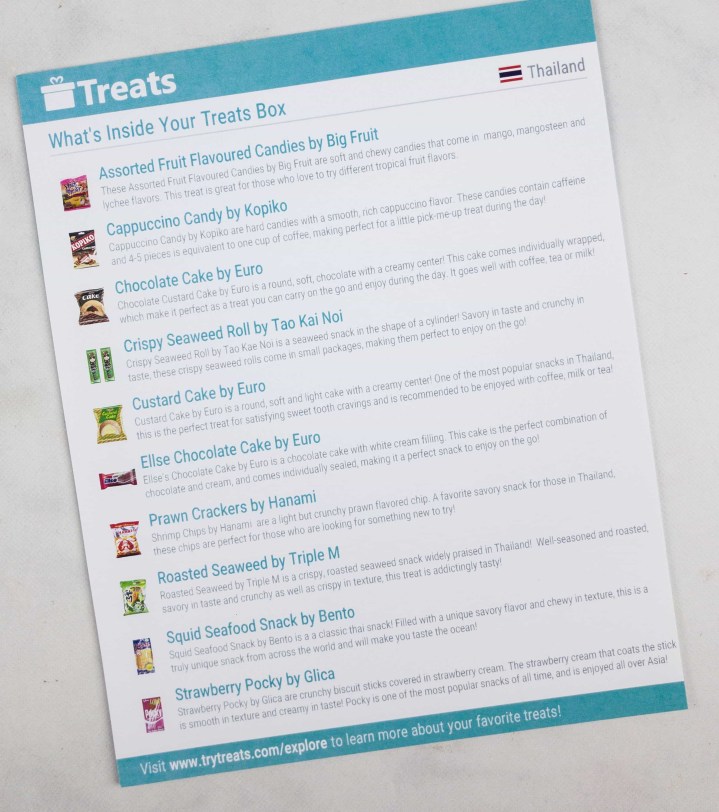 There is also a handy info card that gives the name and maker of each treat, as well as a short description of each.The blurbs give you a sense of what to expect, but you'll have to check each treat's label (and possibly hire a translator) for more detailed info on ingredients and nutrition. Even with the card, the only way to truly appreciate everything is to taste it!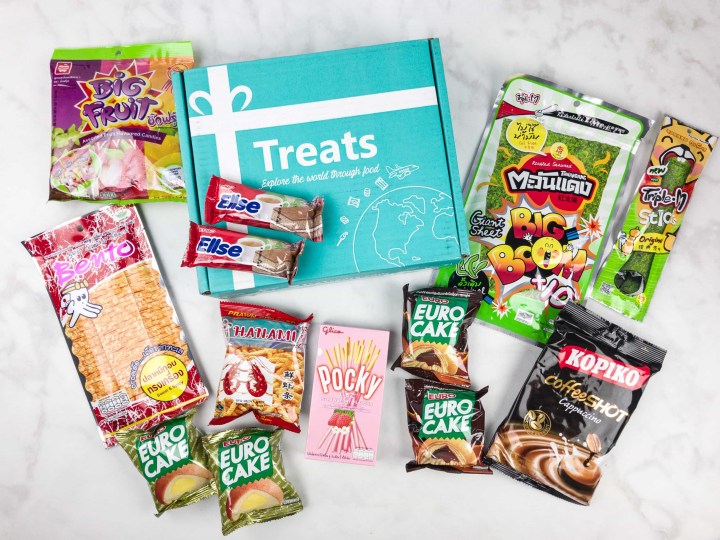 Everything in the box. The composition of each Treats collection depends on the local snacking culture, but there is usually a good mix of sweet and savory and individual and family packs. Lots of shiny wrappers this month, too!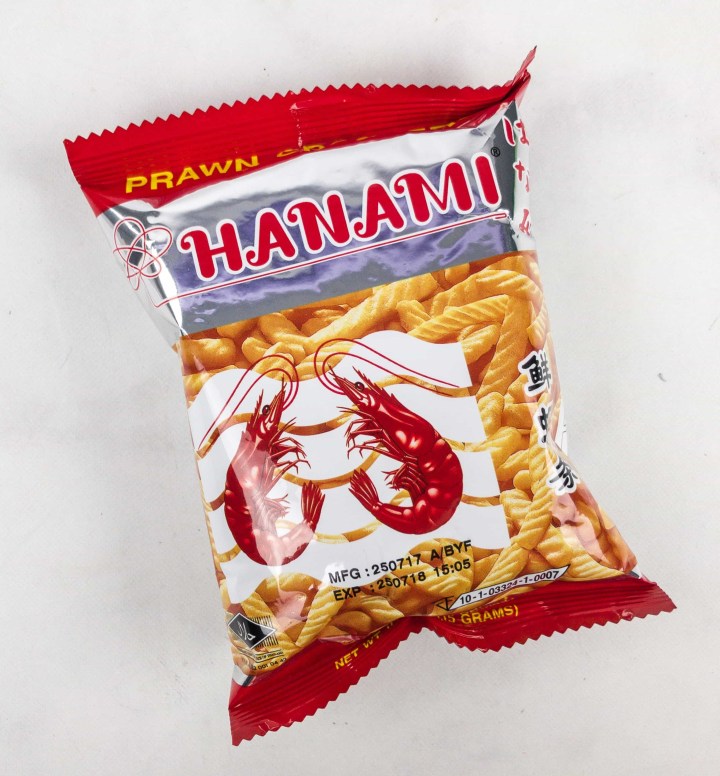 Hanami Prawn Crackers: Crispy, swirled puffed sticks flavored with prawn. They are pretty much identical to shrimp chips, but they sound more regal — they must have more giant prawns than the know what to do with!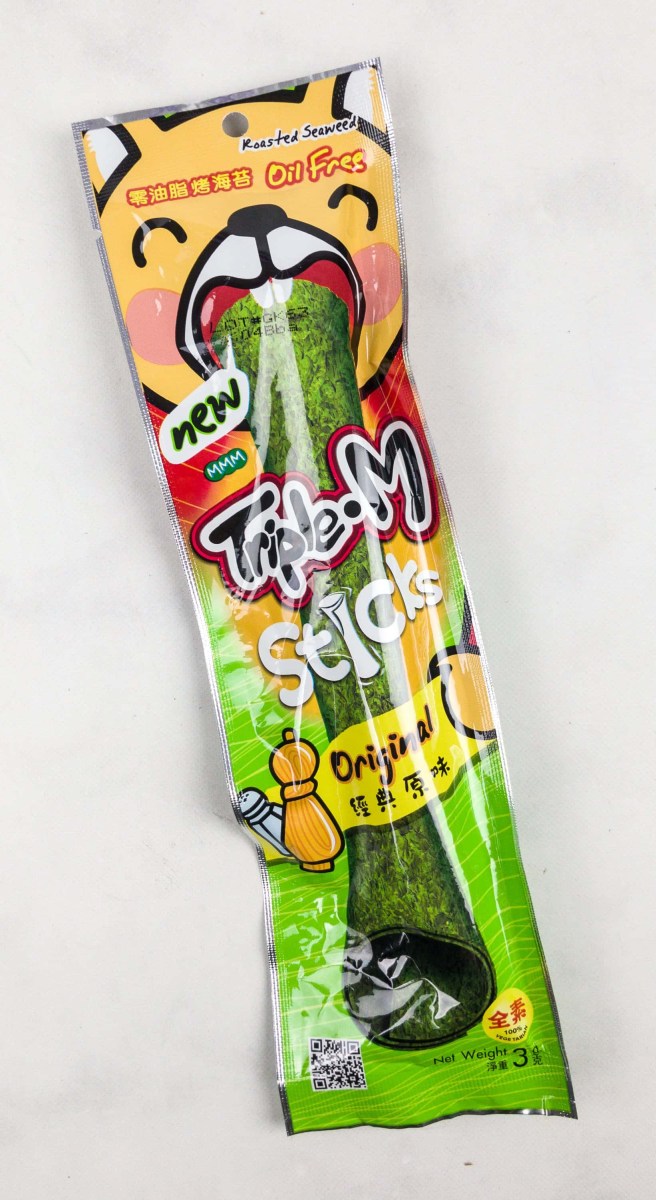 Triple M Roasted Seaweed Sticks: Chopped seaweed simply seasoned, roasted, and rolled into a tube for handy snacking. Despite the roasting, the tube isn't brittle — it actually has an incredible spring to it.
Bento Squid Seafood Snack: This one is a bit too authentic for my tastes. It is essentially perforated squid leather, with all its glorious fishy flavor and extreme chewiness.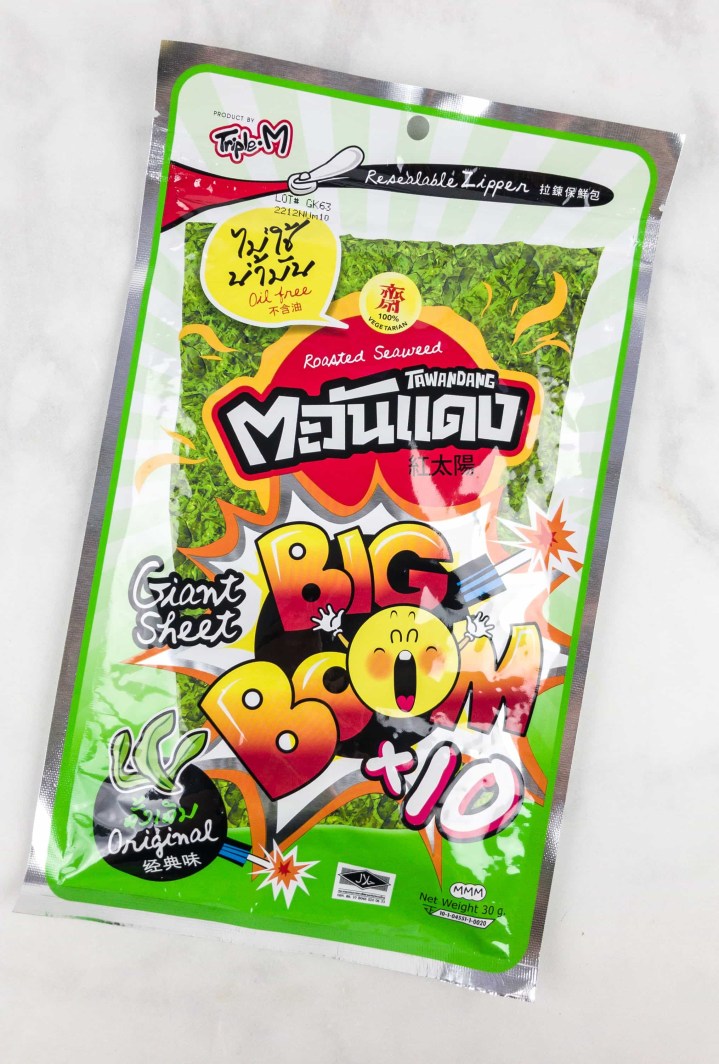 Triple M Roasted Seaweed Giant Sheet: Similar in composition as the tube, the "Big Boom x10" is a single, giant sheet of roasted seaweed. They make it without oil, so it doesn't get a chip-like texture and retains a more natural texture.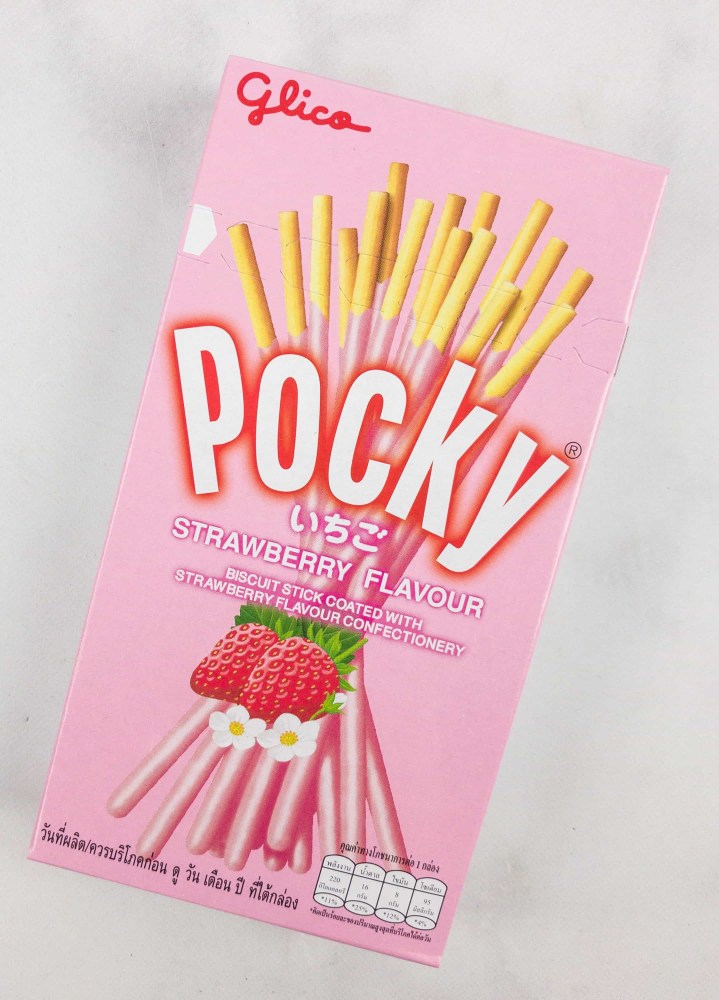 Glico Strawberry Pocky: This Japanese favorite is popular everywhere, including Thailand. This variety has the classic cookie stick covered with a strawberry flavored coating that is similar to that found on yogurt dipped pretzels, only sweeter.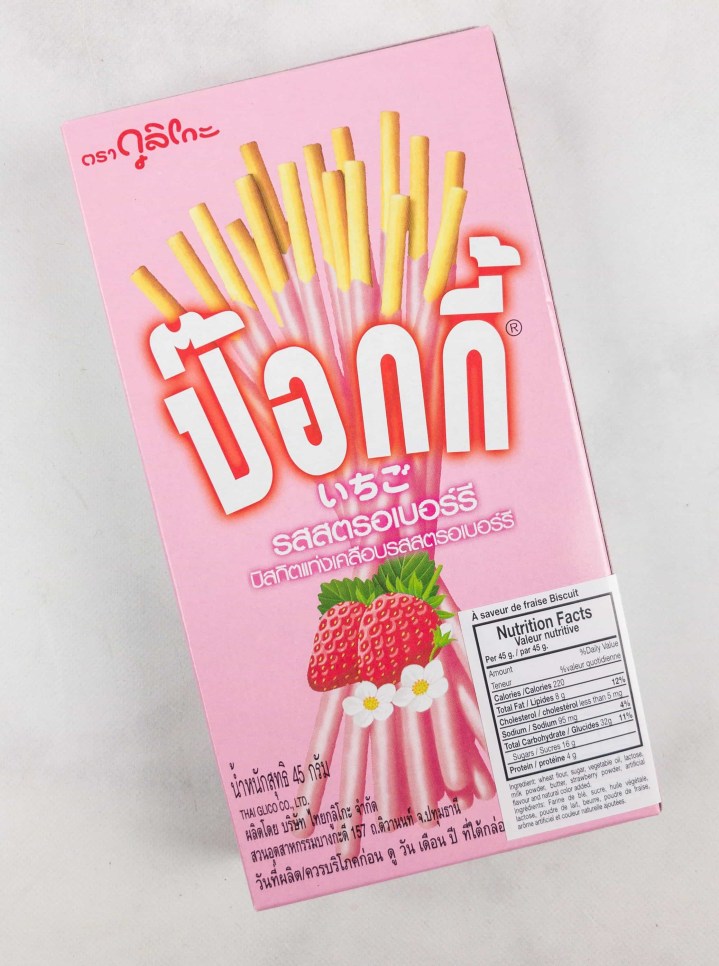 The reverse side of the pack has the Thai labeling.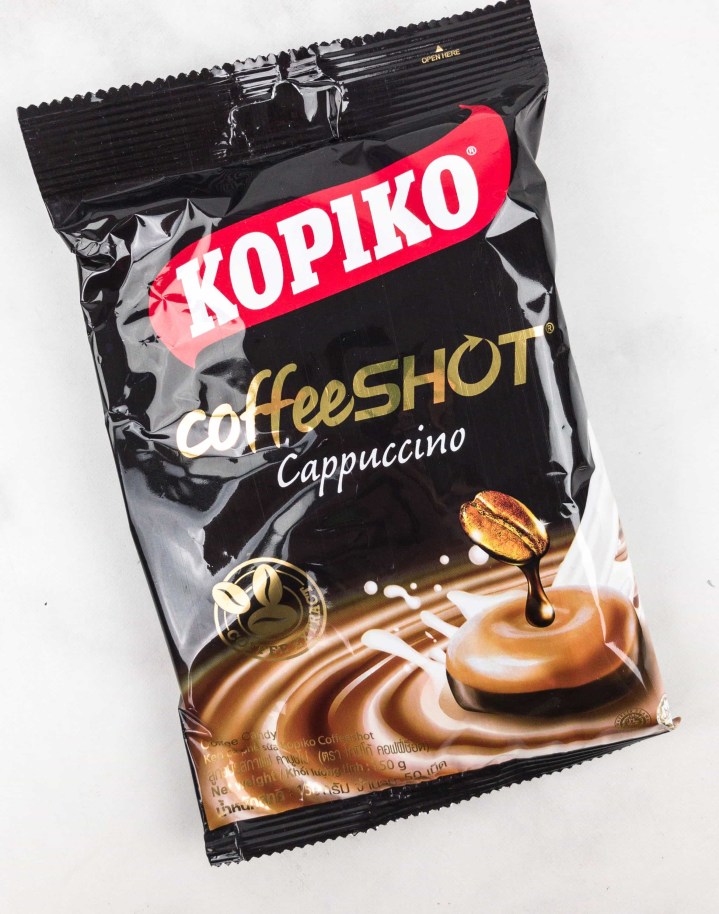 Kopiko Cappuccino Candy: The brand name reminds me of the term used for coffee in Singapore, "kopi." It is the same in Indonesia, where Kopiko originates.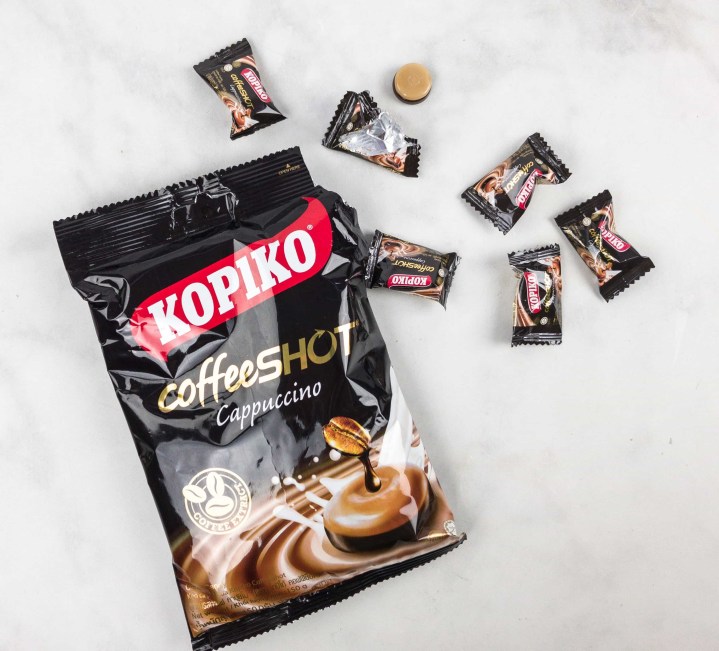 They are made with real coffee — four or five of these hard candies have the caffeine content equivalent to a cup of brewed coffee.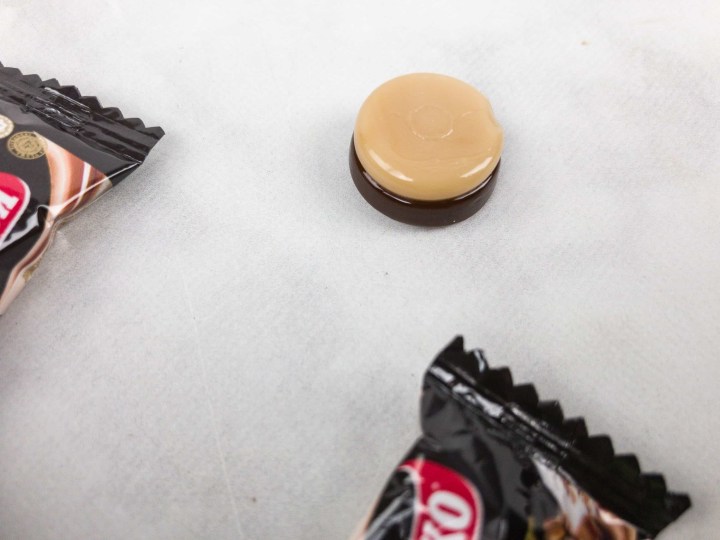 They look like stacked disks, with a dark and light layer, mimicking the espresso and steamed milk combo of Cappuccino. The flavor is intense and deep, but they've managed, like a good espresso, to capture concentrated coffee flavor without having a burnt or cooked down taste.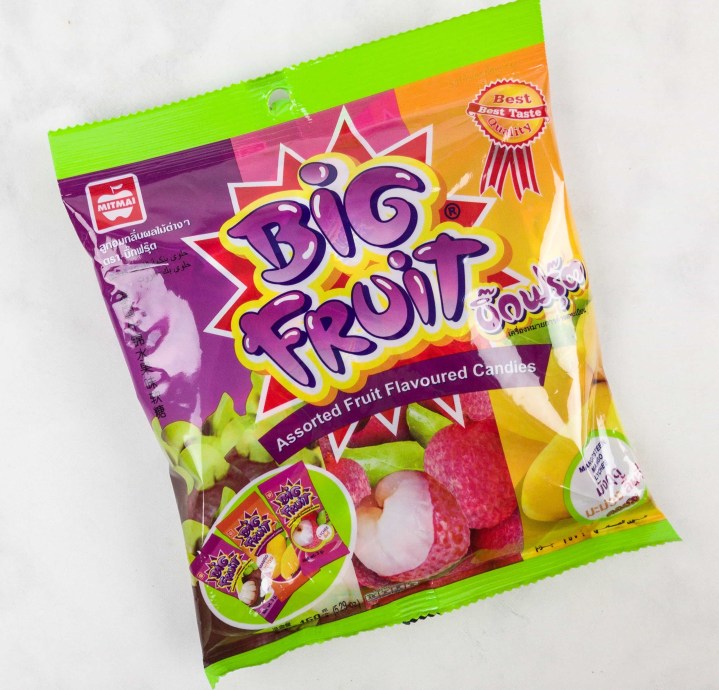 Big Fruit Assorted Fruit Flavored Candies: A bit bag of individually wrapped chewy candies. They are dense and extremely chewy — it's best to let them warm in your mouth for a bit before chomping away.
There are many candies in this bag! I'd estimate over 50 pieces.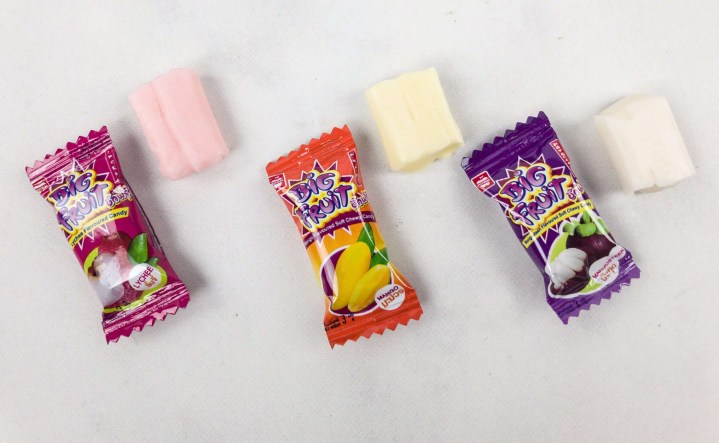 The flavors are really cool — not your everyday strawberry, cherry, and grape. Instead, you get (l to r) lychee, mango, and mangosteen! Lychee has a "perfumed" quality and is otherwise similar in flavor to a green grape. Mango is now a familiar flavor – this candy captures it well. Mangosteen is difficult to describe – it has a bit of a strawberries and cream meets bubblegum vibe, but it's pretty mellow. It is an appropriate choice of flavor, since Thailand produces 90% of the mangosteen imported to the U.S.
Euro Chocolate Cake: a slightly spongy little cake with chocolate filling.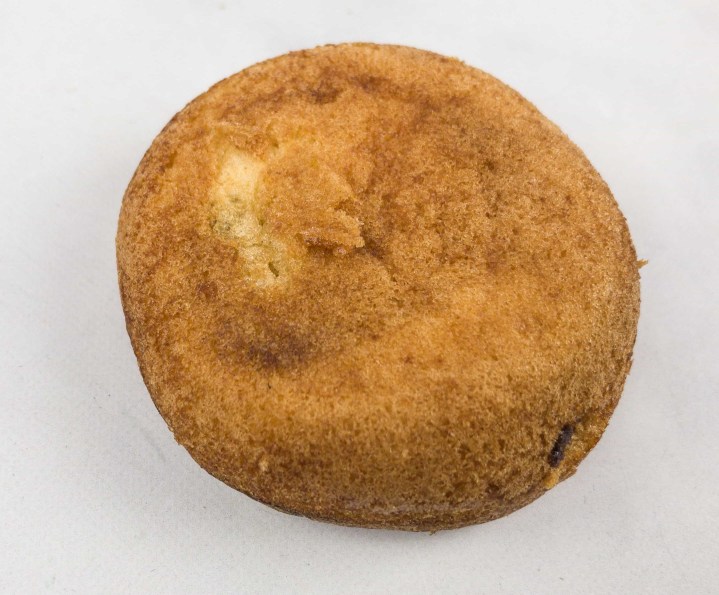 The outside is very moist and peels away if touched, like the surface of a fresh cake.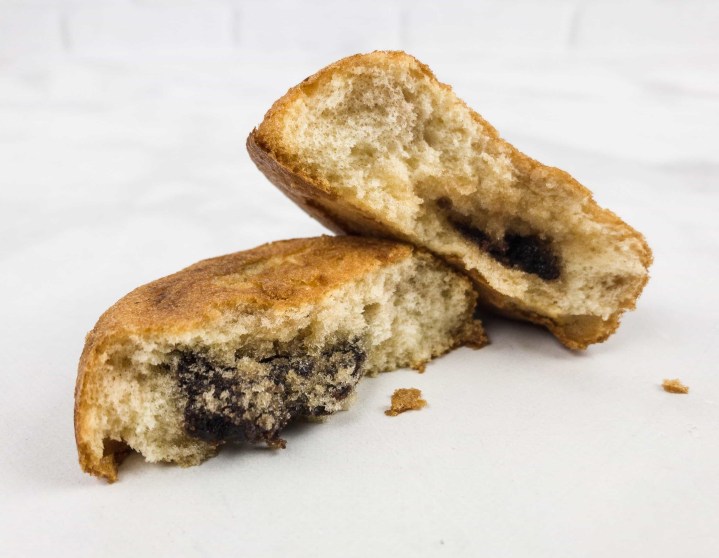 The chocolate creme is dense and rich, with good cocoa flavor. The cocoa striations in the bread shown on the label aren't really noticeable.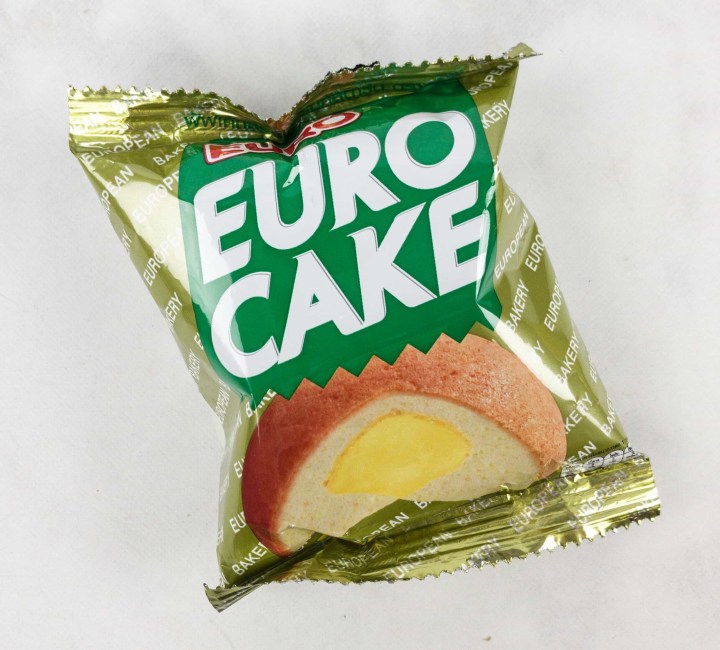 Euro Custard Cake: We received two of these in the box.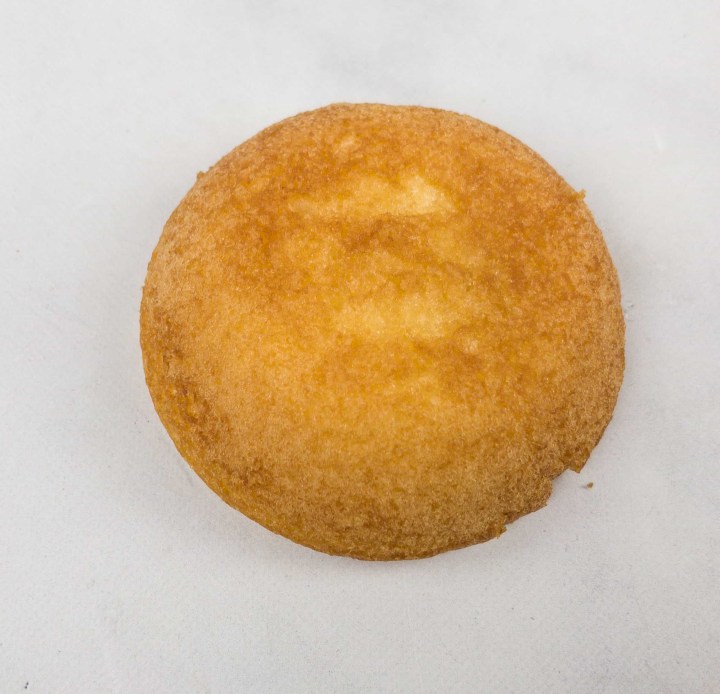 We joked that this is what Thai manufacturers think a Twinky taste like, as the bread has a very similar, puffy character.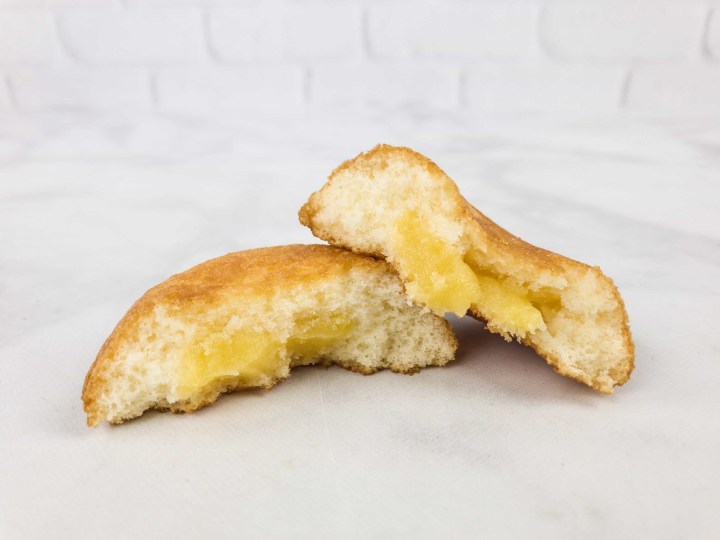 The custard was sweet and creamy. It was thicker than eclair or Boston creme style filling, somewhat more like the sweet bean fillings sometimes used in Japan and China.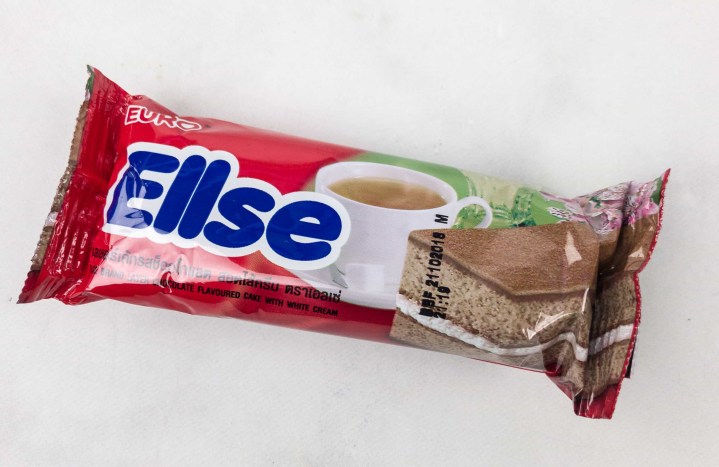 Euro Ellse Chocolate Cake: This also came as a pair. We thought it might be made with coffee, based on the label, but the cup is probably to show it goes well with tea.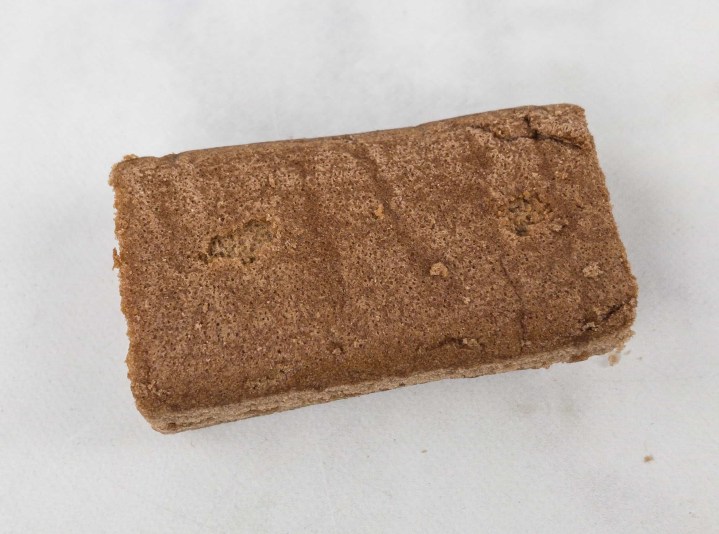 The bread is chocolate flavored, and it has a very dark, cocoa flavor.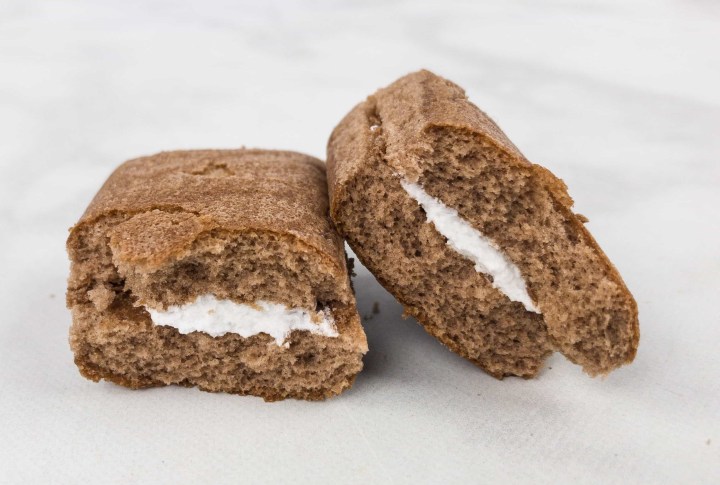 The filling is a white sugar creme. I can see how this would go well as a teatime snack, as it is dry enough to demand a beverage accompaniment.
I usually laud Treats Box for not including items that are too "authentic," that is, overly fishy or weird in a way that doesn't appeal to the typical Western palate. This month's box strayed a little too far to the authentic for my tastes, as they included two seaweed items, a prawn flavored item, and a big sheet of dried squid. A single seaweed and the prawn crisps would probably have sufficed, but this selection was a little overloaded in that direction. Brandy doesn't care for most fish or coffee, so half the box would have been out of the question for her. Of course, fans of those flavors may have found this box delightful. The other selections were good, and I'll have to write off the over-inclusion of fishy items as a nod to a strong preference in the Thai palate for those flavors.  I'm sure we'll love everything in next month's box. It is really a perfect subscription for people who like to try new snacks and feel like they are in a snacking rut.
Have you tried Treats yet? What did you think of the box?