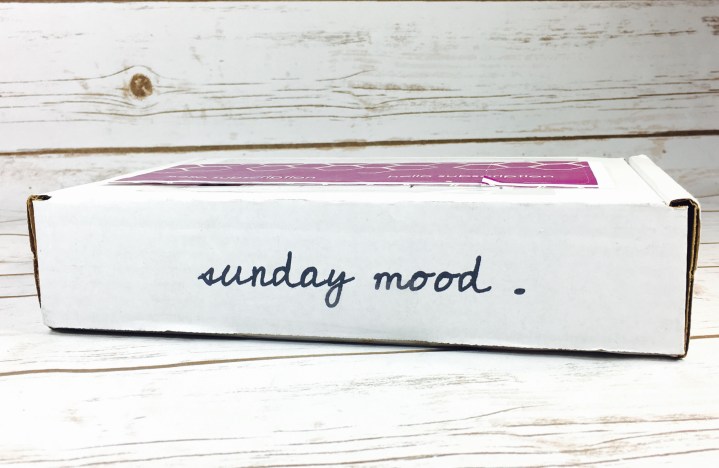 Sunday Mood is a monthly subscription box that brings you a variety of products that will help you keep that weekend vibe going on all month long. There are two sizes to choose from: The Beauty Sample Box is $25 a month for 2-3 sample sized and 1 full sized beauty product, while the original Sunday Mood Box is $44 a month and includes 4-6 full sized products. What type of products can you expect in your Sunday Mood box?
The Sunday Mood monthly subscription box will contain an eclectic mix of indie brands, vegan & cruelty free beauty lines, organic and eco-friendly bath & beauty products, handmade jewelry, cool niche household items, art prints, specialty teas, healthy treats, minimalist goodies and more.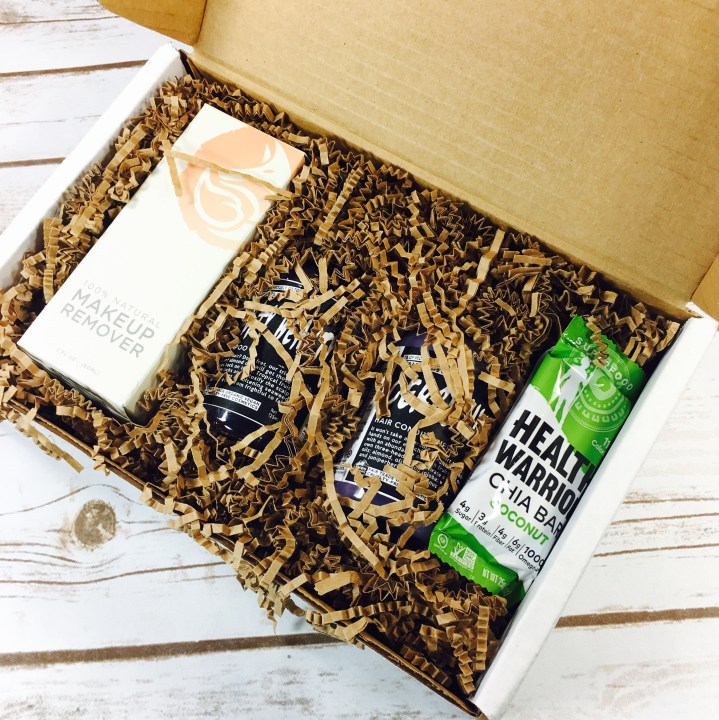 DEAL:  Get 10% off your first Sunday Mood Box! Use coupon code WEEKENDVIBES10.
The products were packed in an eco-friendly recycled box with shredded recycled brown squiggles. Here's everything in the box! This is my third Sunday Mood Box and I noticed right away that the product information card was missing. We contacted them and it took them a while to respond but they eventually said that there was a problem with the card supplier and therefore it was missing this month and will probably be missing next month, too. I really enjoy the card since it's usually very informative and helps set the mood of the box.
I received four products this month. According to Sunday Mood's Instagram page, August's theme was "Island Time!"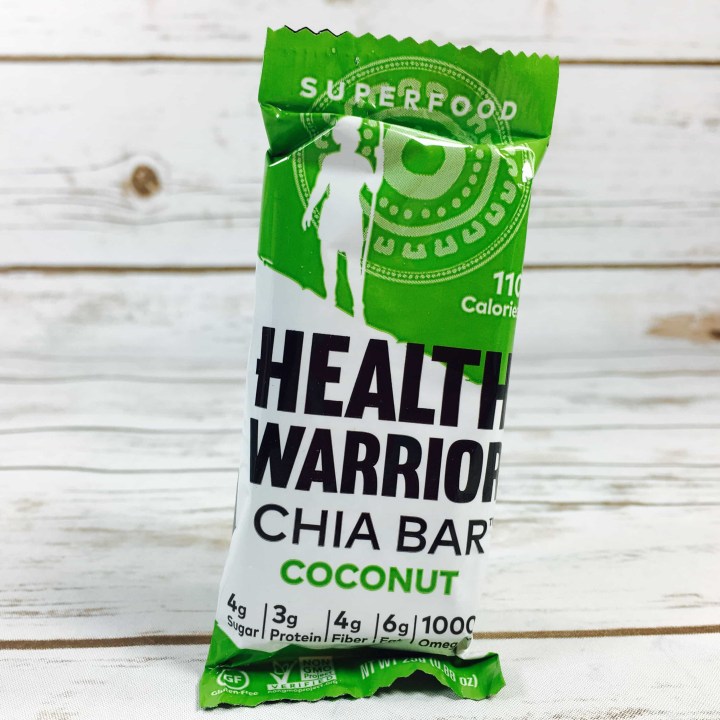 Superfood Health Warrior Chia Bar in Coconut ($1.07) Yum, coconut! This bar is just 110 calories a serving and features fiber, protein, and a low sugar count.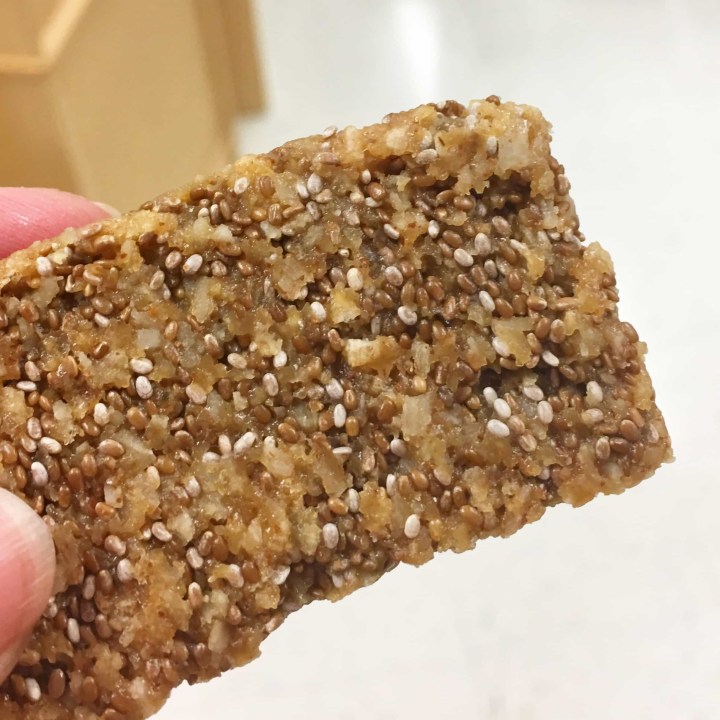 Chia seeds, cashew butter, almonds, and brown rice crisps are some of the all natural ingredients along with coconut. It was kind of hard to bite at first but it tasted really good and I love chia seeds.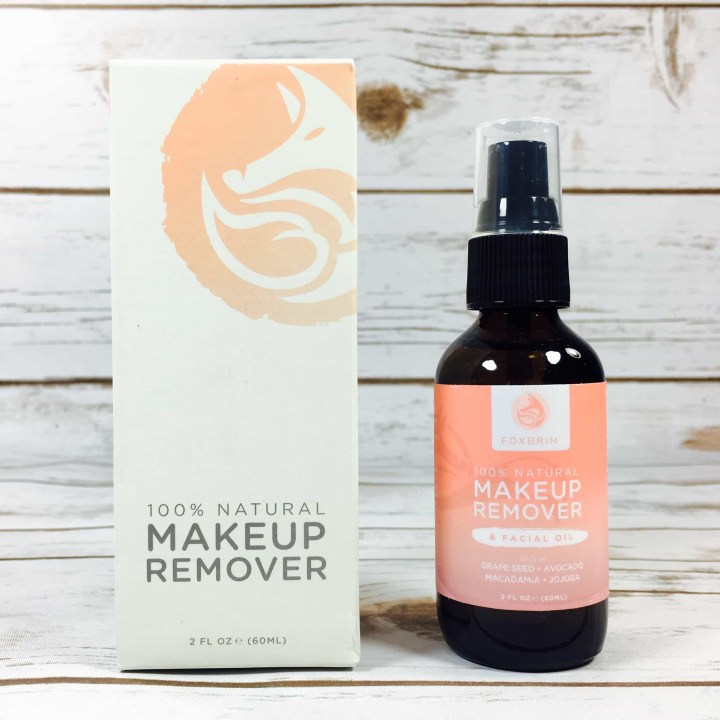 Foxbrim 100% Natural Makeup Remover & Facial Oil ($13.95) is a two-in-one product that can be used to clean or moisturize the face.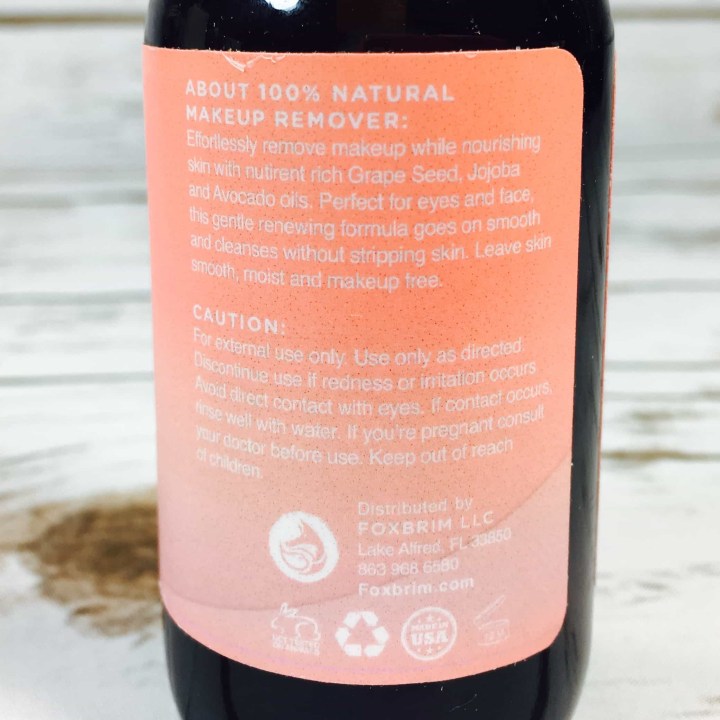 Organic grapeseed, avocado, macadamia, and jojoba oils plus tamanu and noni oils help gently remove makeup but can also provide some serious moisture. So far I have used it as a first step in cleansing my face and it worked very well. I follow with something a little bit soapier to remove every last trace of dirt and makeup.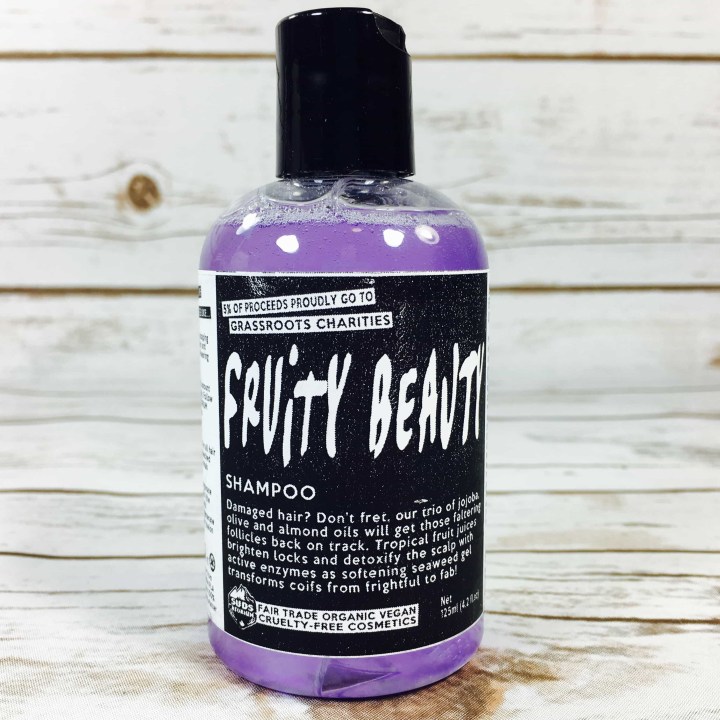 Sudsatorium Fruity Beauty Shampoo ($12.39) Sudsatorium is an Etsy shop that makes vegan and fair-trade beauty products in the style of a chain whose name shall remain a Lush-ly guarded secret but who has similar silly names, bright colors, and cutesy packaging.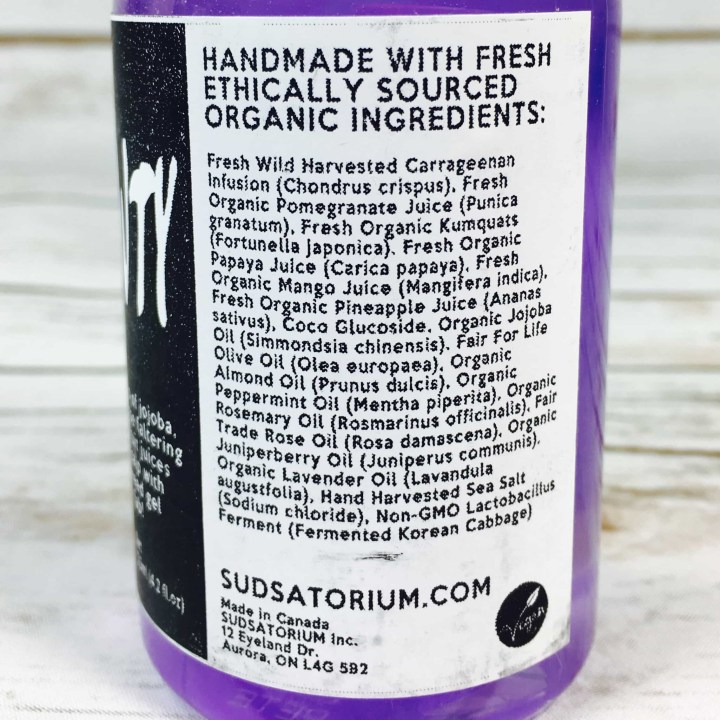 The shampoo has several tropical fruit juices along with jojoba and olive oils to moisturize parched strands. I had to lather, rinse, and repeat because the first try didn't feel soapy enough. I also used this as a shower gel and it was perfect and smelled really nice.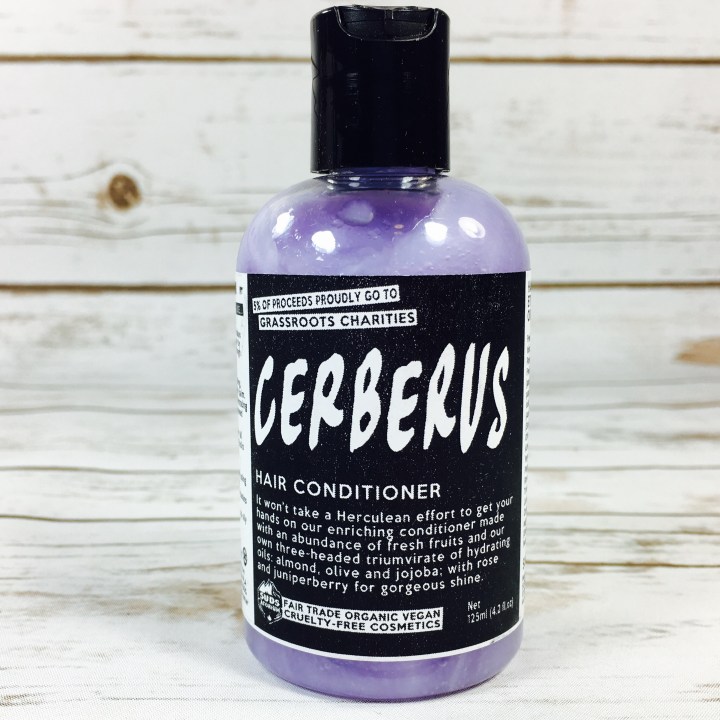 Sudsatorium Cerberus Hair Conditioner ($12.39) So, I'm looking at the ingredients and this almost sounds like something I could drink but I allowed my hair to do the imbibing this time around.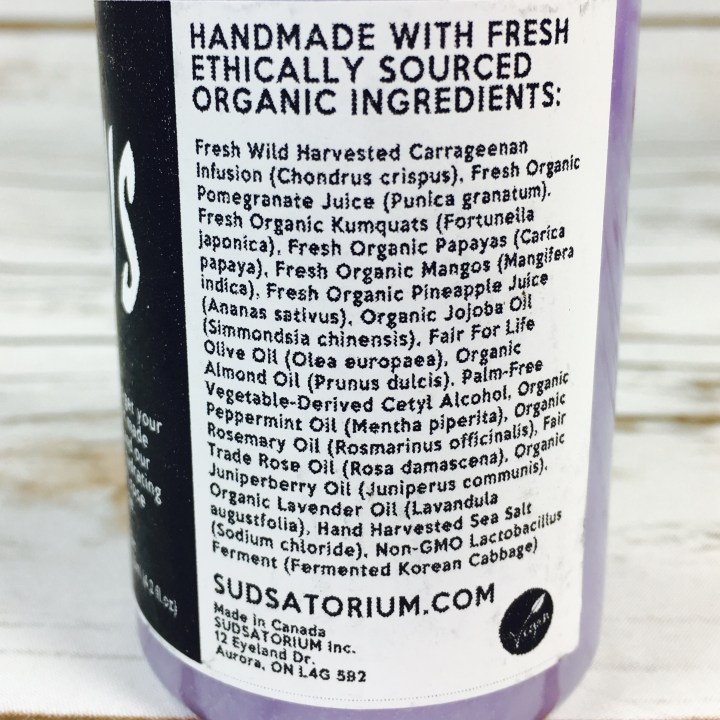 Only a bit is needed to provide serious (Sirius?) dry hair help. I used both products together and they are just a little too rich for daily use on my fine hair but once a week I plan on making a tropical getaway with these two fruity cocktails.
Both products are really pretty and I love the colors, which come from pomegranate juice.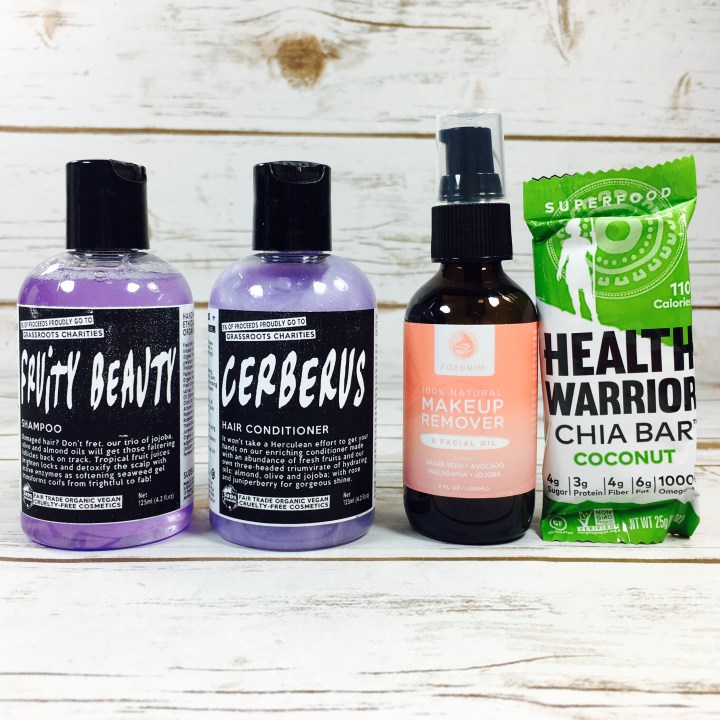 I thought the products in my August Sunday Mood Box kept in line with the tropical vacay vibe. I have heard from some subscribers who are concerned about their missing card and I too felt like something other than the card was missing when I opened the box. Sunday Mood promises to send at least four full-sized items and I received 1 full-sized, two small sized (but bigger than travel sized) products, and one edible product. I have heard complaints that Sunday Mood hasn't been answering their messages and have blocked followers and removed negative comments from social media. This is disappointing to hear because I really loved my last two boxes and yes, I did enjoy this month's box too, but transparency and customer service are very important as well. The August box value was around $39.80, which is less than the price paid for the box, although shipping was free and adds to the value. This sounds more like the "Beauty Sample Box", which is $25 with 2-3 sample sizes and 1 full-sized product, in which case a $40 value is pretty good. If this is the "original" $44 box then this is significantly less value than the past two boxes. I cannot say whether this is the usual or not since this is only my 3rd box and I'm not sure what they sent out prior to June.
What do you think of Sunday Mood? Let me know in the comments!