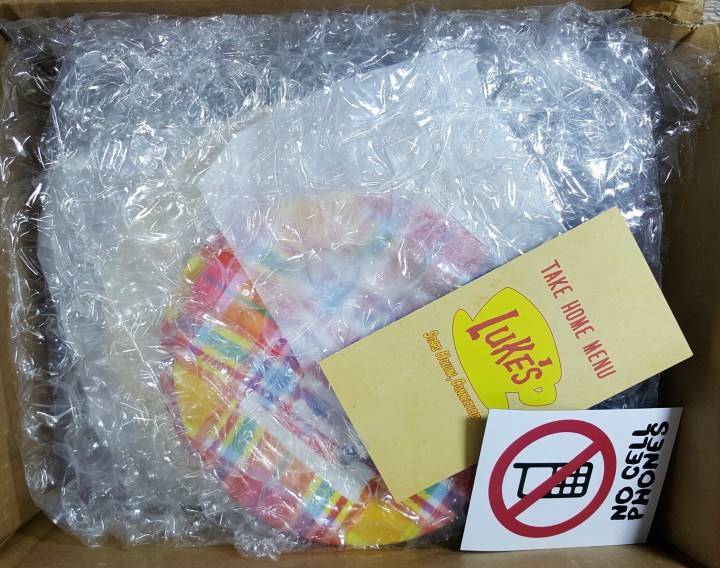 Stars Hollow Monthly will feature 3-5 products which are inspired by the Gilmore Girls and the fictional town of Stars Hollow. (Inspired by, meaning items that relate to, are inspired by, or are artistic renderings of the show and its inhabitants/characters.) For $34.90, you can expect anything from tee shirts (on occasion), home decor, fashion accessories, bath & body items, and much much more.
The goal for the Stars Hollow Monthly Box is to send subscribers items they will adore as fellow Gilmore enthusiasts, but also items anyone would enjoy – high-quality items that won't gather dust in a drawer somewhere.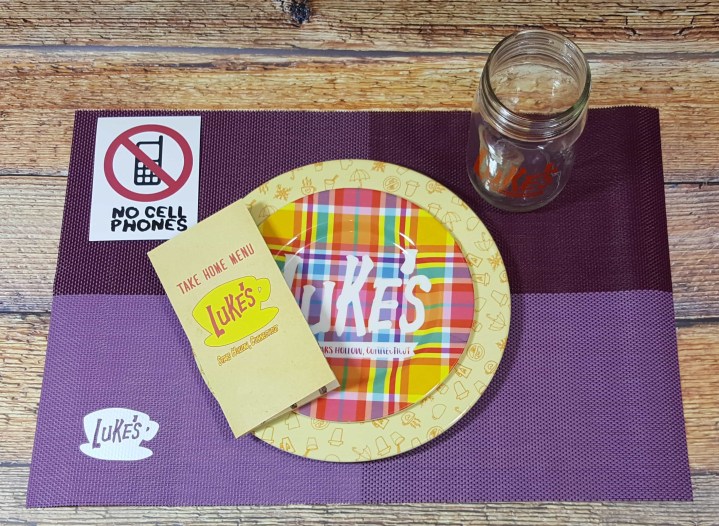 Love the May curation for Stars Hollow Monthly Box! Join Lorelei and Rory for a meal at Luke's with this themed place setting. I'm totally craving a burger and fries now.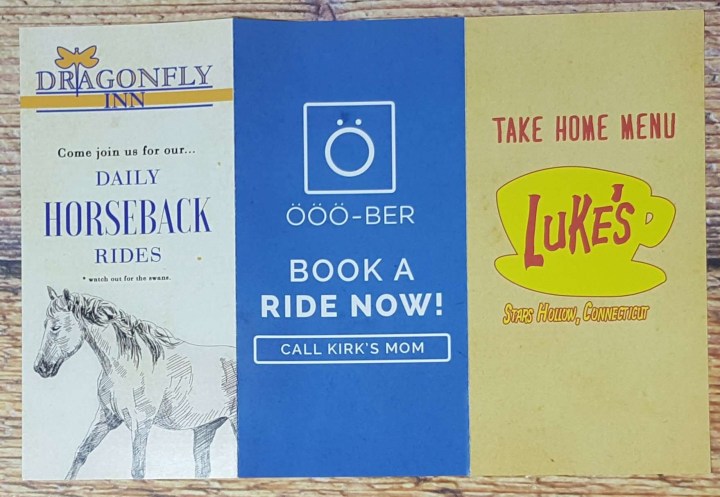 The outside of Luke's menu features ads from around Stars Hollow. Again, this month we get to see ads for the Dragonfly Inn and (now defunct) ÖÖÖ-BER. The ads change every few months, and I love trying to figure out what will be highlighted next.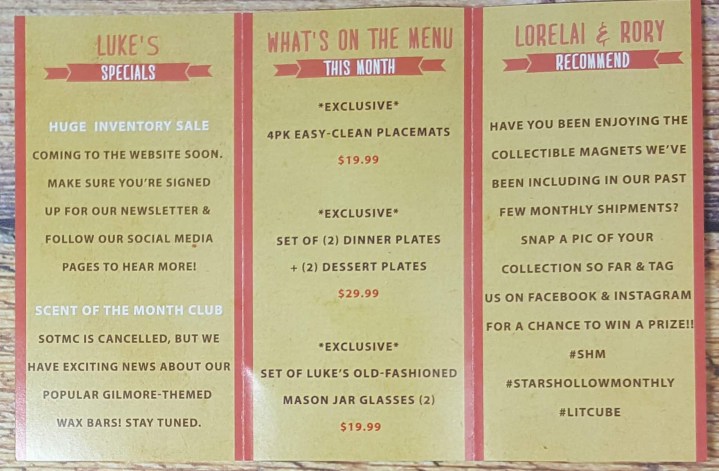 The inside of the menu contains a list of the box contents with pricing, as well as discount codes and offers for other Gilmore Girls related products. Note: The Scent of the Month Club has been cancelled, but you may still be able to get your Pop Tarts wax melt. Stay tuned for coming details.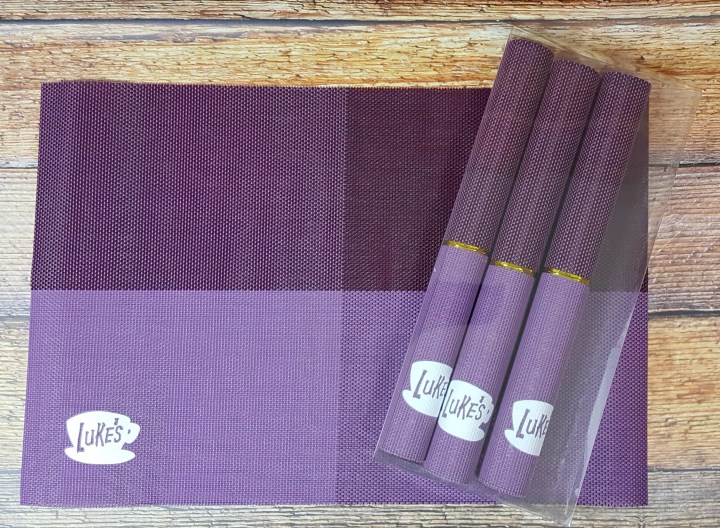 *EXCLUSIVE* 4-pk Easy-Clean Placemats ($19.99): This is a set of 4 PVC placemats branded with the Luke's Diner logo. Your eyes are not playing tricks on you – there are four shades of purple on the placemat. No need to throw these into the wash, just wipe clean with a damp towel or sponge. Each mat measures 12″ x 17″.  I believe these are also heat resistant. Compared to similar items, these are priced a little high. However, they are an exclusive.
*EXCLUSIVE* Set of 2 Dinner Plates & 2 Dessert Plates ($29.99): These fun plates are made from melamine, meaning they are lightweight and hard to break. The dinner plate features various Gilmore Girls icons such as coffee mugs, umbrellas, and the no cell phones signs. Use it as is or as a charger for the dessert plate. The smaller dessert plate has a bright plaid design with Luke's logo up front and center. I think this would be a good set for your spring/summer picnics.
*EXCLUSIVE* Set of 2 Luke's Old-Fashioned Mason Jar Glasses ($19.99): As a Southern girl, these Mason jar glasses just put a smile on my face. Add the Luke's logo, and now I'm wearing an ear-to-ear grin. While the other box items were plastic, these are actually made of glass. I only wish that they had come with a lid and straw, but those are easy enough to come by. Might order these to match back to the placemats.
BONUS GIFT – No Cell Phones Magnet: This magnet is the perfect compliment to the place setting, especially since my house has the no phone during meals rule in place. I love the bonus magnets that have come in the boxes – my office fridge is now so much more pleasing to look at (and it's the envy of a few co-workers). Use the following hashtags on Facebook and Instagram to showcase your magnet collection for a chance to win a prize: #SHM, #StarsHollowMonthly, and #LitCubeTag.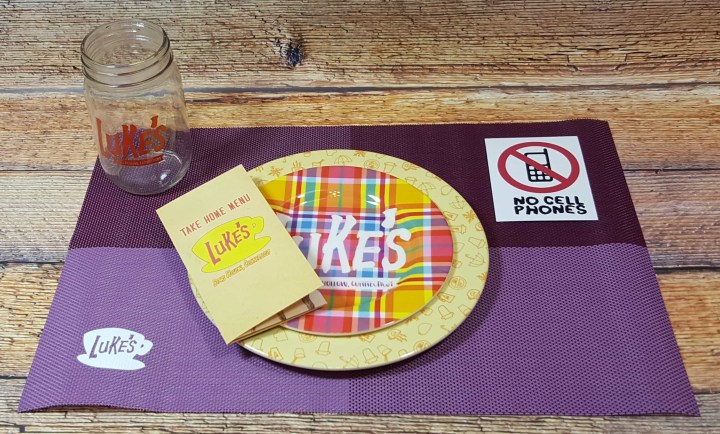 The May Stars Hollow Monthly Box had a listed value of $70 (not including the magnet). The meal themed items made me feel like I was at Luke's. All that was missing was my coffee, and I can make up for that by using the Luke's travel mug from a previous box! ? Although these pieces can be found elsewhere for less, you won't be able to get that Gilmore Girls feeling. Now to break these in with some takeout and a binge TV session.
For a sneak peek into next month's box, click here.
What was your favorite item this month? Leave a comment below and share your thoughts.