Something Snacks is a monthly subscription box that brings you snacks that are something new, adventurous and something familiar – for only $13 per month. There's always at least 1 salty, sweet, international, and healthy conscious snack in every box of Something Snacks.
Every month has a fun theme — August is Summer Movie Nights!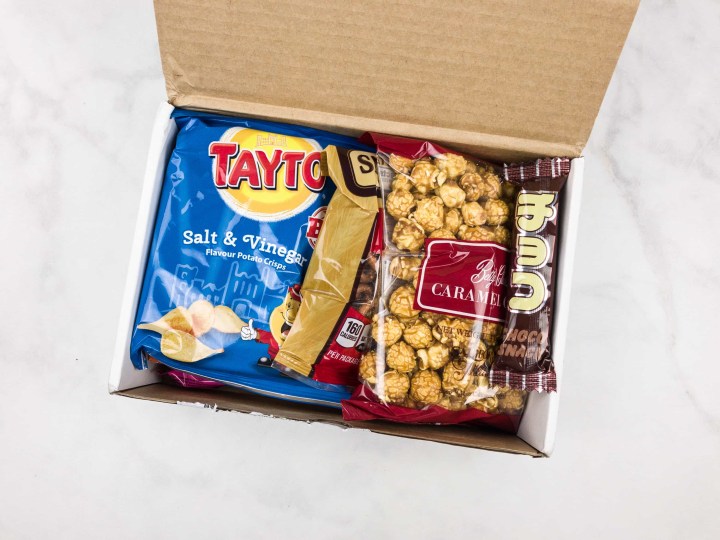 DEAL: Get $3 off your first box! Use coupon code TRY3NOW.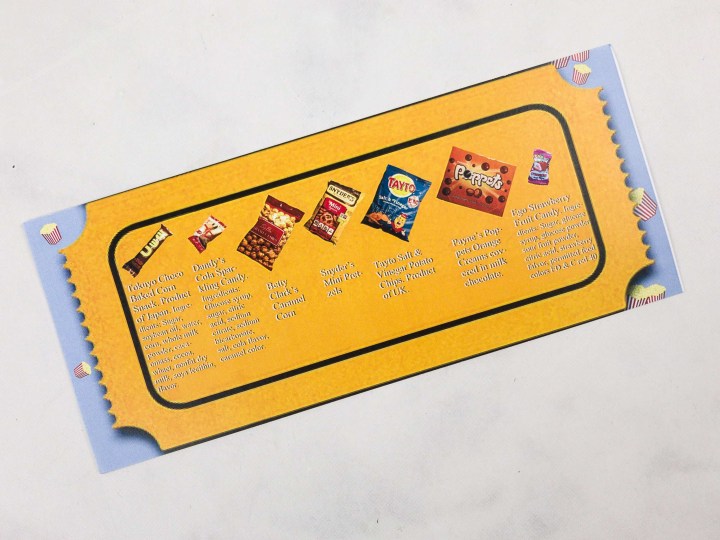 The information card lists of all the goodies. The card simply names most of the snacks, but they added a helpful feature – a description and translation of ingredients for the items with foreign language packaging.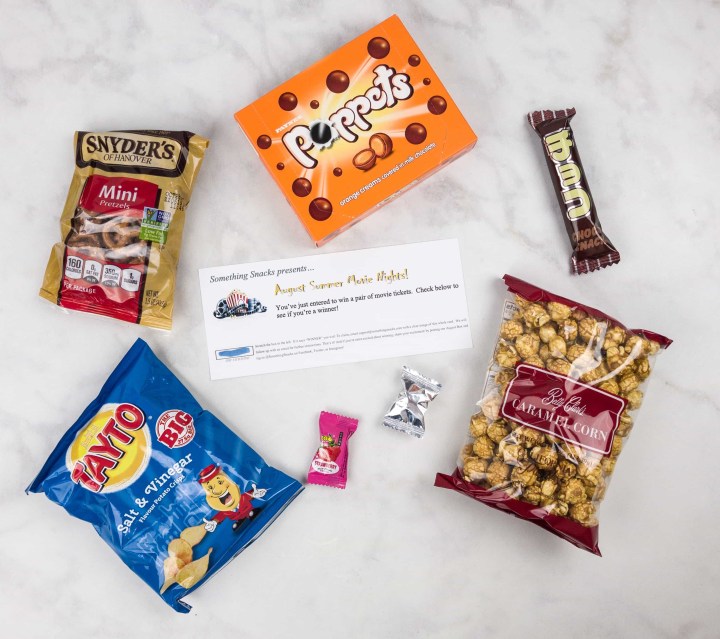 Everything in my Something Snacks August box!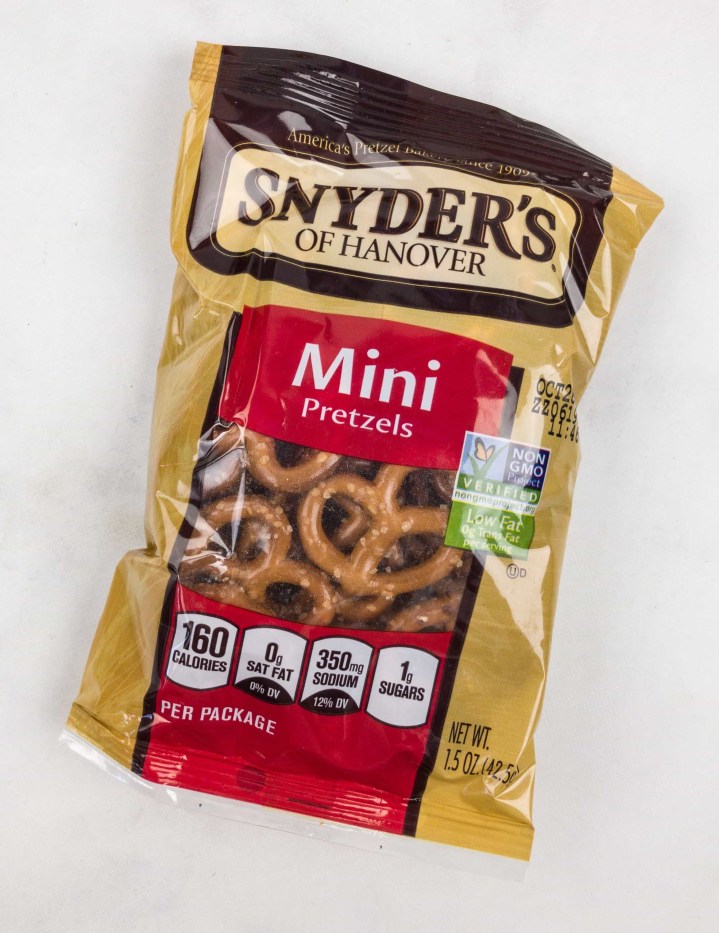 Snyder's Mini Pretzels ($0.36) These mini pretzels are crunchy and delicious, just like a good snack should be. It's the perfect snack because it's not heavy but enough to tide you over until the next meal.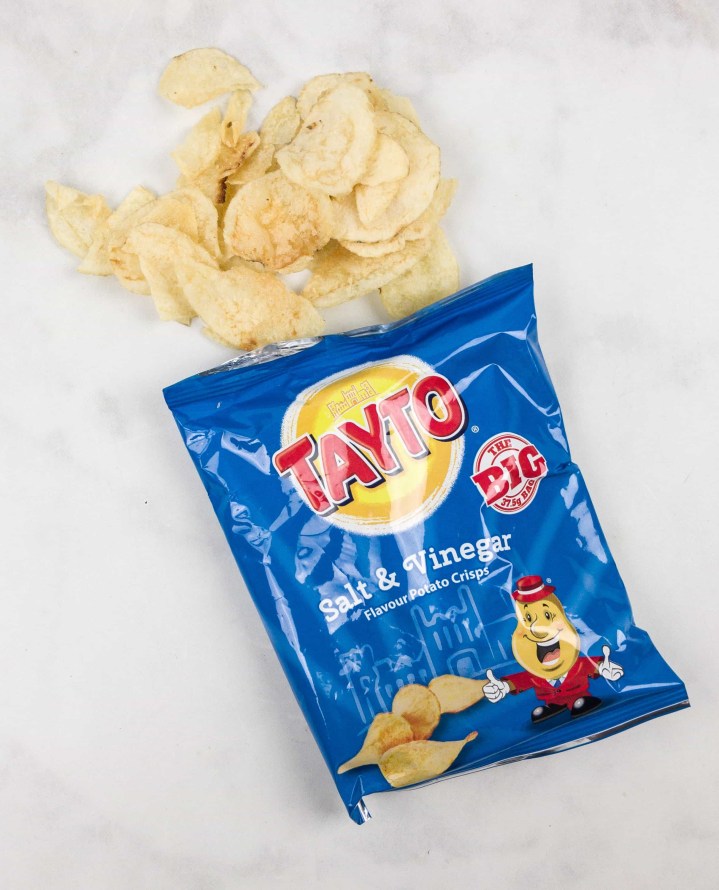 Tayto Salt & Vinegar Potato Chips ($1.45) These potato chips combine the tangy taste of vinegar and salt with crispy, thin potato slices. Scrumptious is a good word for it! A UK favorite, these have a bit of a different texture than I'm used to in potato chips – they are crunchy and a bit "fuzzy" rather than simply crisp, giving them a dry mouth feel instead of a greasy one.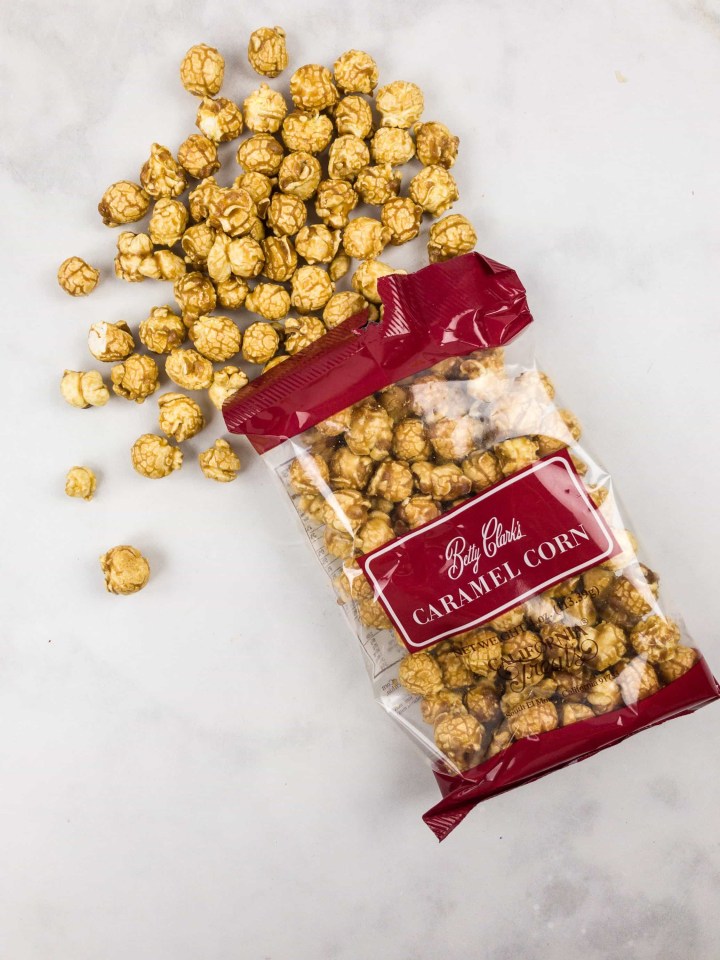 Betty Clark's Caramel Corn ($1.13) Popcorn is the quintessential movie snack, and popcorn with caramel is one of the best types there is! Crunchy, sweet, and with relatively dark caramel, this style of caramel corn reminded me of Cracker Jack.
Dandy's Cola Sparkling Candy (silver wrapper): This Japanese hard candy has a cola flavored sell and a slightly sour, fizzy inside.
Ego Strawberry Fruit Candy:  These little hard candy drops have the sweet smell and taste of strawberries.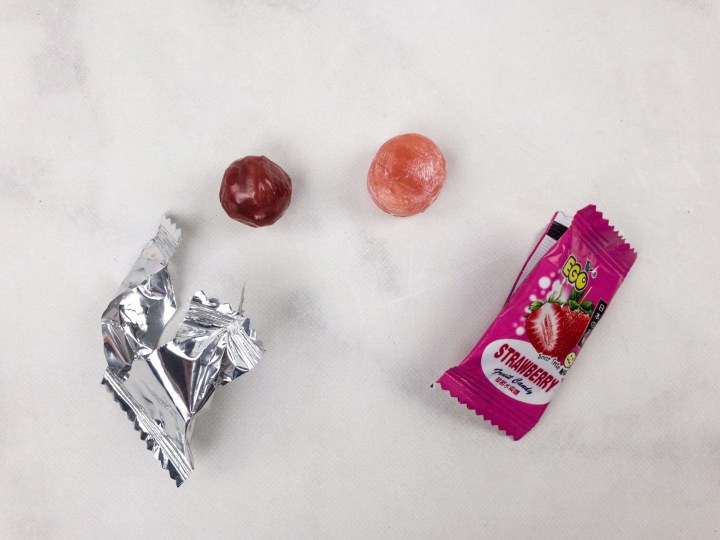 With one of each candy, we had just enough for a taste — sorry, no sharing!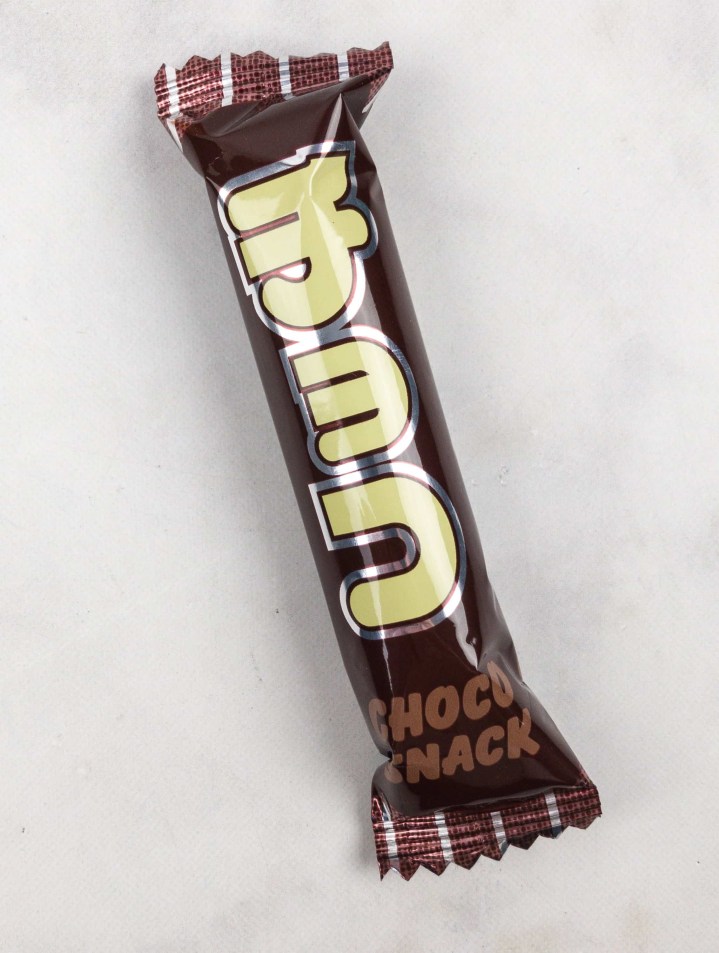 Tokuyo Choco Baked Corn Snack. Similar in concept to Umaibo, this crisped corn wand is covered in chocolate. It's sweet, crunchy and quote fun to munch on!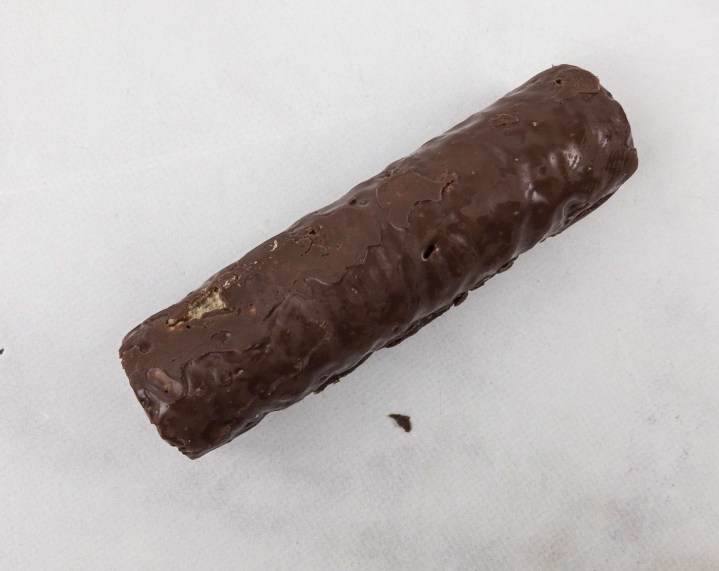 The chocolate coating melted very easily, so be prepared to get a little messy!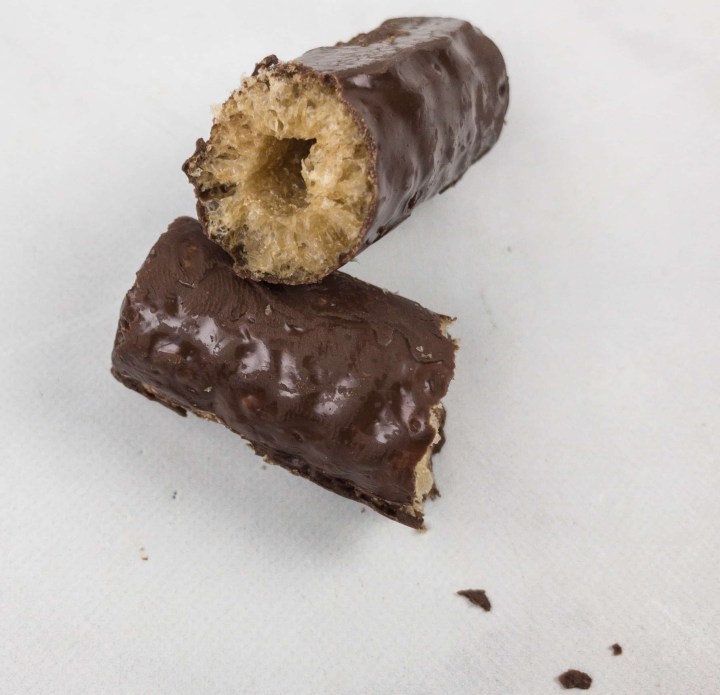 The hearty flavor of the corn perfectly complements the sweetness of the chocolate, making a great snacking combination.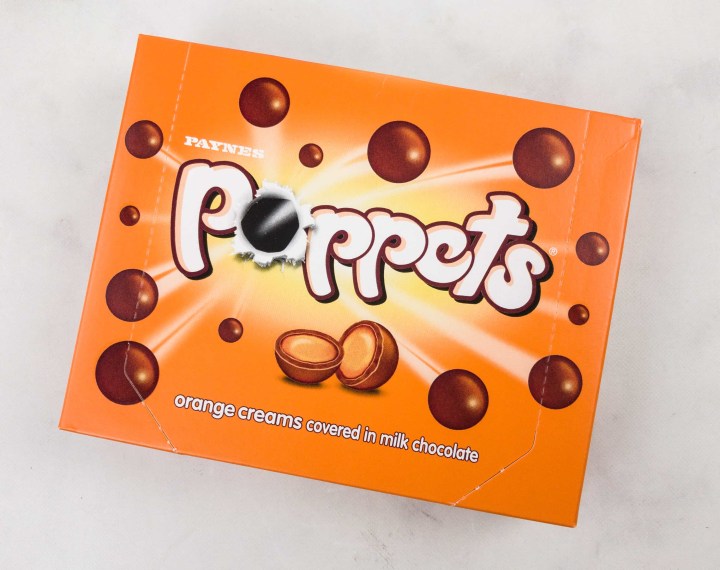 Payne's Poppets Orange Creams Covered in Milk Chocolate. It's a pop of citrusy orange inside indulgent milk chocolate. Talk about sweet surprise!
These came in a big, multi-serving pack suitable for sharing (154g).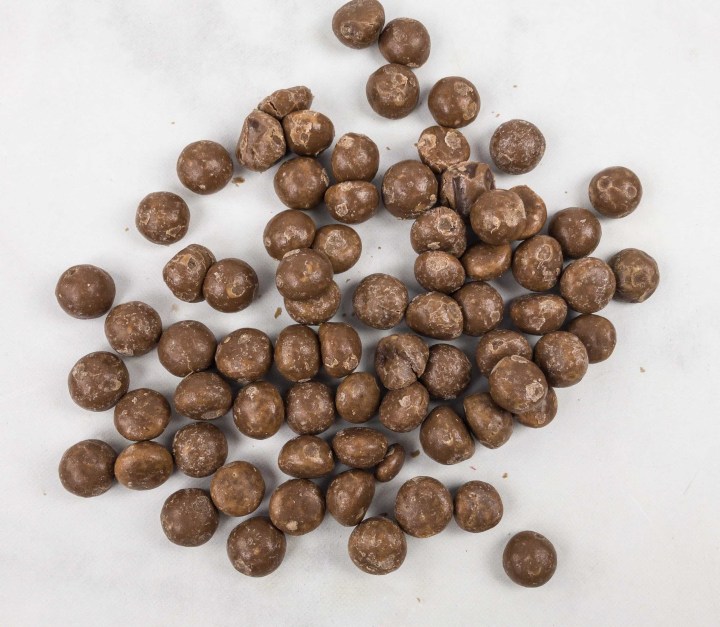 These were very similar to Milk Duds, a classic movie theater snack, but the chocolate was better. The orange flavor of the filling was similar in taste to the jam used in orange Jaffa Cakes.
Something Snacks delivers on their curation promise, and we thought the box as a whole was tasty and fun. Everything was similar to what you see available in U.S. movie theater concessions, but with a twist — caramel corn instead of plain, orange Poppets in place of Milk Duds, crisps rather than nachos, corn sticks in place of candy bars, plus unusual hard candies. This is a great little sampler that really delivers some fun snacks outside of the everyday.
What did you think of Something Snacks?