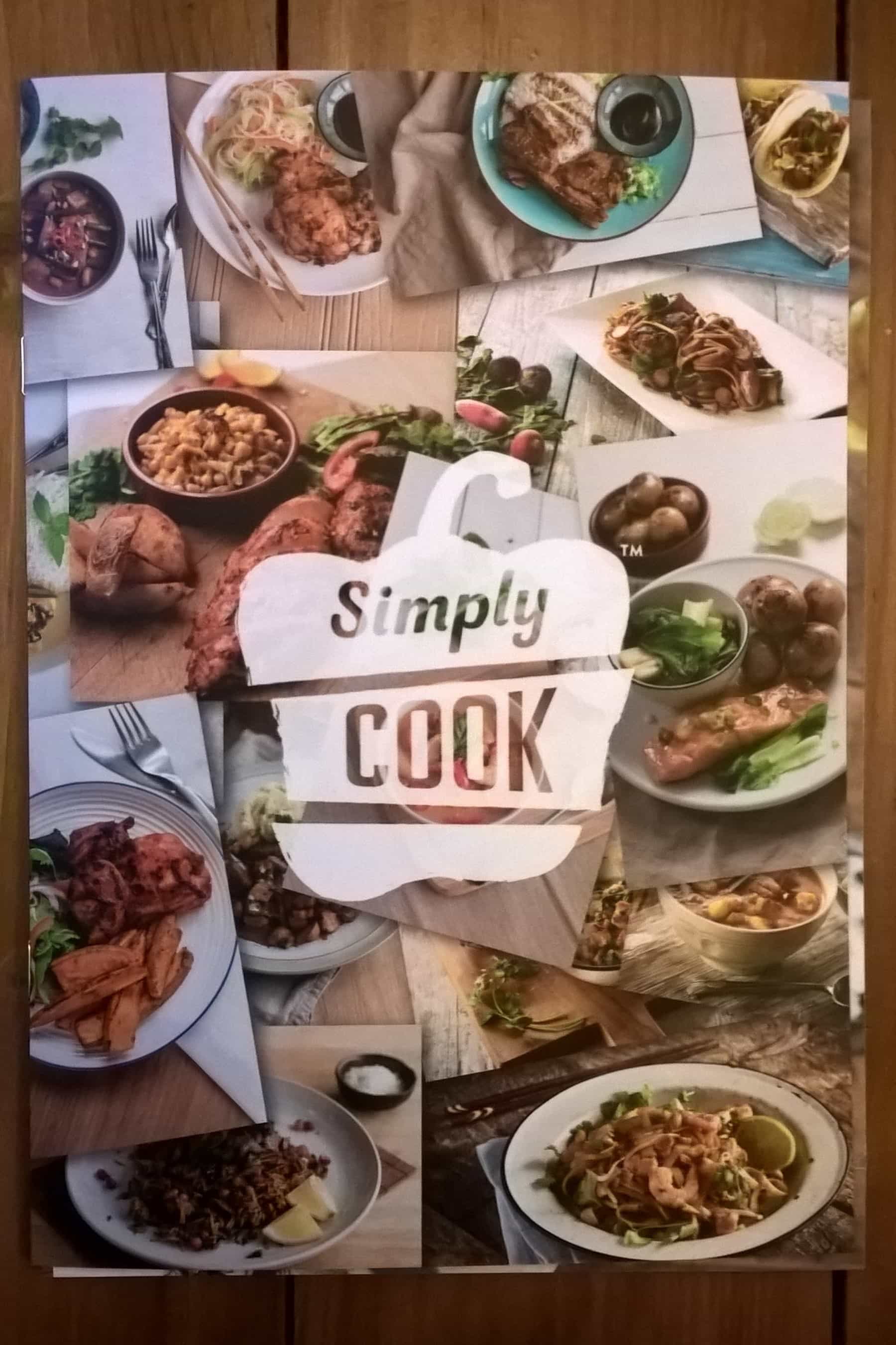 Simply Cook is a UK subscription box designed to help you cook restaurant quality meals in 20 minutes or less. Each box comes with four recipe cards and an accompanying flavour kit to prepare each recipe. The kits hold three flavour pots containing items such as freshly blended pastes, infused oils, herb and spice mixes, rubs, glazes and marinades. You just need to supply about 4-6 fresh ingredients and then follow the step-by-step instructions on the recipe card to prepare your meal.
Simply Cook has a recipe repertoire of over 50 dishes inspired by cuisines from around the world. Subscribers can also use their online account or the Simply Cook app to set food preferences, tag dishes as 'love' 'try' or 'bin' or select the exact dishes they want to receive in next month's box.
DEAL: Try Simply Cook and get your first box half price & delivered free! Use coupon code ENJOY10.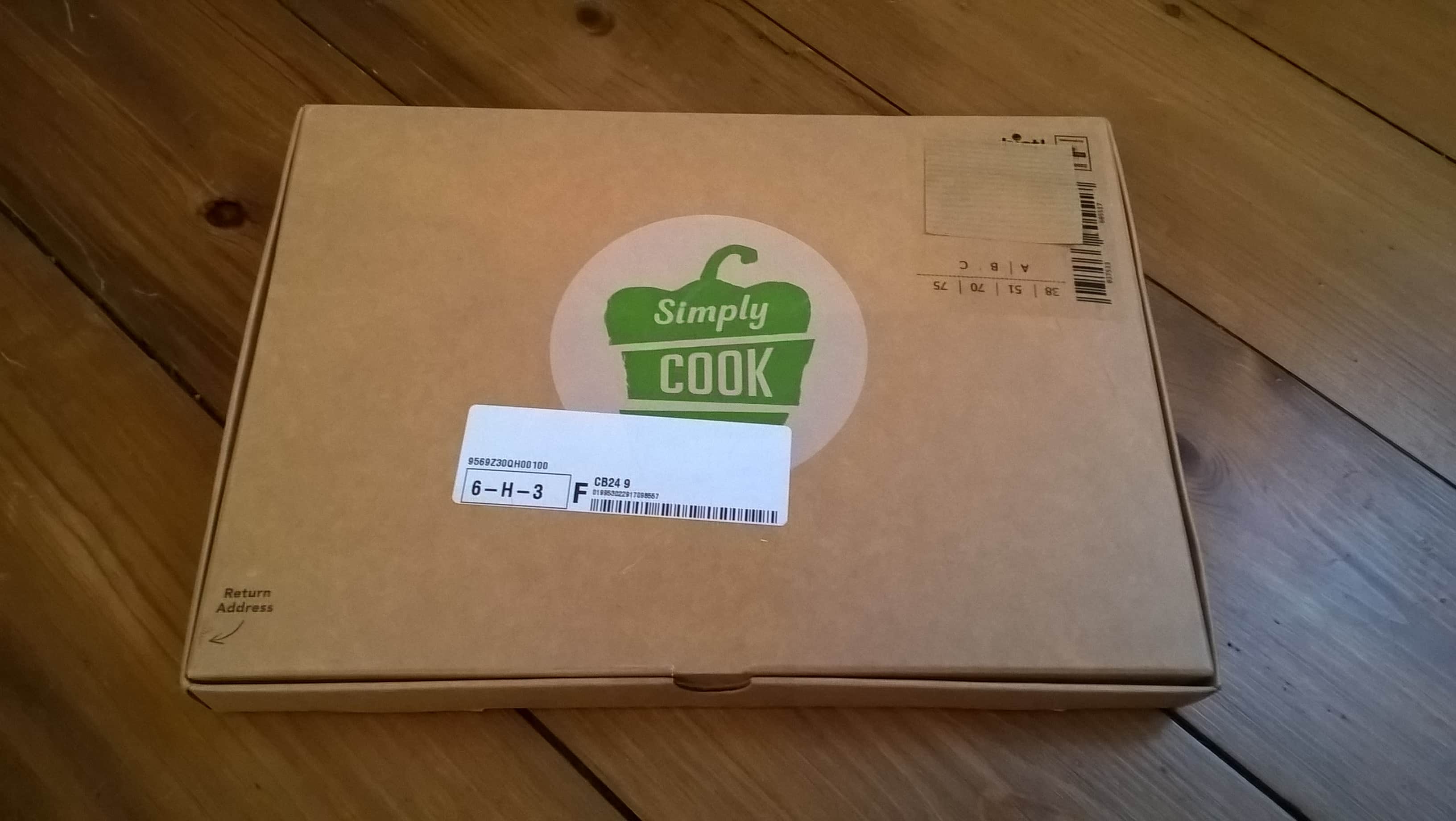 The slim box fits easily and conveniently through the post box.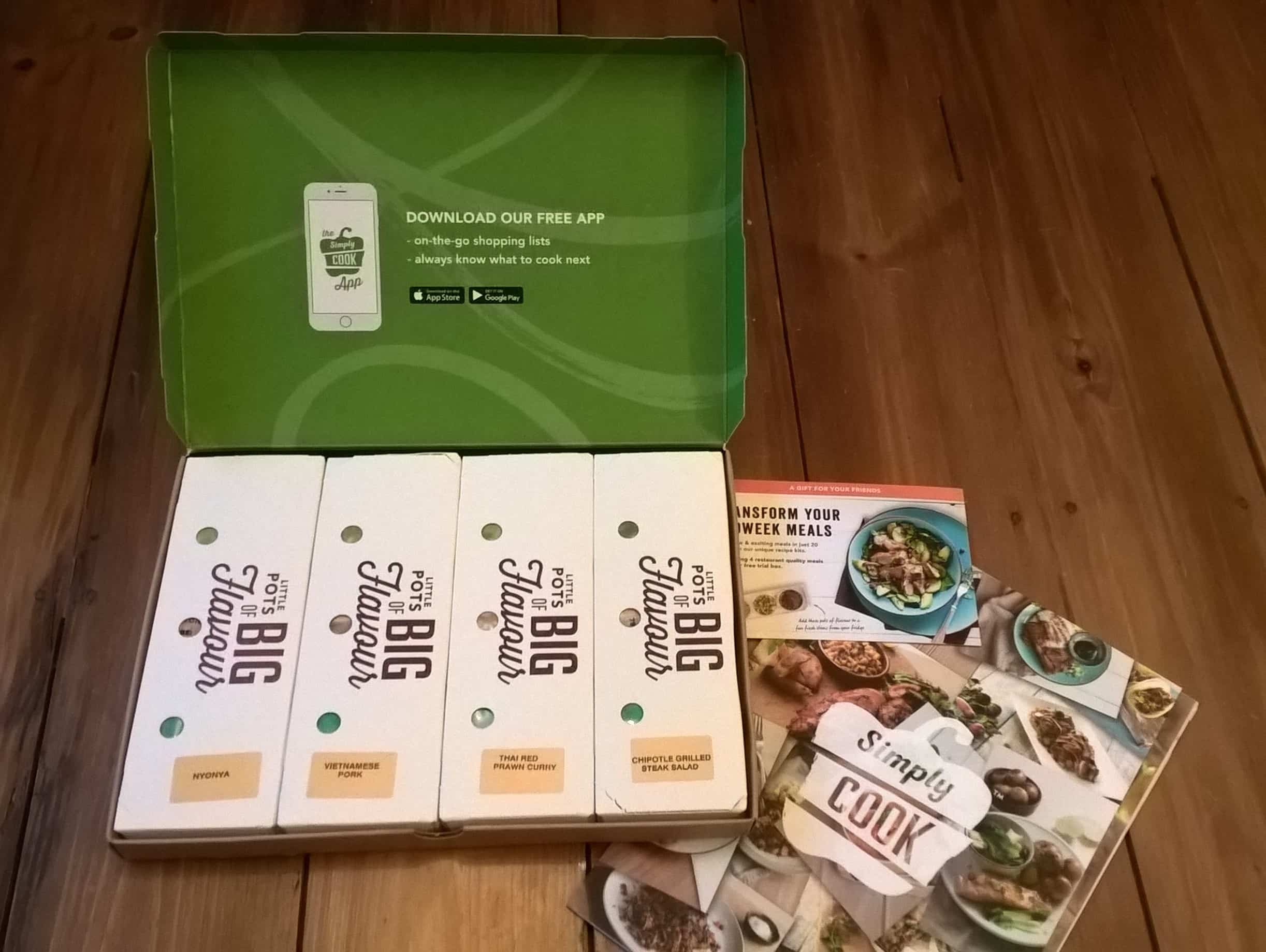 Here is everything in the box: A Simply Cook 'Getting Started' booklet, 4 recipe cards and 4 flavour kits.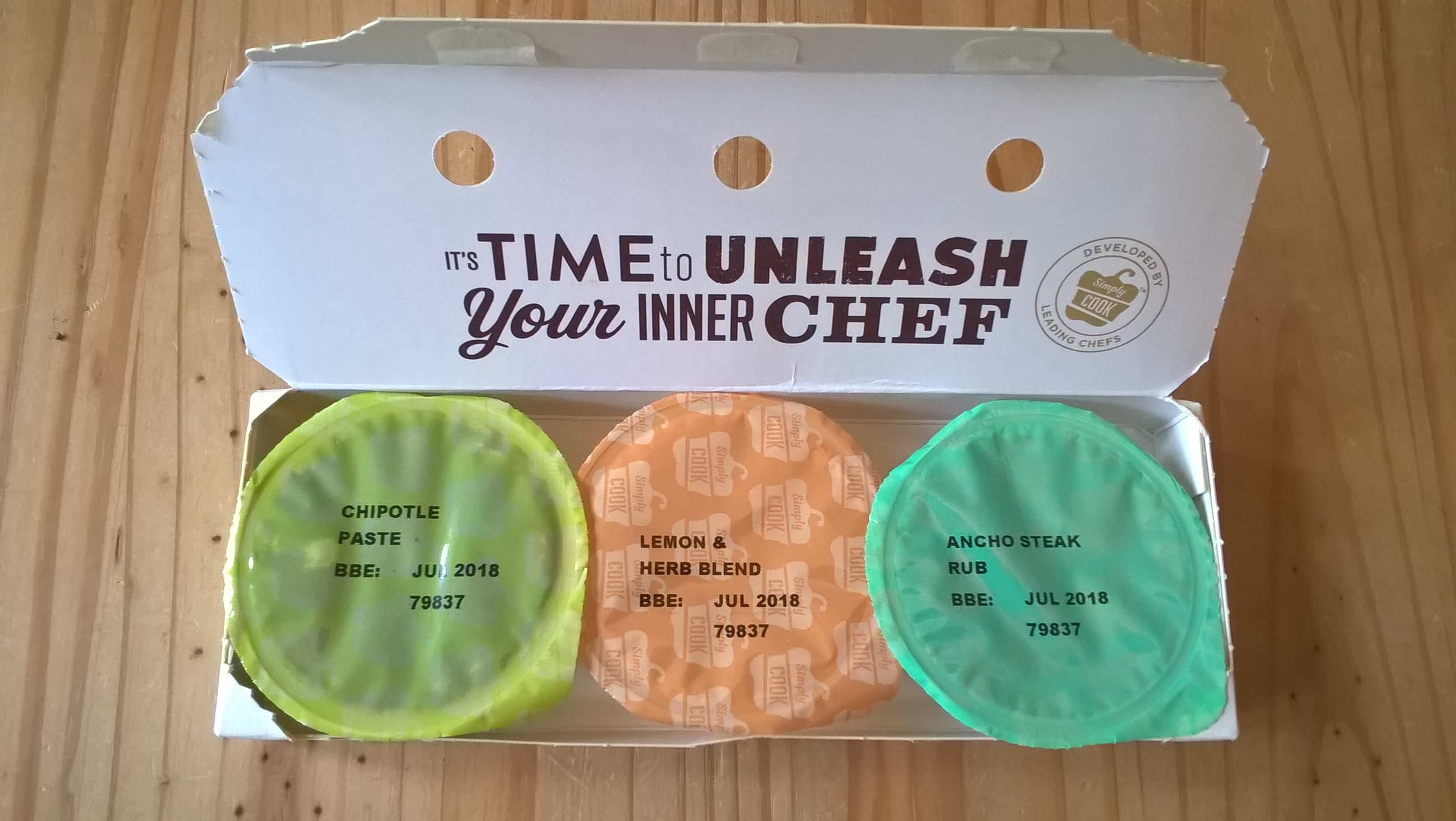 Each kit contains 3 flavour pots.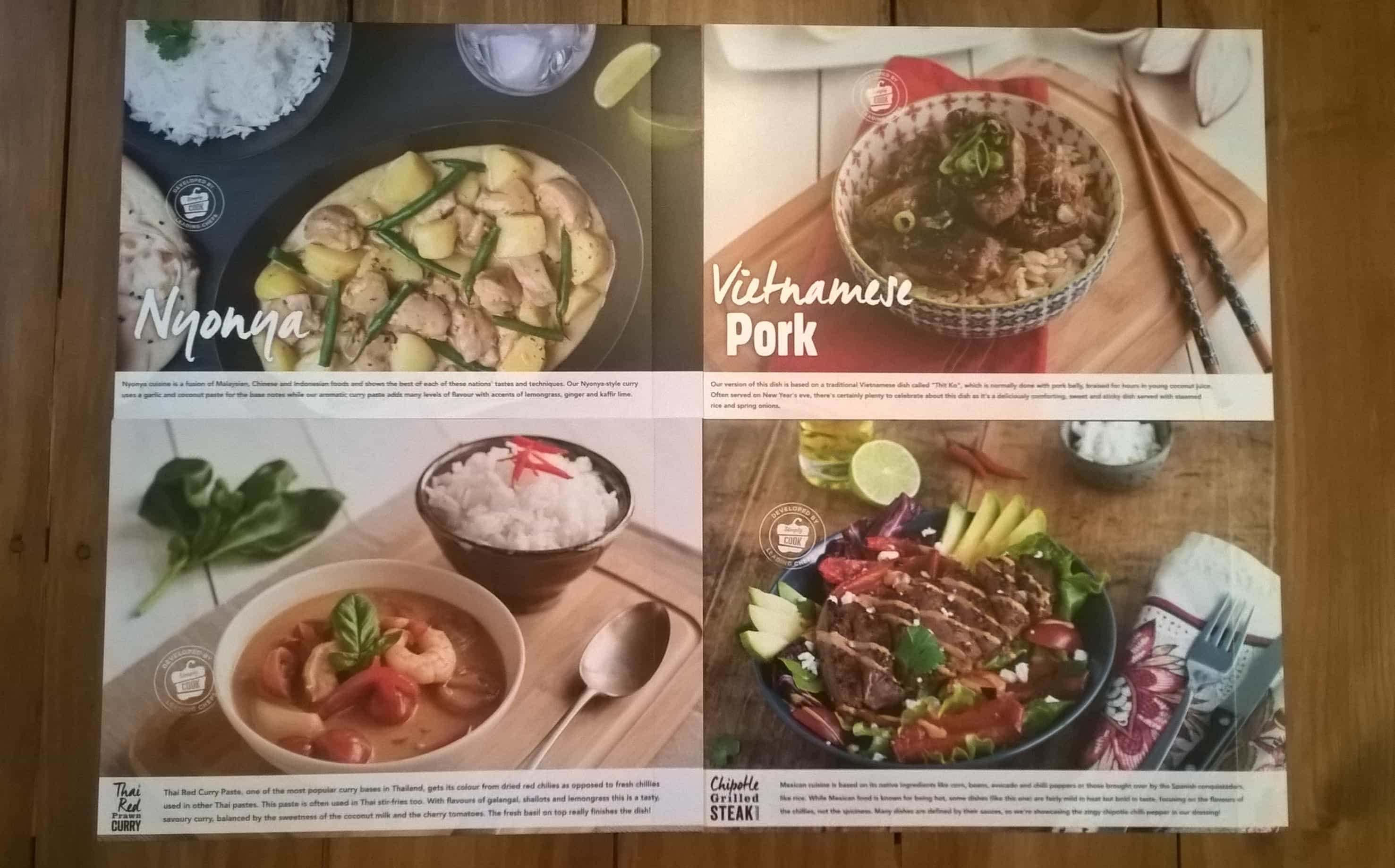 The four recipes I received are definitely reflective of the global cuisines on offer with Simply Cook: Nyonya, Vietnamese Pork, Thai Red Prawn Curry and Chipotle Grilled Steak Salad.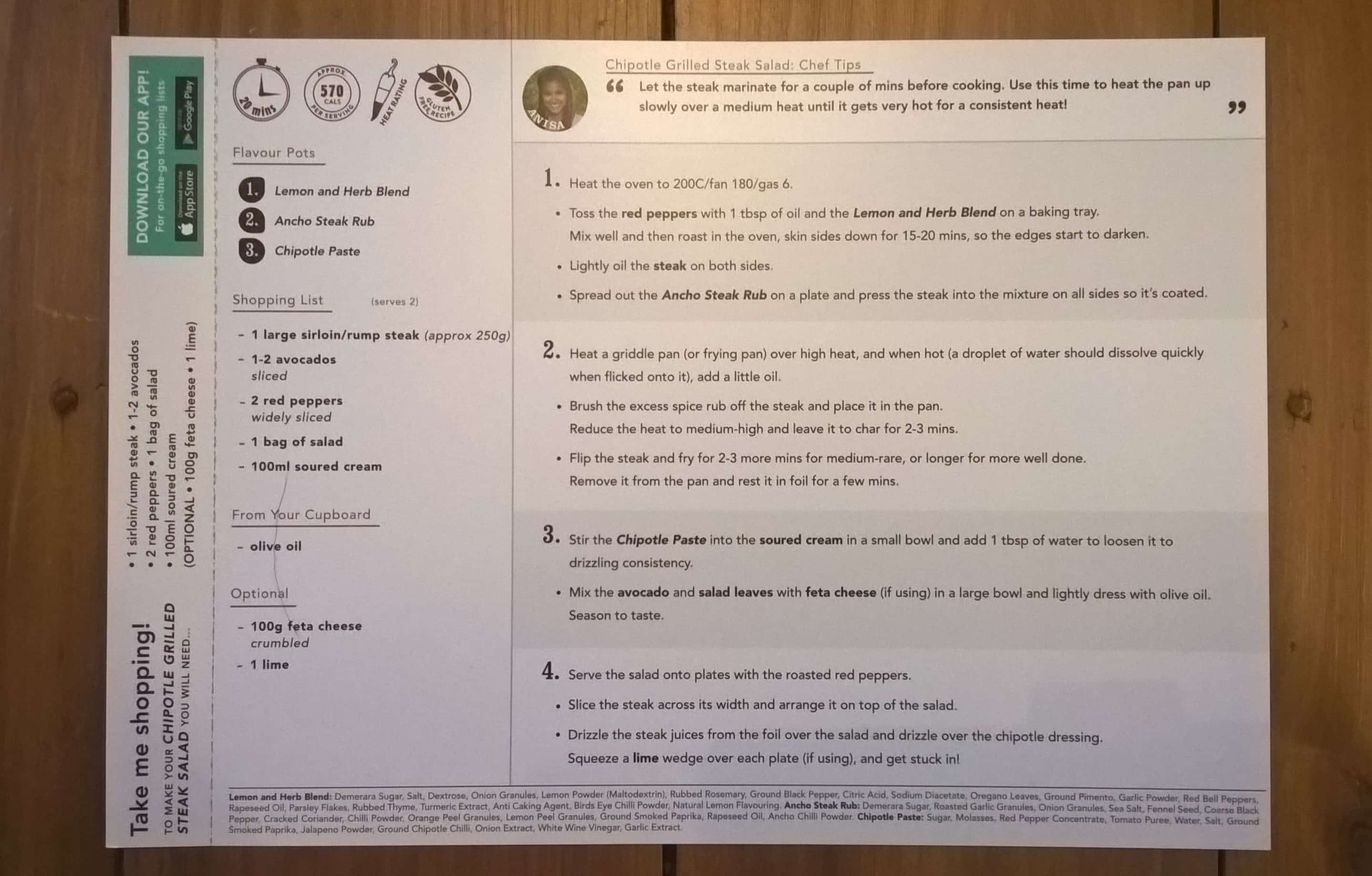 The recipe cards are large and glossy, with easy-to-follow instructions and a detachable shopping list.
I tried the Chipotle Grilled Steak Salad first. This kit included a lemon and herb blend for roasting red peppers, an ancho rub for the steak, and a chipotle paste to mix with soured cream for the dressing.  This was super easy to make: just roast some peppers in the oven, grill the steak, slice some avocado, mix up the dressing and layer everything on a bed of greens. l I added some extras to the salad: tomatoes, roasted onions, grilled corn, cucumbers, cheddar cheese and subbed greek yogurt for the soured cream as I didn't have any in the house. This was delicious, the steak rub was flavourful and I really enjoyed the chipotle dressing which had a lovely, deep smokiness.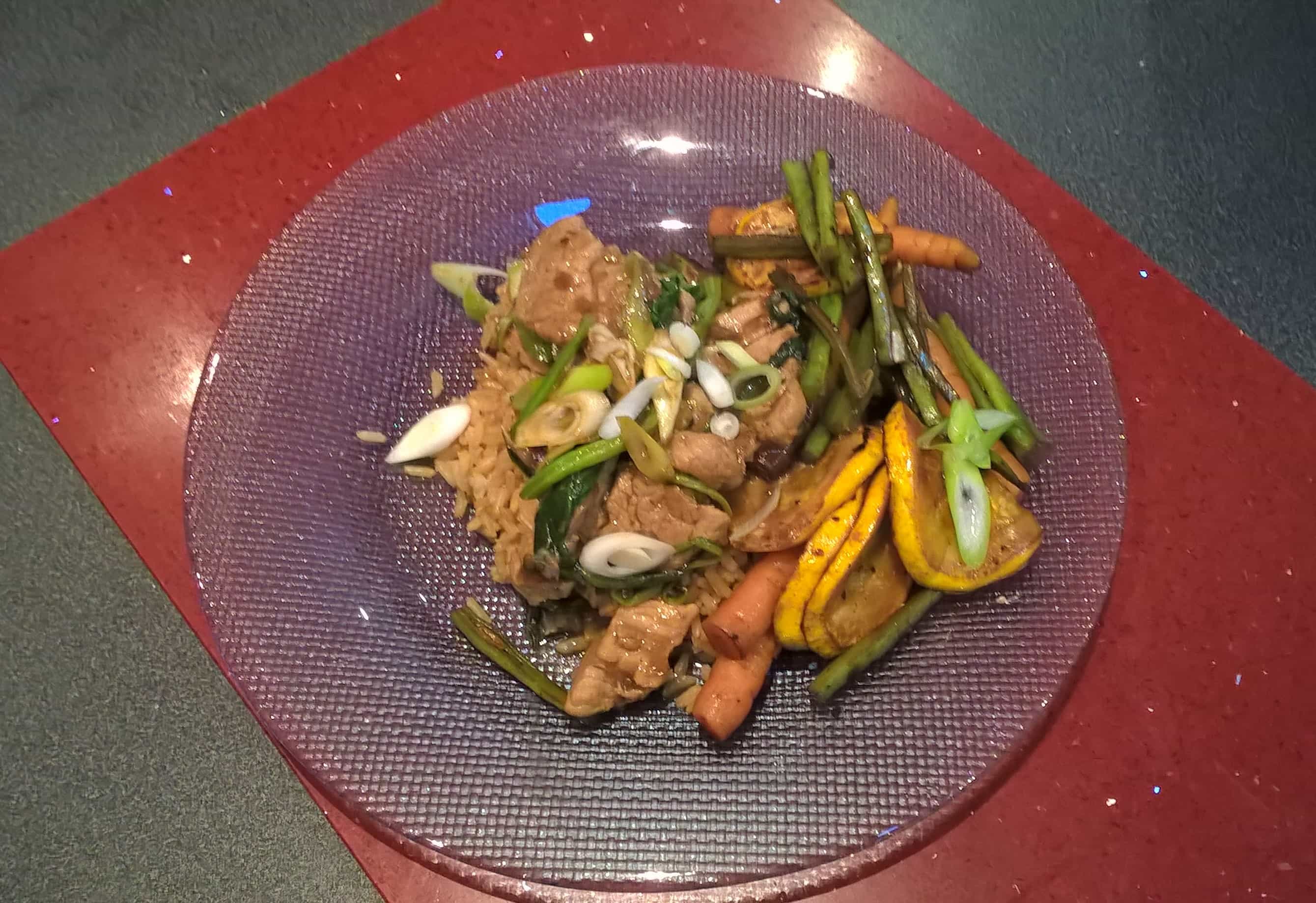 Next I tried the Vietnamese Pork. This kit included a Vietnamese beef stock for cooking the rice, ca kho to fish paste and sriracha sauce to coat the pork. This was another easy one: just cook the rice, sear the pork tenderloin medallions, make a simple sauce of shallots, brown sugar and the flavour pots to coat the pork, and serve with lots of spring onion. I also stir fried some veggies to serve alongside the dish. This was so good! The sauce was rich and flavourful and just really delicious. The rice, because it was cooked with the stock, had a wonderful savoury, umami quality. I added some spinach in with the pork in the last stage of cooking, rather than the pak choi suggested in the recipe, which made the sauce a bit thinner than I prefer. If I made this again I'd keep all veggies on the side and it would be just about perfect.
The third recipe I tackled was Nyonya. The flavour kit included garlic and coconut, nyonya paste and nyonya garnish.  This dish was totally new to me and I took some big liberties in the preparation, subbing out the chicken for sweet potato and chickpeas. The preparation was simple, I fried the potato in the spices, added the coconut milk, remaining veggies, herbs and simmered. I served this with homemade naan. I enjoyed this dish and thought the coconut curry had great flavour, although my husband wasn't quite as keen. I actually ate the leftovers the next day cold on green salad and it was equally tasty!
Finally, I tried the Thai Red Prawn Curry. This kit included garlic paste, Thai red paste and Thai red garnish. This was a really quick and easy dish to prepare, with a cooking time of only 10 minutes. It was as simple as frying peppers, adding coconut milk, flavour pots and tomatoes to simmer and finally the prawns and garnish. I didn't have fresh basil on hand so used spring onions and coriander to garnish, which worked well. Both my husband and I agreed that this was rich, delicious and flavourful.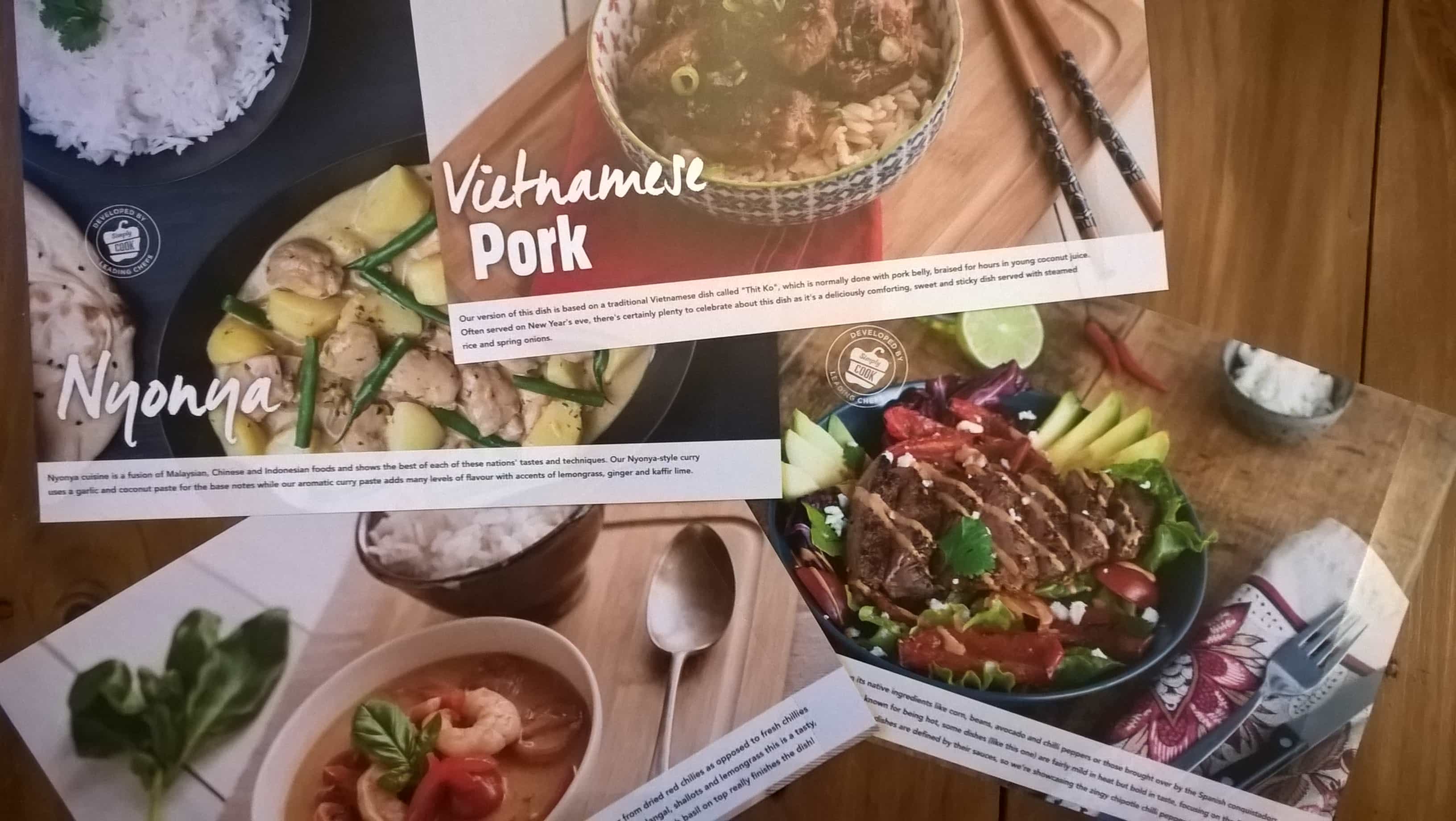 I really enjoyed cooking with the Simply Cook box. I loved that the recipes run the gamut of global cuisine and all four dishes I tried were packed with bold and tasty flavours. I cook all the time but usually favour improvisation over following recipes, so it was a change for me to stick to the cooking instructions. The recipes are very clear and easy-to-follow for novices, but if like me you enjoy experimenting, they are also easy to adapt with substitutions and additions. In my house that meant adding a lot more vegetables to every meal!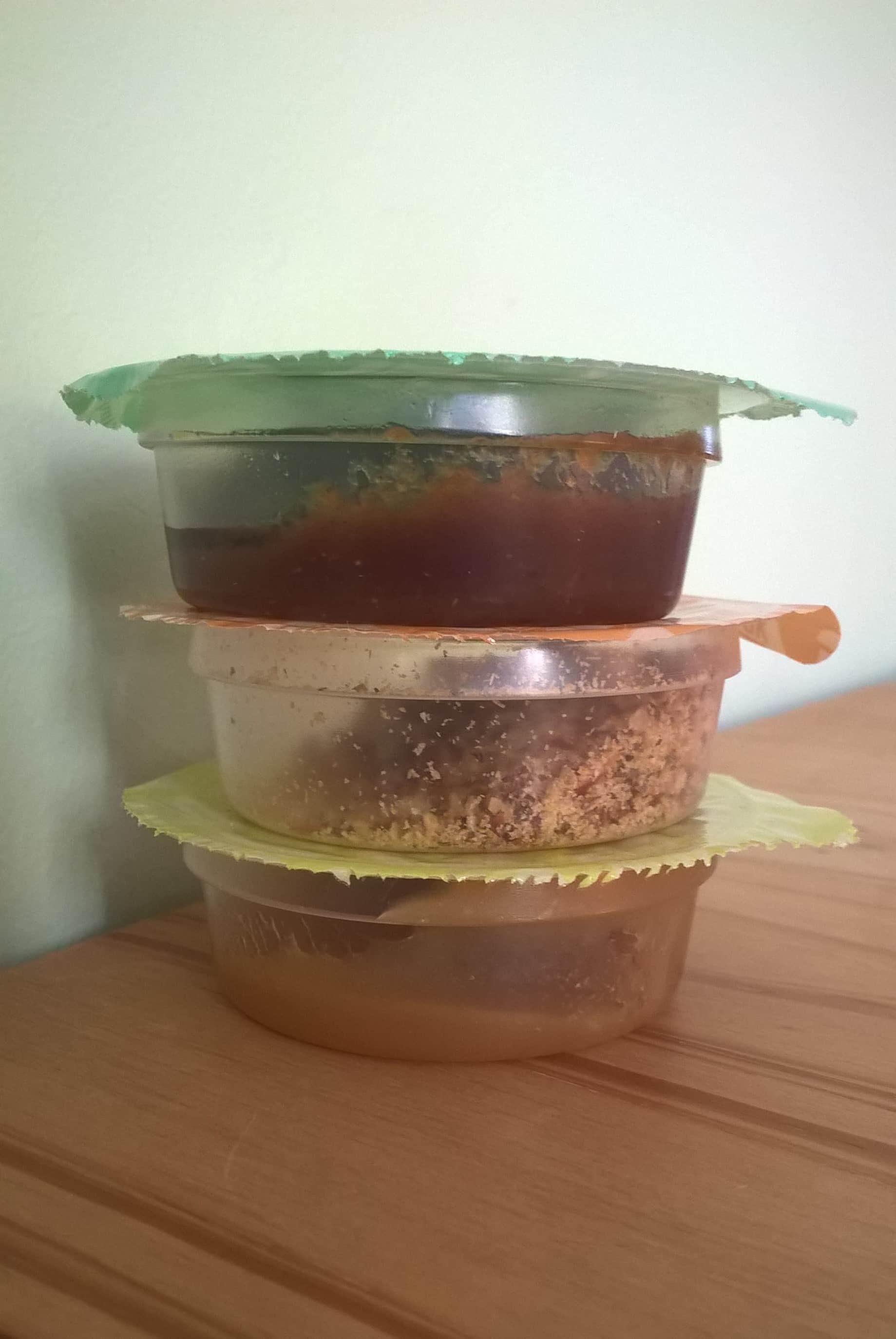 My one niggle is that most of the recipes did take more than 20 minutes to prepare. Part of this is down to me adding vegetables, which of course adds to prep time, but I also think some of the recipes slightly underestimate the amount of prep time that can go into things like cleaning and slicing meat before cooking. However, if you  keep strictly to the instructions then you may not have a problem meeting the 20 minute quota!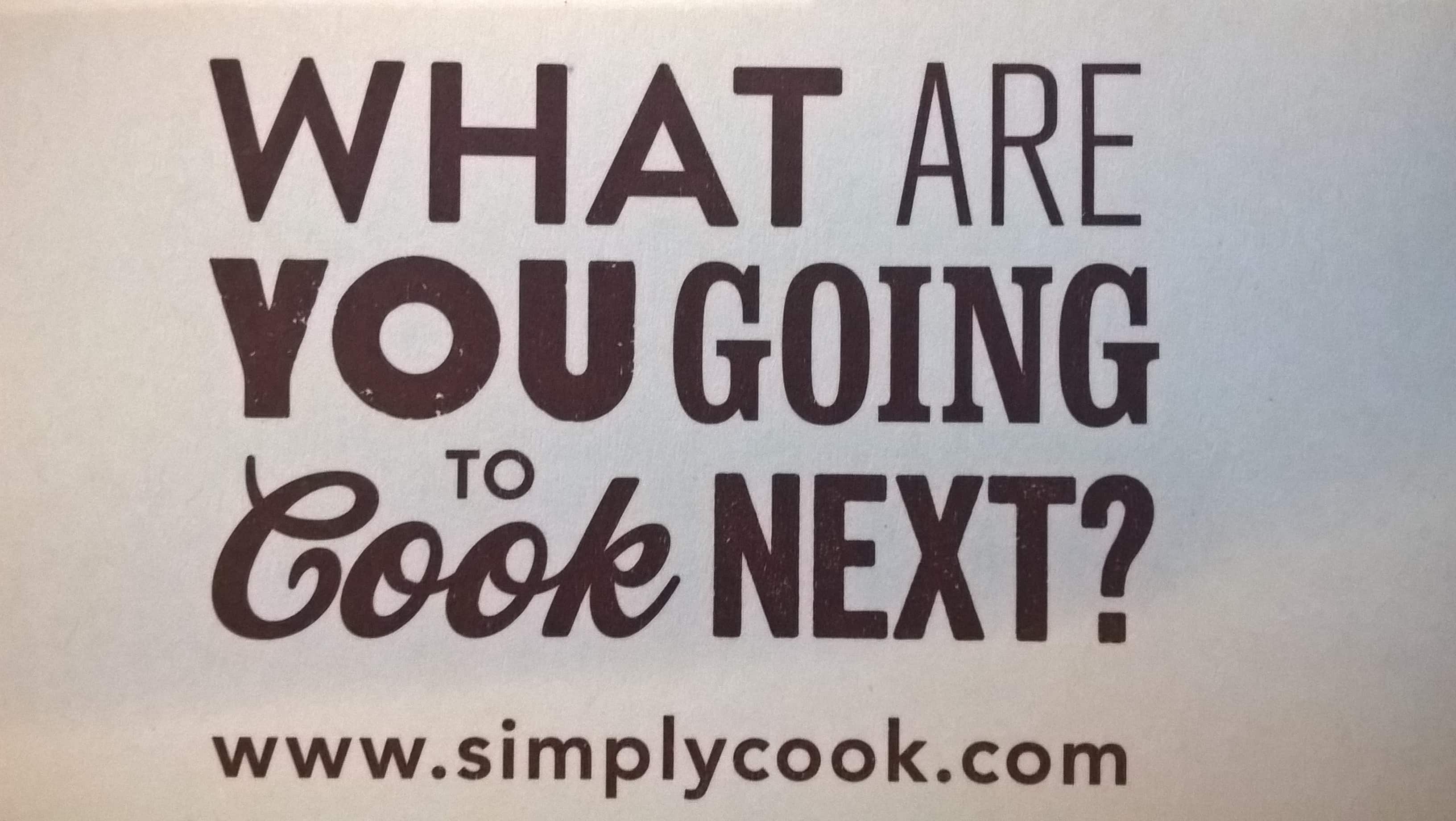 I would recommend Simply Cook to anyone who enjoys cooking and eating freshly prepared meals but is short on time. It is also a great box for  people who love trying new cuisines but don't necessarily have the knowledge or pantry items at home to replicate these complex flavours.