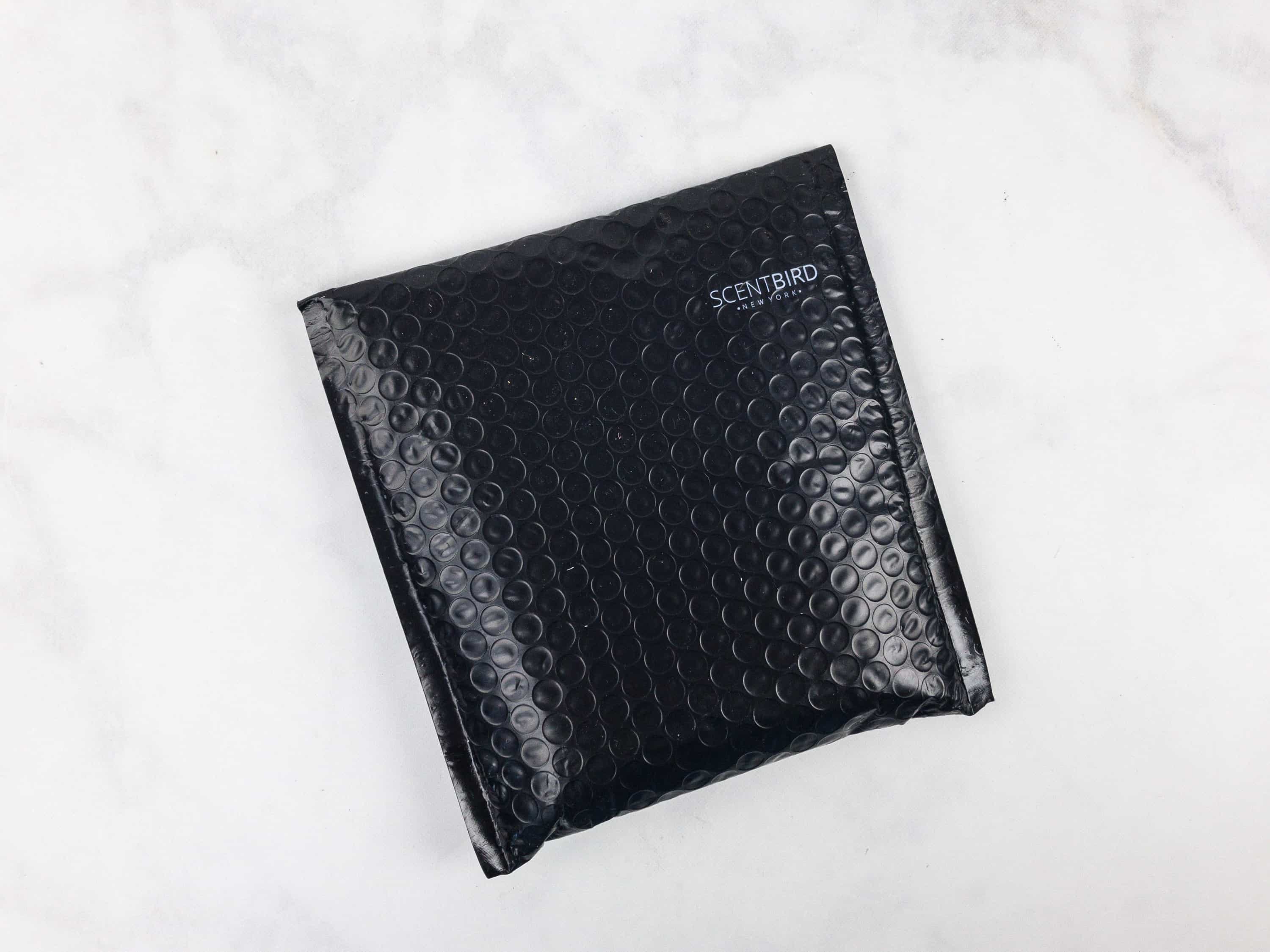 Scentbird For Men is a monthly cologne and eau de parfum subscription. Each month, you get a thirty-day supply of your chosen cologne in a deluxe-size sprayer. 
When you join you fill out a profile – including three of your favorite designer fragrances – then you make a wishlist of colognes you'd like to try. This isn't my first month of the subscription, so my vial of cologne comes packed in a cardboard tube. 
Your first month includes a metal tube sprayer case to hold your current cologne sprayer. You can add extra cases to an existing subscription for $12.95.
DEAL: Get your second month free when you use this link!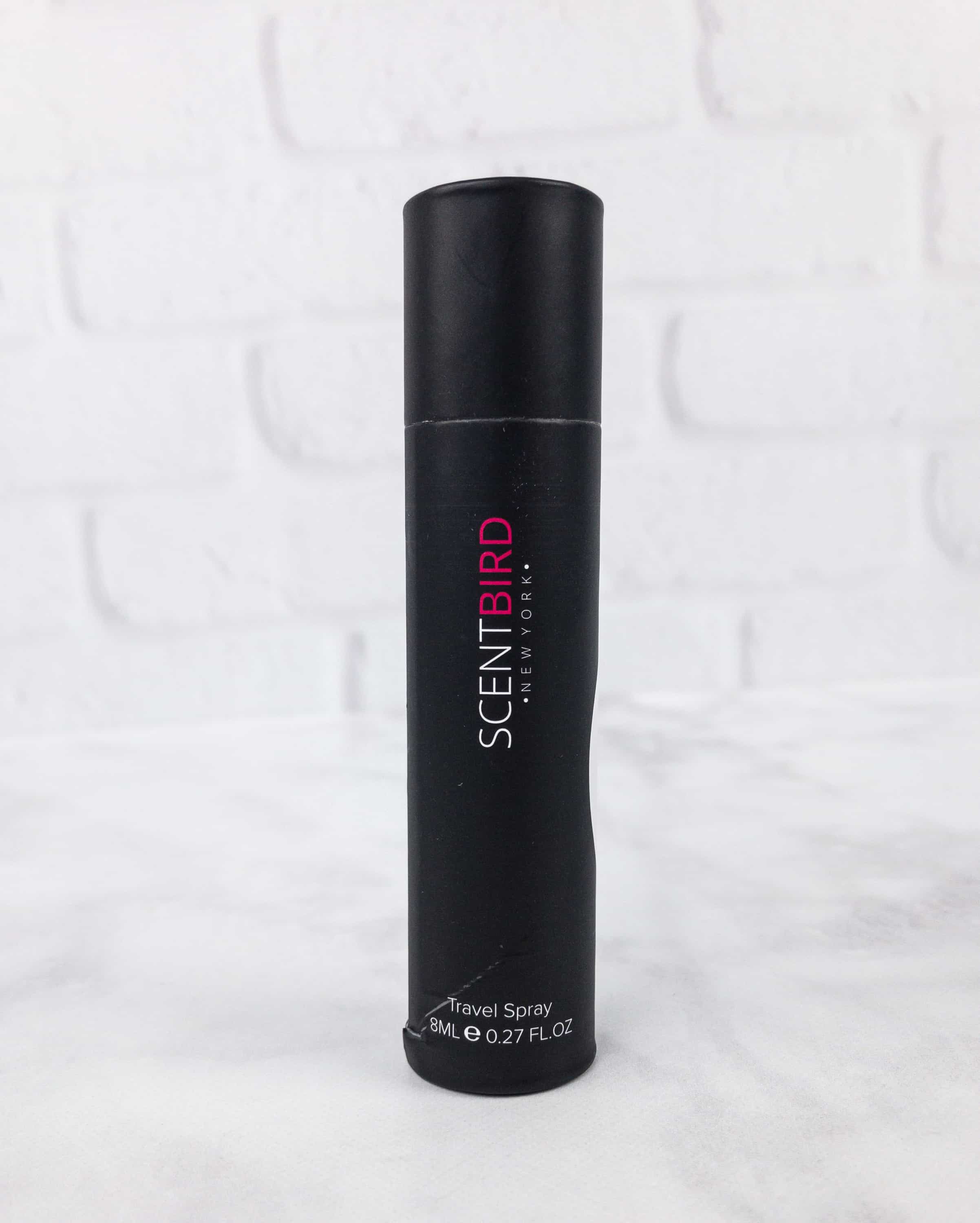 Scentbird decants the cologne from the manufacturer's bottle to a little glass vial with a 8 ml sprayer. This cardboard tube protects the glass vial for easy travel and storage.
The tube shows how easy it is to reload the metal case when you want to switch to another vial of fragrance.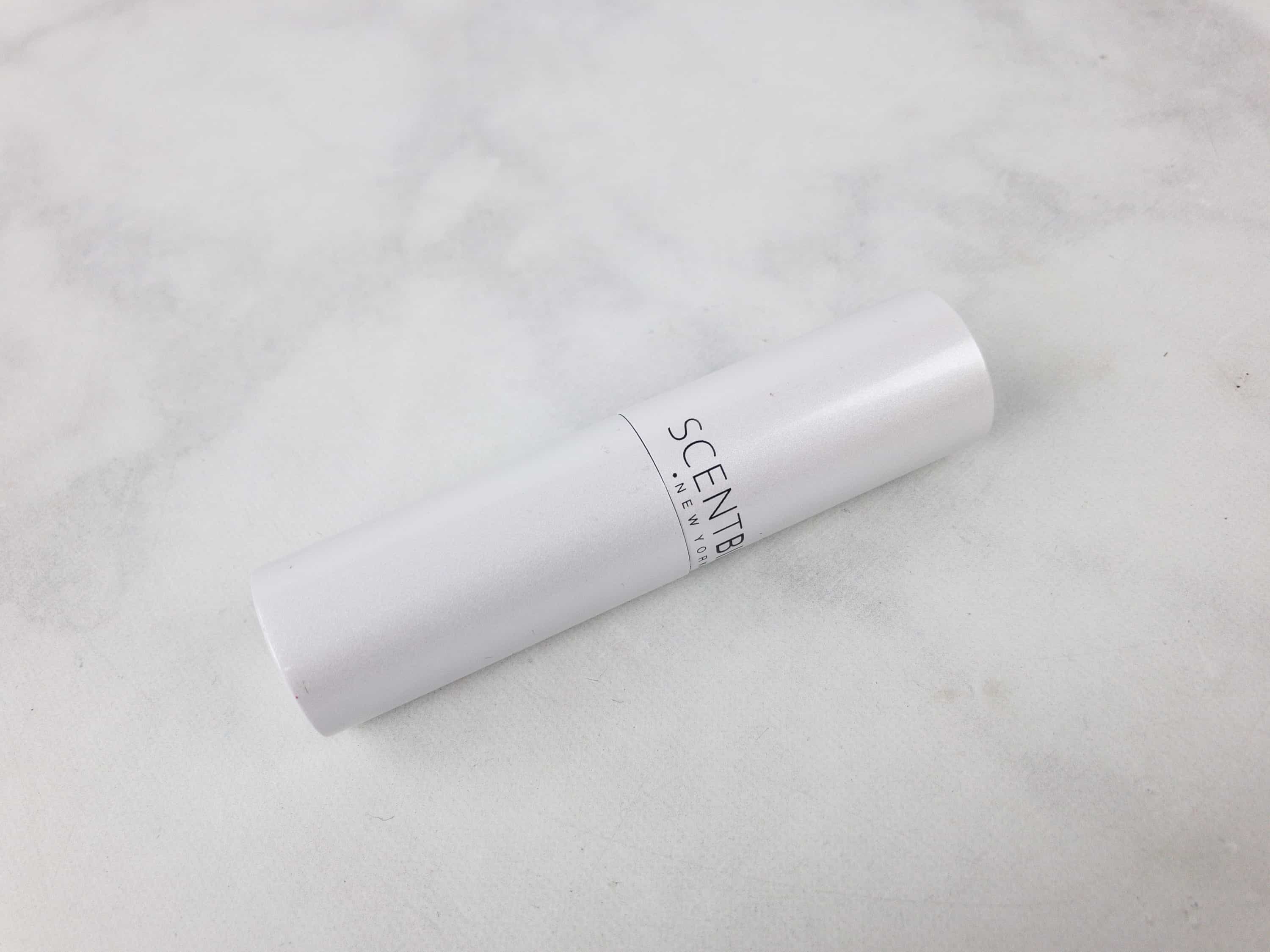 The reusable metal tube that comes with your first month's fragrance. The sleek case protects the vial, preventing breakage and accidental gym bag saturation. You just twist it to spray.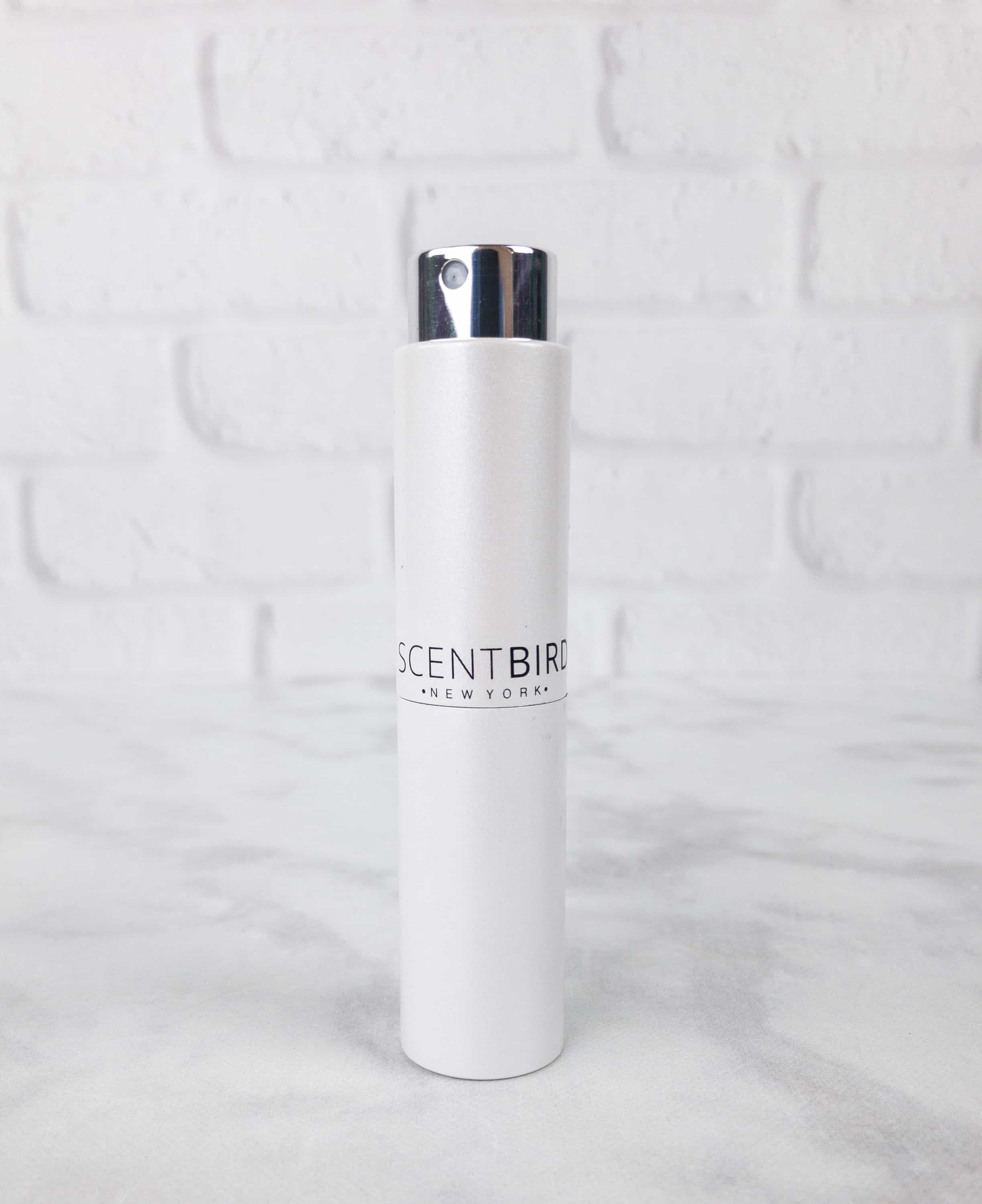 The colognes are 100% authentic, and you save a lot of money because of the repackaging and single-month portioning. Simply put, this is cheaper than a full-size bottle, and a good way to try out cologne and find out what suits your taste.
There is a teaser card included to give you a peek at next month's featured cologne!
The back gives you more info about the featured scent next month. It describes the main notes of the fragrance – if you see your favorite component notes listed, it can be a great way to get ideas for your queue. It is just a suggestion – what you receive the next month is determined by your queue. This is so simple and straight forward. I love their system.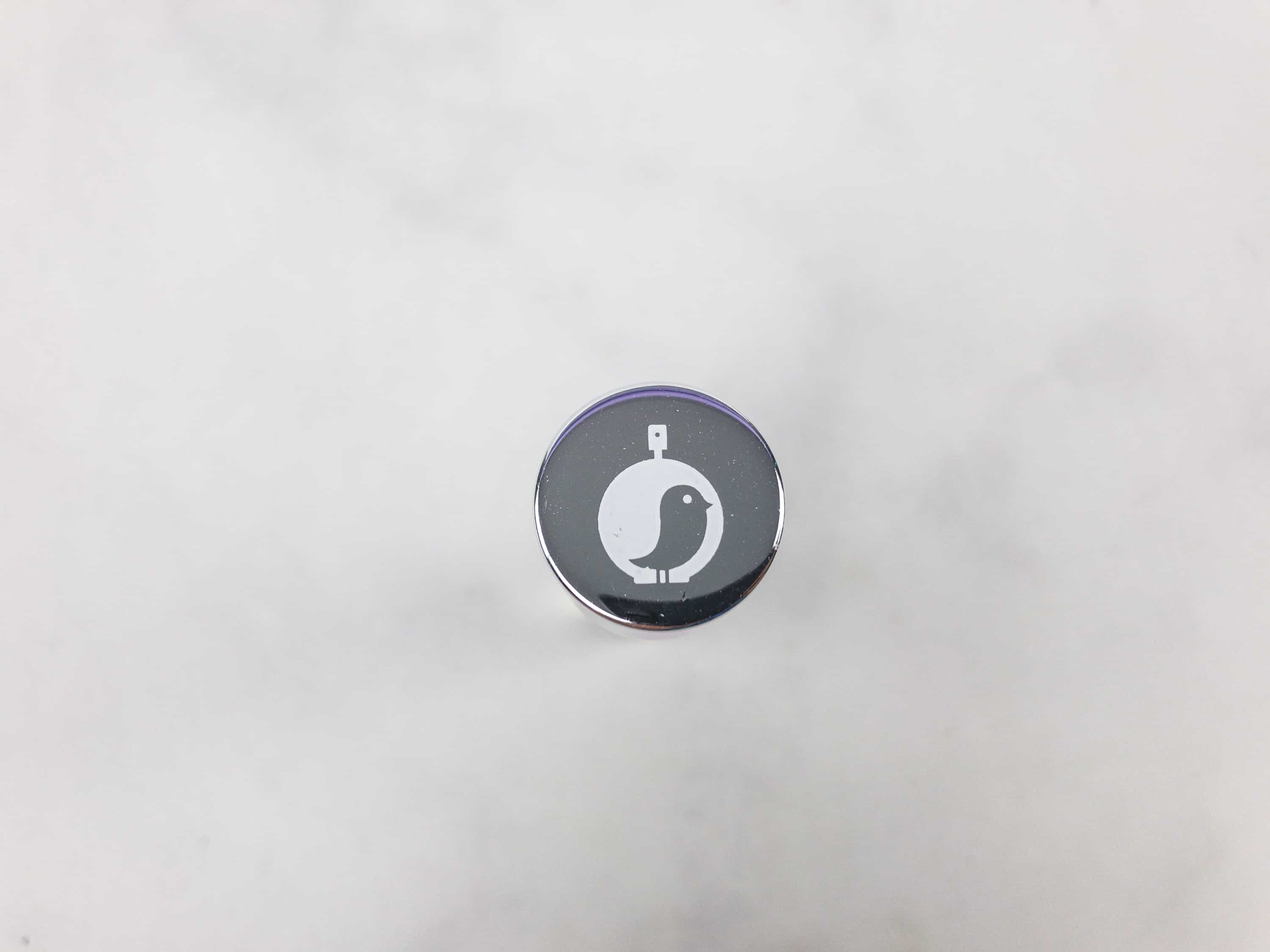 Once slipped into the case, the cologne (or eau de toilette, in this instance) is ready for travel in your Dopp kit, gym bag, briefcase, or overnight bag.

My September selection was Acqua Di Parma Colonia Pura: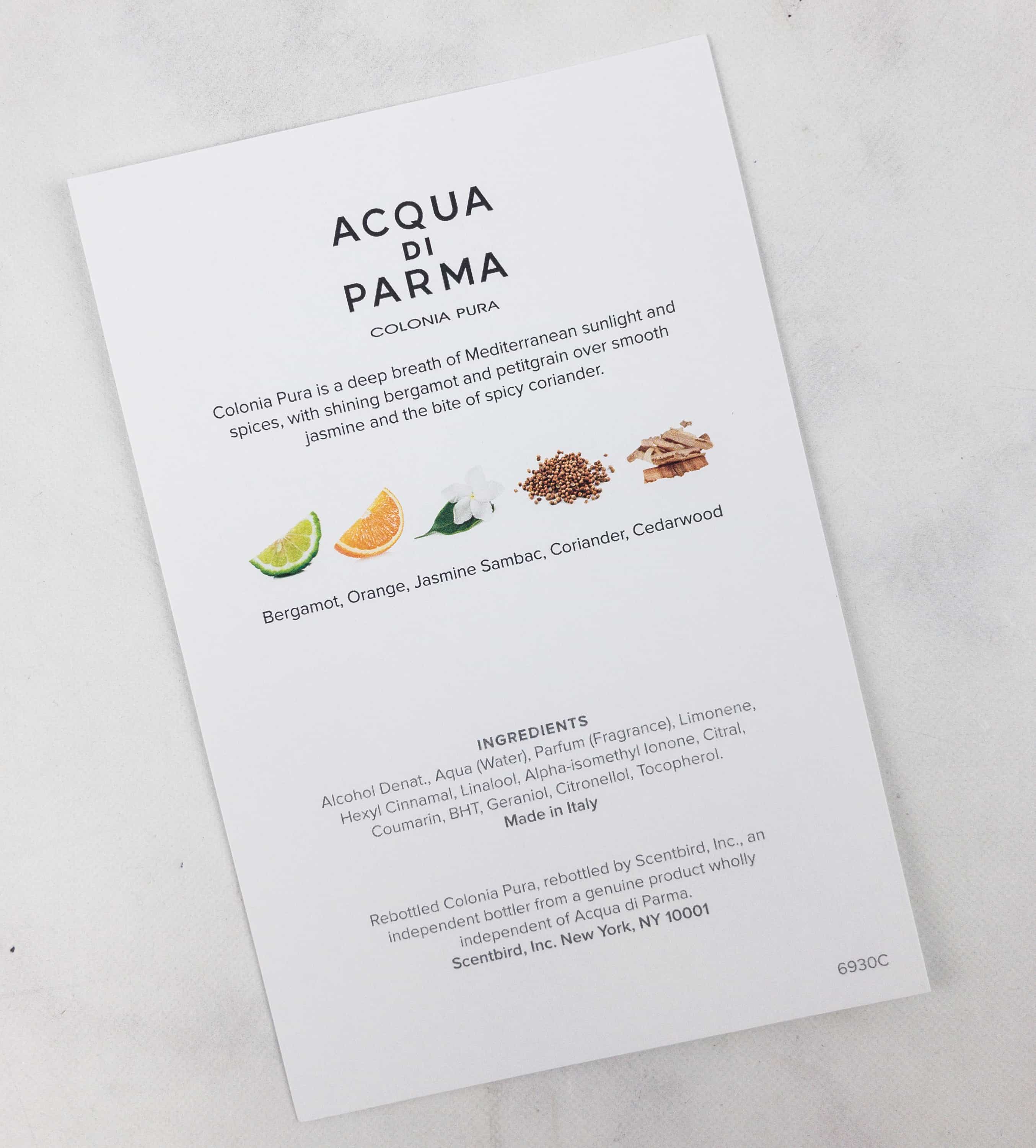 You used to get a card with the featured scent of the month, regardless of what you ordered. This is the first month in which they've included a similar card for the scent actually received. This scent starts out very fresh, with the sweetness of juicy, fresh orange joining the bergamot out of the gate. The orange fades, but the bergamot remains throughout the life of the scent, with jasmine and spicy coriander emerging as dominant notes. The fragrance is sweet and slightly powdery after the drydown, The cedar remains light, with the fragrance never taking on predominantly woody character. I like it quite a bit — it has a vibrant and fun scent when fresh, and it becomes mellow and  innocuous after awhile, so you don't have to be self-conscious about being over-fragranced.
Scentbird is one of my favorite subscriptions. There are so many colognes and eau de toilettes out there to choose from, it's hard to pick just one for a big bottle purchase. Picking out a cologne in an actual store is hard – it's too difficult to isolate the cologne you are trying from all the other scents and no time to experience the dry down of the fragrance (i.e. the actual scent you will experience all day). I love being able to choose any of their scents – all high-end colognes – at a very reasonable price and try them out at my own pace in real world conditions. I can figure out if I love a scent enough to purchase a big bottle, and even if I don't want to commit, I get to build a nice collection of scents!
FYI – there is no gender divide with this subscription – ladies can add men's fragrances and vice versa, and you can share if you'd like, or get a second subscription if you find it impossible.