Pet Treater is a monthly dog treat, toy, and accessory box. Each box shipped results in a bag of treats, toy or accessory donated to a shelter in need. Choose from 3 size options (based on weight) to find the right fit for your furry friend – Small (0-20 pounds), Medium (21-50 pounds), and Large (51 + pounds). This is a review of the small dog box.
I seriously think my dogs do the same thing when they don't want to walk up the stairs in the new house. Sometimes, I don't think we give our pets enough credit for their smarts.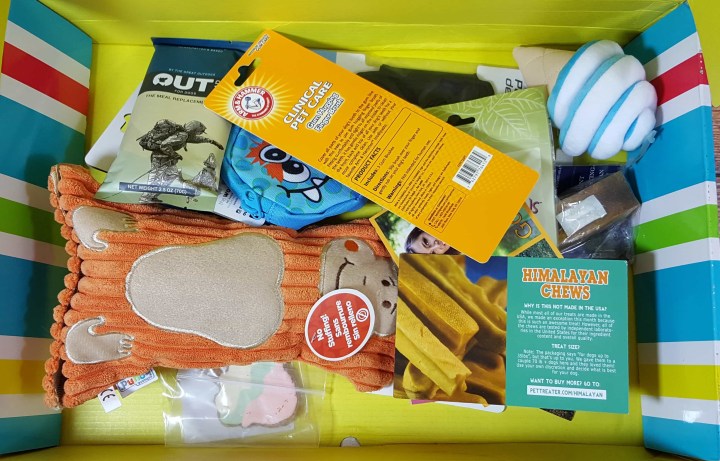 DEAL: For a limited time new Pet Treater subscribers can use code BARKICECREAM at checkout to receive Two Free Pints of Puppy Cake Ice Cream your first box, OR use LOVE-PT5 to take $5.00 off your first box.
Codes cannot be combined, and are only valid on your first box.
FYI: FIRST TIME subscribers will receive a first time box, which is full of past favorites and will NOT be a themed box.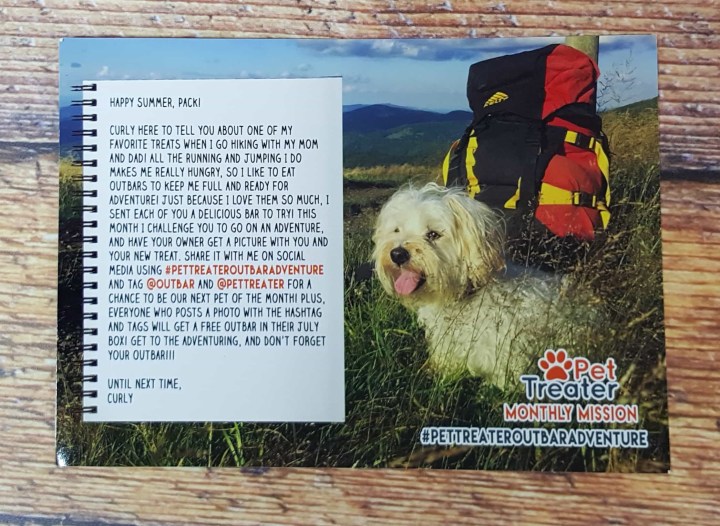 For July, Curly challenged his Pet Treater friends to go an adventure and try their OUT Bar when in need of a snack after all of their exploring. Use #PetTreaterOUTbarAdventure and tags @PetTreater and @OUTbar when posting pictures of your pet, and they could be featured as the next postcard Dog of the Month!
Our July Pet Treater box. Last month, I got toothpaste as my gift, and this month the girls get toothbrushes. LOL.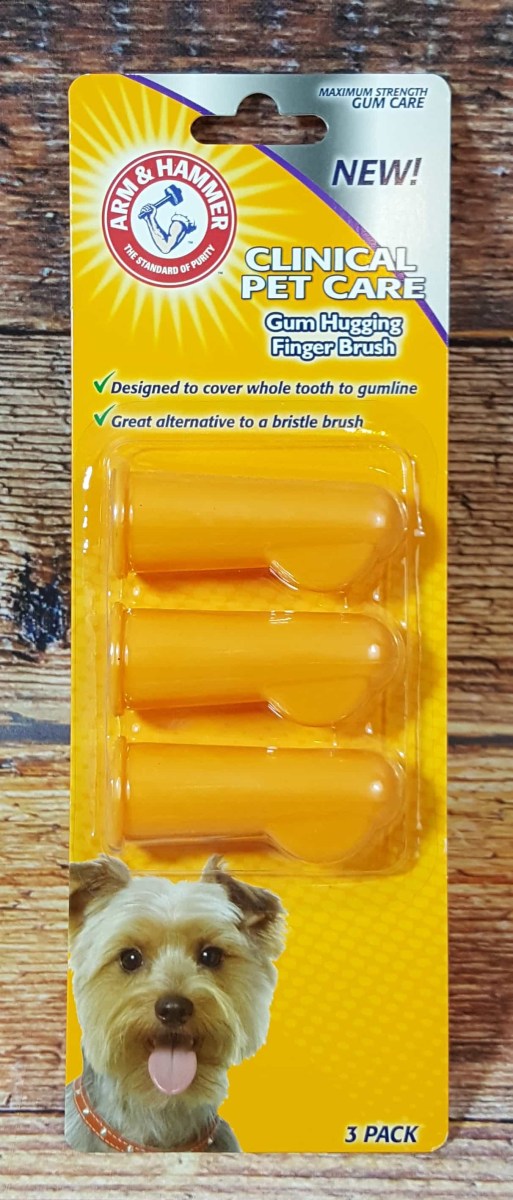 Arm & Hammer | Clinical Pet Care Gum Hugging Finger Brush 3-pk ($3.49): I am horrible at remembering to brush the girls' teeth regularly, but I do get it done with every bath they take. I like these finger brushes better than the ones I currently have because they hug the teeth and gums, unlike mine which only touches the surface.
Exclusively Dog | LickOrish Chews – Strawberry ($4.59): These are strawberry flavored chewy treats shaped like licorice. While you're enjoying your favorite rope candy, your pup can have their own version with these. Lily and Lexi LOVE fruit, so I know these are going to be a hit with them.
OUT Bar | Herring Recipe ($3.13): This is a meal replacement bar made to satisfy your pet during their outdoor adventures. Each bar is scored so that it can be broken into 4 smaller pieces to accommodate a variety of situations. OUT Bars are made with real animal protein (herring in this case) and all natural ingredients such as sweet potatoes, lentils, and apples. Plus, they can be used to replace your pup's daily meal. Unfortunately, my girls are not fans of fish, so this will be passed on.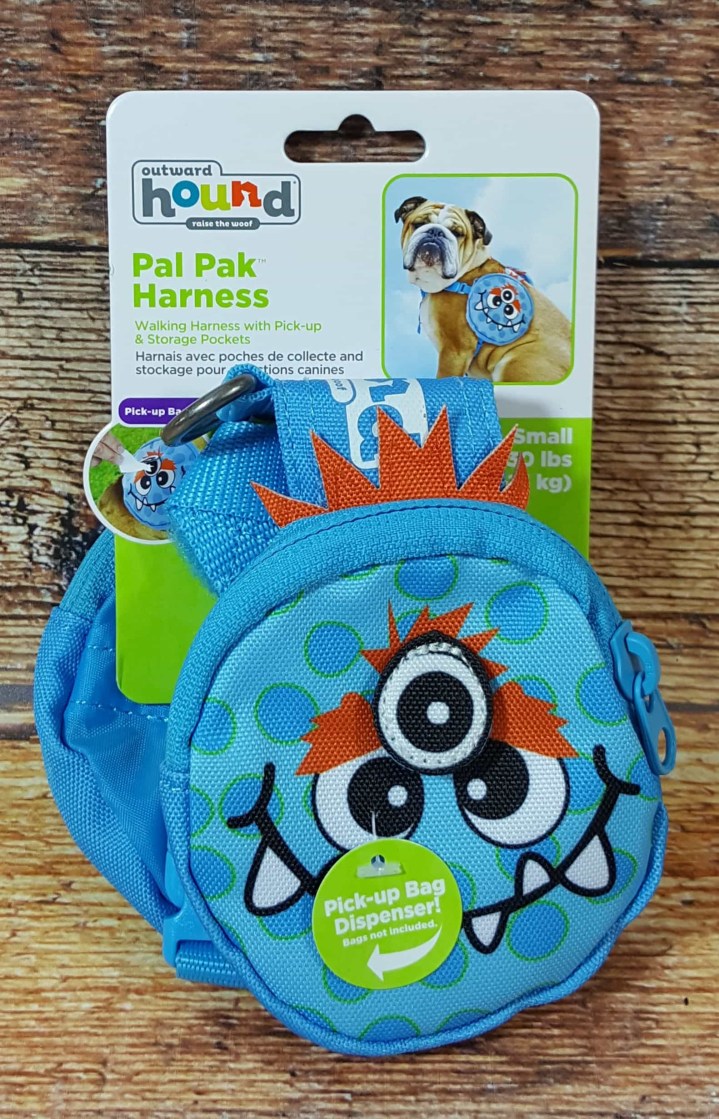 Outward Hound | Pal Pak Harness ($6.99): This is a walking harness for your fur baby that features 2 storage pockets – one has a convenient waste disposal bag dispenser. Store keys, ID, or snacks in the zippered pockets. A D-ring allows you to attach your pet's leash and go.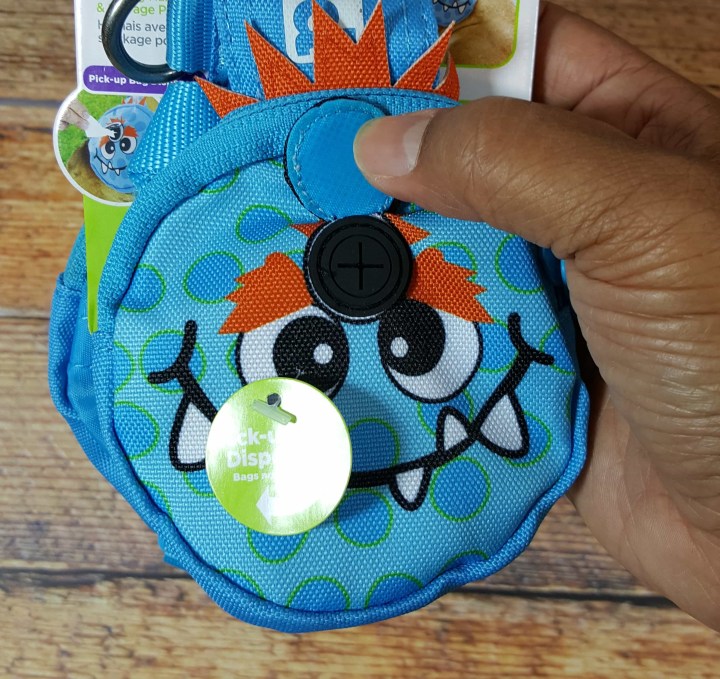 The monster's 3rd eye hides the bag dispenser.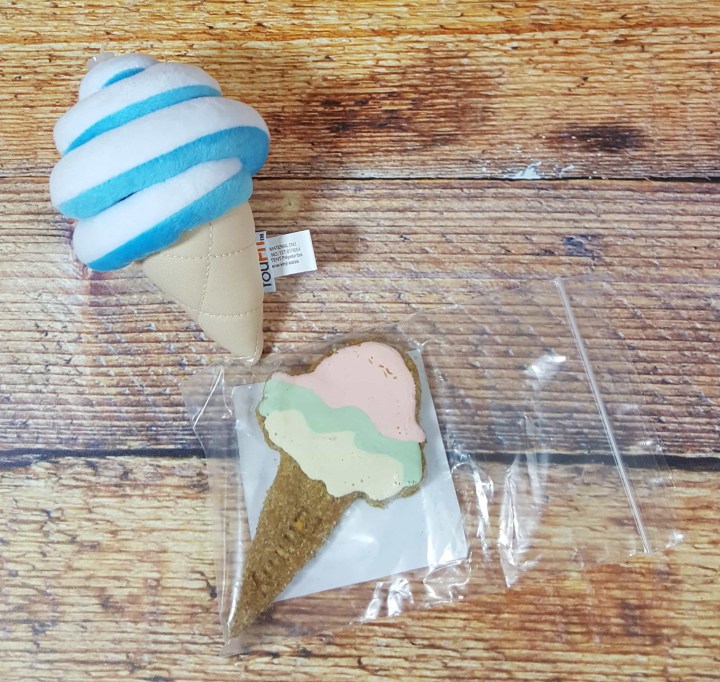 FOUFit | Freezable Dog Toy – Blue Ice Cream Cone ($14.85): Want to help your pup cool down during the hot summer months? Soak the cone, squeeze out excess water, and freeze for an icy treat. Toy also floats, so toss into the pool if your dog likes water sports. The cone features a squeaker and is still fun for your 4-legged baby when dry.
Emmy's Gourmet Canine Creations | Ice Cream Cone Treats – Three Cheese Pleasers ($1.35): Who doesn't love an ice cream cone on a warm day? This version is a soft cookie treat that features cheddar, Colby, and Monterey jack cheeses.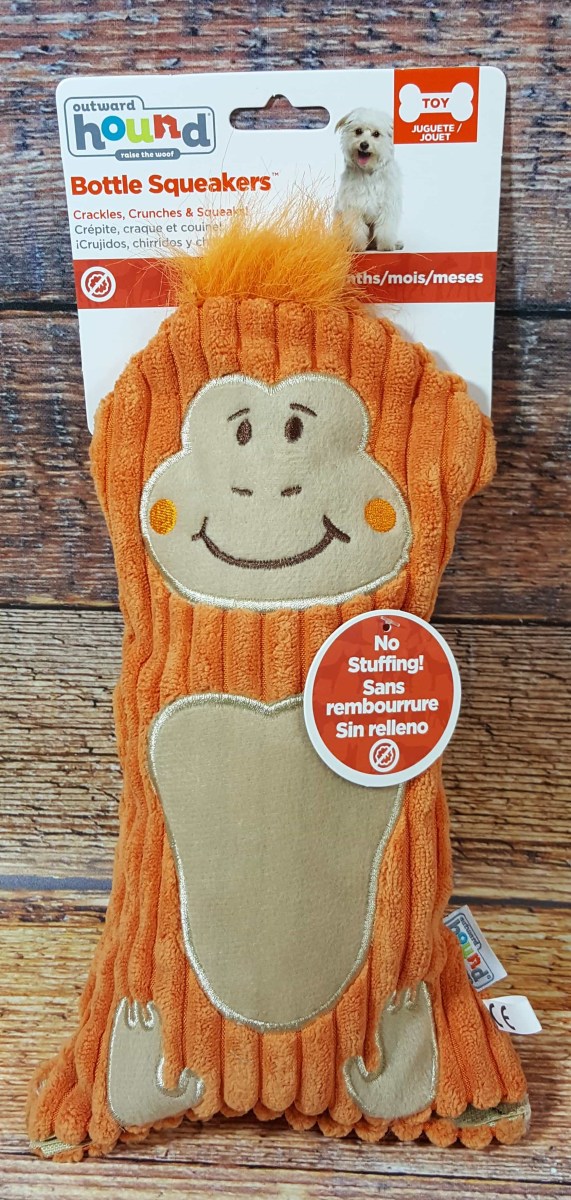 Outward Hound | Bottle Squeakers – Monkey ($5.99): This toy features a plush sleeve large enough to hold a standard water bottle and a squeaker cap. Your fur baby gets to plush feel that they are used to with toys, plus crackly and squeaky noises. The Velcro bottom allows you to change out the water bottle when needed.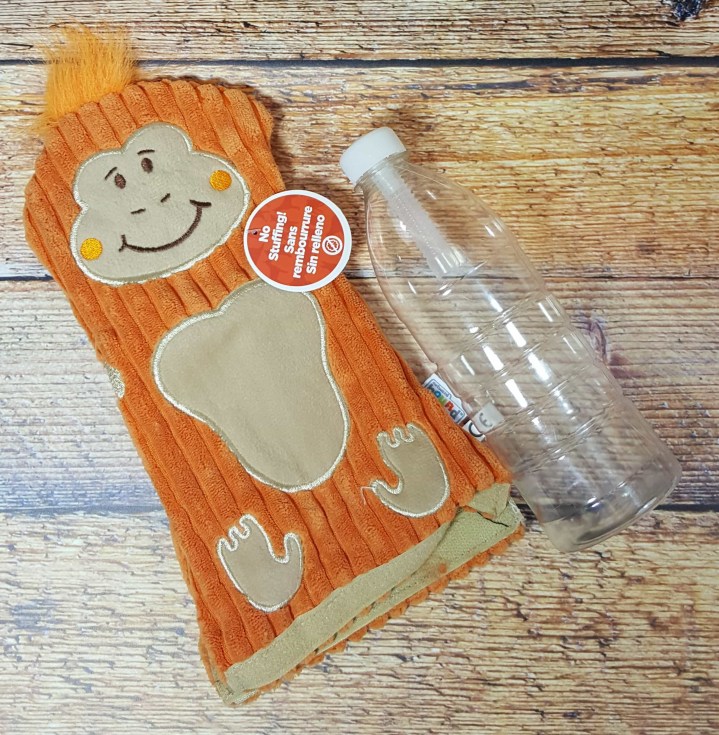 Here's a look at the deconstructed toy. Remember to put the squeaker cap on any new bottle used in the plush sleeve.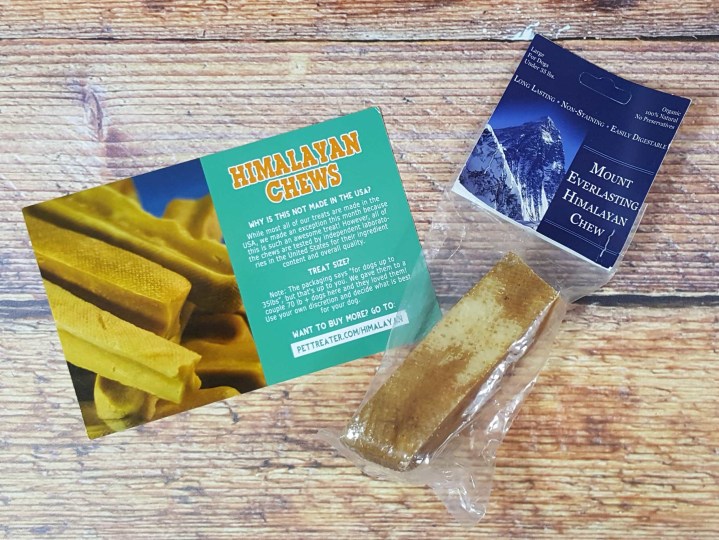 Mt. Everlasting | Himalayan Chew – Large ($9.66): Although this is large, it is intended for dogs under 35 lbs. These are a hard cheese chew treat made from yak and cow milk that have been enjoyed by people in the Himalayas for centuries. My girls are super cheese fiends, so I think we'll have a fight over this one.
**Pet Treater Human Gift** Sportline | Wrist Wallet ($14.20): This is a great hands-free solution to holding your keys or small valuables when on the go. It features a reflective strip that helps make you noticeable when running in low light. My only complaint is that it is hard to use the Velcro closure to secure credit cards inside the pouch.

There was also a 15% discount coupon for Fetching Apparel. The company was created to help shelter animals find their fur-ever homes. 40% of profits go towards animal rescue organizations and spay/neuter programs. Learn more about the company and check out their cute pieces.
Check out Kira playing in her pool. Complete this month's challenge for a chance to have your pup be selected as Pet of the Month.
July's Pet Treater box is valued around $64. It seems the value of the boxes is improving – the last few have been around the $60 mark. Lily and Lexi made out like bandits with this month's items, so I'm a happy pet parent.
Lexi was camera shy, but here's Lily with her bottle squeaker.  I hope you enjoy the pictures as much as she enjoyed the toy.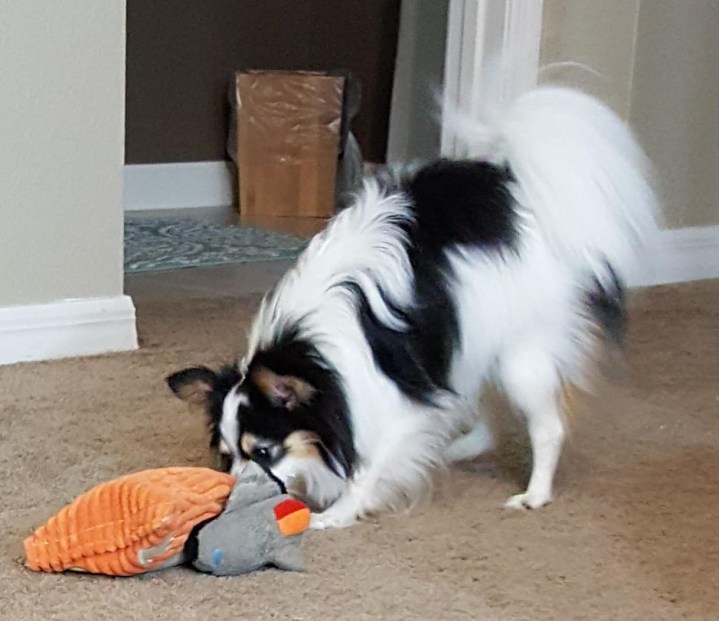 Hoarding the toys, but not sure which to play with first.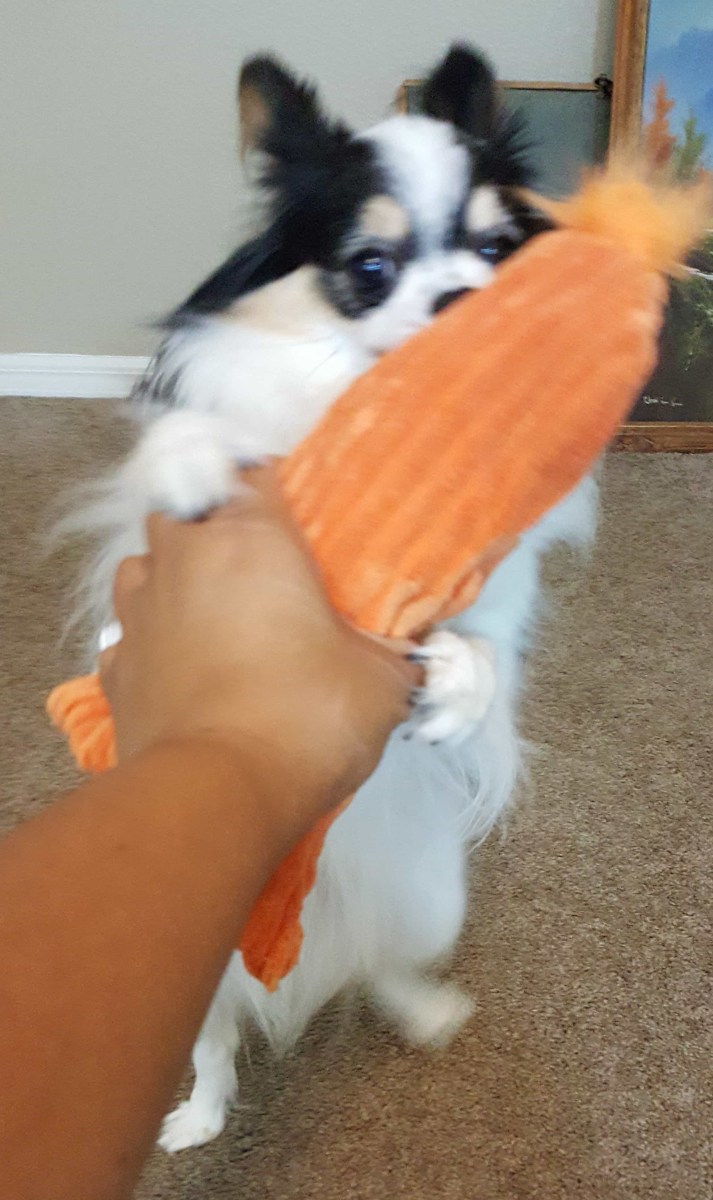 Stop teasing, mommy. Let me have it.
Got a grip on it…
Have you tried Pet Treater yet? Share your thoughts with a comment below.