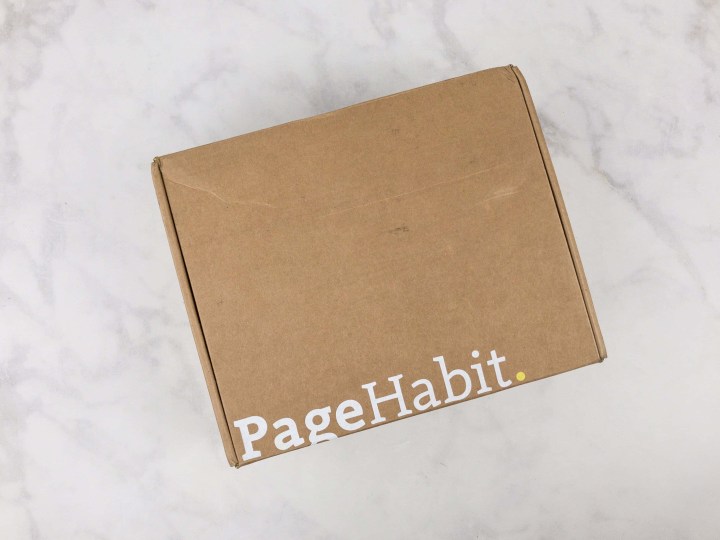 PageHabit delivers your next book sensations. The subscription costs $29.99 per month, and you can choose from a variety of genres available like Mystery, Literary Fiction, Historical Fiction, Fantasy, Romance, and Young Adult Fiction. PageHabit also gives back to the community – each month, they partner with different organizations to make sure that children around the world have books to read.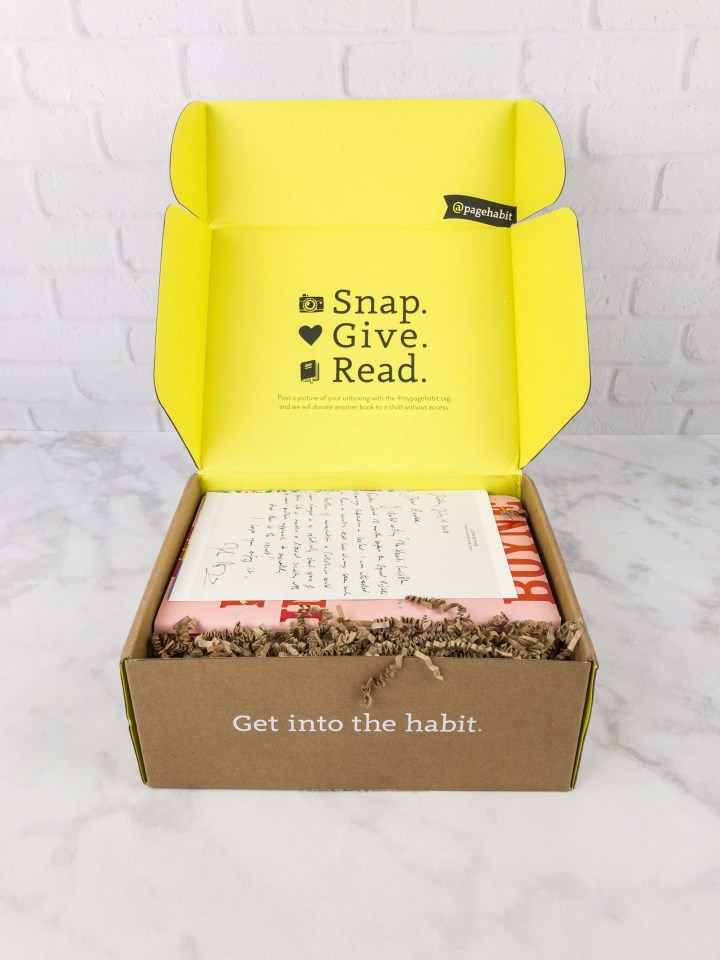 DEAL: Save $10 off your subscription! Use this link to get the deal.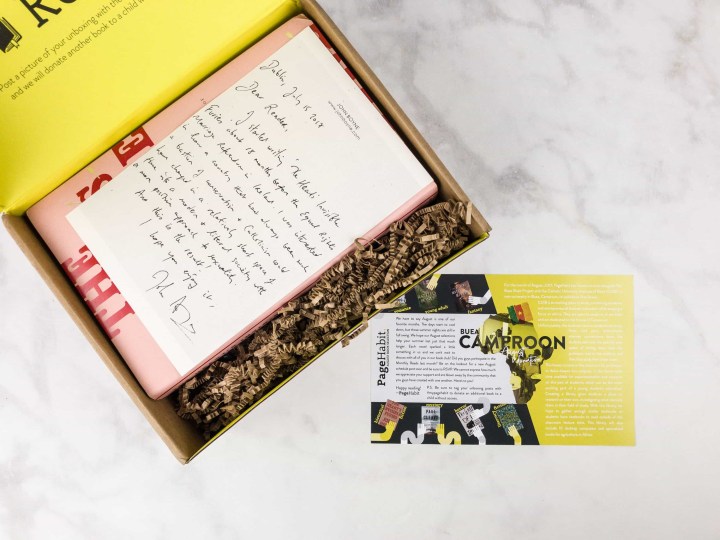 Paper squiggles are back this month.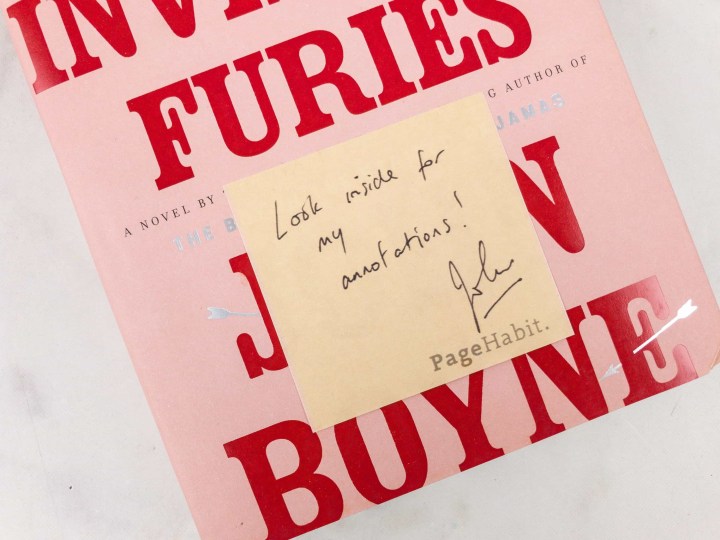 The featured author this month is John Boyne.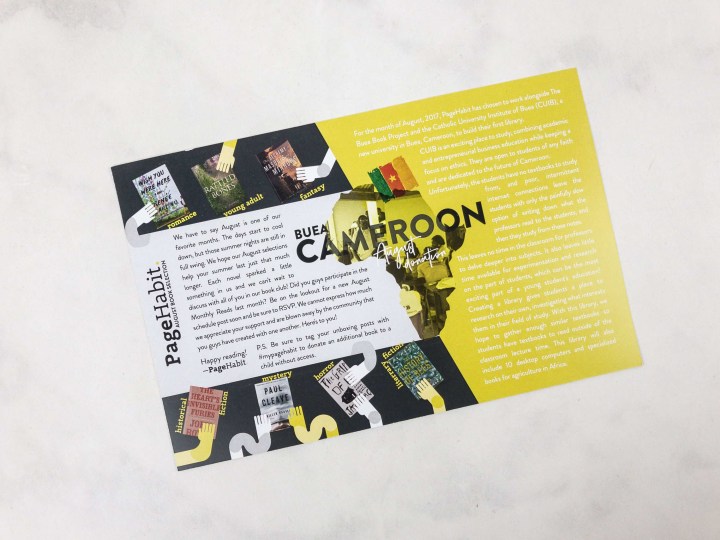 This month, PageHabit is making sure that children from Cameroon will get books to encourage literacy.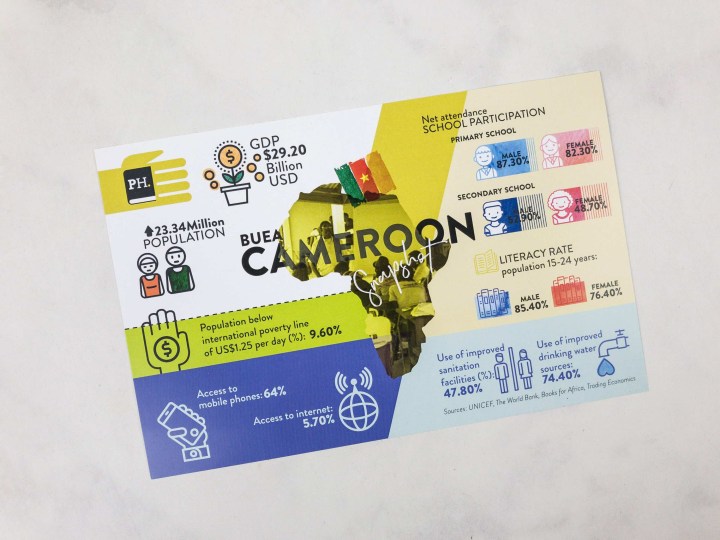 It also includes an infographic-style trivia about Cameroon.
Everything in my August 2017 box!
I picked Historical Fiction this month. My box include one (1) newly released book, plus several bookish goods.
FYI – the bookish goods are the same over all the subscriptions. Here are the books in the other subscriptions (all hardcover prices):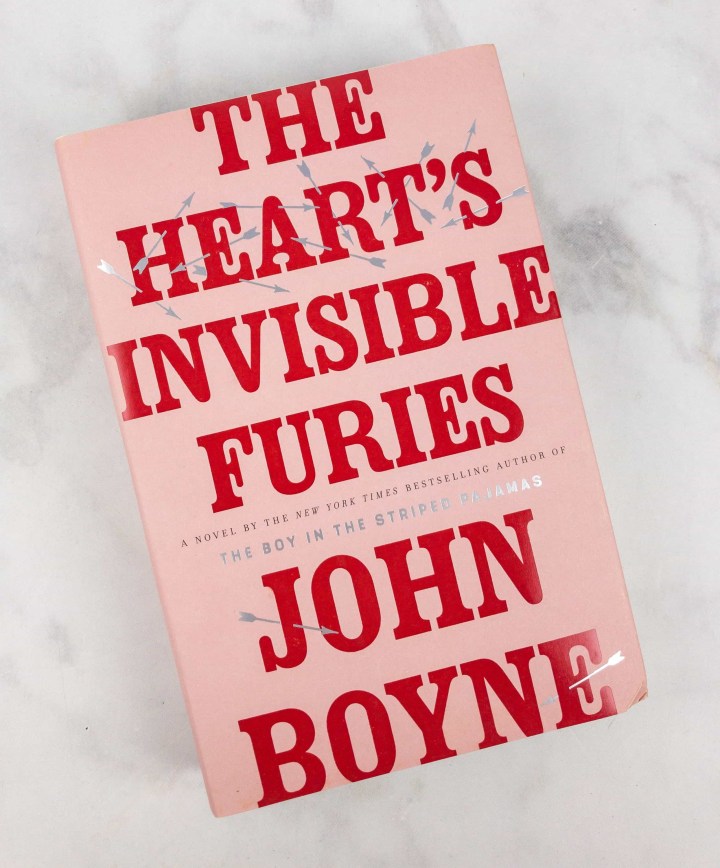 The Heart's Invisible Furies By John Boyne ($16.80)
From the beloved New York Times bestselling author of The Boy In the Striped Pajamas, a sweeping, heartfelt saga about the course of one man's life, beginning and ending in post-war Ireland

Cyril Avery is not a real Avery — or at least, that's what his adoptive parents tell him. And he never will be. But if he isn't a real Avery, then who is he?

Born out of wedlock to a teenage girl cast out from her rural Irish community and adopted by a well-to-do if eccentric Dublin couple via the intervention of a hunchbacked Redemptorist nun, Cyril is adrift in the world, anchored only tenuously by his heartfelt friendship with the infinitely more glamourous and dangerous Julian Woodbead. At the mercy of fortune and coincidence, he will spend a lifetime coming to know himself and where he came from – and over his many years, will struggle to discover an identity, a home, a country, and much more.

In this, Boyne's most transcendent work to date, we are shown the story of Ireland from the 1940s to today through the eyes of one ordinary man. The Heart's Invisible Furies is a novel to make you laugh and cry while reminding us all of the redemptive power of the human spirit.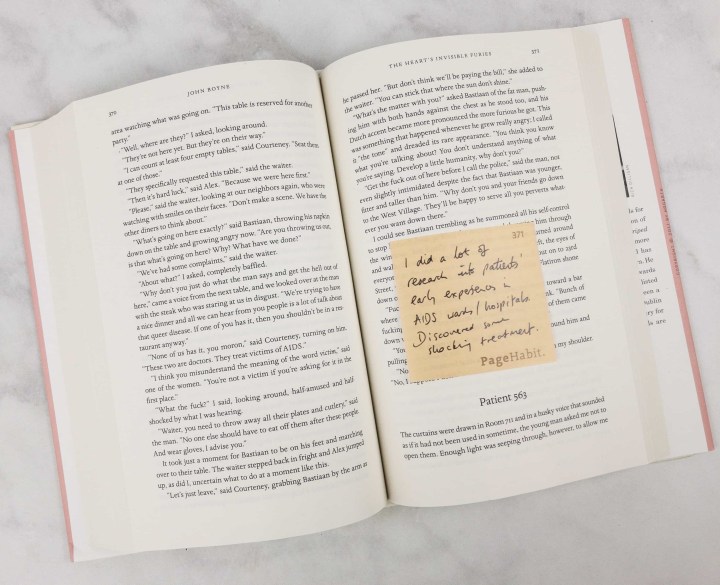 This is such a bittersweet story that will keep you engrossed from start to finish. Themes include coming of age and LGBT.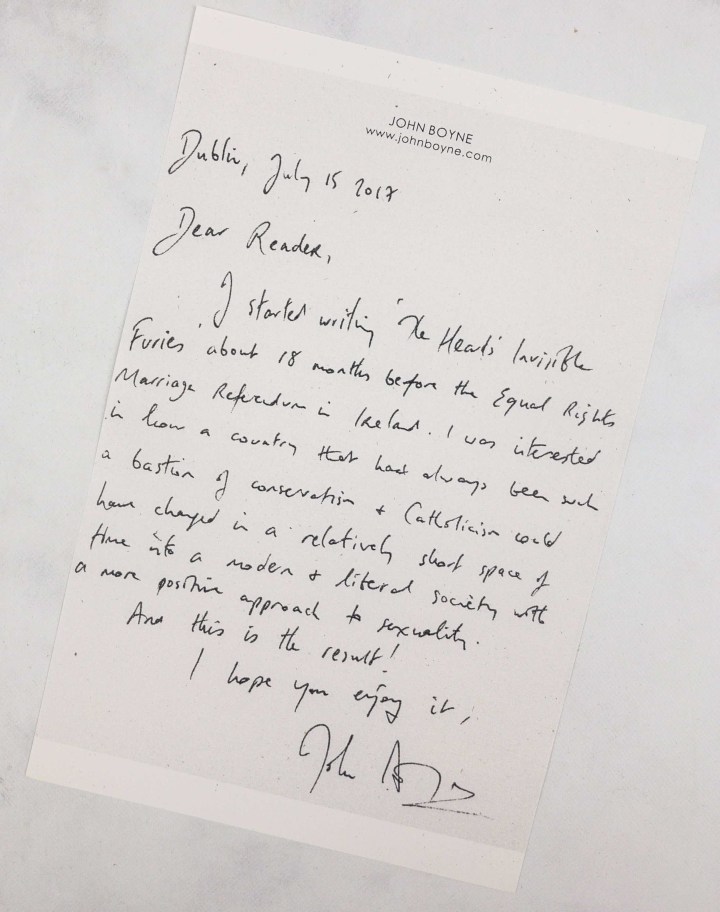 Aside from the notes on the pages of the book, we also received a letter from the author.
Since Regina's return to England after nursing the soldiers in France, she's had trouble coping with the loss of a loved one and her distance from a war that needs her. But a free-spirited painter may help her realize she's exactly where she belongs.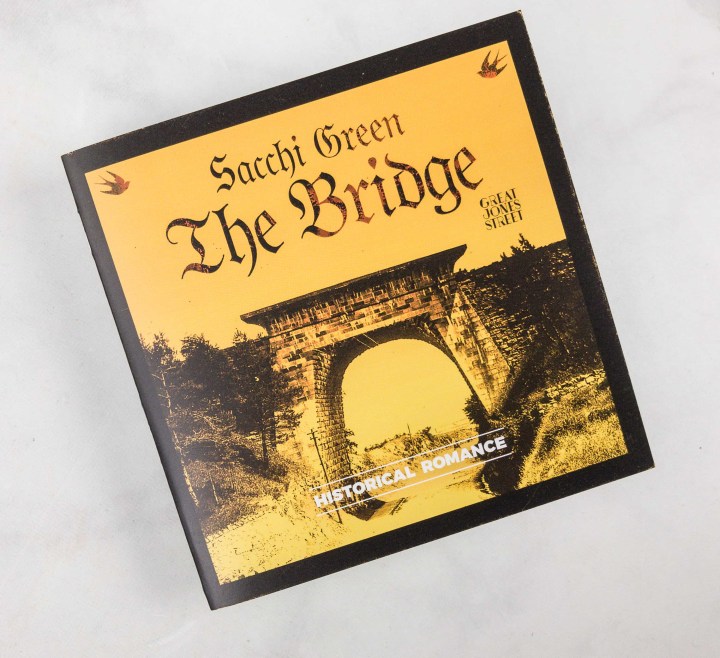 Another addition on our to-read pile this month is this short story by Sacchi Green (who also writes as Connie Wilkins).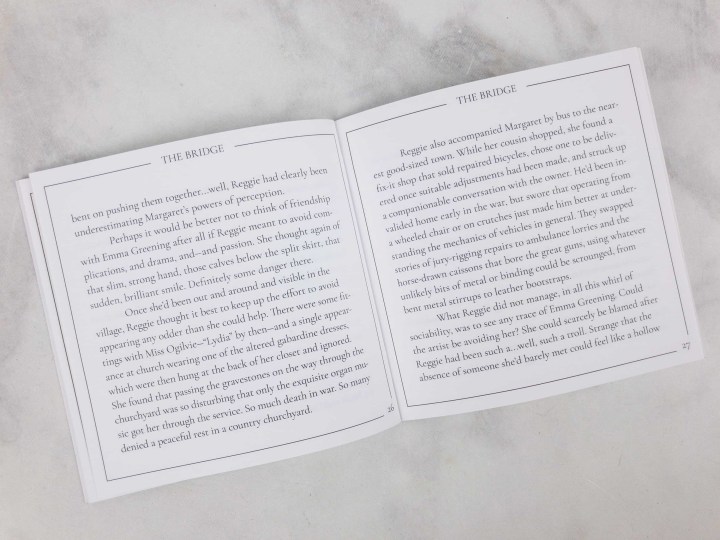 Sacchi Green is known for her lesbian erotica and lesbian romance stories.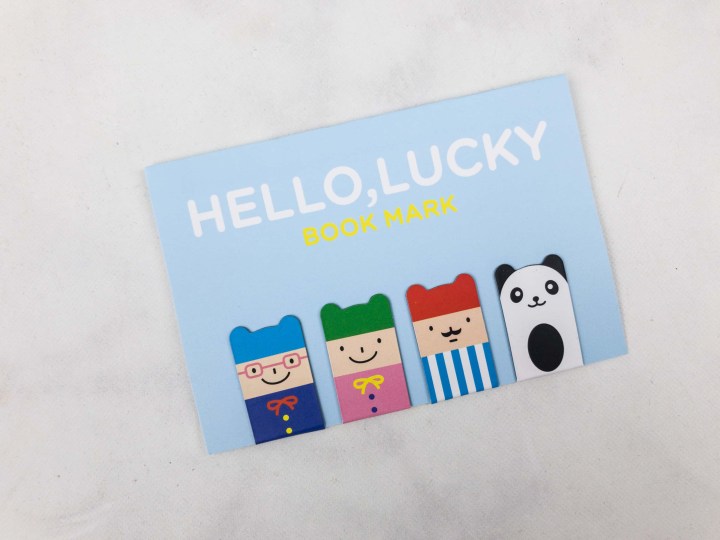 Hello, Lucky Bookmark ($3.16) Because new books also deserve a fresh set of bookmarks!
Included in our set are three guys and one panda — how adorable!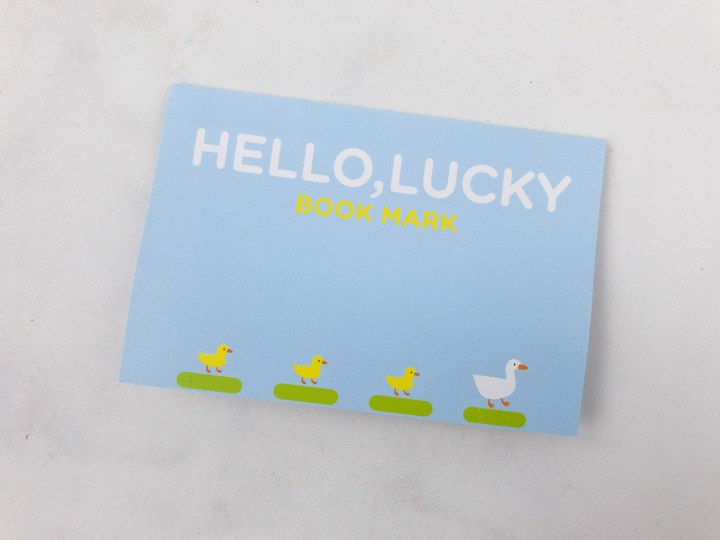 Even the card (where the bookmarks were attached) is so cute.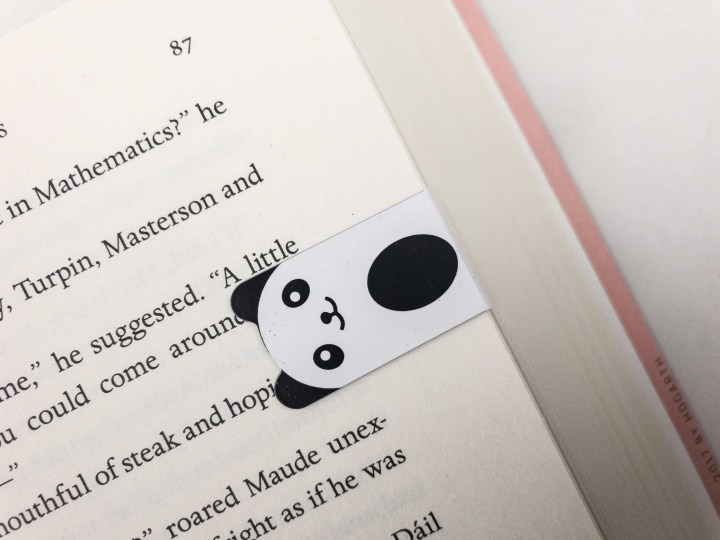 Magnetic bookmarks are very convenient to use when marking a page for future reference, and using it has lesser chances of accidentally tearing off the page.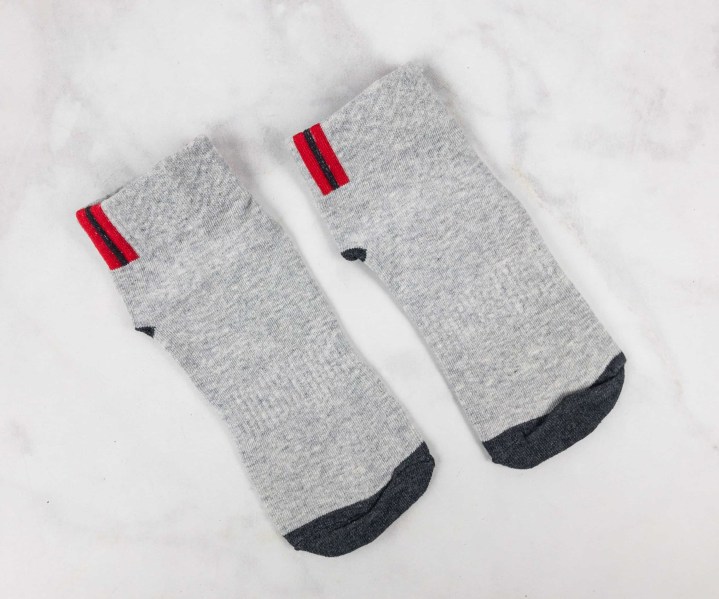 IfTheSockFitz "If You Can Read This, Pass Me My Book" Socks ($12) Perfect for those days when you don't feel like doing anything except reading!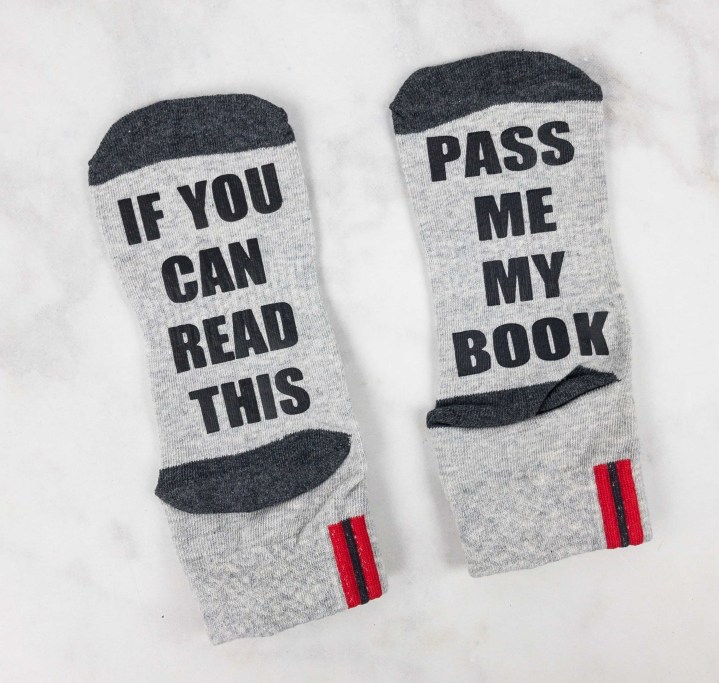 These comfy unisex socks are made of cotton, vinyl, and wool.
PageHabit Bookmark – A bookmark printed on high-quality paper! It features a quote from Roald Dahl's Matilda and a silhouette of a reading girl surrounded by pretty flowers.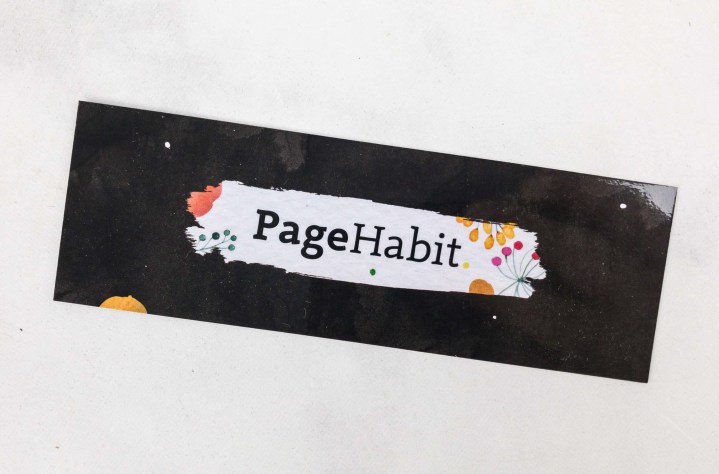 Page Habit is an ideal subscription for any kind of book lover. It's great that they let subscribers choose a particular genre, ensuring that no one will receive anything that is not right up their alley. With one book, one short story, and cute extras included in this month's box, it is a sure win! Another thing to love about Page Habit is that they give back to the community. Their advocacy is to give books to children around the world so that they will discover the wonders and joys of reading – isn't that such a good thing?