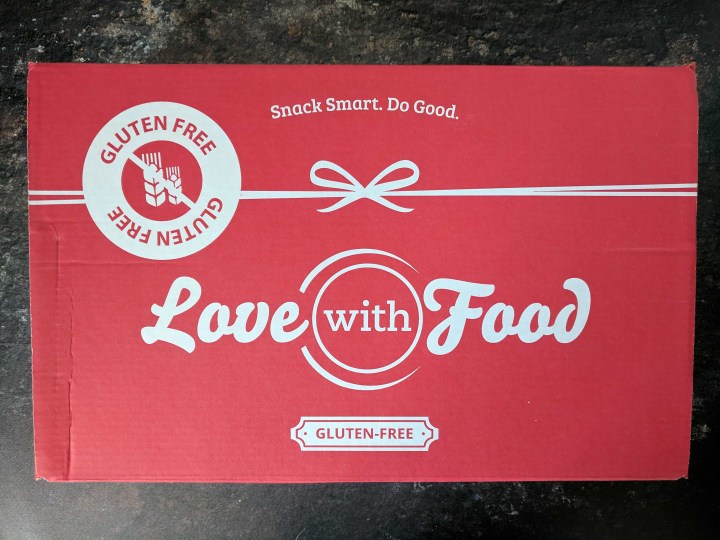 Love with Food is a popular snack subscription that also carries a gluten-free option! It is a fun snack discovery subscription available in three versions: classic tasting box, deluxe/family size, and gluten-free. This version is the gluten-free box, but you can see our reviews of the other versions too.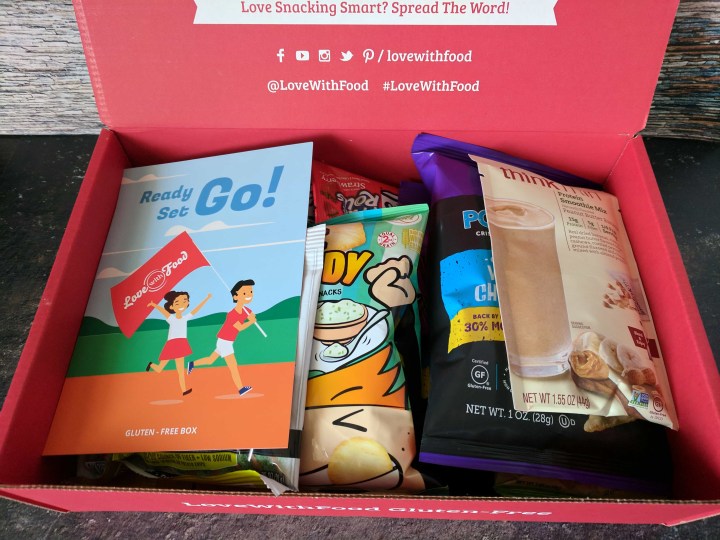 DEAL: You can save 25% on your first Gluten-Free box by using this link, no coupon code required!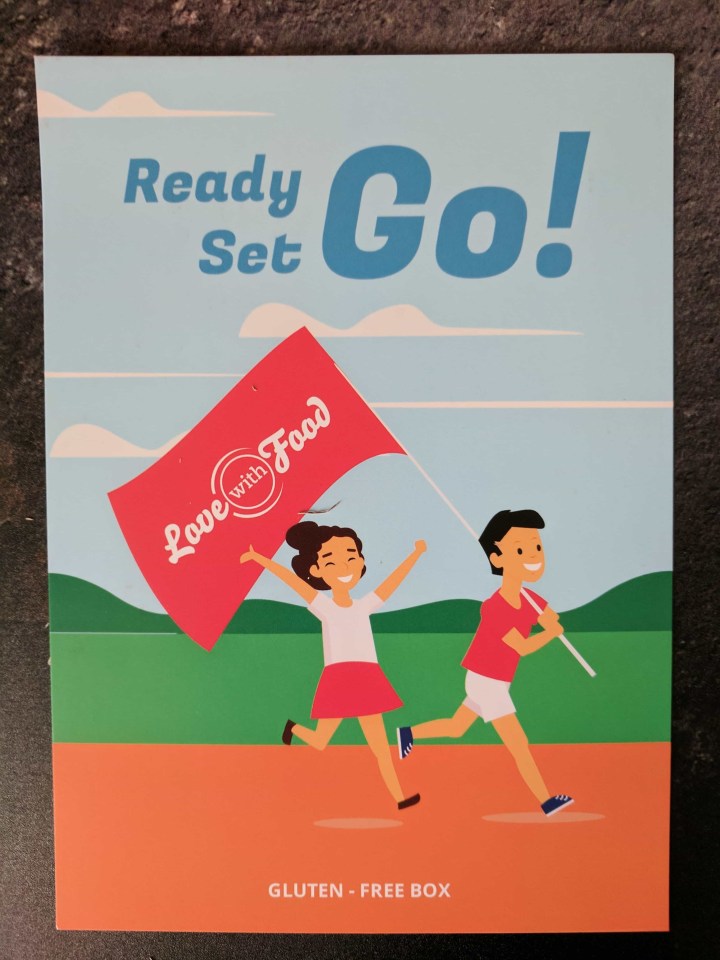 Ready Set Go! (I'm so ready to snack!)
They don't include details on the product card, but the info is available on their website.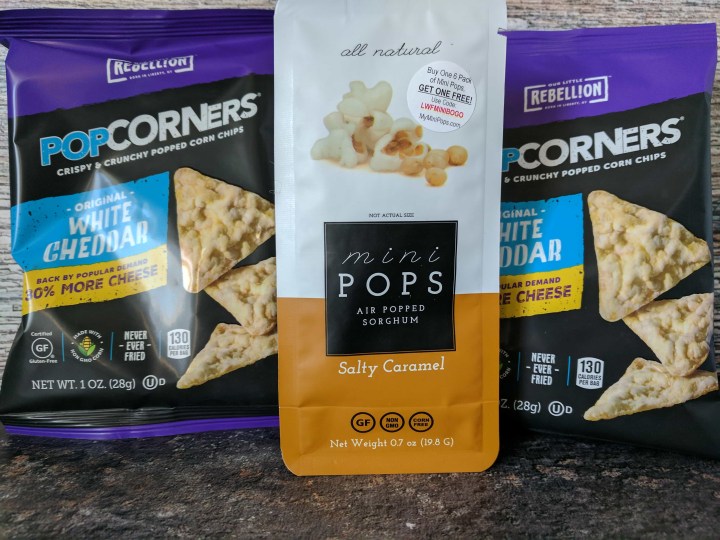 Pop Corners White Cheddar. It didn't had a strong taste of cheddar, but just enough to make them interesting. I'm happy we received two identical bag, as I could share them with my husband.
Mini Pops Air Popped Songhum Salty Caramel. I heard about popped songhum, but I've never actually tried any before! And I love salted caramel, you could bribe me with salted caramel, I'm super excited to try them!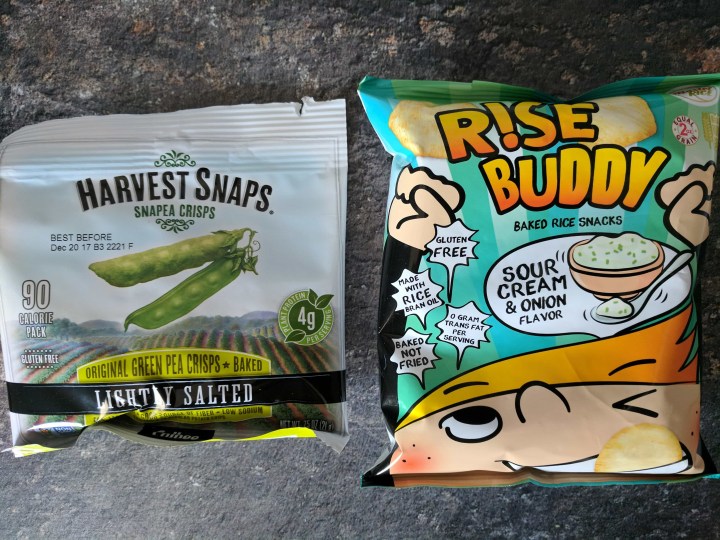 Harvest Snaps Snapea Crisps Lightly Salted. An other snack I wasn't familiar with, I don't know what I was expecting, but certainly not the texture of puffed corn with a slight taste of peas. It's actually pretty good, although subtle. It's made with green peas and rice, and it's low in carbs, but high in fiber (2g of fiber in that tiny bag).
Rise Buddy Oven Baked Rice Snacks – Sour Cream & Onion flavor. Flat little crisps, they are between chips and crackers. They were gone in no time.
Kakookies Cashew Blondie. Made with oats, brown sugar (cane sugar, molasses), cashews, coconut oil, flaxseed meal, chia seeds, salt, baking soda, vanilla extract, this cookie is the perfect on-the-go sweet cookie, without all the guilt!
Bobalu Nuts Out-of-shell almonds. In the whole box, this is the one we didn't like. The almonds were flavored with peach, cherry and lemon, and the taste was way too sweet, very candy-like, but the almond were both hard and soft. I like when the almonds snaps or pops under my teeth, so the texture mixed with the flavours were disappointing.
Welch's Fruit Rolls. I can't remember the last time I had fruit rolls, and these are so yummy! My husband ran away with the berry and tropical punch ones.
Jessica's Muffin Mix. Just add a bit of oil, milk (dairy or non-dairy), an egg, some vanilla and your favorite fruit to the mix and you'll get delicious muffins!
Think Thin protein smoothie mix – Peanut Butter Banana. Sadly, this one has to go to a friend as I can't have banana and it's made with real dried bananas. I like that it's made with ground flaxseed and chia seeds.Both seeds are super tasty.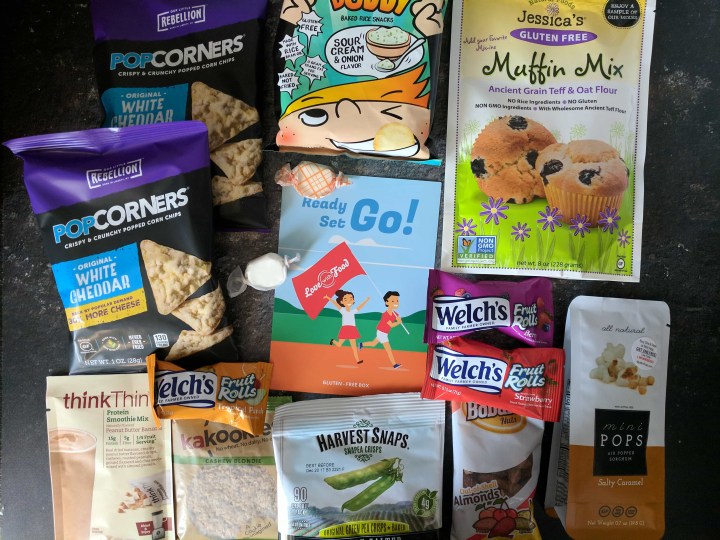 This box was such a hit! We loved most of the treats, and we ate almost everything right away!
What is your favorite Love with Food item from this month's box? Share below and let us know!