Loot Pets is a monthly dog subscription box from Loot Crate. Every month they select an assortment of geeky gear for your dog that matches the Loot Crate theme for the month.
The box is $15 plus shipping (total $20 monthly in the US).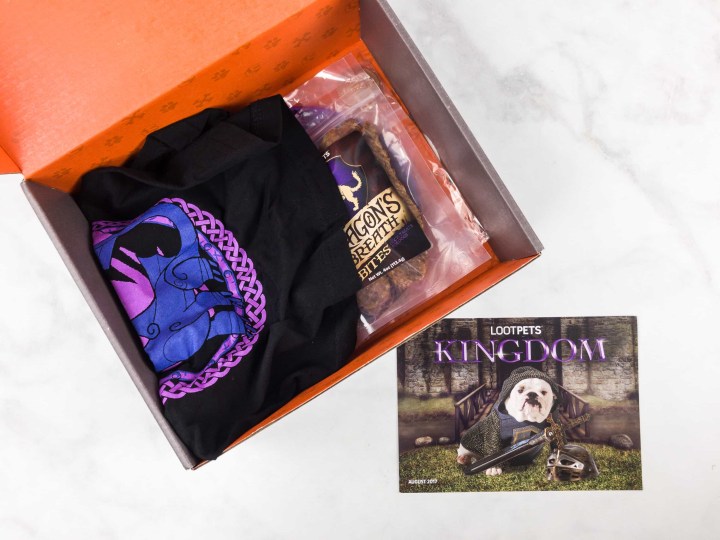 This month's theme was KINGDOM!
DEAL: Save 15% on any subscription when you use this link and coupon code HELLOSUBSCRIPTION15.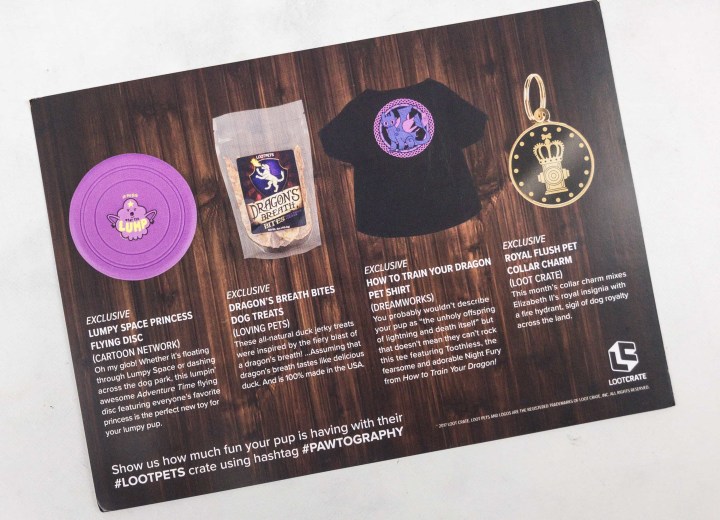 Loot Pets has an information card that shows the items included in the box. Wearables are included from time-to-time, but the focus is on toys, treats, and other cool stuff.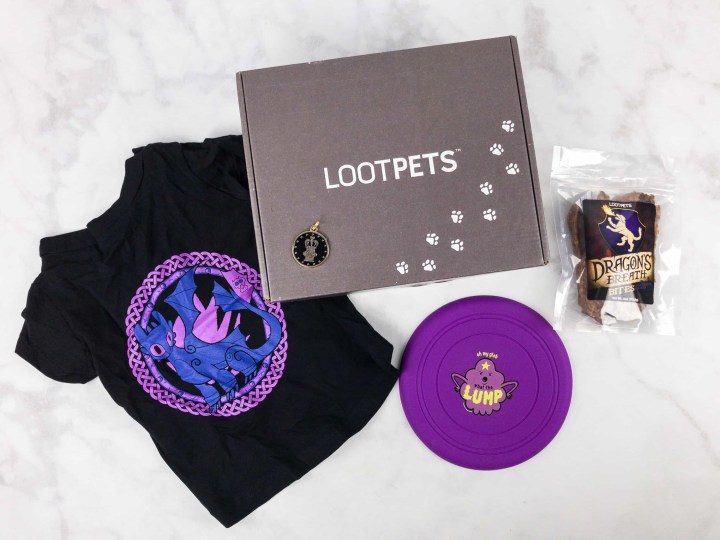 Everything in the August Loot Pets box!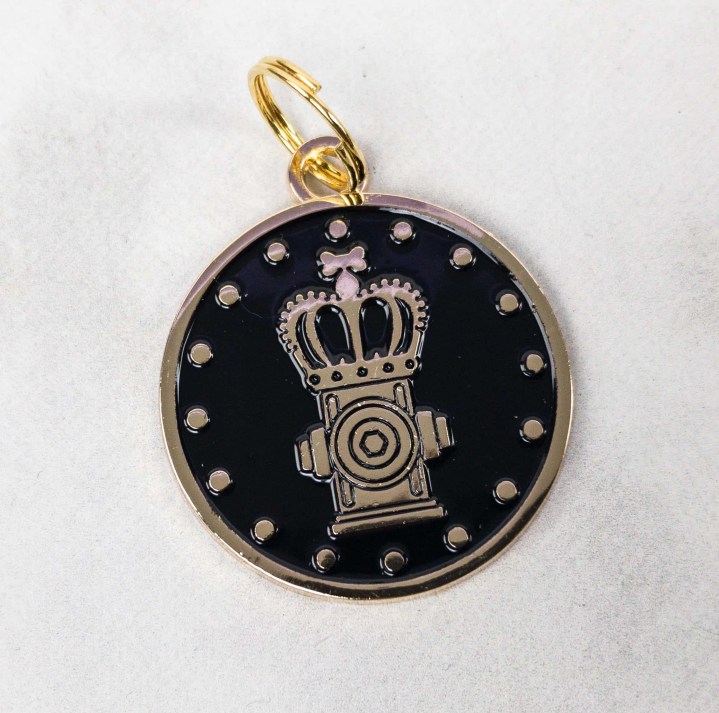 Royal Flush Pet Collar Charm: Most of us treat our pets like royalty, so why not have an appropriate collar charm? It features a regal hydrant against a black enamel background.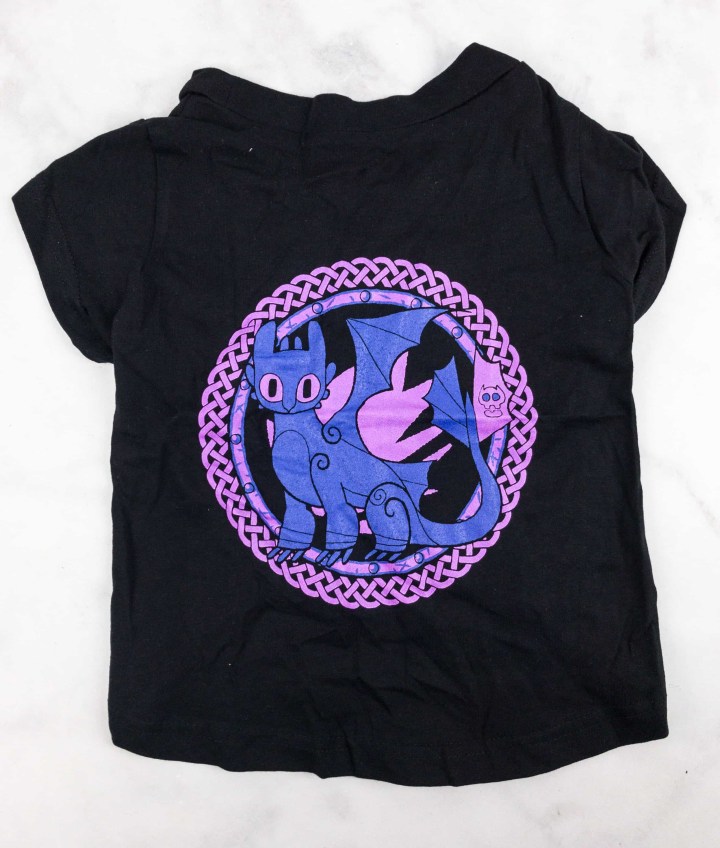 How To Train Your Dragon Pet Shirt: This shirt makes us wish they still did exact matching with the regular Loot Crate – it's so cute! I love the stylized pic of Toothless – they simplified his form and added some swirls and a woven border, giving it the appearance of a carved Viking emblem or similar artifact.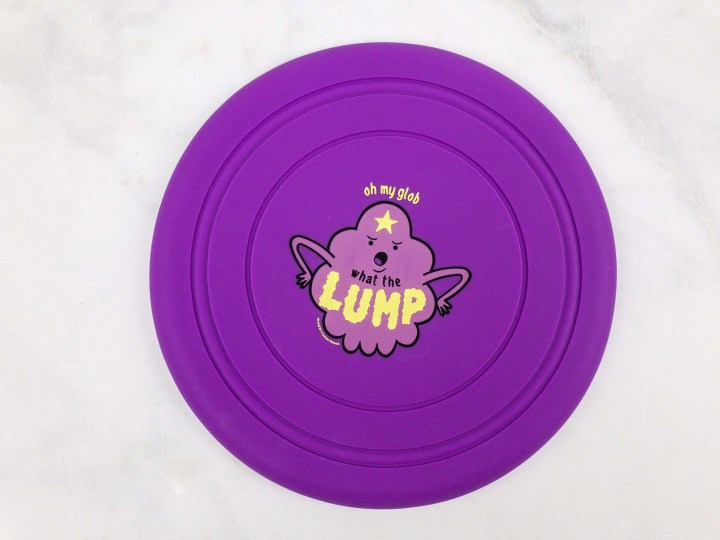 Lumpy Space Princess Flying Disc: This rubbery flying disc features Lumpy Space Princess, our favorite disgruntled space valley-girl from Adventure Time. It is not too big and folds easily, so you can stuff it in a bag or even a pocket when taking it on the go.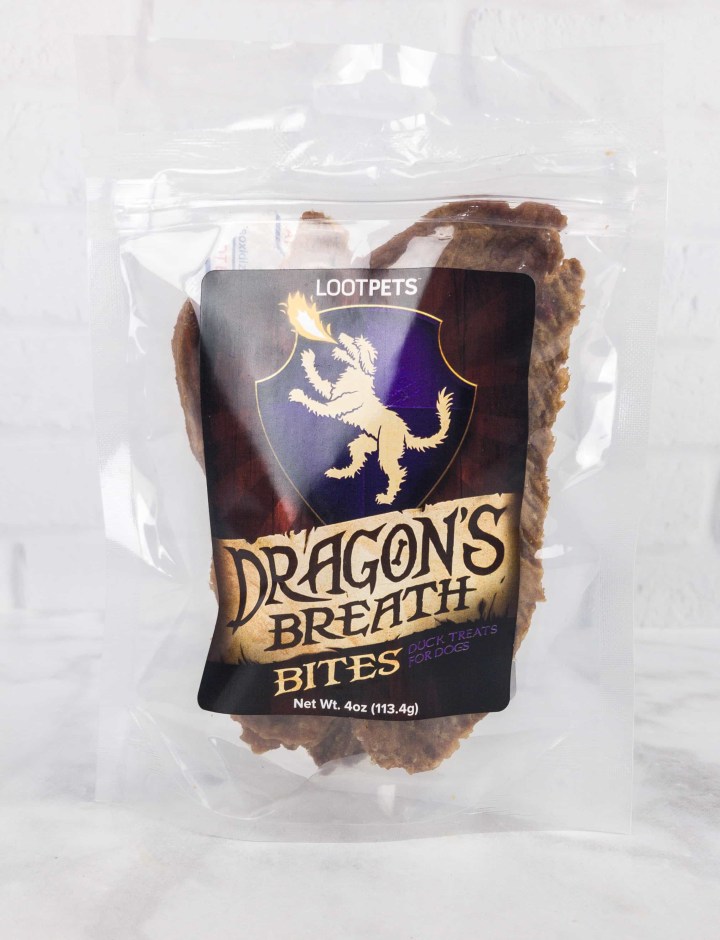 Dragon's Breath Bites Dog Treats: Tasty duck-based treats shaped like a plume of fire.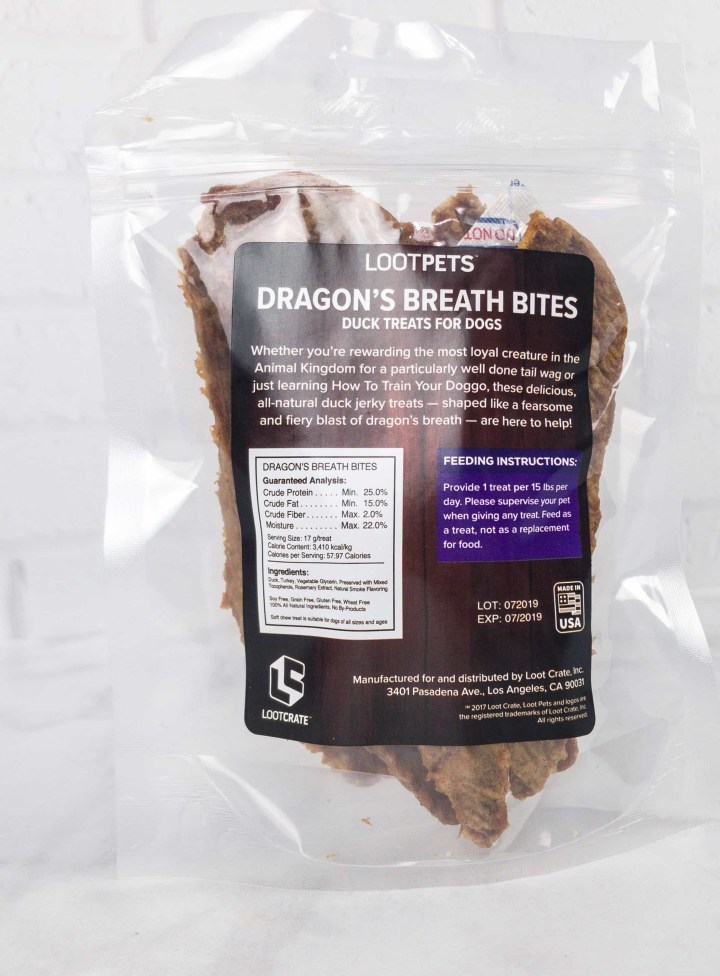 I was pretty impressed by the ingredients list. Duck is the first ingredient!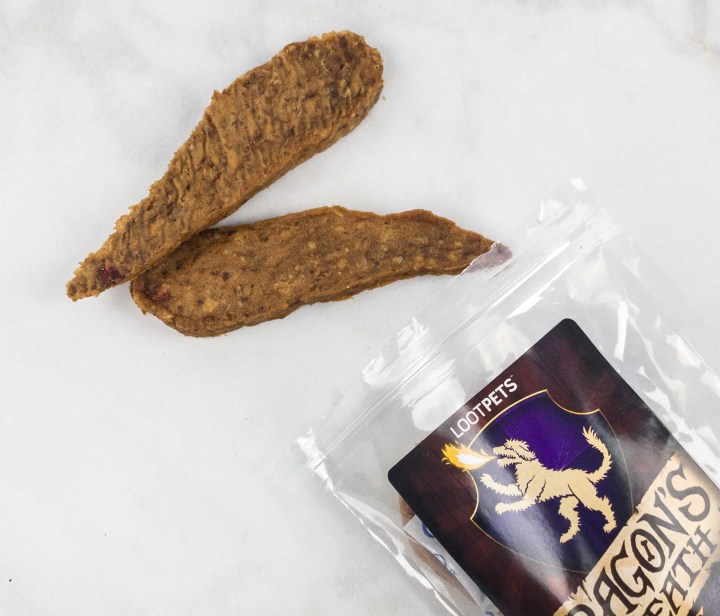 The treats are soft enough tear by hand. This is useful, since they are rather big to give a small dog all at once.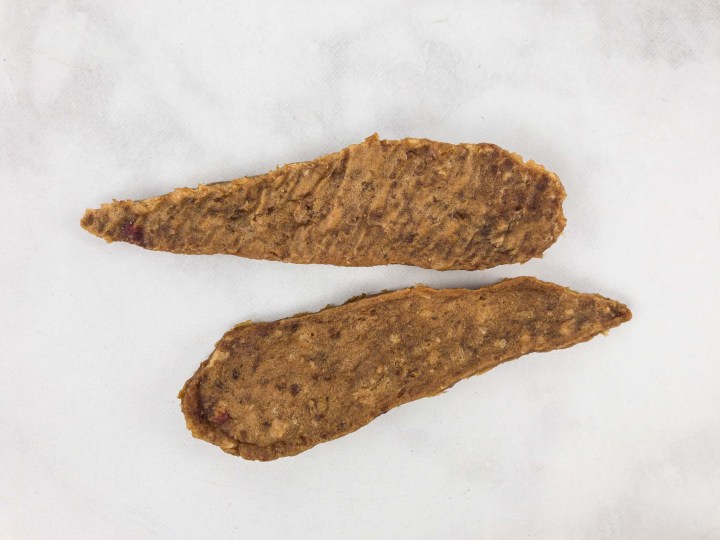 They actually look a lot like a comet or flying fireball.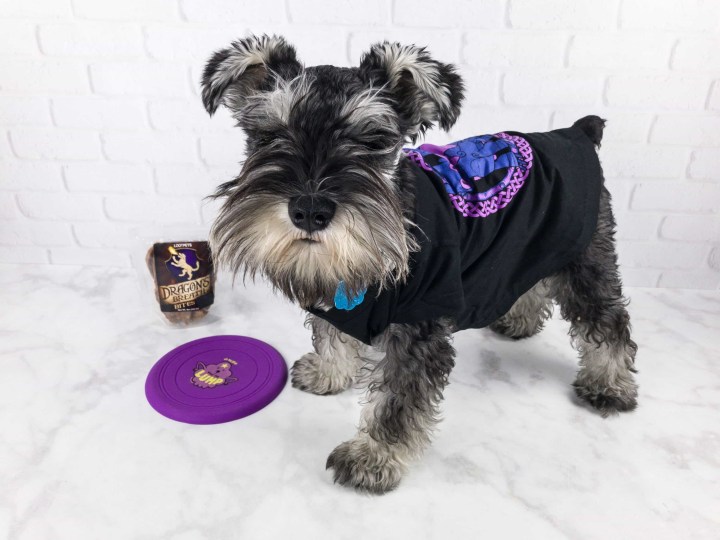 Dean thought the tee shirt fit quite well. I'm glad to see that they picked a really awesome design for the shirt. They used to be in every box, but that was just too much. I'm happy to get one every once in a while if they pick cool franchises to feature (since Lindy's little brother doesn't seem to mind dog tees as much as she does).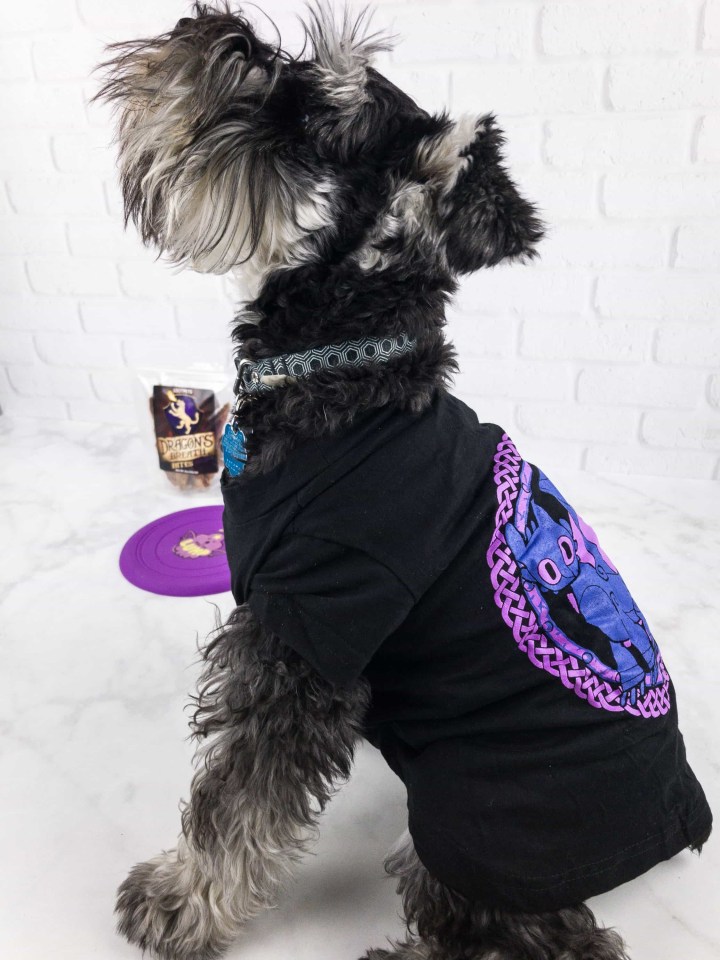 Loot Pets always comes up with the most fun themes! It's nice that they pick themes that can encompass multiple franchises – at least one of the characters is usually one we love. We liked the combination of this month's toy + treat + wearable, with a lovely purple appearing on each. The dogs always love the treats from this box and that makes us humans happy too!
What did you think about this month's Loot Pets items & theme?