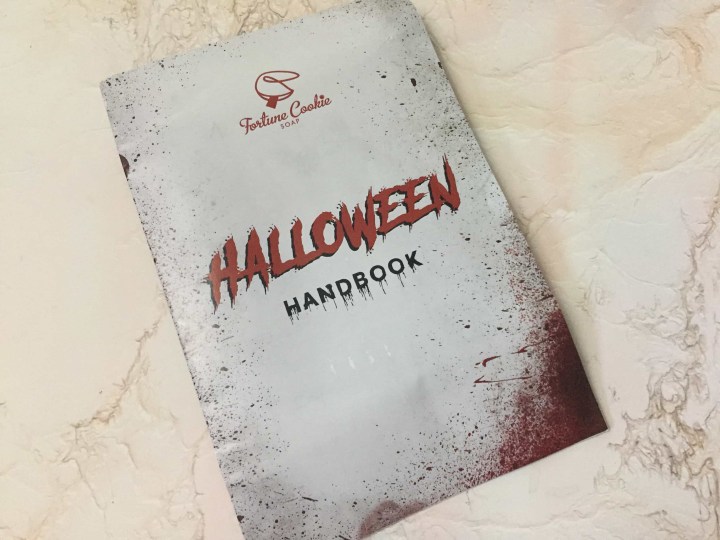 The FCS of the Month Club features full sized products including past scents making a revival, current releases, and at least one brand new product for us to be guinea pigs with! I love FCS's products and I am so excited to see what they have chosen! The box is $28 a month and shipping is calculated at check out based on your location.
Each month, the FCS theme is revealed for next month, and you have the option to skip it if the theme isn't your cup of tea. This month's theme is HALLOWEEN. FCS let us know a couple months ago that this month would be a bit different — think closer to the quarterly box with 7-10 smaller sizes versus 6-7 full sizes. This collection is launching October 29.
The info booklet includes details on all the products as well as scent descriptions.
DEAL: Save $6.95 shipping fee on your first month! Use coupon code FIRSTFCSBOX.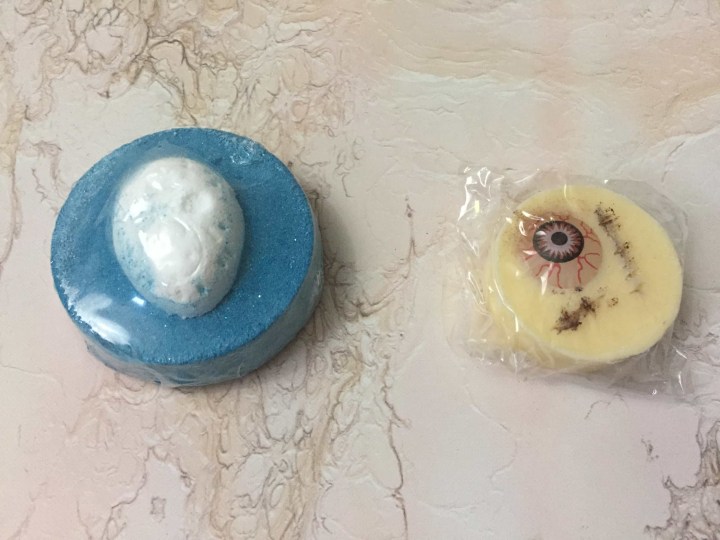 Camp Crystal Lake Bath Bomb ($6.25) — A reference to Friday the 13th, which I haven't seen, but my friend keeps trying to convince me to play the video game. (For the fiftieth time, Justin, NO!) This smells super yummy, with peachy, lemon and flowers. There's a warning that there's a "surprise" instead, and since I was grossed out by the fake bugs included in the box, I asked around on Instagram to find out that there is a fake bug in the bomb, too. Nope. Even fake bugs make me wanna dry heave, so I either have to find a friend I don't feel guilty giving this to, or maybe just use it to scent a drawer or something.
Wanna Play? Bar Soap ($.25) — A step away from the traditional cookie shaped soap. The eyeball is pretty spooky but the scent is divine — sponge cake, whipped cream coconut, and buttercream.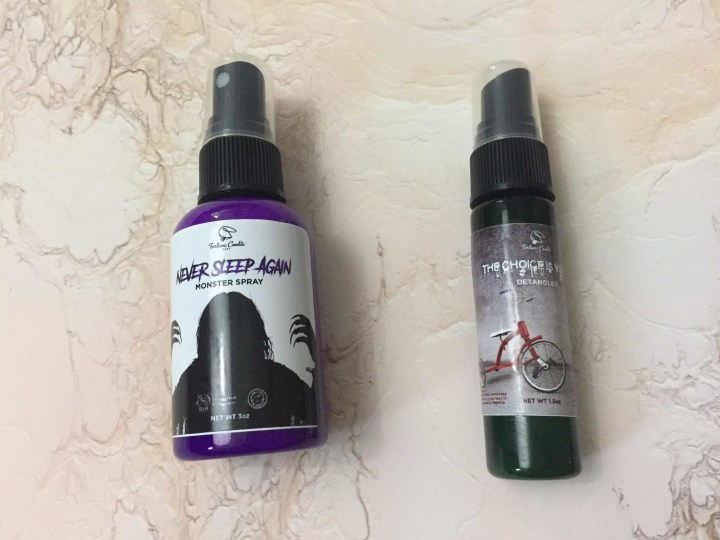 Never Sleep Again Pillow Spray ($7.99) — I love a good pillow spray. This one is lavender, raspberry jam, musk, and clean cotton. It's very sweet and the raspberry is the dominant scent.
Choice Is Yours Detangler ($4.50) — A very fall gourmand smelling hair detangler. Kettle corn, orange cider, ginger, and pumpkin pie. It's very foody.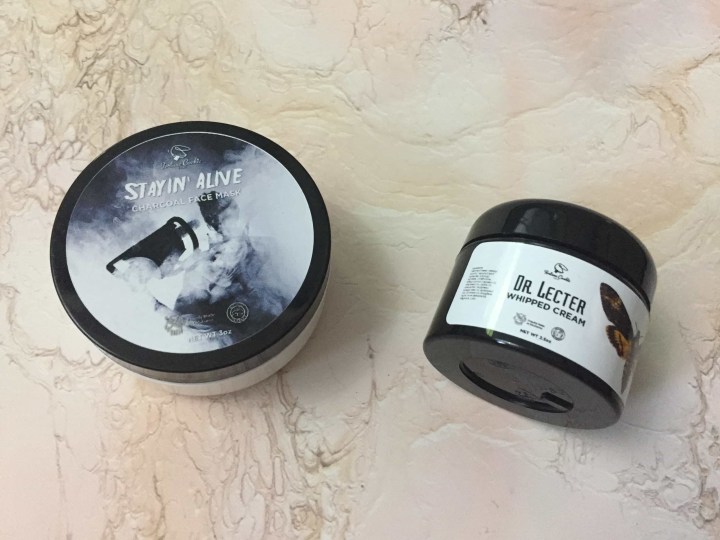 Stayin' Alive Charcoal Face Mask ($15.99) — A charcoal face mask scented with marshmallow. It smells yummy! I put this to the test tonight, as I did Zumba and I definitely felt congested and grimy after sweating for an hour. I found the mask stung around the dry areas of my face but otherwise was comfortable. You only need to wear it for five minutes.
Dr. Lecter Whipped Cream ($5.99) — A very yummy blend of mango and cotton candy. One of my fave FCS products, I like the whipped cream because it's not greasy but is still very moisturizing. It's an occlusive, so for optimum results I like to put it on right after a shower when my skin is still damp to seal in the moisture!
Clownin' Around Lip Gloss ($7.99) — I love this lip gloss! It's formulated with mica so the tint is subtle. I love the blue raspberry flavour. I don't love the label — I'm scared of clowns — so I admit I pulled off the label after taking the photos. I am a big wuss, I know.
Head Spin Muscle Rub ($4.50) — Menthol and arnica pair up to make a deep muscle rub. I might need this if I'm going to keep going with Zumba…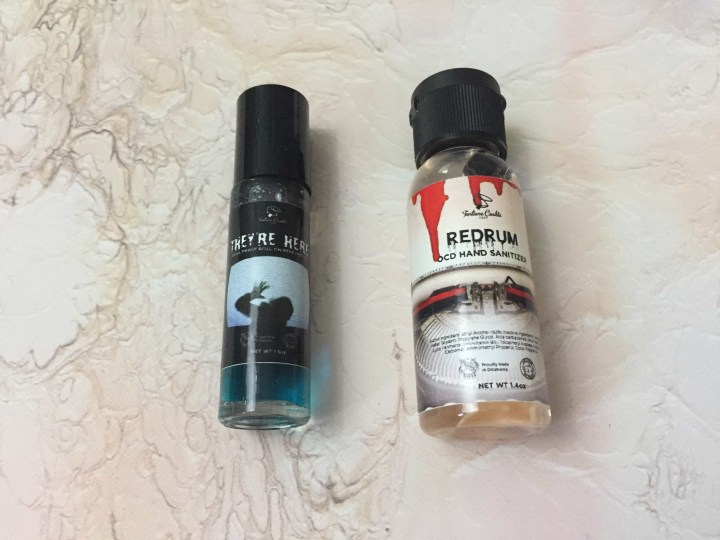 They're Here Perfume Oil ($11.99) — A perfume oil with pomegranate, marshmallow, and maple.
Redrum OCD Hand Sanitizer ($3.49) — One of FCS's staples. I love these scented hand sanitizers and have them stashed all over my house. This scent is green apples, caramel, and green Jolly Ranchers!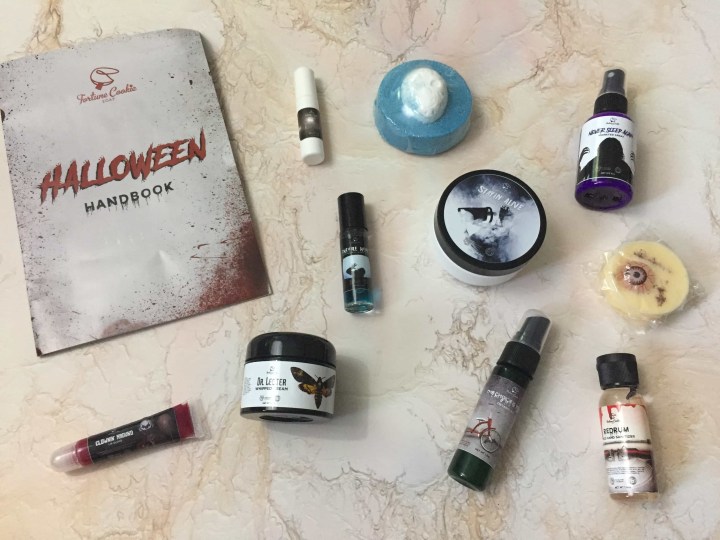 The September box was very cool. I wasn't a fan of the bugs, or the clowns, but it's a fitting theme for the upcoming Halloween season. This month's box came in at a value of $72 and I liked the variety of items.`
Many of our Fortune Freaks have been asking…when will our annual 12 Days of Christmas advent box be available for pre-order?
Well – this year we're doing things a little bit differently!
The 12 Days of Christmas box is available as the
November FCS of the Month Box!
12 items will be included in the November box.
FYI – the November box will be an Advent box!
Visit Fortune Cookie Soaps FCS of the Month Club to subscribe or find out more!