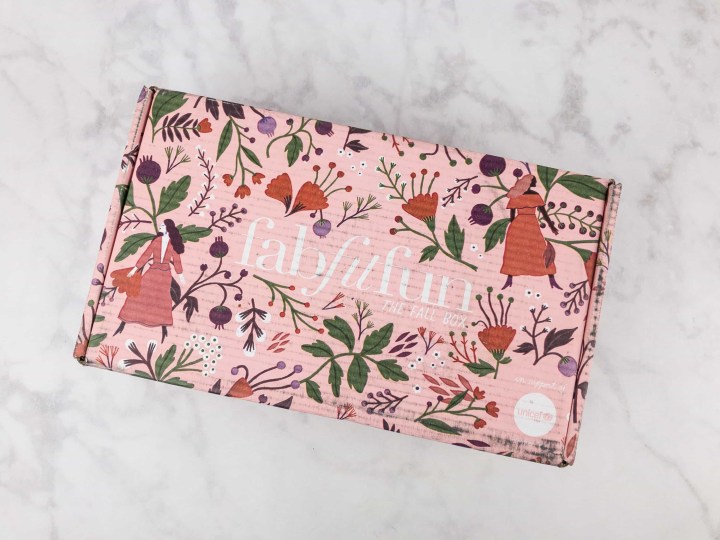 FabFitFun Box is a quarterly women's subscription box that promises fabulous beauty, fashion, and fitness items every quarter, full size and premium.
This box is currently still available!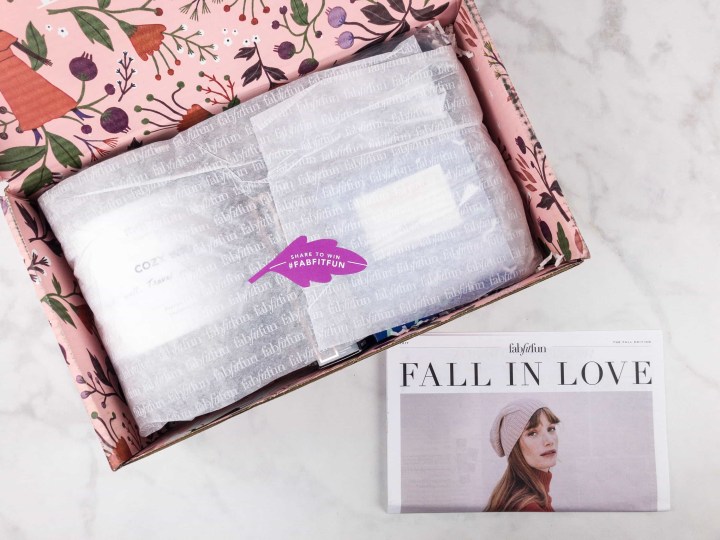 The outside box has a fun and pretty design – they're different every quarter!
DEAL: You can use coupon code FAB10 to save $10 on your first box. This box is still available!
This box is packed full of goodies, as it is every season.
A large format mini-magazine comes in the box – it provides all the details on the products, plus fun lifestyle articles too!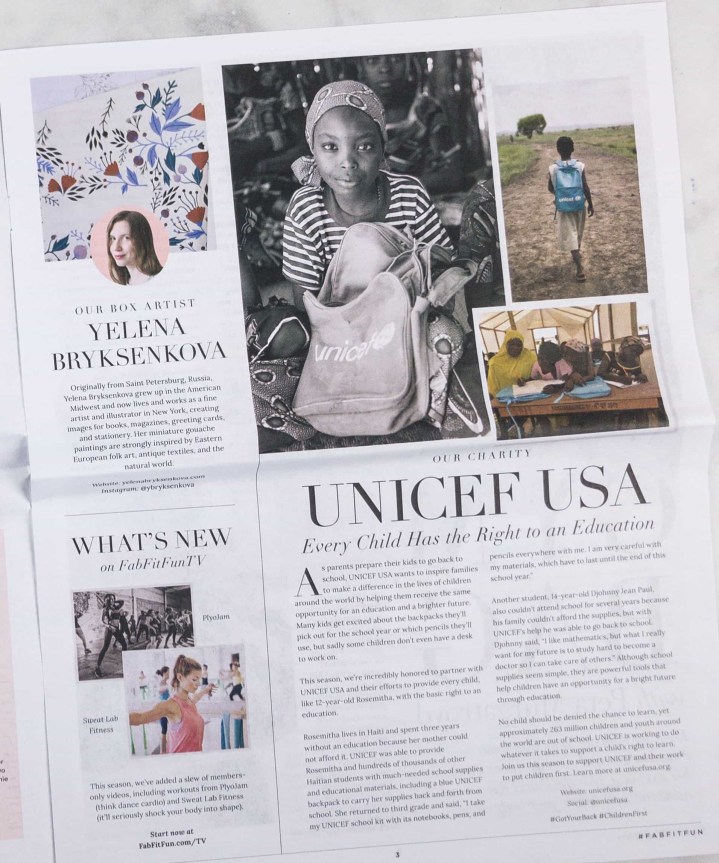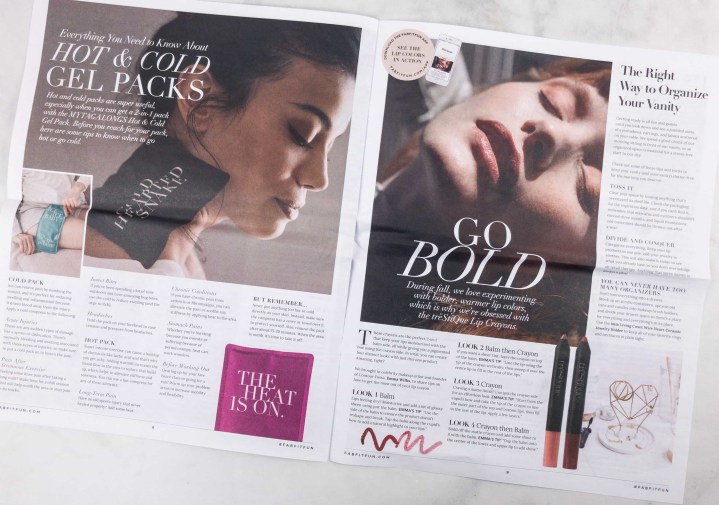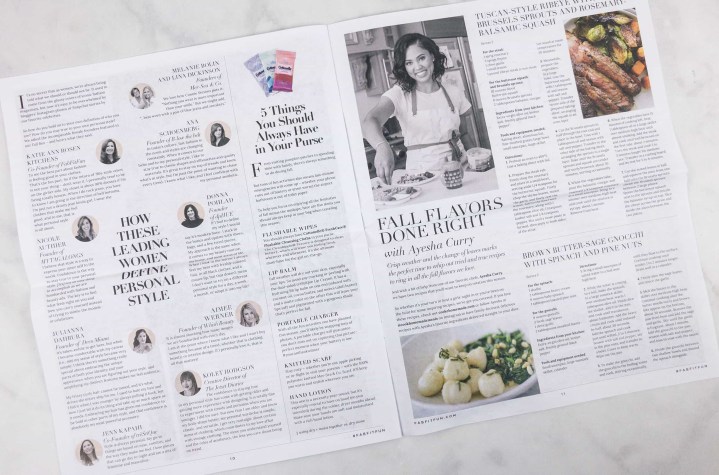 The magazine is full of lifestyle features as well as the featured charity.
I absolutely love that they partner with and highlight a new important charity each quarter.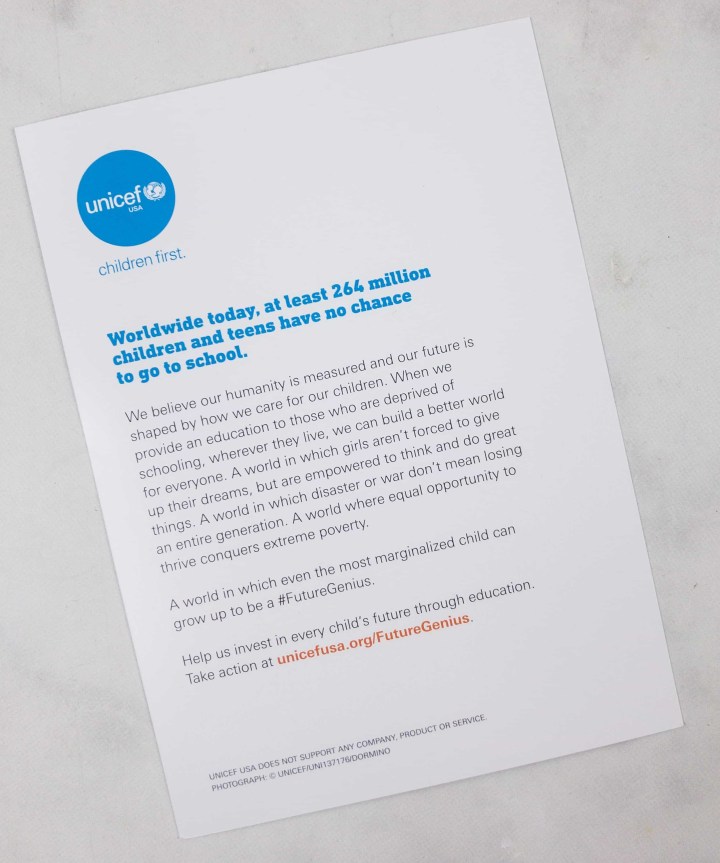 A little more info about Unicef.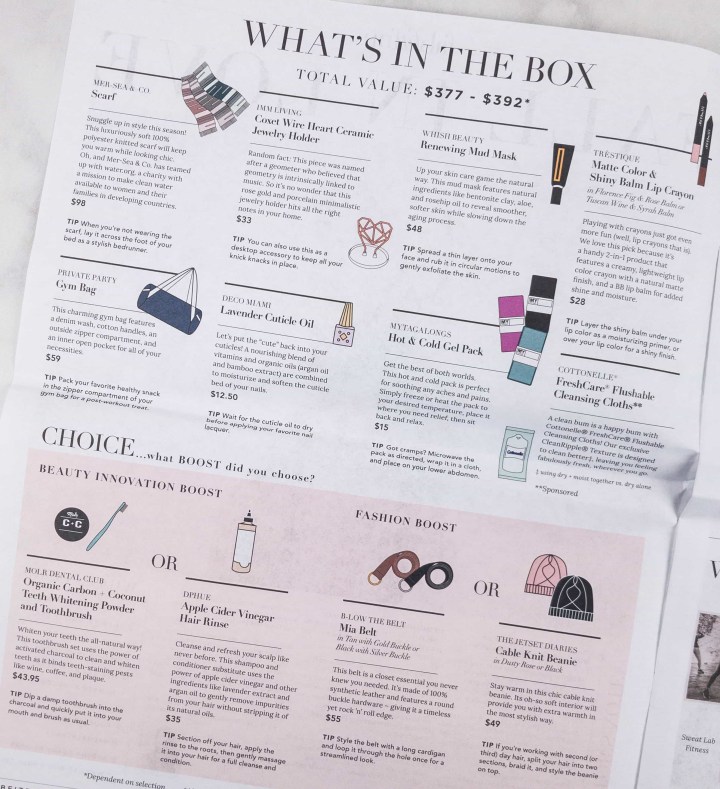 A full page gives details on every item in the box and all the item variations.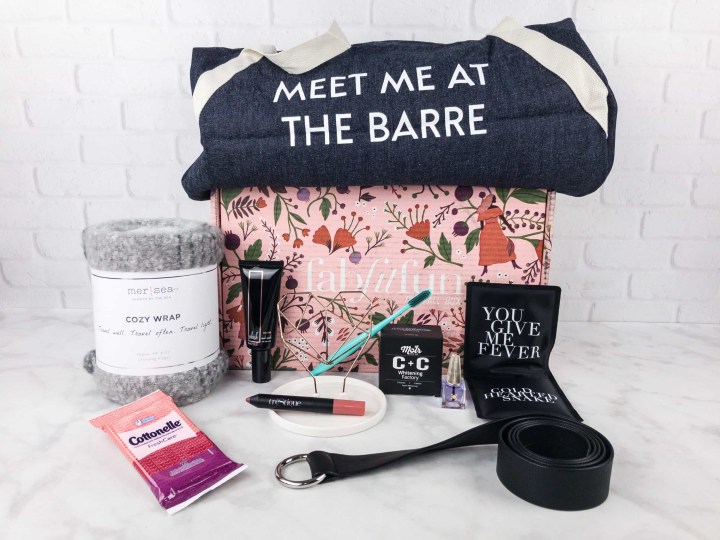 Everything in the FabFitFun VIP Box for Fall 2017! There are a few item variations that are detailed below.
Everyone Gets – but Select (Annual) Members Choose Variations
Mer-Sea & Co. Scarf ($98) This cozy scarf is perfect for dressing up a lazy outfit for fall!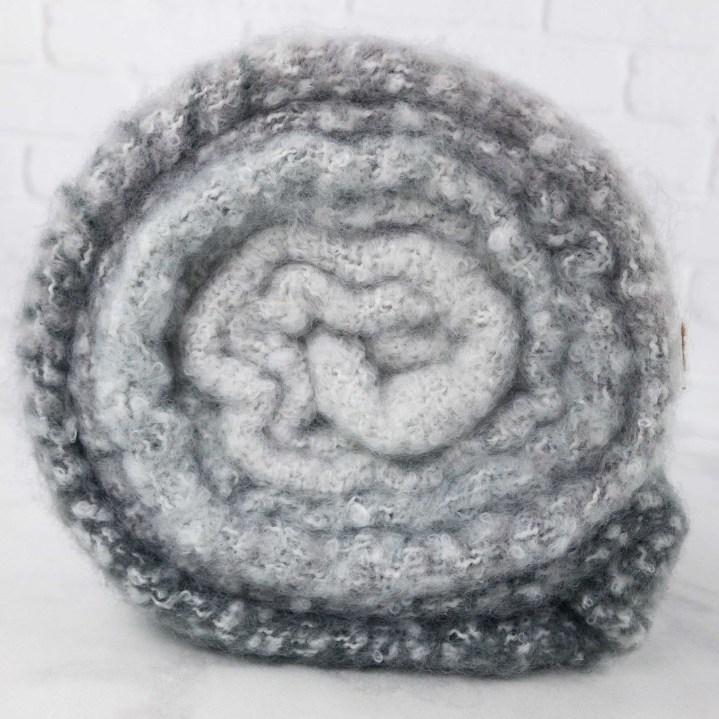 It is a knit fabric and made with 100% polyester.
What a great way to stay warm while still looking fashionable!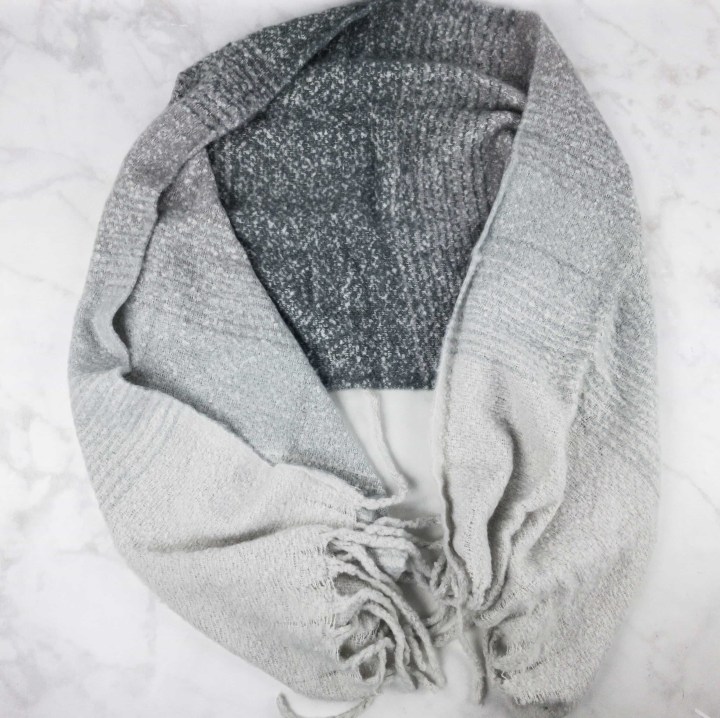 It also has fringes for extra style. I love the ombré look!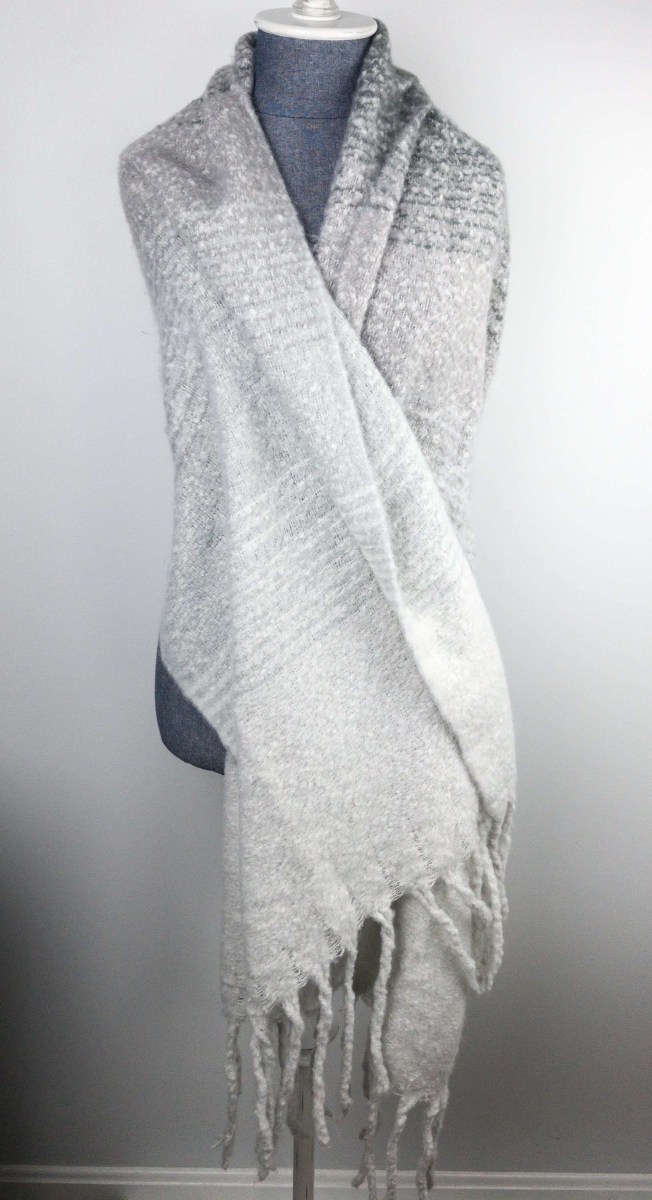 Another thing to like about this scarf is its neutral color! And that it's giant – about 21″ wide and 93″ long including fringe. It is SO long!
It's super easy to mix and match with other fall clothing and accessories already in my wardrobe. And I'm thinking that it will look great pinned up with my new Popsugar "item" (spoiler!).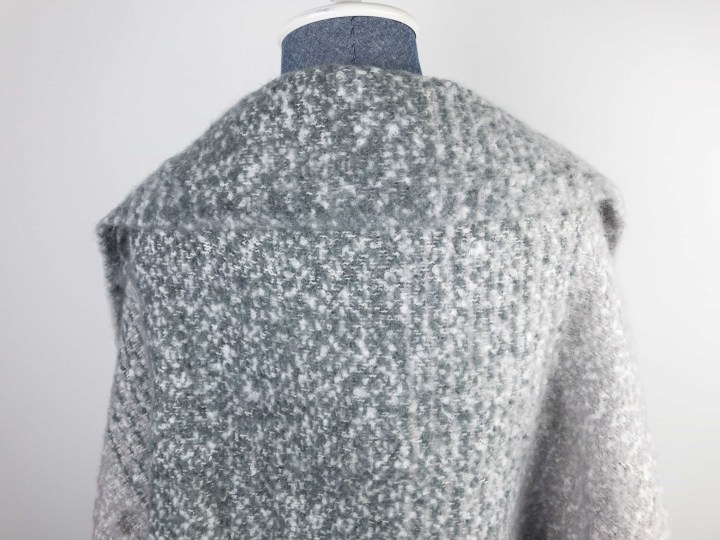 The fabric is thick enough to keep you warm yet still comfortable. If you're not so much into wearing a scarf, FabFitFun recommends to use it on the foot of the bed as a stylish bedrunner.
Note – this fabric is super sheddy when it's right out of the package. I tested it out by washing and drying (in my regular laundry – even though the package says not to because I don't hand wash anything). It turned out great and got rid of all the extra fibers.

The scarf comes in one of three colors – as noted, annual members can pick their shade. I love all three.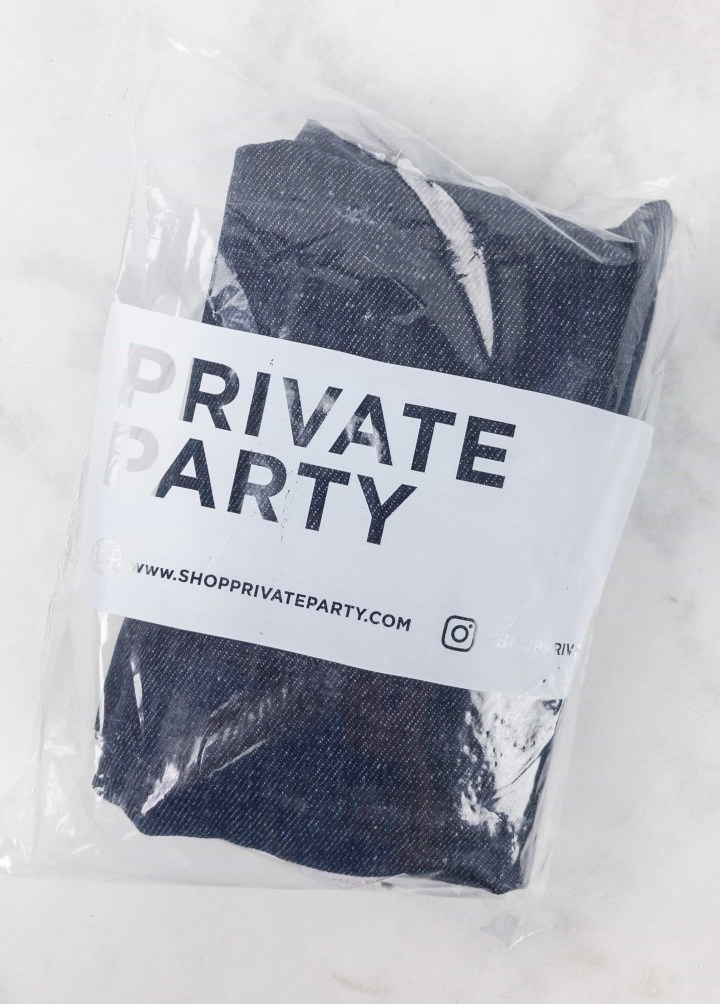 Private Party Gym Bag ($59) A pretty denim tote bag with cotton handles!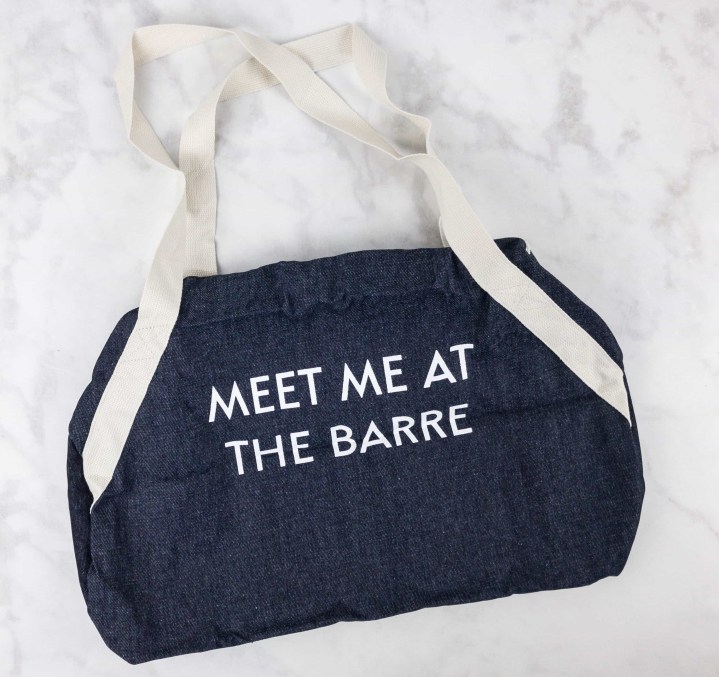 And its use is not limited to the gym! It's also great for travel and for everyday use. Because it's a little on the long/skinny side it also means that it's easier to locate the thing you can't find at the bottom.
The bag measures 20" x  9".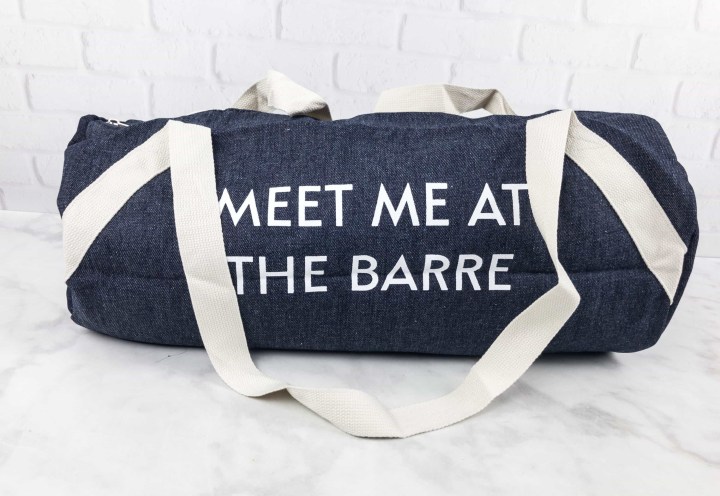 "Meet me at the barre!"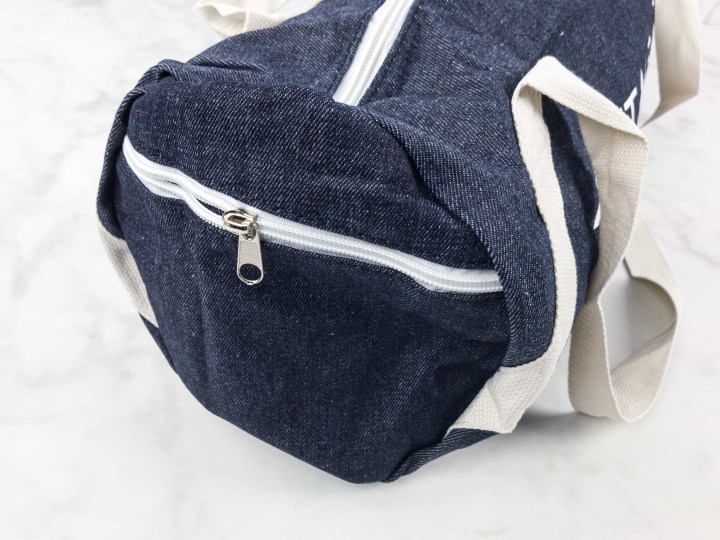 There's also an outside zipper compartment for packing smaller items. Also, put the thing you can't find – like your keys – in this pouch!
Annual members could select a phrase – all witty turns on gym activities and nightlife.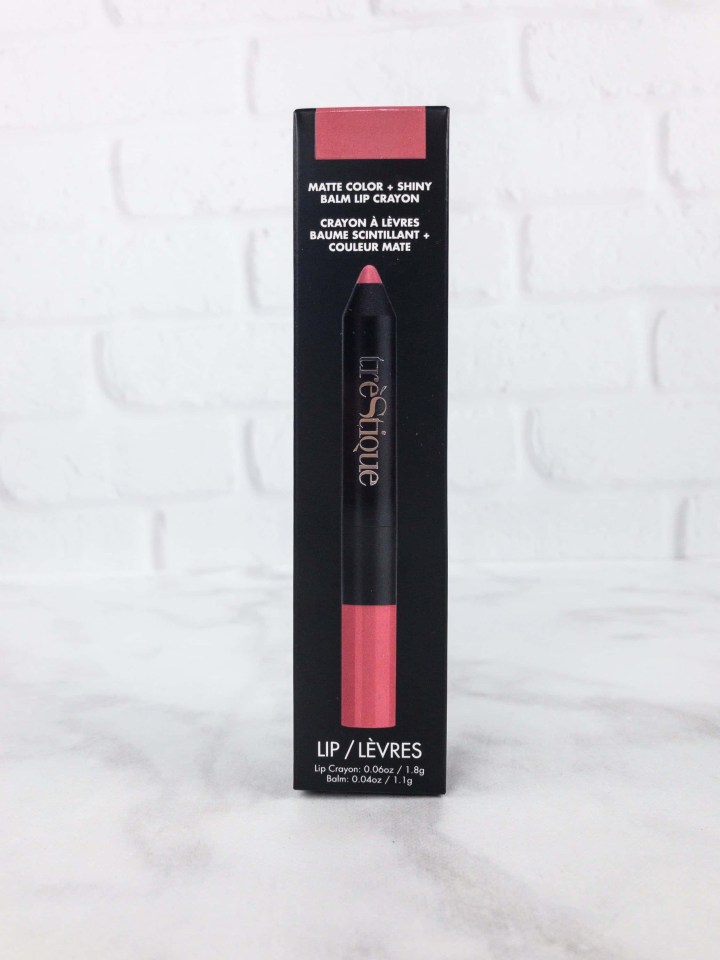 trèStiQue Matte Color & Shiny Balm Lip Crayon ($28) Such a handy 2-in-1 lip product!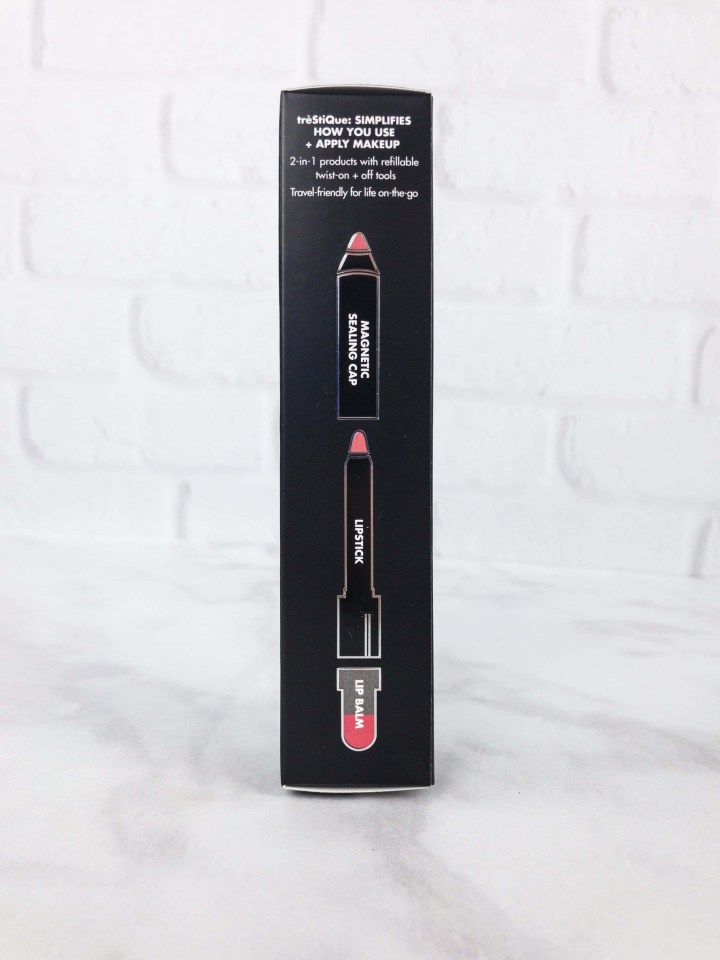 It features a lip crayon on one end and a BB lip balm on the other.
It has a custom magnetic sealing cap, making the item spill-proof. It's travel-friendly too!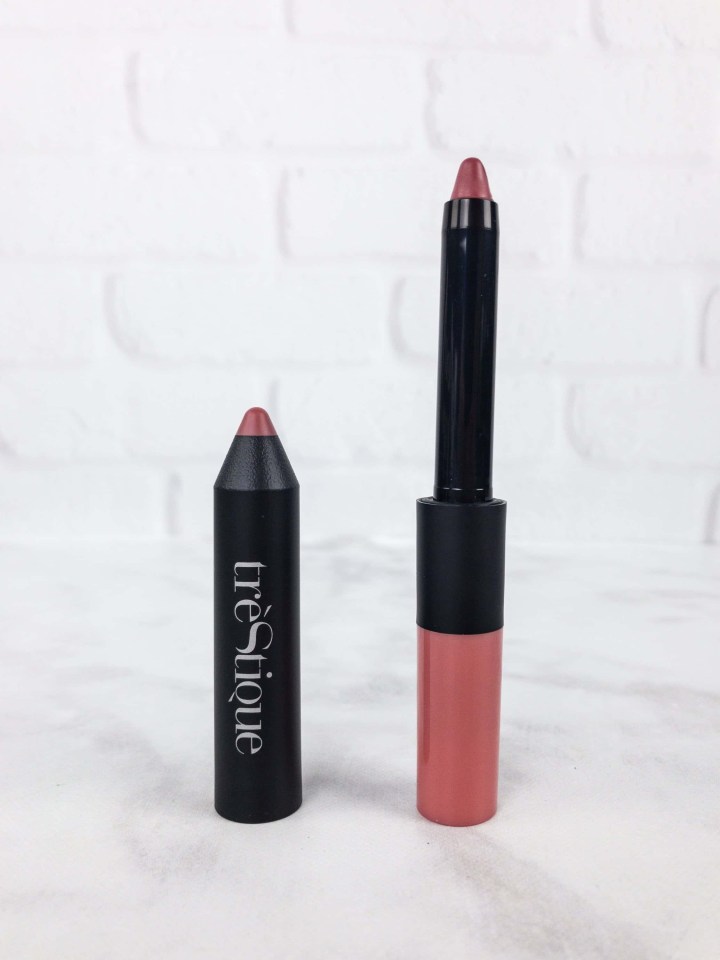 This matte lip crayon has a nice velvety color. It glides well on the lips and feels super soft yet weightless.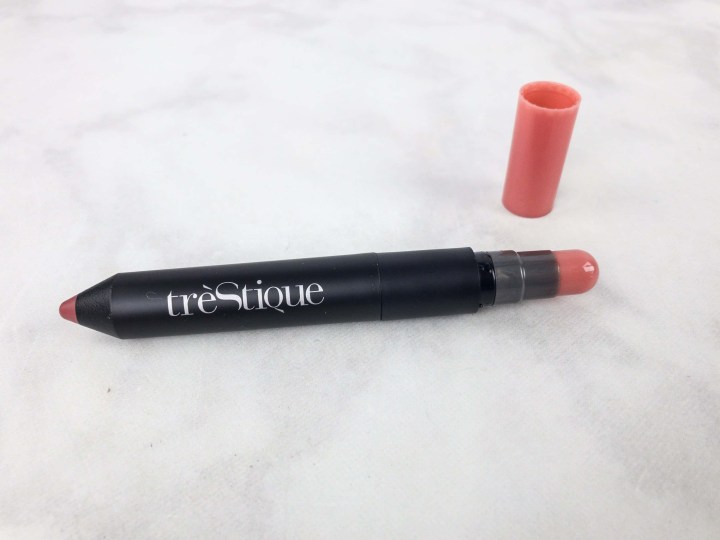 The BB balm comes in a matching color. Packed with coconut oil and cocoa butter, it leaves the lips well-moisturized. FabFitFun suggests to layer it under the matte lip crayon as a primer or over the lip color for a shiny finish. It can be refilled and switched out too!
Annual members could select either Florence Fig & Rose Balm or Tuscan Wine & Syrah Balm.
Choice – Fashion Innovation Boost
During the choice period all members had the option to select between one of these two Fashion Boosts!
This Fall fashion boost features the Mia Belt by b-Low the Belt and the Cable Knit Beanie by The Jetset Diaries. The color you get will be a surprise. Can't make up your mind? Subscribers could add both choices for an additional $10.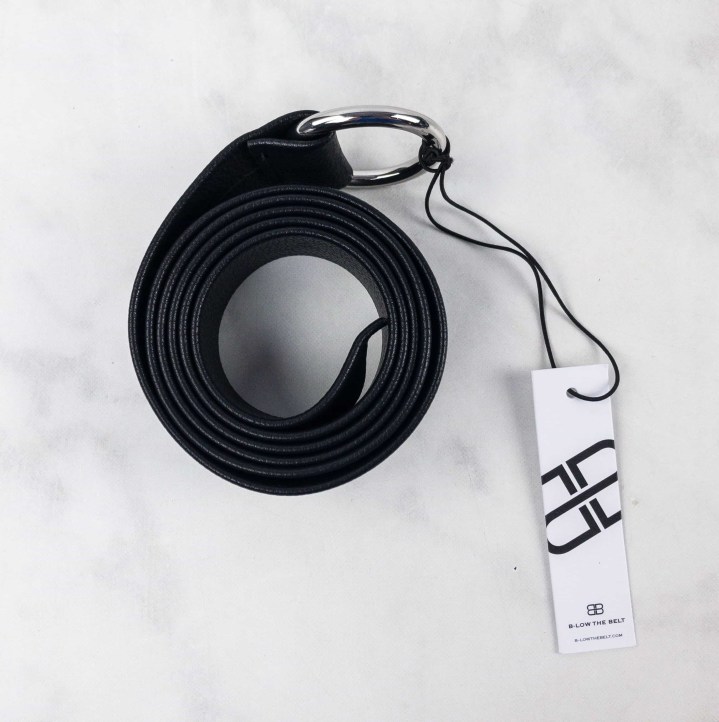 Mia Belt by b-Low the Belt ($55) It's a closet essential that most of us overlook when shopping!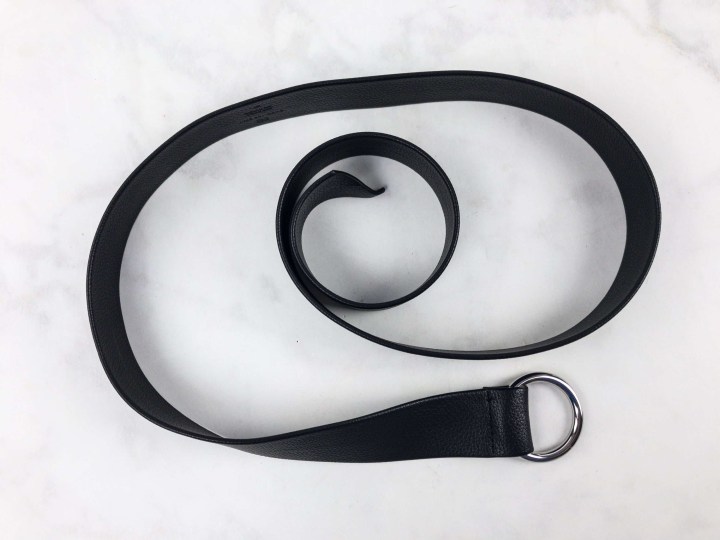 Made of 100% synthetic leather and features a round buckle hardware, perfect for a rocker chic look. FabFitFun suggests to style it with a long cardigan and loop it through the hole once for a streamlined look.  Or hello – use it to tie down the wrap! Super cute.
Choice – Beauty Innovation Boost
During the choice period all members had the option to select between one of these two Beauty Boosts!
Choose between the dpHue Apple Cider Vinegar Hair Rinse or the Molr Dental Club Carbon + Coconut Teeth Whitening Powder and Toothbrush. For a limited time, you can add both choices for an additional $10.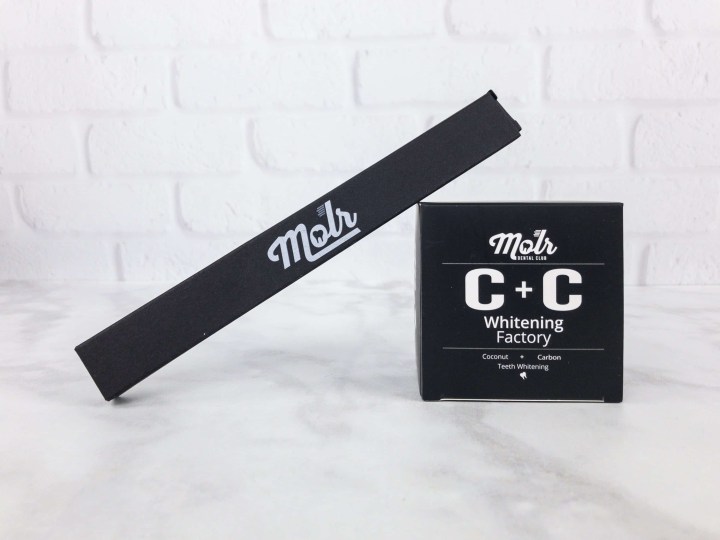 Molr Dental Club Carbon + Coconut Teeth Whitening Powder and Toothbrush ($43.95) Goodbye, stained teeth! Hello, black teeth!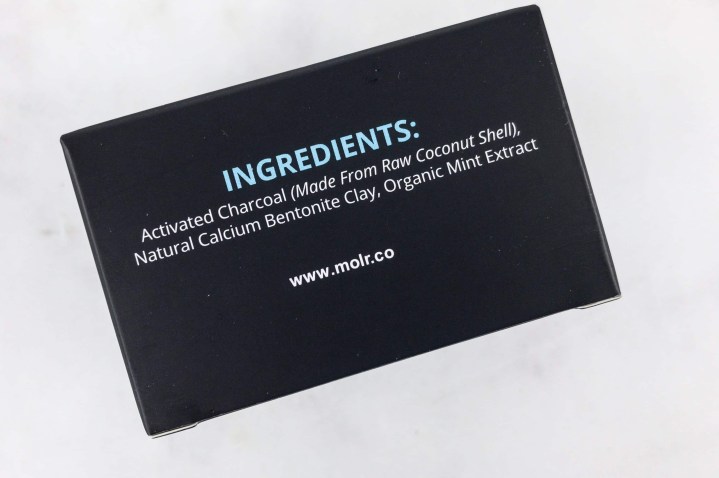 Ingredients in the tooth powder include activated charcoal (made from raw coconut shell), natural calcium bentonite clay, and organic mint extract.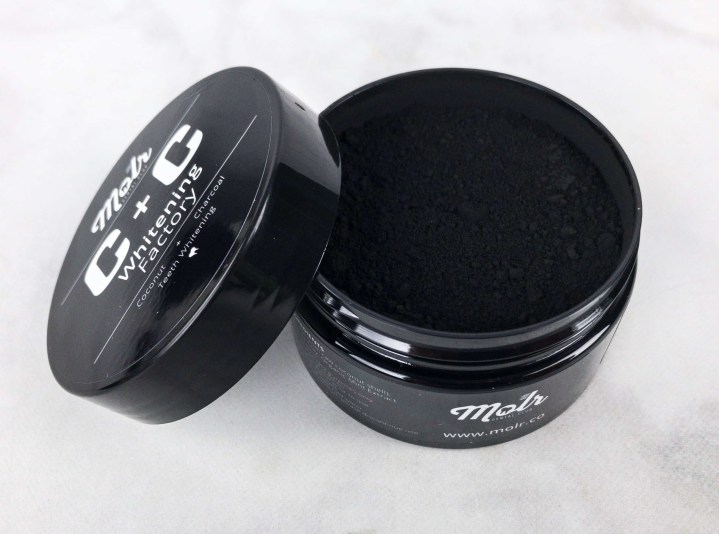 Using this could create quite a mess. We recommend using it in the shower so you can easily wash everything afterwards. Also, here's a note from Molr:
You will look like a Walker from "The Walking Dead" for 2-3 minutes, during this time you should avoid dudes with long hair and crossbows. Once you rinse your mouth feel free to resume a normal human lifestyle.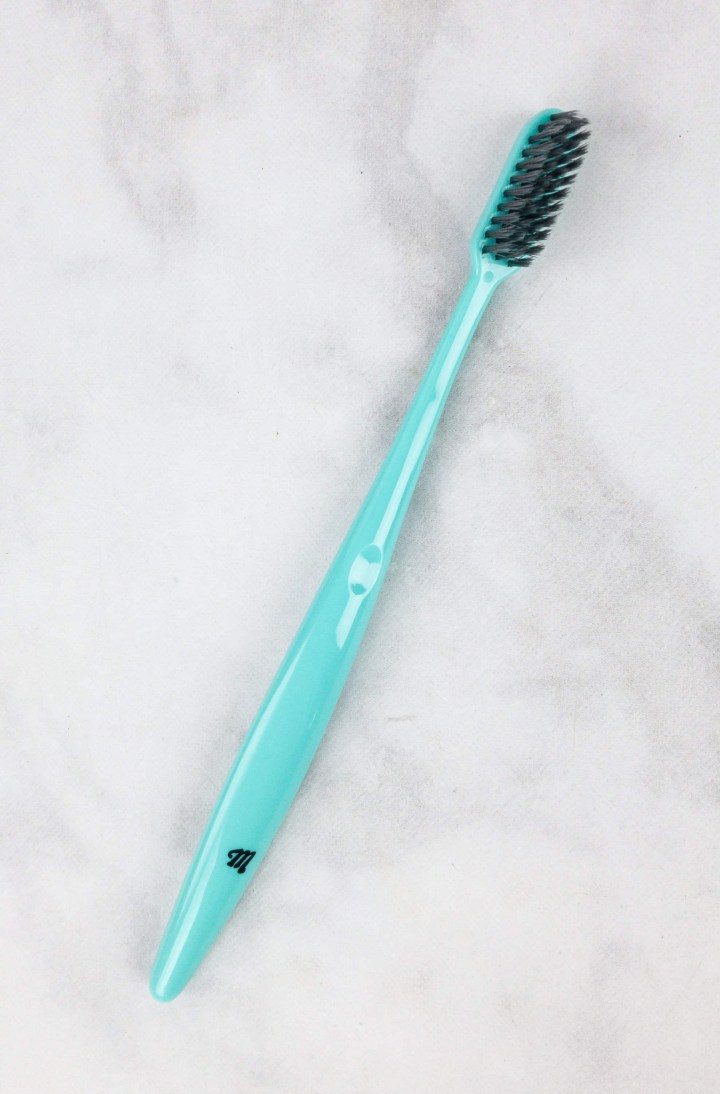 The whitening powder comes with an extra soft, charcoal bristled toothbrush.
Everyone Receives – No choices!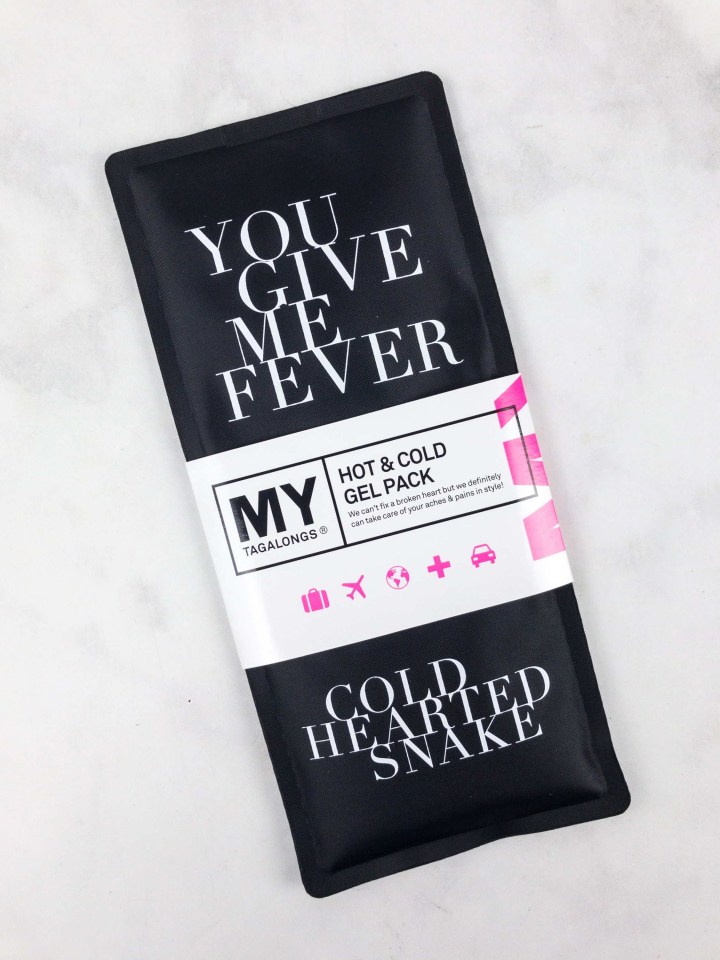 MyTagalongs Hot & Cold Gel Pack ($15) Useful for relieving any aches and pains!
This item is pretty awesome. To use it for cold therapy, you just have to put it in the freezer for 1 to 2 hours. Meanwhile, for hot therapy, you can just microwave it for 30 seconds — talk about quick pain relief!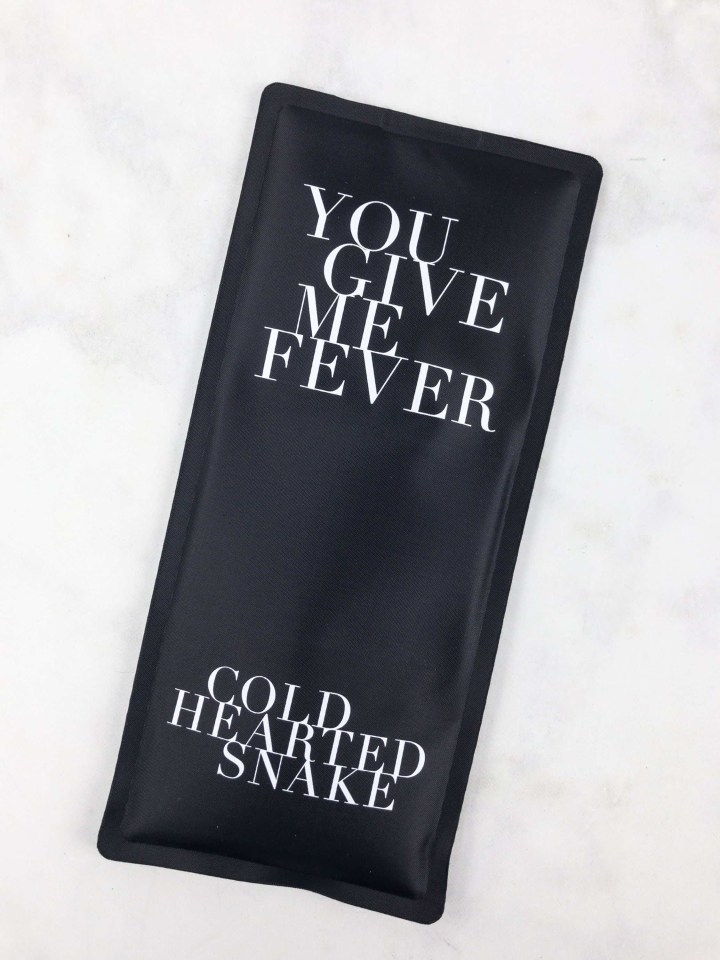 When you've achieved the desired temperature, you just have to place it where you need relief and then relax. It's really great to have it on hand for emergency situations. Everyone (I think) will understand the "You Give Me Fever" reference. And maybe mostly everyone will get "Cold Hearted Snake" too due to Ms. Abdul's presence on the reality competition show judging circuit.
This item came in three color/quote variations, and in case you didn't get the rad black one, I have videos for you.
They really need to remaster this video!
I will console myself with the Glee version (sorry for the diversion, I couldn't help it!). ON WITH THE ITEMS!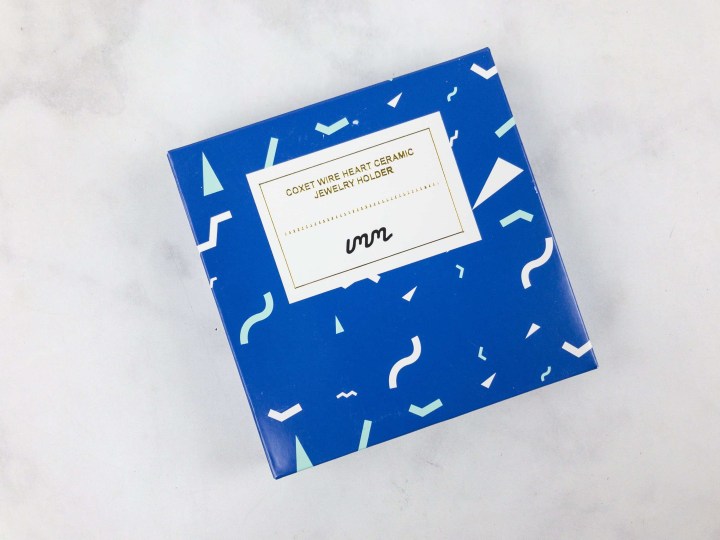 Imm Living Coxet Wire Heart Ceramic Jewelry Holder ($30.50) The minimalist accessory holder arrived in a nice blue box.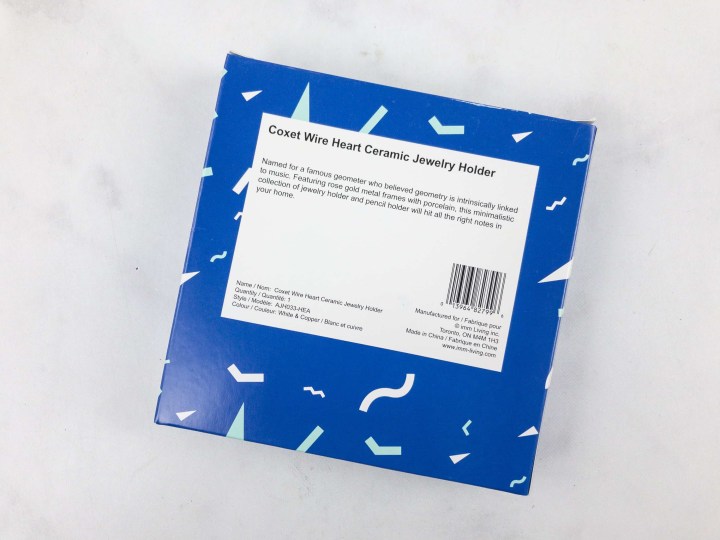 The label says it was named for a famous geometer who believed that geometry is intrinsically linked to music. Interesting!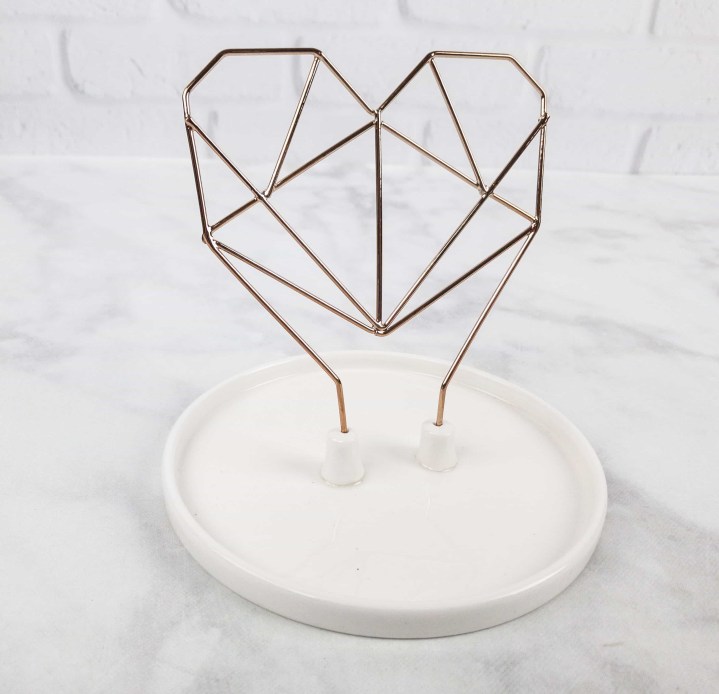 Here it is, a wired desk accessory made of porcelain and copper. It looks so gorgeous in rose gold! Aside from jewelry, it can also hold pencils and other stationery supplies or you can clip on little photos, what have you. Super adorable.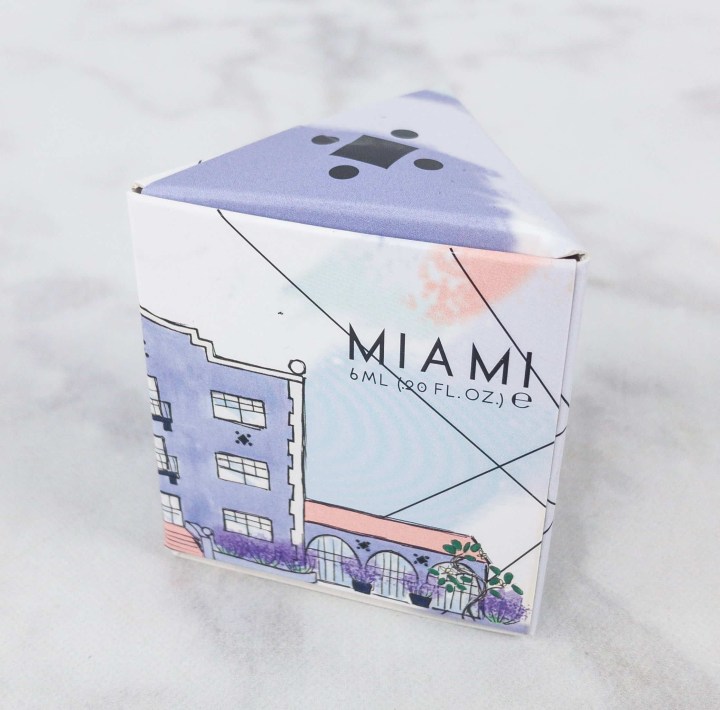 Deco Miami Lavender Cuticle Oil ($12.50) This is blend of organic oils makes the cuticles feel soft and healthy.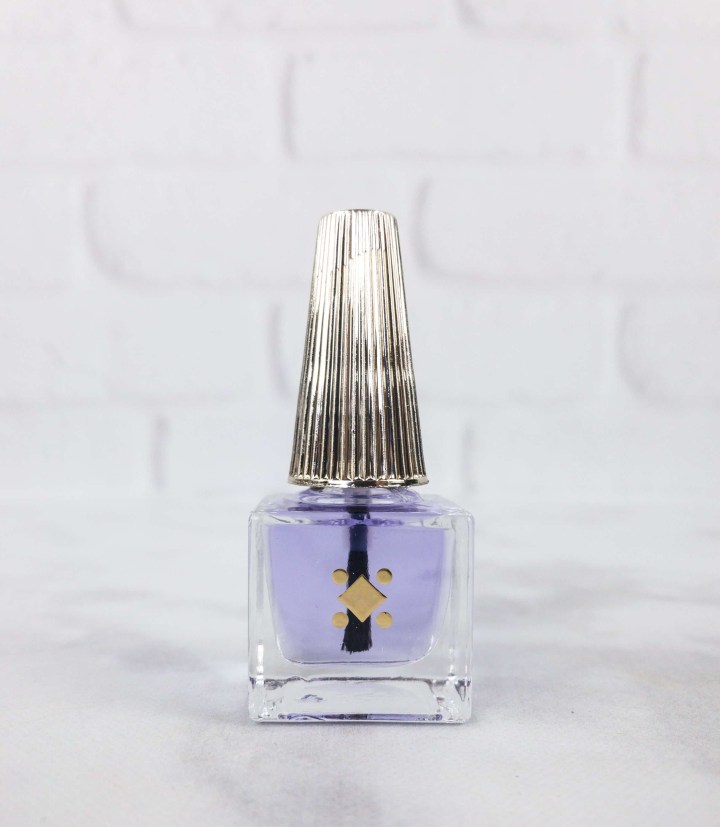 It's 8-free, TPHP-free, cruelty-free, and vegan too. It moisturizes not just the nail cuticle itself but the surrounding skin too. You just have to allow the oil to dry completely before putting on lacquer. It smells super great and I adore the packaging for Deco Miami.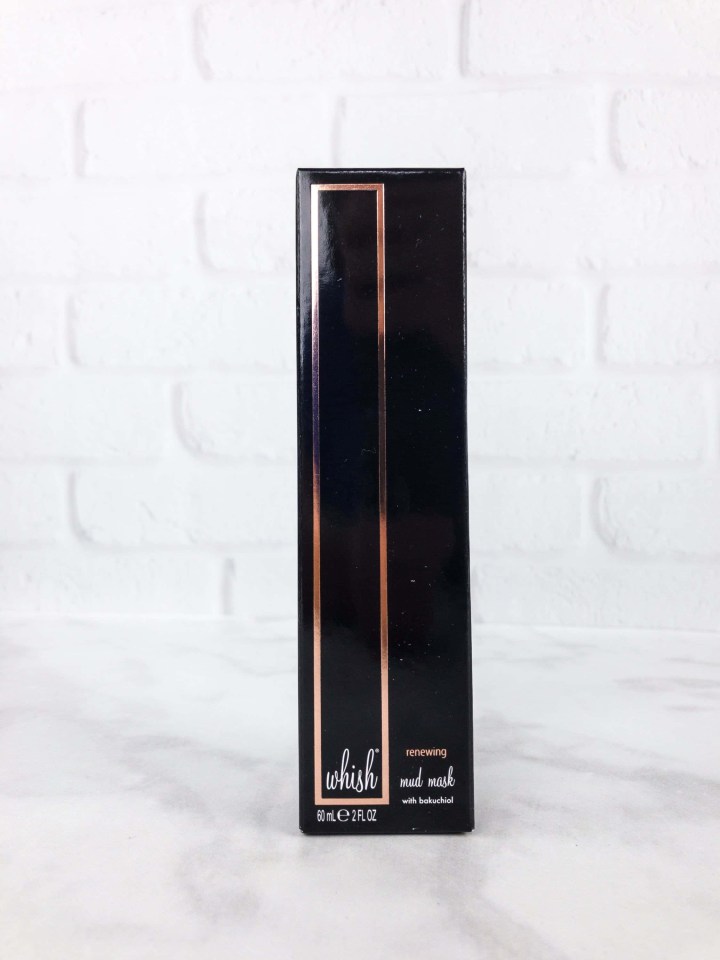 Whish Renewing Mud Mask ($48) This skin care item is packed with bentonite clay, aloe, and rosehip oil.  And it's a totally full-size item!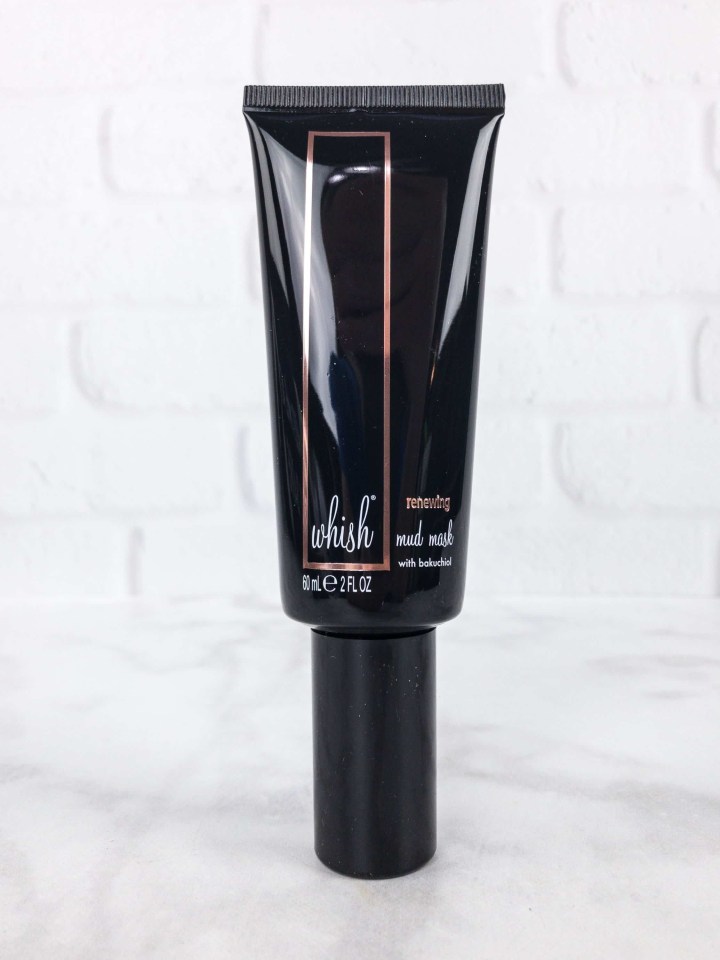 Just a thin layer of this mask can exfoliate the skin to give it a softer and brighter glow.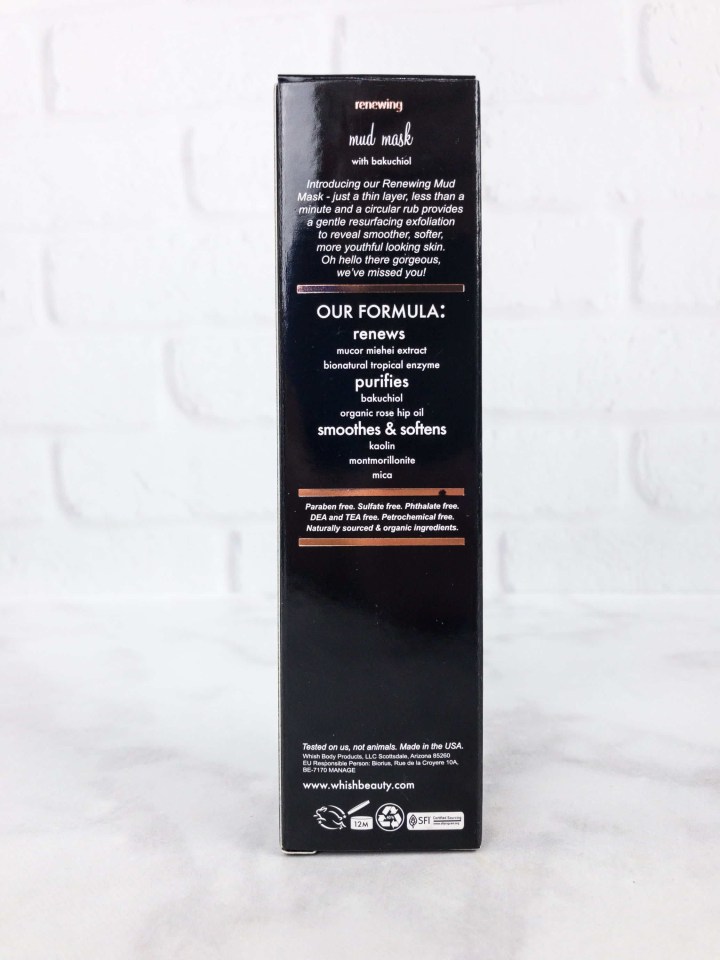 It also contains bakuchiol, a 100% natural substitute for retinol. It is just as effective as retinol minus bad side effects like drying and redness. Plus only 2 minutes needed!
Cottonelle Cloths – Convenient cleansing cloths you can use to freshen up on the go. It's alcohol-free and 100% flushable too! It's not really on this package, but they sent these last year with a note that you can Go Commando with them – great connection with a fashion theme.
This box had a value of $392 (the lowest value – if you get the beanie & the hair rinse – is $377). Amazing for a $50 box and there's so much in here to really use – and not just sample – and enjoy all season long. I'm not sure of my favorite item – either the scarf or the jewelry holder – but the most surprising I'm-in-love-with-it item? That heat pack!  Oh and I can't forget that cheeky tote bag. What a fun box!