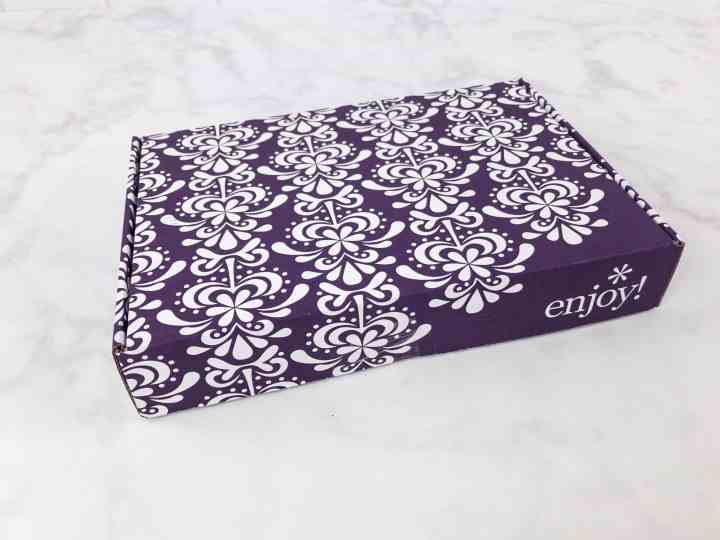 Erin Condren's Seasonal Surprise Box is a new quarterly planner accessories and stationery box featuring early access items, popular accessories, and exclusive surprises from Erin Condren. This box isn't available by subscription; you must purchase each box individually.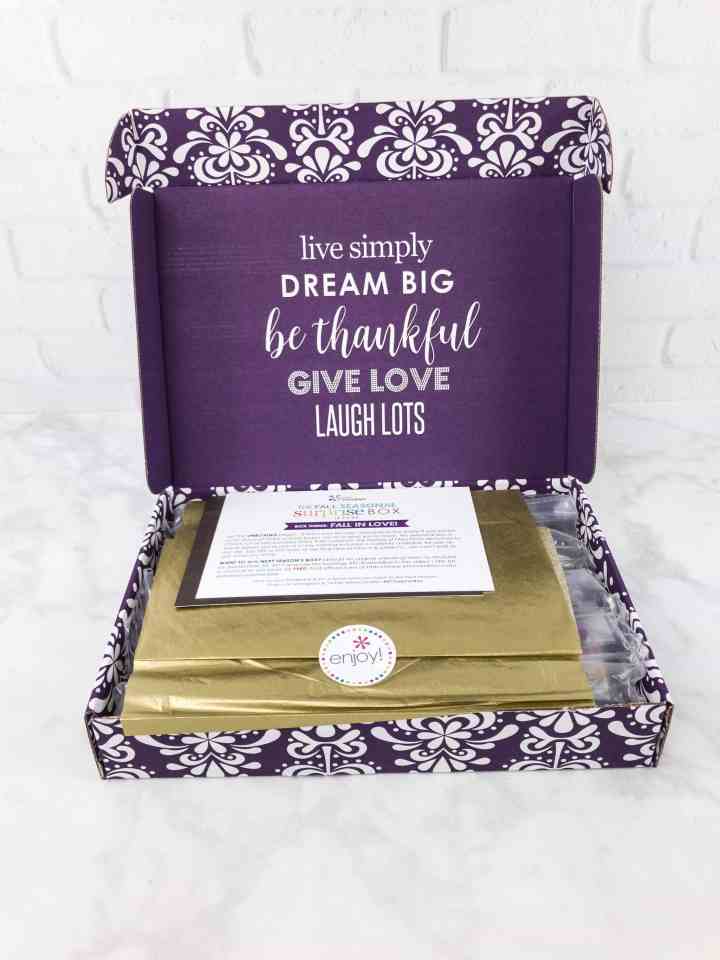 In addition to the main EC site, you can now shop a selection of non-personalized Erin Condren items on Amazon! Many, if not most, are discounted, and they all have free prime shipping!
DEAL: FYI – if you use this referral link to register for the site, you'll get a $10 coupon code emailed to you. It may not work on the box purchase. You cannot use the code if you buy anything first, but you can use it on pretty much anything on the site.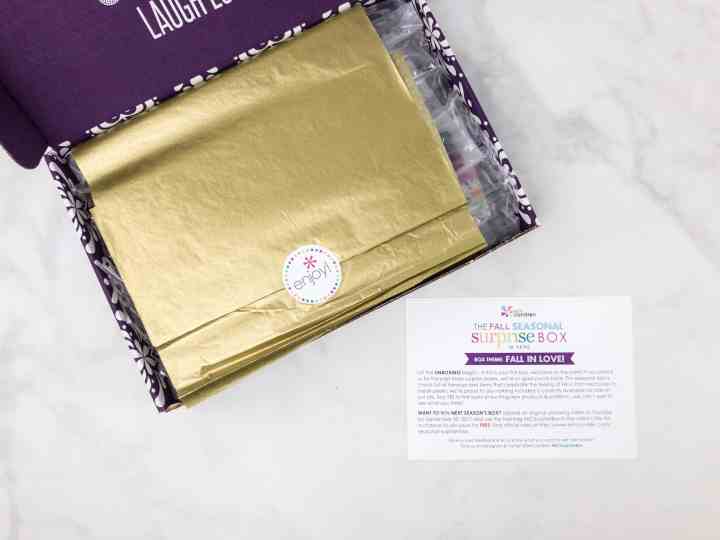 The theme for this box is "Fall In Love."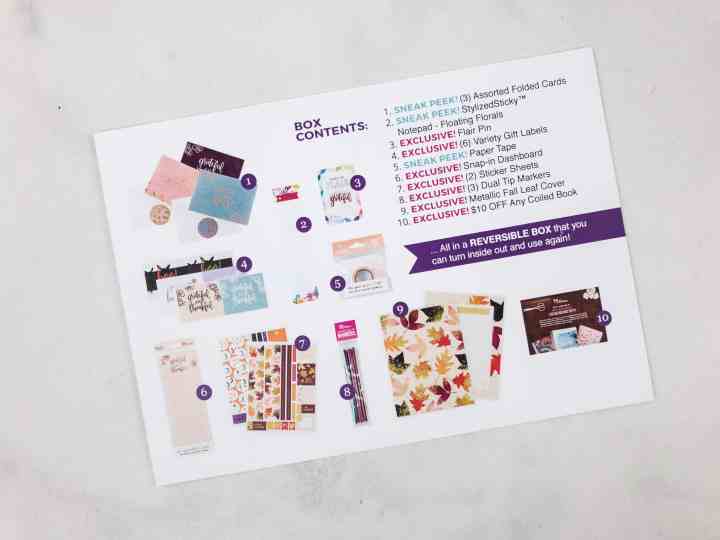 The information card gives you a picture list of all the items included. It's so fun and colorful!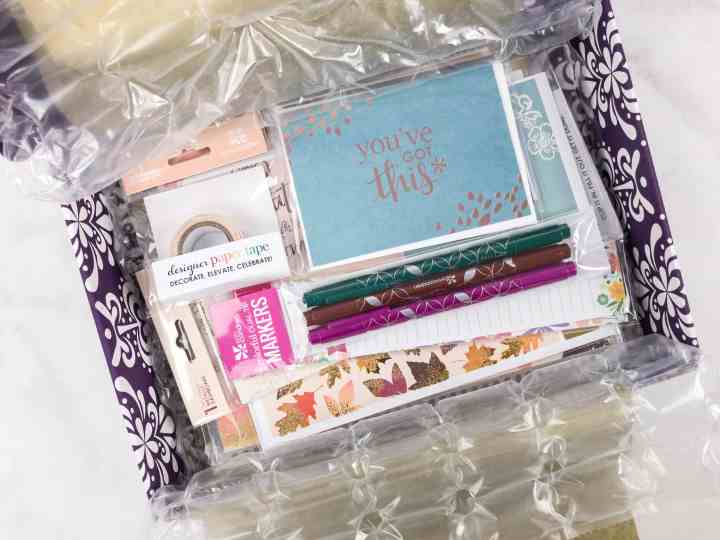 This box is packed!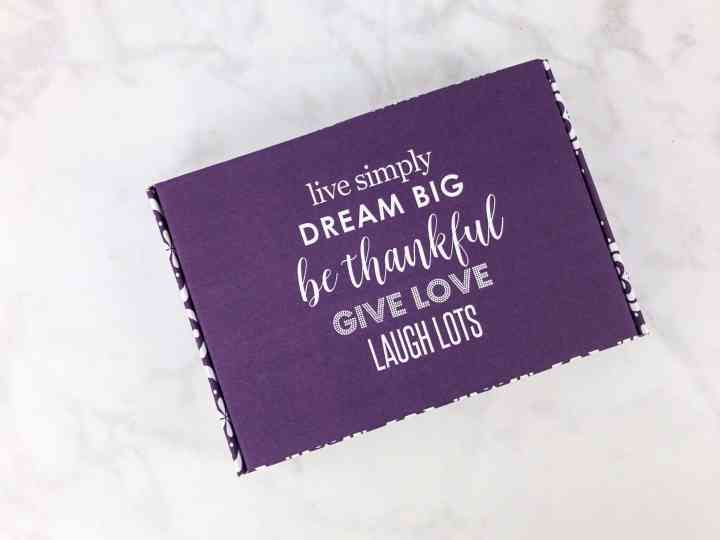 The box is reversible to make a cute little storage case for your goodies!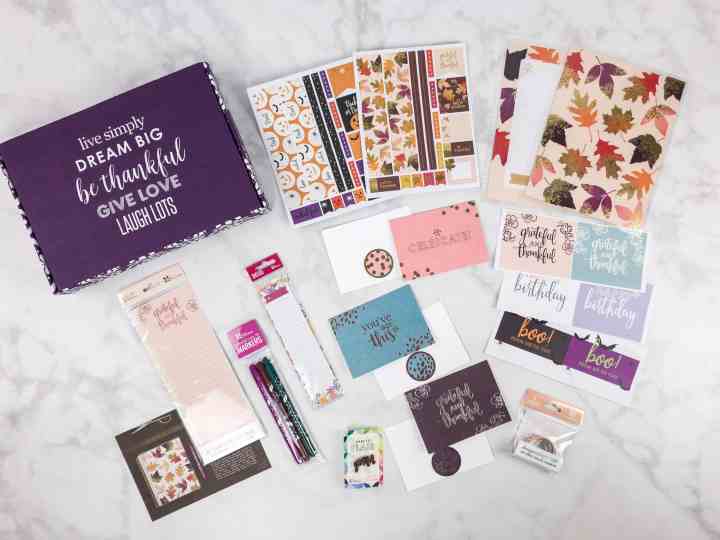 Everything in my Fall box!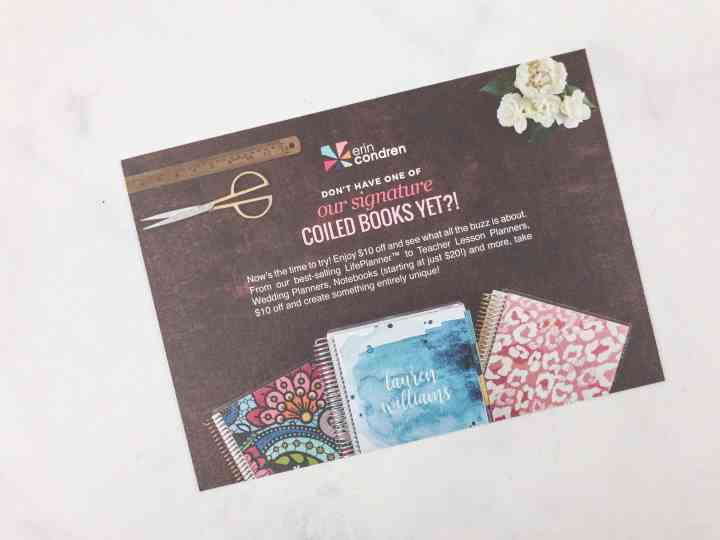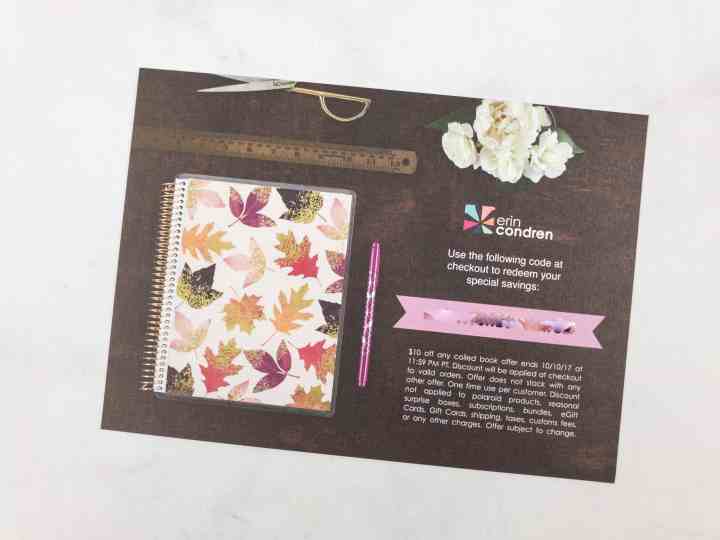 Exclusive – $10 off Art Print Coupon.
Sneak Peek of  some of the new Assorted Folded Cards – I love the cards that Erin Condren sends in each box. They are on thick cardstock and the colors are so bright. These have gold and silver foiling on them which is very on trend and so perfect for fall.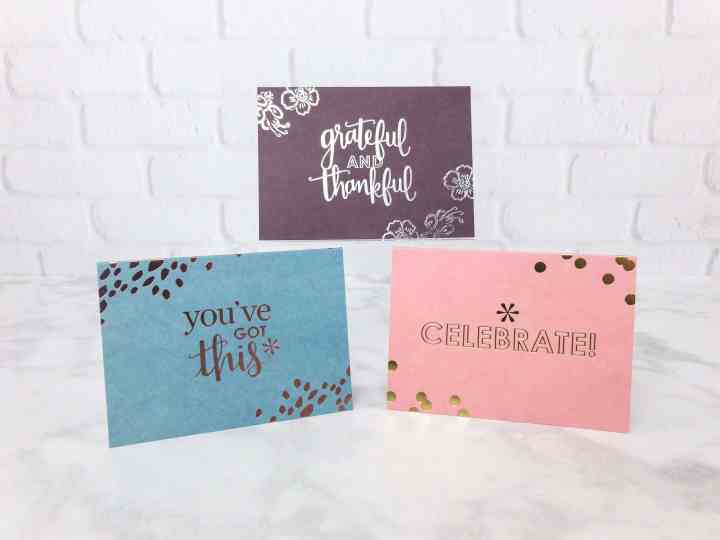 Just look how much they shine and shimmer.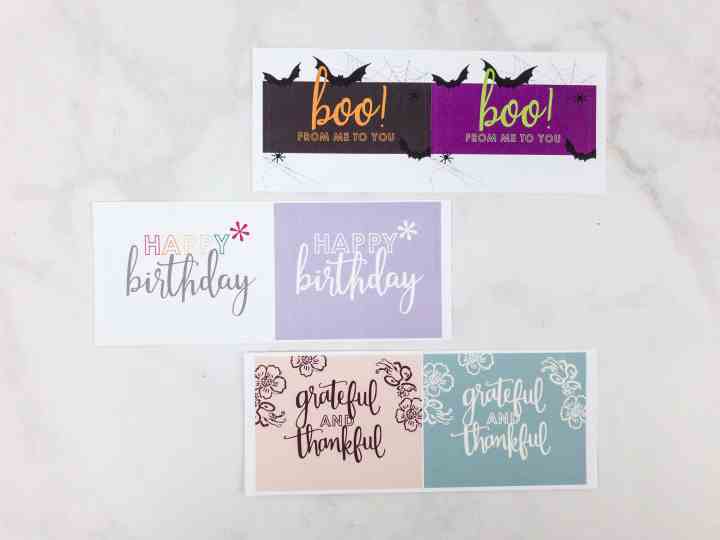 Exclusive Variety Gift Labels – I'm a huge Halloween fan so I can't wait to Boo a neighbor with my gift labels. Does your neighborhood Boo each other? It is so fun. The Happy Birthday and grateful and thankful can be used on any occasion and during any season. With Thanksgiving also coming up, I'm sure to need some grateful labels for teacher gifts.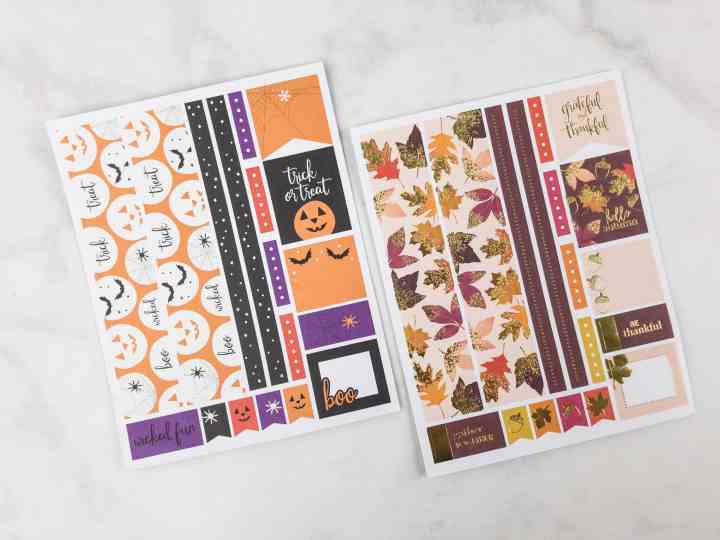 Exclusive Sticker Sheets – These are similar to others the Erin Condren has but with subtle differences just for the surprise box. These fit great in my Erin Condren planner but will also work in others if you haven't fallen in love with theirs yet. I am a bit obsessed with the Halloween sheet and can't wait to create an October weekly spread with them.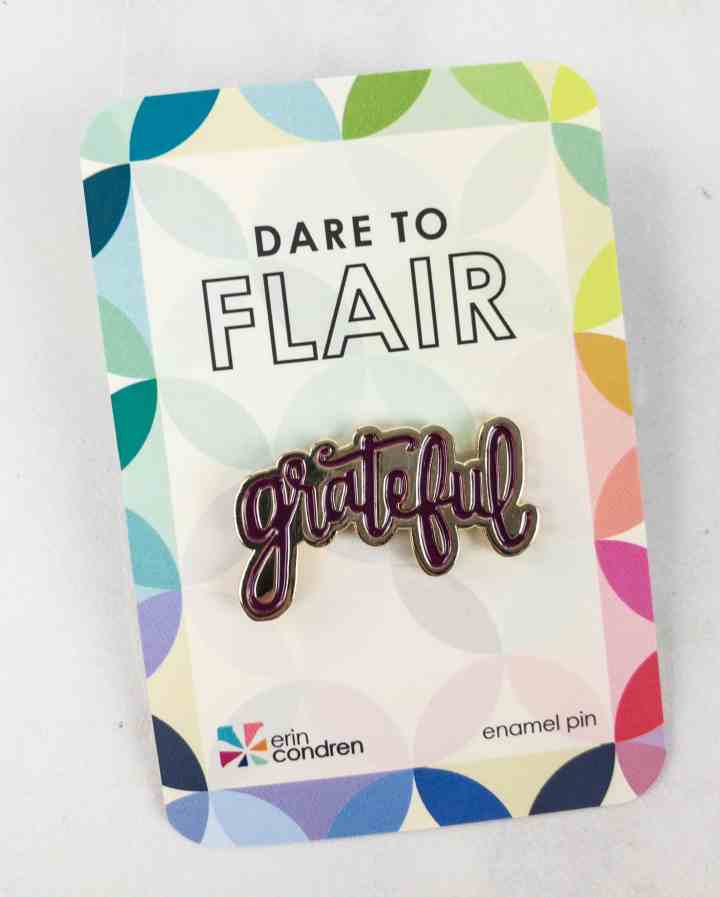 Exclusive "Grateful" Flair Pin – This goes along with the themeing of the box and there are so many things to be grateful for in my life.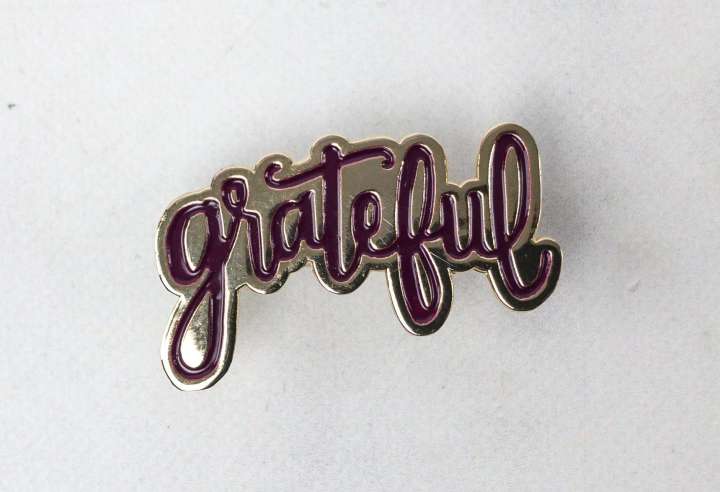 I haven't decided what to do with all of my flair pins yet but this one I'm thinking needs to go on my purse so that I can be reminded to remain grateful everyday. Plus bonus it is in my favorite color: purple!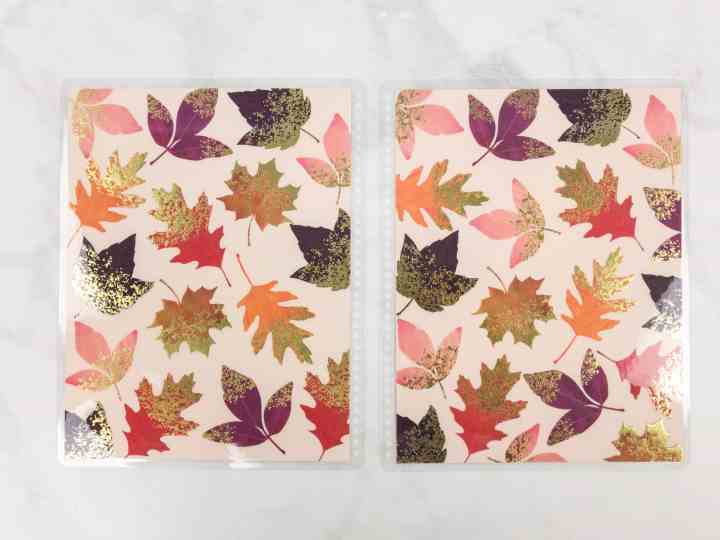 Exclusive Metallic Leaf Fall Cover – It is going to be almost 90 degrees here in NC this week but I'm dreaming of fall and this will be a great cover to remind me that cooler weather is coming.  The Erin Condren planners have interchangeable covers so I can easily slip this one on my planner and then change them out when the falling leaves are over.  Metallics are so fallish and this cover is hard to see in the picture but it really is stunning.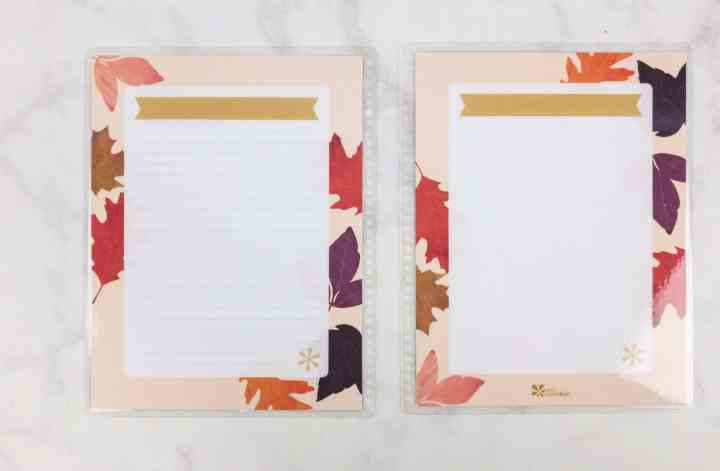 The backside of the covers have lots of place to jot notes and other thoughts.
Sneak Peek! Paper Tape – This is a sneak peek of some upcoming paper tape. Paper tape is a lot like washi tape and can be used for so many applications.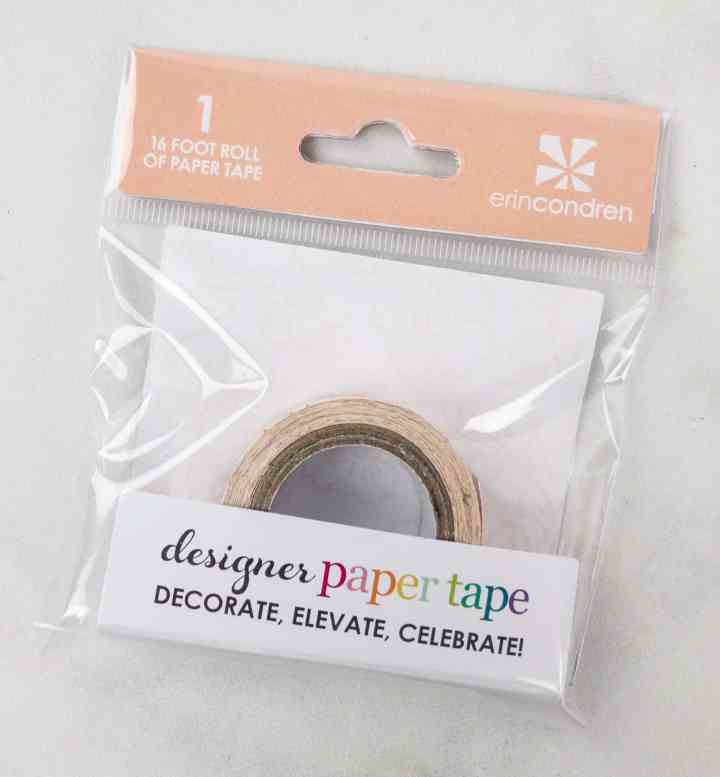 There is so much paper tape on the roll.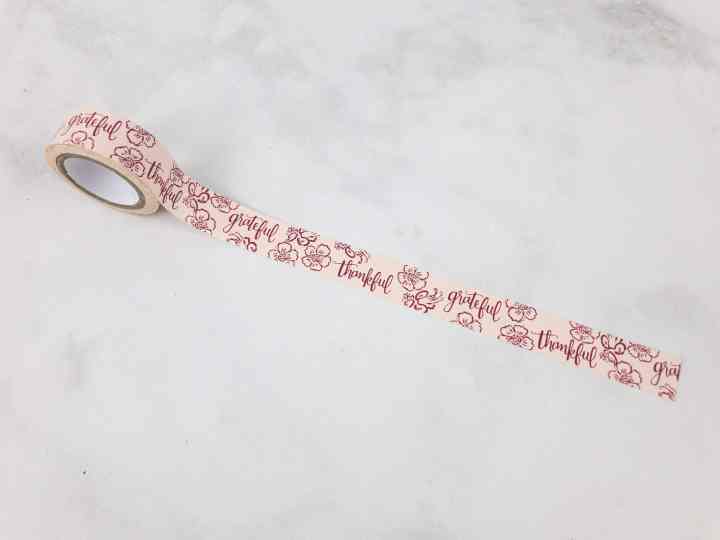 There is more of the grateful and thankful to go with the paper tape.  I can't wait to use this all of November but really it can be used anytime I need just a bit of a reminder.
So detailed and gorgeous.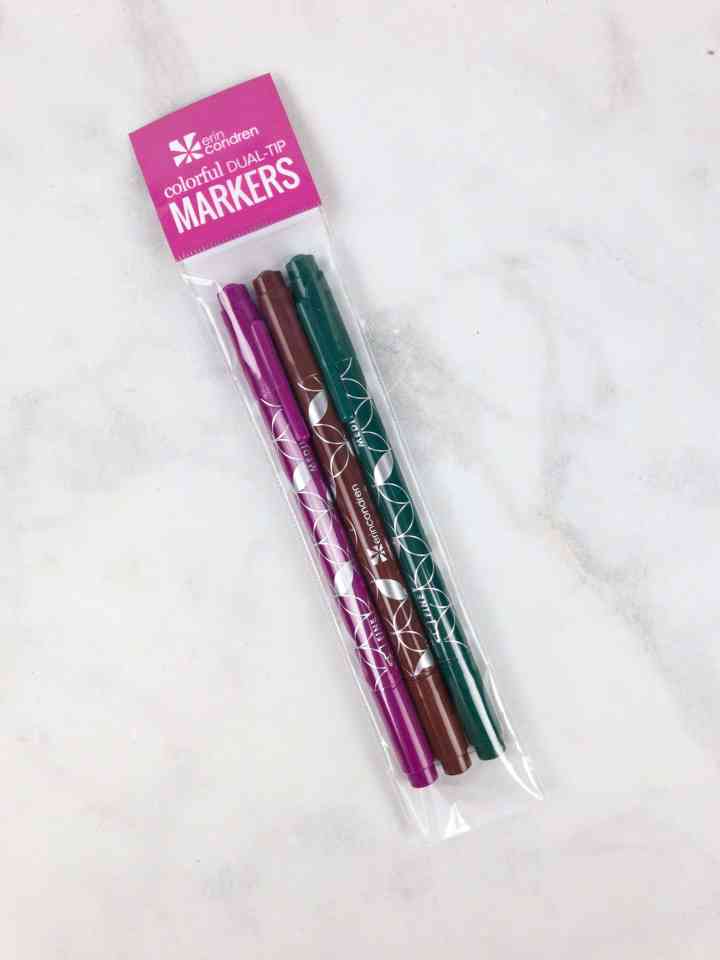 Exclusive Dual Tip Markers – I'm always in for getting more writing utensils in a planner box.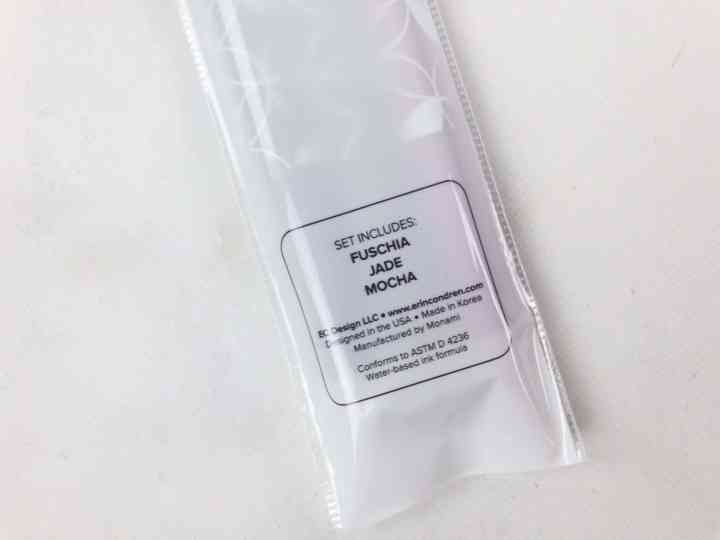 The included colors are Fuschia, Jade and Mocha.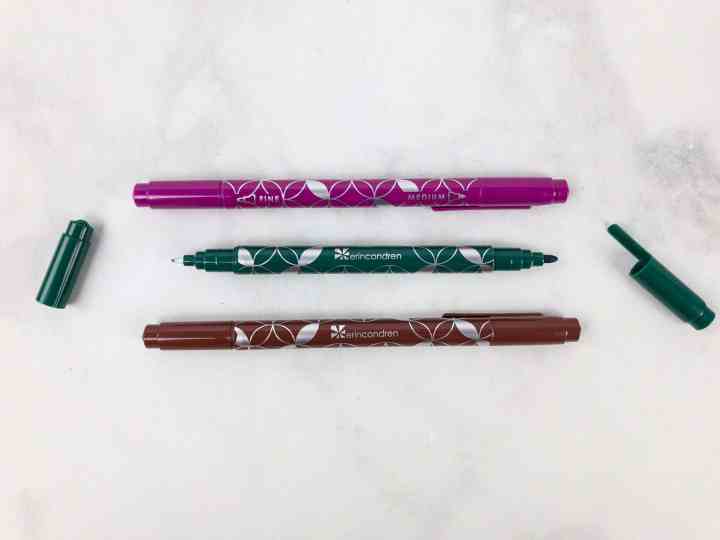 The dual tip markers have both a fine tip and a medium tip. With the new thicker paper in the planners these are great to use when designing and writing your daily needs and to dos. The colors are perfect for fall.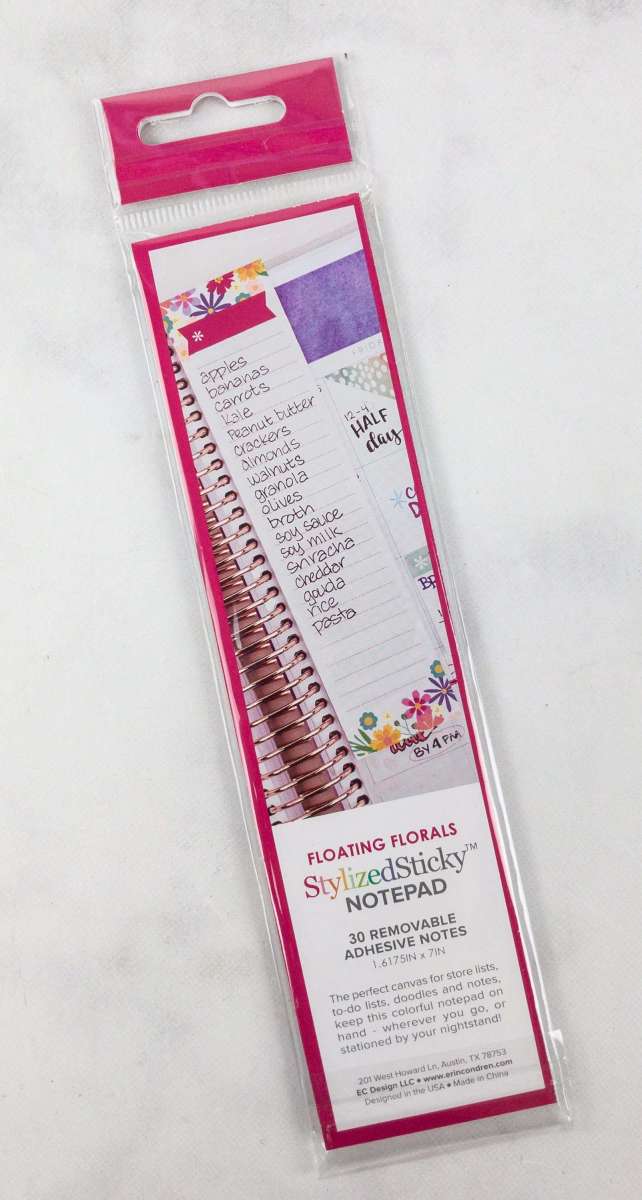 Sneak Peek Stylized Sticky Notepad – Floating Florals – Along with Paper Tape sticky notes are something else I just can't get enough of. This is a Sneak Peek of a future item that will be available from Erin Condren.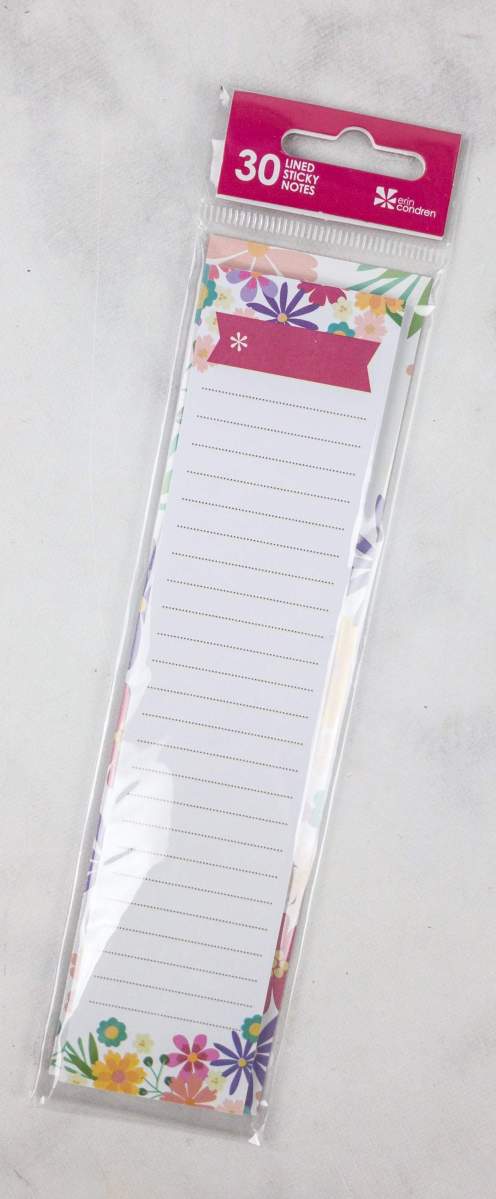 This notepad is skinny and will fit in a column on your planner. What great planning!
I love a good list and this will be great for quick notes that I can then cross off as I complete them. I get such satisfaction from crossing off to-dos.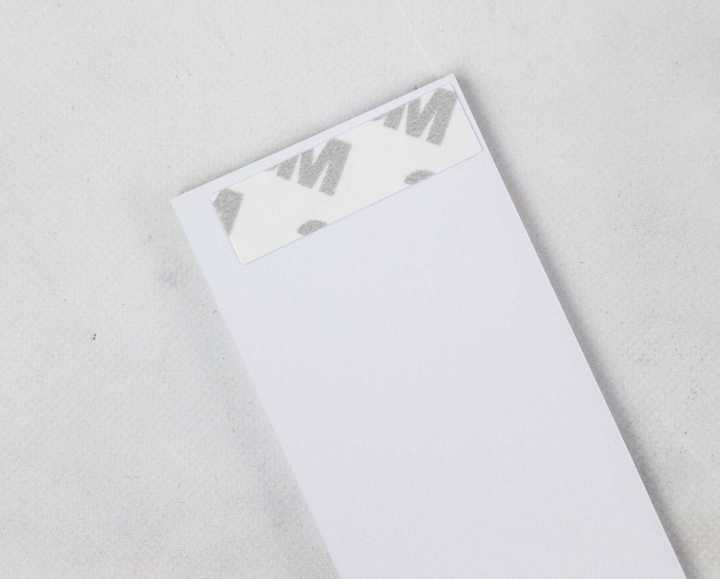 There is double sided tape on the back of the notepad for insertion into your planner.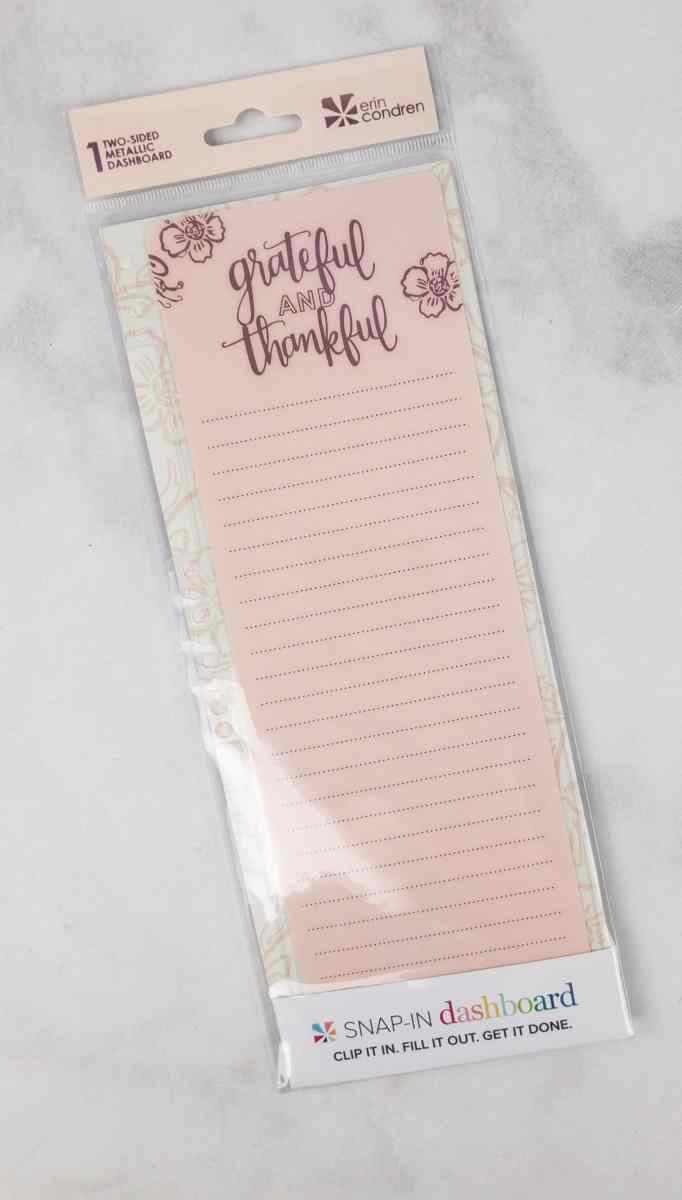 Exclusive Snap-In Dashboard – Dashboards snap into your planner and you can write on them with dry erase markers. I like to keep quick thoughts and things on them as I go. Since my planner is always open on my desk I just grab a marker and write it down.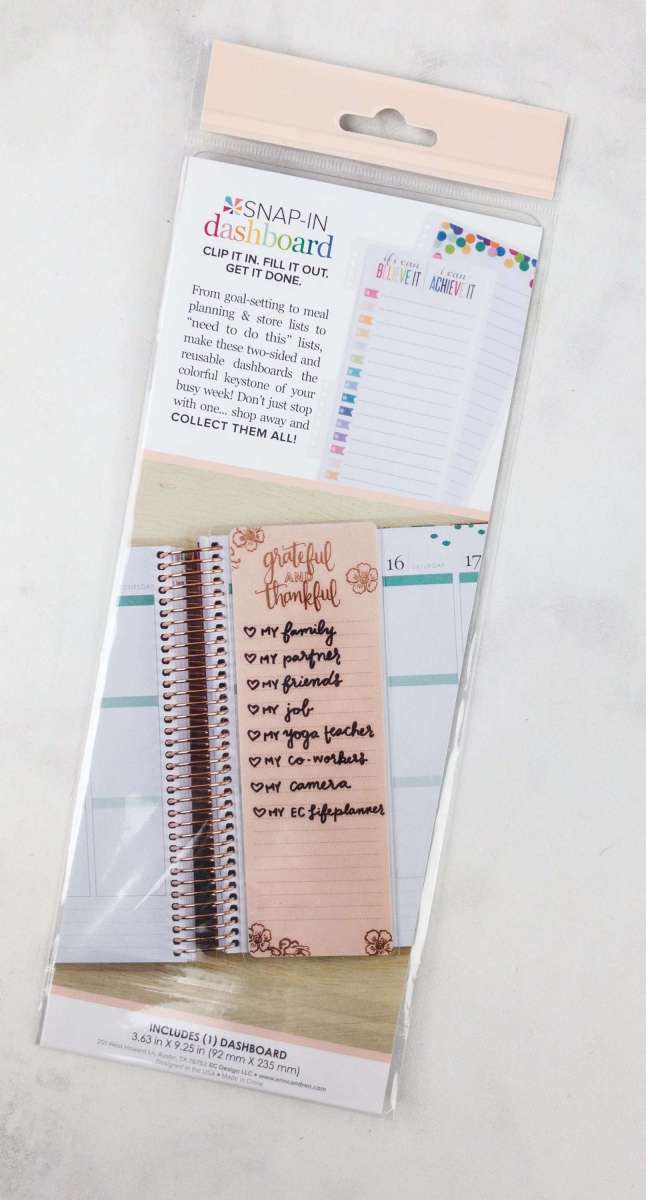 You can see how it just snaps in and then you can move it to another month, week or page as you want.
The colors really go through the whole box this month. The coordination is fantastic and perfect for a planner addict.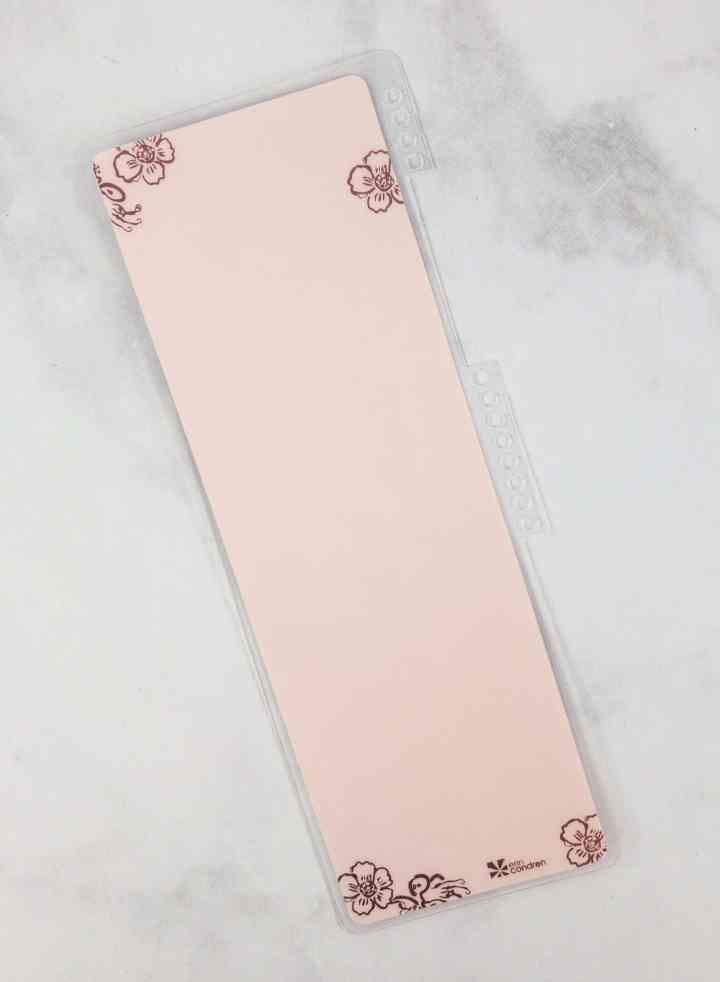 While the front of the dashboard was lined, the back is not so you can doodle or write larger or even stick some small sticky pads to it if you want.
This was another stellar edition of the Erin Condren seasonal surprise box. While I don't think there was any one stand out or WOW item in here, I really like how there are so many exclusive items with some sneak peeks tossed in. The exclusive items make it seem way more decadent then just a box of things that I could buy from their store. The items this month are all very planner centered and since I'm all about my planner they will work great for me. I can't wait to start decorating my pages will fall designs.
What did you think of the box?