Crate Chef is a bi-monthly subscription box that brings your favorite chefs' top picks to you. Each month costs $45, and you'll get a specially curated box filled with a well-known chef favorite kitchen items, food products, as well as selected recipes.
DEAL: Save 10% off your first order with coupon code HELLO10.
Each month Crate Chef collaborates with a different famous chef to bring you products that will up your cooking game.  The Chef featured in this box was Jay Ducote from Louisiana. You can check out a page full of his accolades on Crate Chef's website.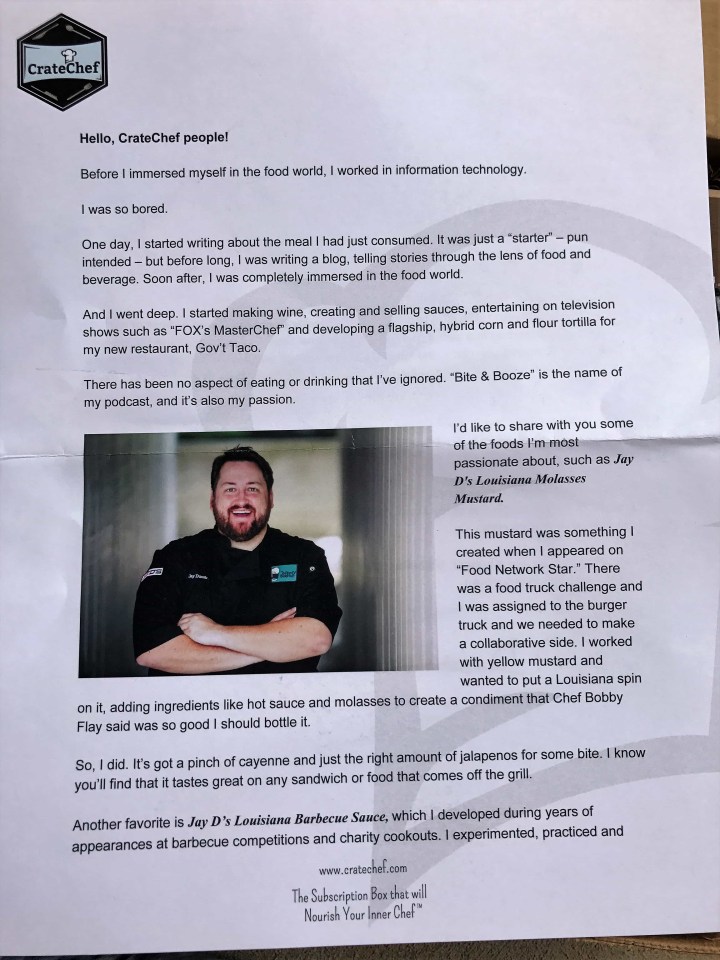 This letter from Jay Ducote himself welcomed us to the box and gave us a little blurb about each product. I like that they include a picture of the chef.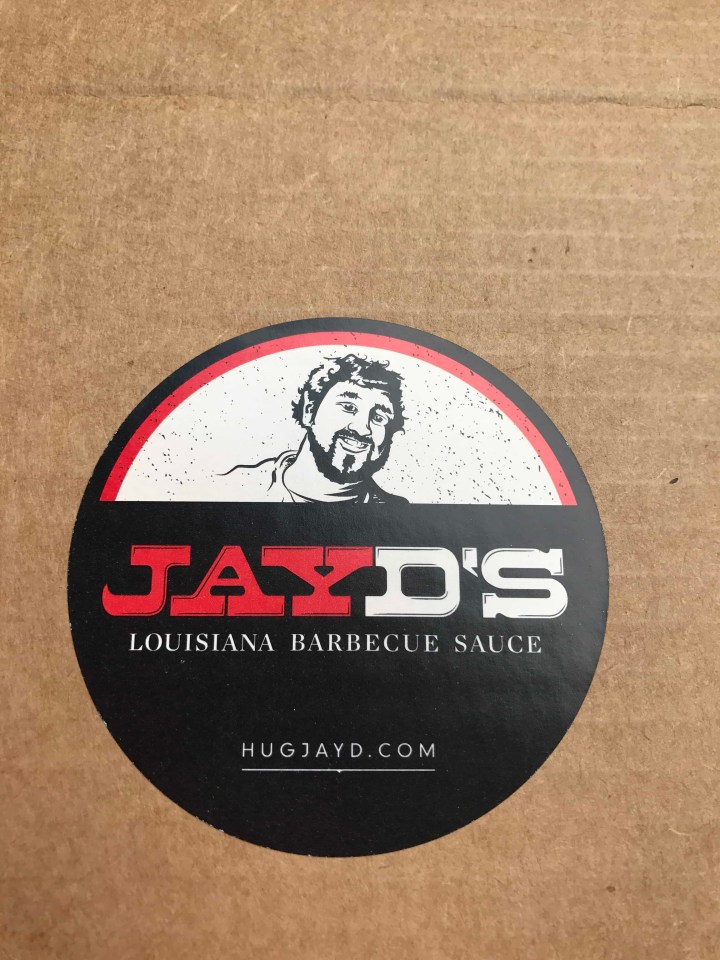 On the underside of the box there was a JayD's Louisiana Barbecue Sauce sticker. You can find more of his products on his website, JayDucote.
Jay D's Louisiana Molasses Mustard ($8) – "Jay Ducote's Louisiana Molasses Mustard presents a bold blend of Louisiana sugar cane molasses and mustard with just a touch of heat from cayenne and jalapeno. This sweet, tangy, slightly spicy take on traditional honey mustard represents a Louisiana twist on a classic. It's ideal for dipping, marinating, dressing salads and sandwiches or brushing on the grill. Use it to add a little zing to vegetables, chicken, pork, seafood and more. The possibilities are endless. You'll be wondering where Jay D's Louisiana Molasses Mustard has been all your life!"
This flavor reminds me of summers at the lake. Hotdogs, barbecued chicken, swimming 'til Dad made us go home. It's smokey like a good barbecue sauce, but then there's the mustard goodness and a little heat thrown in. It's very good.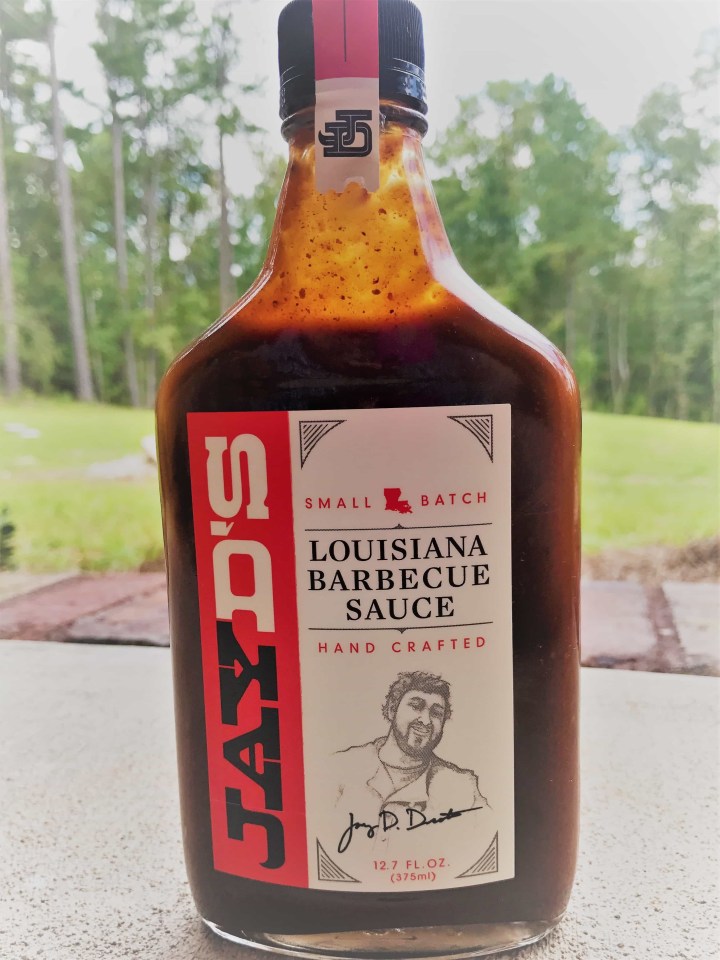 Jay D's Louisiana Barbecue Sauce ($8) – "Hand crafted by Baton Rouge food blogger and radio personality Jay Ducote. This small batch sauce is unique for its sweet and spice notes with traditional Louisiana flavors. Made with cane syrup, Louisiana seasoning blends, cayenne and smoked paprika, this sauce is the definition of a Louisiana Barbecue sauce. Delicious on pulled pork, chicken or any type of grilled meats."
I liked this sauce because it's not too vinegary. I can't stand vinegar-based barbecue sauce. It's slightly spicy, but I think when it is slathered on chicken or pork it will be balanced and perfect.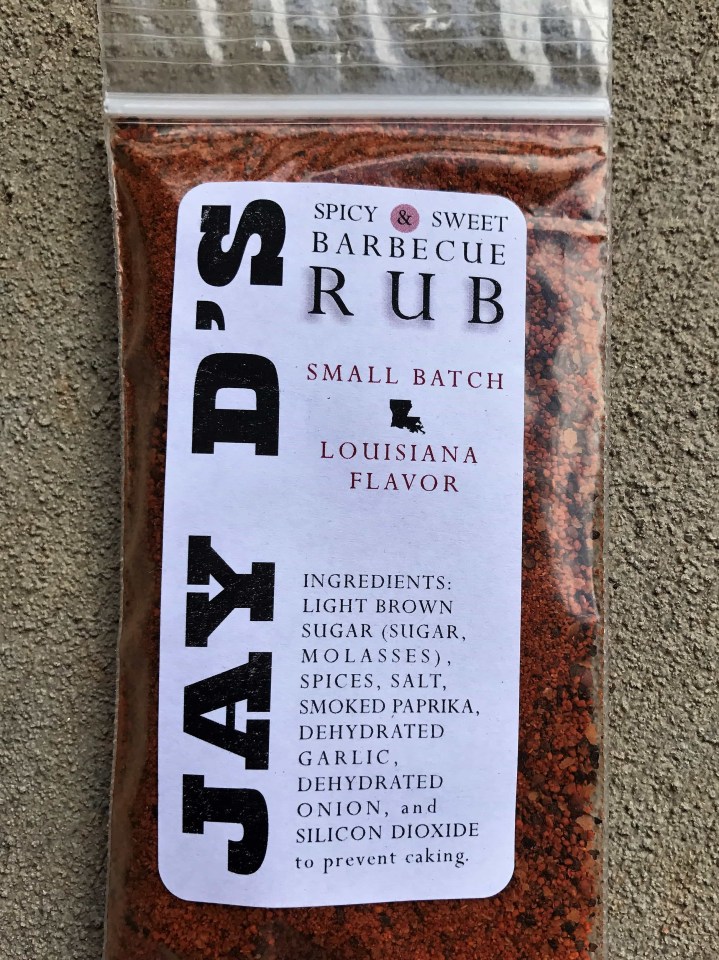 Jay D's Spicy & Sweet Barbecue Rub ($10 for 12 oz, we received a sample portion) – "Jay D's Spicy and Sweet Barbecue Rub is ideal for many seasoning needs, especially smoked meats and BBQ Shrimp. The rub works brilliantly on anything, from chicken and ribs to pulled pork, brisket and even Red Beans & Rice! It also doubles as a season-all for shrimp, scallops, and fish. Even toss it on veggies! The dry rub is a well-curated blend of granulated brown sugar, smoked paprika, chili powders, kosher salt, coarse black pepper, onion, garlic, and more. It brings a little taste of Louisiana and a bold barbecue flavor!"
I am looking forward to trying one of the boxes included in the box for roasted vegetables that includes this rub, and another one for Barbecue Beans too.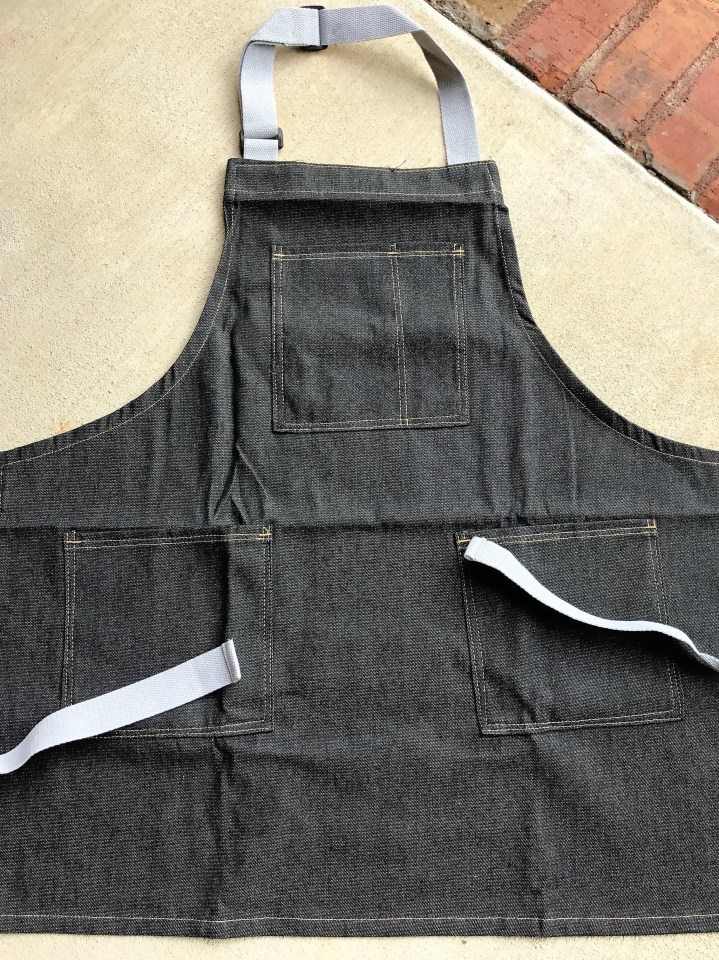 Trimmed Denim Apron – "I think you'll find the trimmed denim apron that's included is a perfect way to protect your clothes when you're at the stove, grilling in the barbecue pit, or cooking out the back of a truck for a tailgate party."
This thing is as sturdy as they come. The denim is thick and the ties are nearly seatbelt thick. I think it will last forever.  And, it's lack of frills means my husband and father-in-law will wear it.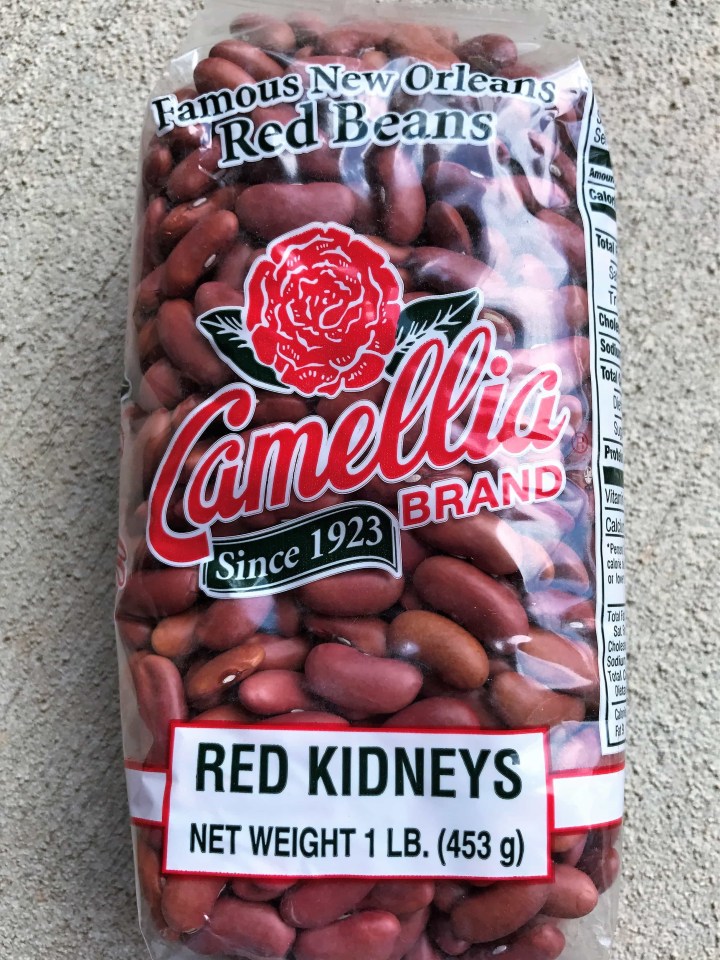 Camellia Brand Red Beans ($3.25) – "The Camellia Brand signature bean – creamy, hearty, and beloved in New Orleans and across America's Gulf Coast. It's an old New Orleans tradition to cook up Red Beans & Rice every Monday. Simmer or slow-cook them to creamy perfection with the "holy trinity" of seasoning vegetables and add ham hocks and other seasoning meats if you like."
So, the letter enclosed in the box recommends cooking these up in a cast iron pot, and I totally agree. I kinda have a cast iron addiction. They are so heavy, sturdy, forever pots. I literally have one that one that was my great grandmothers and use it nearly everyday. I love it. And, the beans aren't bad either. I can't wait to use these to try out the BBQ Red Beans recipe that came in the box.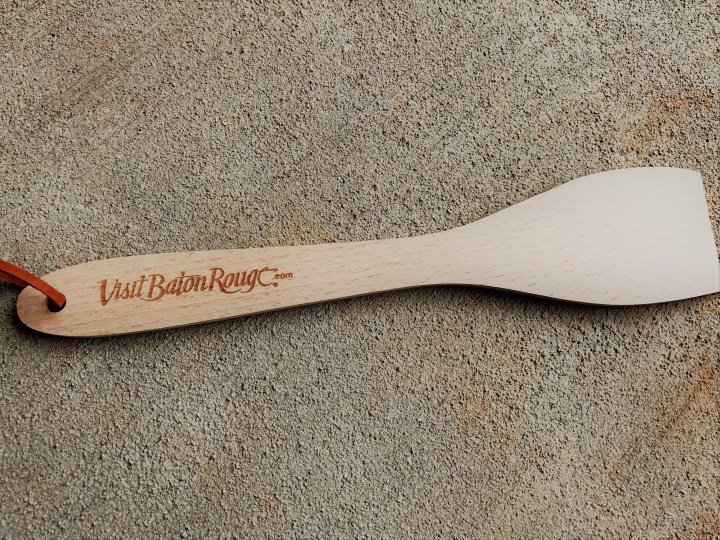 Louisiana Roux Spoon – "…the specialty Louisiana roux spoon is shaped perfectly to make sure no parts of the browning flour of the roux base for gumbo gets stuck in the corners of the pan."
You gotta love a good wooden spoon. Wood has a feel and weight that just can't be replicated by man made materials.  My cast iron loves it!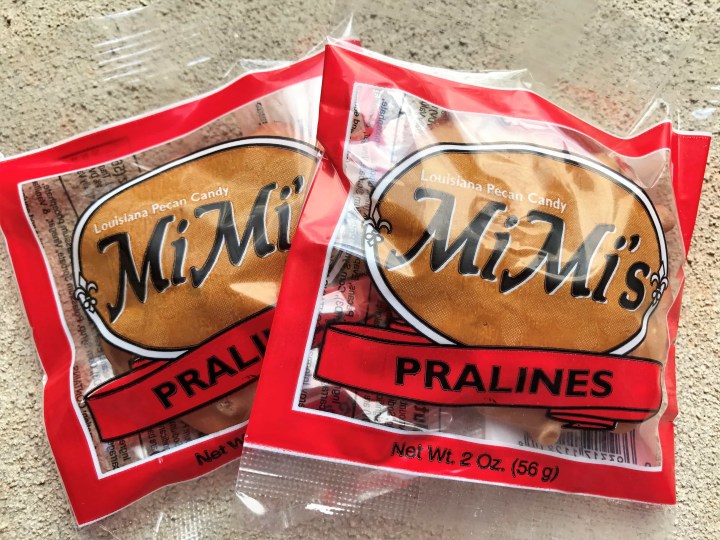 Mimi's Pralines ($13 for 6) – "These are just so creamy and rich and just the right balance of sweetness to the pecans.  Every bit is a taste of Louisiana."
I just tried a nibble, but it was creamy and delicious. Anything with pecans in it has got to be good.
There were five of Jay Jucote's recipes included in the box. (The cards are two sided.) All of the recipes include something out of the box. One uses the dry rub to season roasted vegetables and I am so trying that one. I love a roasted vegetable.
We particularly liked Jay D's Louisiana Molasses Mustard. It's slightly spicy, mustardy goodness brought me back to my childhood of summer Saturday's at the lake. The Crate Chef bimonthly subscription introduces you to great food and the tools to make it through awesome chefs that love what they do.
What did CrateChef inspire you to cook?