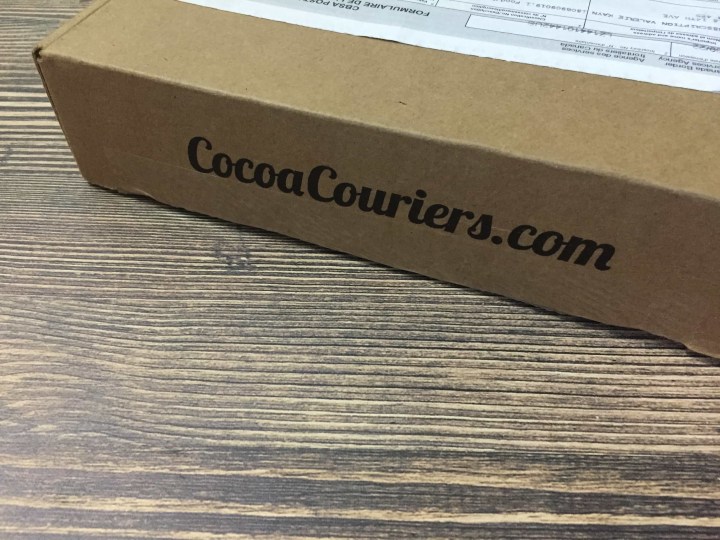 I'm really excited to review Cocoa Couriers, a monthly delivery of the finest artisan chocolate from all over the world. There are three sizes of box, this review is the largest Chocoholic Box which contains at minimum 5 bars of premium chocolate. I love chocolate, especially dark chocolate, so I can't wait to dig in!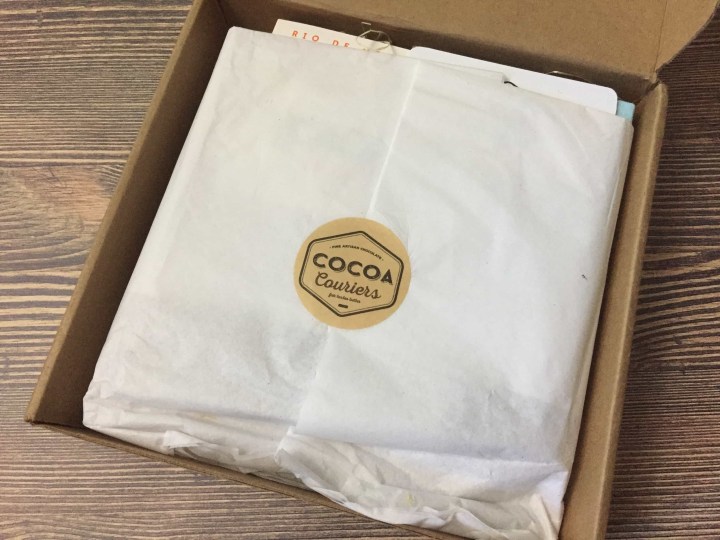 Everything is neatly wrapped in tissue with a sticker to keep it secure.
DEAL: Get $10 off your first chocolate box! Use coupon code YUMHELLO10. Valid to new customers only.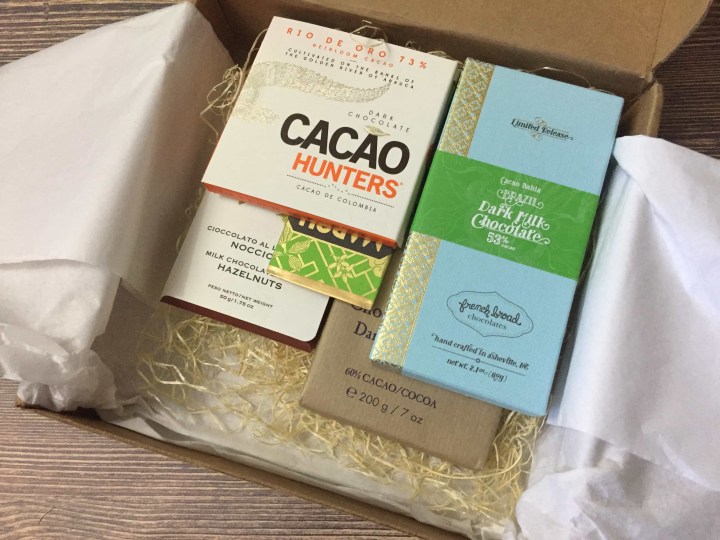 Paper straw keeps items from shifting too much during transit; I love small details like that especially when it comes to chocolate which can be quite fragile!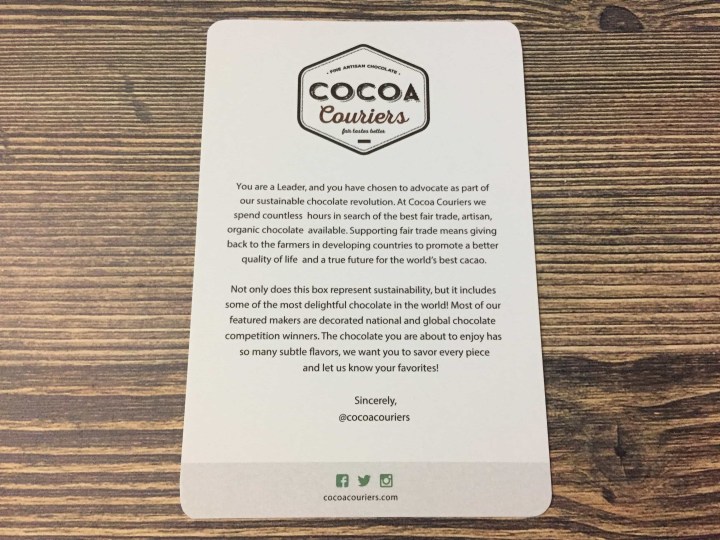 There was no information card with specifics on the bars in the box, but the generic card explains about how the box supports sustainability in the countries where the chocolate is made.
Blanxart 60% Dark Chocolate — Blanxart began in 1965 in Barcelona. Despite being limited in their resources they made a high quality chocolate that is unchanged even today. Only the best beans (sourced from Peru, Philipines, Brazil, and the Congo) make it in as well as real sugar and vanilla. This bar is huge, and heavy! At a whopping 7oz it's definitely got some weight to it. At 60% it's a less strong dark  flavour, and isn't quite as bitter as a bar of 90% dark chocolate, for example. (Which I still will eat, happily!) The percentage refers to the amount of cocoa beans, and the rest would be the other ingredients such as sugar, dairy, flavouring, nuts, etc.
French Broad Chocolates Dark Milk Chocolate 53% ($11) — This is HEAVENLY. It's a dark chocolate made with beans from Brazil but it actually has milk and browned butter in it to add that creamy feeling that milk chocolate is known for. If you had someone who wasn't a fan of dark chocolate, this would be a great compromise to get them to try it. It tastes a lot like the Belgian hot chocolates I enjoy in winter — dark, creamy, and full of flavour.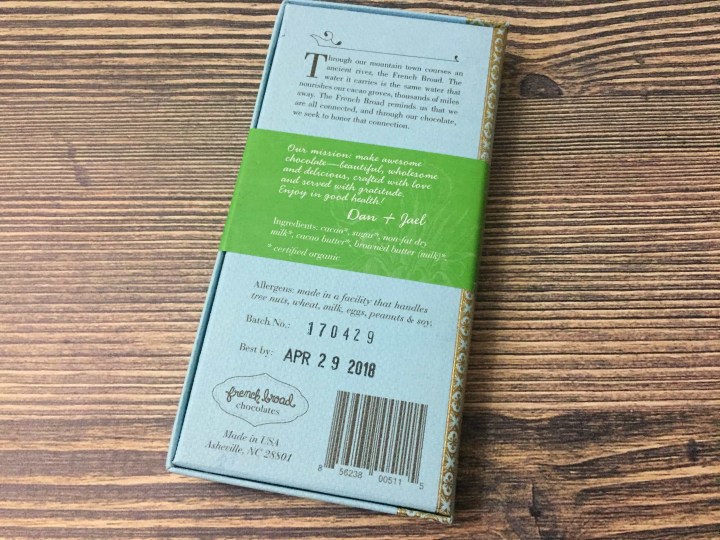 The packaging of this bar is also really cool, it opens like a book.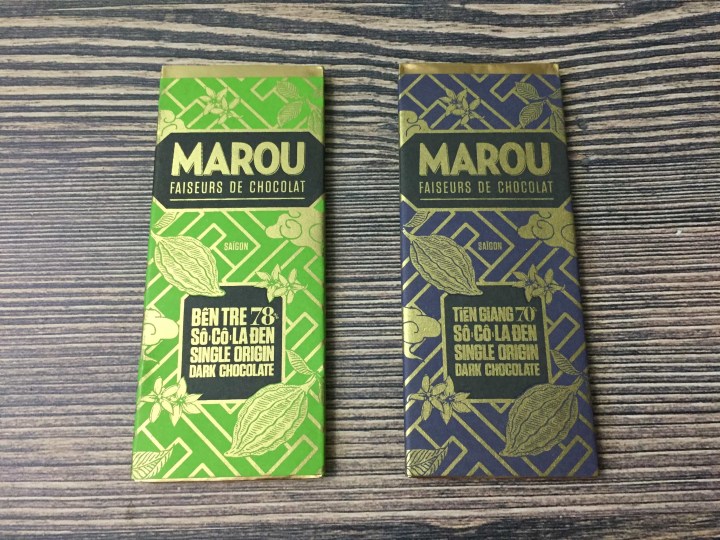 Marou Chocolate Bars (Vietnam) — Marou is from Vietnam, where the small team hunt down cocoa pods in the country side to craft the chocolate. Their bars tell the story of the seasons of Vietnam. Droughts bring sharper, citrus flavours to the beans while the rains bring spice and fruity notes to it. Ben Tre 78% has notes of dried coconut to banana. Tien Giang 70% is all about cinnamon and honey notes. I can't wait to share these with my parents, who love Vietnam and have traveled there many times.
Again, the reverse of the bars has the full stories about the bars and their origins.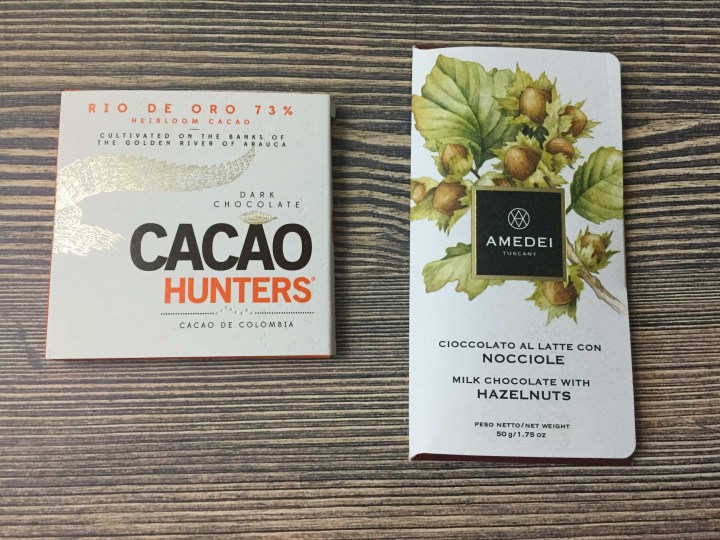 Rio de Oro 73% ($14) — Translating to "river of gold" in Spanish, this square-shaped bar is made from beans that are grown on the banks of the Arauca River in Colombia. It has notes of honey, cashew and citrus — I definitely tasted the tangy edge and enjoyed the small size of this bar.
Amedei Milk Chocolate with Hazelnuts ($7) — This was absolutely delicious, sweet milk chocolate with crunchy bits of hazelnut. I love anything hazelnut and this was hands down delicious.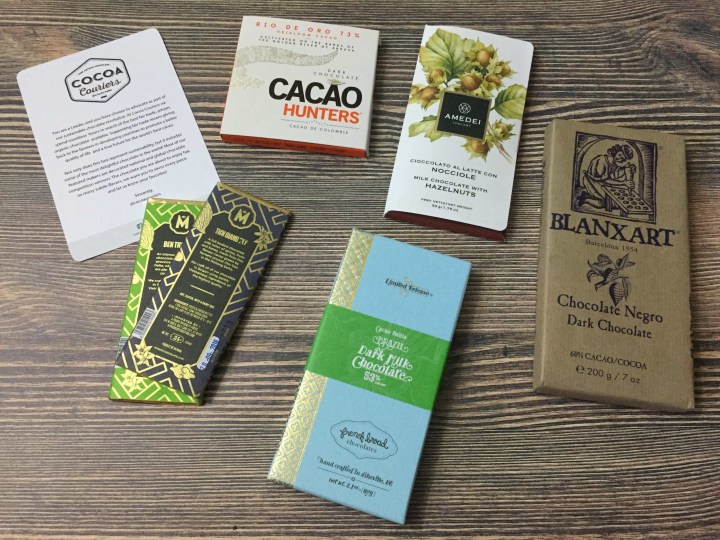 Cocoa Couriers is an amazing box for anyone who loves chocolate and can appreciate the subtle differences in flavour. I love how the box featured different countries as they all have something new to offer. I love dark chocolate so I enjoyed everything but I was happy to see a milk chocolate bar, too!