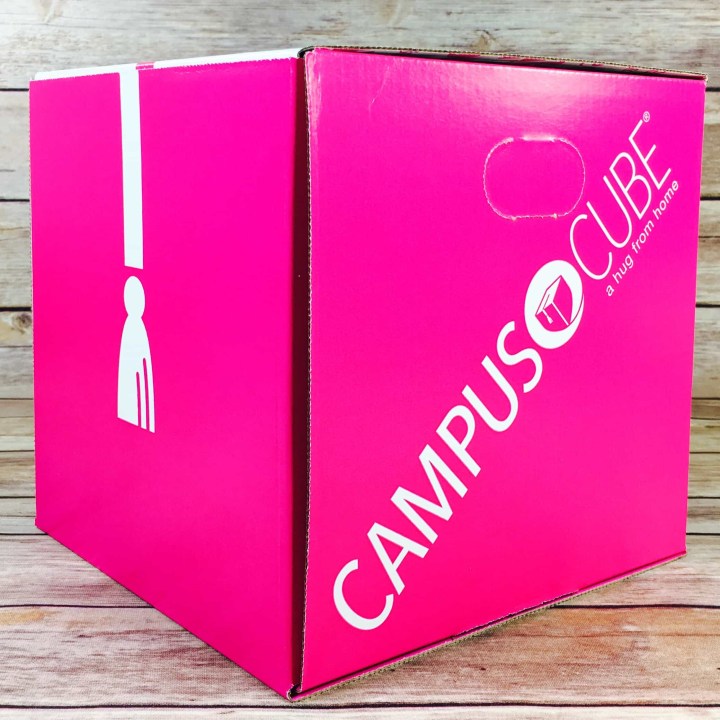 CampusCube College Care Package is a subscription box that delivers treats to your babies who have left home to start a new chapter in their lives at college. Sign your child up for CampusCube and they will receive up to 4 boxes per semester, or 8 throughout the school year, depending on which plan you choose. You can also send a one-time box for a birthday, exam survival, or just because. CampusCube offers a version for boys or girls and I will be reviewing the items from the Girl's Start Strong September Cube. CampusCube is $39.95 a box and includes FedEx Ground Shipping. CampusCube offers a gluten-free version, too.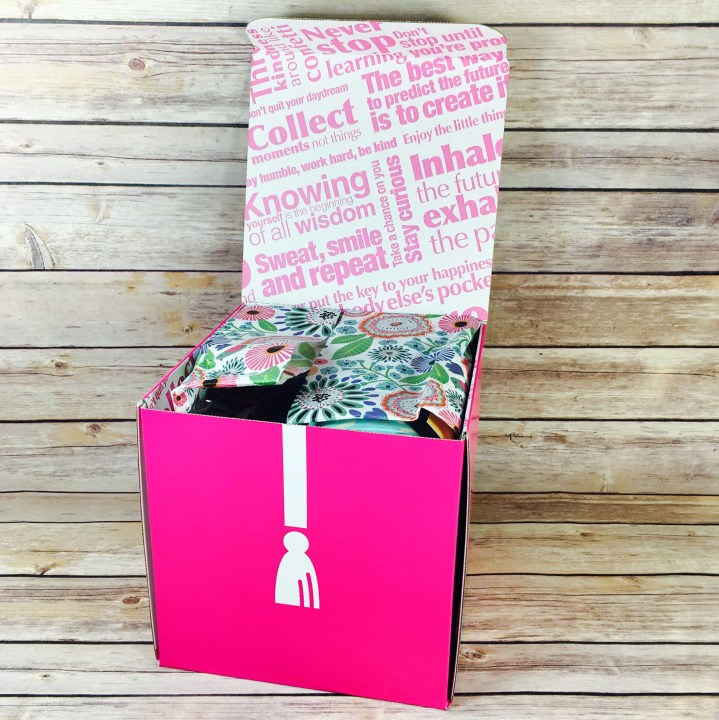 DEAL: Take $5 off your box! Use coupon code Hello5.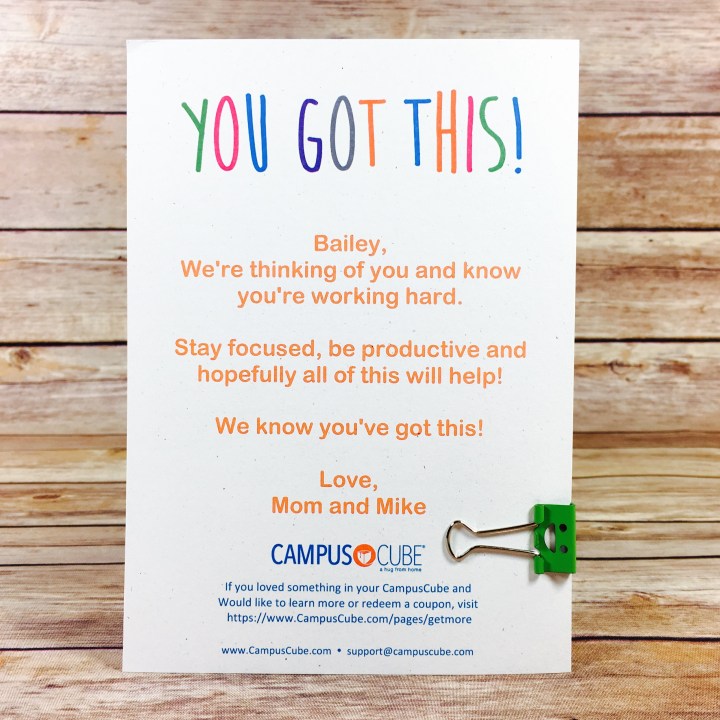 Here's a sample of the personalized card your child will receive with their box. The card includes a support number that your student can call if there is a problem with their box. I also received a binder clip (more about that below)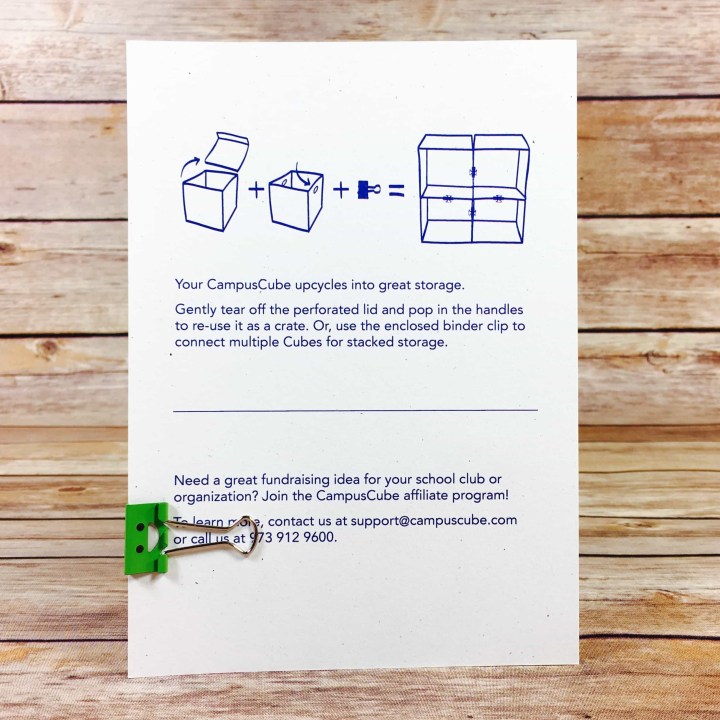 The flip side of the card gave instructions for upcycling the cube into colorful storage boxes using binder clips, or you can use it as a carrying crate!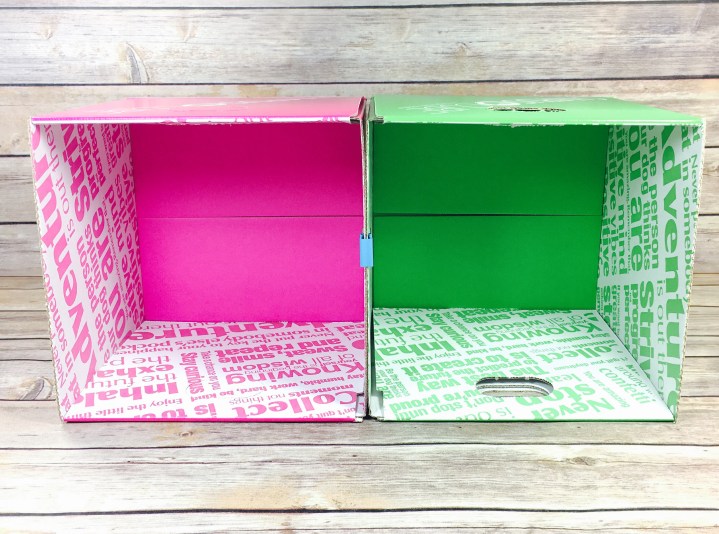 As the year goes on just add more cubes!
CampusCube does a wonderful job on presentation and I thought everything looked great. It was very bright and cheerful. My college sophomore was home sick recovering from the flu when this box showed up and I wish you could have seen the look on her face as she removed all of the items from the box – she absolutely loved them! I packed everything back in the box and she took it with her and then reported back what she thought as she tried them.
Everything in the box! CampusCube does a great job of telling you exactly what will be included in the current shipment.
Swedish Fish I've never tried a Swedish Fish, but my daughters seem to like them and chewy candies usually travel well.
Live Love Pop Salt & Vinegar Popcorn is made with non-GMO corn and Gemma said it was good and savory, and she now likes the taste of salt and vinegar. Sheila G's Salted Caramel Brownie Brittle was so addictive and yummy and Gemma couldn't stop munching on it, she loved this stuff. I've tried it before and can agree!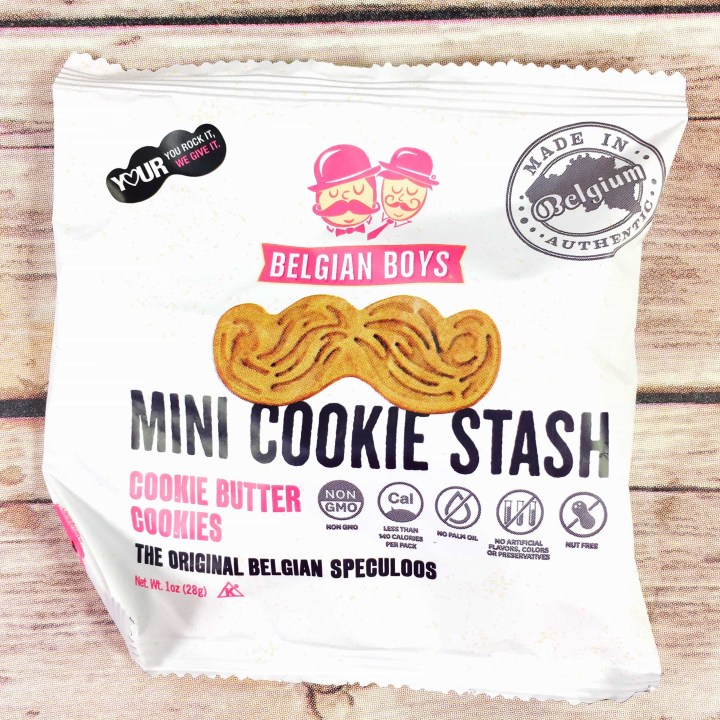 Belgian Boys Mini Cookie Stash are mini cookie butter cookies AKA speculoos. They have a gingersnap quality about them, but without the ginger. Gemma said they melted in her mouth and were her favorite. She then went to the store to buy cookie butter.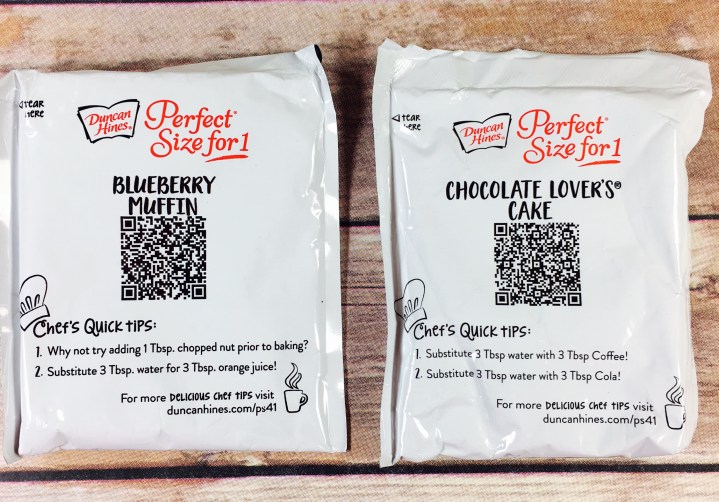 I know Gemma was really excited about these mug cakes! Duncan Hines Perfect Size for 1 Blueberry Muffin and Chocolate Lover's Cake are very easy to make – just dump in a mug, add water, mix, microwave, and that's it!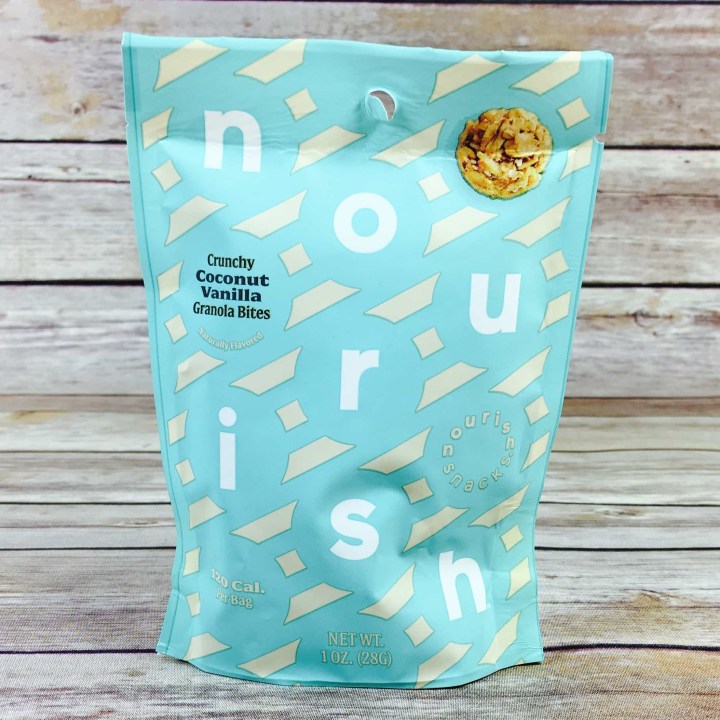 Nourish Snacks Crunchy Coconut Vanilla Bites were a hit and Gemma said she wished these came in cereal form so she could pour milk over them. I love that the ingredients are all real food items!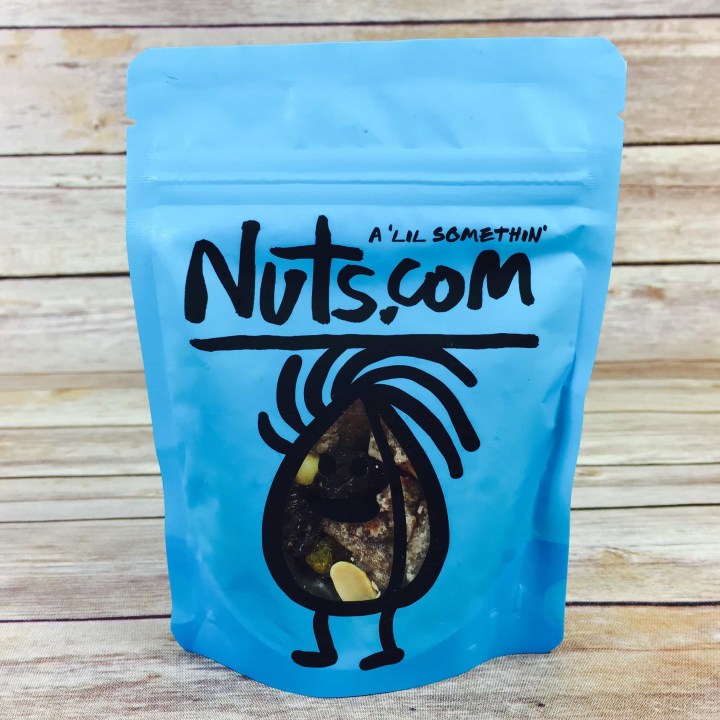 Nuts.com Power Mix After trying this delicious snack mix Gemma declared this her favorite item. Peanuts, soy nuts, raisins, cherries, and strawberries makes this sweet but thankfully not salty since no sodium was added. "OMG. I WANT MORE! It has dried strawberries and cherries! I loved that!"
OLLY Goodbye Stress in Berry Verbena Gemma texted me to say that she had tried one of these gummy supplements because she has two exams this week and it was a manic Monday. She said it tasted like mixed berry and was yummy.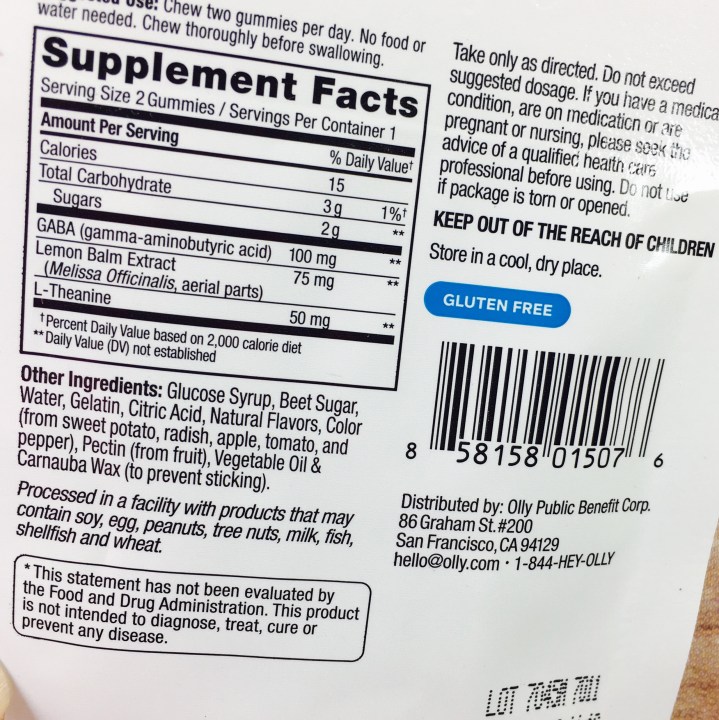 GABA may promote relaxation, ditto for the L-Theanine, while lemon balm is a traditional herbal relaxer.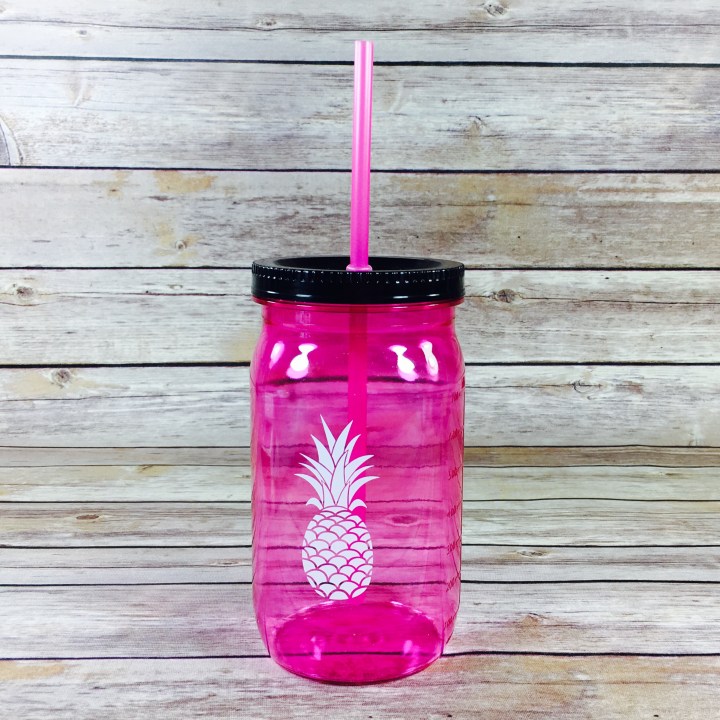 Gemma thought this BPA-free Mason Jar Cup with Pineapple and Straw was adorable, and unlike a traditional Mason jar, it's not made of glass so it's safe to carry around to classes.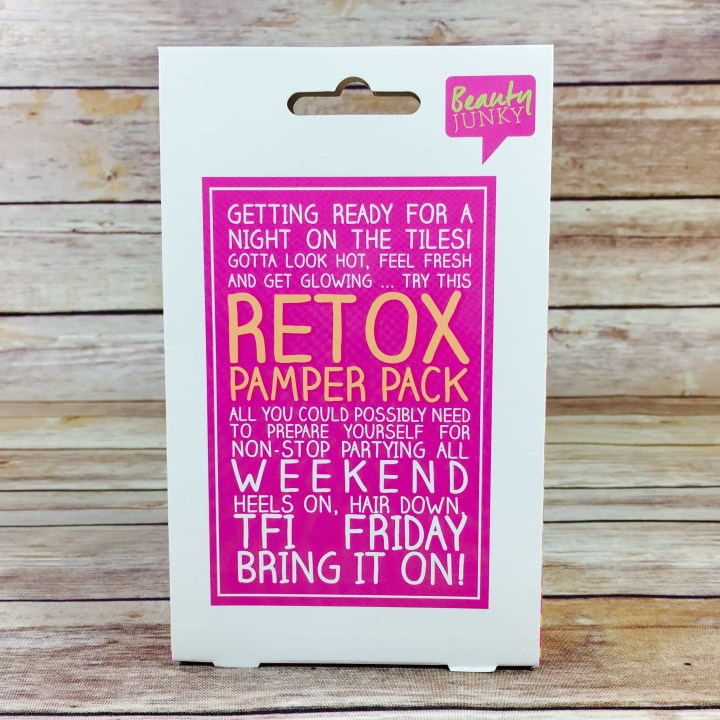 Beauty Junky Retox Pamper Pack I've heard of detox, but this is the first I've seen of retox! (After looking it up, it turns out to be not so nice.)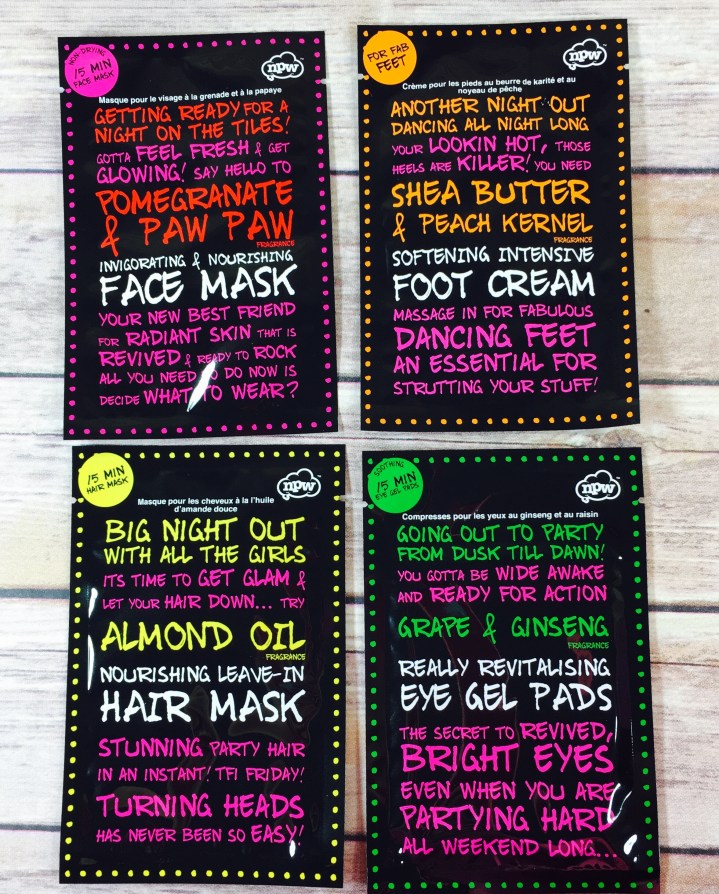 Four one-time use packs help pamper your princess. This pack includes a hair mask, face mask, foot cream, and eye gel pads. I will try to pretend that my daughter will be using this to pamper herself while she has a girls night in, rather than thinking of her partying hard all weekend long. Yes, I was 19 once too. I can still dream though.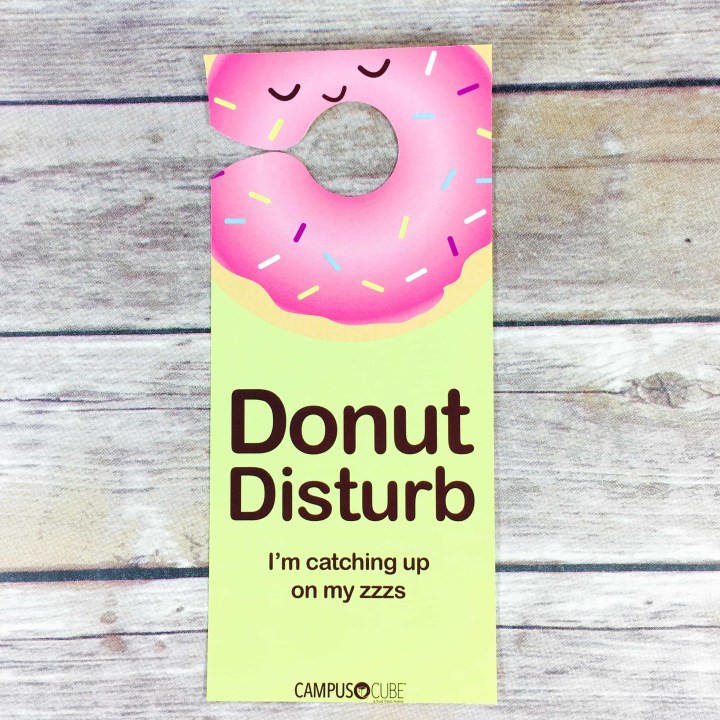 Donut Disturb Door Hanger can be flipped around to let people know if you need some quiet time to study or sleep.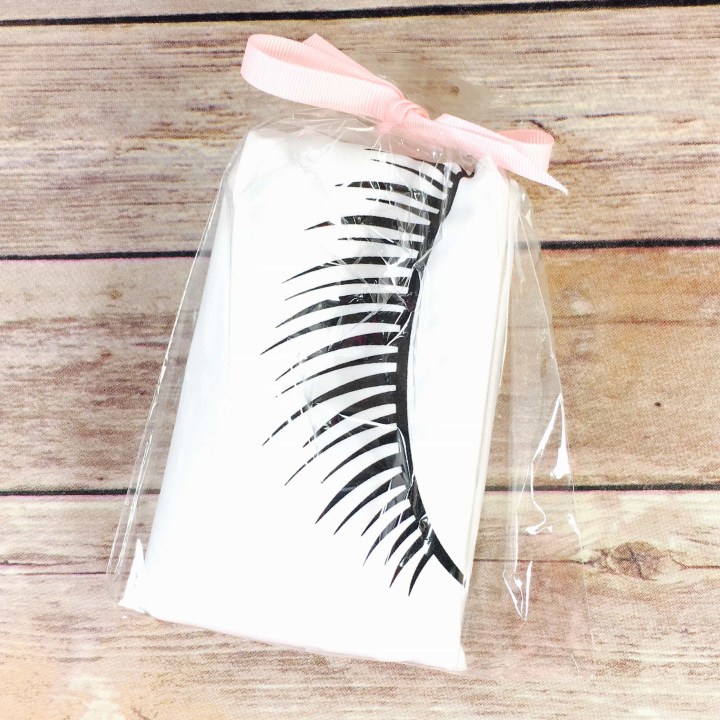 Well, this package looks cute!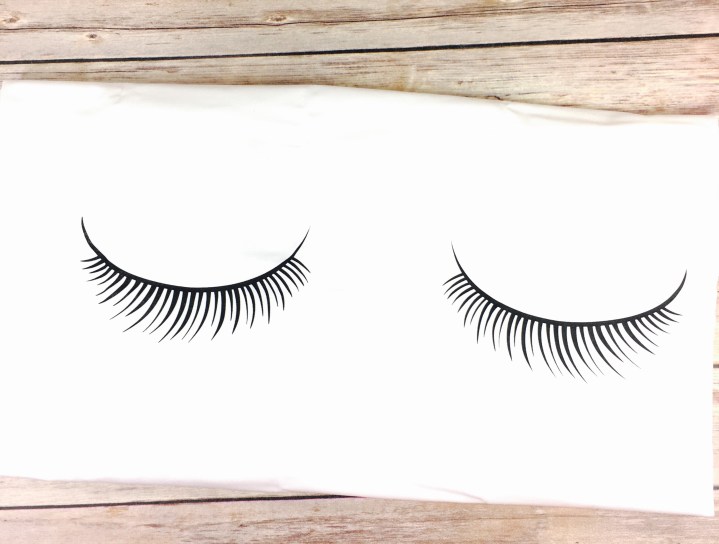 Aha, it's an Eyelash Pillow Case (similar here)! Make sure to remove all of that makeup before bed to keep this cute item from getting messed up. Gemma is a beauty queen so this was perfect for her.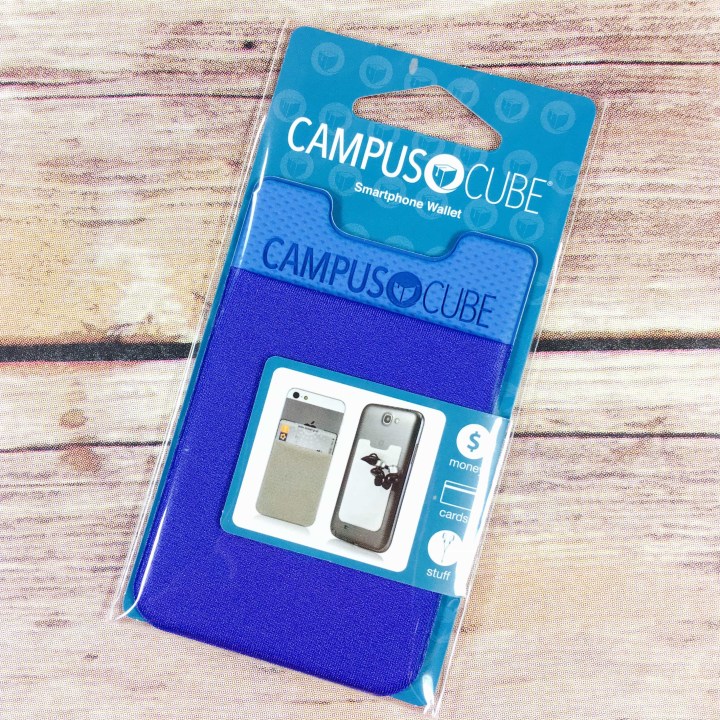 CampusCube Smartphone Wallet (similar here) fits on the back of your smartphone and holds money, ID or credit cards, or room keys. 3M adhesive keeps it securely on the back of the phone.
CampusCube sure puts out an awesome box! This is truly a wonderful care package of helpful items, delicious snacks, and pampering self-care treats. It had a cute theme and the items all went together perfectly, plus the presentation is one of the best! If you're a busy parent, you will save loads of time not running around and win points from your student for getting them such a cute box. Also, this box would be great not only for college students, but high school students or anyone who recently moved away from home who could use a little extra box of happiness once in a while.
What do you think of CampusCube? Let me know in the comments!
Visit CampusCube College Care Package to subscribe or find out more!