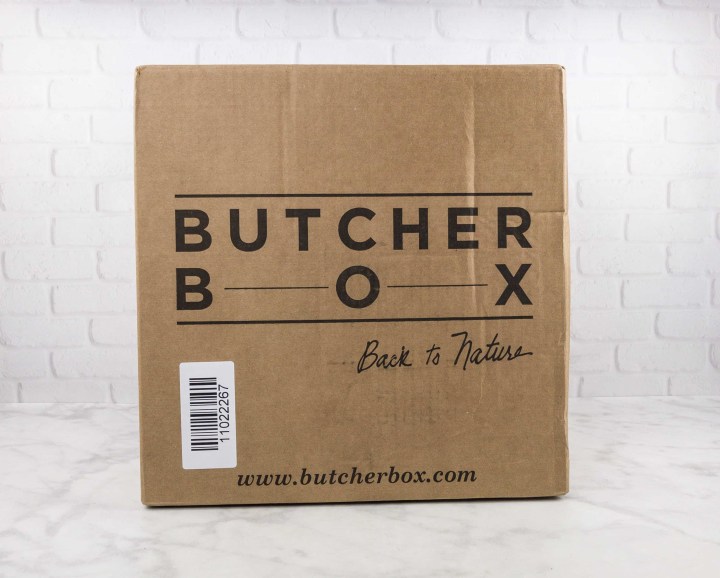 Butcher Box is a subscription box service that delivers premium quality meat for $129 per month. Each box comes with a selection of meat (about 15-20 meals worth) that has been carefully cut and prepared. The Butcher Box brings back that unique experience you get when you visit your local butcher shop. Their specialty is 100% grass-fed beef, but they also provided mixed subscription options that include heritage pork and organic chicken, too! You can also have the box delivered every two or three months depending on your needs.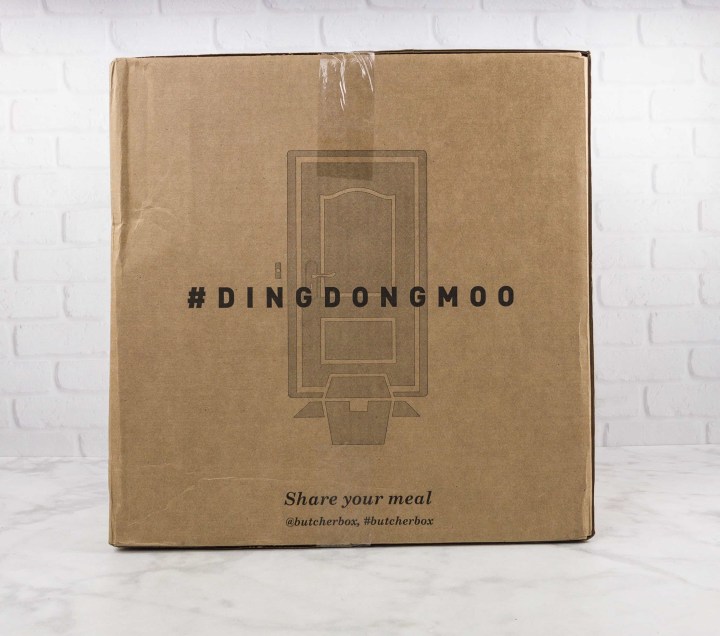 The outer packaging is Earth-friendly.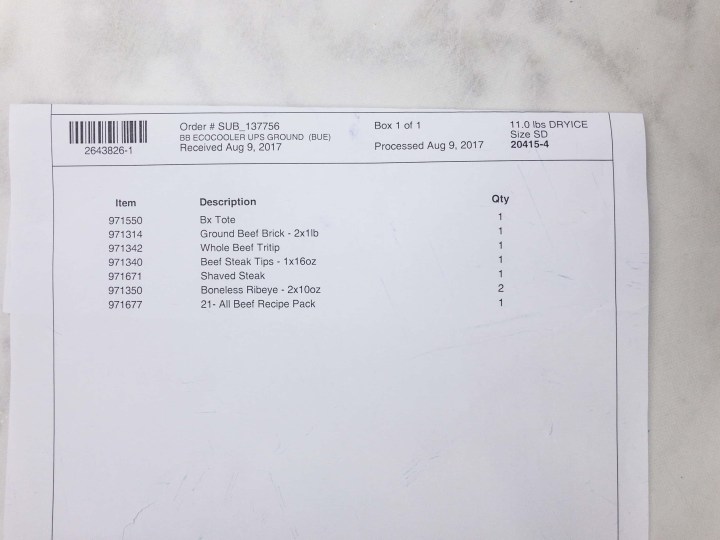 Some of the items are multi-packs, as the meat is generally divided into manageable portions for freezing and thawing as needed.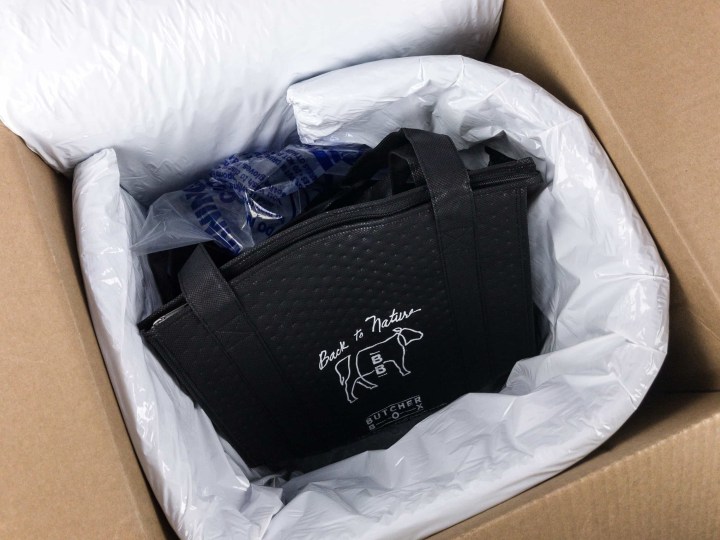 The meat is vacuum sealed in plastic, packed in an insulated bag, and then kept frozen within the outer soft-side cooler padding and box with a large dry ice pack. Careful with the dry ice!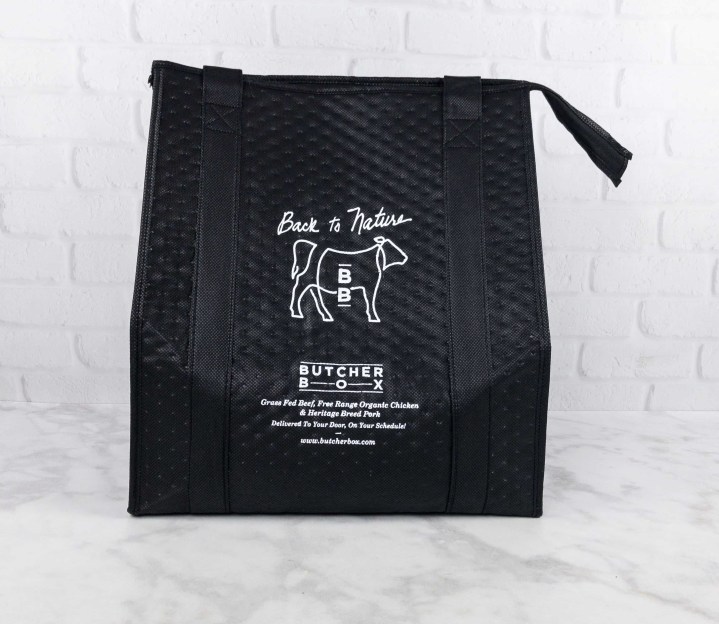 This month's box came with a custom, black zip-top reusable cooler bag!
The box includes a short set of Butcher's Notes with some pro tips on getting the most out of your meat – this one focused on marinating.
There are also recipe cards included for the Sirloin Tips and Ranch Steak.
The back of the recipe card gives you more information about the cut and instructions for thawing and prepping the meat.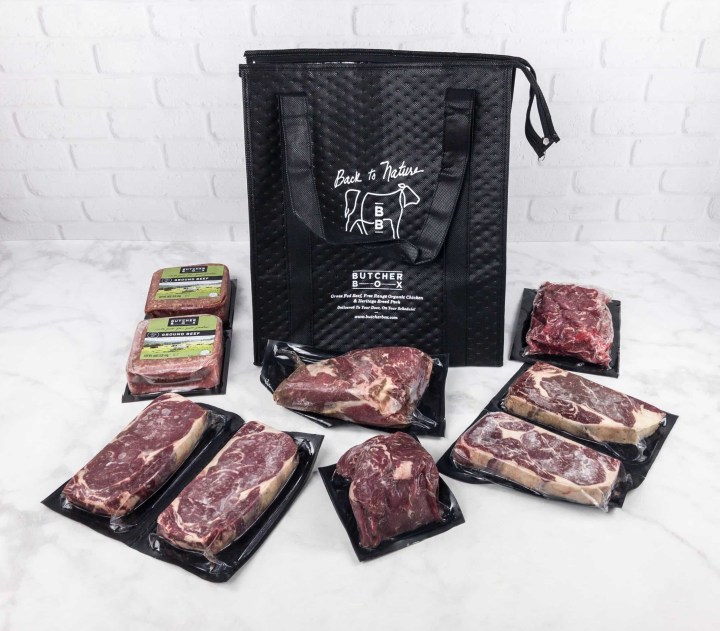 All the delicious cuts of beef included in this month's Butcher Box!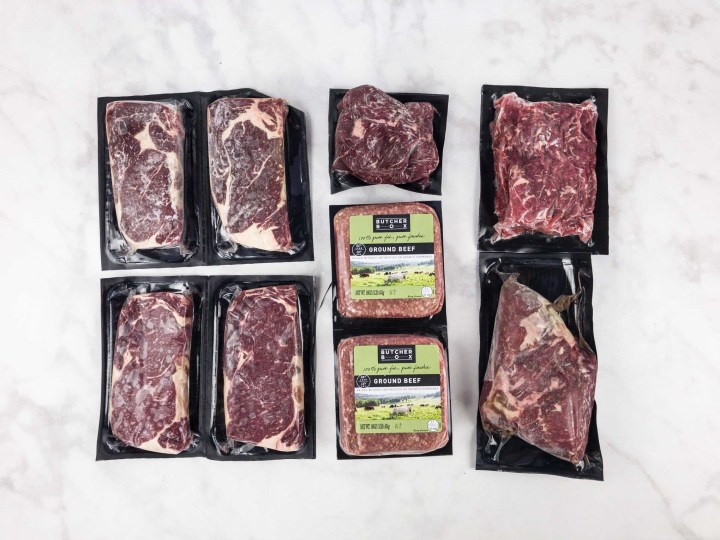 Everything is portioned to a manageable size, so you can pull it from the freezer as needed without thawing more than you want.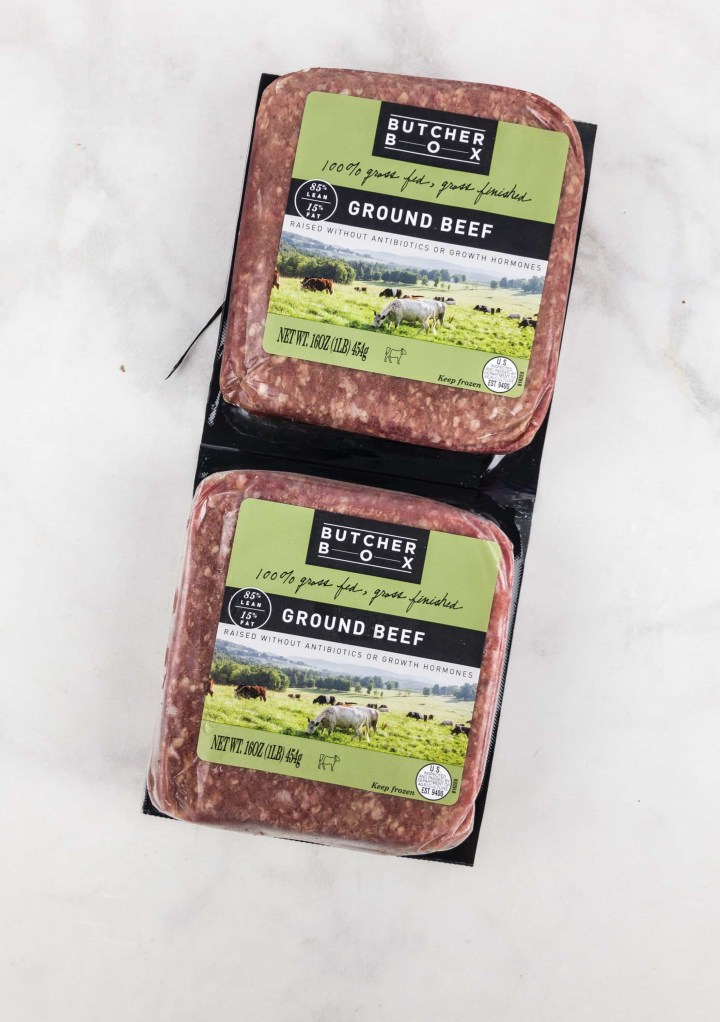 Ground Beef Brick: The ground beef is divided into two one-pound packs. It's wonderful for recipes, as a pound is commonly called for. I love to use at least one of the packs for straight-up burgers, though, since the meat is really made for it.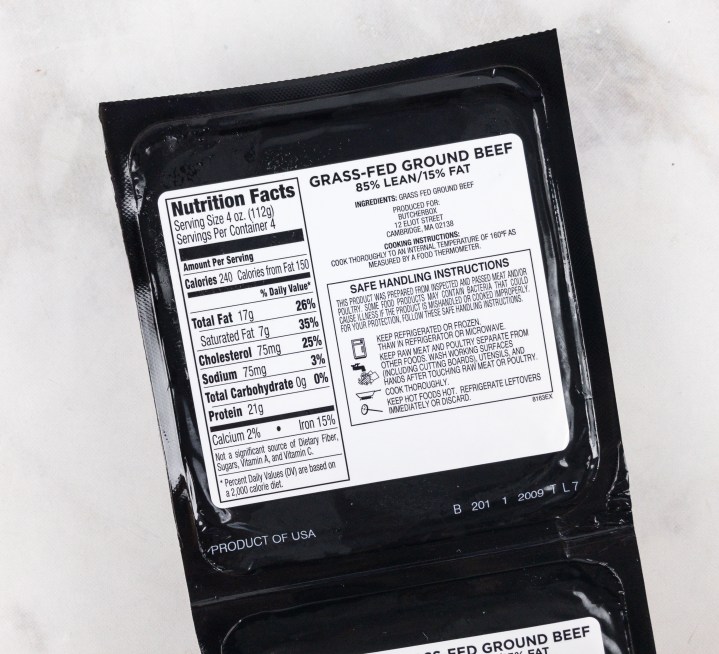 The 85/15 is great for burgers and general use. It creates surprisingly little liquid when cooked, and it doesn't flare up much when cooked on the grill. It stays juicy and doesn't seem to be affected by having been frozen (it doesn't lose all its moisture and become dry and pebbly like frozen ground beef often does).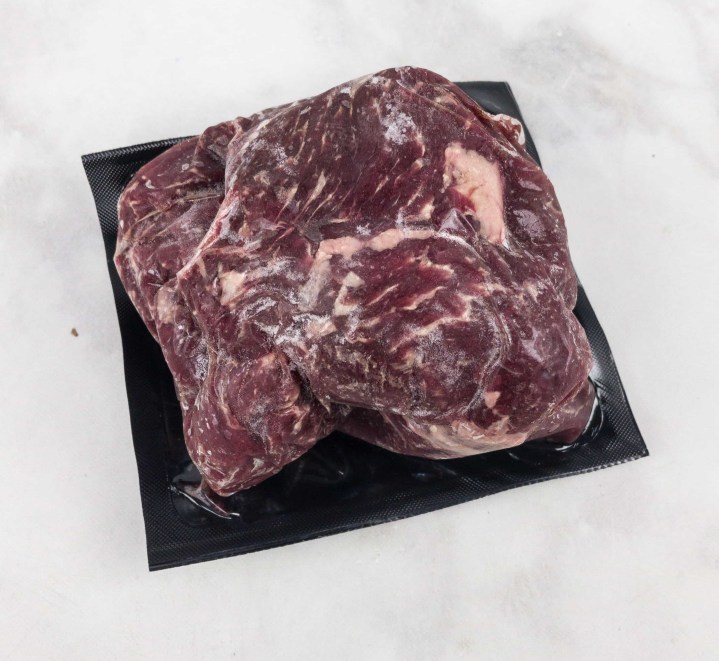 Beef Sirloin Tips: Super tender tips of beef, ideal for grilling. Just a quick marinade and they are ready to cook.
Like all cuts, the sirloin tips are 100% grass-fed. The full pound is entirely meat, so you get two big restaurant-sized portions out of the pack, or enough more modest servings to cover several people.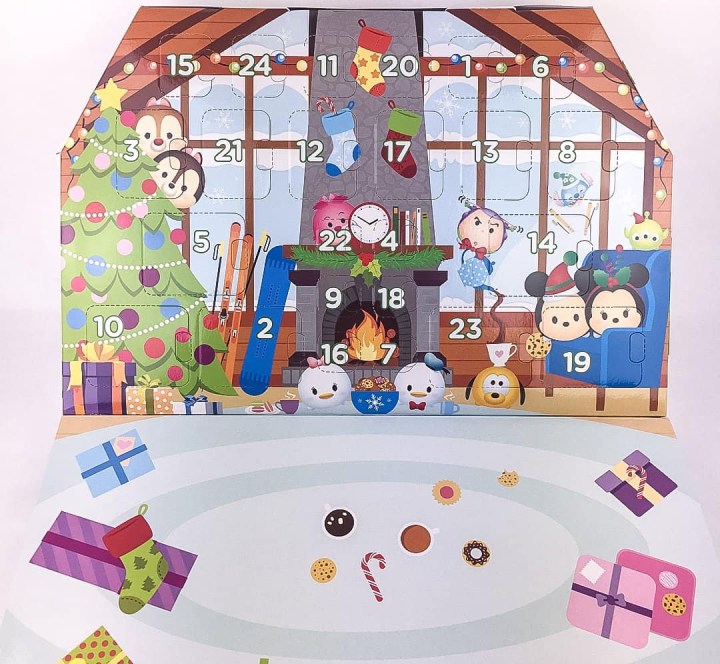 I marinated ours in a spicy balsamic chimichurri, broiled it briefly, and served it with steamed new potatoes and panko and cheese broiled summer squash (the latter two were gifted from my folk's garden!). The tips were exceedingly tender – even before cooking, I was able to tear the larger pieces by hand to make uniform, smaller bites!
Beef Tri-Tips: A big, one and a half pound slab of meat, good for roasting or BBQ.
There was very little fat on the cut – just enough to keep the exterior from drying out. There wasn't really any waste after cooking.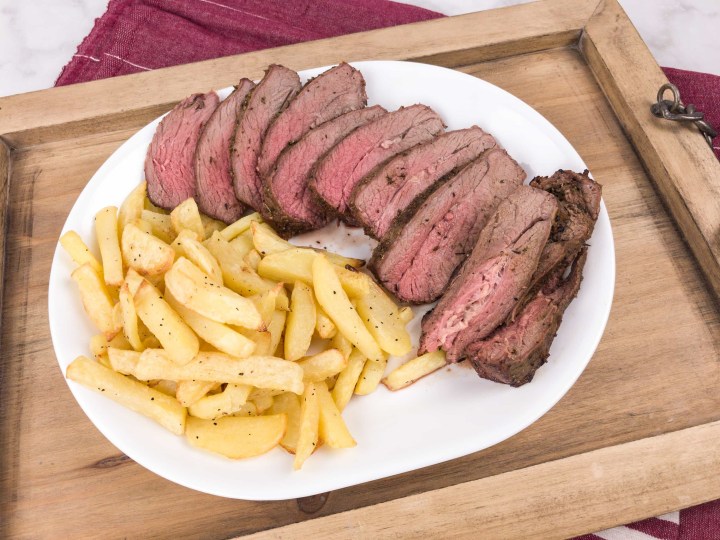 I cooked our tri-tip in a slow oven after coating in some Memphis Dry Rub and Hickory Smoked Sea Salt from Raw Spice Bar.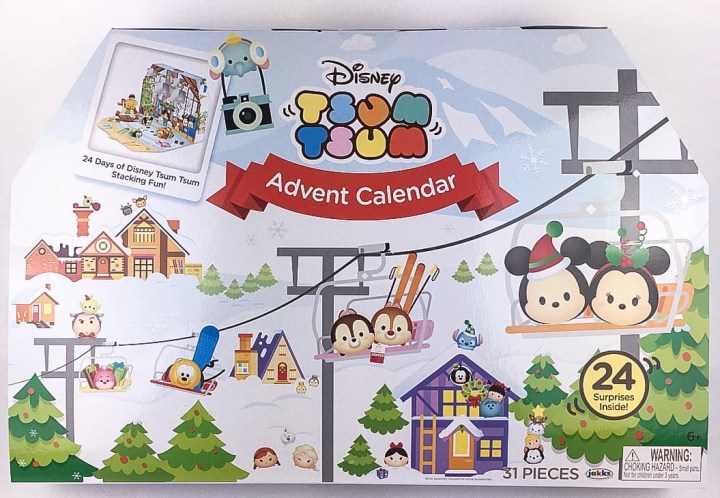 We plated it with some homemade oven fries. This cut is flavorful and hearty, and the slow cooking even made it somewhat tender. I love the evenness of the pink when cooking in a slow oven. You can see how lean the meat is – there is only a tiny bit of fat in the middle to eat around.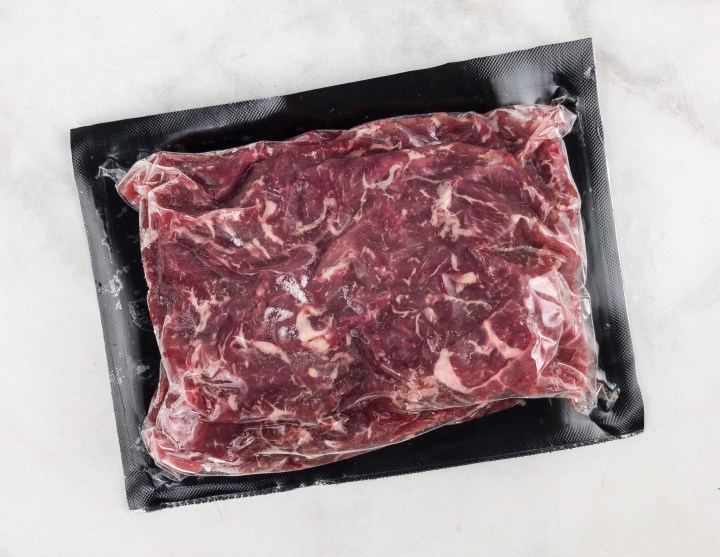 Shaved Steak: Tender steak, shaved thin for use in cheese steaks or stir-fry applications. It is quite well-trimmed for shaved steak — compare to what you see at your grocery store, which is largely trimmings from other steaks.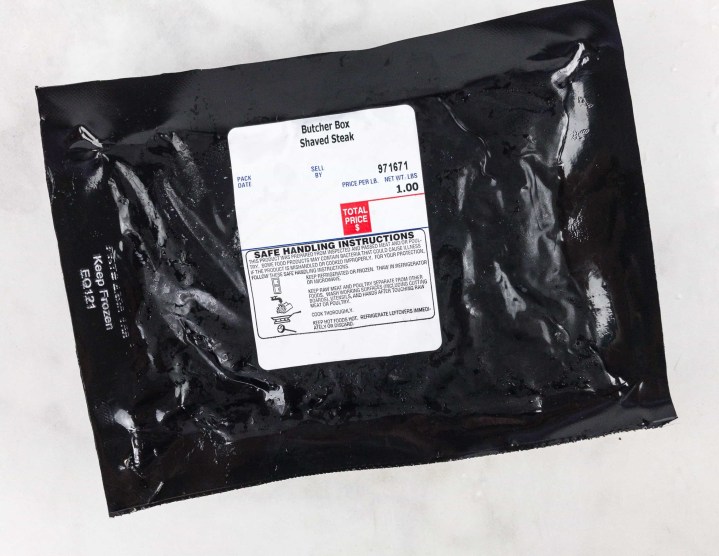 This is a super handy cut to have in the freezer, as it is very versatile – I think it is best suited for Korean BBQ.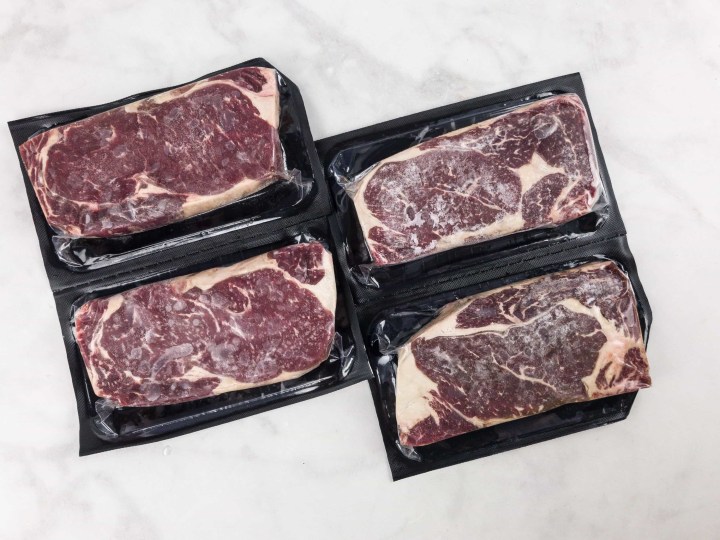 Beef Ribeye Steaks: These steaks come two to a pack. The marbling is nice, yet the center of the steak is relatively lean. The bands of fat are ample enough to give the big, greasy ribeye flavor, but there isn't much waste once cooked.
Each is a whopping ten ounces, plenty for a hearty portion – we usually split one between two people (and we have to split both the loin and strip portions, just to be fare).
I love the quality of the beef we get from Butcher Box. It has great flavor and is well-trimmed for the intended purpose of each cut. I never feel like there is anything wasted, as the cuts are generally lean or gently marbled, with any fat left on being appropriately portioned to flavor and baste the meat as it cooks.
This box is of course expensive. Each box comes with 7 – 10 lbs of meat, which is enough for around 20 individual meals (at a 5 – 8oz portion size), which works out to about $6.50 per portion for the meat – and there is no difference in cost between getting all grass-fed beef or mixing your box to include organic chicken and heritage pork. You may see those as "filler" items or as valuable variety. It arrives in a deep freeze, and it is portioned into manageable sized cuts. This makes it easy to portion out over time, making it a good medium-term investment in protein – you can treat yourself to steak night once a week and think of it as a lifestyle enhancement instead of a one-time splurge.