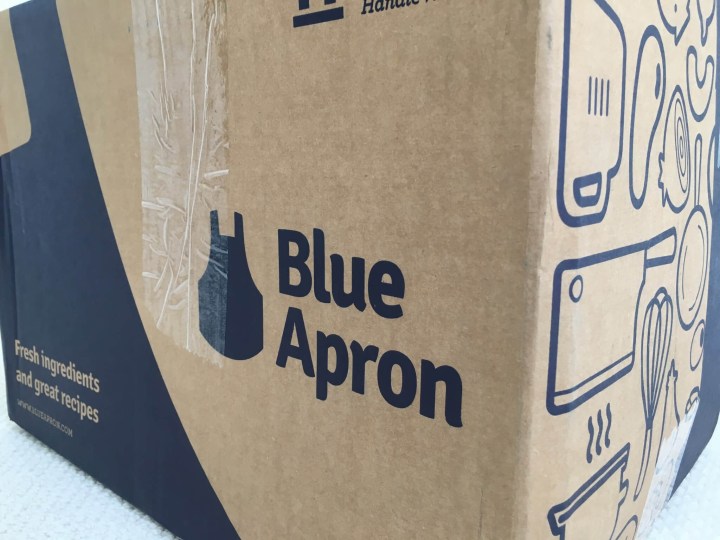 Blue Apron is a subscription box for making great meals at home. If you're like me, you periodically find yourself in a serious cooking rut. You make the same things every week, but the thought of researching a recipe and acquiring all of the ingredients is just too much work. Blue Apron is the solution! Each week, Blue Apron sends you a refrigerated box with all the fresh ingredients you need to make the included recipes. You can select the 2-person plan – 3 meals a week of 2 portions each – or the family plan – 2 to 4 meals a week of 4 portions each. The menus are set, but you can ask Blue Apron to avoid ingredients you don't eat – shellfish and lamb, in my case.
We got the Family Plan for 2 meals. I set the delivery date and it arrived right on time, securely packaged in a heavy-duty box. All of the ingredients are wrapped in an adorable insulated blanket and cooled with ice packs. Mine took a day to arrive and sat on my porch for 3 hours, and everything was perfectly cool inside.
Pricing: 2-Person Plan – $59.94 for 3 recipes. Family Plan (serves 4) – $69.92 for 2 recipes, $139.84 for 4 recipes.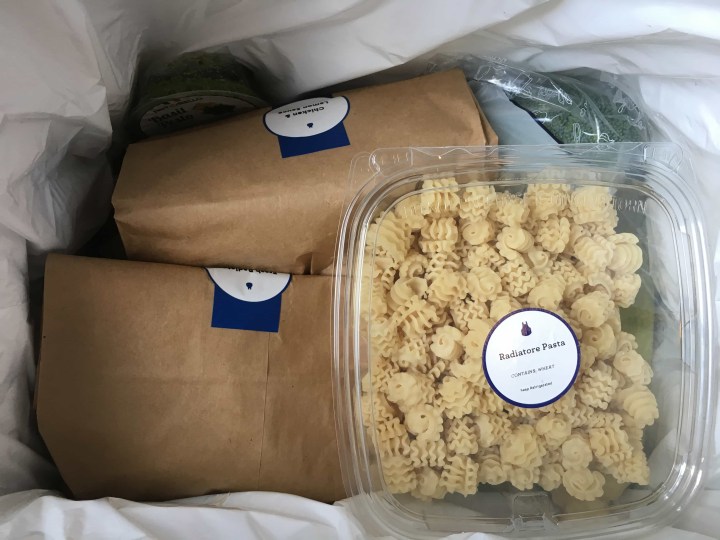 The box is now generally divided by meal, which reduces time needed to sort the ingredients. Nice!
DEAL: Save $30 on your first order! Use this link – no coupon code required!
The meat is at the bottom, surrounded by still-frozen gel ice packs. The chicken package was also bagged in a zip-top bag, so no concerns about leakage. The produce was all in good shape this month, plus we got a little bonus info on kitchen optimization. I am, personally, opposed to utensil crocks taking up space on my counter, but I am excessively zealous about keeping my counters clear.  (Coffee pot, toaster, knife block–that's it).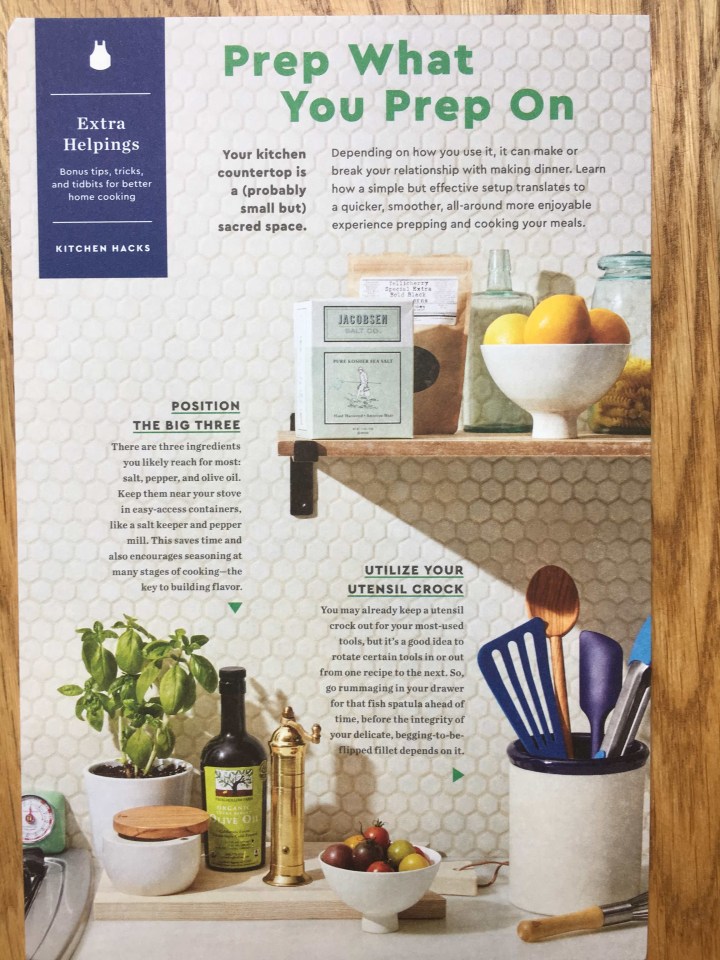 Our first meal was the Chicken and Lemon Caper Sauce, which was "trending," according to the Blue Apron site.  I don't know what the metric is for that, but, sure,  I can get behind trending.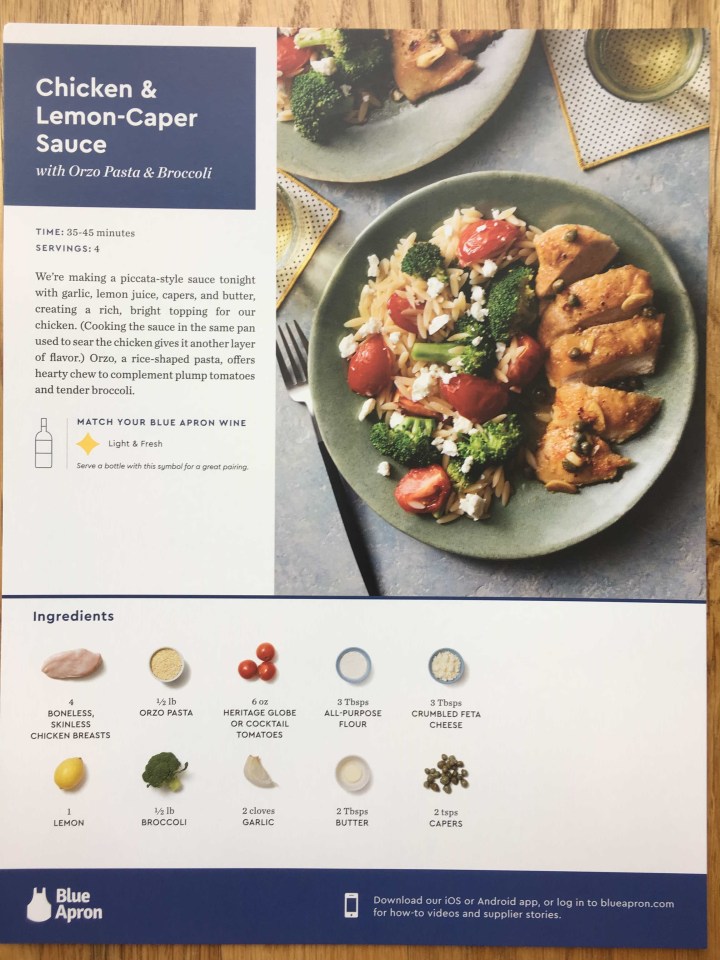 As usual, all of the produce was included, even a bag of 25 capers, which I'm sure was super fun to fill. The chicken is hormone-free and humanely raised.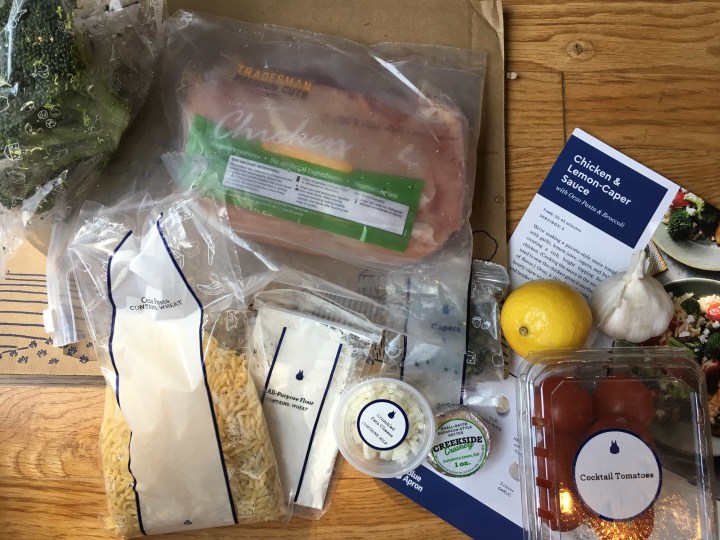 The meals come with nutrition info and ingredients. Know what you're eating!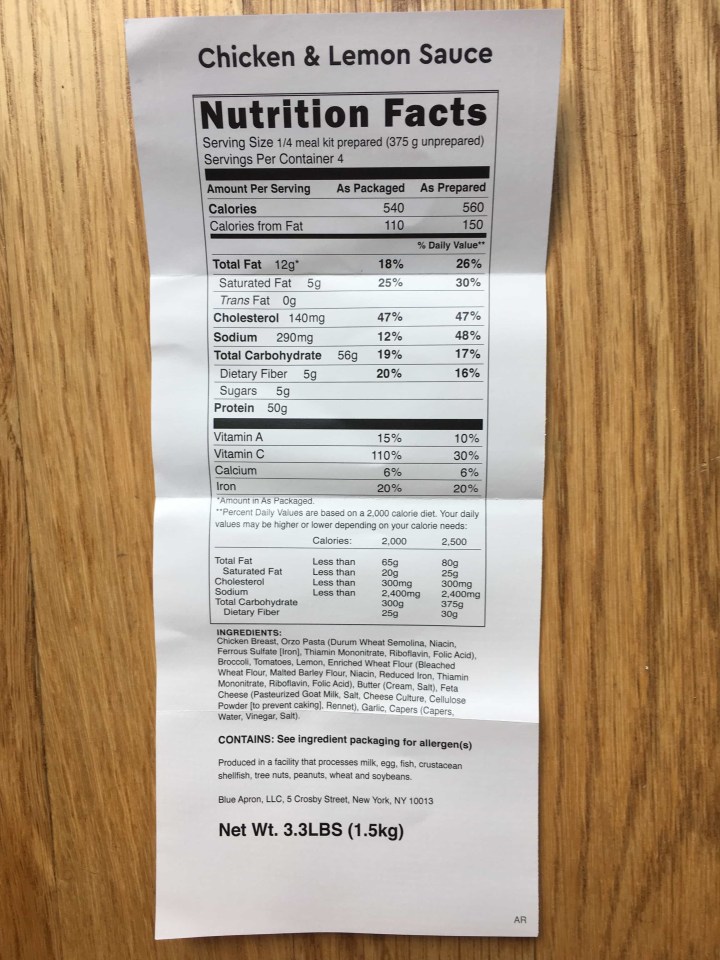 All of the directions are straightforward. Start the water boiling right away, though!
Not much prep needed for this recipe, which I appreciated on a sports-and-birthday-party-filled Saturday.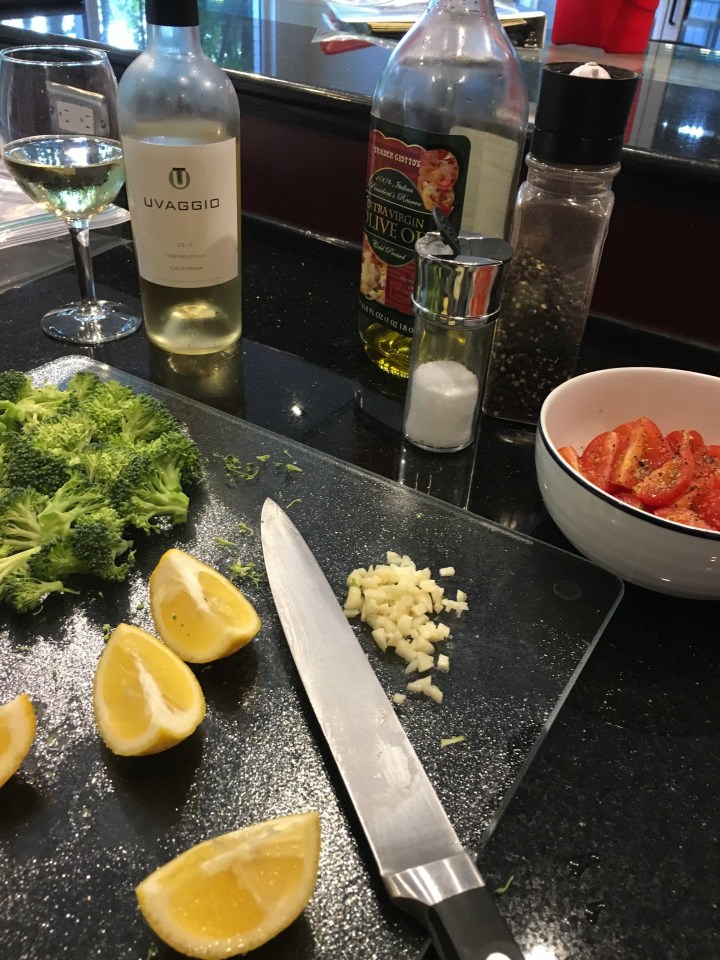 Prep was easy for this one, which I appreciated on a busy sports-and-birthday-party-filled Saturday. And, yes, that's a Blue Apron wine subscription glass of wine over there. See above re sports and birthday parties.
The recipe calls for 4-6 minutes per side for the chicken, but I always check with a meat thermometer, and these needed a bit more time. Avoid pathogens, my friends.
This was pretty tasty! Nothing complicated here–meat and a pasta-veg side. The lemon caper sauce came up a bit browner for me than the recipe suggested, so I probably didn't thin it out enough. This is one of those meals you can easily make on a weeknight and satisfy everyone. Thumbs up.
Our next meal was another dose of carbohydrates with the Fresh Radiatore Pasta and Basil Pesto. (Radiatore, like radiator coils!  Adorbs).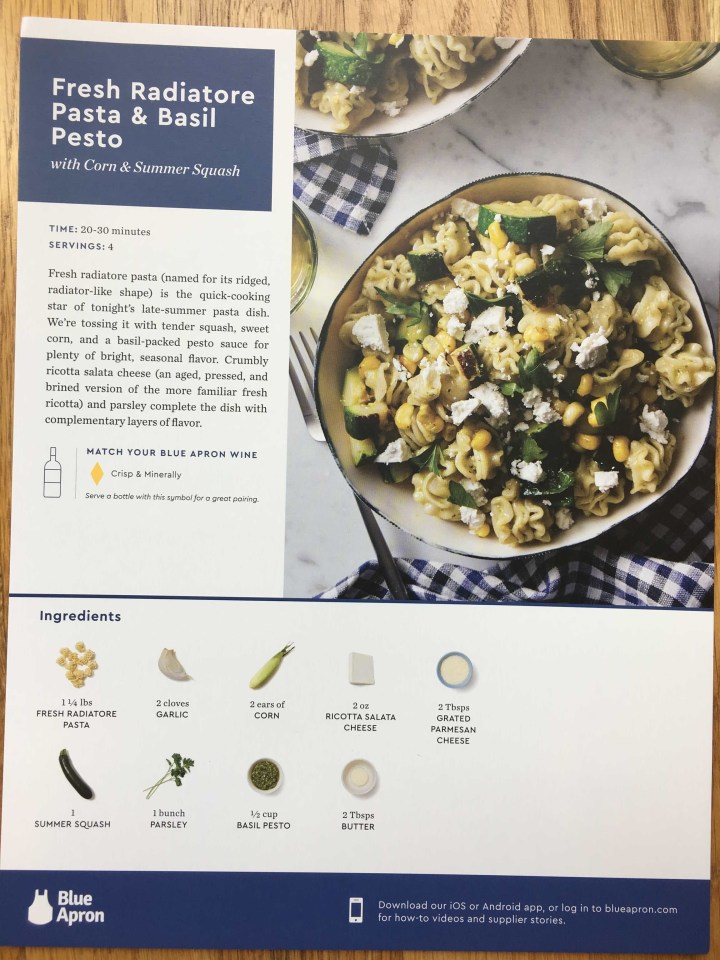 I always thought I didn't like zucchini until I started getting it in my Blue Apron boxes. I'm a convert–they last in the fridge for a while, they cook fast, and they go with literally everything. Happy to see one in this box–we're approaching the end of the non-greenhouse squash around here, so it was nice to have a good fresh one.
As usual, Blue Apron does a great job of sending you just the amount you need for the recipe, so you don't waste anything; nor do you have to think about how much to add to the recipe. (Except! This month was a little weird with the proportioning. More on that below).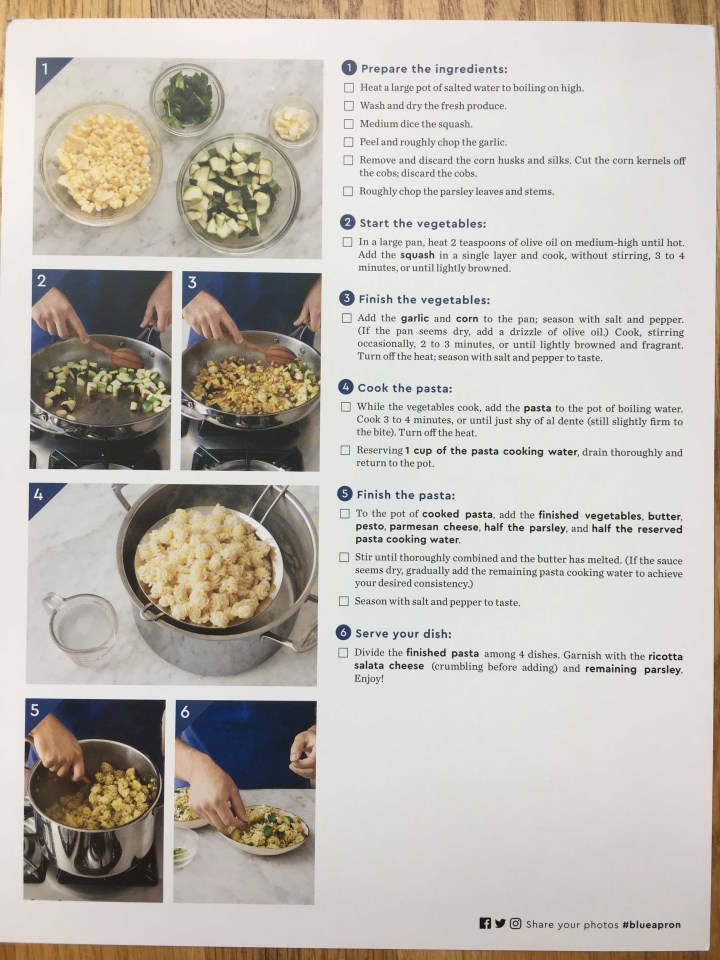 Each recipe comes with these easy-to-follow instructions. Even if you are new to knife skills, you will be able to do everything on this list. Use a sharp knife to get those corn kernels off without splattering the kitchen in corn goo.
No eats a bowl of pasta because they thought about the nutrition facts.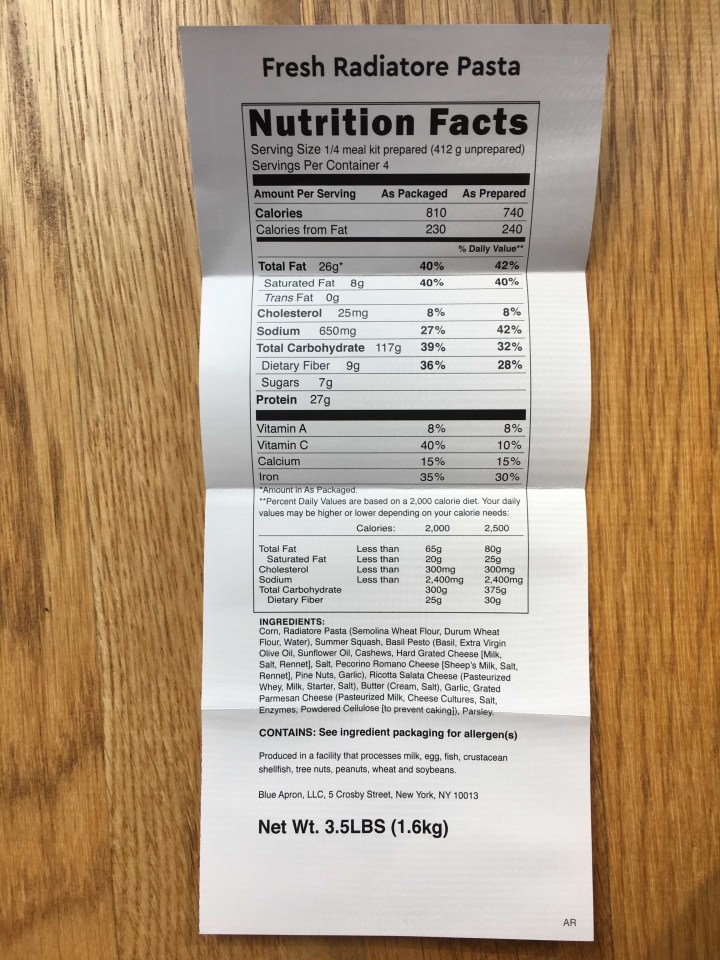 This meal was straightforward to make. Check out this gorgeous ear of bi-color corn. The produce was really good quality this time.
Yes, that's chicken in the pot down there. Yes, it's leftover from the lemon caper chicken meal. Look, I like a vegetarian meal as much as the next person, but if I don't want to be hungry in two hours, I need some protein.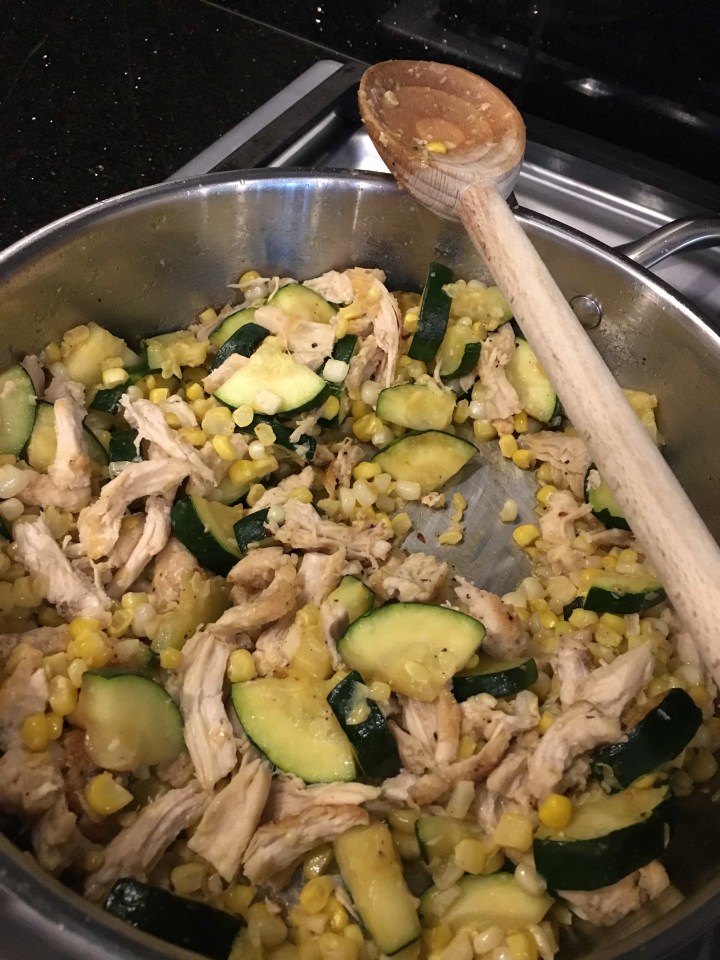 So, something went awry with this recipe. It was a TON of pasta, easily a full pound, and the pasta was very dense. I pulled some out to use for another recipe in the week, and I still had more than was right for this recipe. I had to add some extra pesto from my pantry and some corn from the freezer. Plus, as I said, the chicken. Without all that, this would have been a lot more like a side than an entree.
That said, the meal tasted really good! The flavors were great, and even the picky eater liked it (because, butter). We had leftovers for three days. Qualified thumbs up.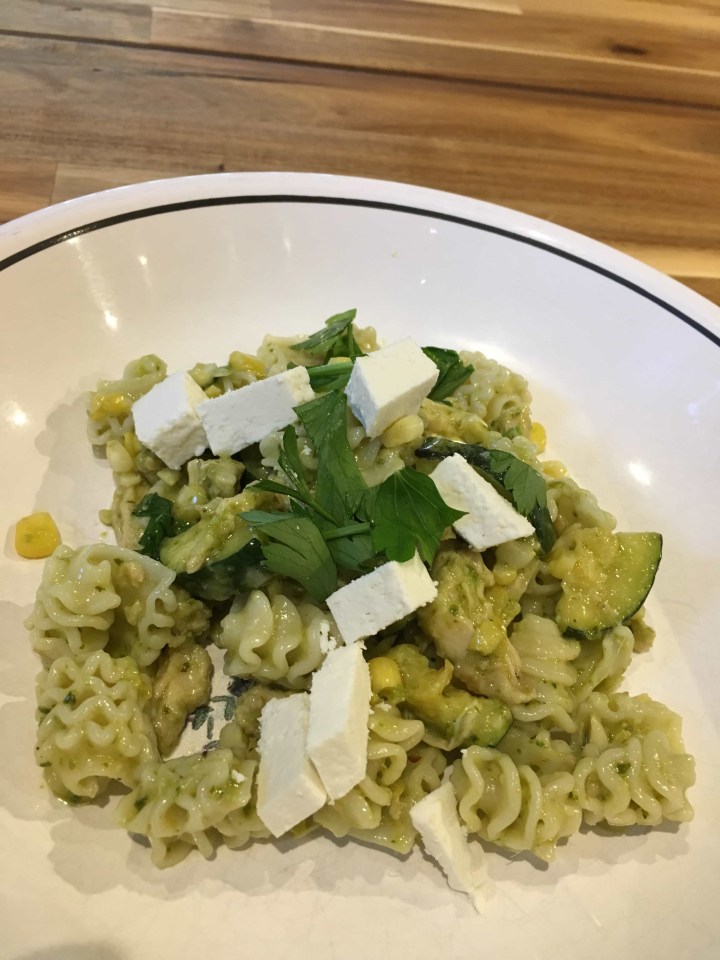 Hey, did you know that Blue Apron has a wine program now? It's super easy to match your wine to your meal, even if the wine is new to you, like that tasty Vermentino I had with the chicken.
It's nice to not have to decide "what's for dinner" all the time. Overall, Blue Apron has been enjoyable and gets us out of our boring dinner routine. Honestly, you can forget how fun cooking can be. Interesting ingredients, easy recipes, and delicious food. We can't wait to see what we get next time!
What do you keep on your counter?  Let us know in the comments below!