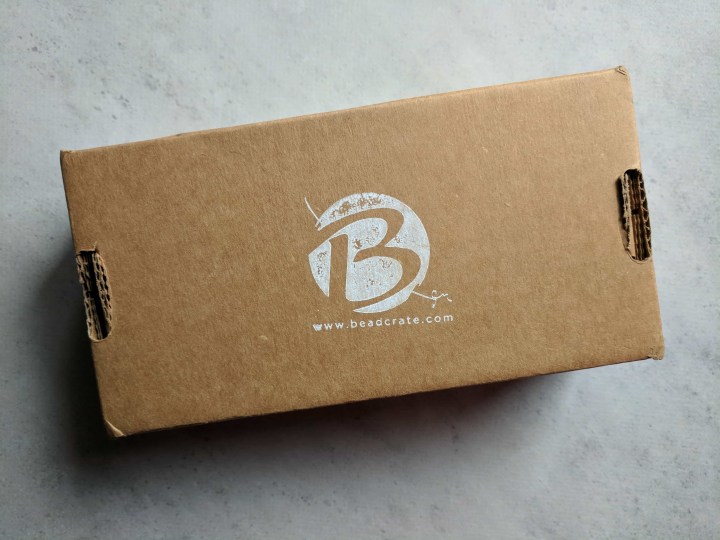 BeadCrate is a monthly subscription box for bead enthusiasts. Every month you'll receive a curated collection of beads, findings, and other goodies to enhance your beading creations! There are three box sizes – Hobbyist ($7.99), Enthusiast ($15.99), and Collector ($35) [prices don't include shipping] to choose from. This is the Enthusiast Crate!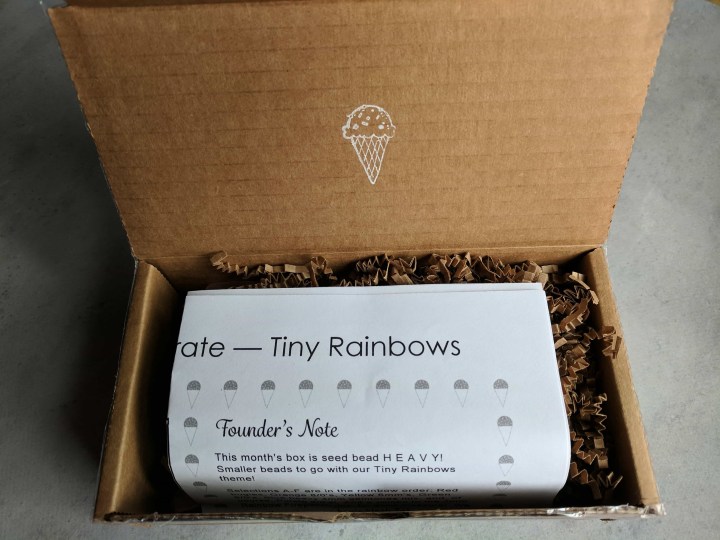 The beads always come neatly packaged inside individual well-labelled plastic bags inside a cute organza bag.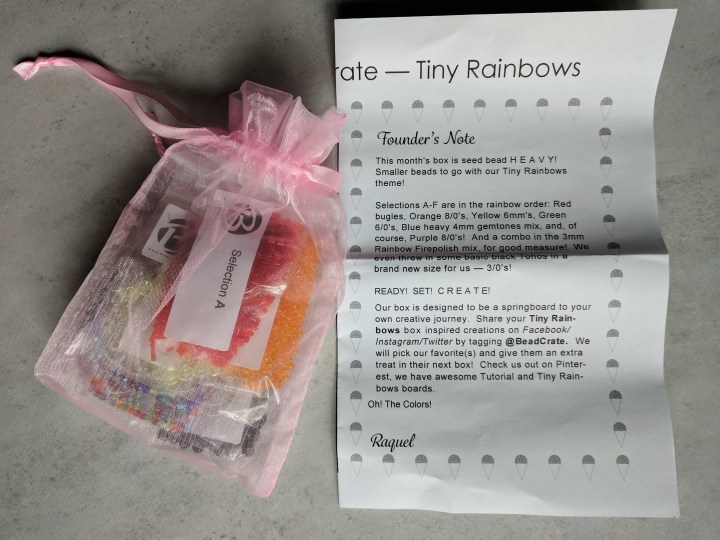 We also have a curator's note explaining the theme. This month, this box is all about Tiny Rainbows! You can share your creation on their social media (Instagram or Facebook, don't forget to tag them!) for a chance to get a little surprise in next month's box.
The crate comes with a chart that tells you exactly what you're getting.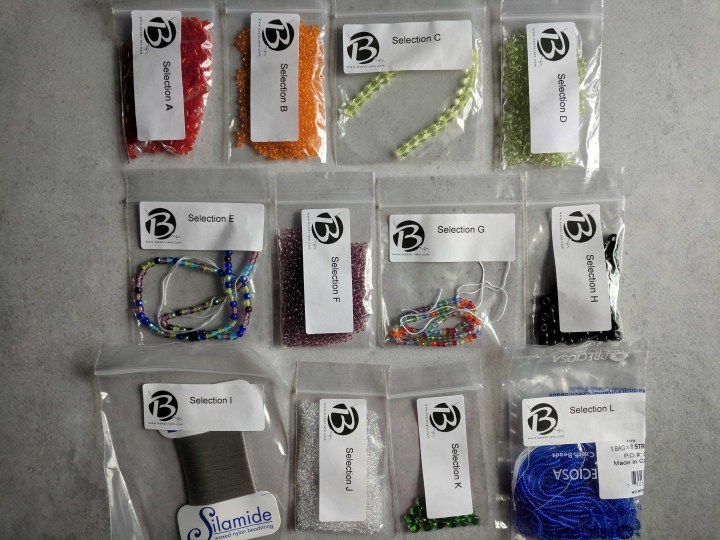 So many colours!
This month is heavy on seed beads!
Toho 8/0 Transparent Lt. Amethyst, Toho 11/0 Transparent Rainbow Crystal, Toho 8/0 Transparent Lt. Hyacinth. So many seed beads, so pretty colours! The Orange and Purple beads are the same size and translucent, so the choice of thread is quite important! Seed beads are very light, so they are easy to use for earrings with long fringes, or for a tassel on a necklace. They are great also for bead weaving or to make delicate shapes for a necklace or bracelet.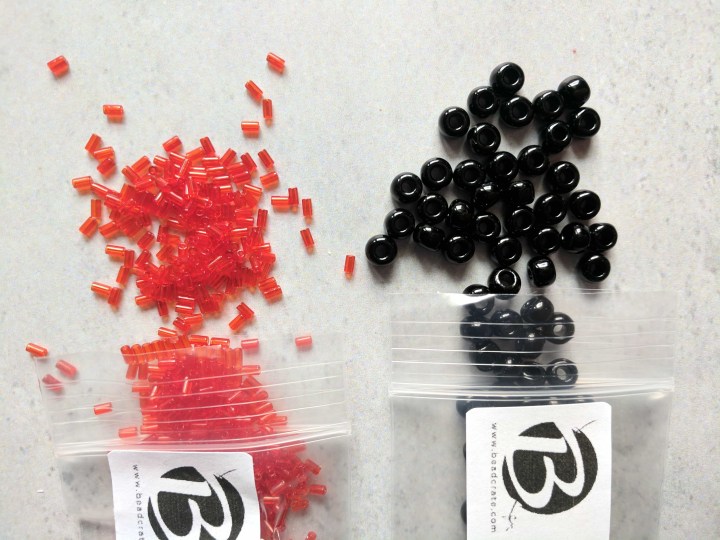 Toho #1 Bugle (3mm) Transparent Siam Ruby, Toho 3/0 Opaque Jet. The bugles are so pretty to make fringe earrings! And the big black beads could be used in a wire wrapping design, or put one bead per jump ring attached to each other! The hole is wide enough to accommodate the curve of a small jump ring!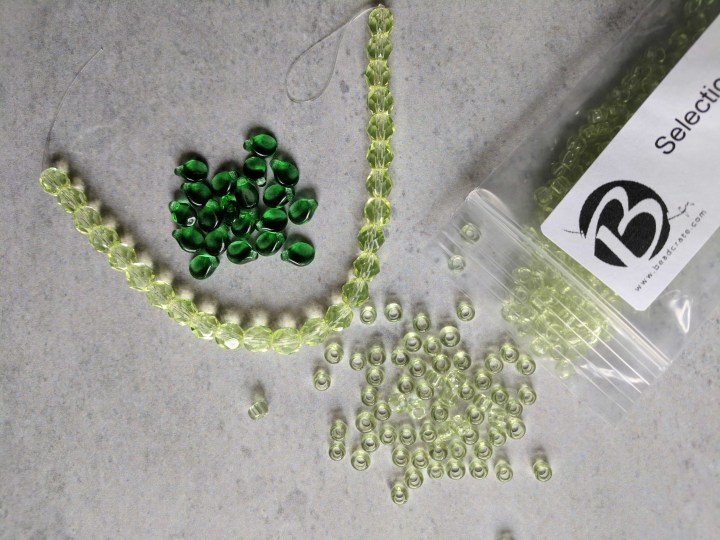 6mm Firepolish Jonquil. It wouldn't be a Bead Crate box without some firepolished beads! I like the colour of these ones, but I feel more inclined to do something for the spring than for the fall with them. Maybe because of the name! Firepolished beads are great to add a bit of sparks to any design, even a simple one like a pair of earrings with charms.
Toho 6/0 Transparent Citrus Spritz. They are about the same colour as the firepolished beads. They are super pretty, and somehow reminds me of a mojito (maybe because of the dark green beads that I added to this picture!) They are bigger than what I would consider "seed beads", but not as big as the black ones.
5×7 Green Pips. I love the colour! It's a rich dark emerald green. The hole goes sideways where the bead is pinched. It can make a pretty dangle earring with the firepolish beads.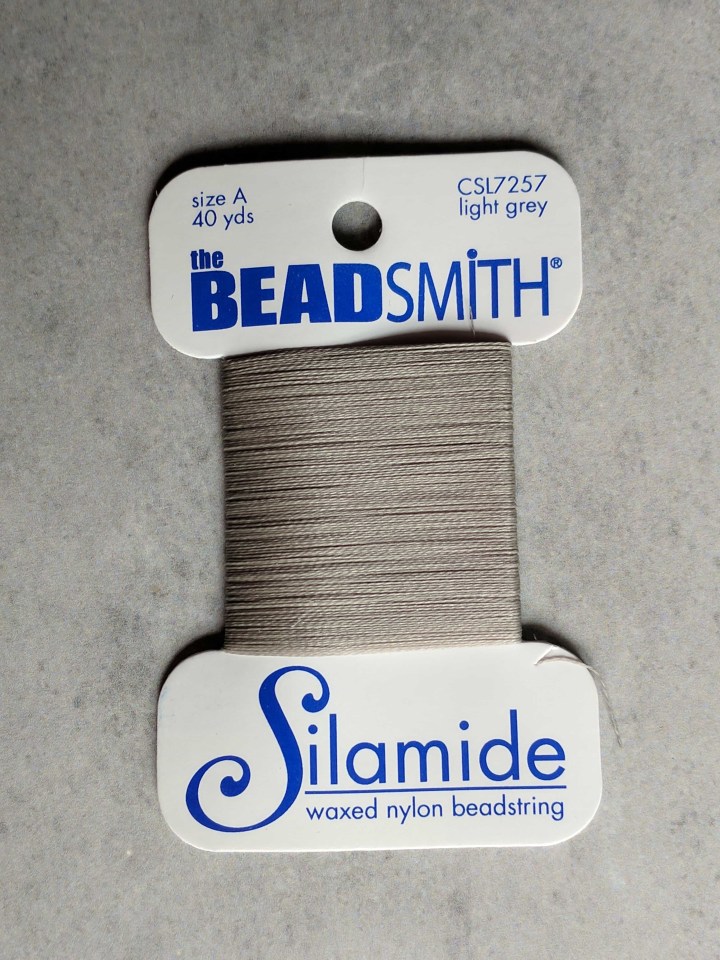 Silamide Thread Size A Pale Grey. The thread is actually grey, not redish/beige/grey like on the picture! It's a nice neutral colour to go with the rainbows from this box! I actually used it to make this month's design.
4mm Gemstones mix Druks. I love love love the colours! It has rich dark blues and burgundies, with light yellow and amethyst.
3mm Firepolish Rainbow. White, pale yellow, green, amethyst, orange, blue and reds. Seven different colours to make our own rainbow! I used them for this month's design, I just love how they have just the right amount of sparks to not overwhelm a design.
11/0 Sapphire 6 String Hank. For those who wants more seed beads, here's some more in a precious gemstone colour!
I like contrasting a lot of colours with a solid white or black colour. This month, I was a bit overwhelmed by the amount of seed beads we received. Because of that, I chose only one type of beads and went with it. I made a multi-row seed bead necklace using matte black seed beads that I had, mixed with the 3mm firepolish rainbow beads. I love how it turned out, and I'll be wearing it to a formal family reunion next week.
This month's box was a dream for any seed beader out there! Lots of colours, lot's of sizes, and a lot of happy tiny rainbows! I didn't use a lot of the beads, as seed beads are still my nemesis, but it's nice to have a bunch of them for when I'll try my hand at a bigger project!
What do you think of this month's BeadCrate box?