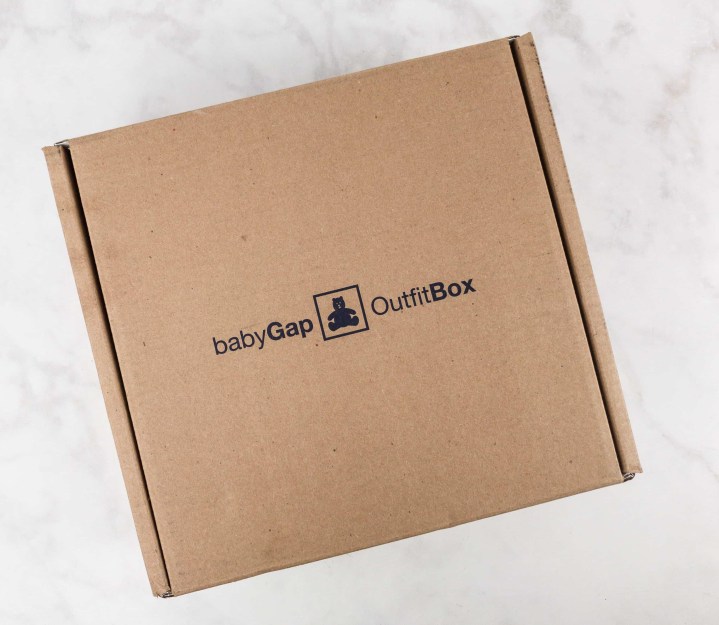 babyGap OutfitBox is a quarterly subscription from babyGap that delivers mix and match pieces for your baby's OOTD! Each babyGap OutfitBox is $70 (with over $100 value) and contains 6 adorable apparel items for baby.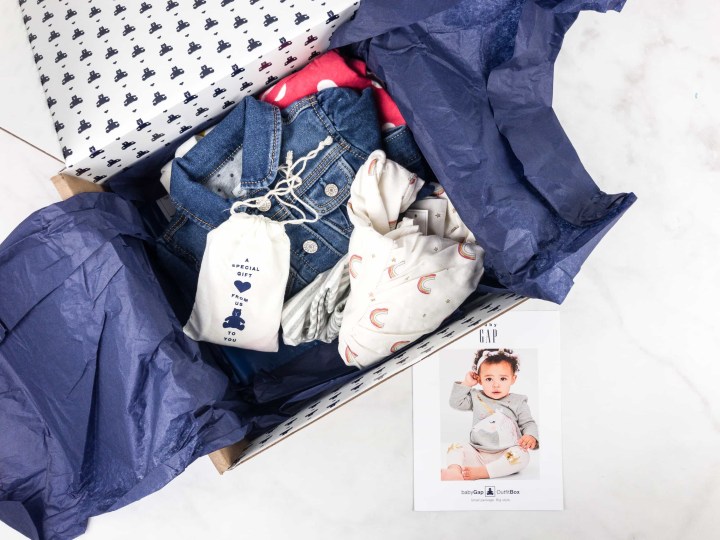 Everything looks cute from here!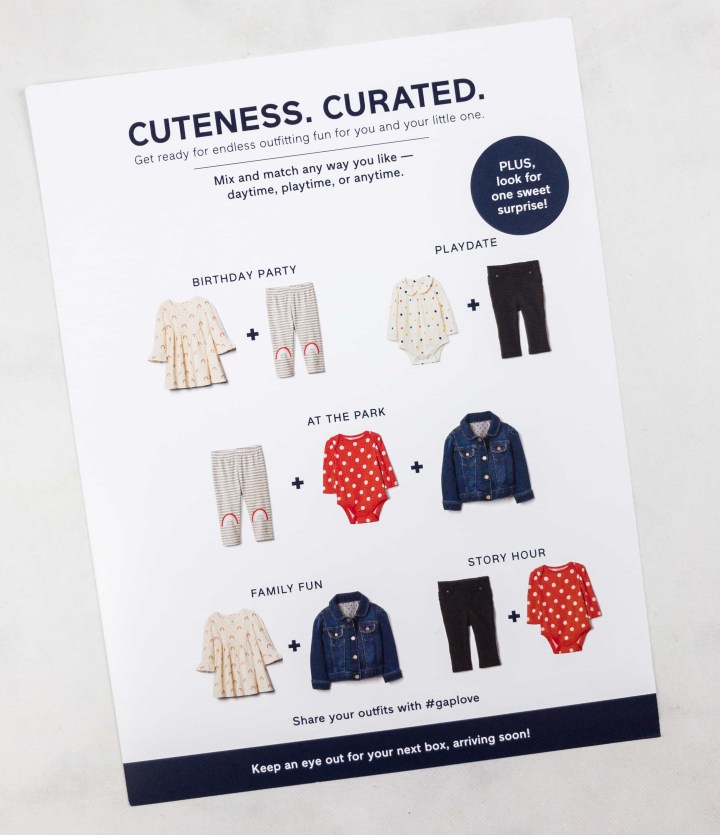 When you sign up you'll be able to select size, birthday, and gender. This box is for a 3-6 months baby girl. If you select a size larger than 0-3 months you'll also have a style profile choice.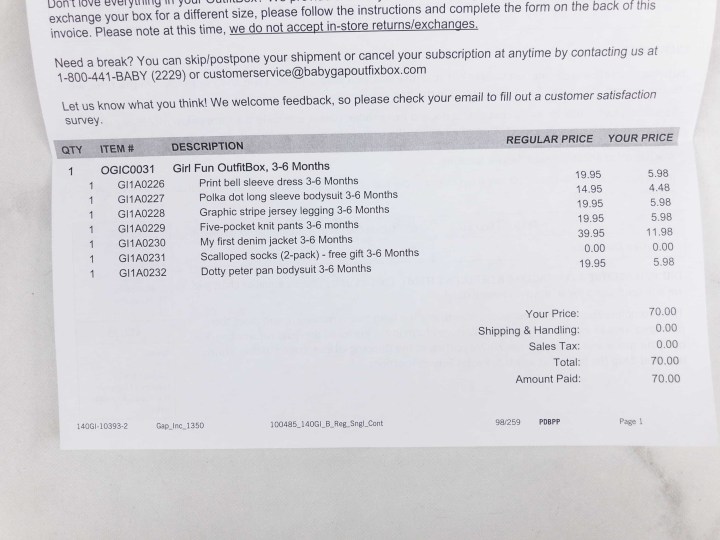 The information card comes with a list your baby's outfit for this quarter, plus their retail and discounted value. You can return anything for free and obtain a refund of the discounted price.
Everything in my babyGap Outfitbox! It's super cute – I picked the "Fun" outfit style.
We received a special gift from BabyGap this quarter!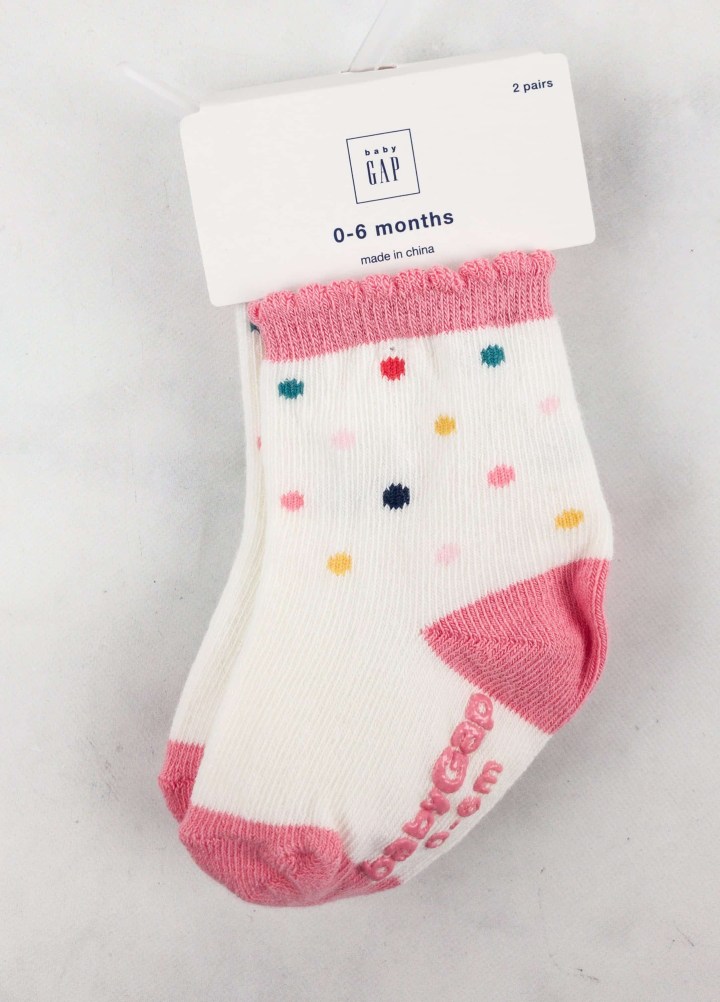 2-Pack Scalloped Socks ($7.95)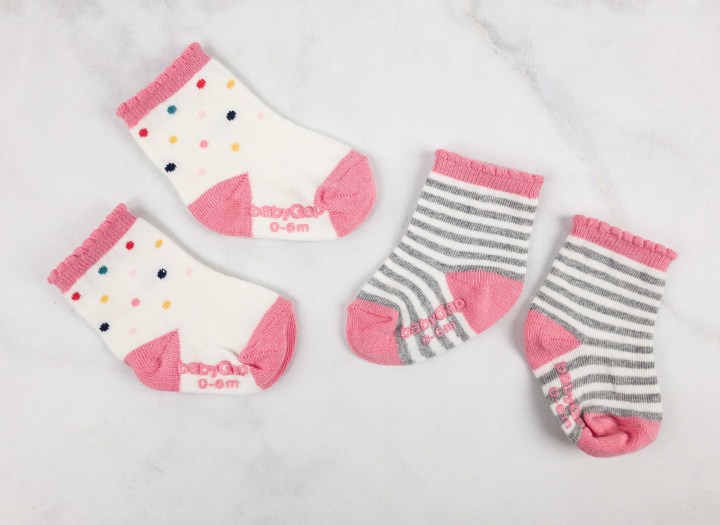 These are sweet, and they match the outfits too! Honestly I much prefer one piece outfits, but these are nice for photos (and FREE!).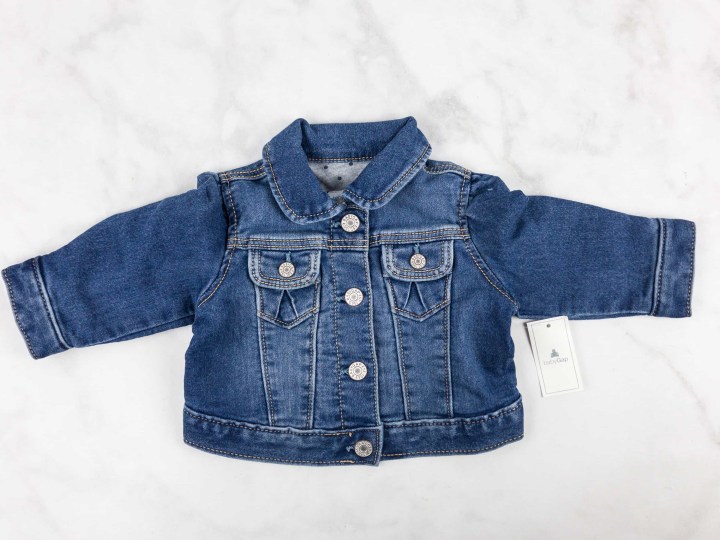 My First Denim Jacket ($39.95 – keep for $11.98) Soft denim with a medium indigo wash.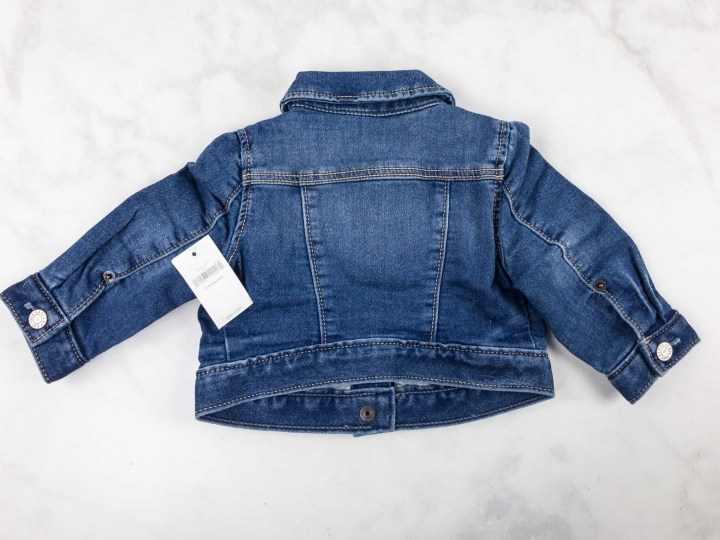 It's stretchy and looks just like a grownup jacket. The inside is lined with polka dots. Looking back at the card and seeing how they styled it, with long-sleeve shirts, it made my skin crawl thinking about trying to shove baby's long-sleeved arms into a knit lined jacket.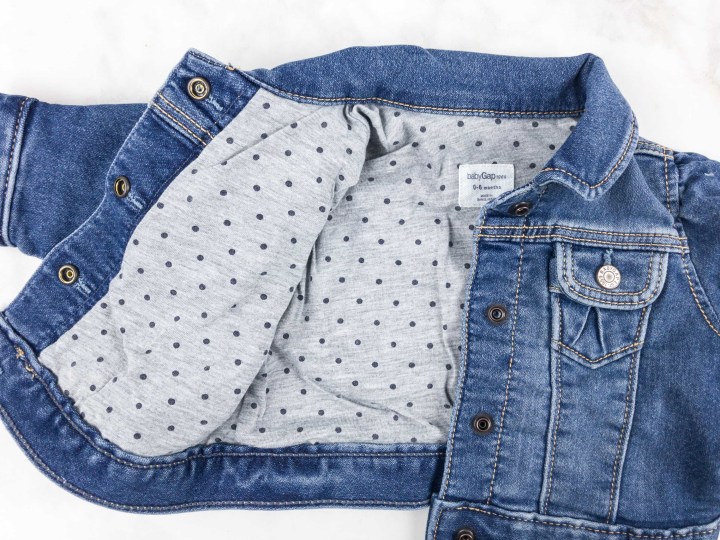 Given that upcoming baby is #4, I know our preferences – this went back, I didn't even want it for $12, because we'd never put it on the baby (in fact, after cleaning the basement, I think we have 3 other denim jackets… with tags!). No risk at least.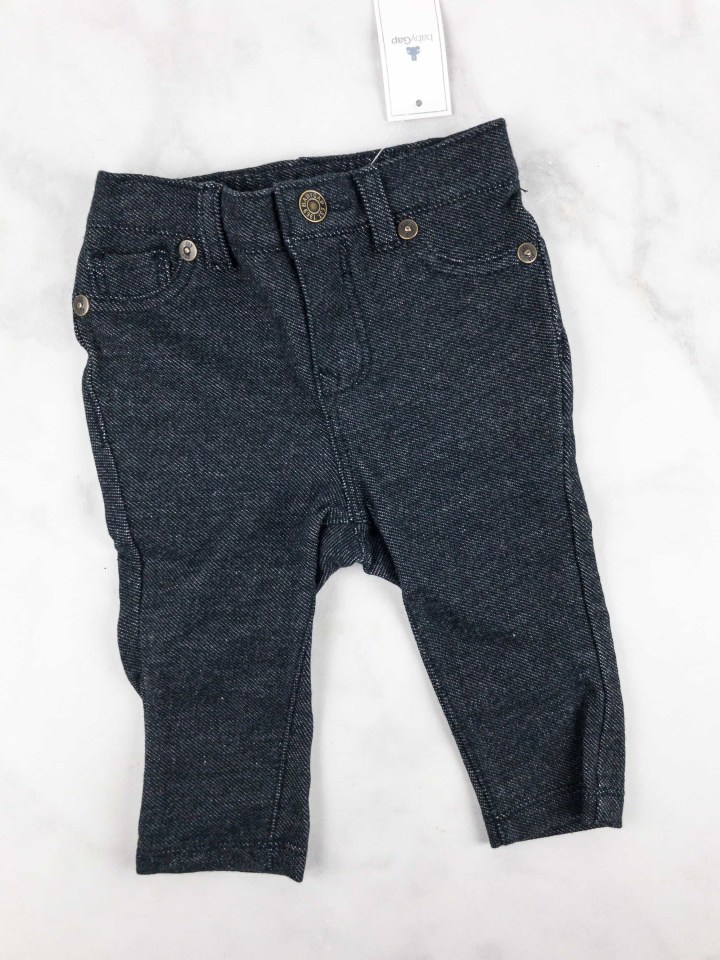 Five Pocket Knit Pants ($19.95 – keep for $5.98) Ahhh, these are so cute – and PLENTY of room for baby's diaper!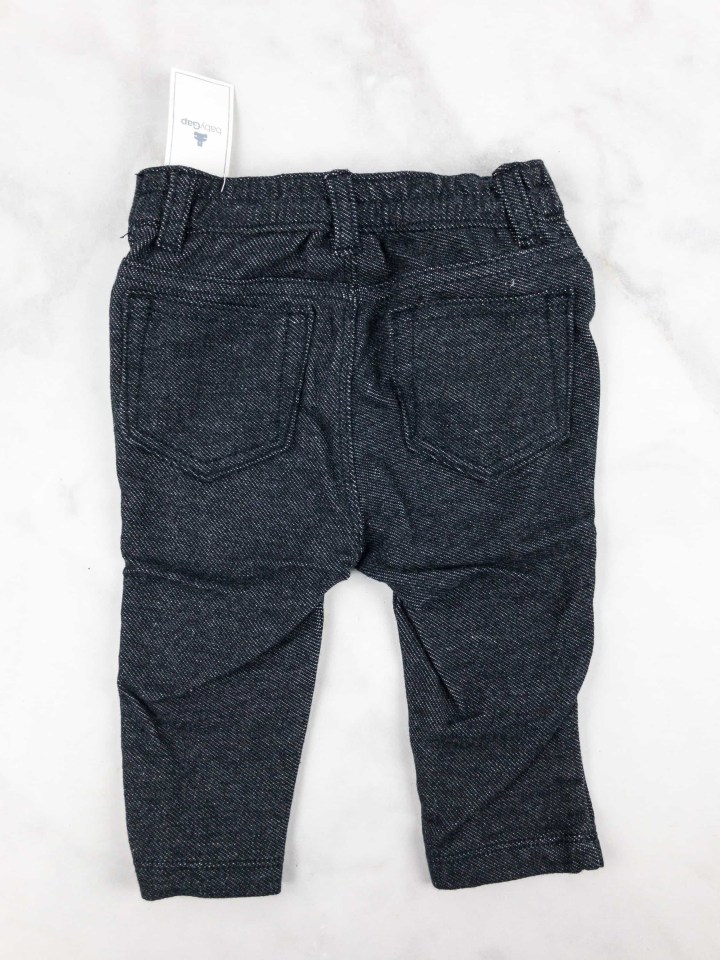 I can just imagine her cute buns in these stretchy jeggings (this is DEFINITELY my last child so I can pretty much guarantee we're going to put her in all the cutest things!).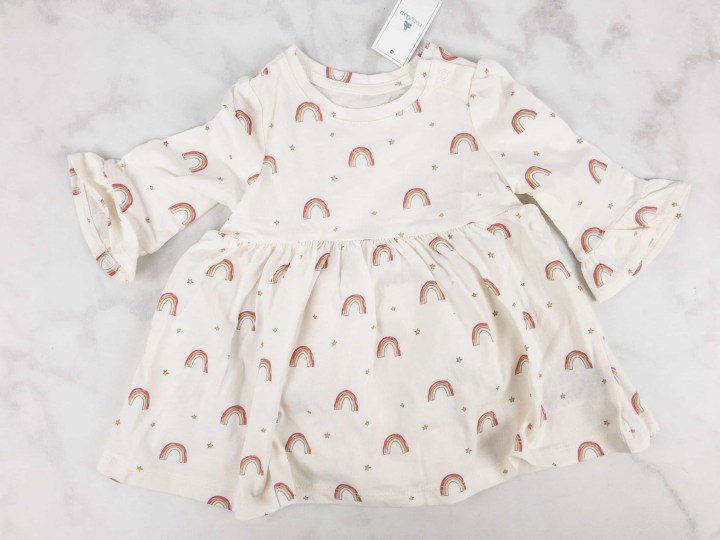 Print Bell Sleeve Dress ($19.95- keep for $5.98) This adorable ivory dress will hide stains better than white. I love the rainbows!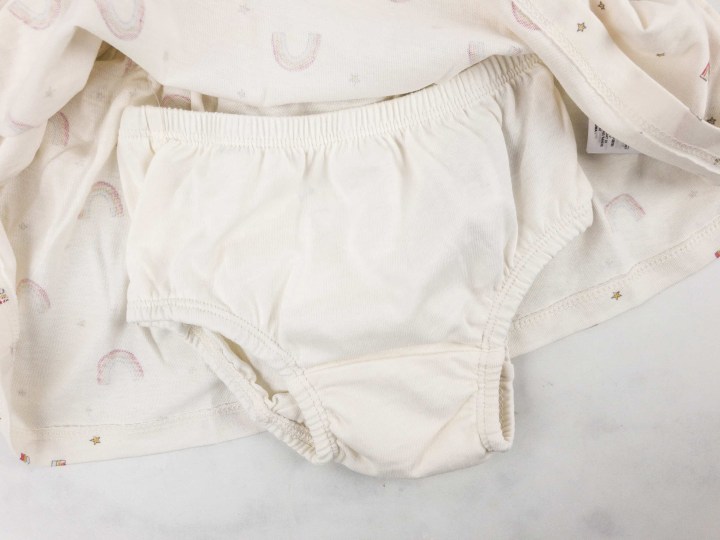 And it comes with little bloomers, which really are perfect for picture day.
Polka Dot Long Sleeve Bodysuit ($14.95 – keep for $4.48) I like the traditional envelope neckline of this one. Did you know you can pull baby's arms out the top and baby as well? In case you don't want to lift the bottom up…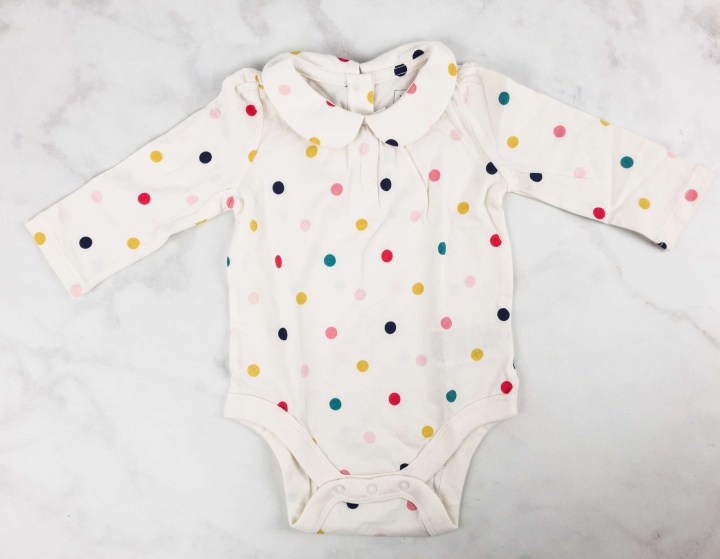 Dotty Peter Pan Bodysuit ($19.95 – keep for $5.98) More ivory, and again I approve of the stain-hiding qualities for this color. With the peter pan collar and the fall themed dots it seems girly without being trite.
Not loving the buttons on the back (these are a pain in the behind) but it was cheap, and the fabric holds up much better than Carters.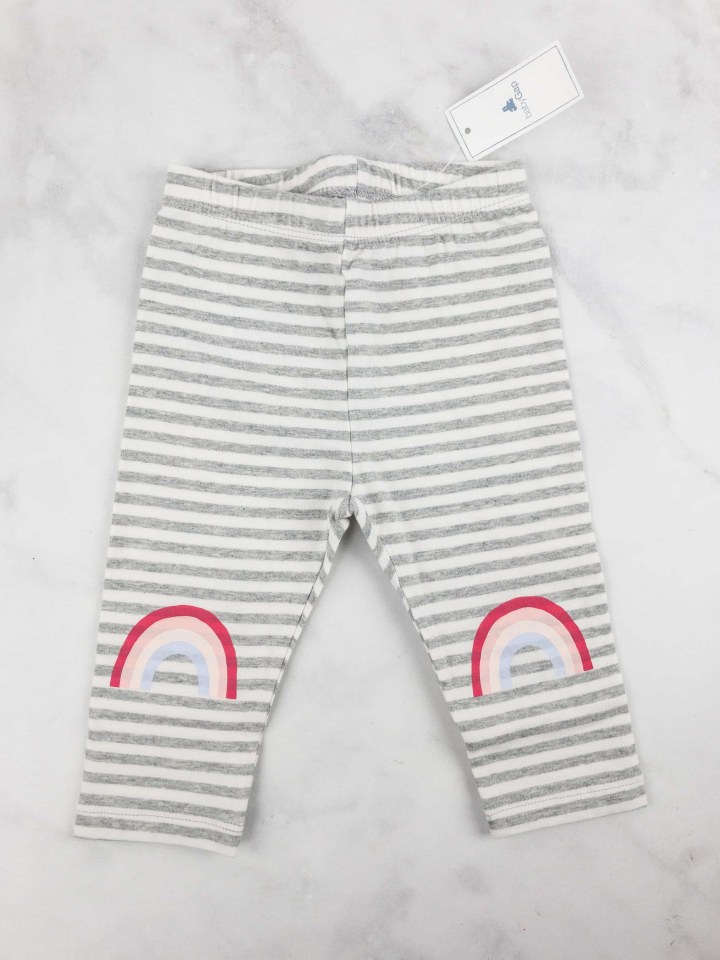 Graphic Striped Jersey Leggings ($19.95 – keep for $5.98) These didn't particularly match anything (even though they showed them as mix and match) but they're cute and useful for slipping over any body suit!
This quarter was a HUGELY pleasant surprise for us. I'm inserting a screenshot from last quarter when the prices were just out of control – considering you can get 40-50% off the Gap at any time of day. I thought the consideration of clear subscriber feedback was really great (and honestly surprising). I kept everything but the denim jacket and was more than happy with this curated little capsule wardrobe for baby at a price of less than $60 for what I decided to keep.
UPDATE: I was so happy about the lower prices (and really pregnant) and I didn't notice the discrepancy, which two commenters pointed out below recently. Back in October I did receive an updated invoice:
I wrote the Gap and let them know that they offered me a price, I accepted it, and they cannot suddenly charge more (also laughing at $20 for a baby denim jacket). I never really heard back – but I didn't see extra charges on my card. The Winter box correctly added up to $70.
What do you think of babyGap OutfitBox?