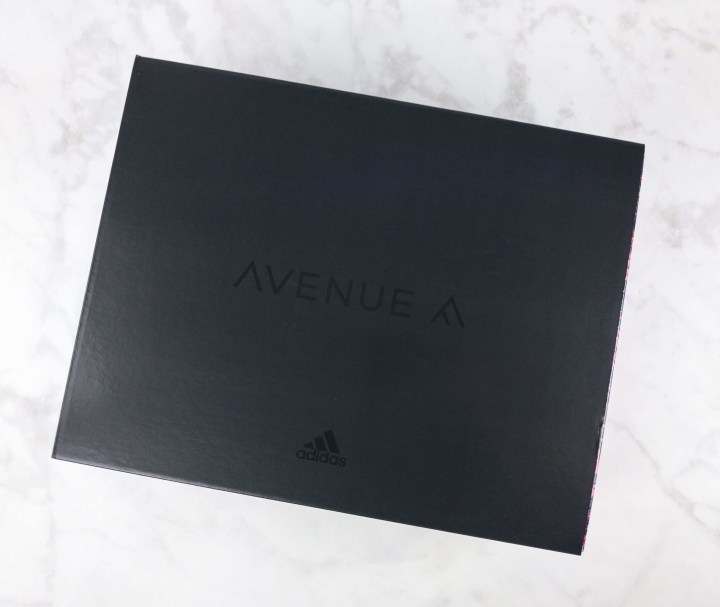 Adidas Avenue A is a quarterly subscription box designed for women who are active and always on-the-go. The box contains premium running and training items – both apparel and footwear – that are handpicked by well-known fitness experts and fashion trend-setters. Avenue A by Adidas box promises to bring items that meet style and performance at the same time.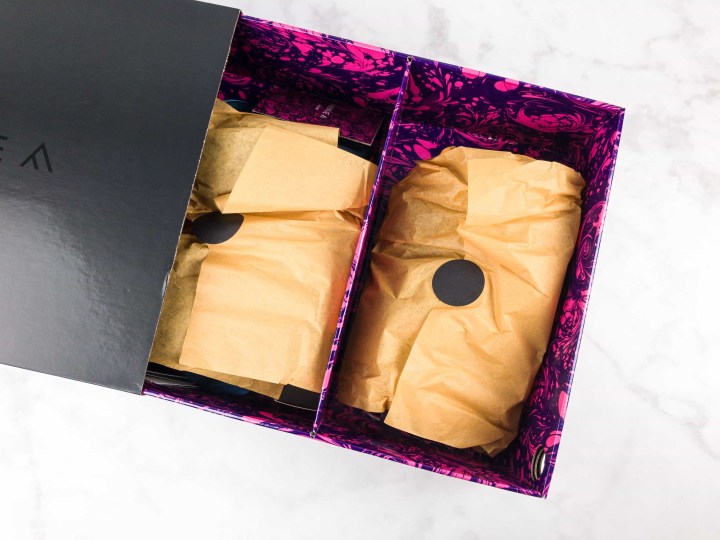 This giant box arrived in an outer cardboard box. The box itself is perfect to reuse underneath a bed! I recycle most boxes but keep these.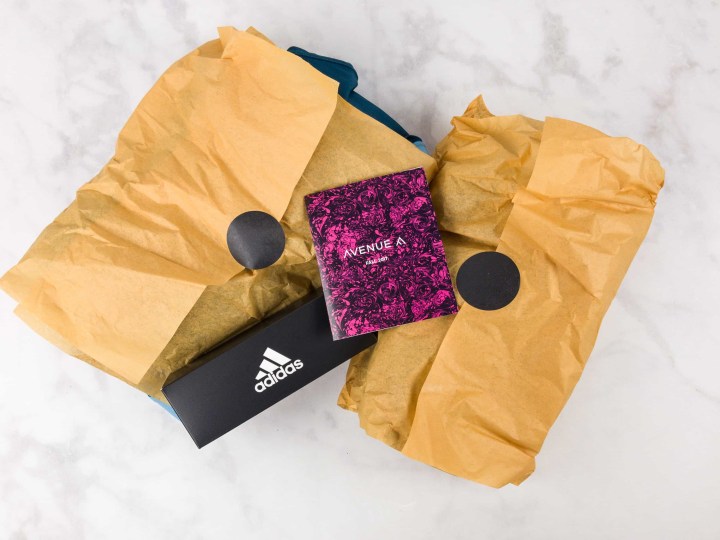 The Fall Box was curated by Pro Soccer Players Kristie Mewis & Stephanie McCaffrey.
Your determination knows no bounds and neither should your gear. Whether you're powering through a morning run or an afternoon kick-boxing class, get style and performance that keep up with your every move. Up your game with the Fall 17 Edition.
A tri-fold booklet contains the curator's letter and info about all the goodies!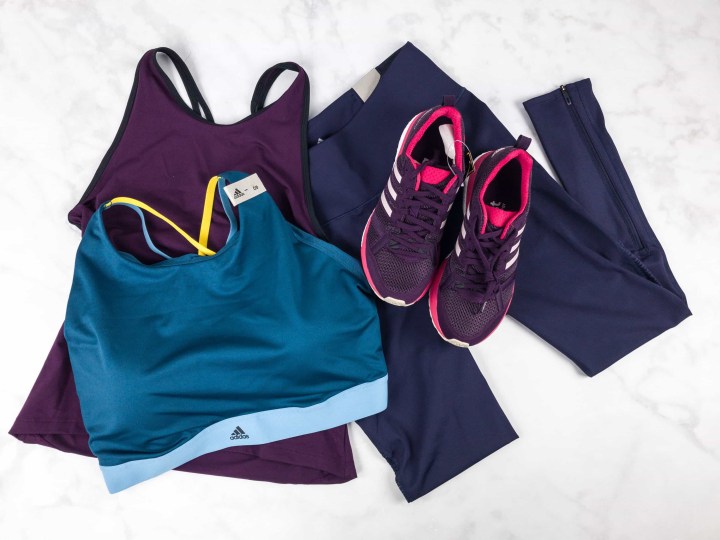 Everything in the Fall 2017 box!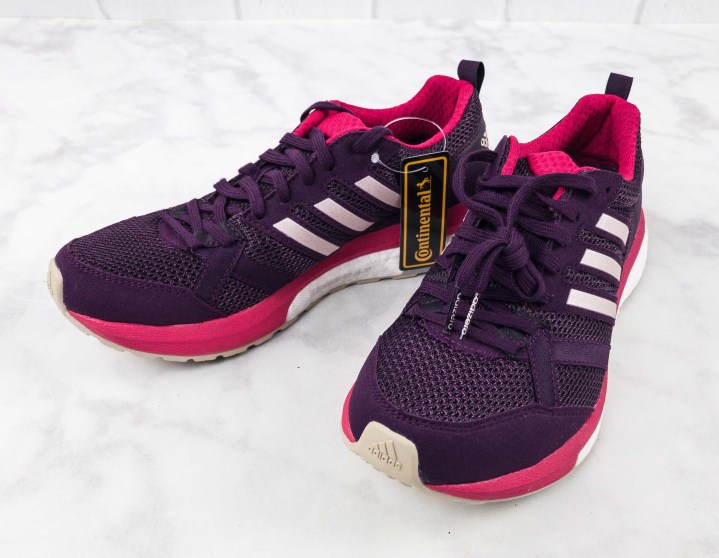 When you sign up you have the opportunity to specify each size for every item. Shoes go up to size 12, apparel goes up to XL.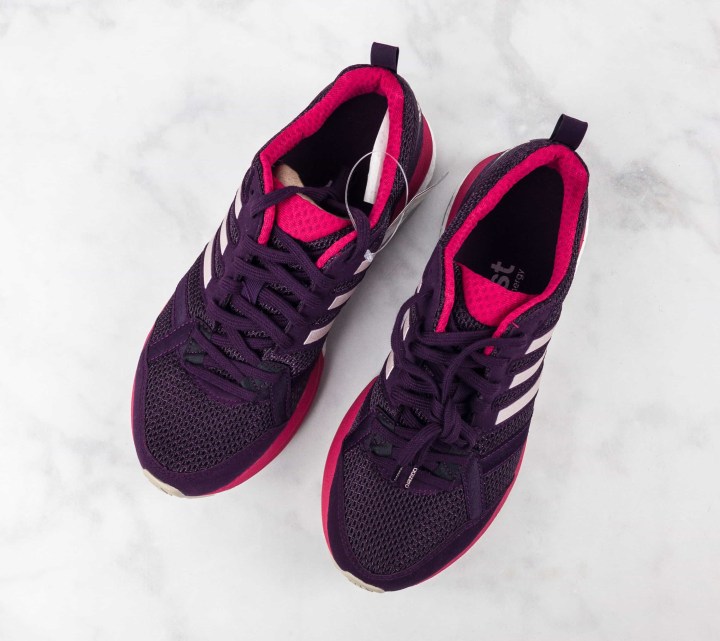 Adizero Tempo 9 Shoes in Pink & Purple ($120) – Pretty and lightweight!
This pair is perfect for tempo runs, but will also work great if you're doing daily runs because it is well-cushioned.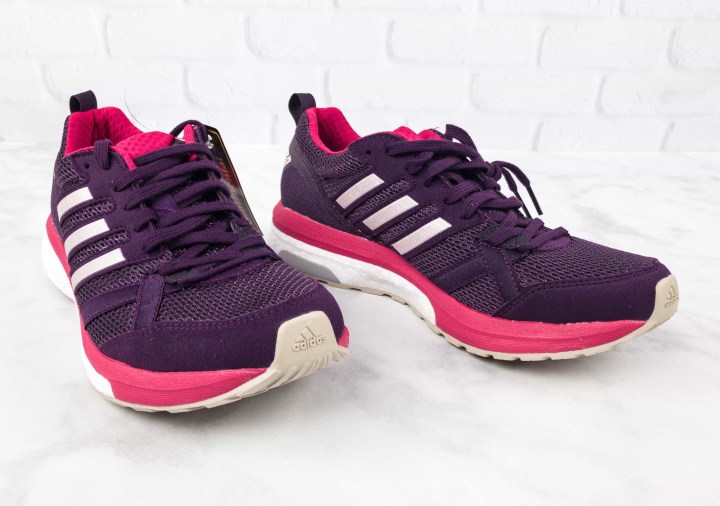 Also good whether you're planning to hit the road or to go to the gym.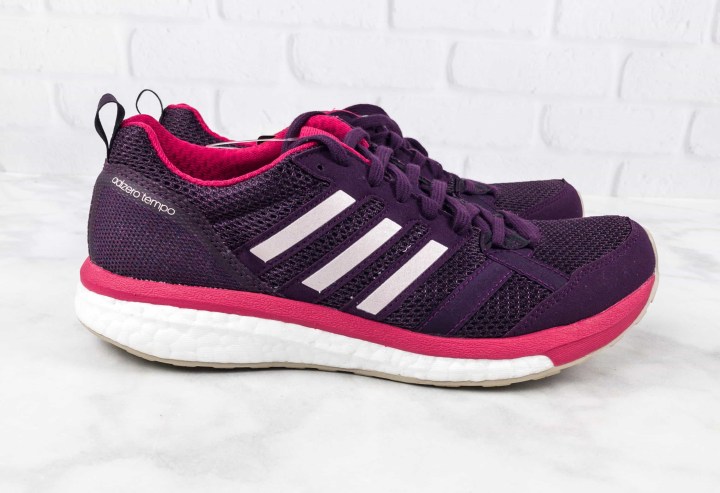 It fits great and, thanks to air mesh, it's super comfortable and breathable too. This is a really worthy pair of running shoes! They are nearly identical to the first pair we received from this subscription, and a half size too small. Unlike the first time, It took about 10 days for me to ask for a return, for them to send me a label to return, then acknowledge their receipt. I *still* don't have my shoes. I can't wait though – I love the color and the black ones were ultra comfortable.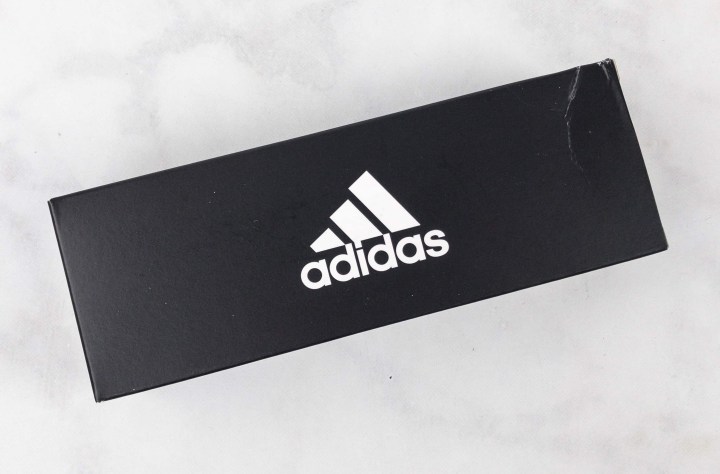 Adidas Beyonder Sunglasses in Turquoise Matte/Chrome ($120?) A cool pair of sportswear glasses… it's kinda weird receiving it in a fall box, though.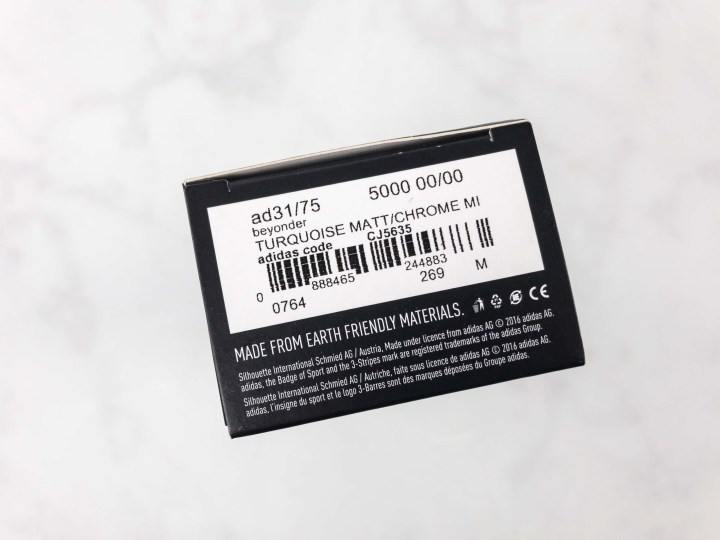 Glad to know that it's made from earth-friendly materials. It looks like subscribers received variants of this item (not just color but style too).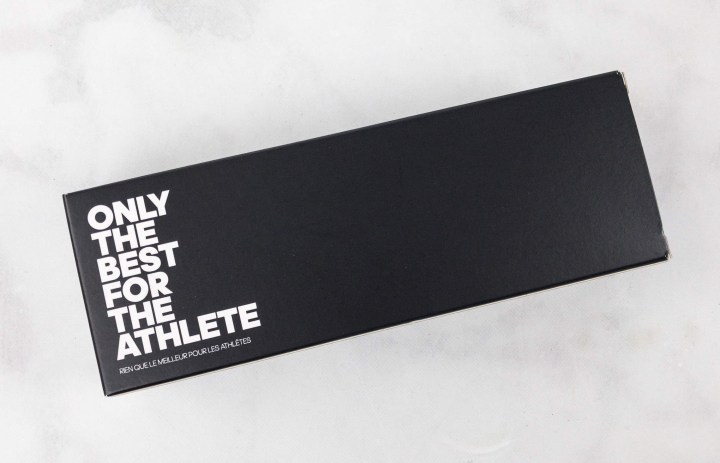 Only the best for the athlete… or the non-athlete who just loves sportswear.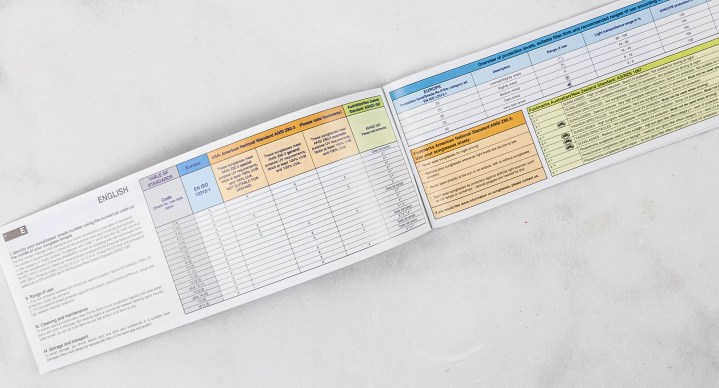 Included in the box is a booklet containing all the necessary information about the sunglasses with complete details on their ISO ratings and compliance with safety measures for each country. I'm always a little hinky about sunglasses from other subscriptions so I felt great knowing these were rated and tested.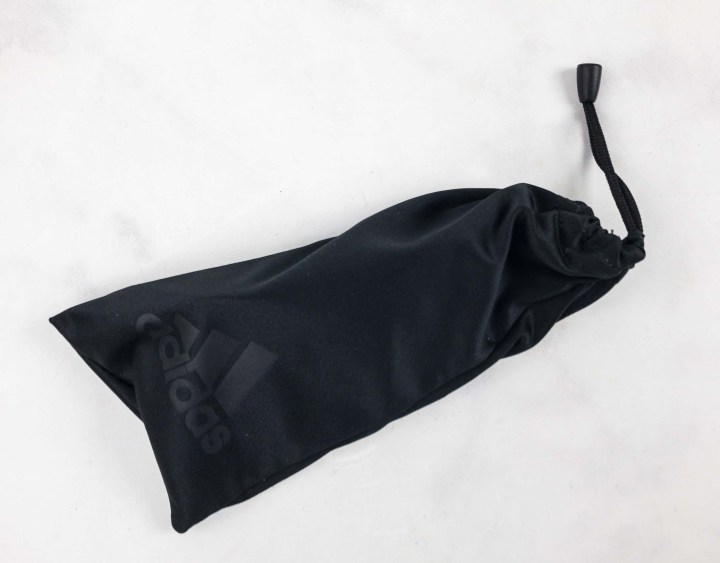 The glasses came with a protective pouch, making it easy to bring them wherever you go.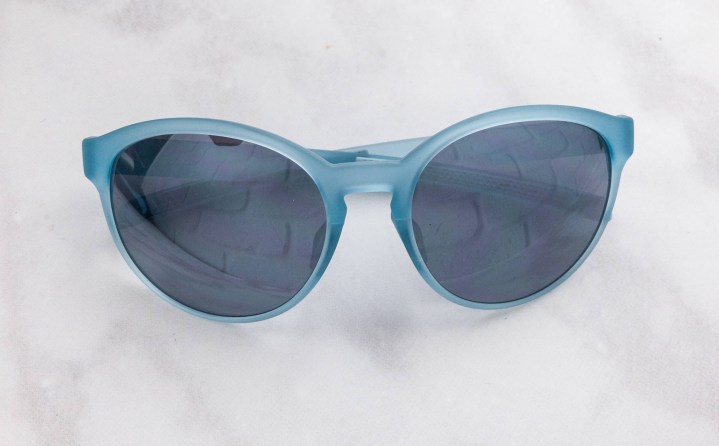 Tadaaaah! It looks so gorgeous in Turquoise Matte.
This pair has a great fit. It doesn't easily fall, ideal when running or even when cycling.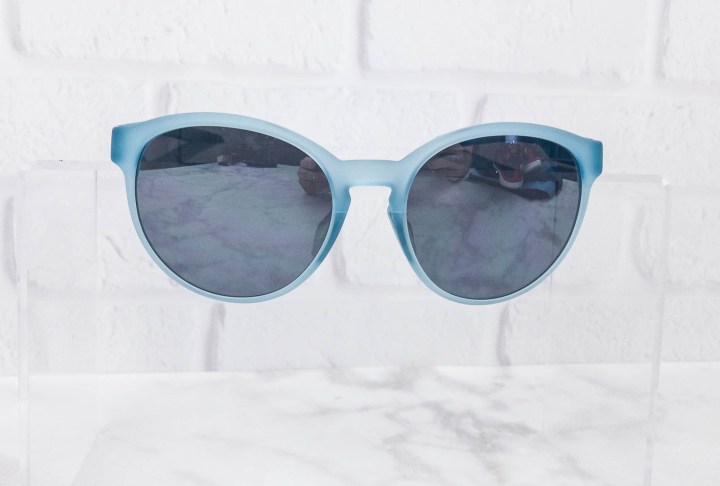 The turquoise frame fits the chrome lenses perfectly. But then again, summer is already over. It would have been great if this was included in the summer box instead of fall box.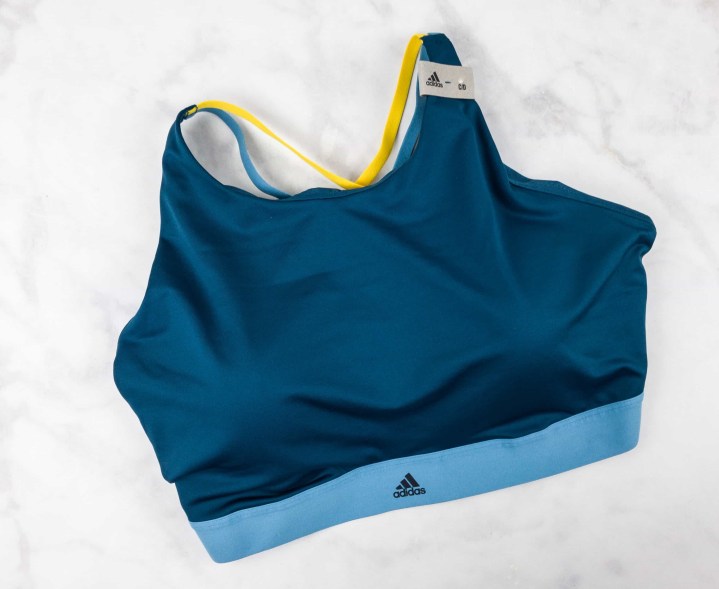 Halter Bra ($45) – This sports bra with high neckline is especially made for medium impact workouts.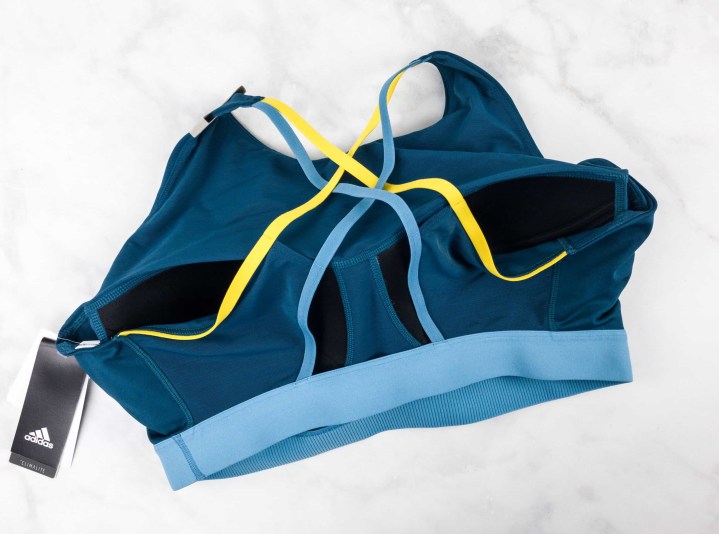 It has breathable padded cups for support. The halter design looks fashionable and doesn't sacrifice comfort, so it's really a win.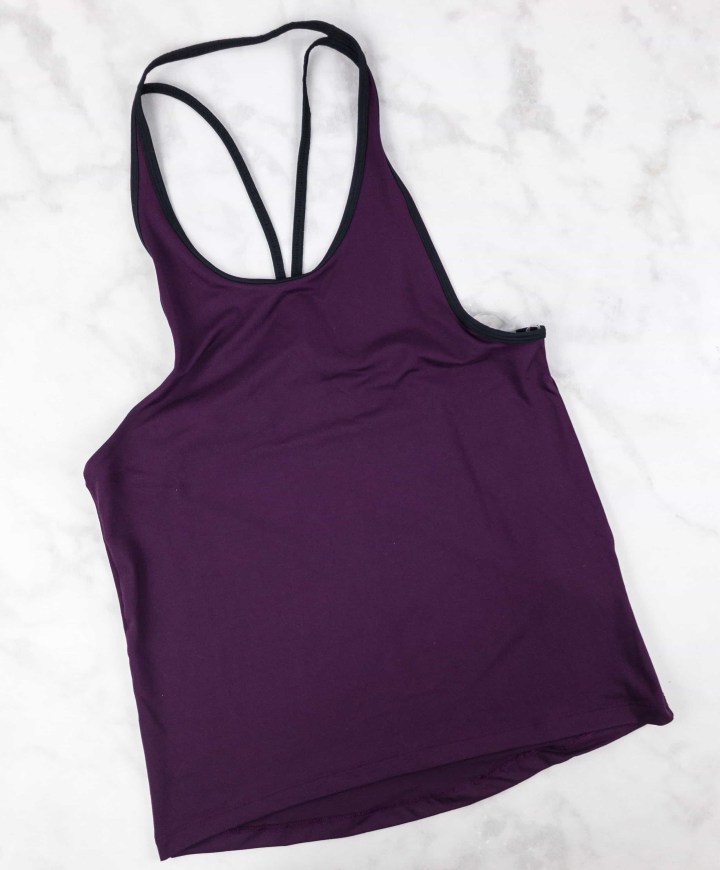 Performer Strappy Tank in Purple ($28) – This lightweight tank top will be great for yoga sessions or gym workouts.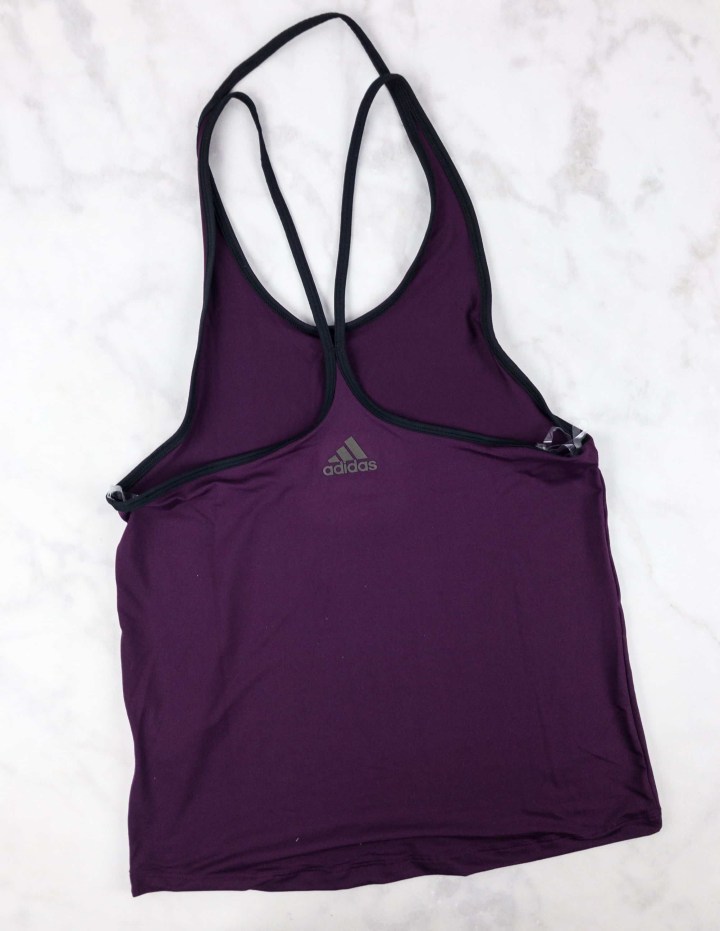 Made with moisture-wicking climalite fabric that sweeps sweat away from the skin. The strappy racerback design is pretty too! However, the open back goes alll the way down. It's an extremely breezy tank! I'm not even sure you need climalite with all that air…
Supernova 7/8 Tight in Deep Blue ($75)- Gotta love how stretchable these are! They have a true to size fit, an inner drawstring waist, and a coin pocket on top.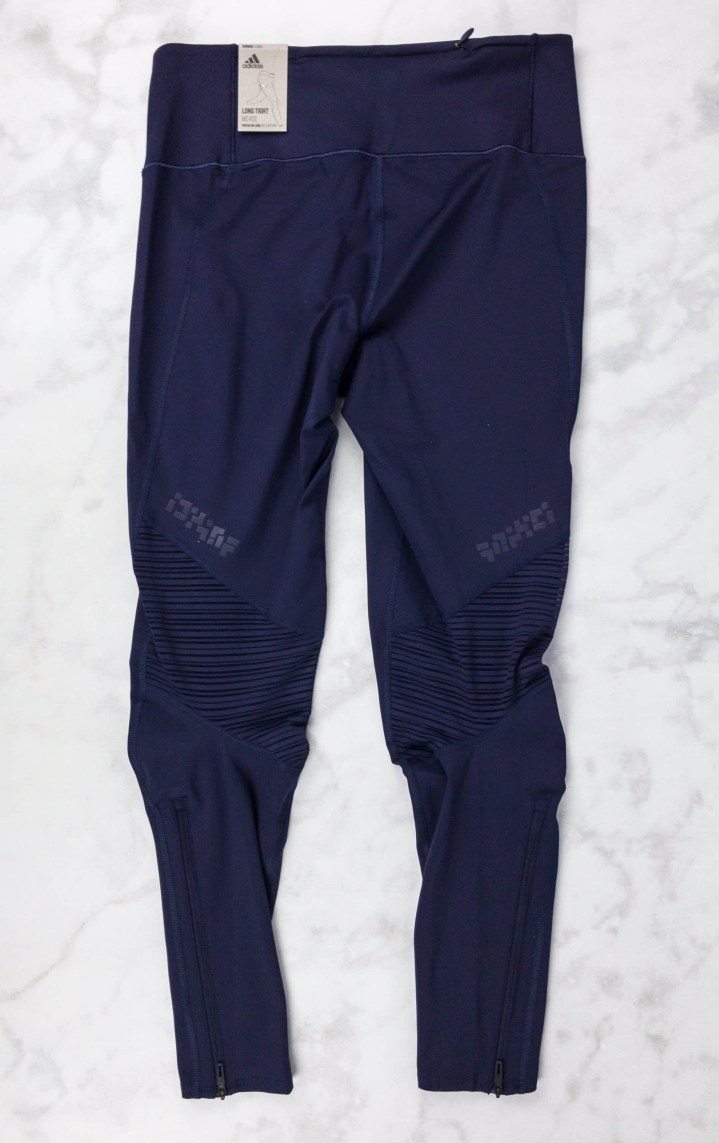 Back mesh inserts are placed in areas that need ventilation. Also, the elastic waist makes it super adjustable.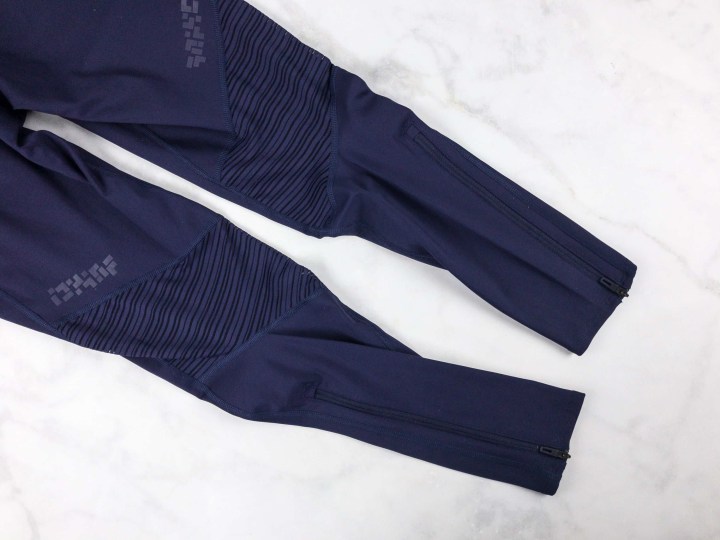 This box was all over the place, and starting to feel like it's lost its tight curation vibe. Half the items seemed super summery, the colors really didn't mesh, and I really am not super pumped at waiting so long for the replacements on my shoes. Although getting the sunglasses was weird in a fall box they were really a great pair, and between the shoes and the sunglasses, everything else is just gravy with a really high value and still a wow in terms of value, even with an eclectically curated color scheme!
What did you think of the Fall 2017 Avenue A Box from Adidas?