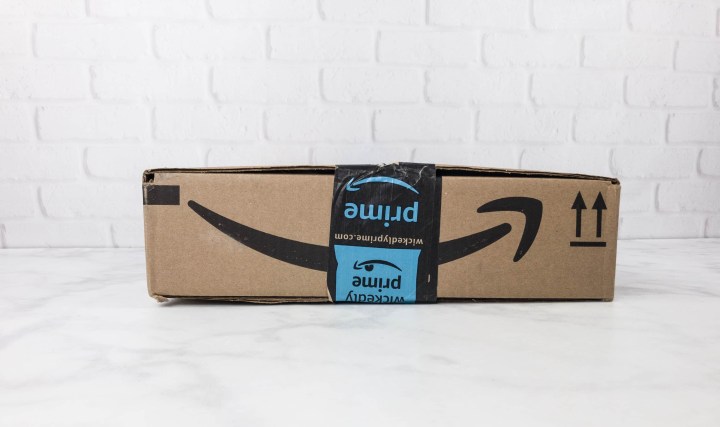 Amazon STEM Toy Club is a monthly subscription box service that delivers age-approriate STEM toy that encourages any child to learn through play. The subscription costs $19.99 per per month, and the theme of the month can be anything from natural sciences to robotics. There's always something new to discover in every box of Amazon STEM Toy Club!

There are three age ranges available for this box: 3-4 year old, 5-7 year old, and 8-13 year olds. This is a review of the 8-13 year old box.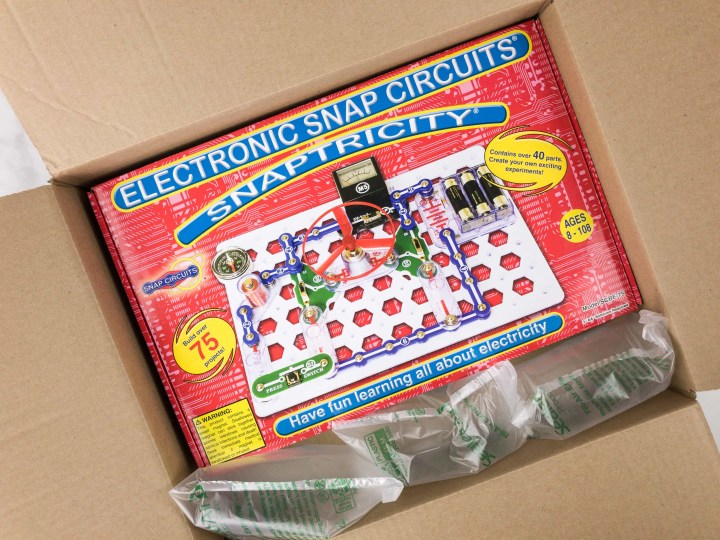 In true Amazon style, the kits come in a large outer Amazon box, and purchases of multiple kits may be shipped together.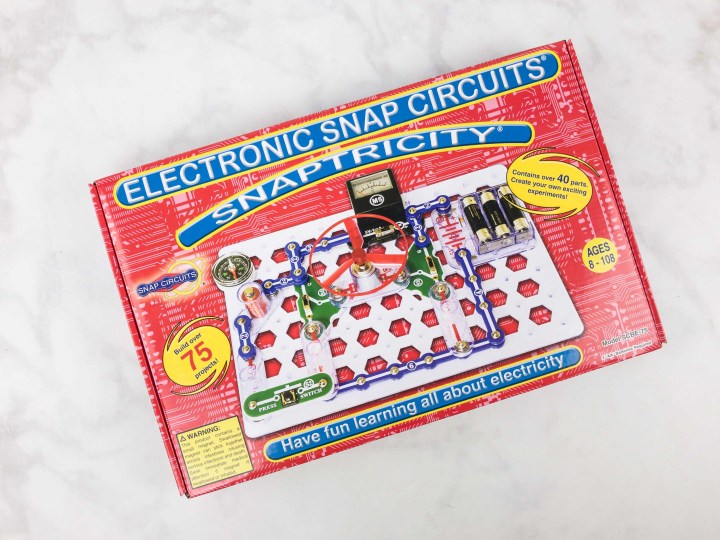 The toy selected for this age range was a challenging Electronics Discovery Kit!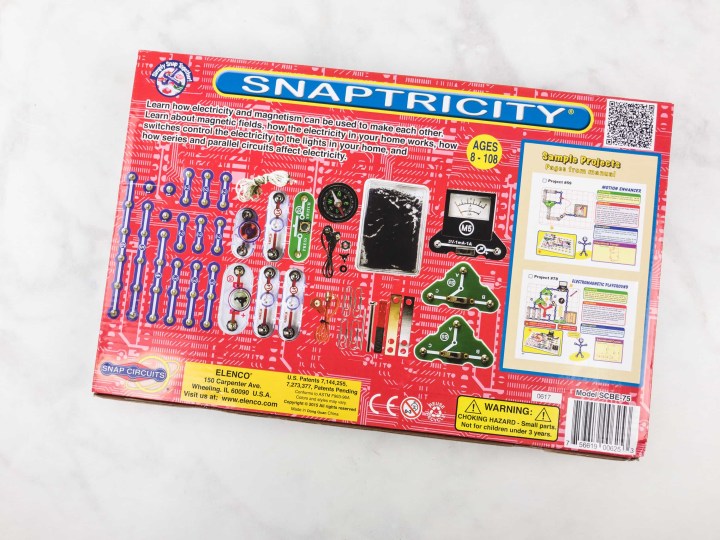 Elenco Snap Circuits Snaptricity Electronics Discovery Kit ($30.08): This kit lets kids explore different kinds of circuits and the properties of electricity in a safe way. The kit includes circuit segments of varied lengths, switches, a motor, an electromagnet, voltmeter, and more!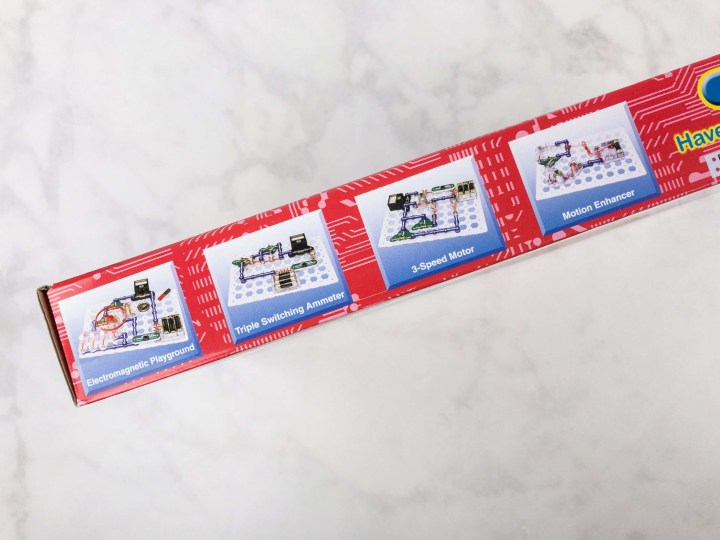 The snap-in board allows for literally dozens of experiments and electronic devices.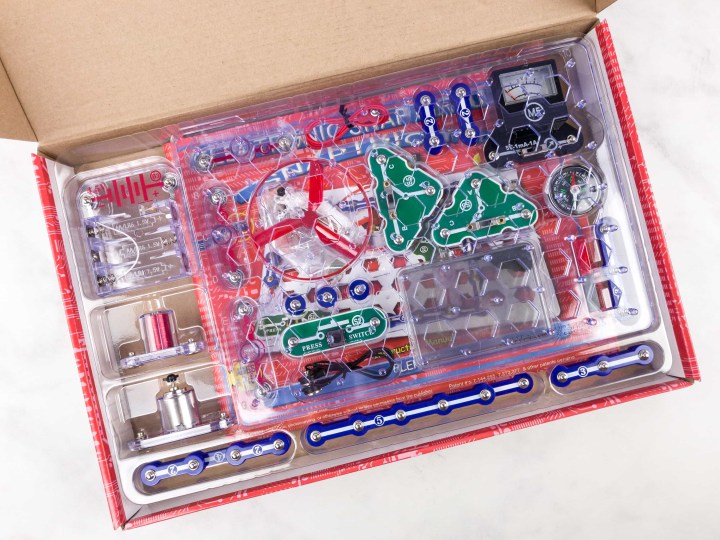 Everything in the set! The pieces all have conductive snaps that fit on any other pieces, and they are all sized to fit on the non-conductive base.
The manual included with the kit is very thorough, and it has an incredible 78 different projects for you to build!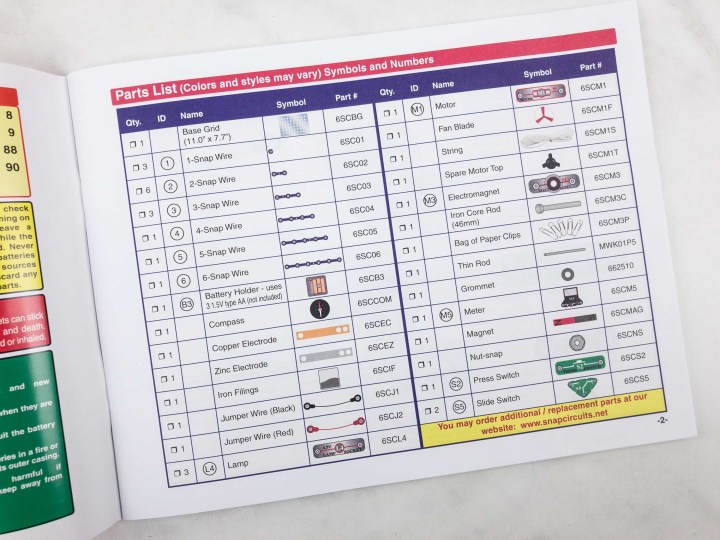 It includes a list of all parts in the kit. This is very useful, as all the parts have a unique identifier, and you can order more or anything online to expand your kit and build even bigger circuits and machines.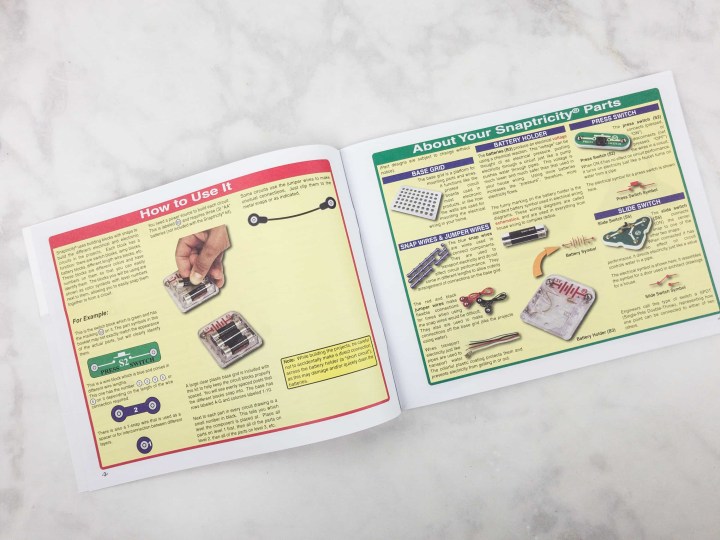 The circuits are battery powered – the kit includes a battery holder, and you supply three AA batteries.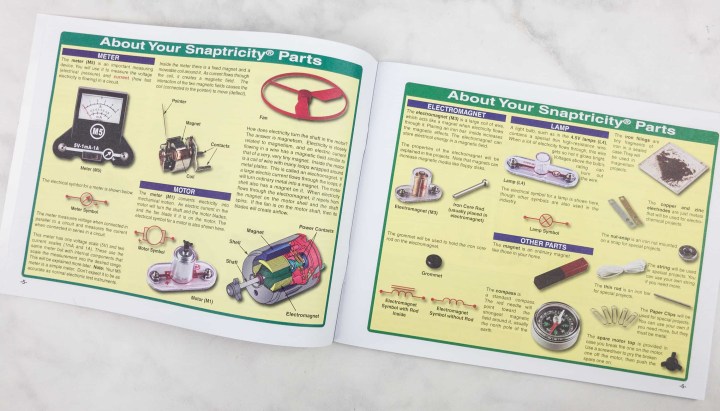 A fairly in-depth explanation is given about the function and purpose of each part in the kit.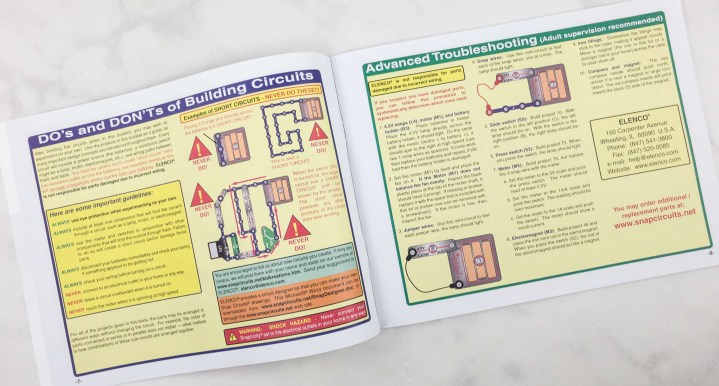 They have a detailed section about general electrical safety and how to avoid designing bad or unsafe circuits. There is also a troubleshooting guide.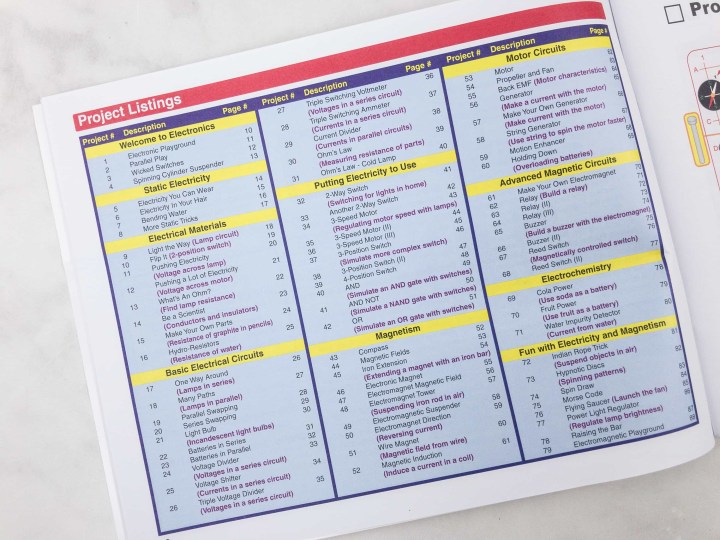 There are 78 different projects, grouped into categories. For example, several projects use the electromagnet and compass, allowing you to observe magnetism and the effects of magnetic fields created by current.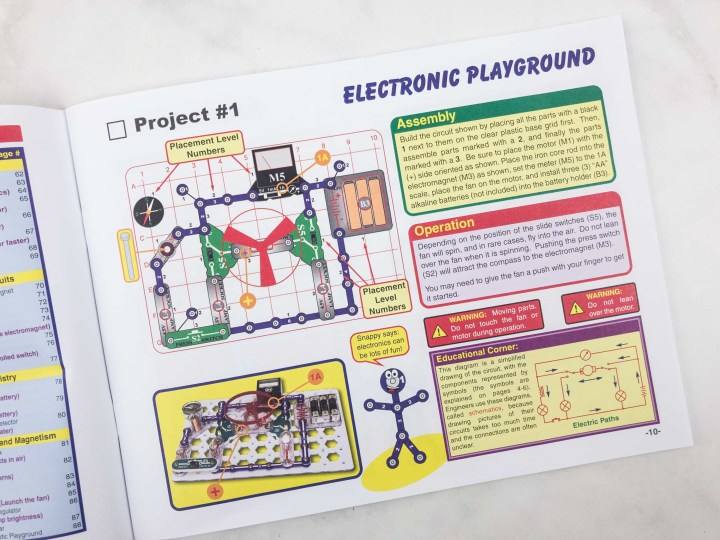 Each project has a drawing of the circuit, showing the placement of each component. The pieces snap together, stacking atop each other.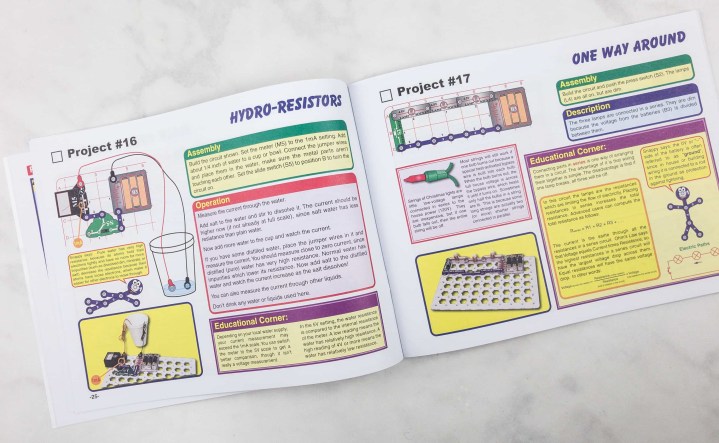 The variety of experiments is amazing. Some, like this hydro-resistor, have you contribute some simple items from home (here, some water and a cup).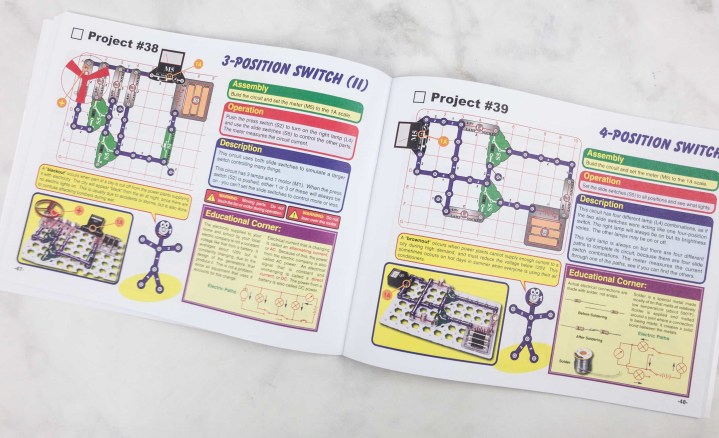 Basic electronic elements like switches are examined in depth.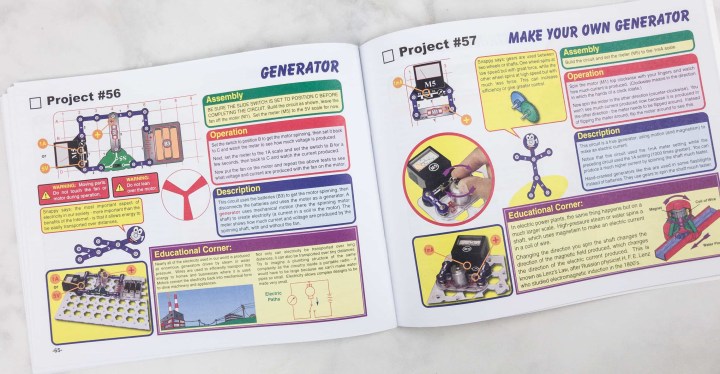 Each page has an "Educational Corner" that describes the electrical principles at work or discusses some real-life applications. If one worked through all of the experiments, you would have gained quite a sound understanding of the behavior of electricity.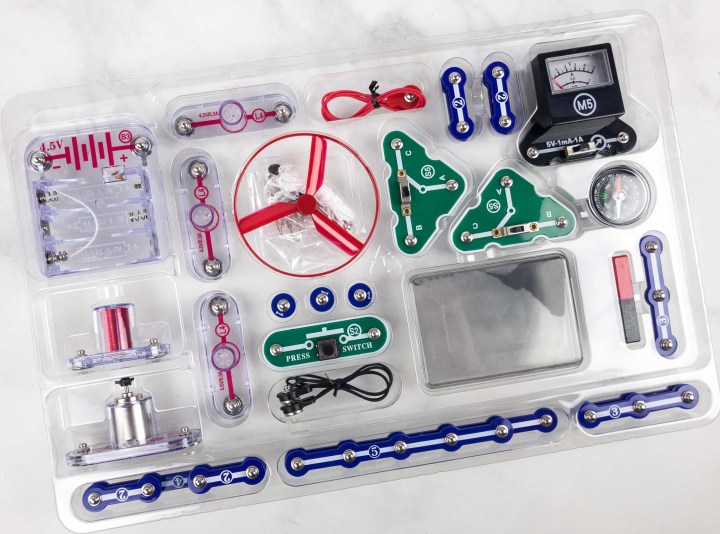 All of the components in the set.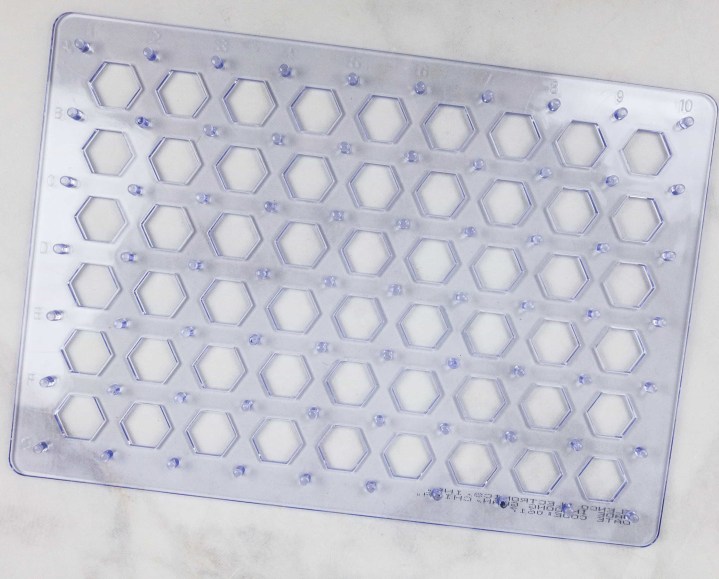 The base upon which you build the circuits. Circuitry and components snap onto the pegs between the hexagons.
My kids found the kit to be extremely interesting. I though it might be a little old for them, particularly since its decor is very function-driven and not very toy-like. They loved it, though, and they seemed to have an intuitive grasp of how to arrange the circuits. Here we are building the first project.
It has and electromagnet, lights, and a spinning propellor!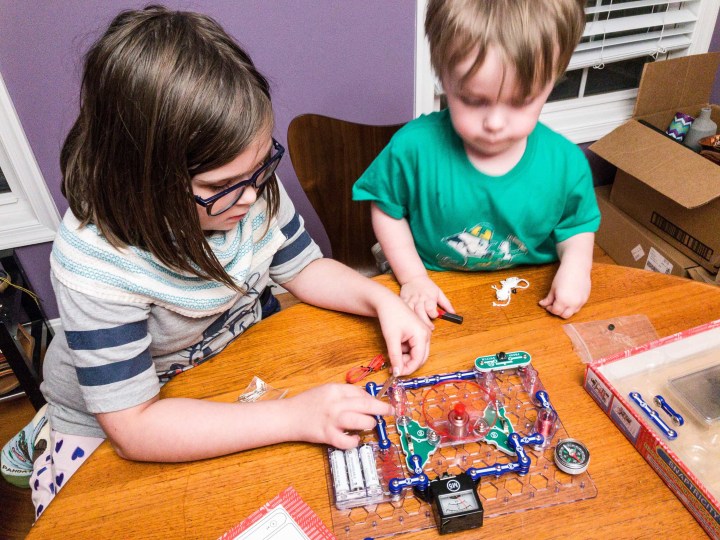 All three kids played with the kit. I love that we could do so much with it, yet the voltage is low enough to not present a serious hazard during normal use.
This is a very technical and educationally valuable STEM toy. It is easy to use, but it demonstrates some very real and valuable electrical engineering concepts. As usual, the value was very good – 50% above cost of the subscription. This is definitely one that will see more use again in the future, as the kids get older and more comfortable with the technical nature of it.
If you received something different than our family, let us know in the comments!