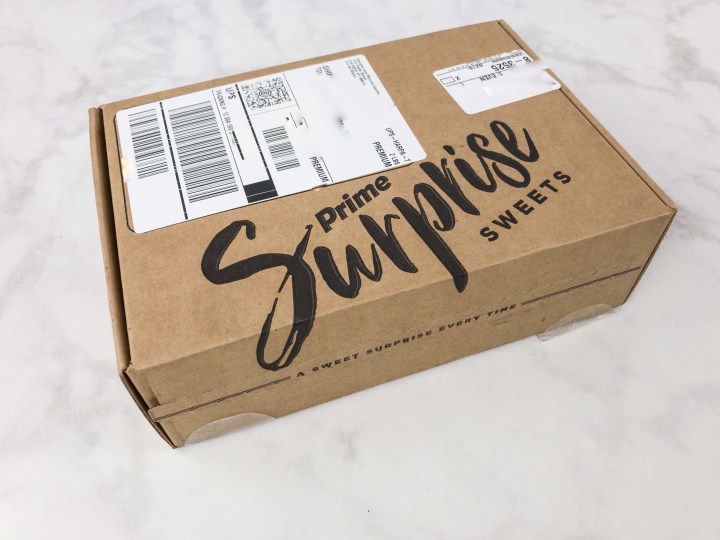 The Amazon Prime Surprise Sweets Box is an exclusive Amazon Prime box that delivers a surprise mix of treats – all at the press of a button!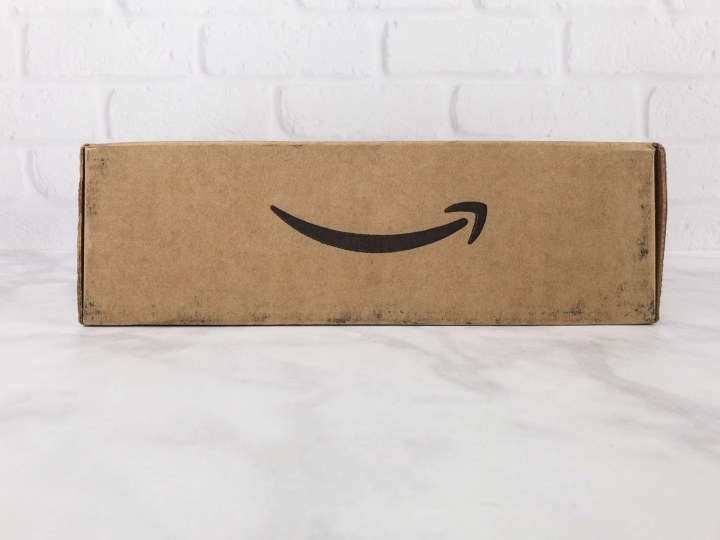 For $18 only per box, you can order an array of chocolates, sweet snacks, and a lot more, anytime, any day – but you'll need a special button to do it.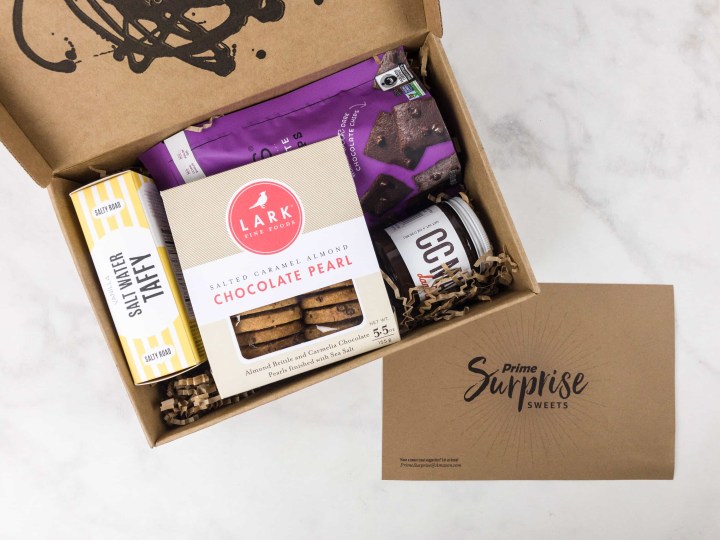 As long as you're an Amazon Prime Member (get a 30-day trial here), in order to get this box you'll need the Amazon Surprise Sweets Dash Button. Invitation only, you'll need to request your button here. Buttons are $4.99 and the purchase price will be refunded on your first order! And yes, you can press the button any time.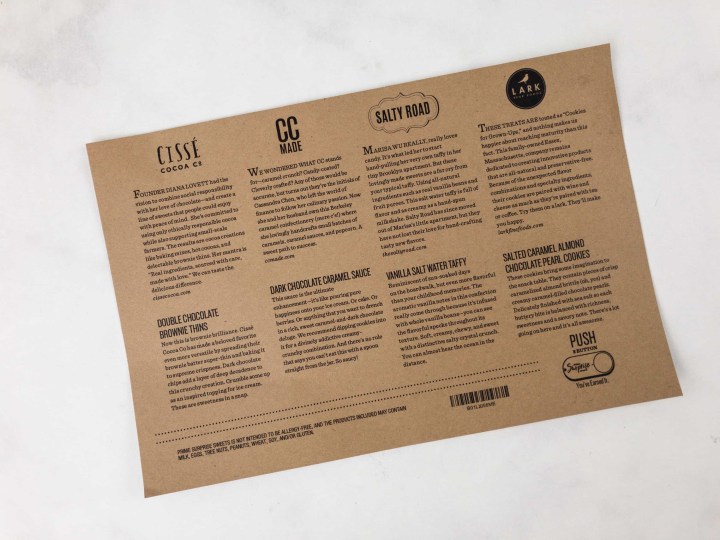 The information card gives you a sweet list of all the treats inside!
All the sweets in this box. TIP – you can see what you'll be getting right after you order from the Invoice button under Your Orders.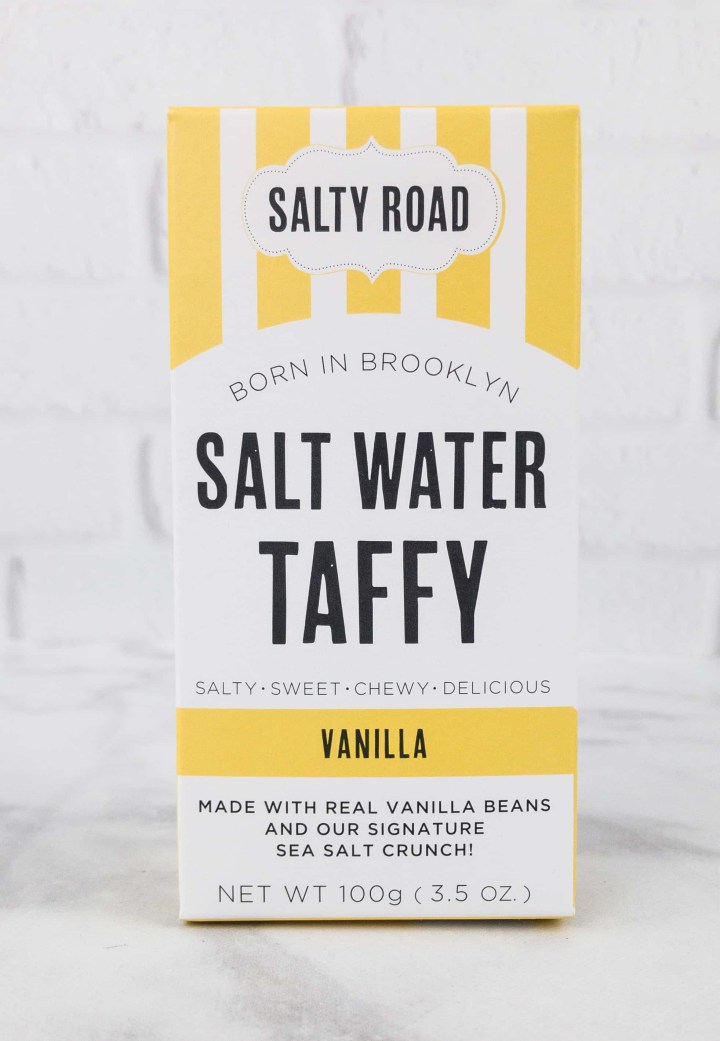 Salty Road Vanilla Salt Water Taffy ($10) We've received Salty Road packs before, but found out the hard way that strawberries & cream wasn't just for us. Luckily, they sent vanilla this time!
This Brooklyn made taffy has real vanilla bean flavoring and is set off with crunchy sea salt.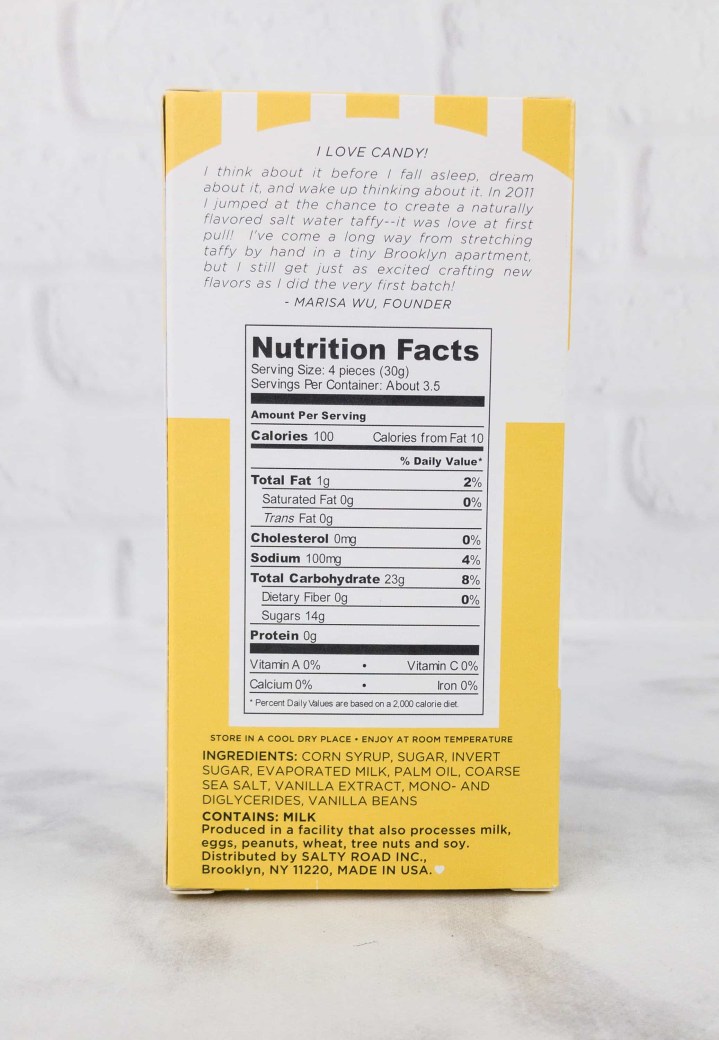 This taffy is intensely chewy but not sticky and I love the pieces that seem to have a little extra salt in them. The vanilla is a nice gourmand flavor that place nicely off the salt!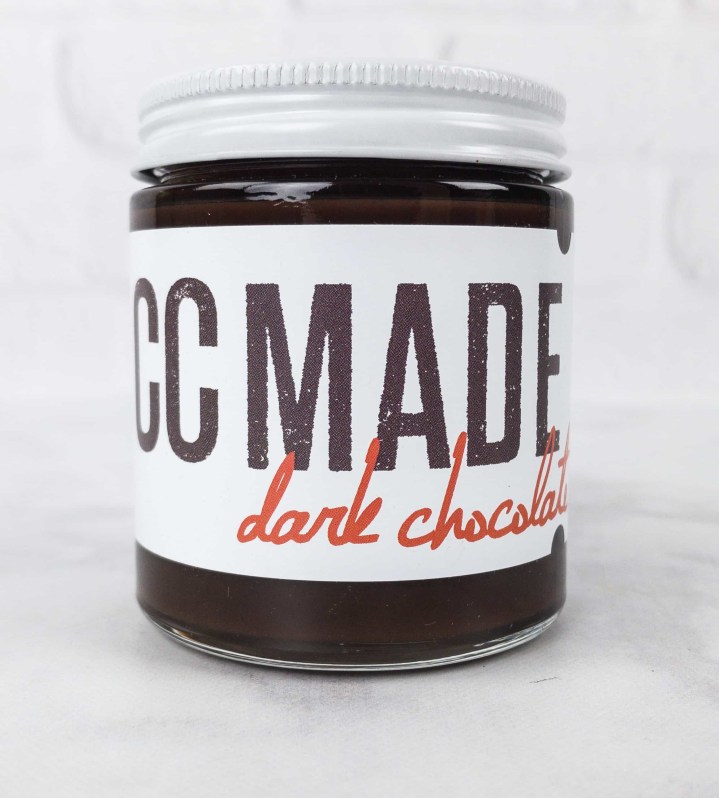 CC Made Dark Chocolate Caramel Sauce ($4) This chocolate caramel sauce was frankly a bit of an odd duck in this box, but I kept an open mind! After all – it's a great way to get chocolate to me without adding an ice pack.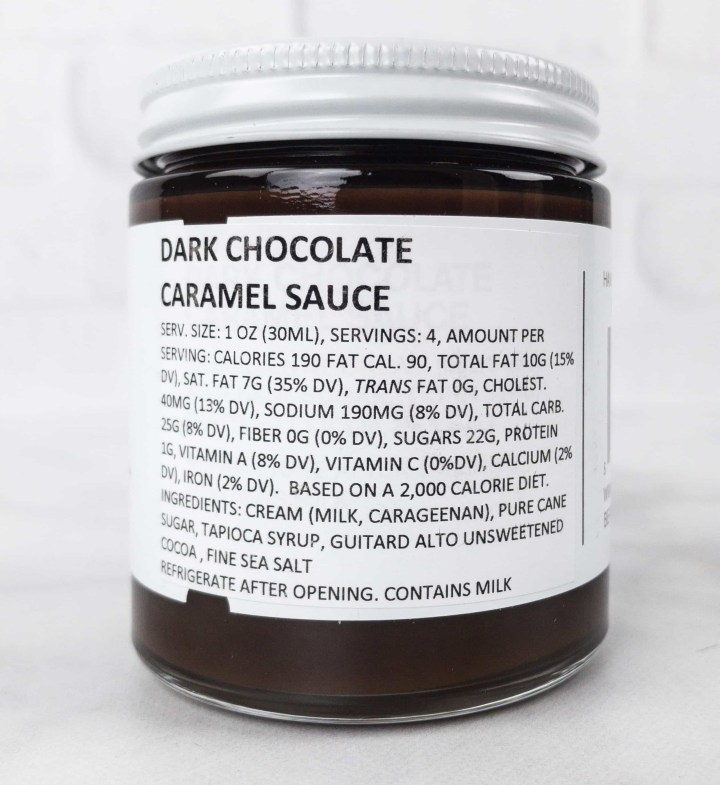 The ingredients on this are really simple – cream, cane sugar, tapioca syrup (sweetener), Guittard chocolate, and sea salt. And I ate more than I care to admit with a spoon! Totally divine. I want to try plain chocolate next.
Cisse Cocoa Co. Double Chocolate Brownie Thins ($5.99) More temperature-resistant chocolate.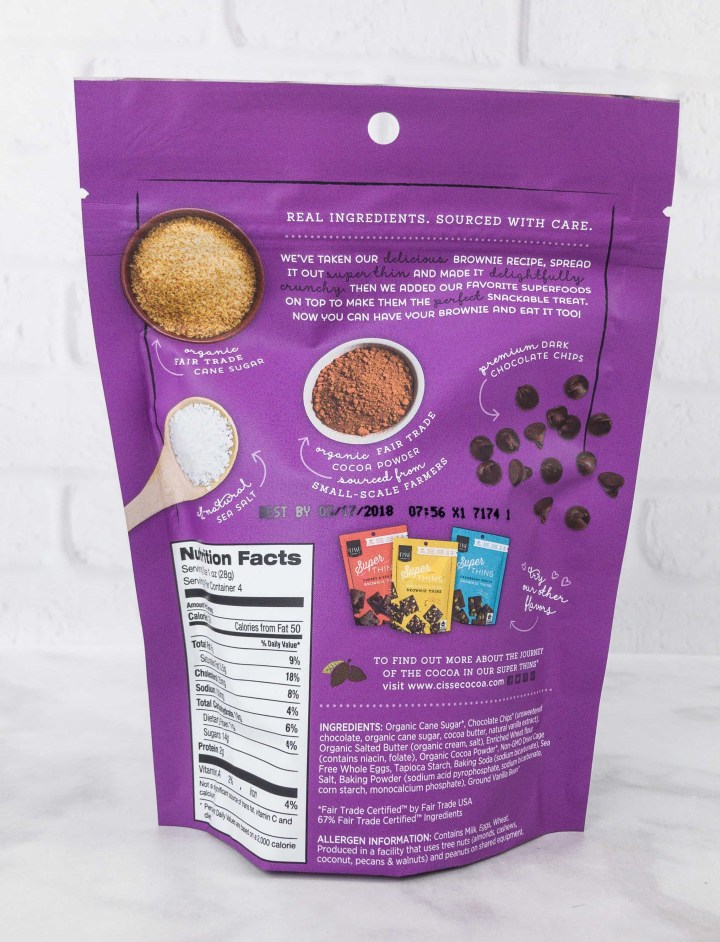 These brownie crisps are fair trade, non-GMO, and mostly organic.
They were definitely double chocolate, and my 8-year old and I thought they might even be too chocolately.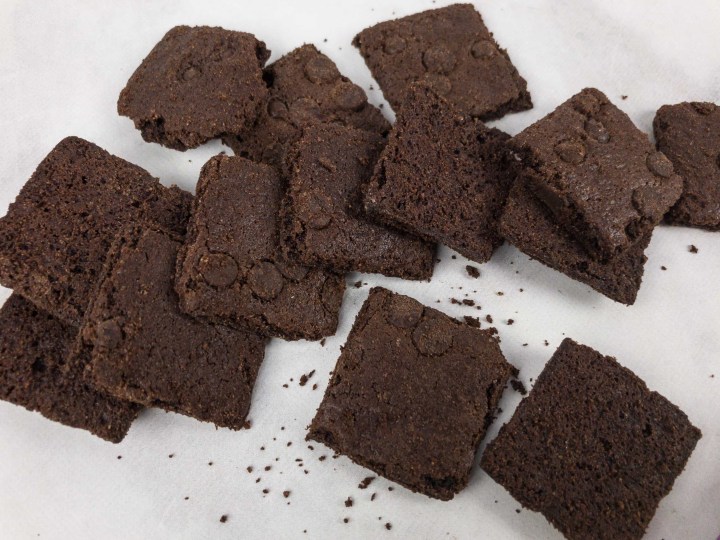 We wanted to try more flavors, but hope for milk chocolate next time. But lest I sound derogatory towards these crispy bits, I think they were the best brownie crisps I've ever eaten!
Lark Salted Caramel Almond Chocolate Pearl Cookies ($6) We love Lark cookies – they specialize in unique shortbreads and I have loved every one I have ever tasted. These were no different.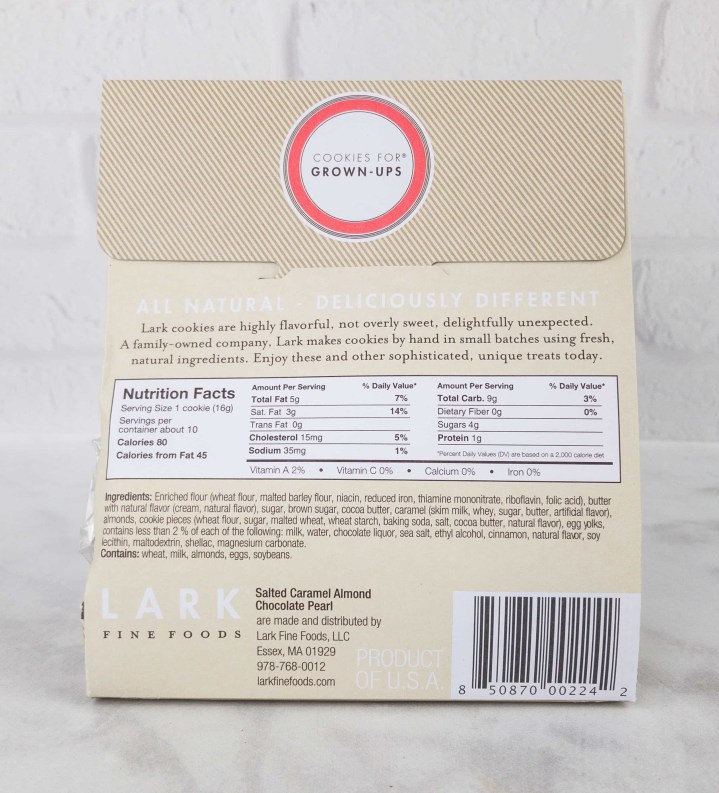 The ingredients are natural but these cookies have a special inclusion – almond brittle and Carmelia chocolate pearls.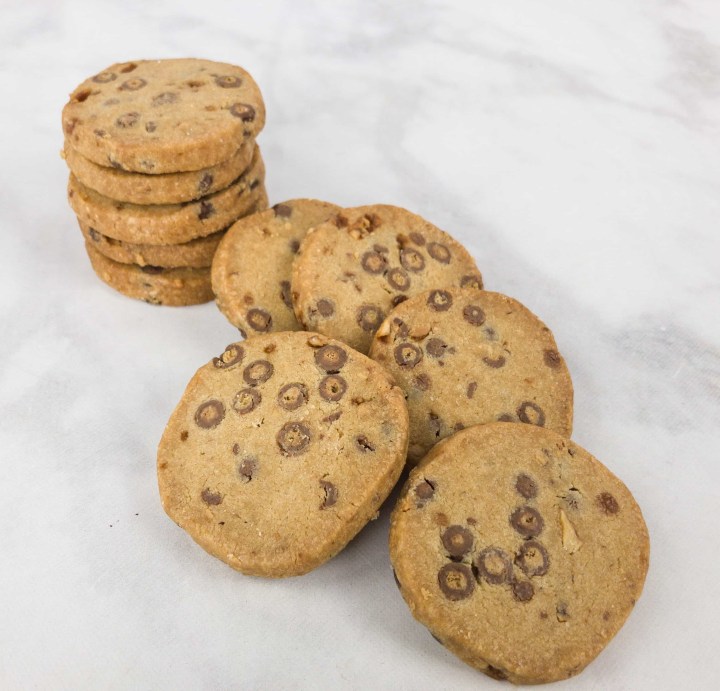 These were great shortbread cookies and we love that they don't crumble everywhere but I have to admit that I thought of a million other ways that chocolate pearls were probably better suited.
The total value of my box was $26. I thought that was good for a gourmet box, plus we received 4 really nice sized selections. We ate everything really quickly (so indulgent!) and we already pressed our buttton again. Super pumped for the next box already (and we just love knowing it will be here soon!).
Visit Amazon Prime Surprise Sweets to get your button or find out more!