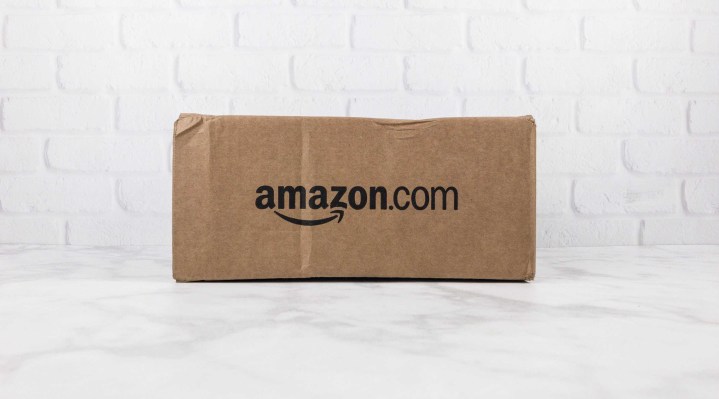 Amazon Dog Food & Treats Sample Box is  one of the sample boxes periodically available for Amazon Prime Members and is packed with pup dog food and treats items. Simply purchase the box for $11.99 and one week after shipping you will receive a $11.99 credit on your account that can be used towards the purchase of dog food & treat products.
It is actually amazingly dressed up for an Amazon package — it has paper folded around it and a card!
This box is still available! You can find everything, including this box while supplies last, at the Amazon.com Sample Boxes Center.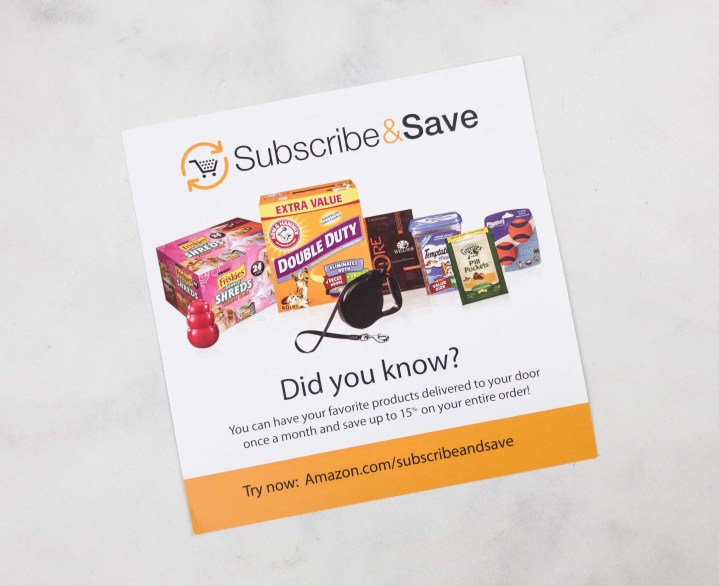 And if you don't already, you can try Amazon's Subscribe & Save – which I love! Easiest way in my book to get my household essentials delivered. We get our dogs' food delivered via S&S, as well as Lindy's secret treat stash (Marrobones!).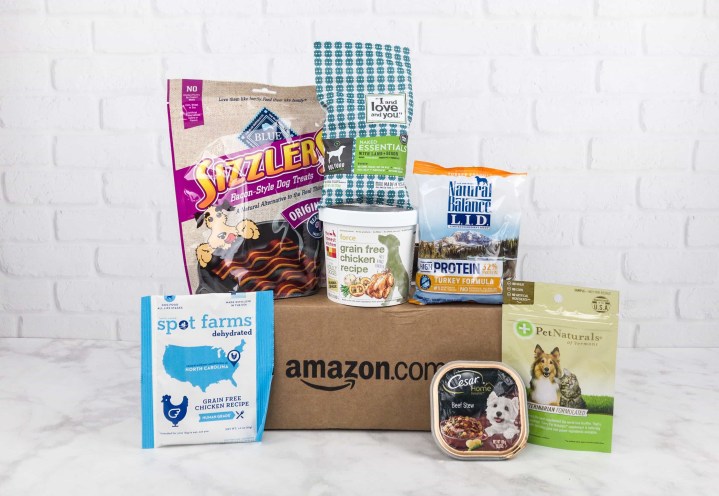 All the doggie food and treats in this box!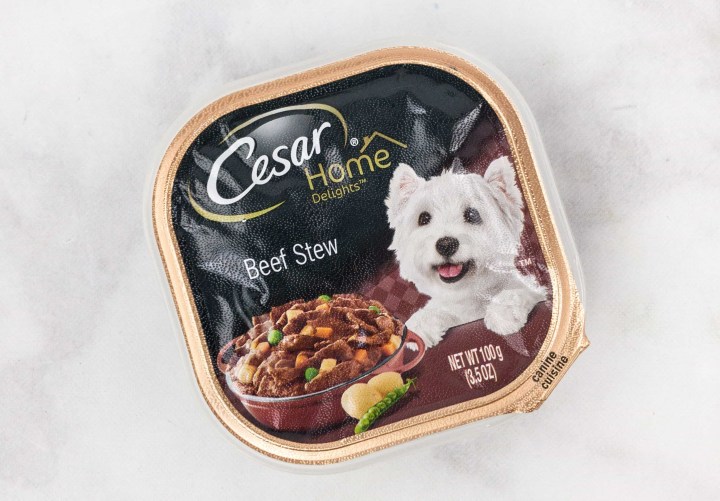 Cesar Home Delights Beef Stew Dog Food ($0.70) Dogs simply adore this beef stew. It's as if they just KNOW it's made just for them. Even the pickiest dogs love it.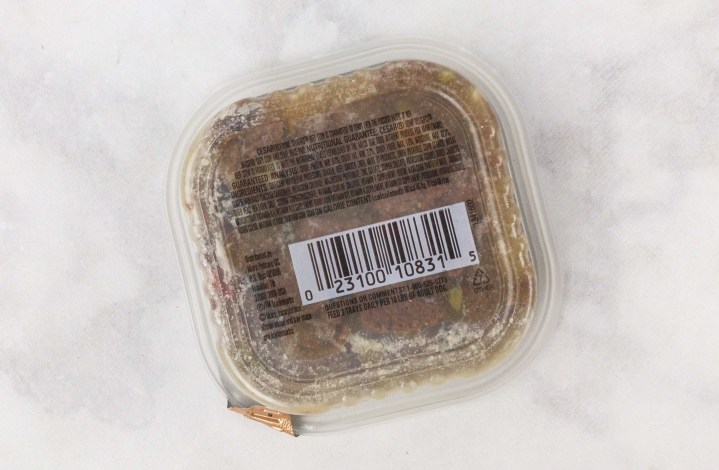 You can see right away that the package is filled with meaty stuff. This isn't ultra-premium food, so there is a lot of meat by-products and the like. I don't know that I would do a full three cans a day per 10 lbs of dog as recommended, but it is guaranteed to be gobbled if offered as a treat.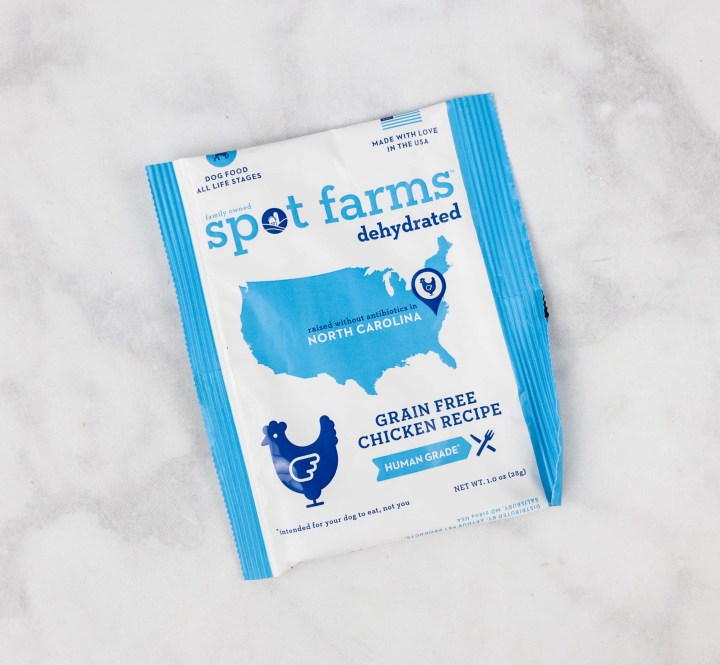 Spot Farms Dehydrated Grain Free Chicken Recipe Dog Food ($1.40) This is the other end of the spectrum — human grade, antibiotic-free chicken. It is grain-free, if you want to avoid that common canine allergen, and the powdered form means you don't have to put up with the smell or potential spoilage of fresh meat preparations.
It's very easy to prepare, you simply mix it with some water, let stand for a little while and it's ready for your furry friend. And it meets each dog's dietary needs so dog owners don't have to worry about imbalanced nutrition.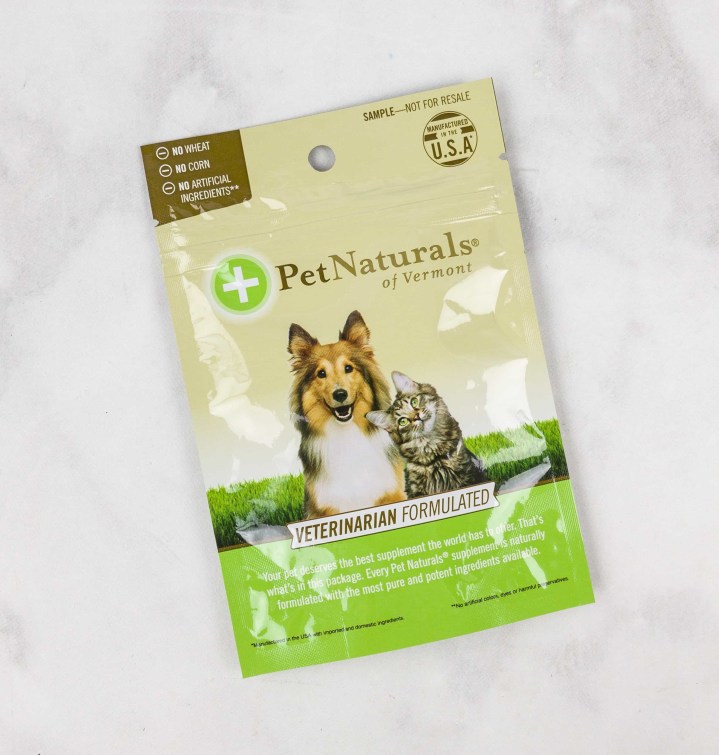 Pet Naturals of Vermont Calming Supplement Chew ($1.35) These tasty chicken-flavored chews are a great help for when dogs are stressed. Perfect for antsy dogs and even for typically behaved dogs during stressful times like when there are fireworks or a storm or during travel.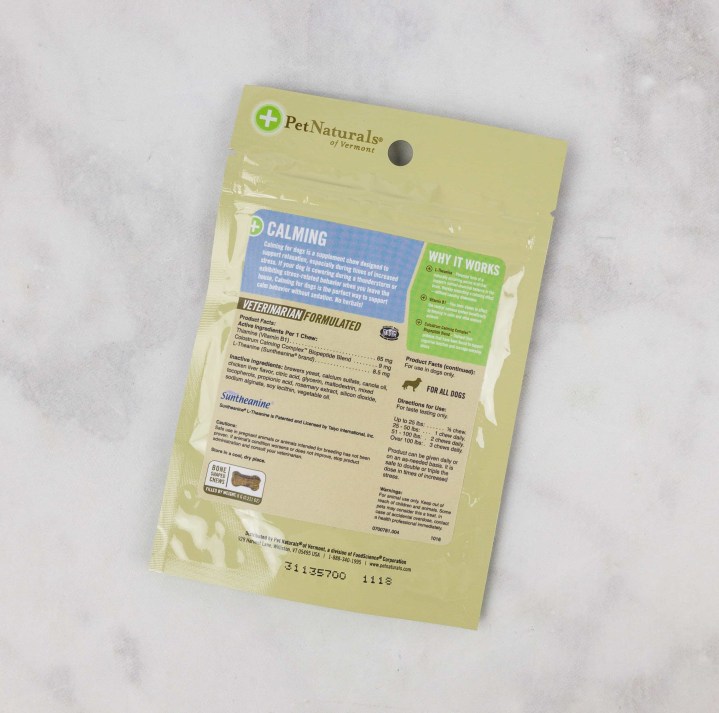 This Calming Chew is formulated by veterinarians so it was made with the wellbeing of pets in mind. It's all-natural so it's safe to double, even triple the dosage as needed.
Natural Balance L.I.D. High Protein Turkey Formula Dog Treats (≅ $1.37 for 4 oz bag; $21.99 for 4 lb bag) This Turkey Formula from Natural Balance L.I.D (meaning "Limited Ingredient Diet"), is an awesome addition to any dog's diet. The formula is made of 60% real turkey, without grains or any other fillers. They also note that there is no chicken in it, in case you thought they might try to pass some off as turkey.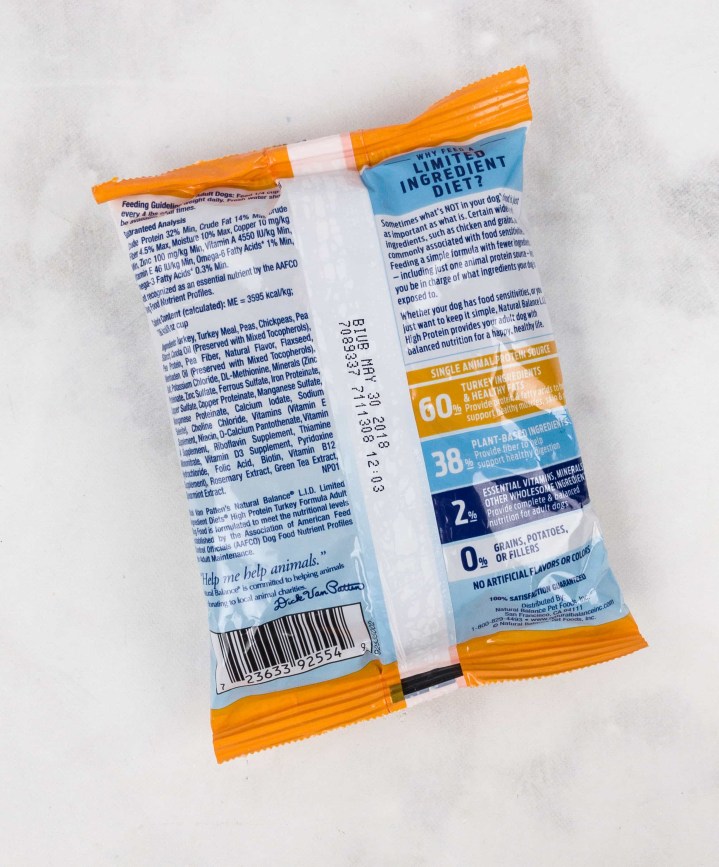 Aside from real turkey, the formula also includes plant-based ingredients to provide fiber. It also has vitamins and minerals essential to adult dogs' overall health. Dogs love the taste of the food so much that bowls are emptied before you can say "dog food."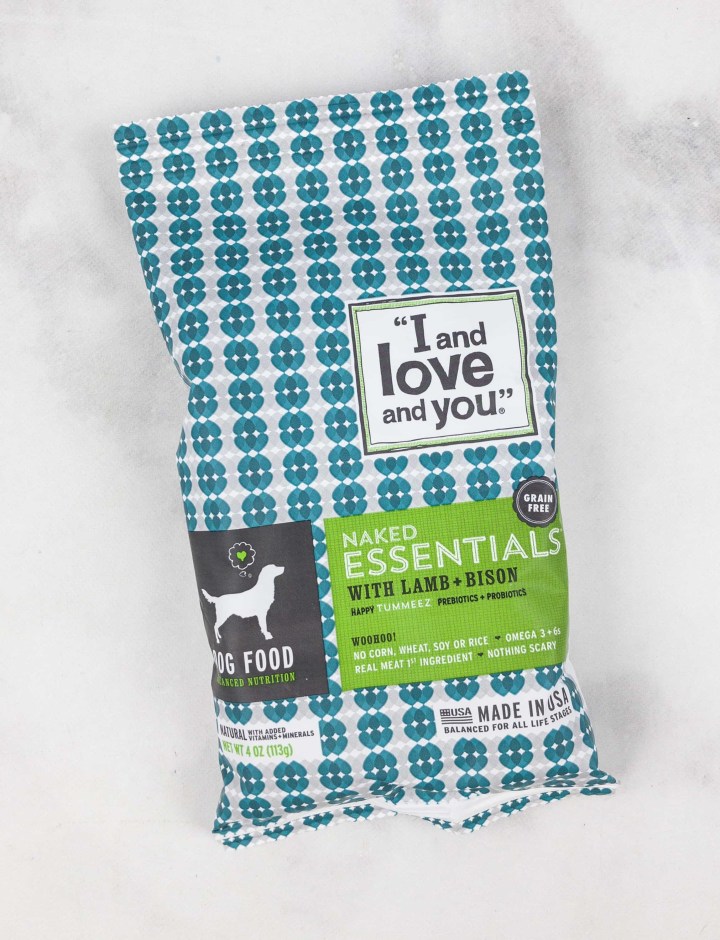 I and Love and You Naked Essentials With Lamb + Bison (≅$.56 for 4 oz bag; $23.56 for 11 lb bag) This is dog food made with love. Real meat is the first ingredient, and they also work in some prebiotics and probiotics for digestive health.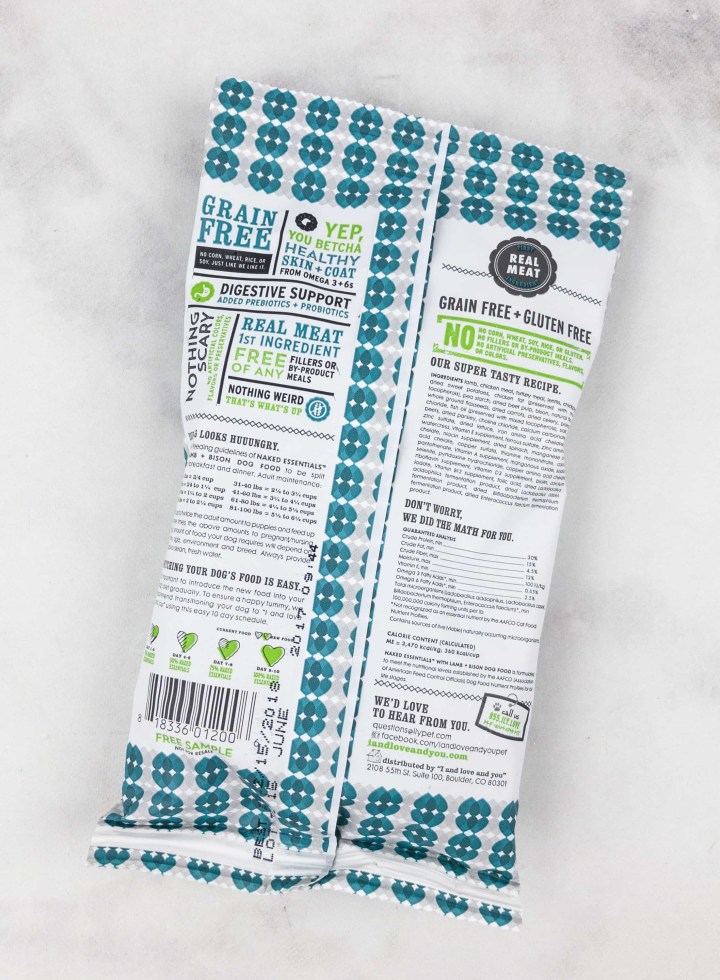 This grain free and gluten free formula is safe for picky eaters and ravenous "wolves" alike. It is packed with the right nutritional value for a well-balanced diet and is free of grains.
After a few bags of dog food samples, it's worthwhile to note that some dogs have issues transitioning from one food to another.  Follow your vet's advice (but tip – sometimes you can use a brand new kibble as a training treat – our dogs will eat different foods as a snack).
The Honest Kitchen Grain Free Chicken Recipe Dog Food (≅$2.15 for 3 oz; $23.02 for 2 lb bag) This product is a great idea for picky dogs or dogs on a semi-restricted diet.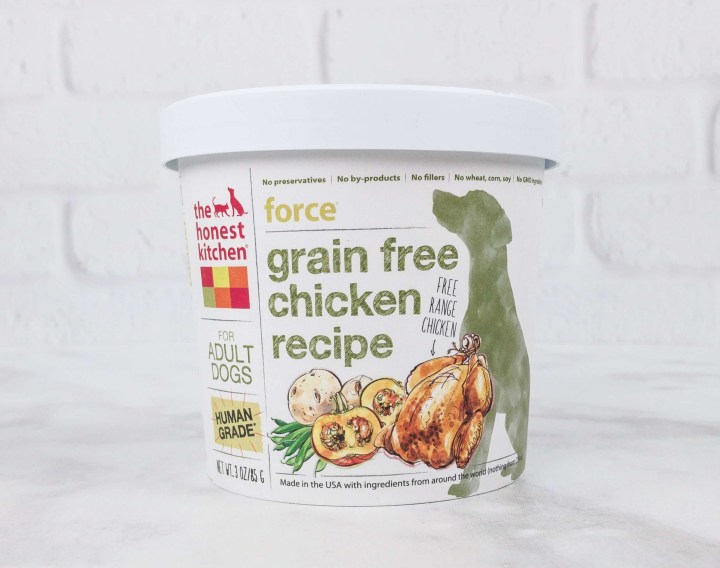 It is made with natural, free range chicken, with a balanced mix of calories and proteins to maintain good health and wellness in adult dogs. We fed Lindy the Honest Kitchen after a bout with pancreatitis for a few months and highly recommend it!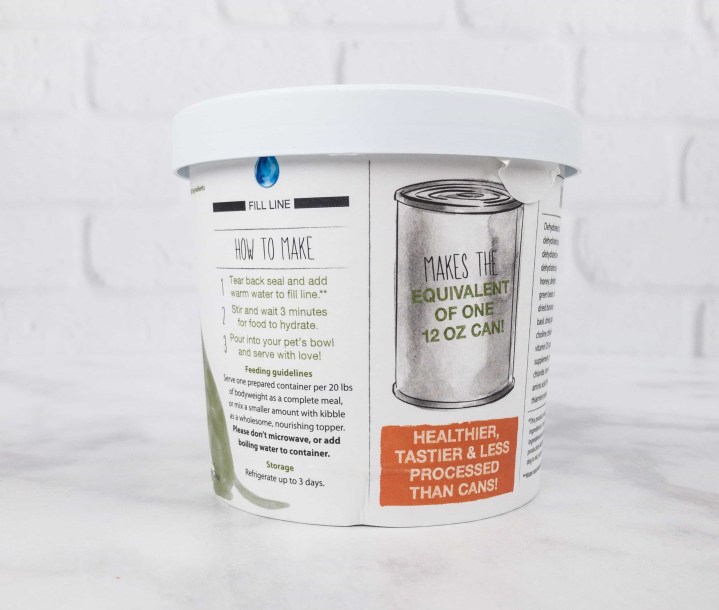 It's also very easy to prepare. Just add water to the container, mix and let hydrate. And it's ready for consumption. The meal can be used as a complete meal, but it is also great to serve as a topper for kibble to make it more palatable.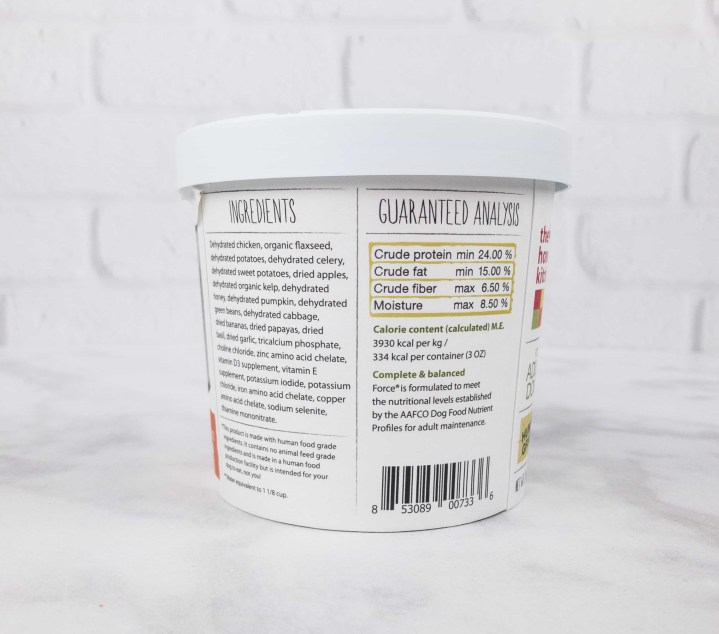 The Honest Kitchen's Grain free Chicken Recipe is filled with all natural ingredients including chicken, organic vegetables and essential vitamins and minerals.

One tub is enough for one meal for a small-sized adult dog — this guy can get a couple meals out of it. Bigger dogs might require one more tub, or have it added to kibble to make for a more fulfilling meal.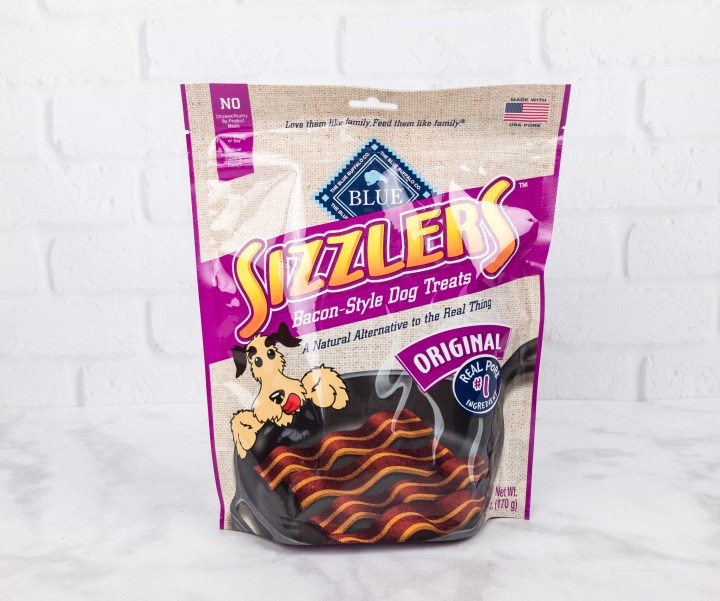 The Blue Buffalo Co. Sizzlers Bacon-Style Dog Treats ($10.60) Dogs and humans alike love bacon and this treat from The Blue Buffalo Co. is every dog's dream treat. Made of real pork, it has a super smokey and bacony smell (and taste, I presume).
The Blue Sizzlers are great-tasting, without any grains, gluten or artificial flavoring and coloring.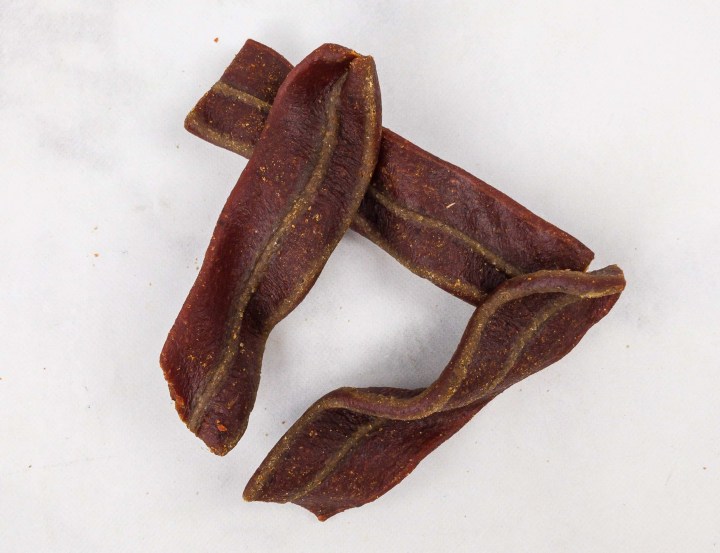 They look somewhat like bacon (turkey bacon actually). My dogs go crazy for these!
This box had a nice variety of treats to sample, and I was impressed that so many were grain-free and health-conscious. About $17 in value and the box is totally free after I use my credit (which I will, because I buy a lot of Prime Pantry items to stock up for my crew).
FYI:  Here's the instructions to get the the other available boxes!
Amazon is offering FREE sample boxes for Prime members after credit! You will pay for the sample box and then receive a credit back on Amazon for the purchase of specific brands/items in the categories you purchased the box in!
Here's how it works:
Be an Amazon Prime Member! If you're not, you can sign up for a 30-day free trial! Amazon has a lot of offers for Prime Members, including the Baby Welcome Box!
Visit the Sample Boxes page and sign up for the ones you want.
A week after your product ships, you will receive an email with instructions about how to use your credit.
Use the credit back on Amazon for the items you want more of!
Visit Amazon Prime Sample Boxes to subscribe or find out more!