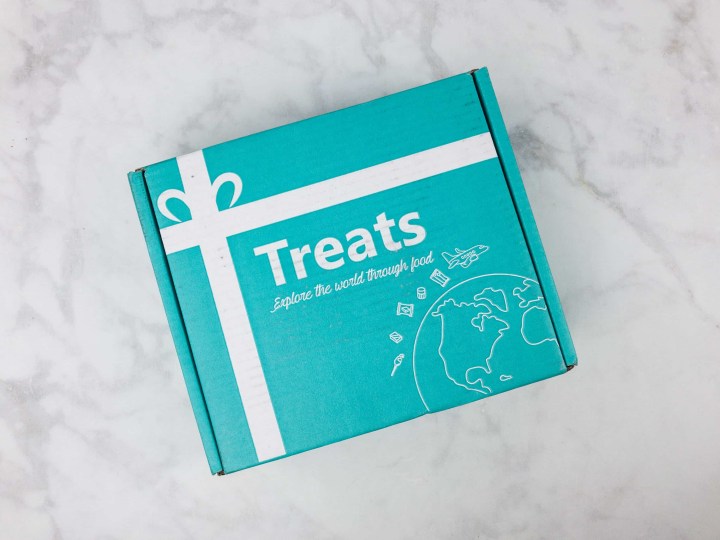 Treats is a monthly snack subscription full of snacks from around the world. You can expect to receive eclectic and interesting snacks that you've never sampled before (unless, of course, you've lived in the featured country recently)! The Standard Pack offers 4-5 snacks, while the Premium box offers 8-10. This, of course, is the Premium Box. It's quick to enroll, and you'll get your first box within a few days of when you subscribe.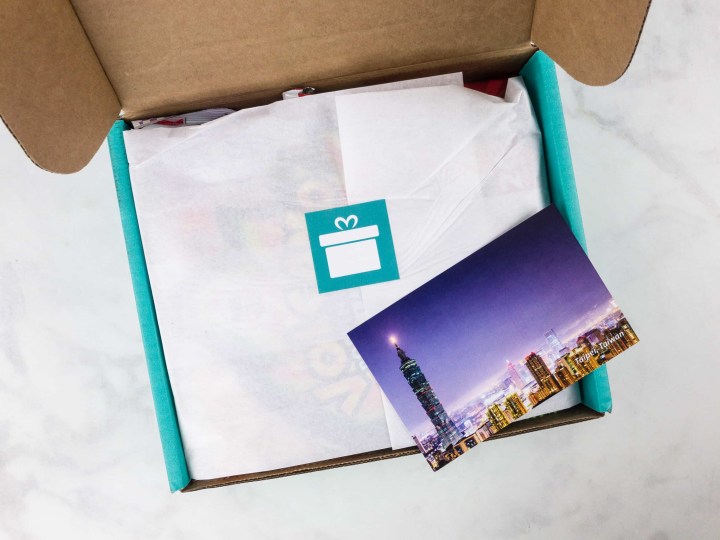 The packaging is simple and elegant. Tissue paper keeps the contents a surprise until you are ready to immerse yourself in the destination country's food culture.
The box is crowned with a beautiful postcard welcoming us to this month's Treats destination – beautiful Taiwan!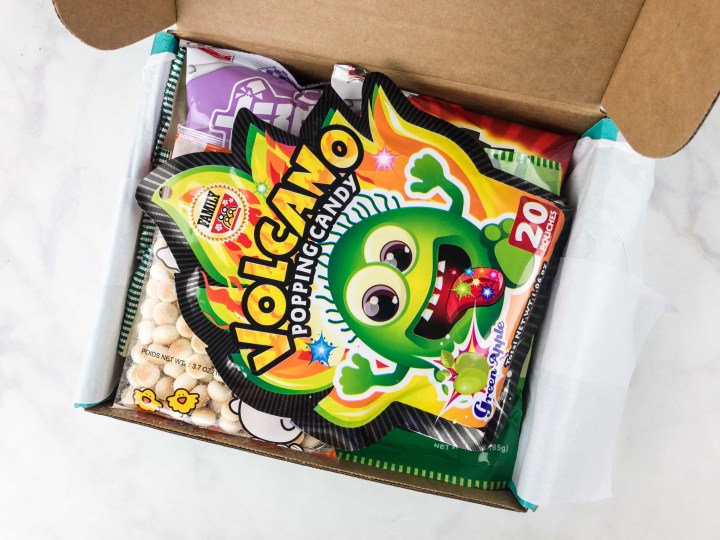 The box is filled to the top with goodies! Everything comes in its original packaging, often solely in the language of the featured country – sometimes it's just as much fun to see the unique package styling as it is to try the snacks!
DEAL: You can save 15% on your first month with coupon code HELLO15.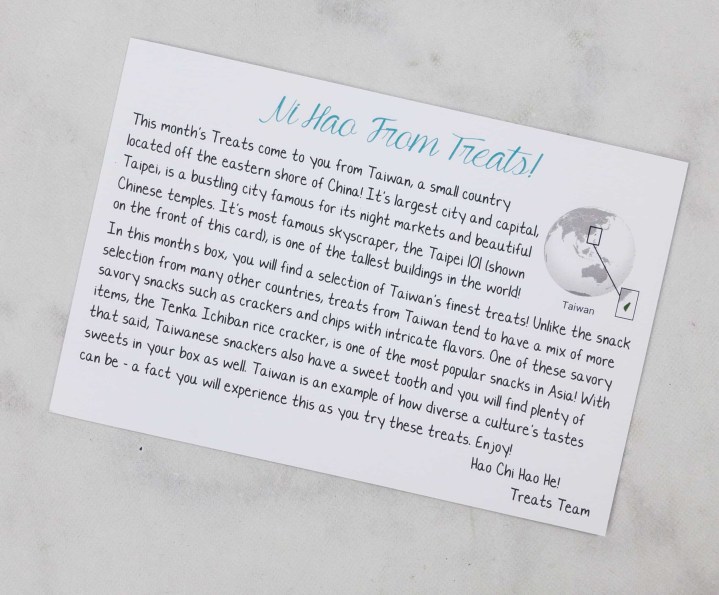 What a treat, a Taiwanese themed box! The introduction card tells a little about the snack culture. It notes the Taiwanese appreciation for savory snacks, like seasoned crackers.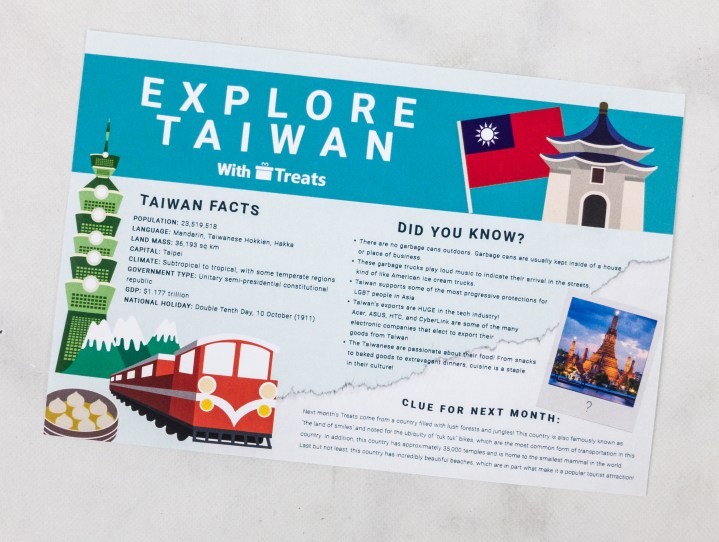 Treats now includes an additional card in each box that gives even more info on the destination country and its culture.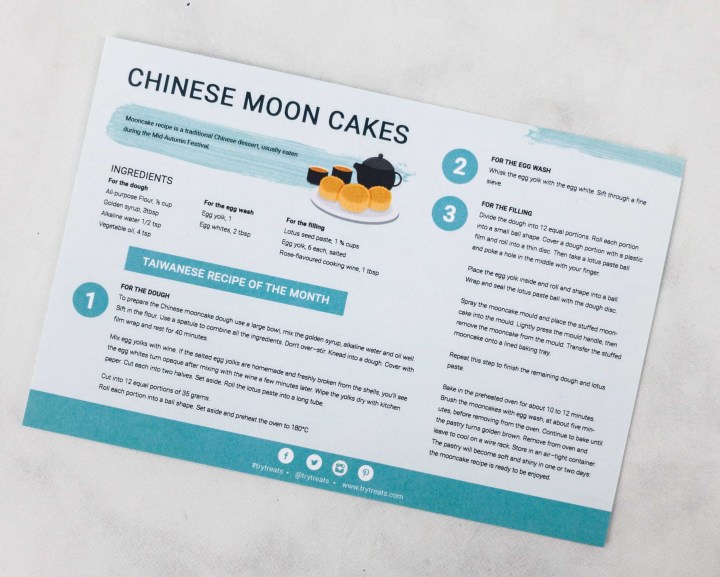 There's also a recipe card for a traditional Chinese Moon Cake recipe!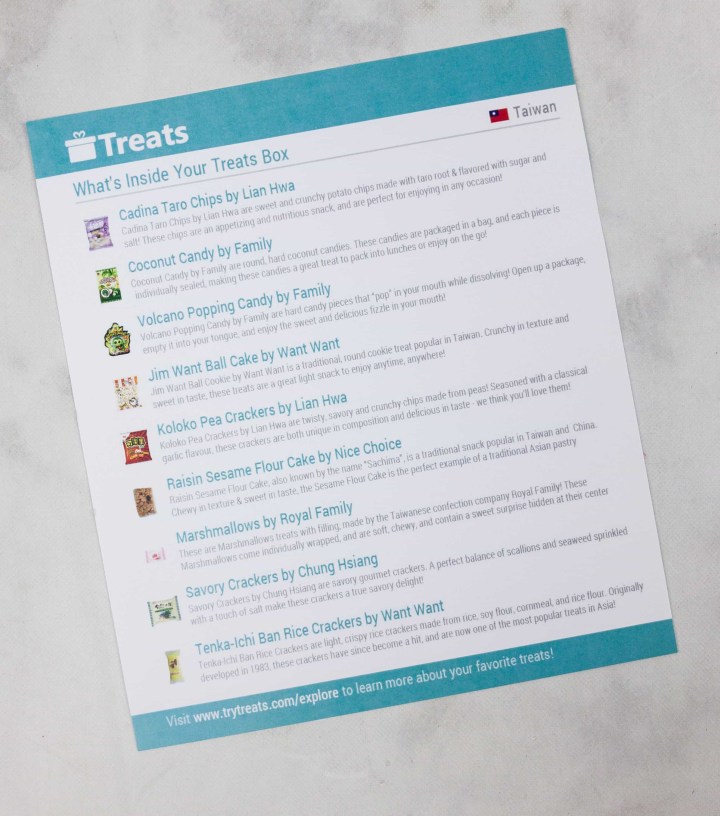 There is also a handy info card that gives the name and maker of each treat, as well as a short description of each. It was cool to see that several companies make local treats in Taiwan– some countries have only a single main bakery, narrowing the scope of products. The blurbs give you a sense of what to expect, but you'll have to check each treat's label (and possibly hire a translator) for more detailed info on ingredients and nutrition. Even with the card, the only way to truly appreciate everything is to taste it!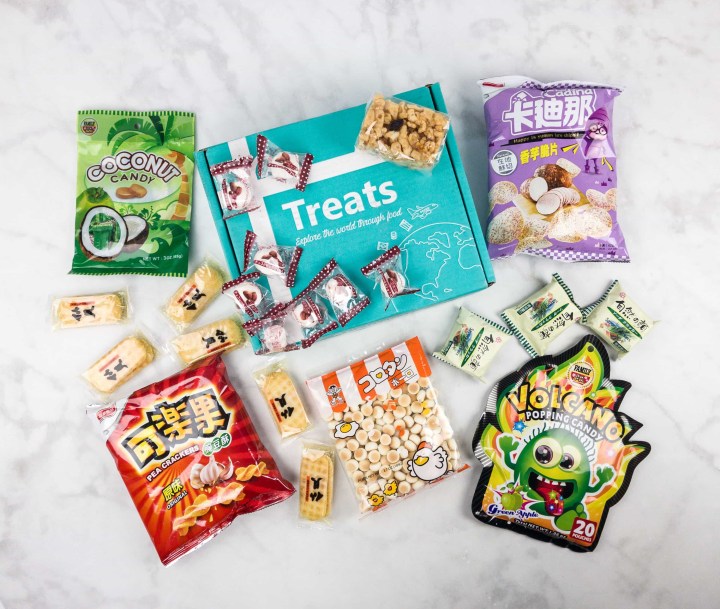 Everything in the box. The composition of each Treats collection depends on the local snacking culture, but there is usually a good mix of sweet and savory and individual and family packs. As noted on the intro card, savory chips and crackers are popular in Taiwan. There were no ginormous packs in this Treats, but the Volcano and Coconut candies contained many servings, and we received multiples of all the small items.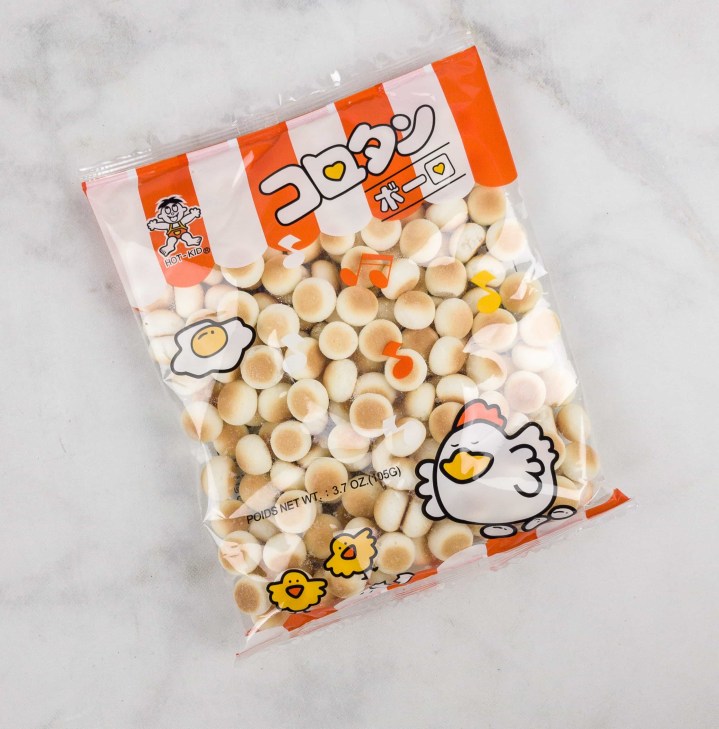 Want Want Jim Want Ball Cake – It's a traditional cookie-like snack which, according to Treats, is popular in Taiwan. It's sweet and crunchy, perfect for a quick snack any time of the day. The chicken on the packaging is a nod to the egg-like shape of the cookies – they aren't chicken flavored!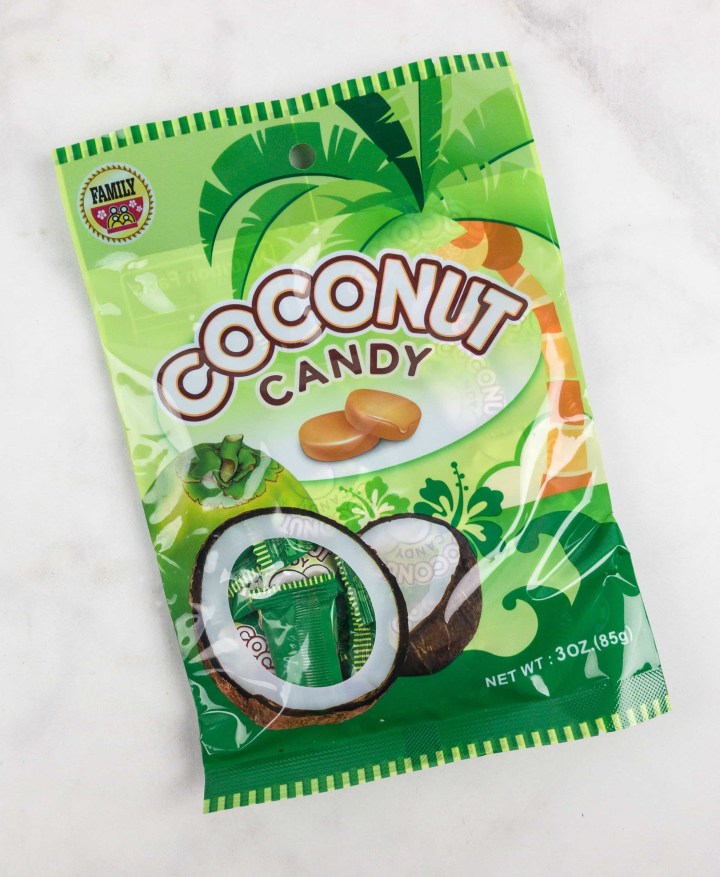 Family Coconut Candy – These are hard, round candies bursting with sweet coconut flavor. They are popular in many countries in Southeast Asia and are like a tropical version of a hard caramel.
The candies are individually wrapped. Ideal for sharing!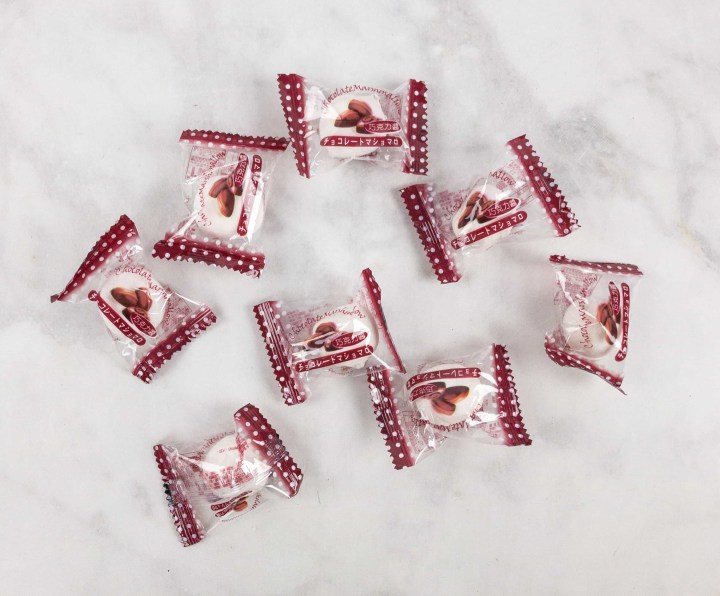 Royal Family Marshmallows – Soft and chewy with a sweet surprise at the center!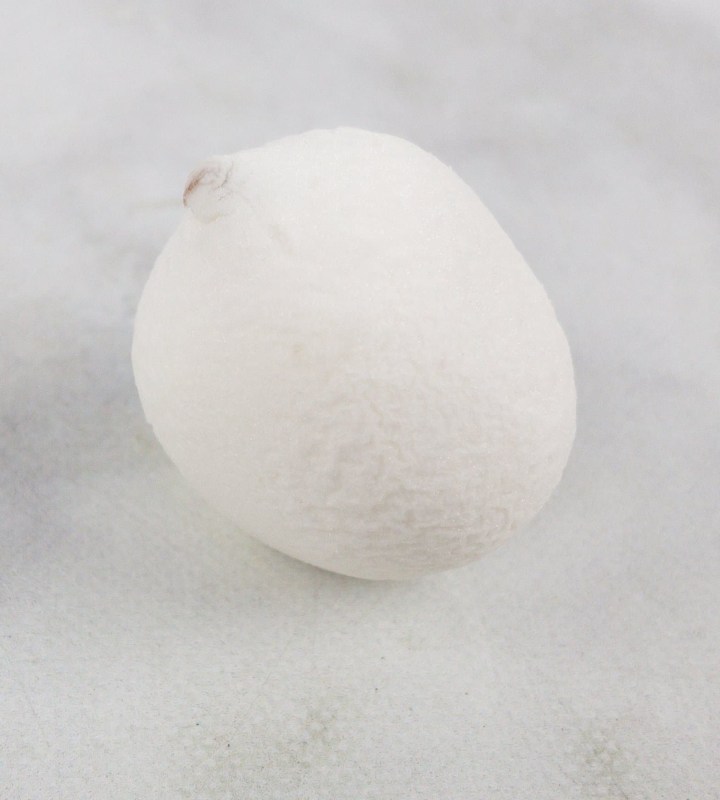 Isn't it fluffy? The marshmallow exterior is surprisingly soft.
Tadaaaah! Inside the marshmallow is a melt-in-your-mouth good chocolatey filling!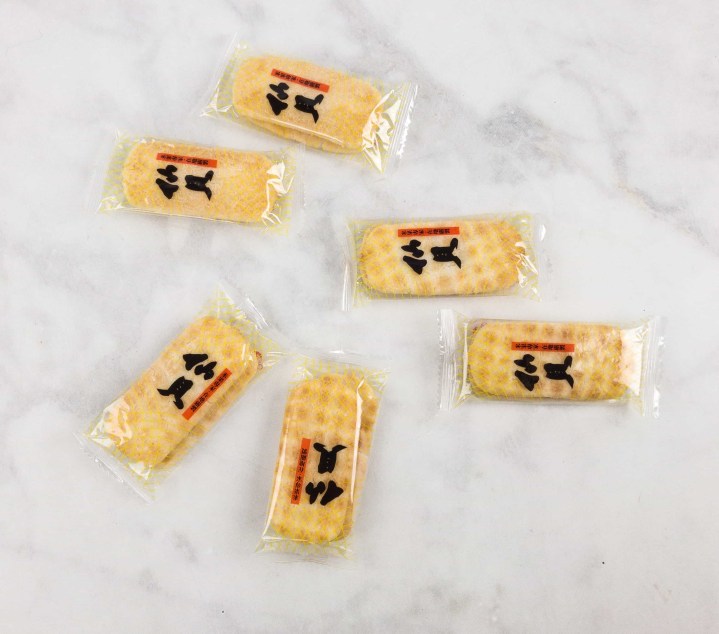 Want Want Tenka-Ichi Ban Rice Crackers – This snack was developed in 1983 and is now one of the most popular snacks in Taiwan and across Asia!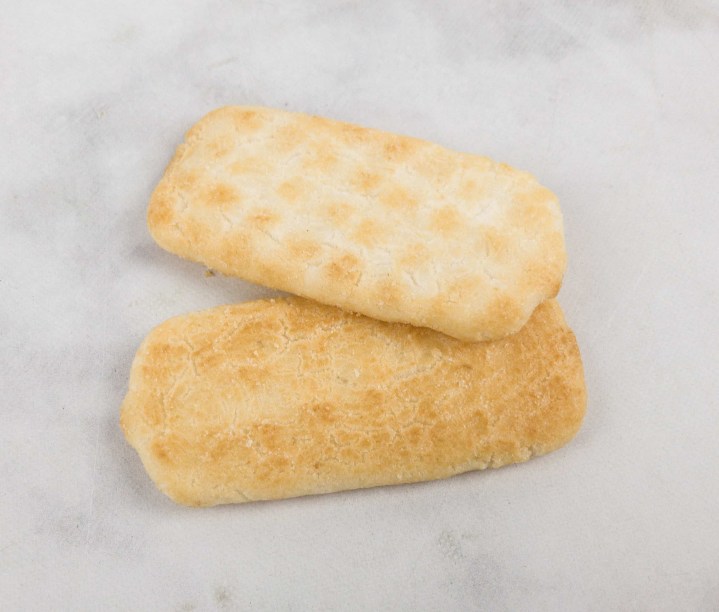 These are light and crispy. So tasty, you'll just keep wanting more. Ingredients include rice flour, soy flour, and cornmeal. They are much like Japanese senbei, but not heavily glazed.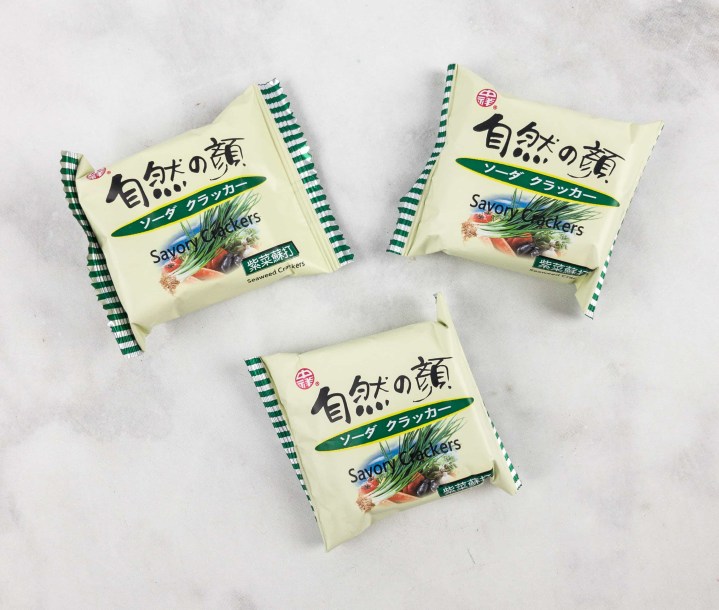 Chung Hsiang Savory Crackers – Scallions and seaweed were sprinkled on these bite-sized crackers. I didn't read these carefully before trying them, and I assumed they were just vegetable crackers as is popular in Taiwan. The seaweed was quite good and wasn't too fishy.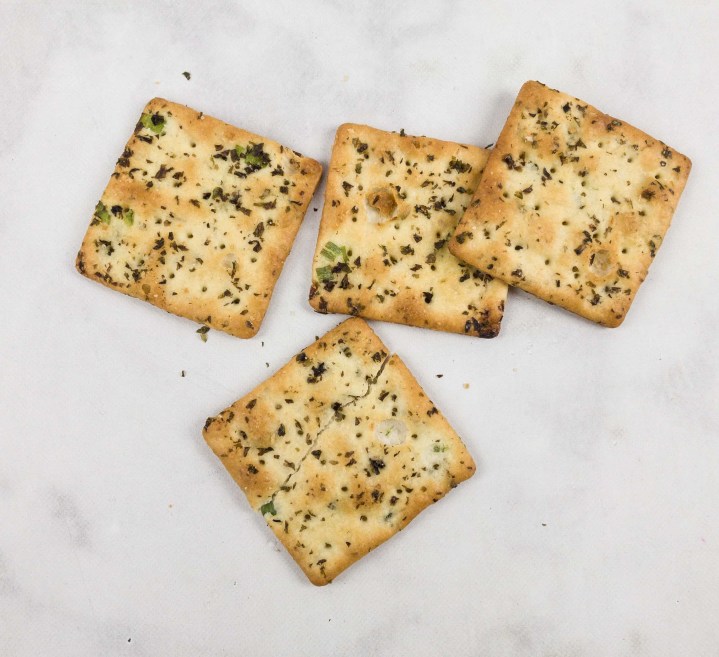 If you prefer more flavorful crackers over plain ones, this is for you.
Lian Hwa Cadina Taro Chips – Taro is known to have high content of dietary fiber, vitamin A, vitamin C, and vitamin E.
Sweet and crunchy chips! These were made with taro root and was flavored with sugar and salt.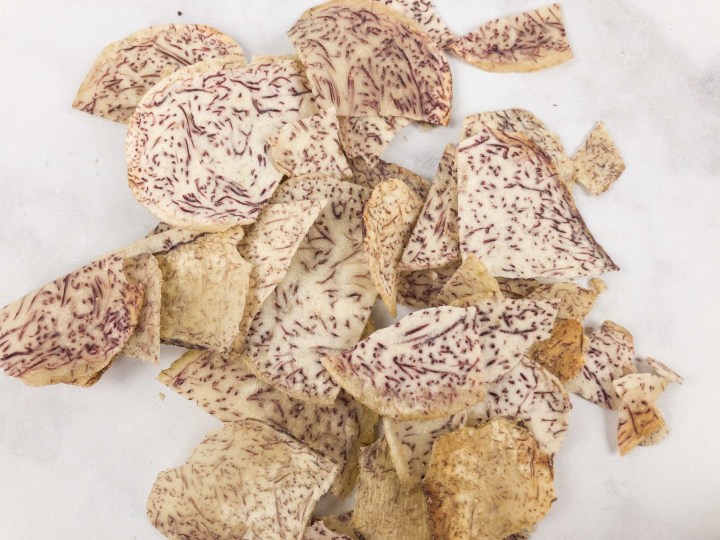 The chips look kind of weird, but they do taste good! They have a more substantial flavor and firmer texture than potato chips – the taste reminds me a bit of casaba or plantain.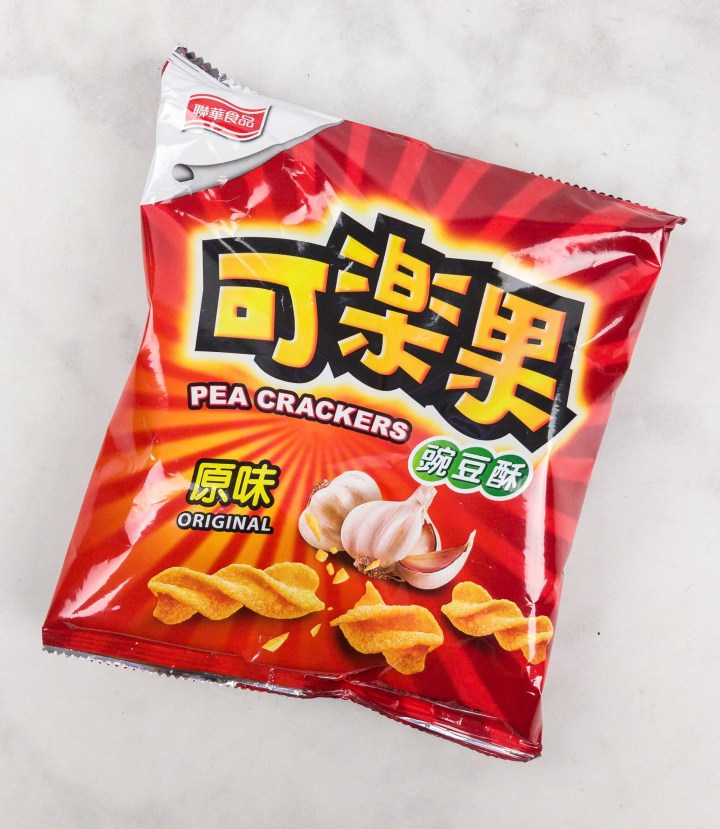 Lian Hwa Koloko Pea Crackers – Twisty chips made from peas!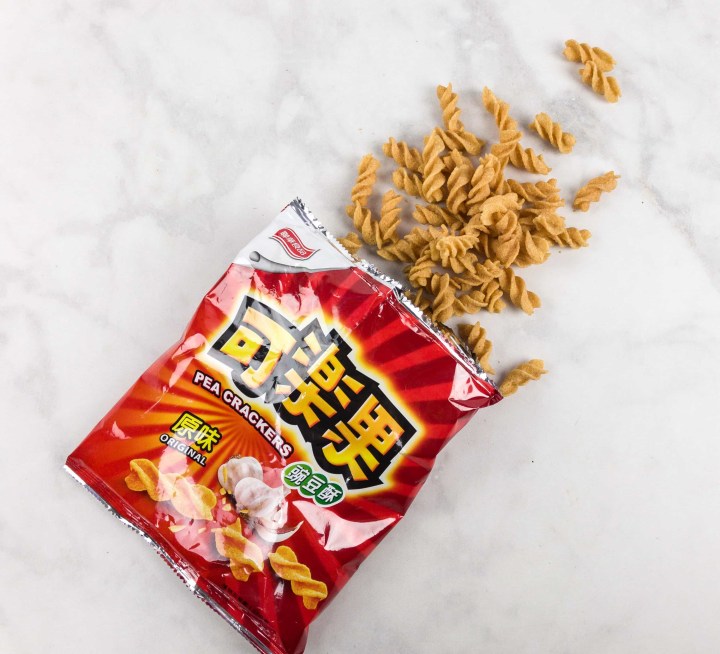 These are savory, with a garlicky flavor and a nice crunch.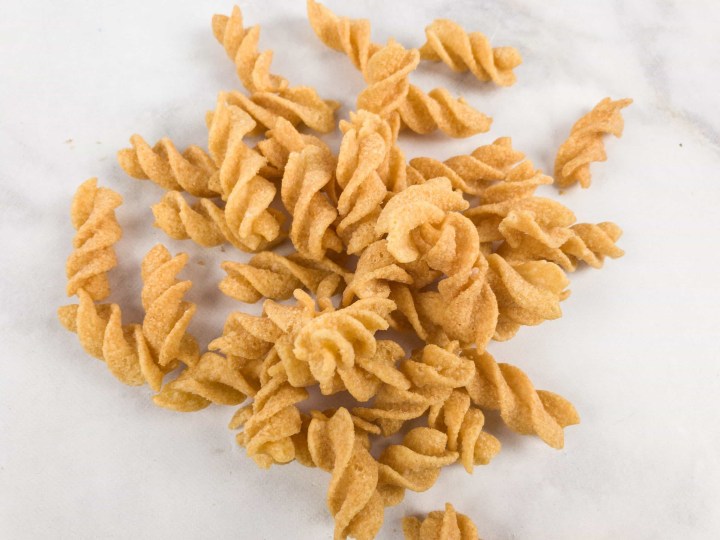 It's so easy to fall in love with this unique Taiwanese snack. The garlic is super-intense! Definitely a home-on-the-couch snack and not something to munch while getting ready for a date!
Family Volcano Popping Candy – These are candies that feel fizzy in the mouth as it dissolves.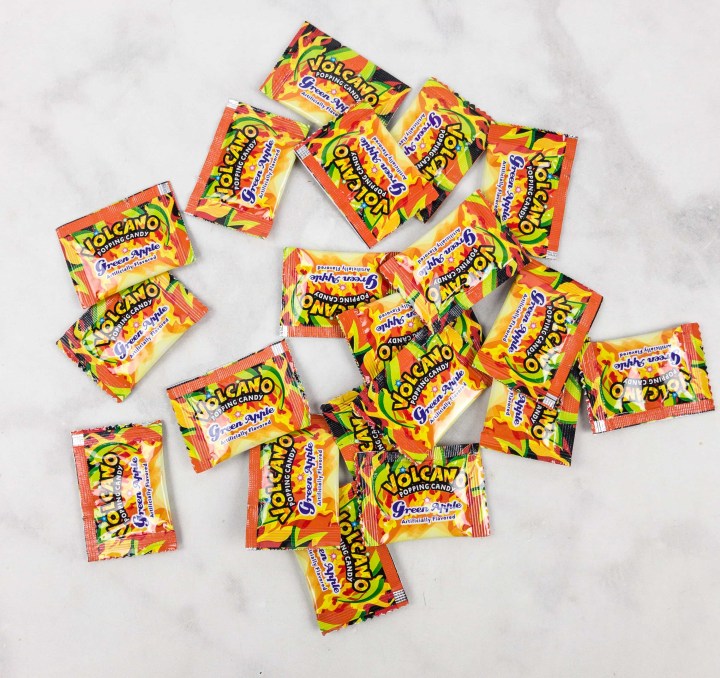 Individually wrapped, it would be great for party bags or trick or treat bags!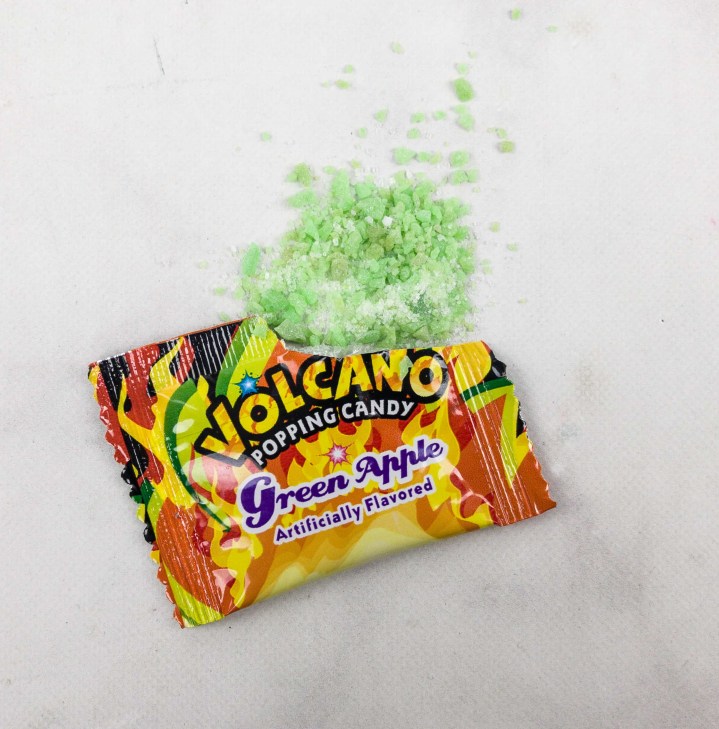 We got them in green apple flavor. Kids find it fun to eat, while for adults it was kind of nostalgic since this kind of candy has been around for quite a long time! Much like Pop Rocks, but a bit more powdery.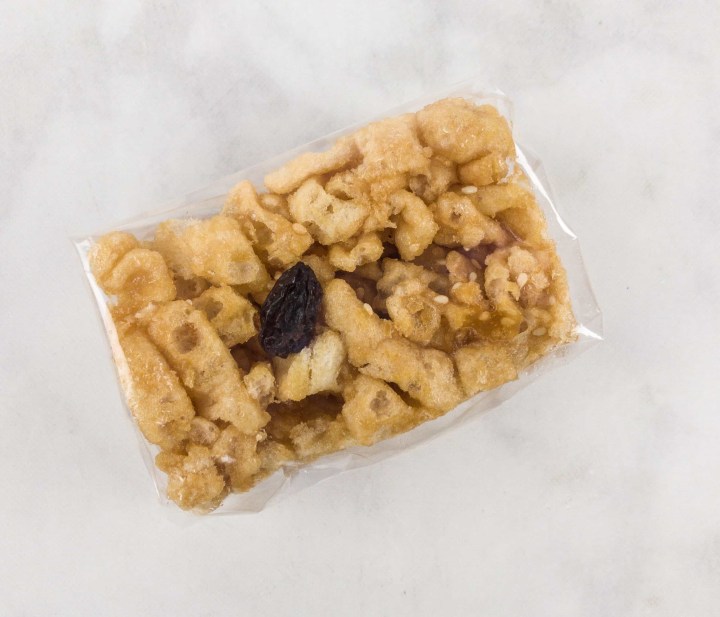 Nice Choice Raisin Sesame Flour Cake – Also known as "Sachima." This traditional snack is sweet and a bit greasy. It has a sprinkle of sesame for savoriness and a single raisin on top (I believe that is itself traditional, as I've only ever seen these with a single raisin).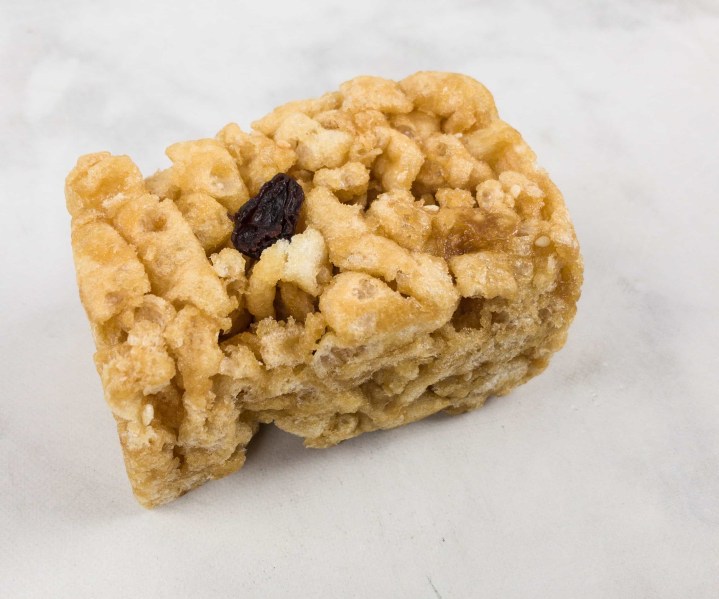 The texture is very chewy. It's like a Rice Krispy treat made with sugar syrup and fried wonton noodles instead of cereal and marshmallow. The most unique thing about these is the greasy texture — very yummy.
It was fun knowing Taiwan through their most popular snacks! This month's box is a balance between sweet treats and savory snacks, and they made sure to include some of the cracker-like items for which Taiwan is known. Treats is an around the world subscription box delivers the good stuff while still sticking to the theme. You never have to worry about getting stuck with a bag of dried fish – they strike a good balance between authenticity and general appeal. It is really perfect for people who like to try new snacks and feel like they are in a snacking rut.
Have you tried Treats yet? What did you think of the box?