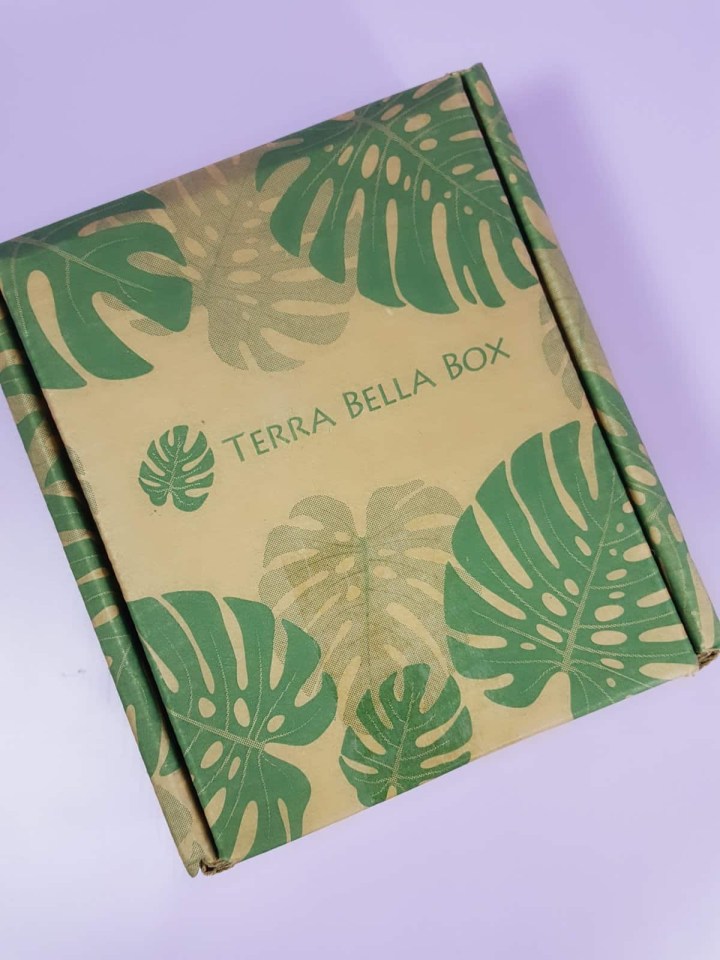 Terra Bella is a monthly subscription box of natural, artisan products for your bath and beauty routine. Each box has 3-4 products and free shipping in the U.S. This box looks earthy and natural from the outside with the leaf print all the way through the brown box and the whole color scheme.
The products are handmade, animal cruelty-free, and made in small batches by small businesses from ethically sourced ingredients. Products can include cleansers, moisturizers, masks, exfoliators, hand and nail products, hair products, bath products and such. Terra Bella was created by Kate Gray. Her goal is to fill your cabinets with every beauty product that you might need. And with that in mind, each month is filled with a wide variation of useful products.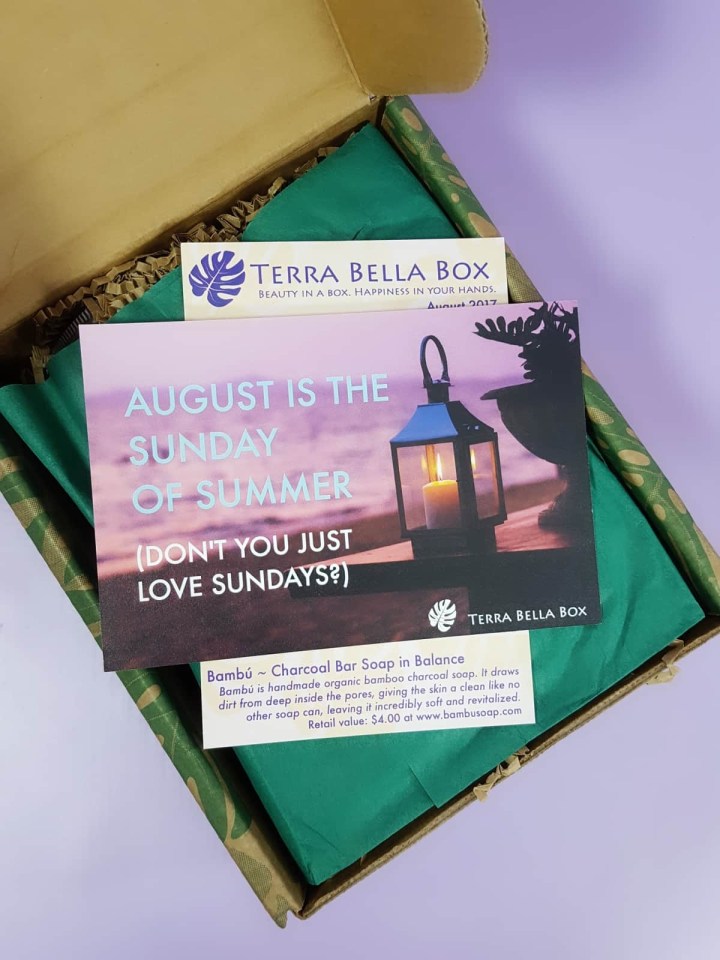 First look into the box and everything is wrapped in green tissue and the box is stuffed full with brown squiggles. Well I live in NC so September is just as hot as August but I do like the saying. It is pretty true (for my September).
DEAL: Save 10% on your subscription! Use coupon code HELLO10.
Everything in my August box. The Terra Bella Box is $32.95 a month, auto renewing. The Make Up Edit box (which is at least 3 make up only products) is $29.95. You can switch between Terra Bella or the Make Up Edit each month.
Each box comes with an info sheet that tells what is included in the box and then links to find them online when you want to order more.
Tea Face by Your Tea ($25.00) – I have never thought of this but it is gentle and exfoliates and revitalizes the skin. My boys go back to school soon and I plan to have a pampering day soon. Terra Bella Box sent an email with information on how to use this one since the card was missing from the box. It is a simple wash, scrub, soak and remove.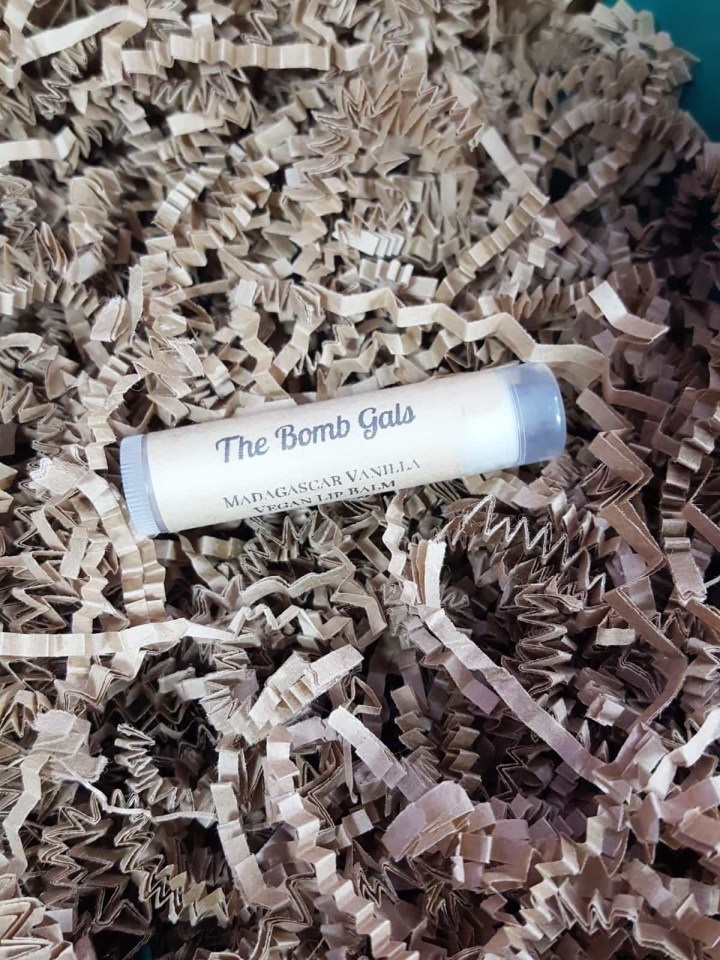 Vegan Vanilla Lip Balm from The Bomb Gals ($4.00) – My lips have been so dry this summer and I'm always looking for a new balm. This one went on really smooth and was really moisturizing as I wore it throughout the day.
Natural Rose Pumice Stone by Maguey Weaves ($4.00) – This could not have come at a better time. After a summer of bare feet and flipflops my heals are atrocious. I love a good pumice stone and this one seems pretty great. I did it last night and I already feel some difference. I'm going to have to keep it up.
Papaya Enzyme Soft & Silky Mud Mask by Herbal Transdermal ($15.00) – Another mask to help prep your skin after a harsh summer or sun and fun. This mask has so many great benefits and the Papaya contains a "powerful enzyme called peptin. Peptin is a digestive enzyme, but when applied topically to the skin it helps to smooth, exfoliate and make skin healthy and radiant. Combine that with the nourishing properties of Vitamin A, C, E and carotenoids and you have a skin loving powerhouse. These antioxidants also reduce inflammation of the skin which is one of the main causes of aging skin." I've got some age on me so anything to help keep that at bay is always welcome.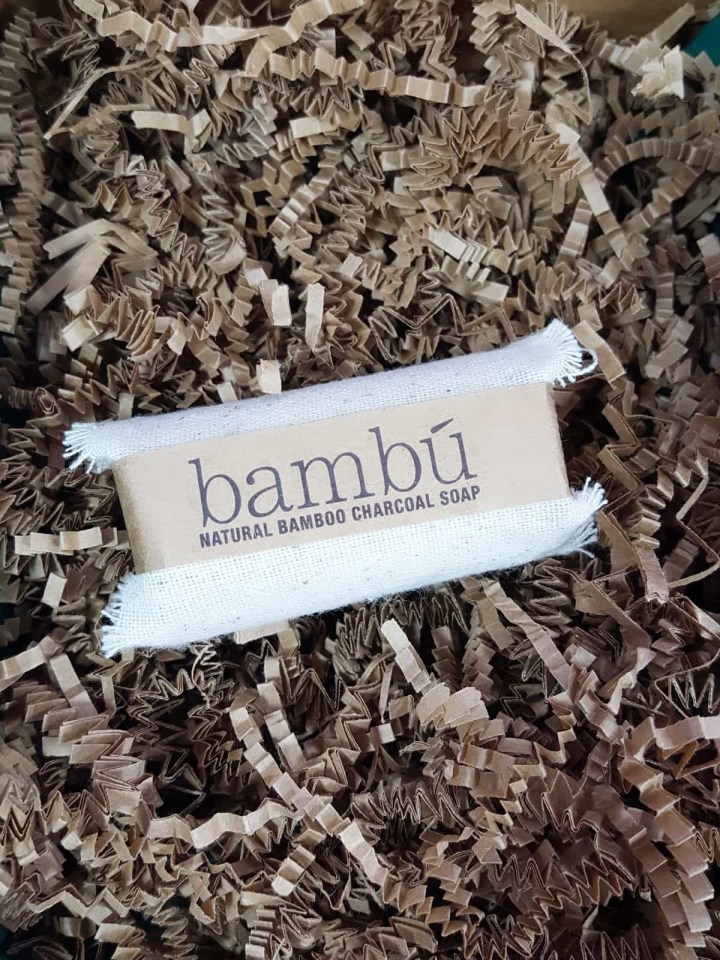 Charcoal Bar Soap in Balance by Bambu ($4.00) – I'm still getting into the charcoal craze and this one is an organic bamboo charcoal. I'm going to add this into my rotation and see how it cleans my skin.
Terra Bella Box sent a box that is ripe to get our skin ready for fall. I know that with all the sun, sand, chlorine and lotions I put on my face in the summer I need a good detox and all of the items this month will help with that. While August is a great month for most of the world I still have another month or so here but I'll be ready for when it cools down and I can really relax and get ready for fall.
Which product was your favorite in this month's Terra Bella Box?