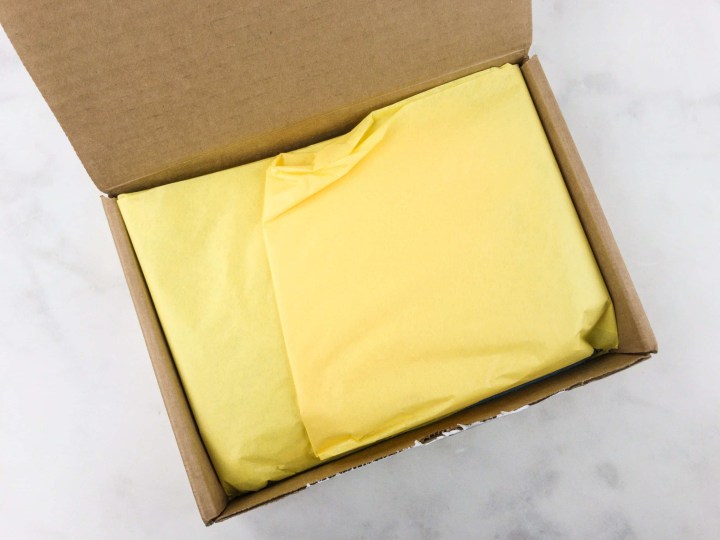 StitchyBox is a bi-monthly subscription box for counted thread embroiderers and cross-stitchers. There are two options – the Big Picture Box and the Detail-Oriented Box. With both styles you'll receive a variety of threads, from staples like DMC to specialty threads you may not have met yet, and embellishments, stitching accessories and other goodies, with a total value of about $35 per box. They also have a "Just the Threads" subscription.
With the Big Picture Box choose
2 Fat 16ths (one 14-16 count Aida, one 28-32 count linen OR evenweave – your choice) OR
1 Fat 8th (Aida, linen or evenweave).
With the Detail-Oriented Box pick
2 Fat 16ths (one 32-36 count linen, one 40 count linen) OR
Select 1 Fat 8th (either 32-36 count linen or 40 count linen)
Stitchy Box also now offers add-on subscriptions (also available stand-alone):  Stitch It Up (XS charts), Bling It Up (bead & crystal), Buttoned Up, and Thread It Up, as well as limited edition chart designs and series!
This month the inspiration was Sunflower Field. The palettes for 2017 are found in nature.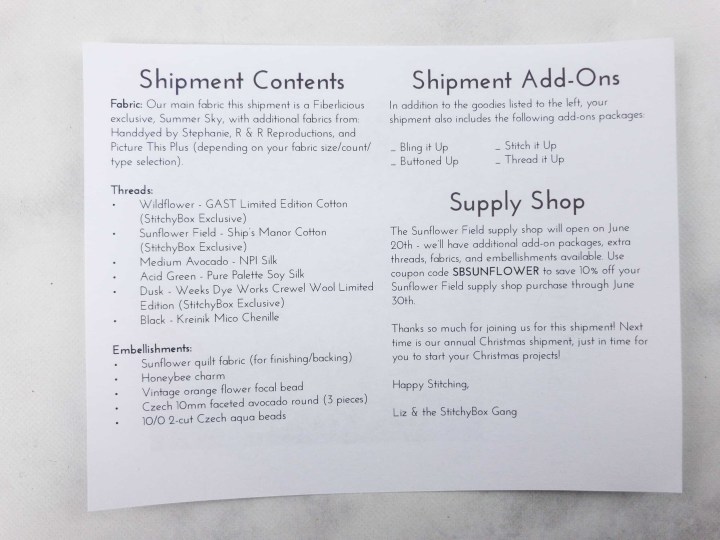 The information card gives a bit of details about each item, plus info about the supply shop (you can buy more of what you love, but usually only for a limited time – supplies are sometimes hand-dyed just for this box).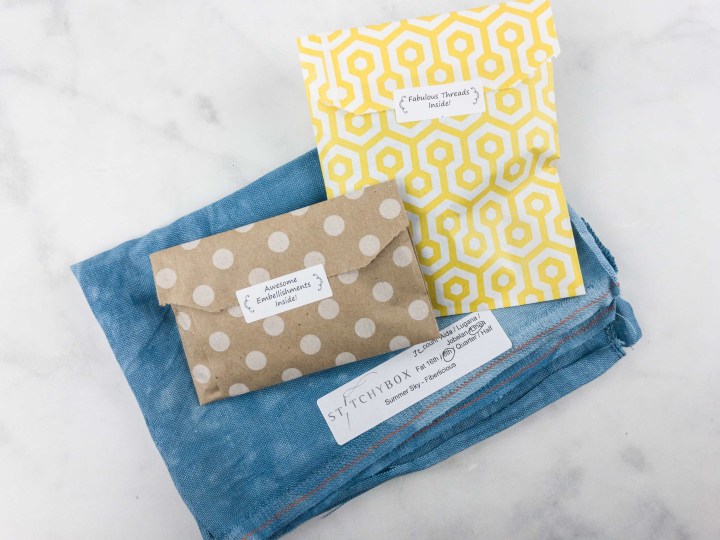 All the goodies this month!
Fiberlicious Summery Sky Linen: A StitchyBox exclusive, and it's so gorgeous!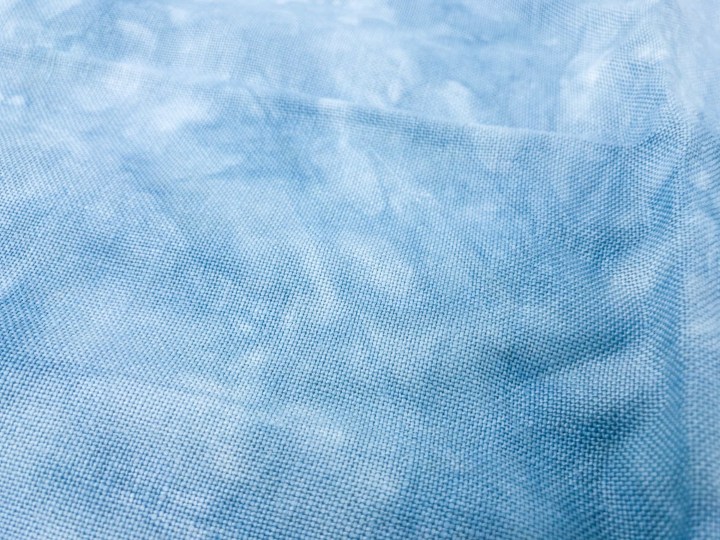 I love my fabric, but it's rarely the favorite item in the box for me. This deep deep sky blue is just stunning.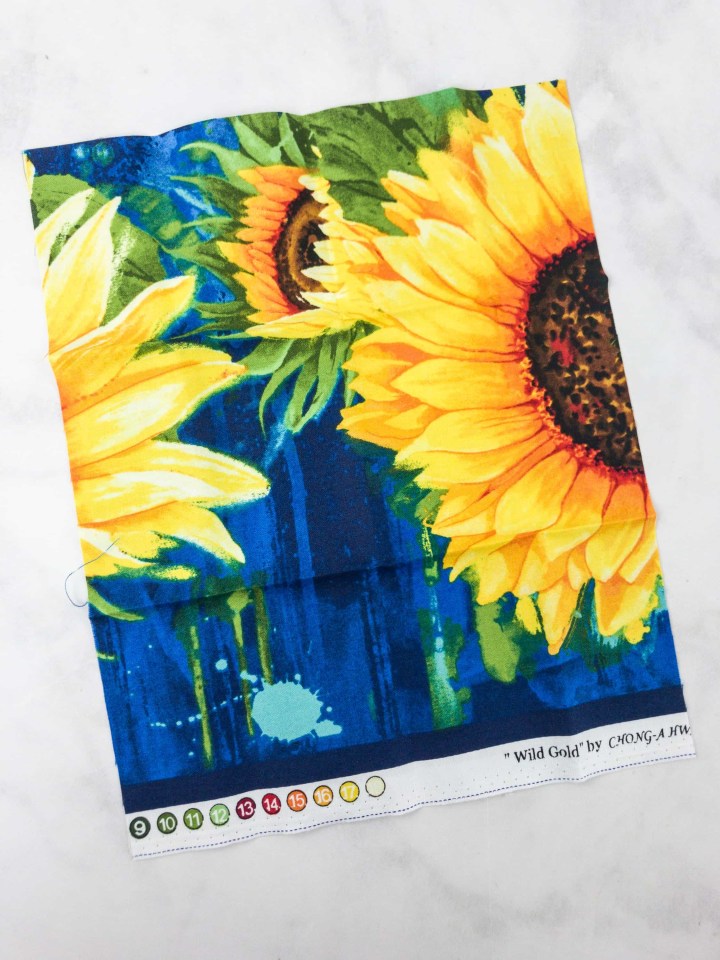 "Wild Gold" Quillt Fabric by Chong-A Hwang ($8.05 per yard) Some finishing fabric – not my favorite, I find it super early 90s. It's just not my style.
Czech Aqua 10/0 Seed Beads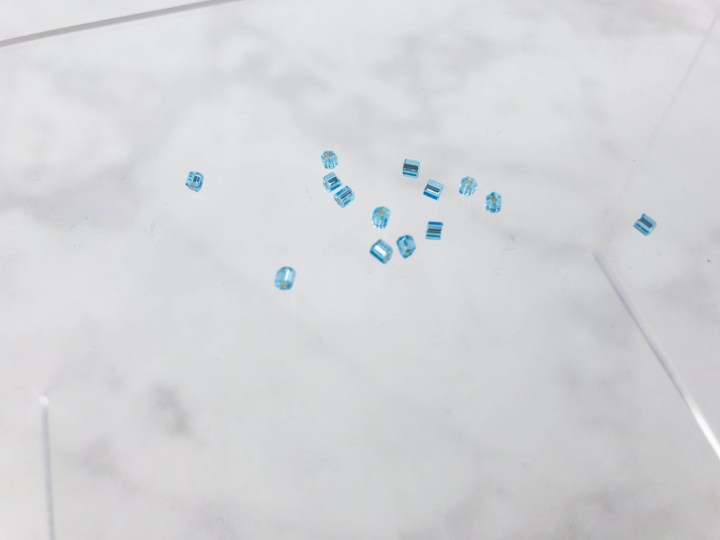 These beauties are gorgeous though!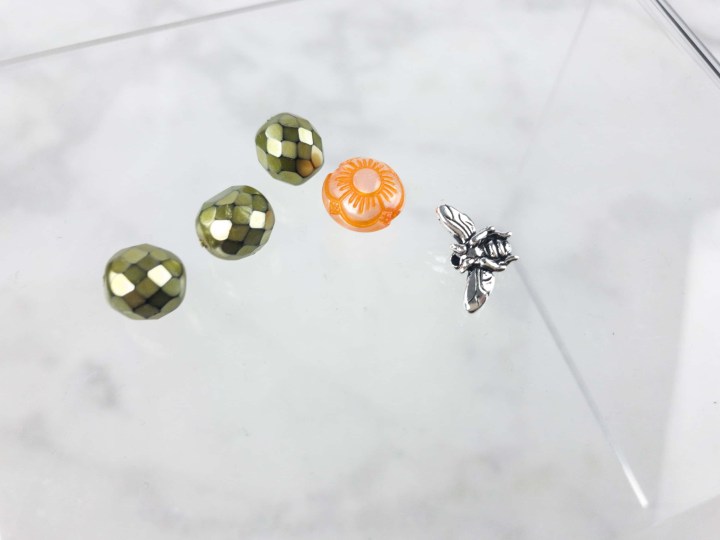 Czech 10mm Faceted Avocado Round Beads
Vintage Orange Flower Focal Bead
Honeybee Charm
I really like the olive colored Czech glass beads. I thought the vintage orange flower was unusual and fun, and surprisingly versatile for something orange, and the bee charm is sweet! (And also versatile since bee motifs abound in cross stitch!).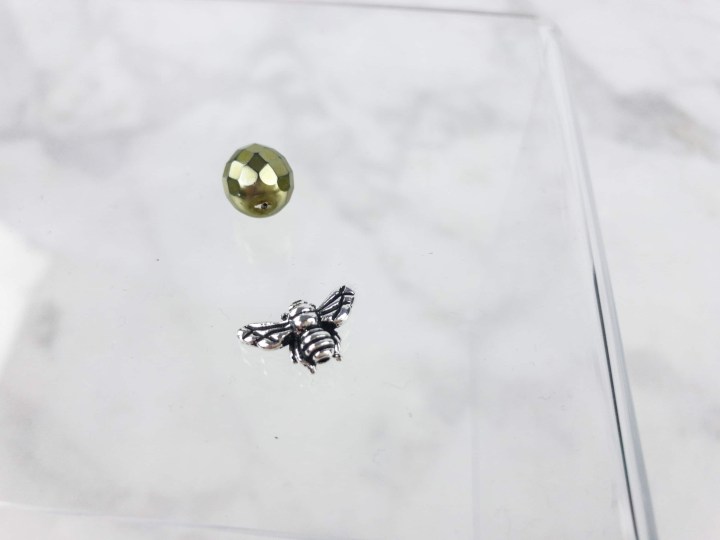 Another angle on these beads!
Thread time! I love the individual envelopes – super fun to open.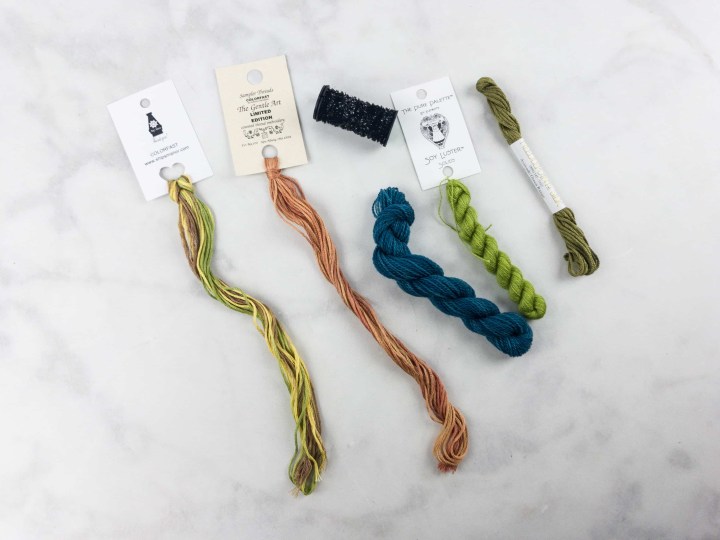 The Pure Palette Soy Luster "Acid Green" Silk Thread ($4.50)
StitchyBox Exclusive Ship's Manor "Sunflower Field" Cotton Thread ($2)
NeedlePoint Inc. #333 Avocado Green Range Silk Thread ($5)
A trio of greens – a bright springy green, a depth of summer variegated green into brown, and a mature avocado green. The first and last are silk, but I definitely preferred the look of the latter. I just like my threads to pretty much look the same except for their sheen. Just my personal preference (the first one was very puffy and needs only one thread).
StitchyBox Exclusive Weeks Dye Works "Dusk" Crewel Wool Limited Edition Thread ($6.50)
StitchyBox Exclusive The Gentle Art Sampler Threads "Wildflower" Limited Edition Cotton Thread ($2.40)
This blue is actually less puffy than that green, as long as you use just one thread! I'll be using these on low thread count fabric. I think the wildflower is very pretty, but I also think the color name is totally wrong. It seems very harvest-y to me!
Kreinik Micro Chenille Black ($3.25) And finally, this super fun and crazy micro chenille. It doesn't match anything in the box at all! I'm honestly still figuring out the best use – maybe couching, or just on plastic canvas? I was just going to say that I needed more direction on this, and with some searching found this right on the Stitchy Box site – so if you need help, don't be afraid to consult their shop (but do it quick because they sell out of items):
Kreinik's Micro Chenille will give your project some fun texture – try it for the middle of a Sunflower, or as legs on a creepy crawly bug! Couch the chenille down with black floss or perle cotton.
This wasn't my favorite StitchyBox but I'm in love with the fabric, and even though I don't love the colors as colors, they are ones I wouldn't add to my stash randomly, which means I probably need them! A bit hard to value this month's box – I think it was a tad north of the $35 promise!