Scrapbooking Store is a fun monthly scrapbooking subscription uniquely designed & selected just for scrapbookers! Each month we receive a beautiful, themed scrapbook kit complete with 12×12 pages, stickers, cutouts, or other embellishments. Members can upgrade their subscription to receive 2-3 extra embellishments such as buttons, stickers, jewels, brads and more. I'm a big scrapbooker and I think this subscription is great since I can add it to my stash and create some great projects.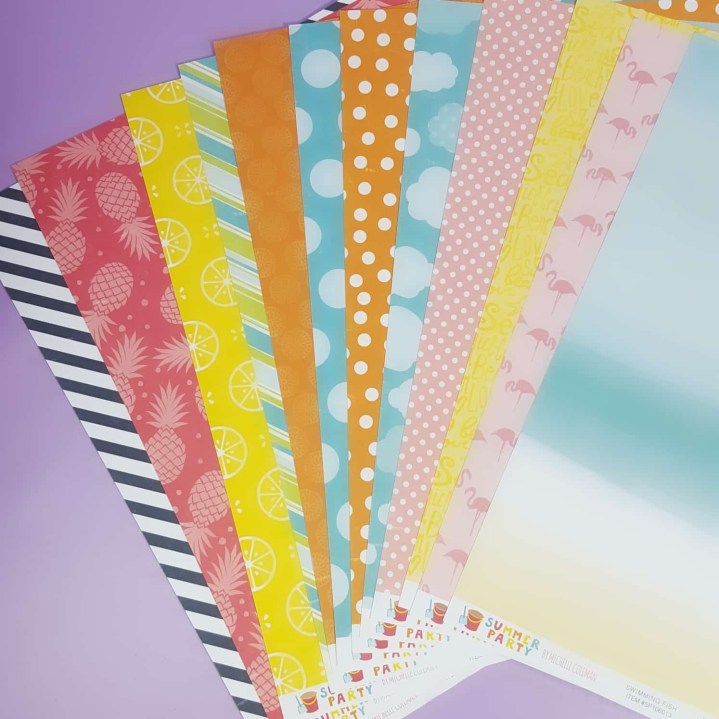 The papers come in a plastic bag and then all of the supplies are in a large cardboard envelope. The above pictures show the two sides of the papers. This month we got kit from Echo Parks Summer Party collection with 12 – 12″x 12″ sheets, a sheet of Element Stickers, a sheet of Alpha Stickers and an extra 6″x 12″ double sided patriotic sticker sheet.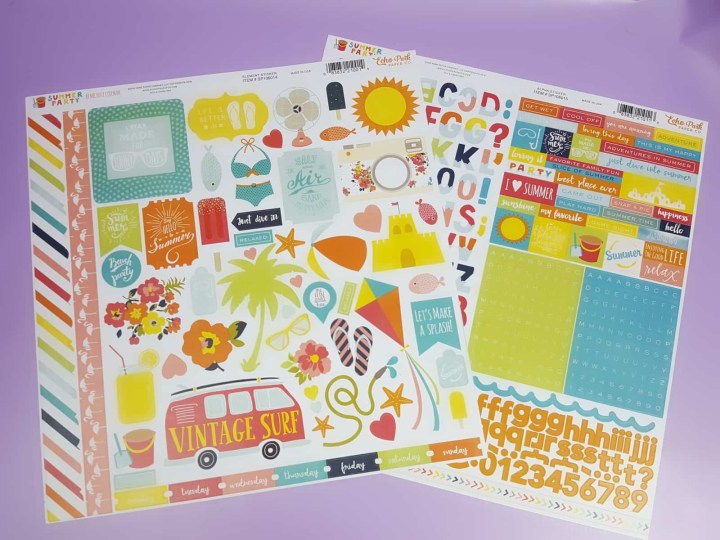 Here are the element and alpha sticker sheets that go with the collection.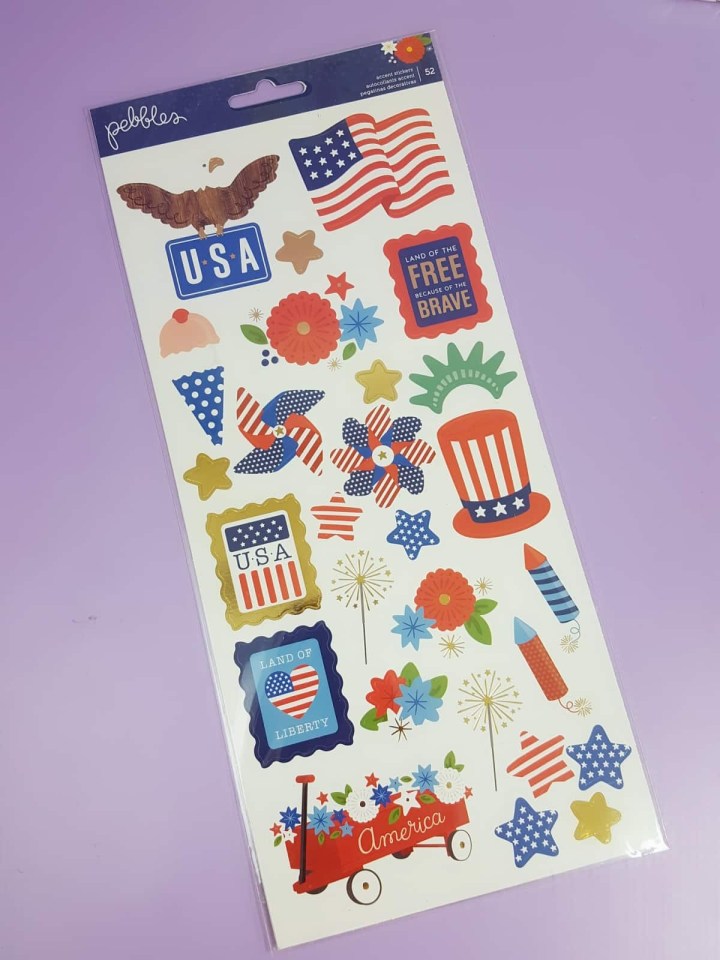 The super fun patriotic extra stickers. We go to the beach over July 4th week each year so I know I will put these to great use.
This month, the papers and stickers are from Echo Parks Summer Party collection and the extra stickers are from the Pebbles America the Beautiful collection.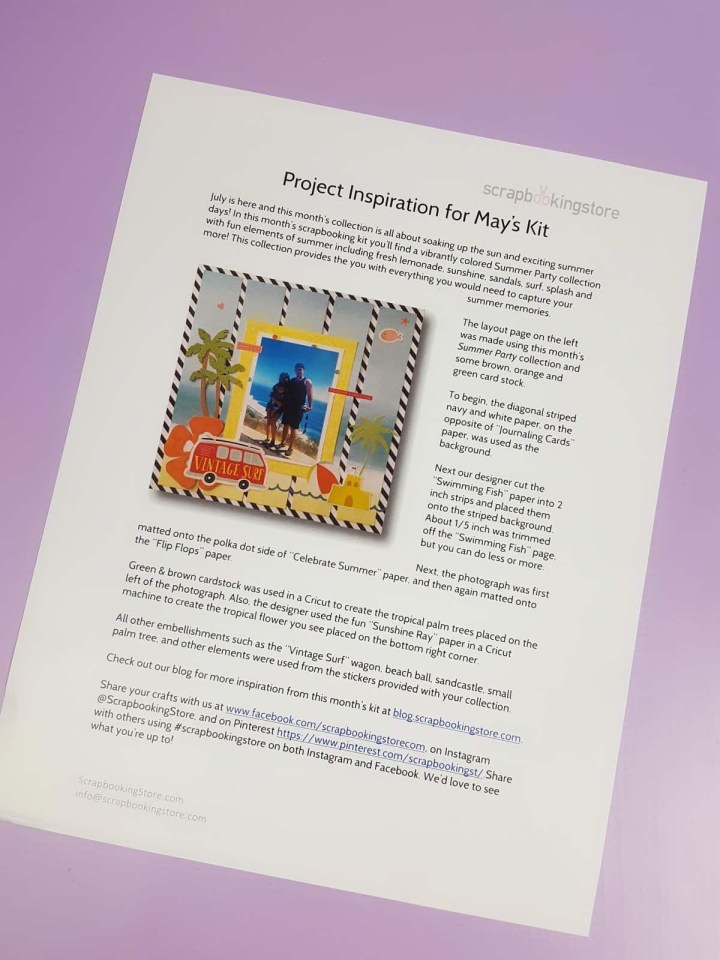 On one side of the information sheet is an inspiration page and information about the layout. I was so excited when I saw this layout. It was stunning and I couldn't wait to put my spin on it.
The back of the inspiration card shared the contents of the kit and what you would get if you got the upgraded package.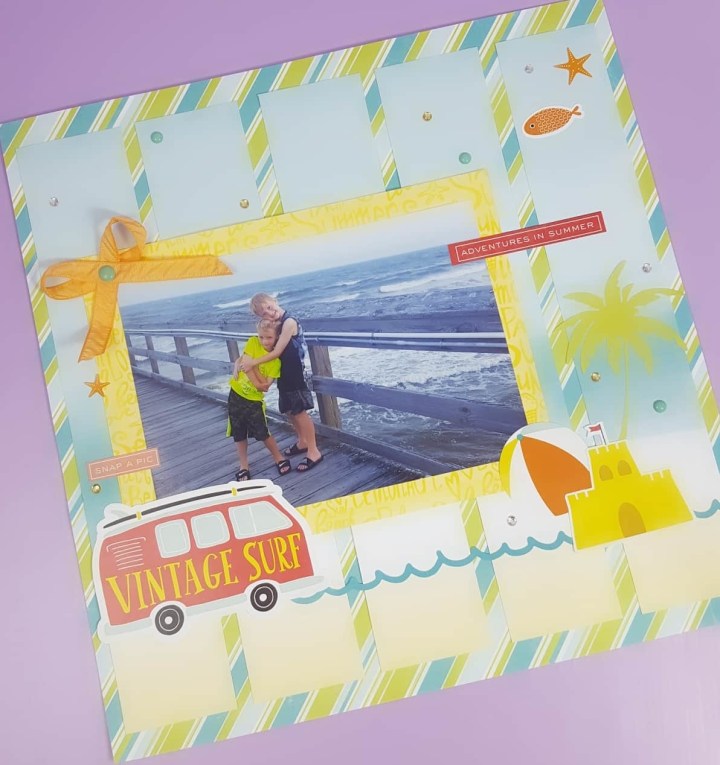 Here is my take on the inspiration sheet. I loved the striped background but the navy stripes in the sample are the back side of the pocket cards and I knew I wanted to use the pocket cards so I opted for a different paper but still stripes. I never think of cutting a page to put it on top but I LOVE this look and can't wait to do it again. It was a great way to use such a themed piece of paper without it looking as flat.
My second page was inspired but the backside of the cut strips from my first page.  The fish where on the back of the beach paper and then bottom stripe was on the stripe page. I took those fish and a fantastic picture of my oldest and worked them together. The stickers on the pack were awesome this month so I knew I needed a title on the page to incorporate them.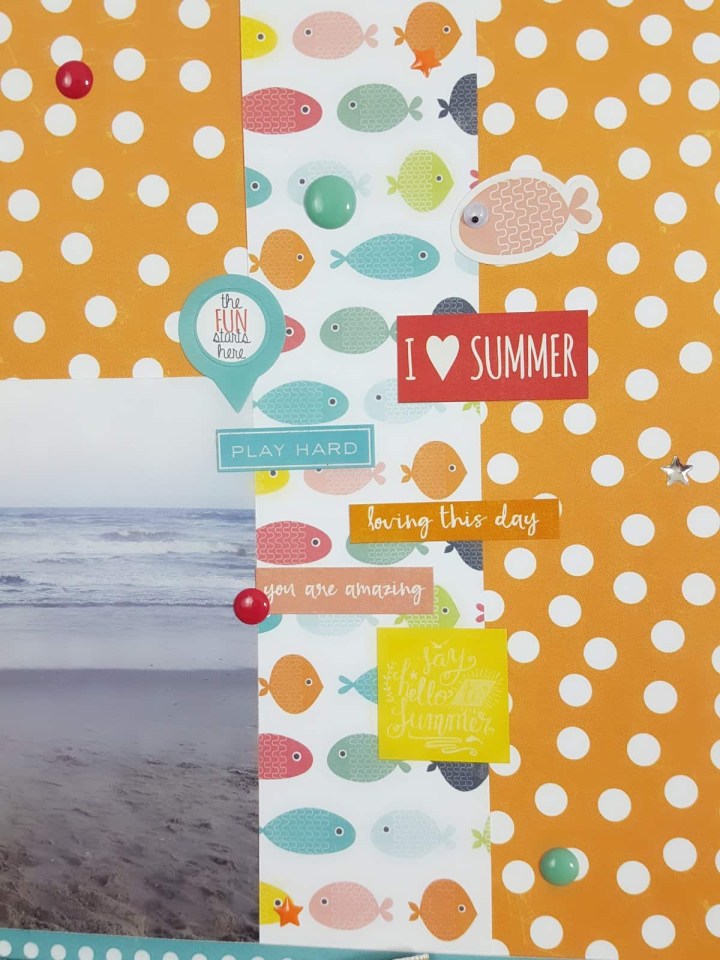 I really wanted to use some of the sticker sheet on this layout so I selected some of the sayings and just layered them down the strip. Adding those with some enamel dots is a great extra to a page.
My final page with this kit so far was inspired by the journal card. I loved all the colors on the cards from that sheet and I can't wait to use more of them but I started with the simple "Every Summer Has a Story" I then used the coordinating color on the background so I mounted the card on a bright yellow sheet from the set that is also what I used on my first page. It really helps it pop up off the page.
You probably noticed on all my pages how I've used a lot of enamel dots and shiny dots. I'm a bit obsessed with them right now and they really add that little extra oomph to a page without taking away from the rest of the layout. I think they shiny ones are great for beach pages since they offer a bit of reflection and just remind me of the beach and the water.
Scrapbooking Store sends a great box each month. This was such a bright and summery collection of papers and they are perfect for summer travel and beach fun. We go to the beach every year so finding new papers and collections is super. I'm going to print some more pictures and keep going with this set but I'm loving what I've made so far. It will be a bright spot in my scrapbook for summer. I love that Scrapbooking Store sends me a great basis to start my pages and then I can use up some of my stash to round it out and finish it off.  What a great way to mix my  new and old products and get more inspiration. I can't wait to see what they send next!
Do you like to scrapbook? Do you have a favorite paper this month?