RawSpiceBar is a monthly spice blend subscription. Every month for $8 you'll receive small batch, freshly ground spice blends by top chefs for home cooks, plus recipes to create authentic cuisine with the spices.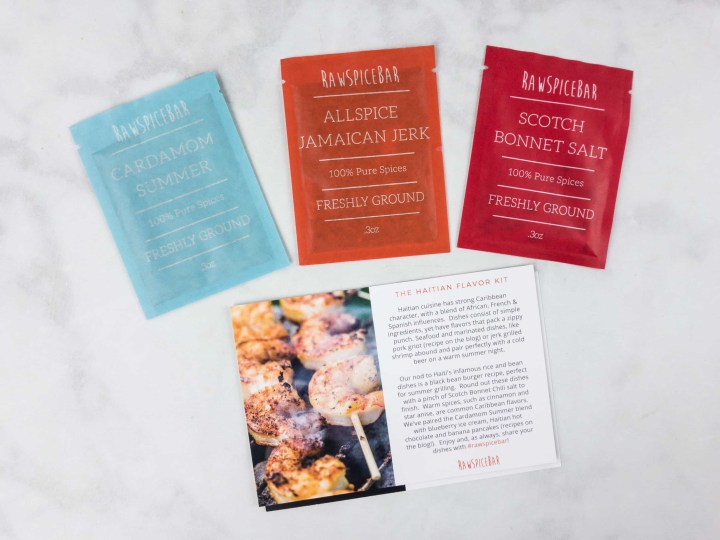 Each themed monthly installment comes with three spice selections, a recipe featuring each spice, and welcome card introducing the featured cuisine. The card describes the component spices and suggests some great food pairings for each one, should you want to experiment with your own recipes.
This month features the Haitian Flavor Kit! The spices included this month were Cardamom Summer, Allspice Jamaican Jerk, and Scotch Bonnet Salt.
DEAL: Take $5 off your first subscription or any gift subscription order! Use coupon code HELLOSPICE.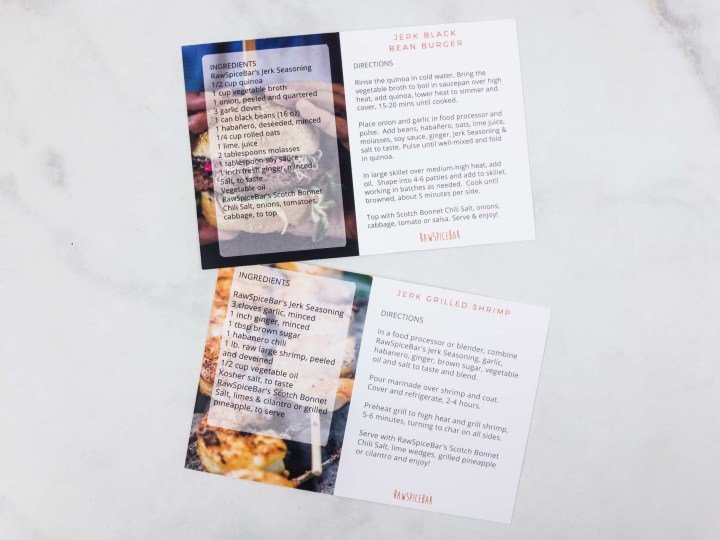 The kit includes glossy, illustrated recipe cards. Each spice is featured in at least one recipe. They include a list of ingredients to put on your shopping list, as well as instructions f0r preparing and plating the dish.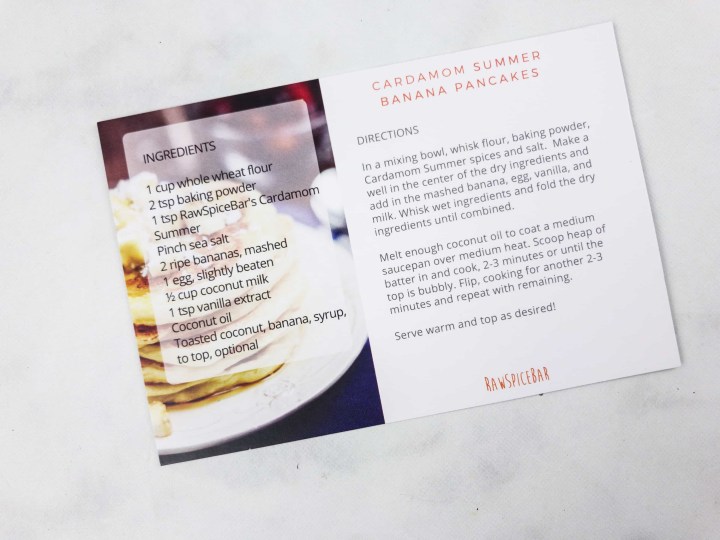 The instructions are very streamlined. They assume you know some kitchen basics, so the entire process fits on a single card. The Raw Spice Bar site has more recipes for your spices, including options for restricted diets.
Scotch Bonnet Salt: A simple blend of sea salt and the infamously spicy peppers.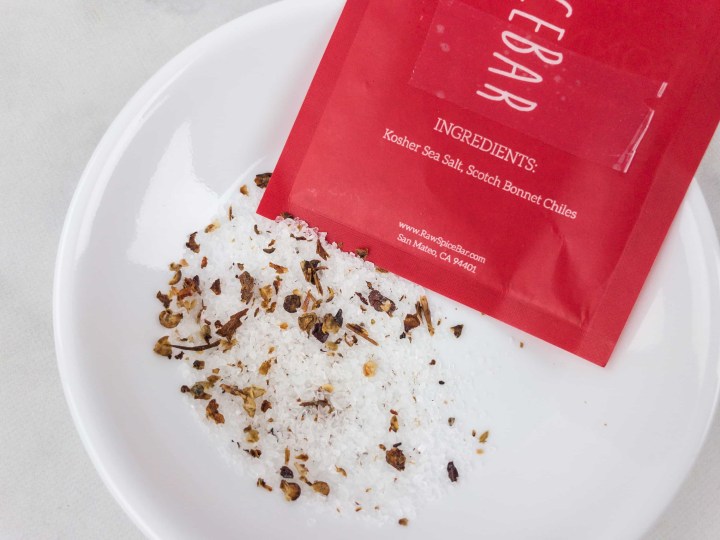 This is the perfect finishing salt for your tangy wings or dark chocolate confections. Also great as a seasoning salt for sauces or meats.
Cardamom Summer: This blend combines green cardamom, star anise, and cinnamon.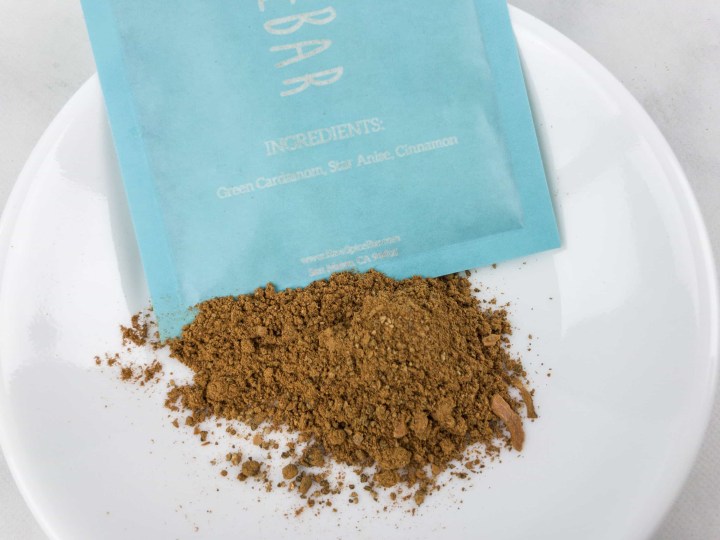 Bright and cloying, this mix is wonderful for flavoring baked items or rice dishes. Our Raw Spice Bar recipe pairs it with bananas for incredible pancakes.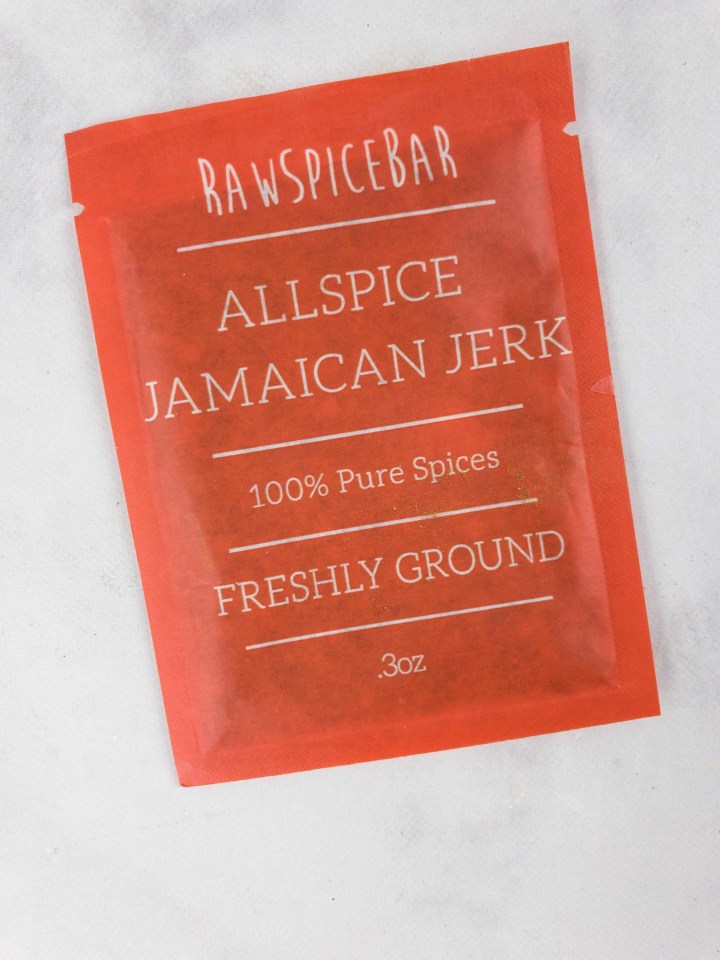 Allspice Jamaican Jerk: Perhaps the quintessential Jamaican recipe, the jerk combines allspice, peppers, herbs, and aromatics for a vibrant take on the classic, perfect for fish and chicken.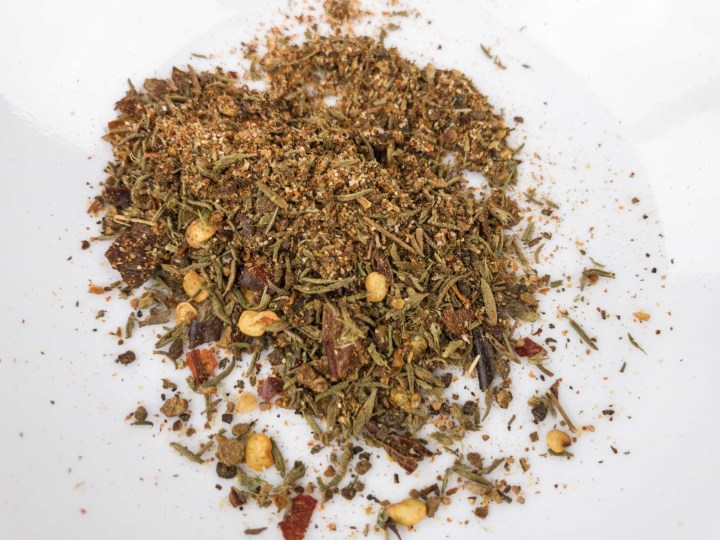 Raw Spice Bar spices are very high quality, and you couldn't beat the freshness and potency of without grinding your own. The intensity of the fragrance always gets me, and the expert blending is evident – the mixes are well-balanced and project tons of flavor. I'm always impressed at how well the selections capture the essence of a region and its cuisine. I love that they go a step beyond a generic characterization of a country's preferred spice profiles, instead delving into the distinct ethnic food traditions within a country's cuisine.