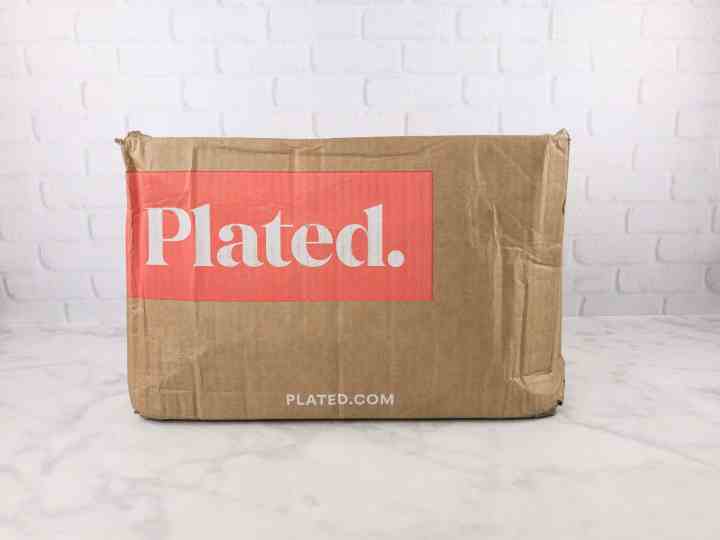 Plated is a weekly dinner kit subscription box with high-quality ingredients and chef-created recipes. Each week you'll choose from a variety of quick gourmet meals that range from meats, chicken, seafood, and purely vegetarian options. You can choose any lineup of recipes from the available options and skip any week you don't want.
Plated ships fresh ingredients and complete instructions right to your door. The food arrives protected within insulating padding made of recycled thread material.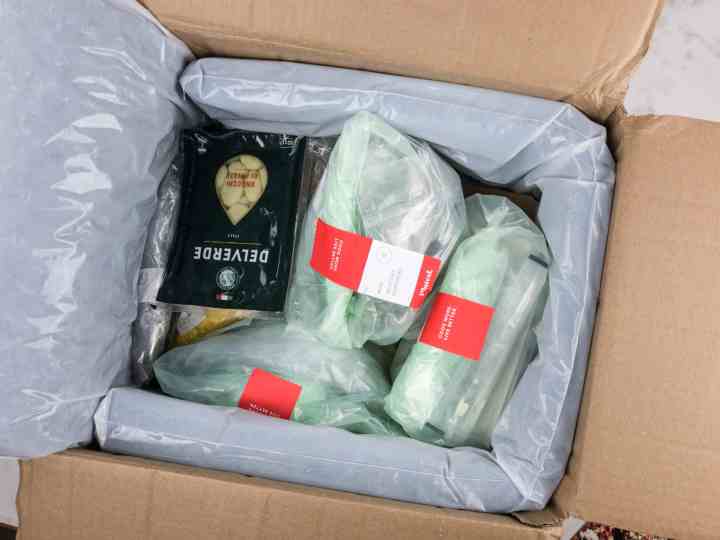 Boxes are always packed with the meat on the bottom with a several big ice packs – the rest of the food is set on top on a cardboard barrier. Putting all of the ice in the lower compartment prevents frost damage to the more delicate veggies.
Plated sends a weekly email – it doesn't tell you much about your meals, other than what you need from home. They now offer three-serving meals! This is a great option for small families, pooled cooking among roommates, or just for guaranteeing leftovers for a tasty and easy lunch!
DEAL: Currently you can get 2 free plates when you buy 4 when you sign up with this link (no coupon code required).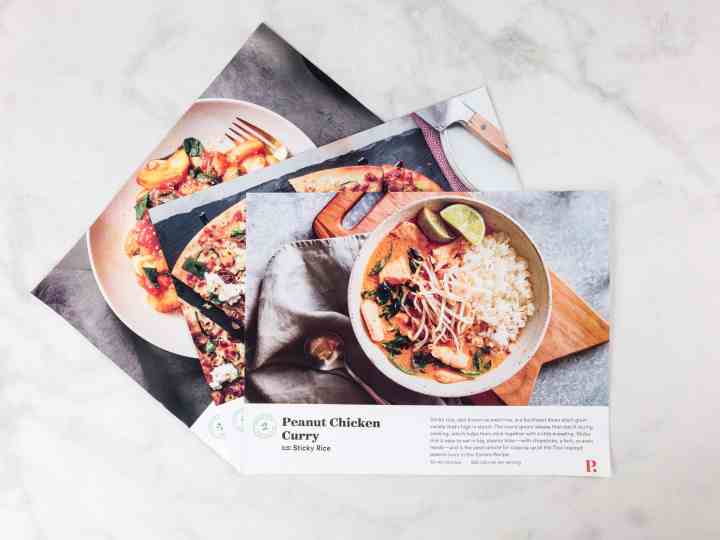 On-card information is streamlined and includes only prep-time, number of servings and calorie count. Most of Plated's meals serve two people. Unless stated otherwise, our pics of finished dishes show a single serving.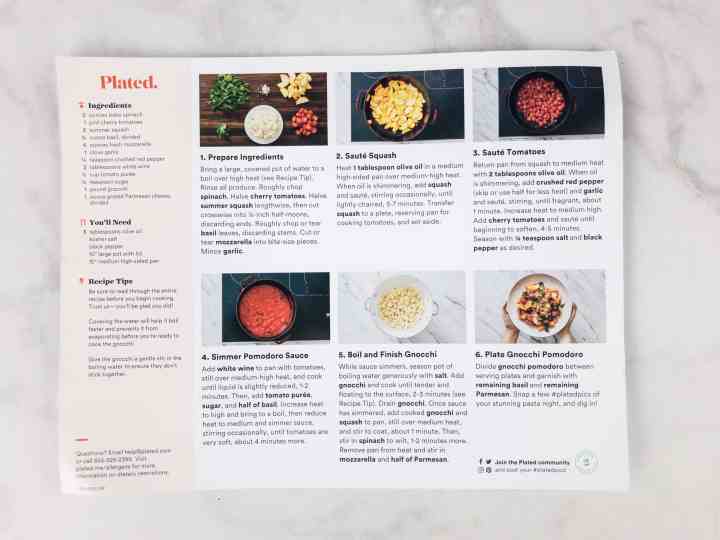 Plated's recipes rely on mise en place, prepping everything before cooking. This works well, but we always read ahead – you can save time and cutting board space by shifting some steps around, like prepping garnish later while something bakes, instead of at the beginning. The recipes are easy to follow, with ingredients printed in bold and tips to avoid common pitfalls.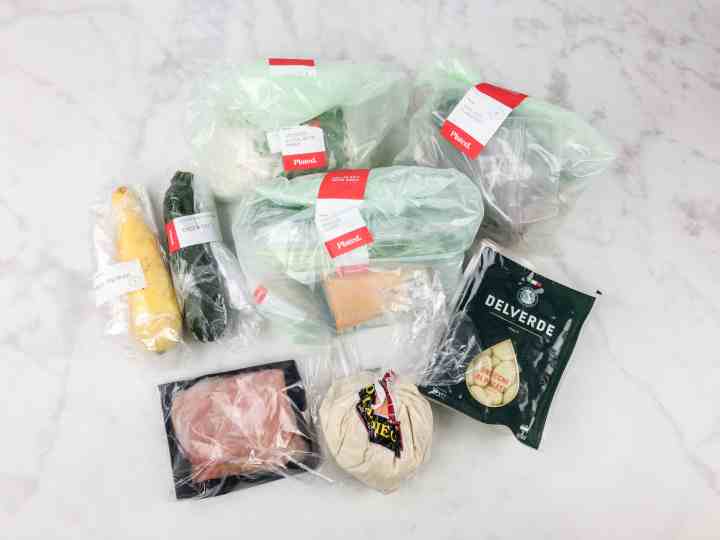 All the food comes bagged up and separated (mostly) into the recipes – meat and some large or delicate items are bagged separately. The recipe cards tell you anything you need from home – usually just cookware, salt and pepper, and some olive oil – occasionally you'll need an egg.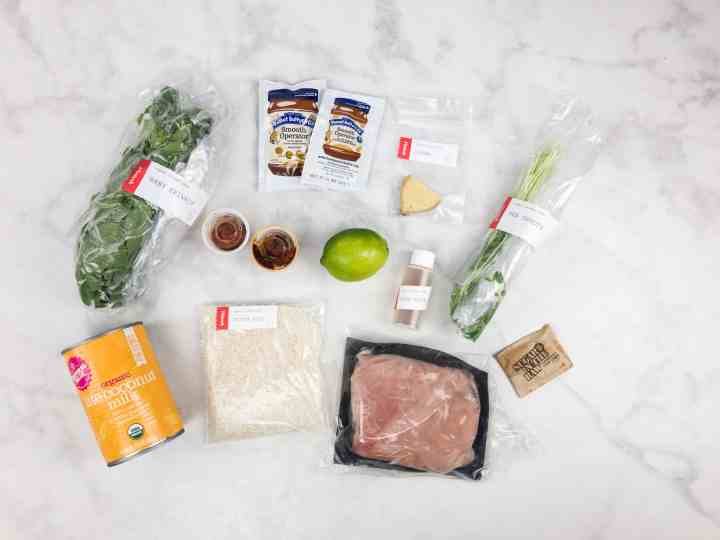 Peanut Chicken Curry Over Sticky Rice. 30-40 minutes, easy, 850 calories per serving.
This Thai-inspired dish is one of our favorite recurring recipes. Every time it is available as an option, the recipe seems to be tweaked slightly, but it is always awesome (and the slight changes keep it interesting). The base for the curry is supremely delicious, with a beautiful blend of ginger, coconut, lime juice, a dash of fish sauce, and peanut butter, made lively with red curry paste and gojuchang. The dish really captures the essence of Thai cuisine without tons of hassle. The sticky rice sops up the delicious sauce, and the tender chicken adds some protein while keeping it light. The twist this time around was the use of bean shoots in stead of sprouts. They have a heartier texture and deeper flavor, but still fit in with the dish. I prefer them to sprouts simply because they remain in much better condition than the latter. This dish is fairly simple to make, despite the complex flavor, as most of the ingredients get stirred into a single sauce and cook together.
Gnocchi Pomodoro With Summer Squash, Basil, And Fresh Mozzarella. 30-40 minutes, easy, 830 calories per serving.
Gnocchi is a delightful comfort food, as it goes well with delicious sauces and has a tender and gently chewy dumpling-like texture. This dish added some nice squash, a spicy sauce, fresh basil, and lots of gooey fresh mozzerella. Very easy to prepare – even more so than simple pasta, because of the quick cooking and textural stability of the gnocchi. This was an excellent combination of hearty texture and fresh flavors.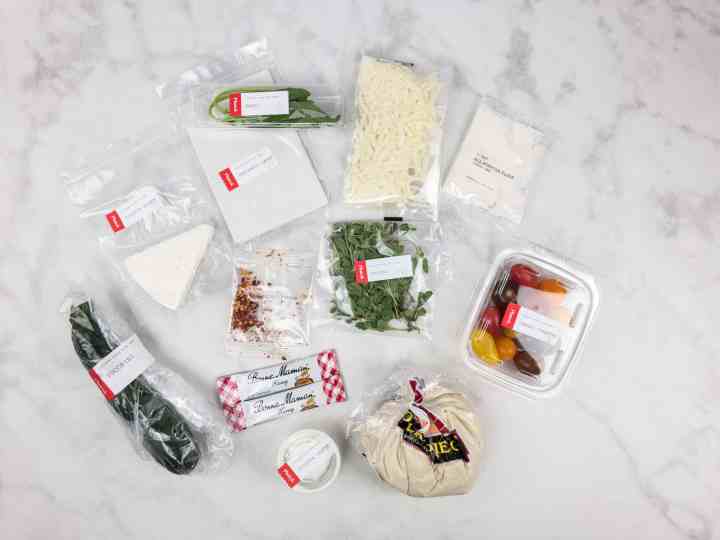 Zucchini Tomato Pizza With Ricotta And Spicy Honey. 45-55 minutes, medium, 870 calories per serving.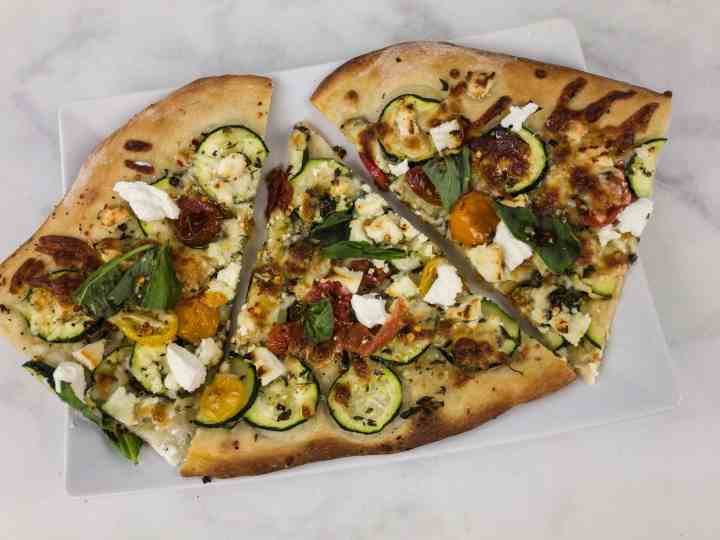 This pizza packs a lot of flavor and manages to feel substantial without meat or an overload of cheese. A mat of squash and tomatoes blanketed the pie, mimicking a thick cheesy layer. A trio of cheeses added everything needed in the way of flavor and gooeyness – a combo of salted ricotta (similar to pressed feta in texture and flavor, but without the goat's milk tanginess), fresh ricotta, and mozzerella. Fresh basil and spicy honey complemented the dryness of the cheese and brought out the sweetness of the produce. This meal had everything you could want without the heaviness of a traditional pizza.
Plated offers some of our favorite meals, and we love to get dishes we know we love along with some new-to-us meals. This week's choices included a Thai-style curry that we knew we'd love, plus slight spins on pizza and gnocchi that were impossible to not enjoy. Once focused on traditional restaurant plates – meat, vegetable, French sauce – Plated has shown a superb aptitude for carrying that same sense of elegance into a great diversity of cuisine, uplifting homestyle and international favorites alike.
What do you think of Plated?