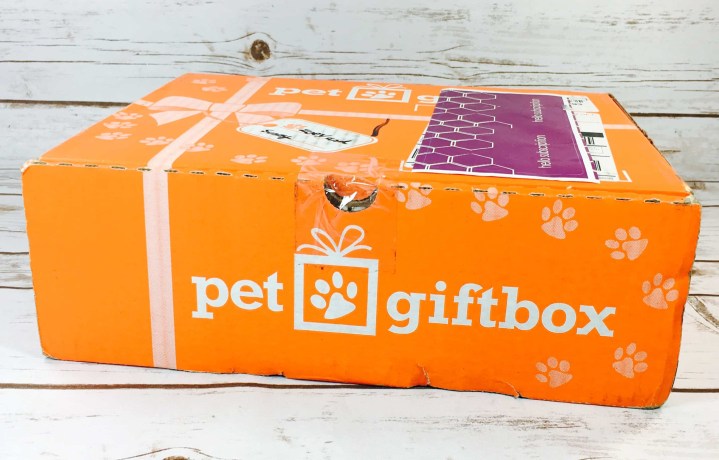 PetGiftBox is a monthly subscription box for dogs or cats. A selection of toys, treats, chews and accessories are included based on your pet's size. With each purchase you can earn points to redeem for free boxes and other great goodies. Plus, each purchase helps feed 10 rescue pets! PetGiftBox costs $25 for a monthly subscription, and you can also sign up for a full year or just purchase a one-time box.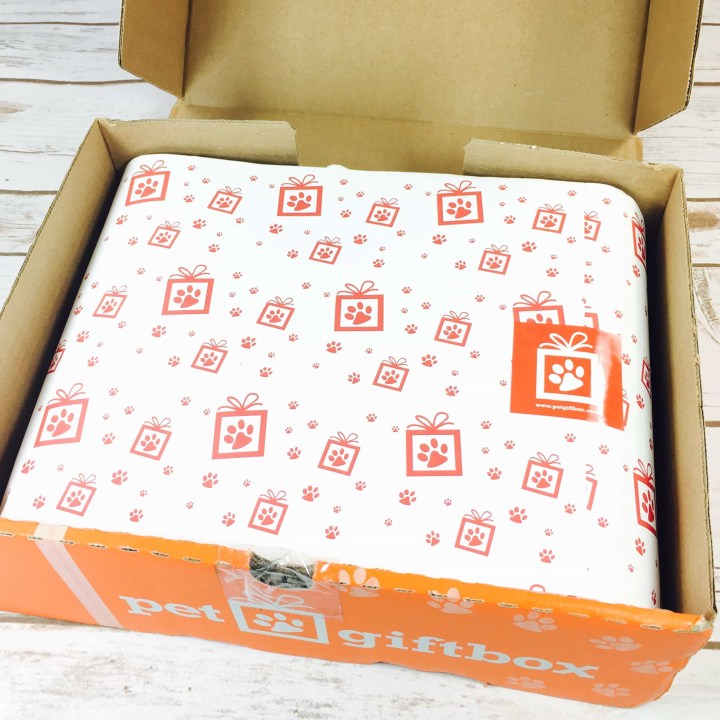 DEAL: Save 50% on your first box! Use coupon code HELLOSUB50.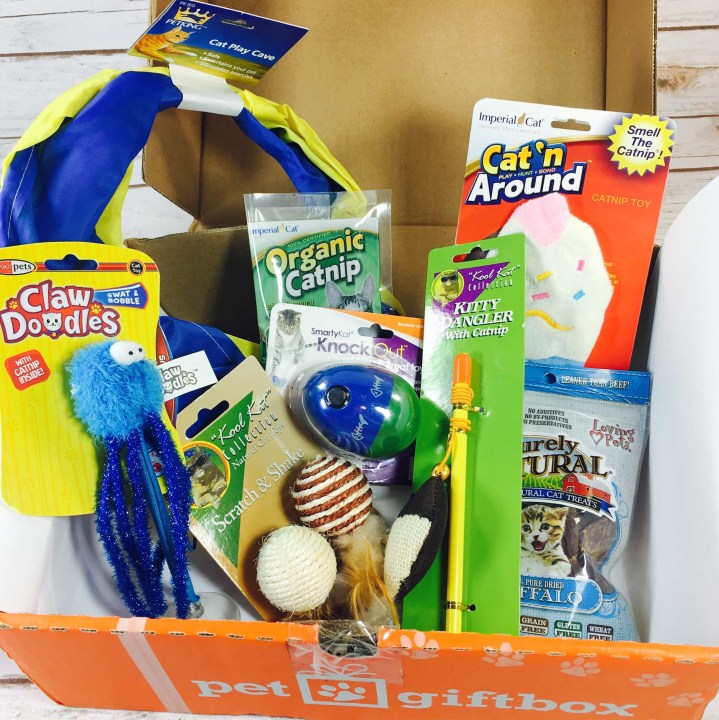 My PetGiftBox came wrapped in paper and was sealed with a sticker. Inside I found an assortment of kitty play things!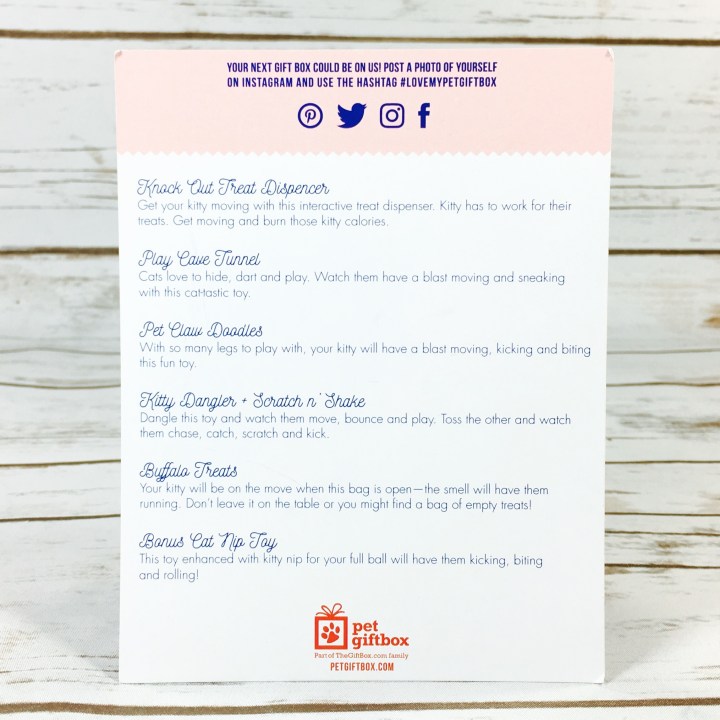 August's PetGiftBox theme was Move It! The information card mentioned each product and how to use it.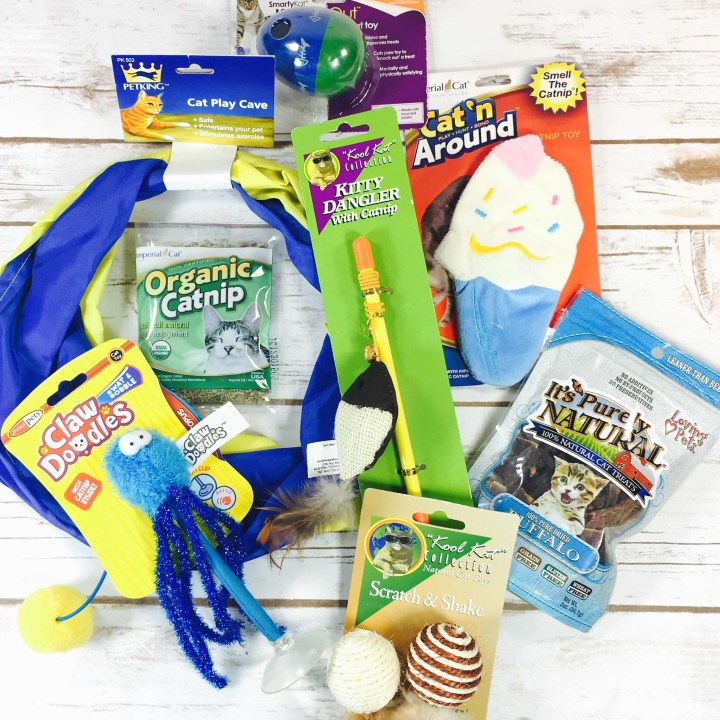 All of the items in my August PetGiftBox!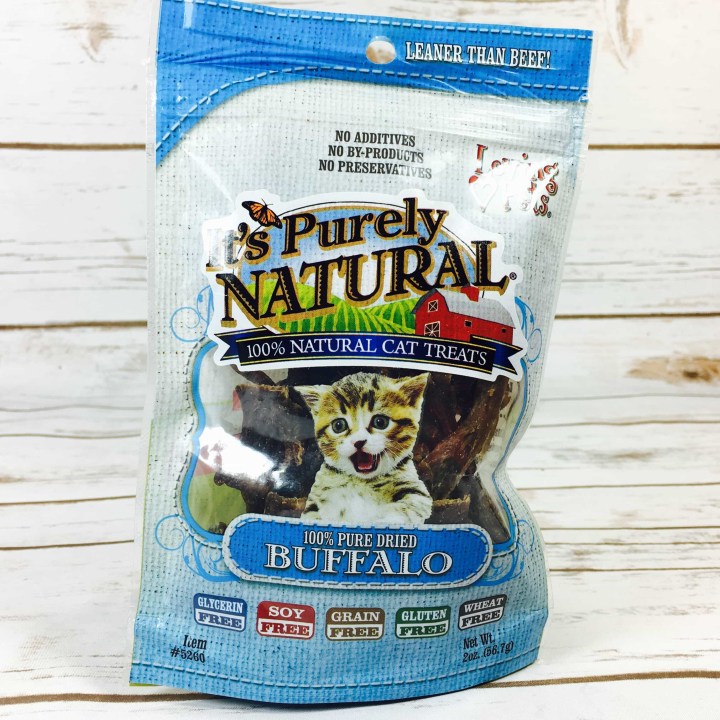 Loving Pets It's Purely Natural 100% Pure Dried Buffalo This doesn't really match the picture on the Loving Pet's website, which says it is soft and bite-sized. It is in long strips and very hard, like beef jerky. My cats sniffed it, licked it, pushed it around, and then left it alone. I almost feel like the wrong product was placed in the bag by the manufacturer, it just doesn't look the same at all.
Here is what is is supposed to look like…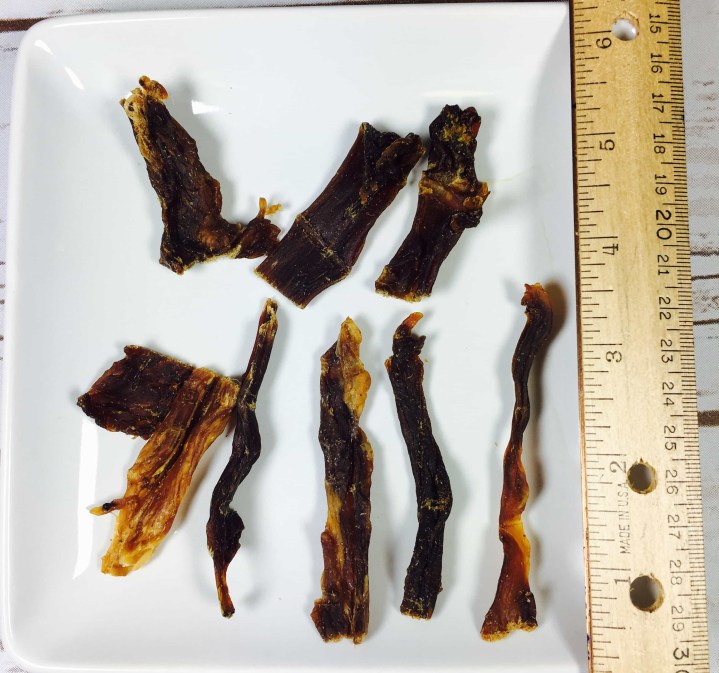 …and here's the reality. This was the only downside to this box, and I blame the manufacturer. Now, let's move on to all of the fun stuff. My cats loved the toys in this box!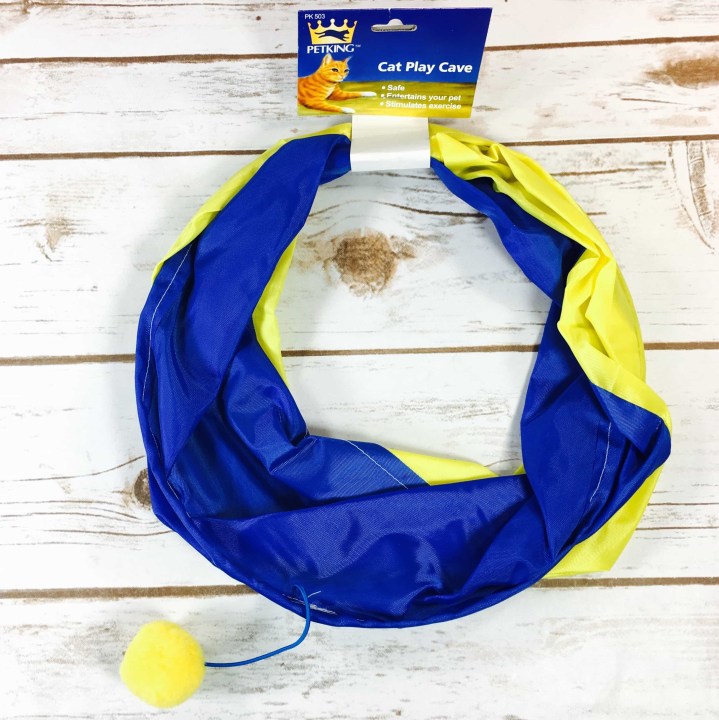 Pet King Cat Play Cave This is the first cat cave I have ever owned so I don't have anything to compare it to, but my cat loves it!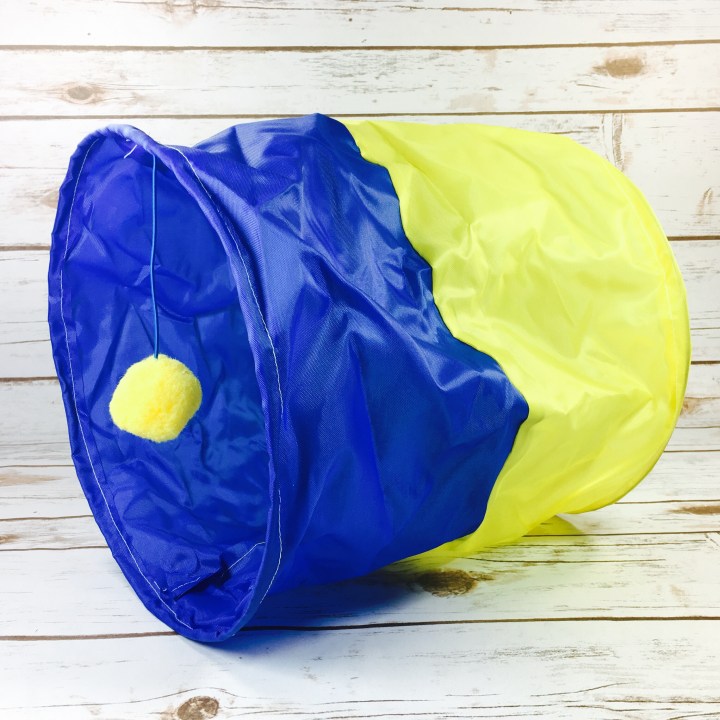 It pops open and has a soft, dangly ball and my cat runs and pounces on it until it collapses and just has a generally good time. It is flimsy, maybe it's supposed to stay open, I don't know, but she seems pretty content!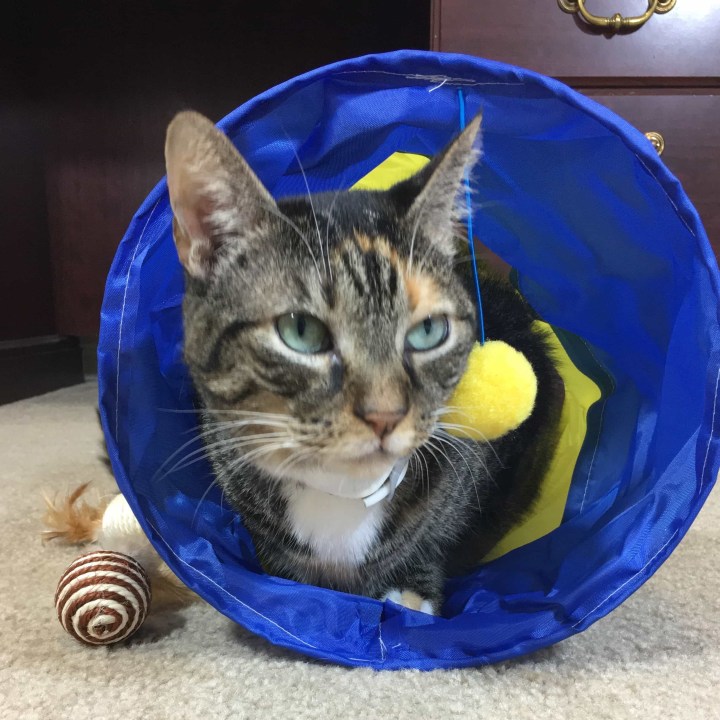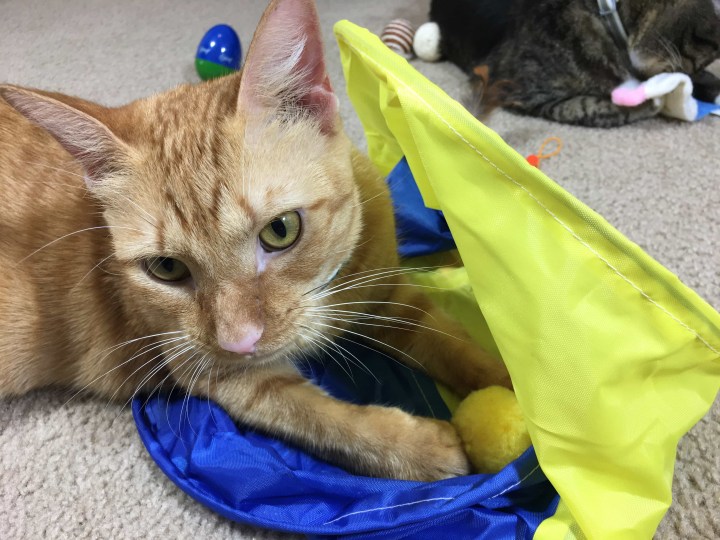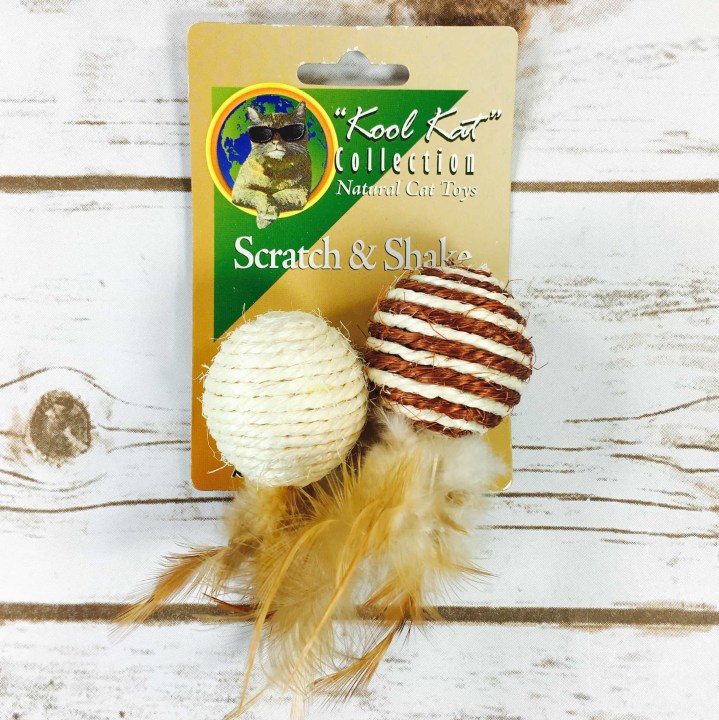 Kool Kat Scratch & Shake are little balls that are covered with sisal and have feathers on the end. They have bells on the inside that ring when you bat at it, and the sisal makes it easy for the cats to pick them up.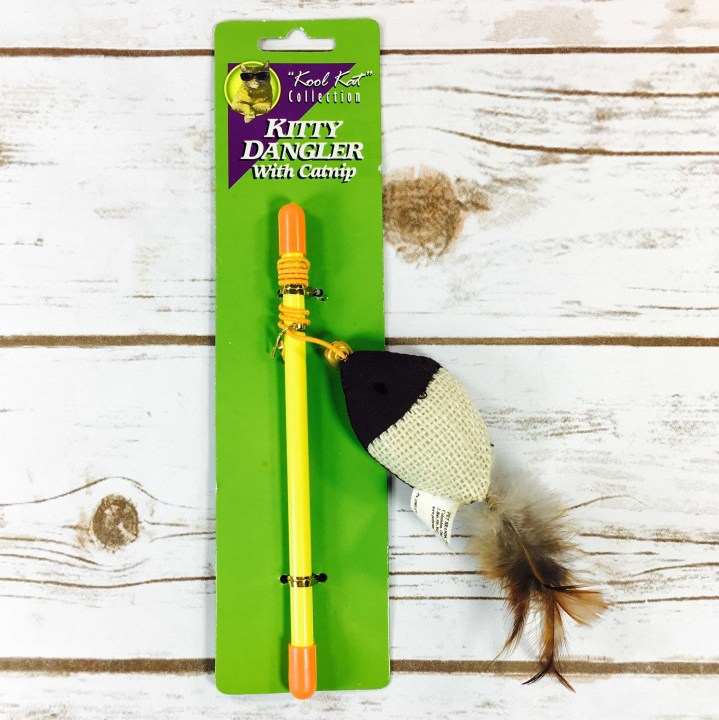 I was happy to see Kool Kat Kitty Dangler in the box since my cats love to bat at things on sticks.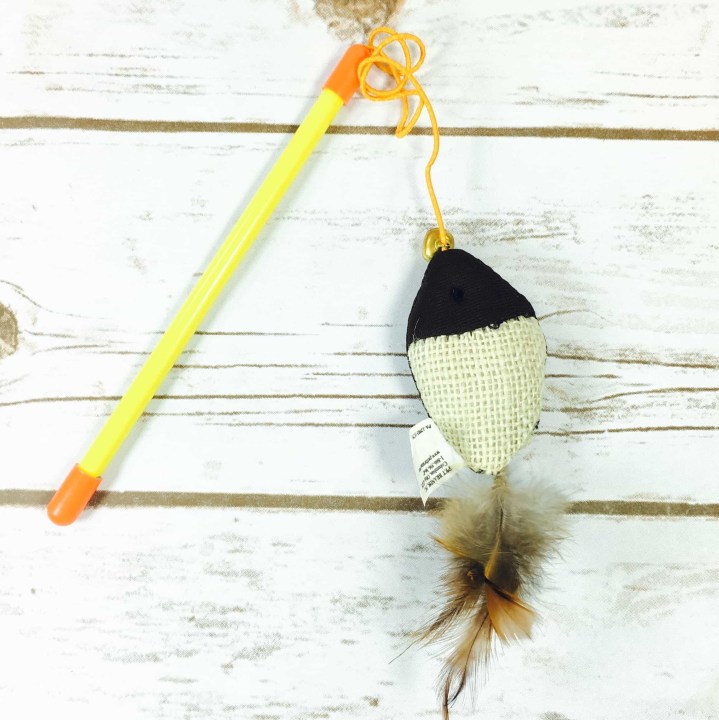 The fishing pole handle is attached to a catnip filled fish that has feathers on its tail. There is also a tiny bell on top.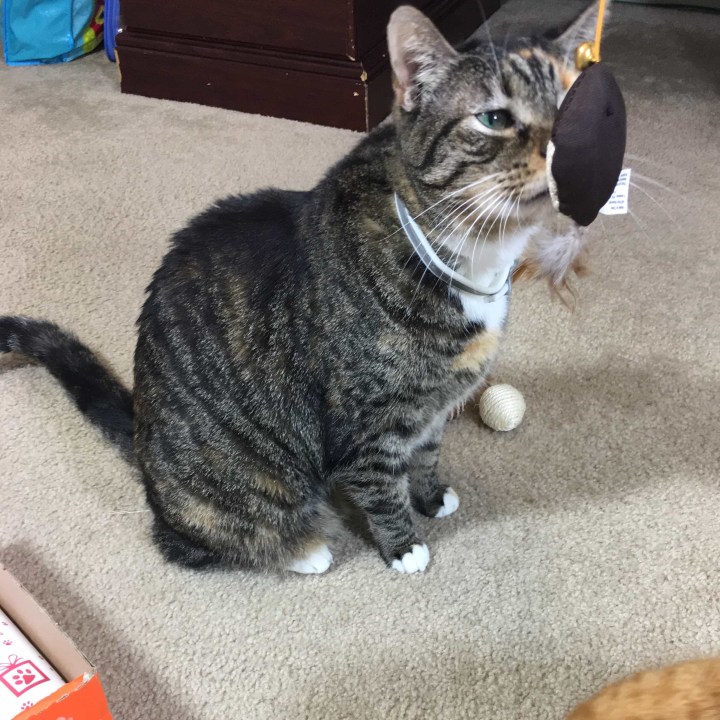 Here's Zoey taking a sniff but this was super popular with Sunny and helps get her tired out at night.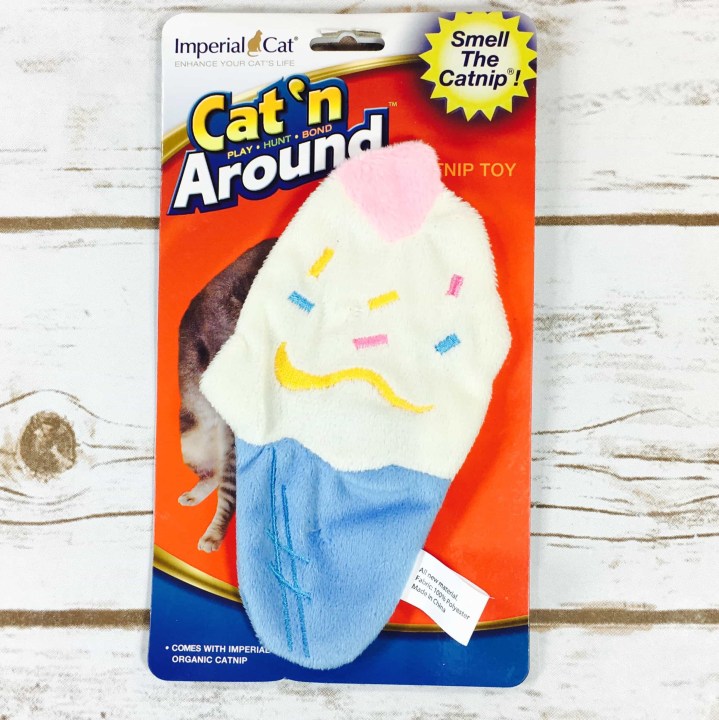 Cat 'n Around Ice Cream Cone Toy is a soft plush toy that you can fill with catnip and have fun watching kitty lick the cone! I forgot to take a picture of the catnip that was in the box, but I managed to get some in the cone (it was kind of messy) and then passed it on to Zoey while Sunny licked up the mess.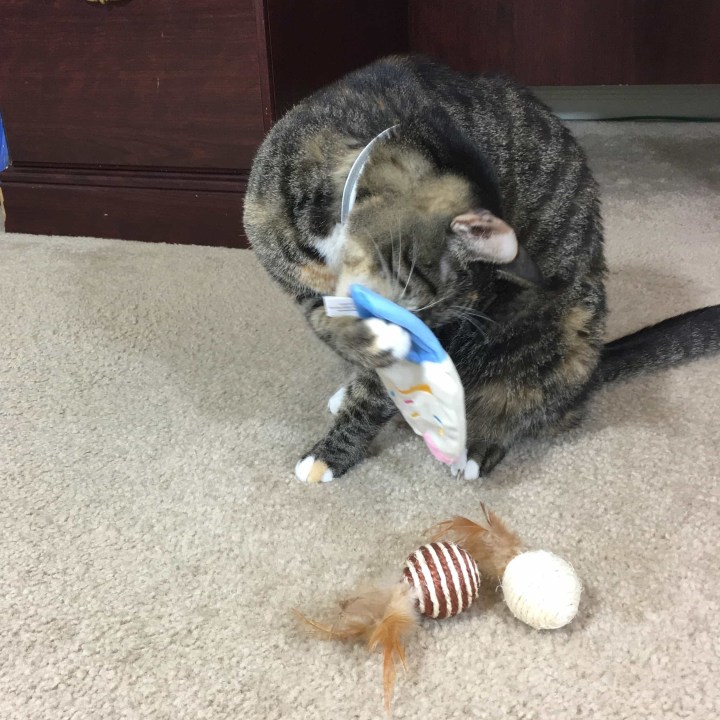 It's soft and easy for Zoey to pick up.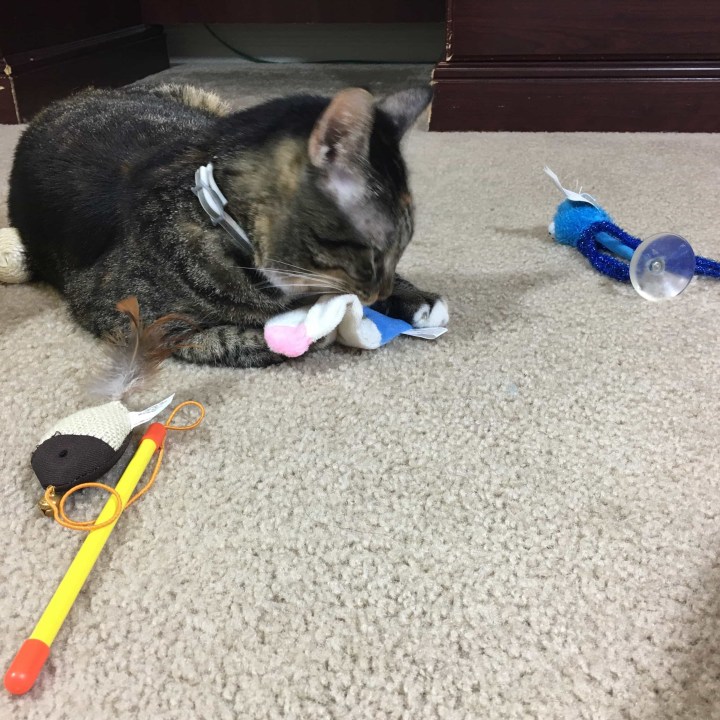 She ended up just licking it, which is what she does to most catnip toys.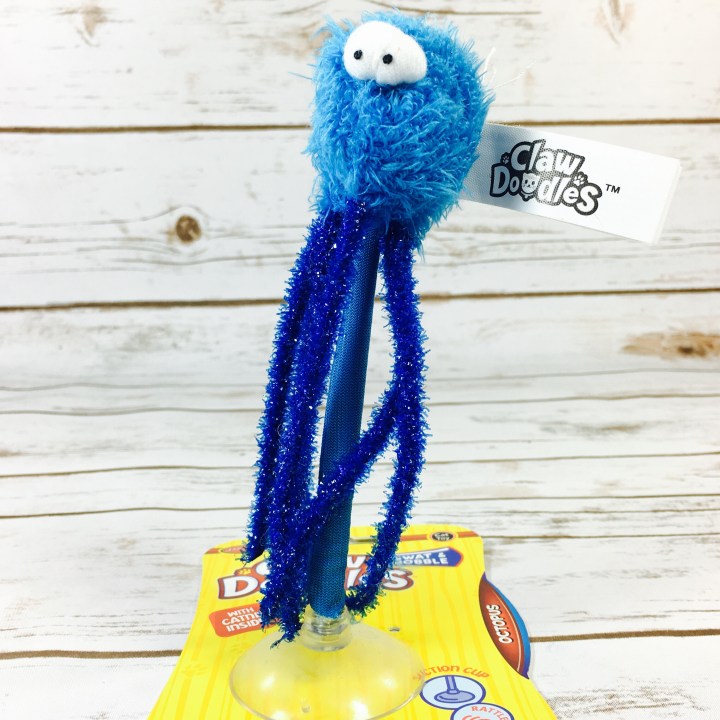 Jakks Pets Claw Doodles Swat & Bobble Octopus comes with a suction cup so you fix it somewhere and let your cat paw at it. It has catnip inside along with a little bell and just looks cute, in a freaky sort of way.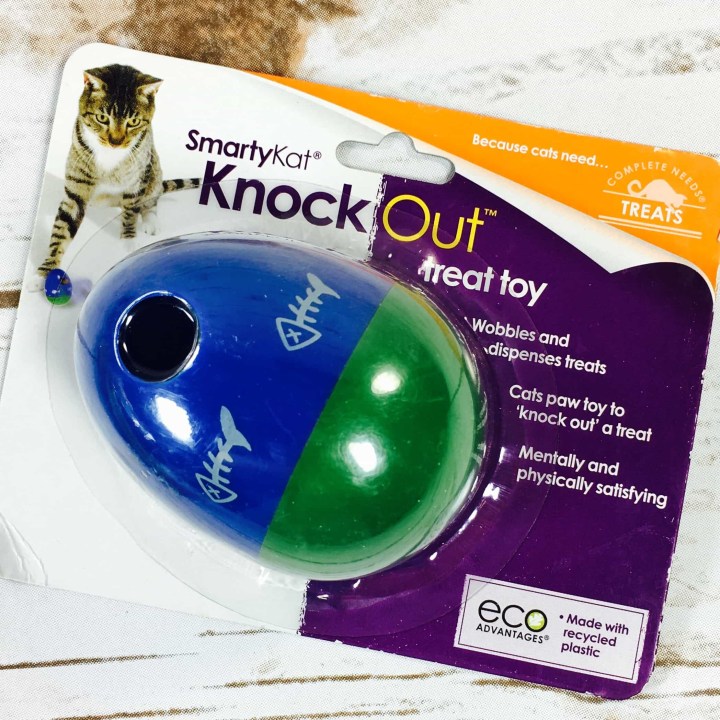 SmartyKat Knock Out Treat Toy was the best part of the box!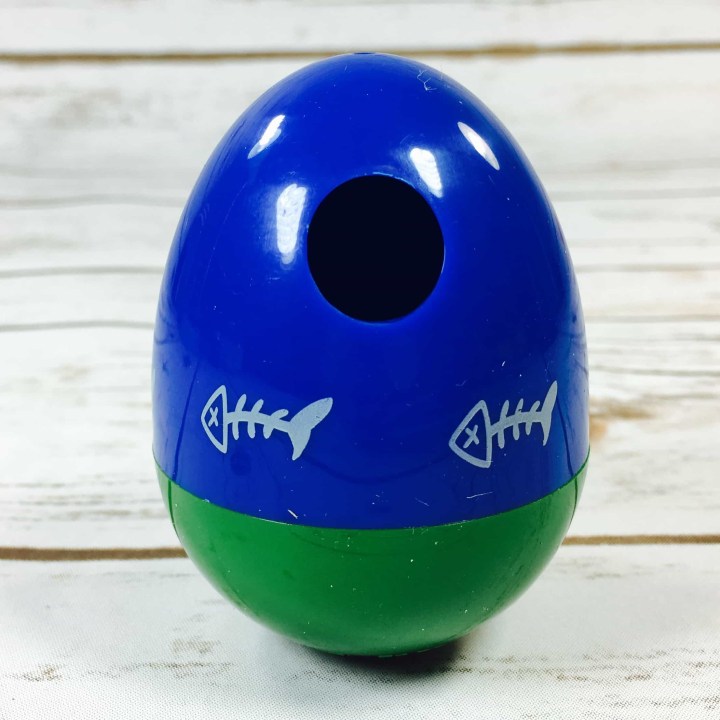 It looks like a Weeble Wobble and when you knock it down it pops back up.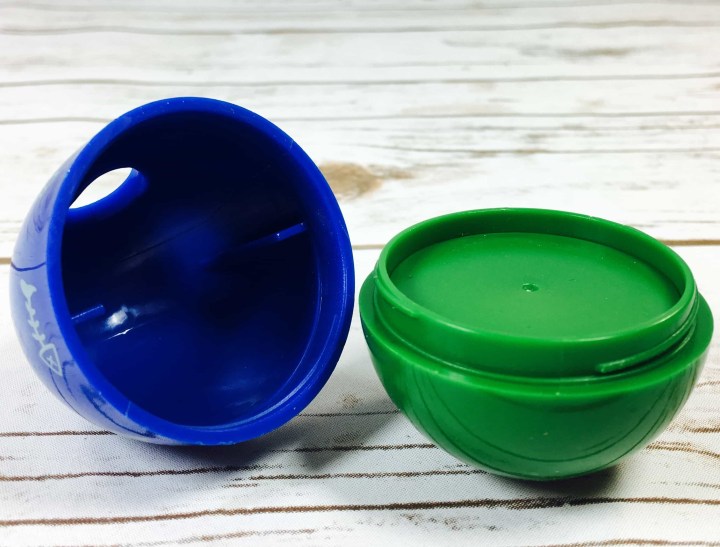 The pieces come apart and you stick some treats inside and screw it back together. Both of my cats had a blast playing with this treat dispenser. They go back to it frequently to both play and eat.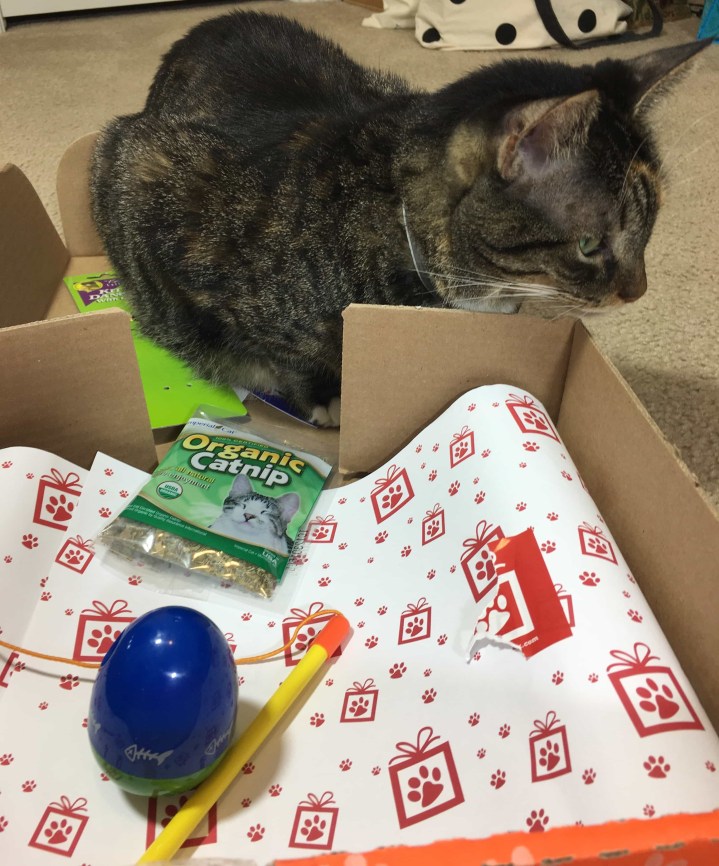 My cats liked their toys from PetGiftBox! All of the toys were played with often and the treat dispenser and tent were absolute hits. I liked the selection of items and it was fun to watch my cats playing with their toys and seeing which ones caught their attention for the long term!
Visit PetGiftBox to subscribe or find out more! Let me know what you think of this box in the comments!