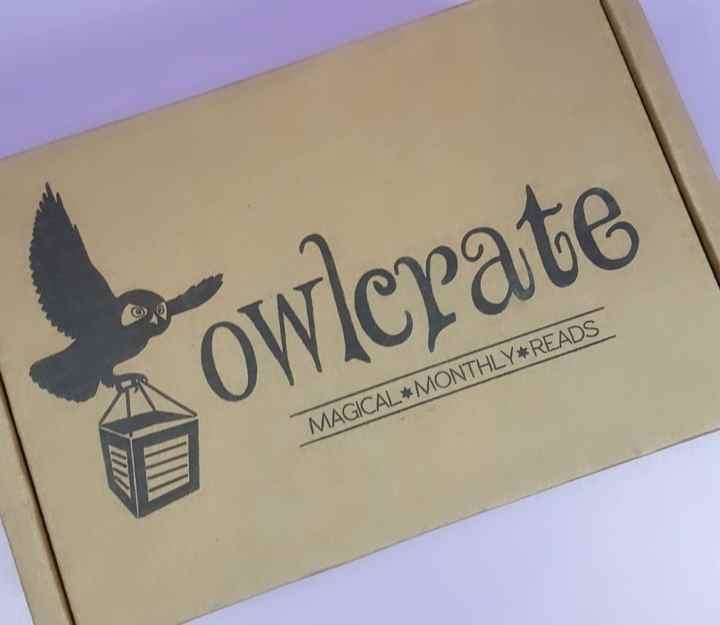 Owl Crate is a monthly subscription of books and bookish items box. Each OwlCrate contains one new Young Adult novel, as well as 3-5 other bookish items all matched to the monthly theme. I love reading and getting items that go with my books each month. I really get to look into some new authors and find others to read.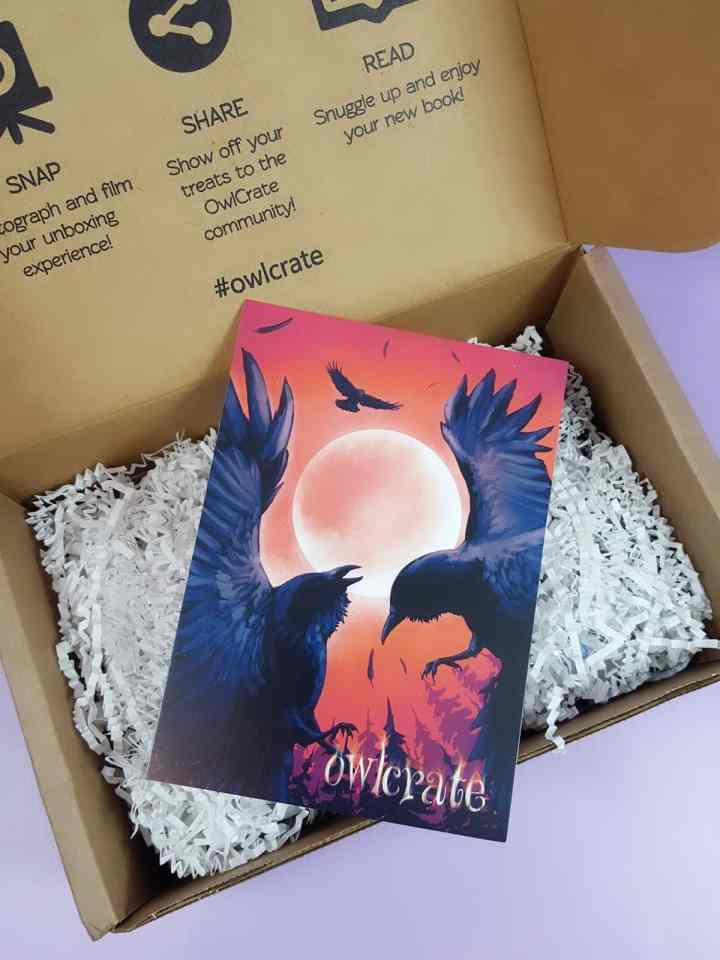 August's OwlCrate theme is Something Wicked This Way Comes. OwlCrate always has the best info card prints. One side is a print representing the theme and the other side is the information for the box contents. This month is as close to a Halloween box that OwlCrate will send and the print represents that. It would look great framed and displayed in October.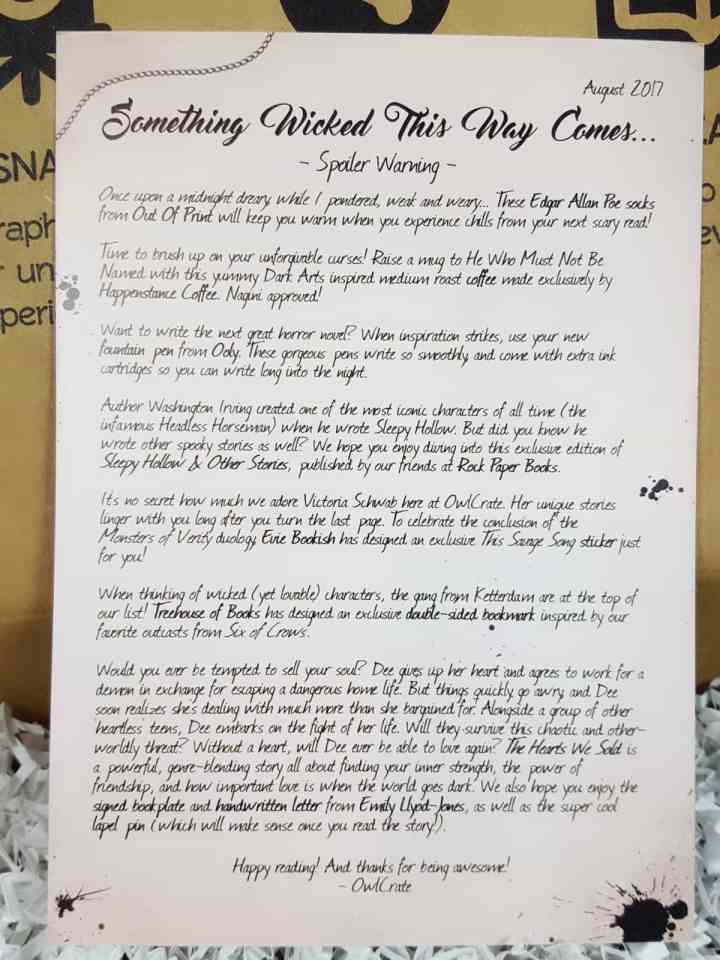 The information card tells a little bit about all the items in this month's box along with little comments on why they were selected or other fun tidbits. The theme follows through even with the info. It is always decorated to go along with that month. 
DEAL: Use coupon code HELLO15 to save 15% on your first subscription!
Limited time: Use code MERMAID15  to save 15% off your first order!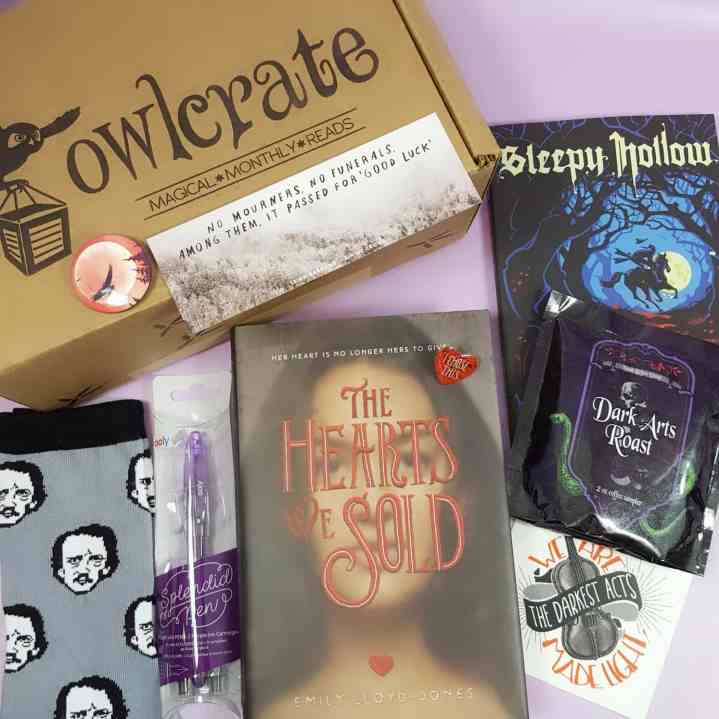 Everything in my August Something Wicked This Way Comes OwlCrate.
The Hearts We Sold by Emily Lloyd-Jones ($11.57) – I love paranormal books and this is both paranormal and romance and is so me. I can't wait to read how she deals with her deal and all the changes that come with it.
A thrilling blend of sci-fi, paranormal horror, and romance-perfect for fans of Holly Black and Leigh Bardugo

When Dee Moreno makes a deal with a devil–her heart in exchange for an escape from a disastrous home life–she finds her trade may be more than she bargained for. And becoming "heartless" is only the beginning. What lies ahead is a nightmare far bigger, far more monstrous than anything she ever could have imagined.

With reality turned on its head, Dee has only a group of other deal-making teens to keep her grounded, including the charming but secretive James Lancer. And as something like love grows between them amidst an otherworldly ordeal, Dee begins to wonder: can she give James her heart when it's no longer hers to give?

The Hearts We Sold is a Faustian tale for the modern age that will steal your heart and break it, and leave you begging for more.
The book also came with a signed bookplate, a note from the author, and and a lapel pin. OwlCrate says that the pin will make more sense once you read the book but since I'm on the older side what it makes me think of is Beverly Hills 90210 and Kelly saying "I choose me." I have no idea if it is related or not but I can't wait to find out.
Don't forget that Owl Crate is now sending exclusive covers with their books (most months). There is a sticker that comes on the plastic bag that the book is shipped in but since I take the books out I decided that I would put the sticker on the inside sleeve.
This way I will always remember where it came from and if I decide to look later why the cover is different then I see around.
Edgar Allen Poe Socks form Out of Print Socks ($10) – I've loved all the items I've gotten from Our of Print and these socks are no exception. I love that they are called Poe-ka Dots and it makes me laugh each time I think of them.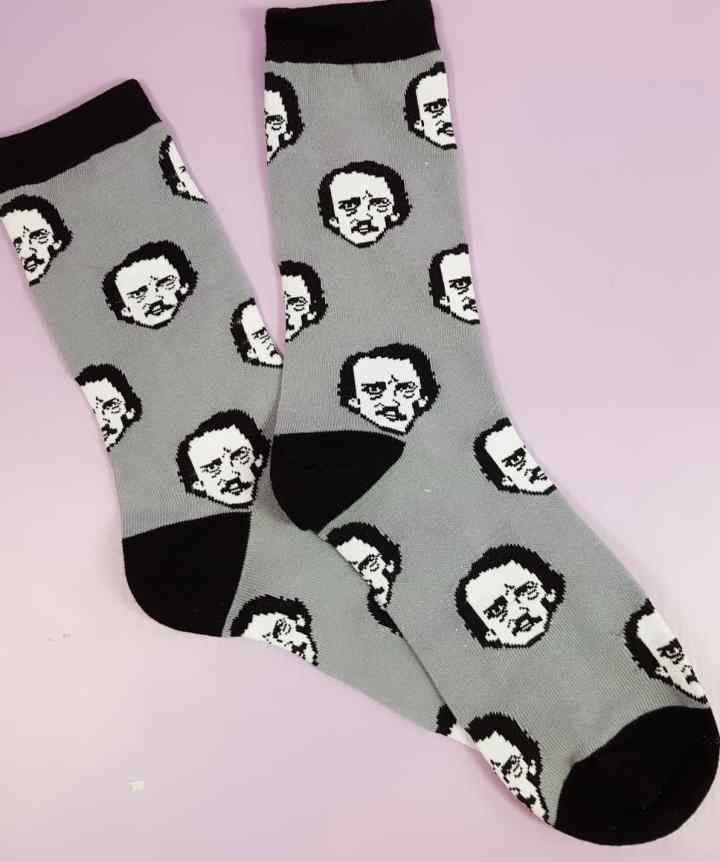 Dark Arts Roast by Happenstance Coffee (exclusive for OwlCrate) – This is the first time that OwlCrate has sent coffee and I'm loving the packaging for this one. It is a medium blend roast so will be good for most people. I'm not a huge coffee drinker so I'm adding this to my school package that I'm sending up to my sister.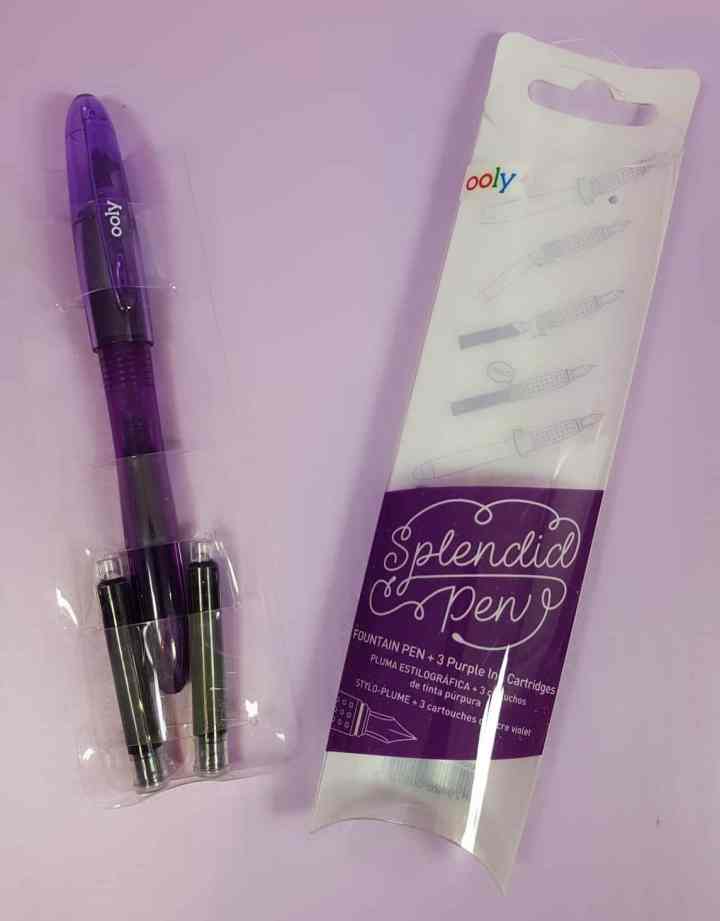 Ooly Fountain Pen ($12.99) – A great way to work on our next horror novels. I'm not a book writer but I love writing notes and journals and other randomness in my journals and I've never used a pen like this but I can't wait to try it out. It even came in my favorite color – purple!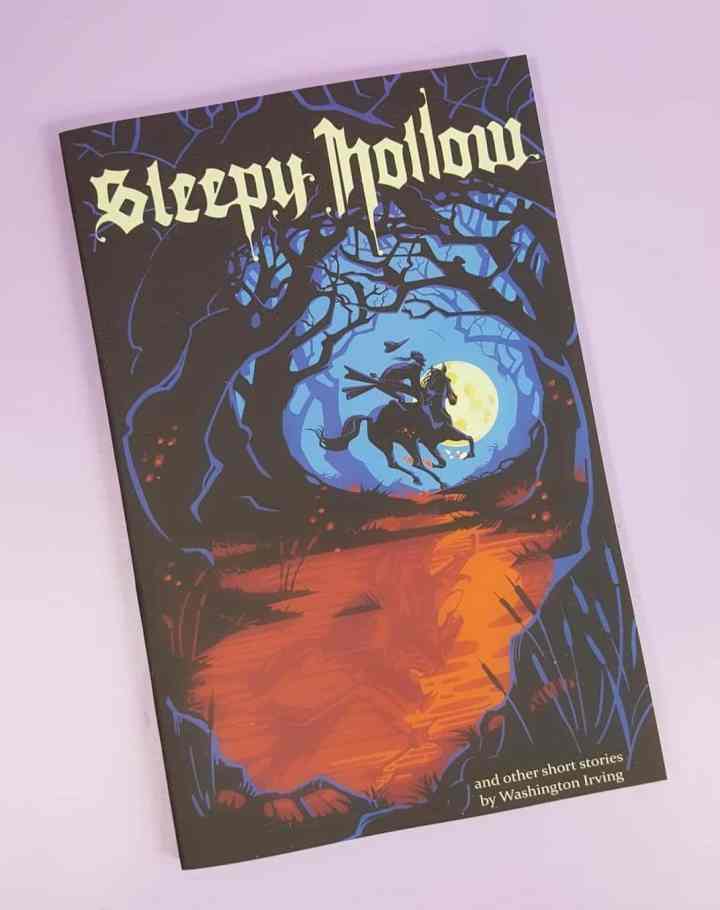 Sleepy Hollow and other short stories by Washington Irving – I'm a huge fan of Sleepy Hollow the movies but I don't think I've ever read the book. This is a great book to curl up with on a chilly night this fall and really dig in.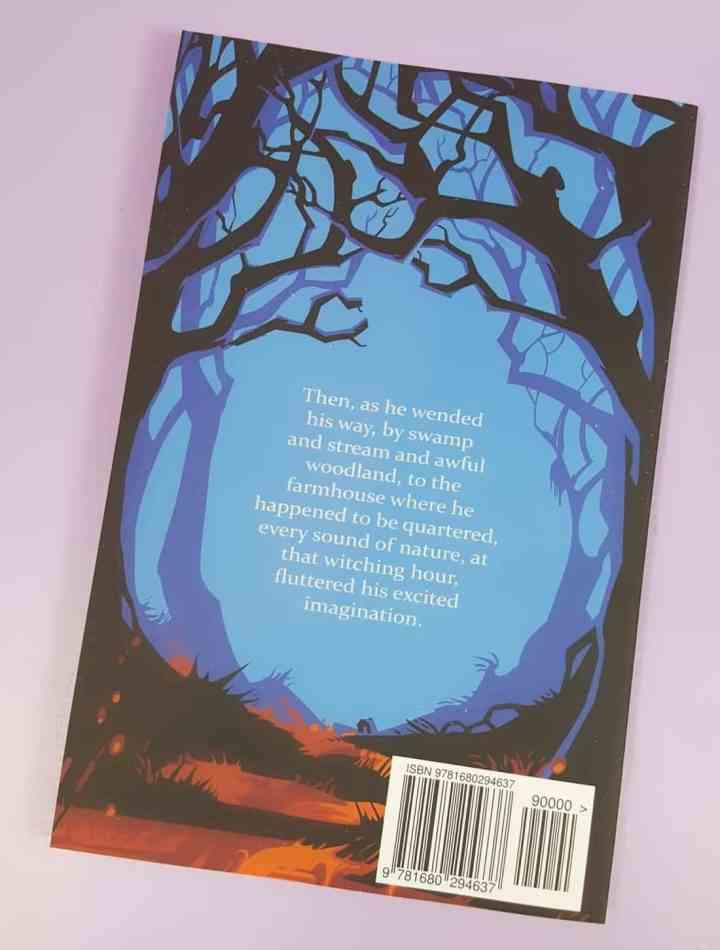 The Savage Song inspired sticker from Evie Bookish – I need to think of a way to display all of the great stickers I get in my boxes. OwlCrate sends some great ones and I have a collection that needs to find a way to be shown. This is another great one designed exclusivly by Evie Bookish.
Each month OwlCrate sends a pin with that month's theme on it. I love the Raven on this one and the orange moon is so spooky.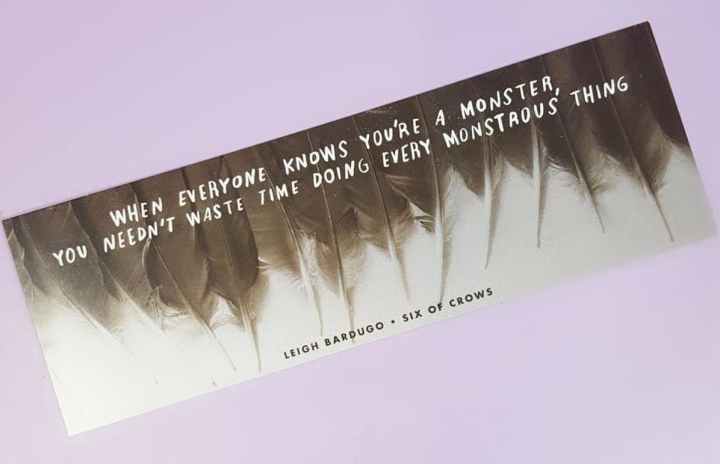 Six of Crows inspired bookmark from Treehouse of Books – Getting bookmarks is a given with a book box and I love all the different ones and how detailed the ones that OwlCrate are. I love the feathers on here.
September 2017 theme is Mythical Creatures!
? This box is perfect for lovers of fantasy and mythology! Our book pick is an intricate story about politics, survival, finding your inner strength and DRAGONS! Oh yes, there are tons of dragons to discover in this story!

? There will be awesome items inspired by Percy Jackson, Harry Potter, Game of Thrones, and more!

? We will also be including an item we've had literally hundreds of requests for over the years! We are so excited to finally come through! Make sure you check out your sneak peek card in the August box to see what it is!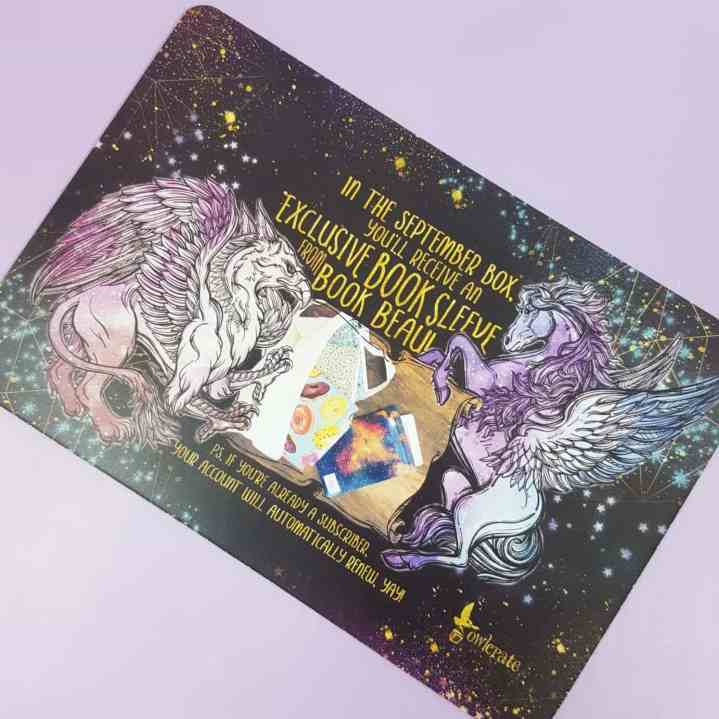 Each box will also include an exclusive book sleeve from Book Beau!
What did you think of this month's spooky Owl Crate theme? Are you ready for next month's?