Orange Peel Box is a monthly aromatherapy box for your body and home featuring artisan made products that are clean and all-natural. The full sized box (reviewed here) is $49.90 a month and will have 4-6 full-size products while the Orange Slice Box is $35.90 a month and will have 2-3 full-sized items. Shipping is free in the U.S. and will vary for other countries.
Each box will allow you to explore the diverse and growing world of aromatherapy products. The box will contain aromatherapy products for your home and your body such as: full size candles, diffusers, misters, body oil, shaving cream, shampoo, deodorant, balm, perfume, bath salts, inhalers, jewelery, and much more. Each month's selection will be based on the previous months selections, so you will not receive too much of one type of product and will have time to enjoy the products. Create the mood in your room or give yourself a little boost during the day.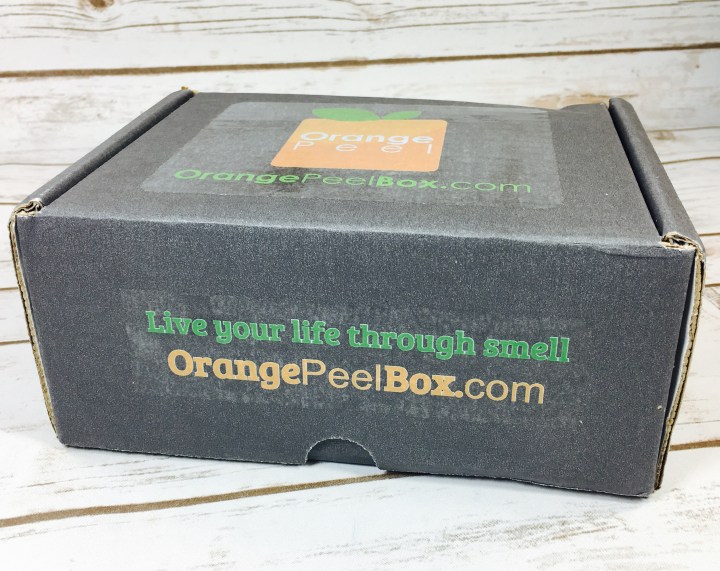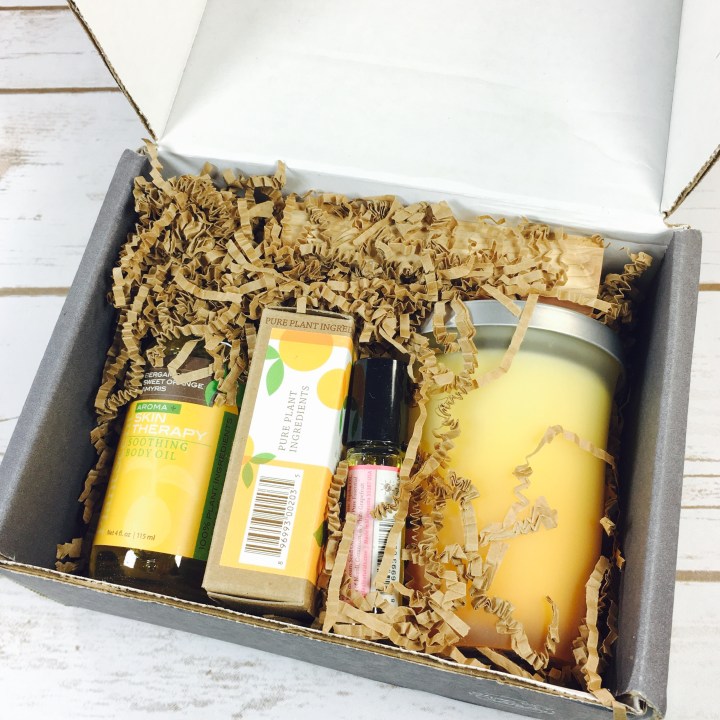 My box was wrapped in brown paper and had colorful wrapping tape outside. When I opened the box, I found all of the items safely tucked away in brown paper squiggles.
There was a product information card that listed each item and this month's theme, which was Rejuvenation. I am melting in the oppressive heat that is a Texas summer so a chance to inject some uplifting citrus into my day sounds like a treat!
What a bright, sunny box! I'm already feeling uplifted, and I haven't even tried anything yet!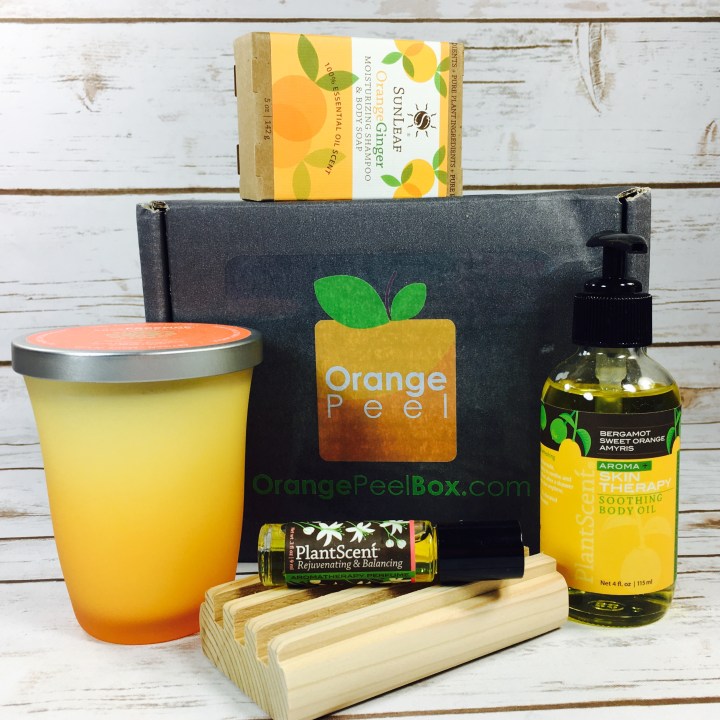 Everything in the box! I grew up in Southern California with orange trees and all kinds of citrus in my own backyard, so I am always happy to receive citrus scented products. I don't know yet if every box will feature the juiciest of fruit or will include other aromatic herbs and produce but I hope to find out in the future!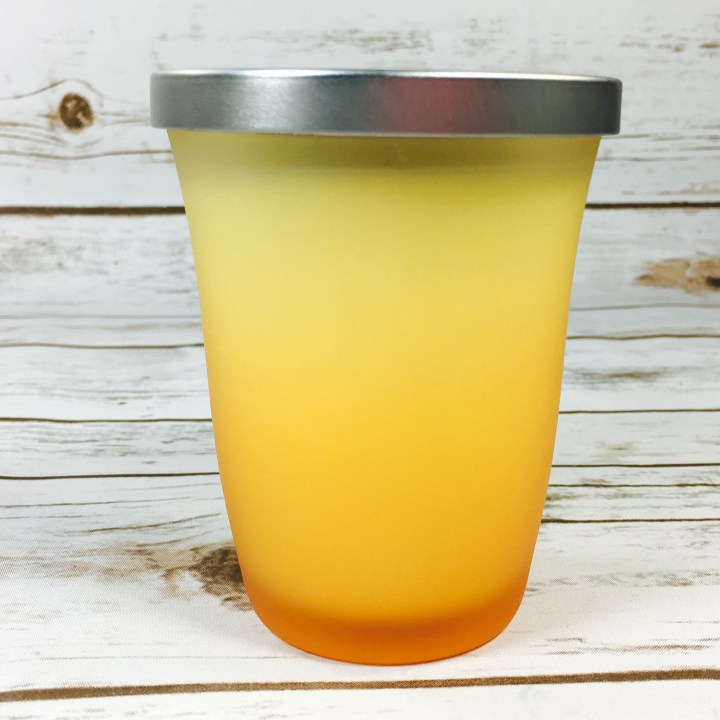 A candle is a great way to start off this box! rareEssence Aromatherapy Spa Candle in Awaken ($20.50)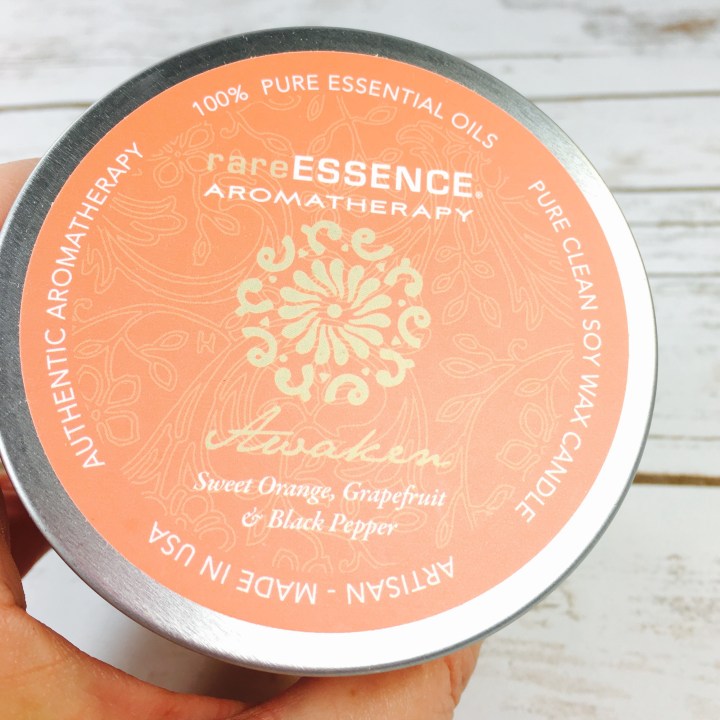 I'm not sure what I like best about this candle. The frosted glass ombre container? The incredible cold throw and very nice scent while burning? The 100% non-GMO soy wax with cotton wick and pure essential oil fragrance? All of the above!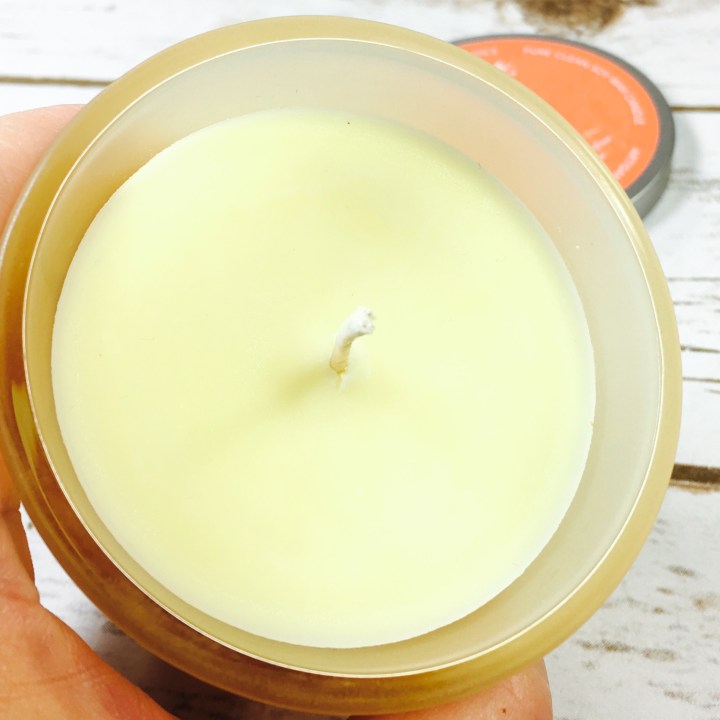 The burn time of this 7.5oz candle is around 40 hours. It is lovely.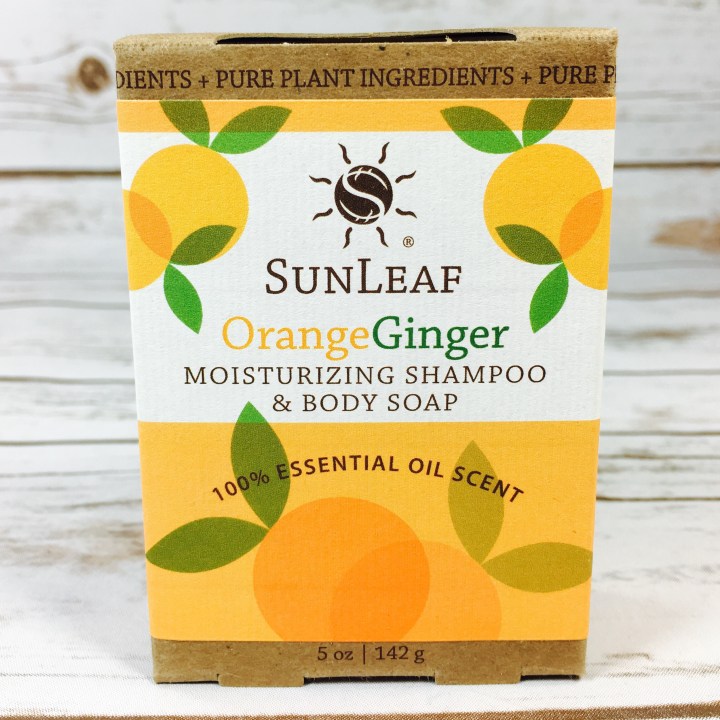 SunLeaf Moisturizing Shampoo & Body Soap in Orange Ginger ($6.49) is a 2-in-1 product that can be used as a shampoo or traditional body soap.
The ingredients are saponified olive, coconut, castor, avocado, and hemp seed oils and it gets its scent from pure essential oils. It smells amazing and I am going to save it for a rainy day – literally – since I know it will make the darkest of days seem brighter.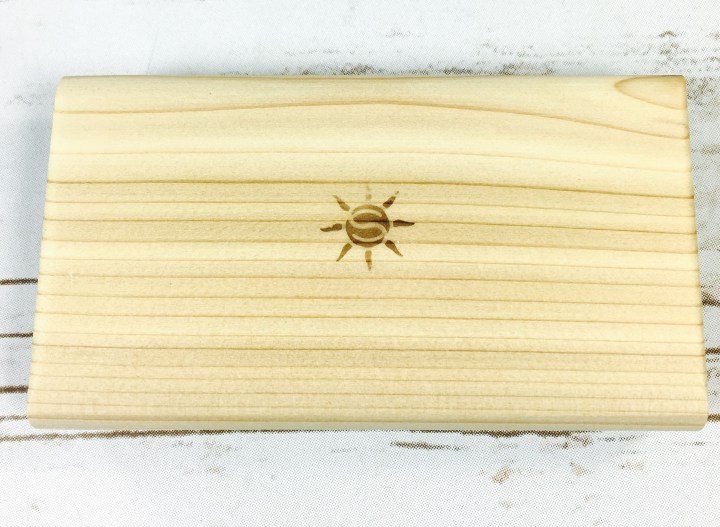 SunLeaf Cedar Soap Raft ($4.99) is made of just unfinished cedar wood and is something that I really needed for my shower! It features the SunLeaf logo on one side…
…and four grooves on the other, to help keep the soap high and dry! I am looking forward to seeing if it helps my soaps last longer, too.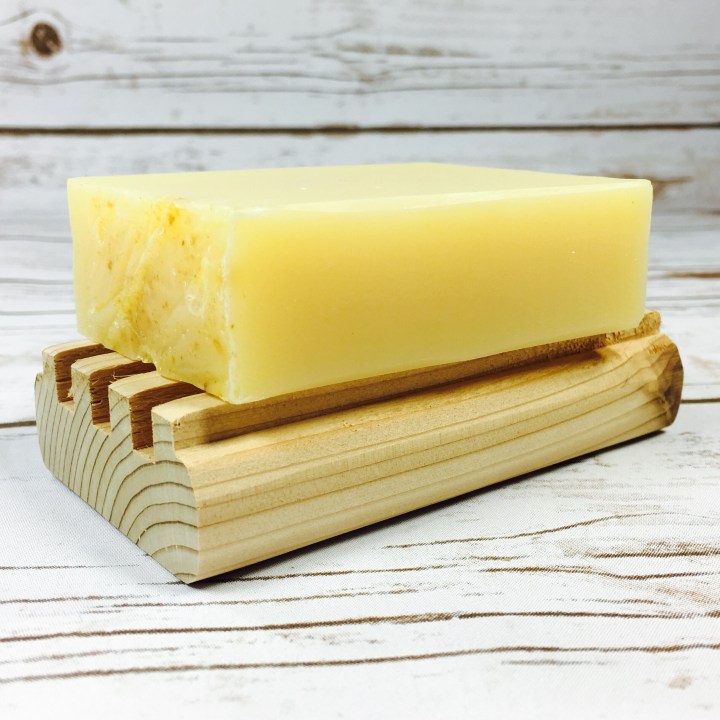 Here is the Orange Ginger soap on the raft!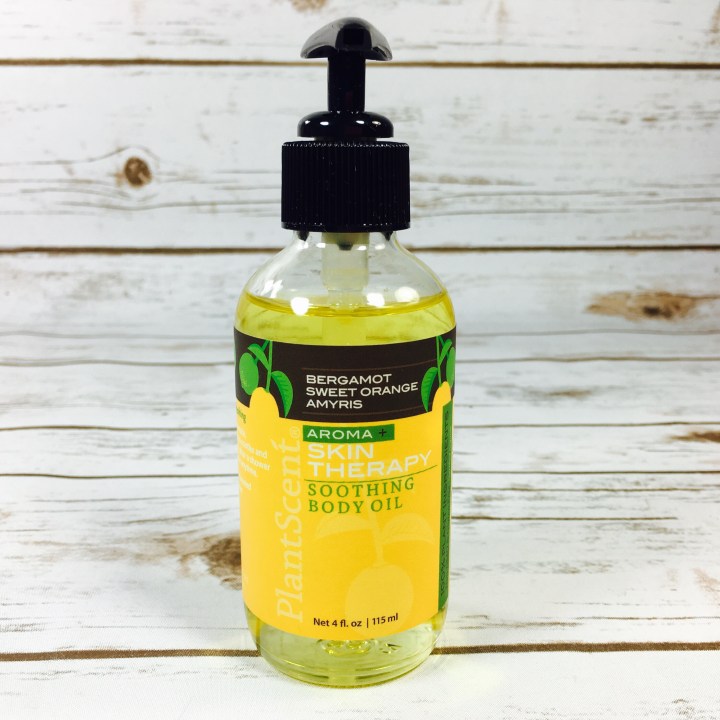 SunLeaf PlantScent Aroma + Skin Therapy Soothing Body Oil ($15.99) is scented with bergamot, sweet orange, and amyris (a type of tree – I had to look it up!) essential oils.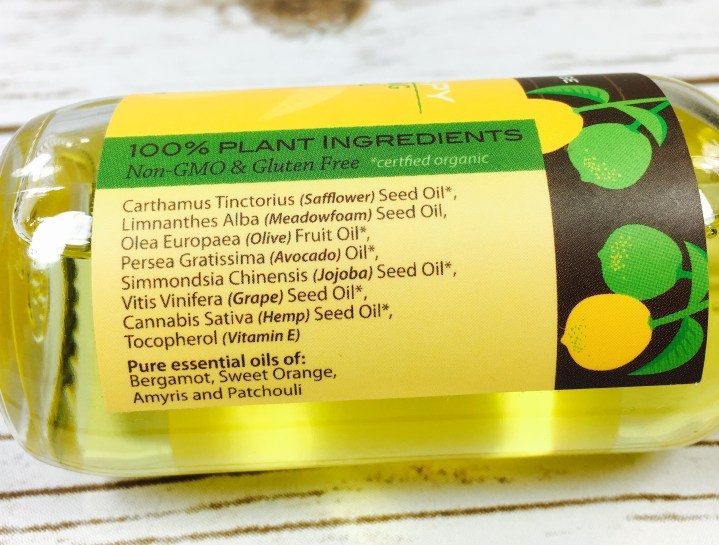 The rest of the ingredients are certified organic oils such as olive and jojoba oils, plus vitamin E. I used it on damp skin right out of the shower and loved the scent, plus I didn't feel greasy, even though it is hot and humid where I live. It smells wonderful and stimulating! The scent lingered lightly on my skin, and I wasn't surprised to find patchouli in the mix, as it was the last note to fade. No need to feel blue when you're wearing orange!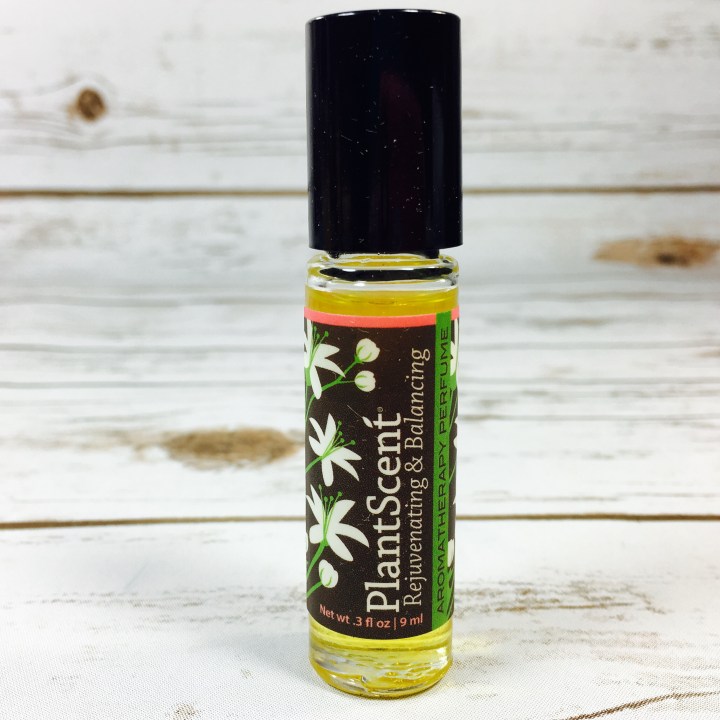 SunLeaf PlantScent Aromatherapy Perfume in Rejuvenating & Balancing  ($9.99) is scented with neroli, geranium, and white grapefruit pure essential oils.
Again, the rest of the ingredients are clean, just jojoba and meadowfoam oils. Although patchouli isn't listed, I kind of feel like it might be in my mix, which is fine with me because it just makes things smell sweet and comforting to me.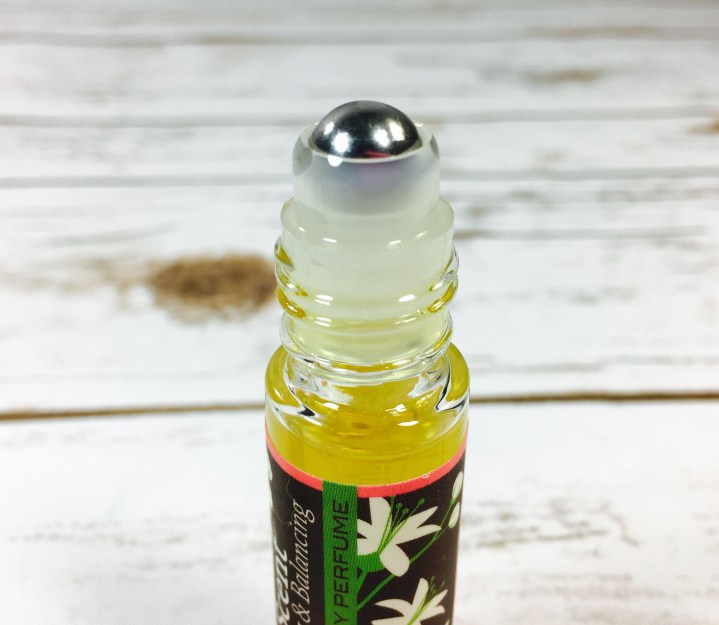 It has a stainless steel roller ball and it comes out pretty generously. I placed it on my pulse points and was amazed at the longevity. It smells like sweet oranges and I just think it's perfect.
I was extremely impressed with my very first Orange Peel Box! The products were clean and natural and packaged in environmentally friendly ways (glass bottles, recycled cardboard). The essential oils were pure plus the ingredients were simple and I felt great putting them on my body. I felt like this was an upscale box and give it two thumbs up! I am so excited to see what comes next! Most of the products in this box were from SunLeaf and I hope to encounter their items in future boxes, they are very well made. I didn't look too closely but I think this month's box was also vegan and cruelty-free. The value was $57.96, which is more than the price paid for the box, plus shipping was free! Everything smelled so good and I am in my happy place right now!
What do you think of Orange Peel Box? Let me know in the comments!