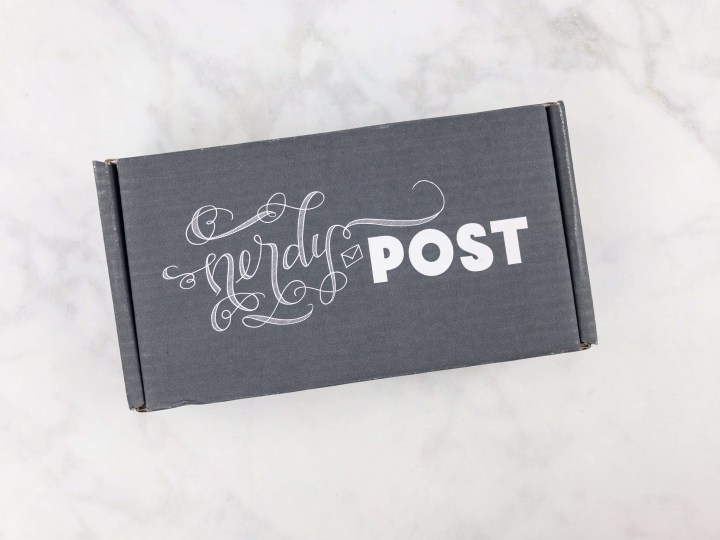 Nerdy Post is a subscription that sends original, hand lettered stationery, posters, prints, stickers, and other paper ephemera around a different theme each month! Not into that month's fandom? You can easily skip your shipment. While most items are created by Alexis Lampley, the owner of Nerdy Post, they've been including items from other artists and shops, too!
They now have Nerdy Tees, too, a matching shirt subscription. You can now add-on the tee to this subscription.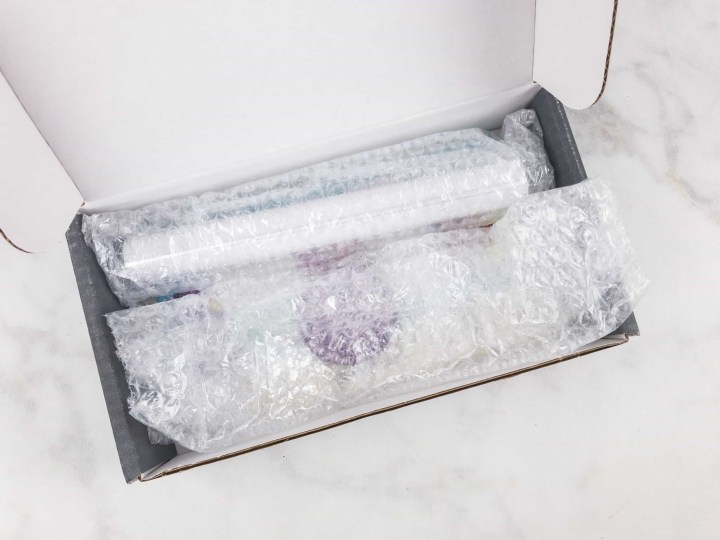 Everything is packed nicely into a box to protect all the contents.
DEAL: Save 10% on your first month of Nerdy Post! Use coupon code NERDYNEWBIE. Does not apply to Nerdy Tees box or combo.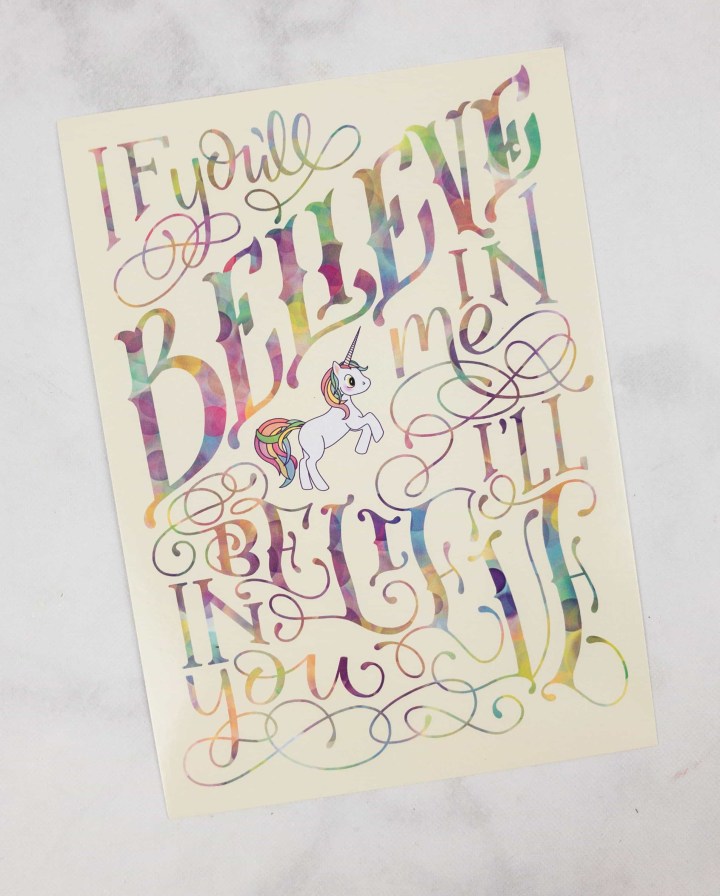 The theme for July is "Alice In Wonderland!"
8 year old girls are winners at believing in unicorns! I am framing this one for my daughter's room – we are at peak unicorn with no signs of stopping (ummm I think I have been there for 30 years??).
The information card gives you a list of all the items in the box and a bit of an idea into the creation process.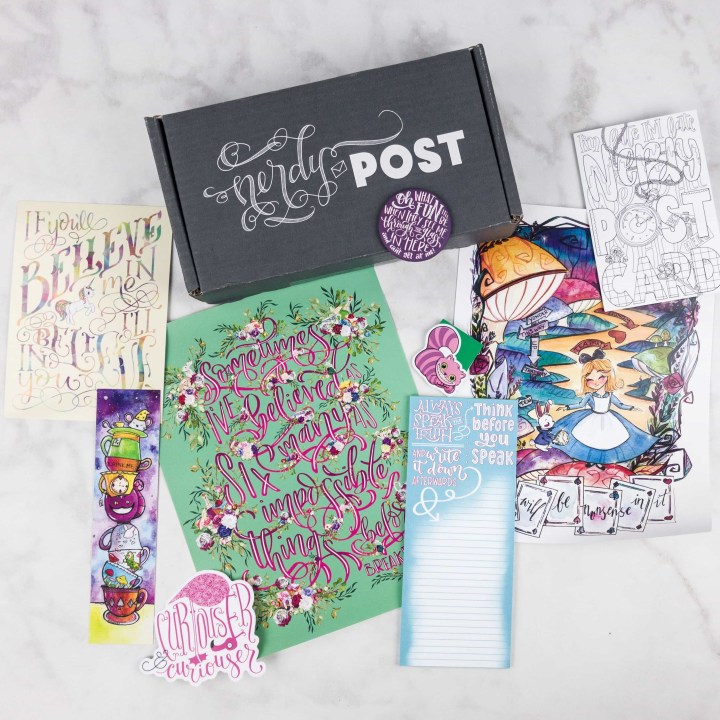 Everything in my July box!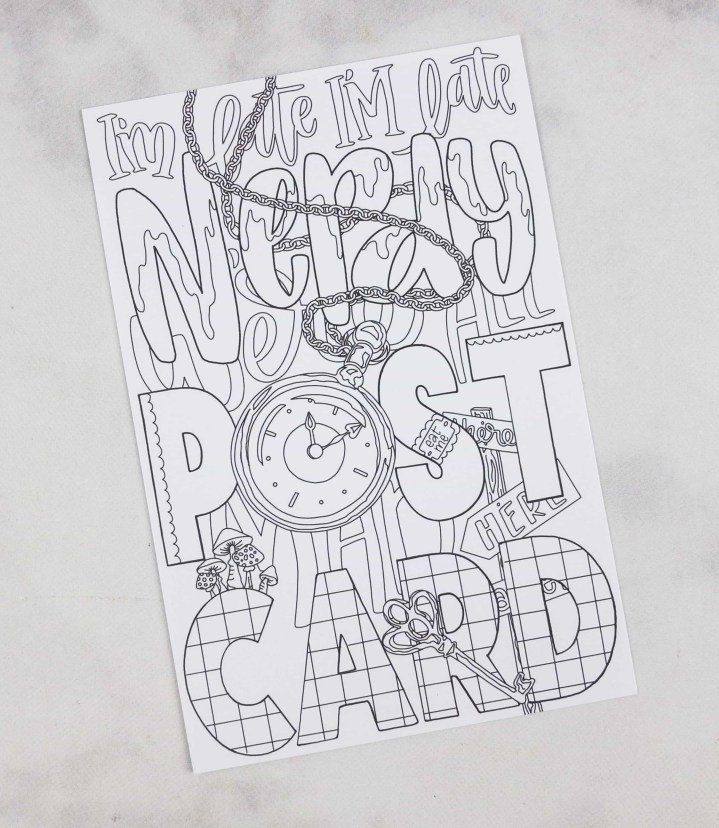 Color-In Postcard – A staple in every Nerdy Post package!  I'm Late I'm late! Lots of iconic graphics here with some intricate coloring work possible!
You can write a message on the back and give it to someone, or just keep your pretty postcard for yourself!
Here's a great one!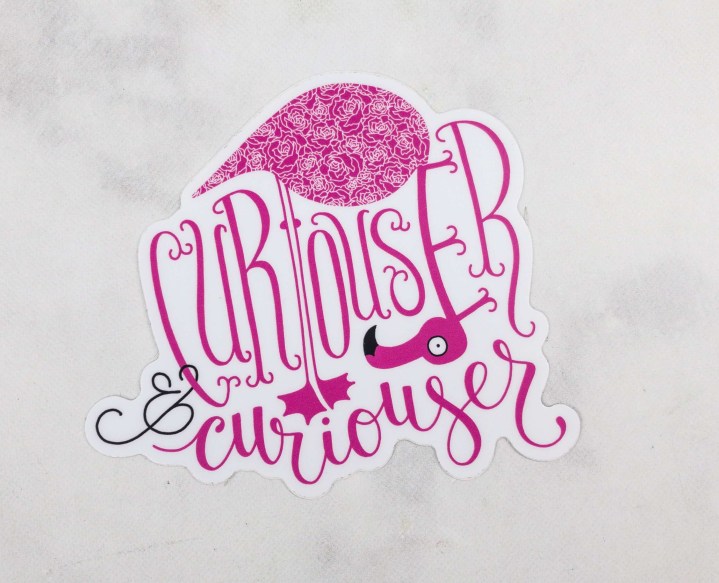 Curiouser & Curiouser Flamingo Sticker – I love the rose design right on the flamingo. I'm not sure where I'm sticking this, but surely it'd look great on a golf bag? 🙂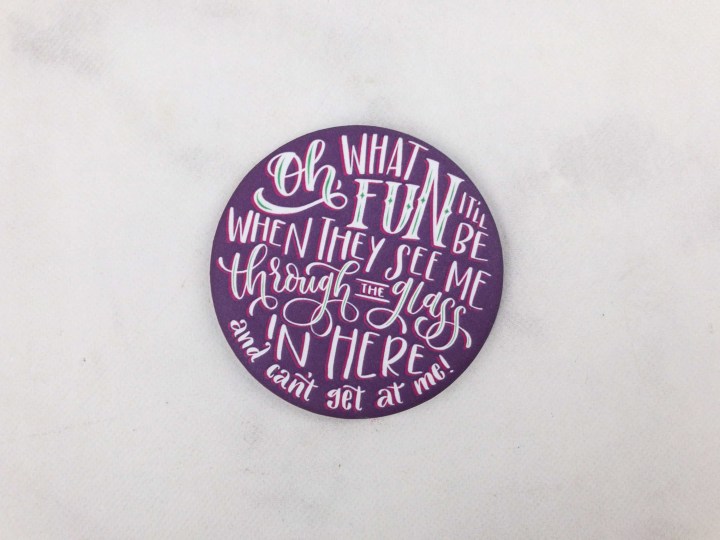 "Oh, What Fun It Will Be…" Mirror – A compact mirror with a quote that fits so well.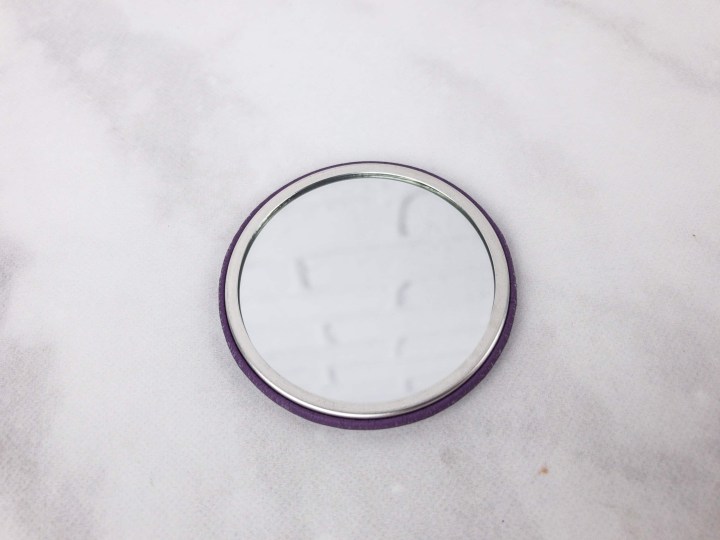 So easy to bring wherever I go, ideal for quick touch ups.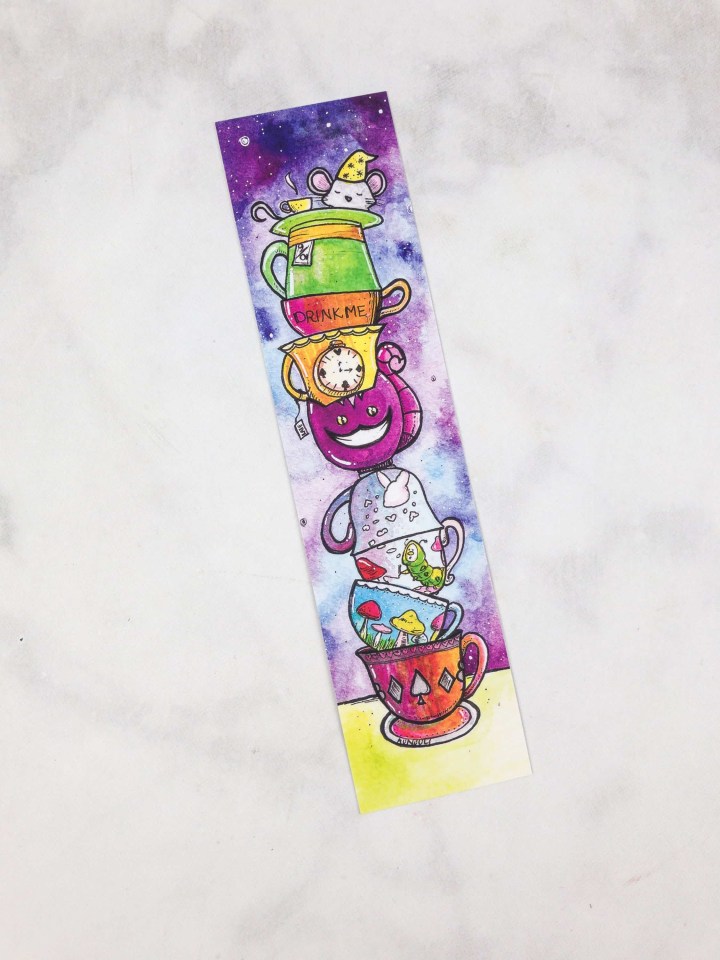 Teacups Bookmark (Side 1) – Such a cute hand-drawn design! I love the sleepy Dormouse at the top! This side is from artist @riddlesteashoppe.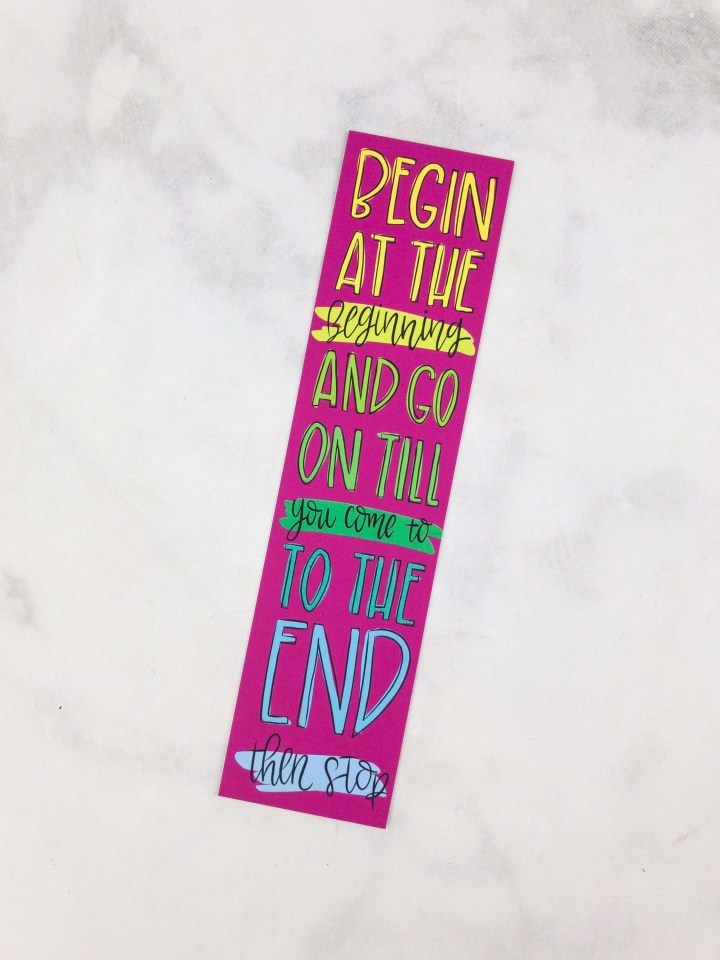 "Begin At The Beginning…" Bookmark (Side 2) – This quote perfectly describes how reading should be — no stopping until you get to the end.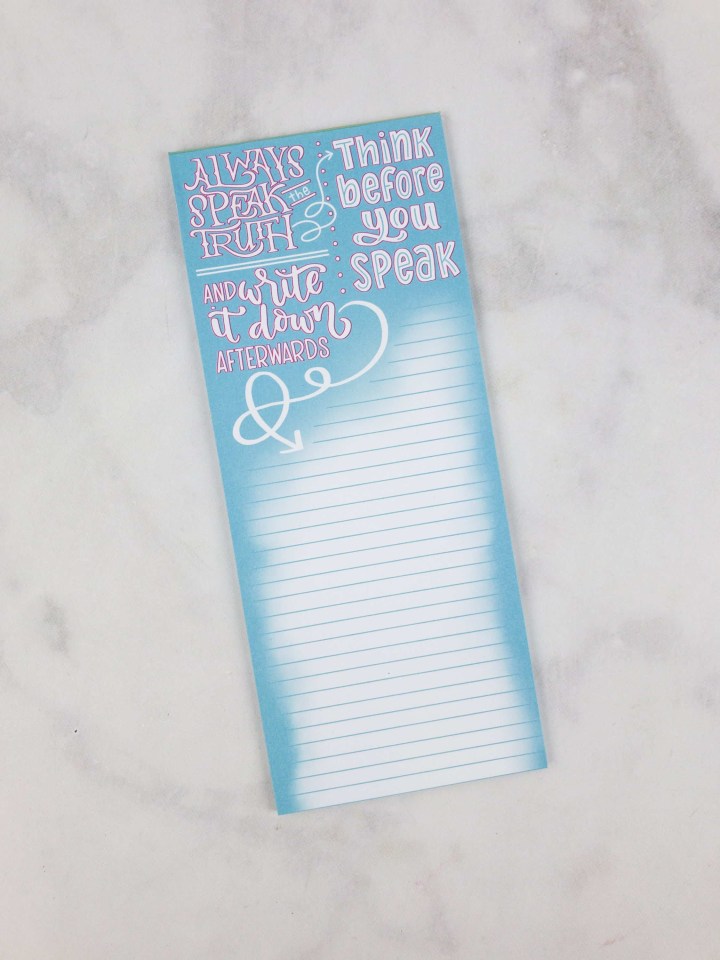 "Always Speak The Truth" Notepad – Gotta love the reminders printed on the notepad. One page is long enough to jot down your thoughts for the day! Very likely the most sensical thing ever uttered by the red queen.
BeeDoo.To Cheshire Cat Magnetic Bookmark – A super cute reading companion.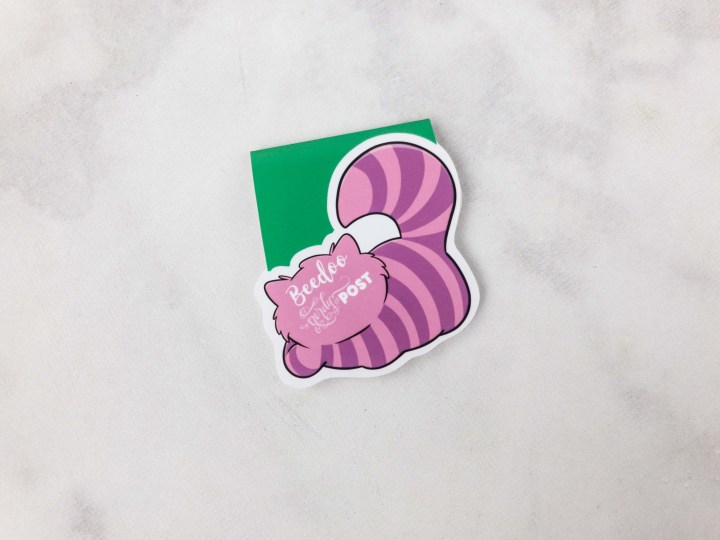 Even its back is detailed too! Love seeing Beedoo's excellent work in this box!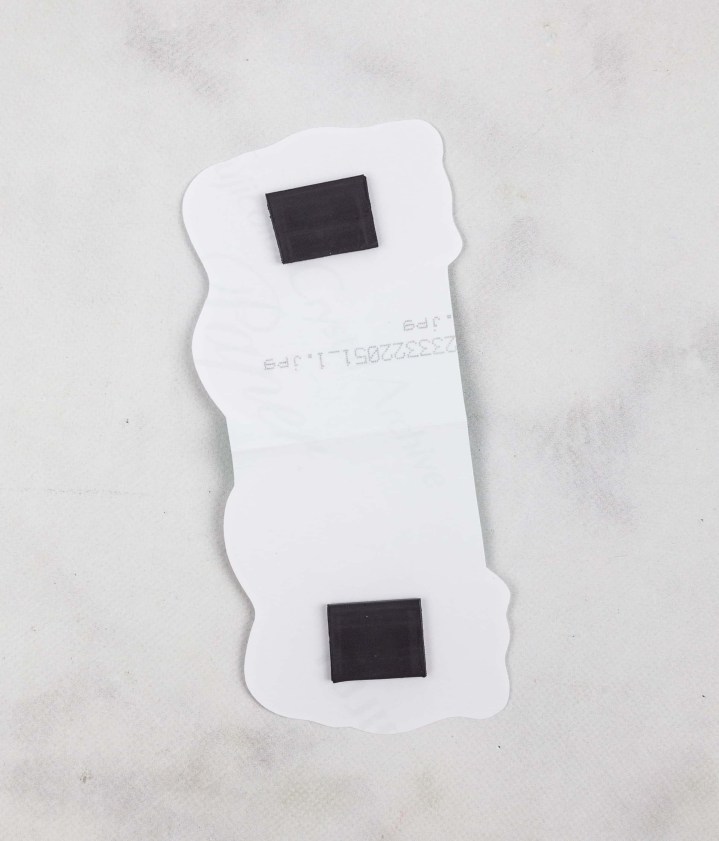 The bookmark is printed on a matte photo paper.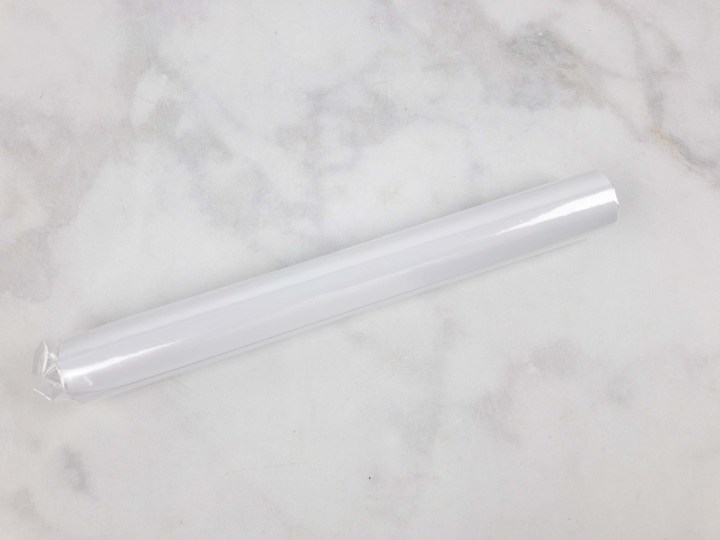 Our poster was packed well in a tube!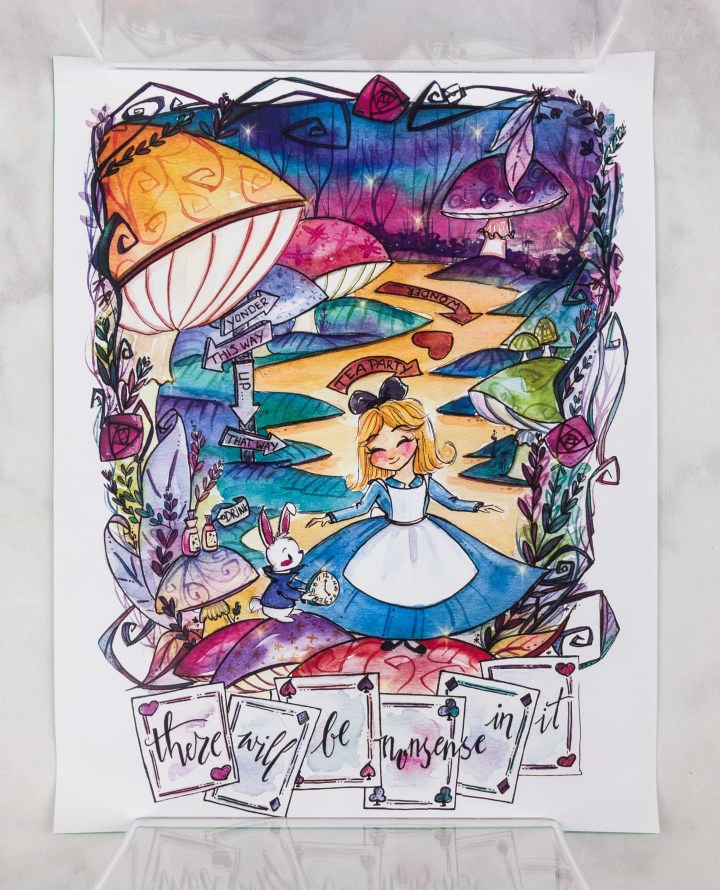 "There Will Be Nonsense In It" Poster – The quote is from a poem at the start of Through the Looking Glass. The illustration from TJ Lubrano is so impressive with all those details and colors!
"Sometimes I've Believed…" Poster – Yes, we received two posters from this month's box. And this is one of the prettiest quote posters we've received from Nerdy Post to date. It's something totally worthy for display!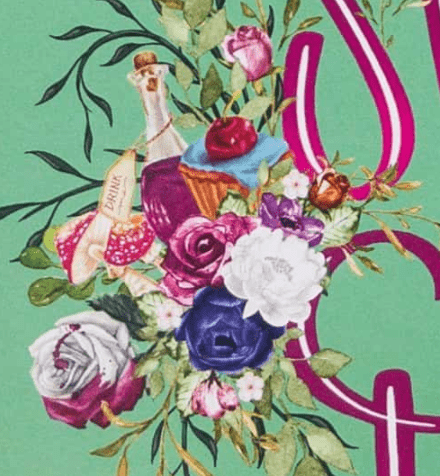 The best part? The floral sprays hold all these amazing Easter eggs – the white rabbit and more!
Of course Alice in Wonderland is one of my very favorite themes and this month didn't disapppoint! I have everything tucked aside for framing or posting up because I want to keep it all! I feel like we could even have a redux of this theme in a different style, but there's always a new fandom to delve in to!
It's worth mentioning that this is almost becoming a sampler for high quality large format work – they are going to start selling the ones that are in really high demand in canvas and I might have to get one!