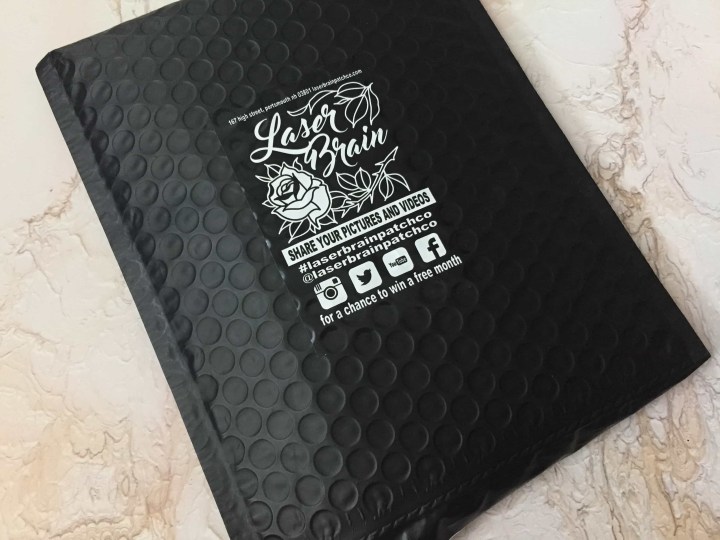 Laserbrain Patch Co produces the coolest, nerdiest, niftiest pins, patches, and other goodies. They come up with awesome themes and put together a truly unique monthly package, and I was super excited to have them land in my mailbox! The three founders are all tattoo artists, and I am super excited to see their incredible art and illustrations with a nerdy twist! This subscription is only $12.50 plus shipping, making it an attractive price point with a LOT of fun packed into it!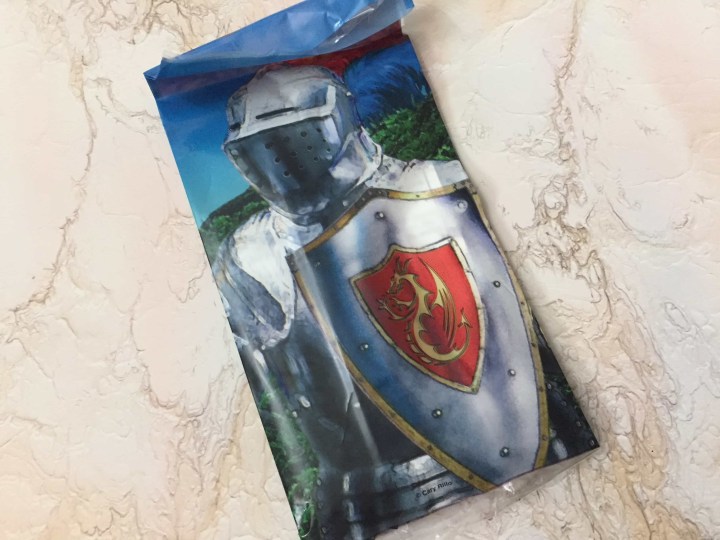 DEAL: Get $2 off of your first monthly box. Use coupon code HELLOLASER.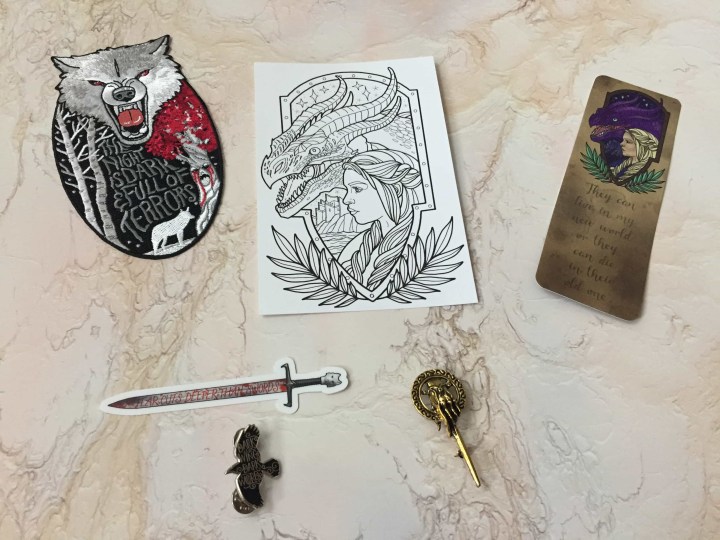 Everything in my box! The front of the info card is a colouring image. This month's theme is GAME OF THRONES!!! Yassss! I don't watch the show anymore but I love the books so much.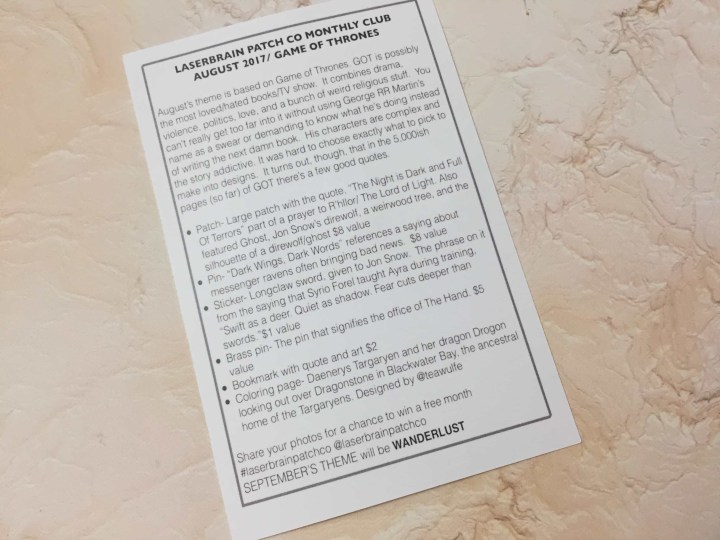 The info card always breaks everything down.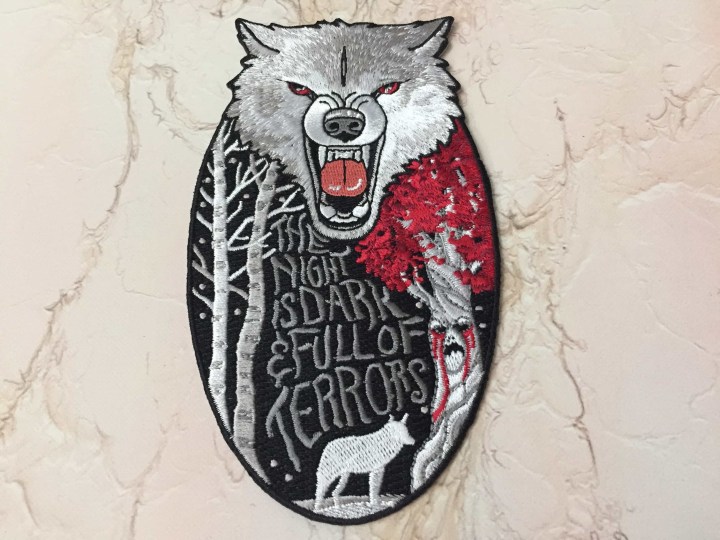 Patch — The hallmark of this subscription is the large patch. These are iron on so you can easily affix them to a bag or denim. The star of this patch is Jon Snow's direwolf, Ghost! The weirwood tree is also appropriately spooky.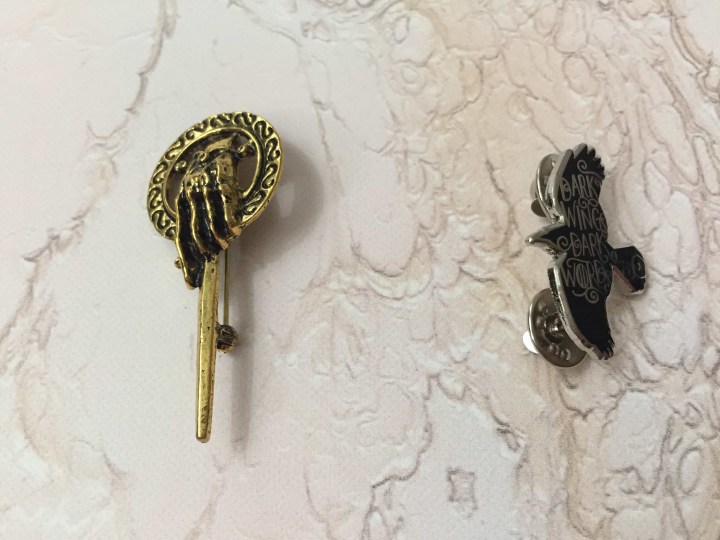 Pins — One is a replica of the Hand of the King and the other is a raven. I always struggle to photograph these in their full glory, so here are some closeups featuring my hand.
The detail goes right down to the way the "O" is styled like the one in Game of Thrones' opening credits.
This pin has a traditional straight back instead of postings. It's heavy and feels nice.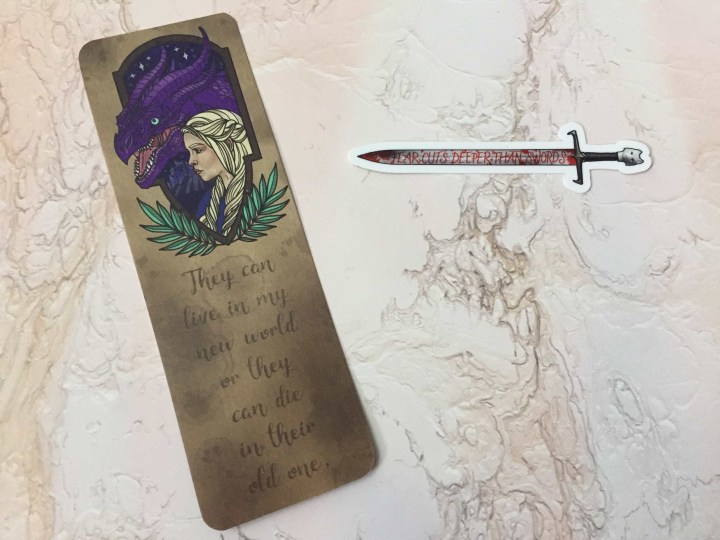 Bookmark — The bookmark this month features Danaerys on one side, and Arya on the other. (Stay tuned for a pic!)
Sticker — I thought this was Needle (Arya's sword) at first but it's actually Jon's sword as indicated by the wolf on the hilt. The quote is one by Syrio, who taught Arya how to fight with her sword.
I love the art of Arya on the back. She looks really cool. It's crazy seeing photos of the younger actors now — they're not kids anymore!
I loved the August theme! The art is always awesome and the quotes appropriately nerdy. My pin and patch collection is growing steadily and I have this subscription to thank for it!