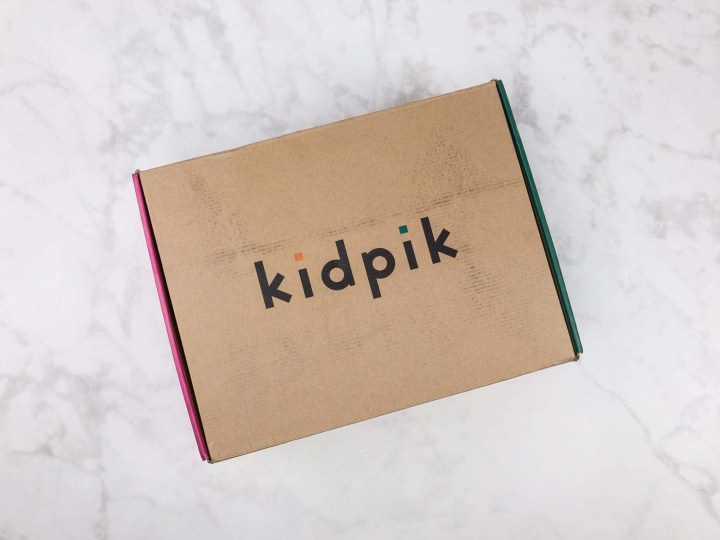 Kidpik is a styling subscription box for girls sizes 4-14 that is offered with no subscription, styling, or shipping fees. (It's like Stitch Fix for girls, but with no styling fee!) Kidpik can now be purchased once a season, twice a season or monthly. The box will be sent at no cost and you'll only be charged once you pick the items you want to keep. There's also no return shipping fee to send items back, so your daughter can ultimately decide which items are hers to keep.
If you don't like what they've sent your daughter, they give you 7 days to pick the items you want to keep or return. Login to complete checkout  within a week, if not, your credit card will be charged for the box. A 30% discount will automatically apply at checkout when you keep the entire box!
My daughter chose the colors and styles she wanted for her box in an extensive style profile that covered styles, colors, types of clothing, length of outfits, and complete sizing information. The survey is simple and my 8-year-old was able to fill out the entire thing by herself (and she was so excited about it!).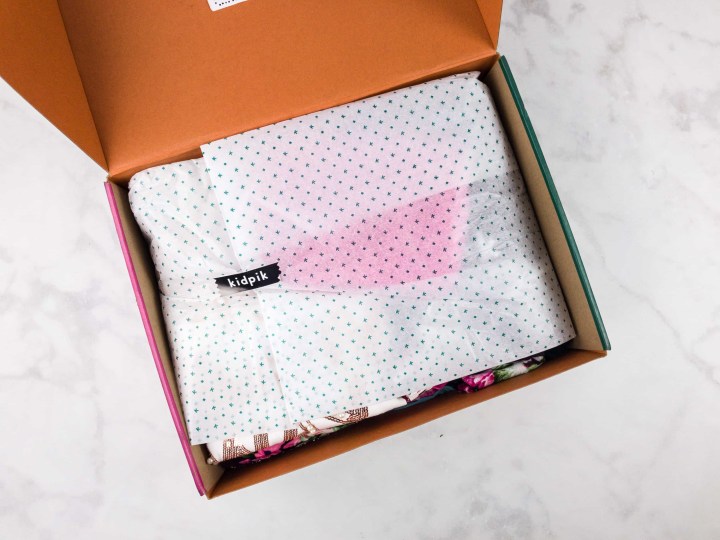 The entire box, with the keep-it-all discount, is on average $85, with 5-7 high-quality items included. If you decide to keep everything, each item will cost approximately $12.50.
Everything was packed really neatly and anything that could possibly snag clothing is packed in sturdy reusable bags.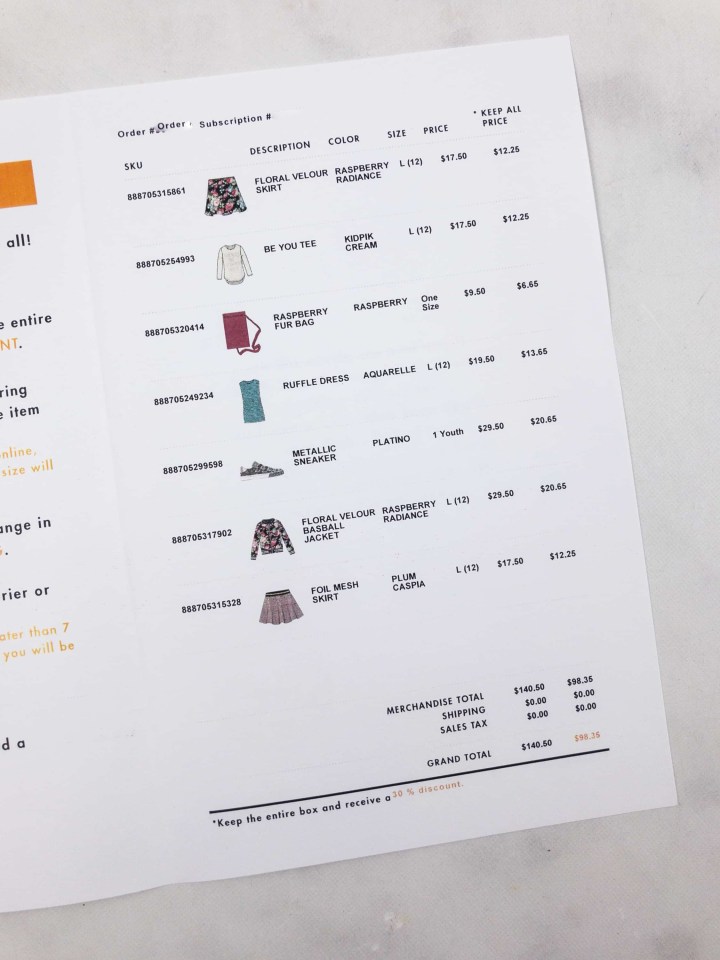 The box includes a list of the items, their prices, and the broken out price for each item if you keep the entire box. These prices are super reasonable and the shopping is devastatingly easy. The box includes a return envelope and item list.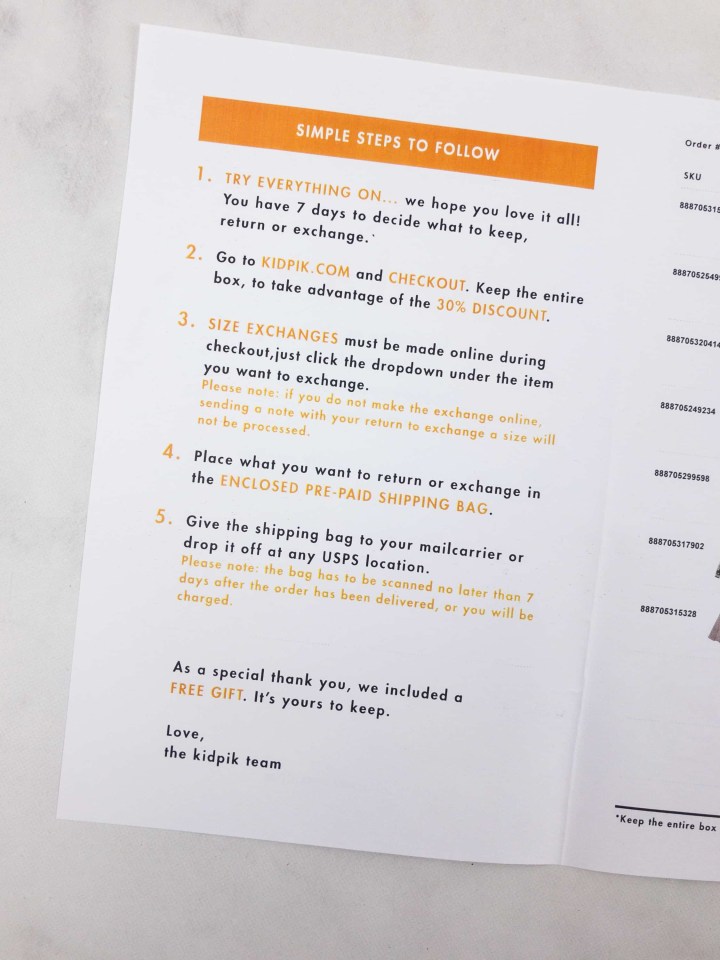 The total for this box with 7 items was $98.35  – less than $15 per apparel item, including the shoes. When you checkout you can get a 30% discount by keeping the entire box. If there are items you kept because it was cheaper but don't want, you can return them in the envelope. So if it makes sense to keep the entire box, just return anything you don't want, and Kidpik will donate it for you!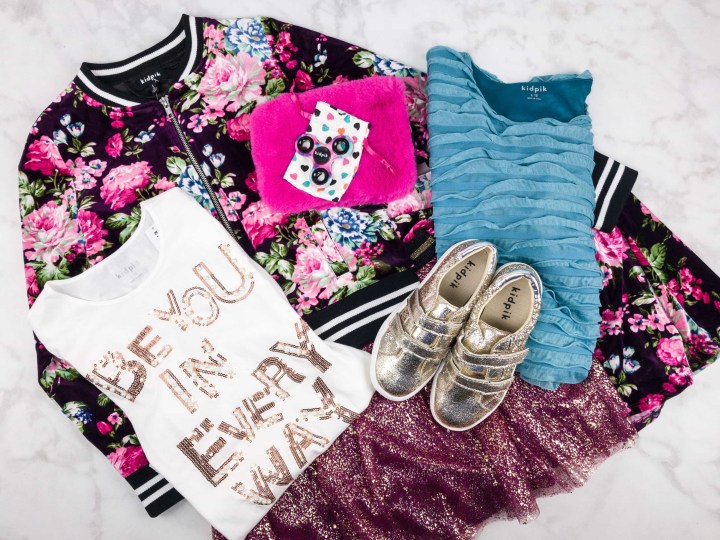 All the items in the box! I adjusted my daughter's style profile for more girly items this quarter – she's getting into those tween years and has been selecting items from her closet with a little more flair.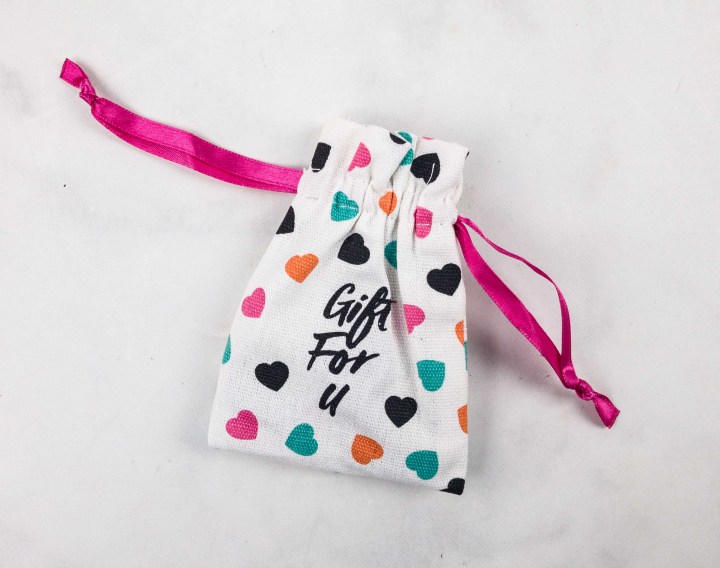 Kidpik also added other bonus items inside the box.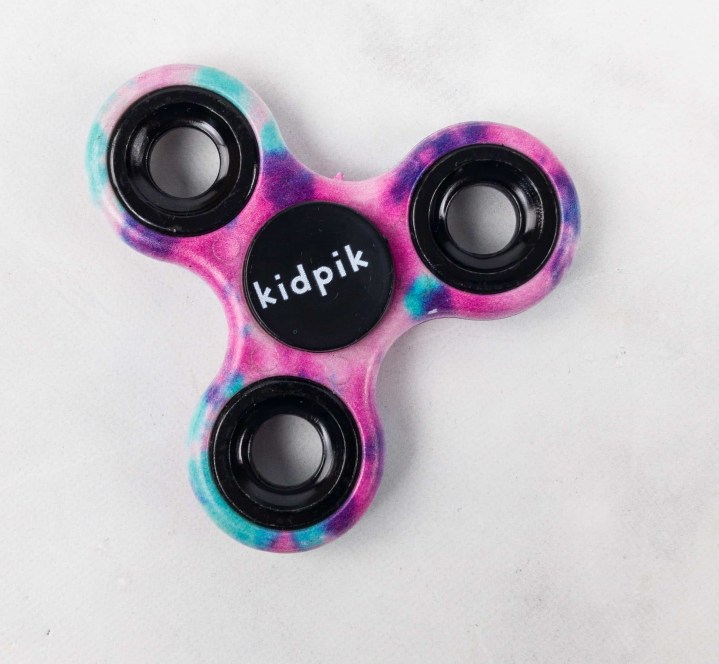 It's a fidget spinner and we loved the colors! This bonus item is free to keep whether you keep anything or not. My daughter loved it – she's still obsessed with fidget spinners, and this one was nice – not cheap – and it spun easily.
Now for the items! Note that the cost to keep prices below is before the 30% discount for keeping the entire box!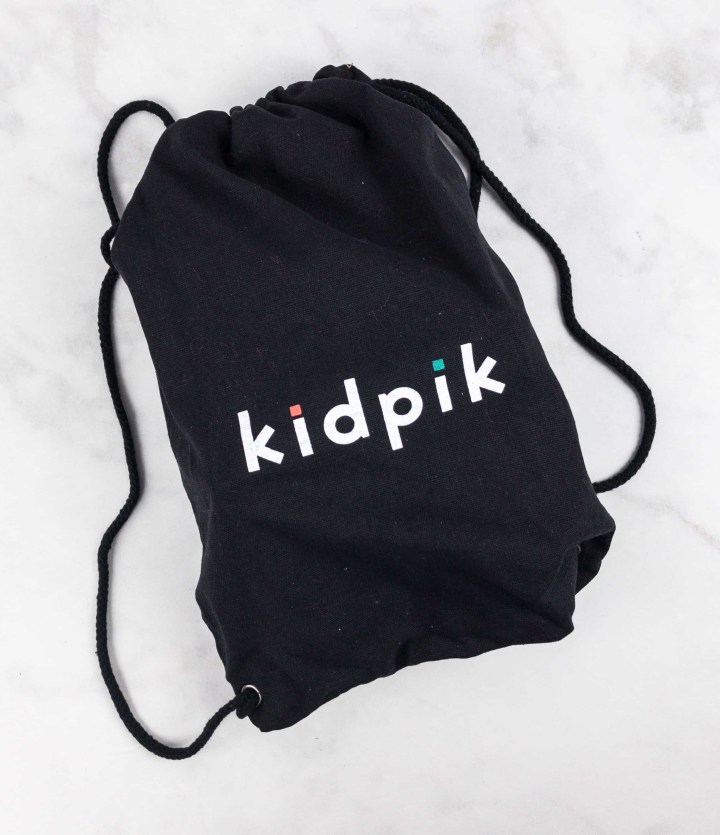 Shoes are always packed up in a tote bag.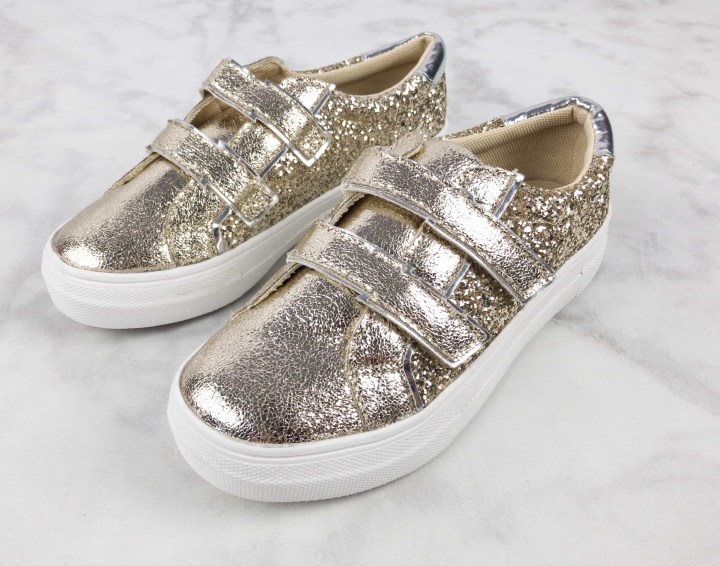 Metallic Sneakers ($29.50): I was psyched to see this fun, sparkly, but ultimately super functional shoes in my daughter's box!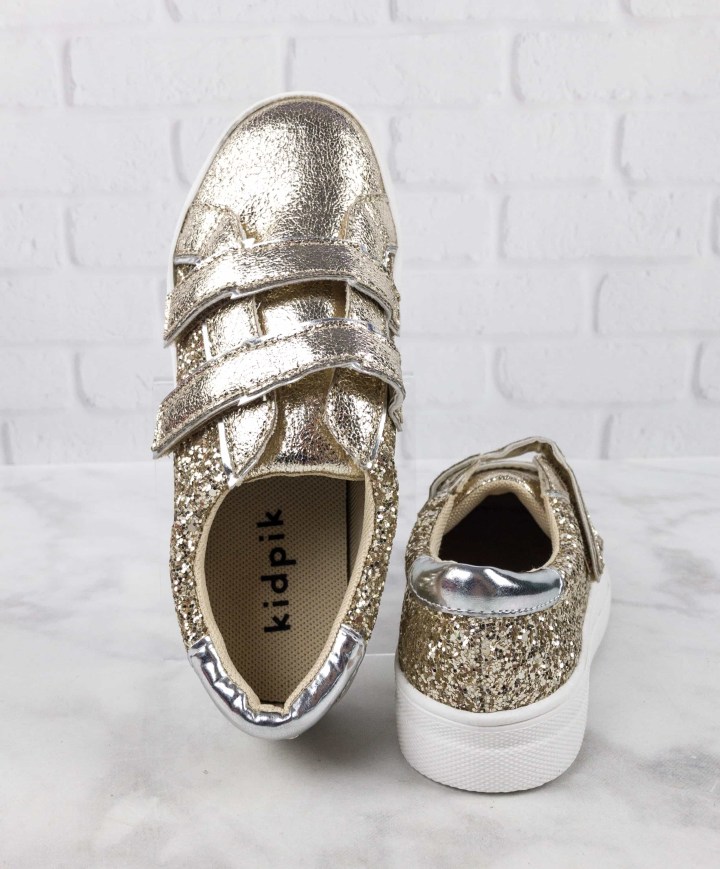 She was too, because glitter! They have sort of a gold foil upper and gold glittered sides with a cute silver contrast at the heel.
These look sharp, and are nice and comfy. She's been wearing them everywhere!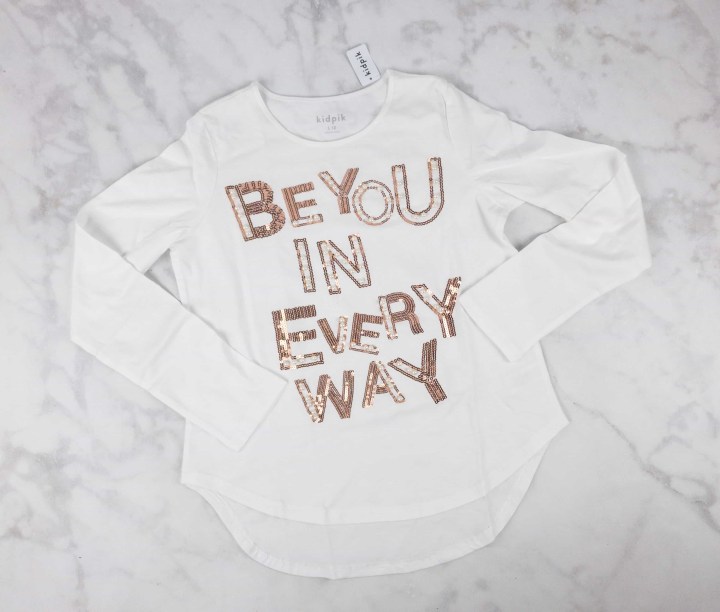 Be You Tee ($17.50): A cute T-shirt that expresses that it's okay to be unique — in fact, it might even be better than being the same as everyone else!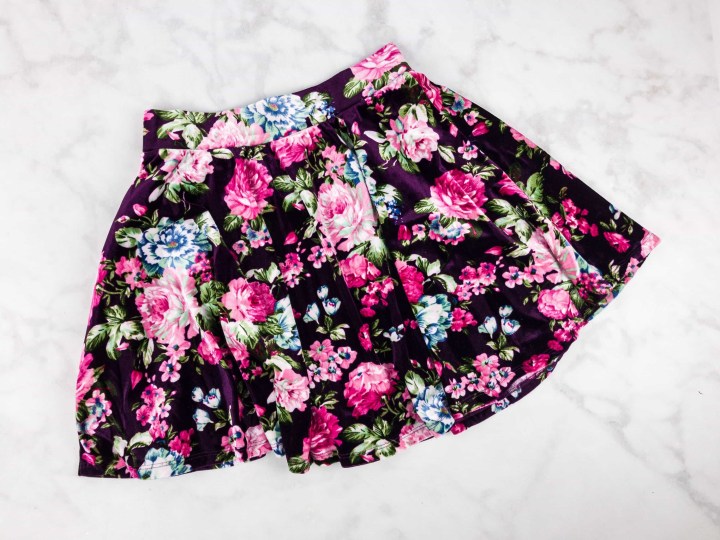 Floral Velour Skirt ($17.50): It has a soft, velvety inside and a very pretty floral pattern on the outside. Perfect for the dwindling days of summer or when you just want to play a game of hide-and-seek in your garden, and great to transition to fall with some tights.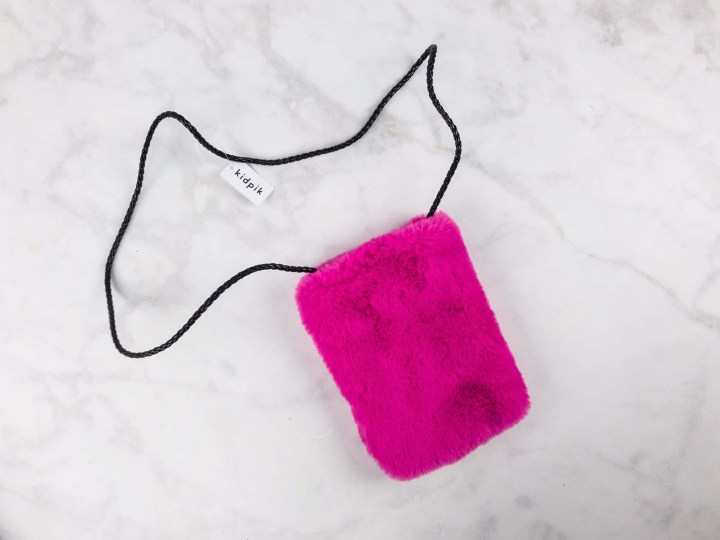 Raspberry Fur Bag ($9.50): A very soft and fluffy bag that is perfect for hauling around kid stuff like pocket notebooks and pencils (she took it the very next day to dinner with just that, so she could work on a story!). She loves the nice bright pink color!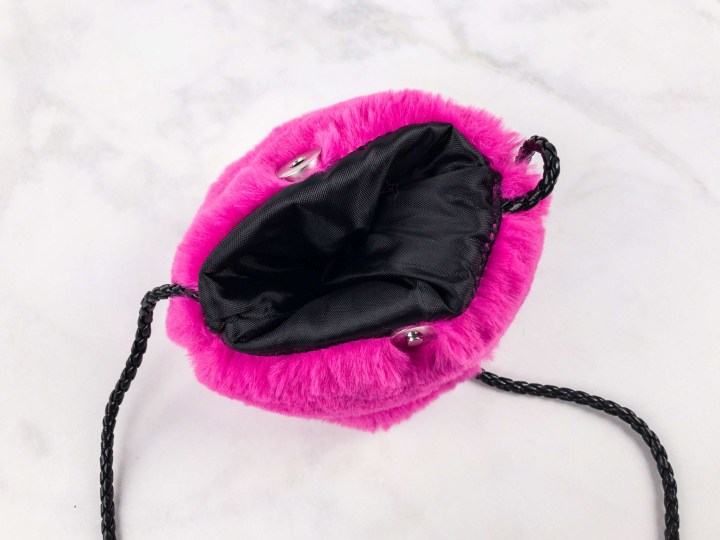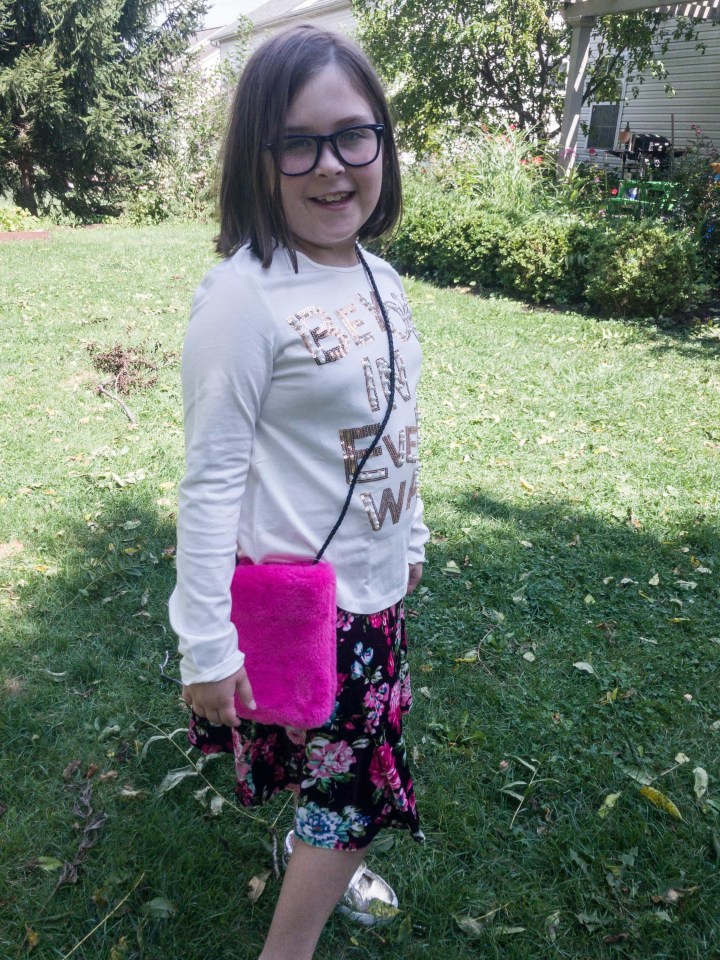 Loving every single piece!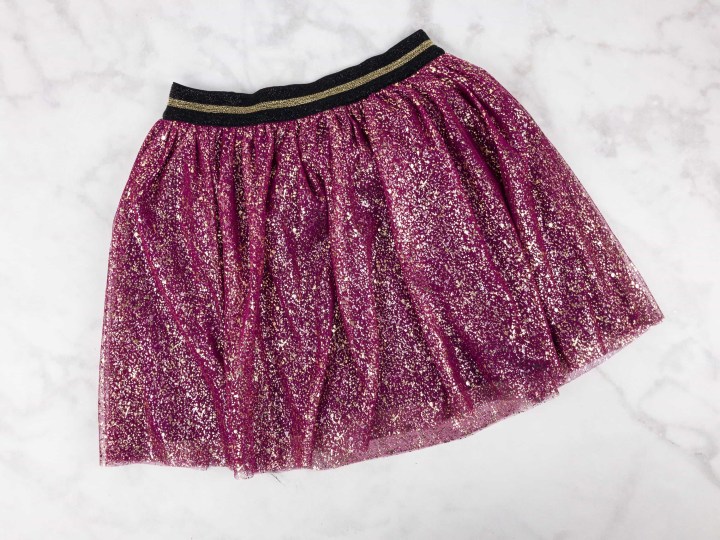 Foil Mesh Skirt ($17.50): A nice deep pink tulle skirt with golden foil all over it, complete with stretchy waistband with a golden stripe!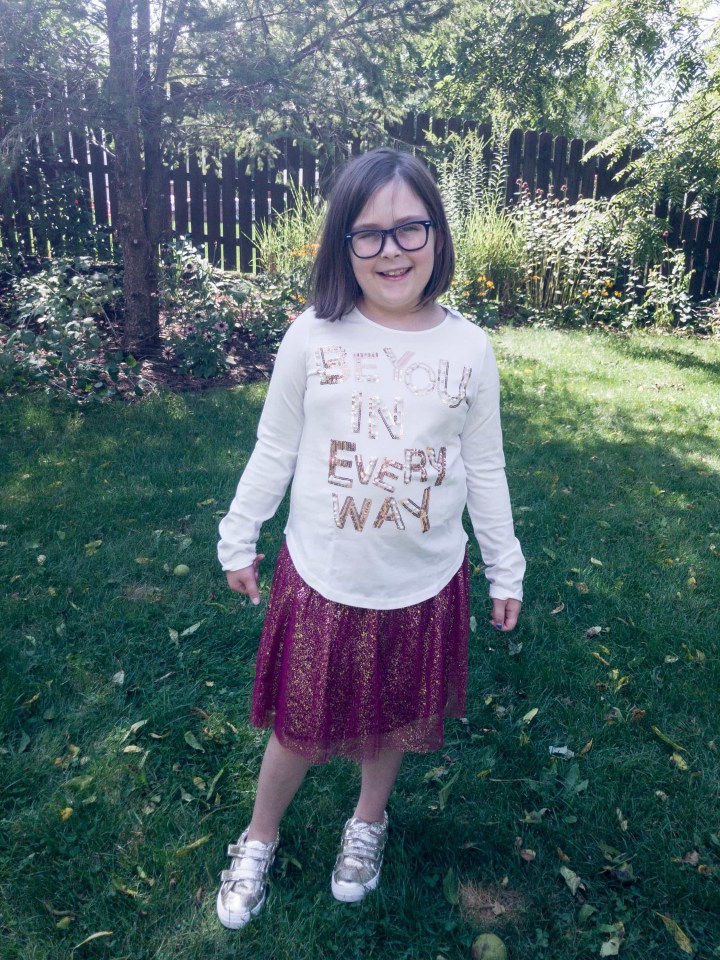 This skirt fit my daughter perfectly, and added some desperately needed glitz to her closet for back to school. She really fell in love with all the styles!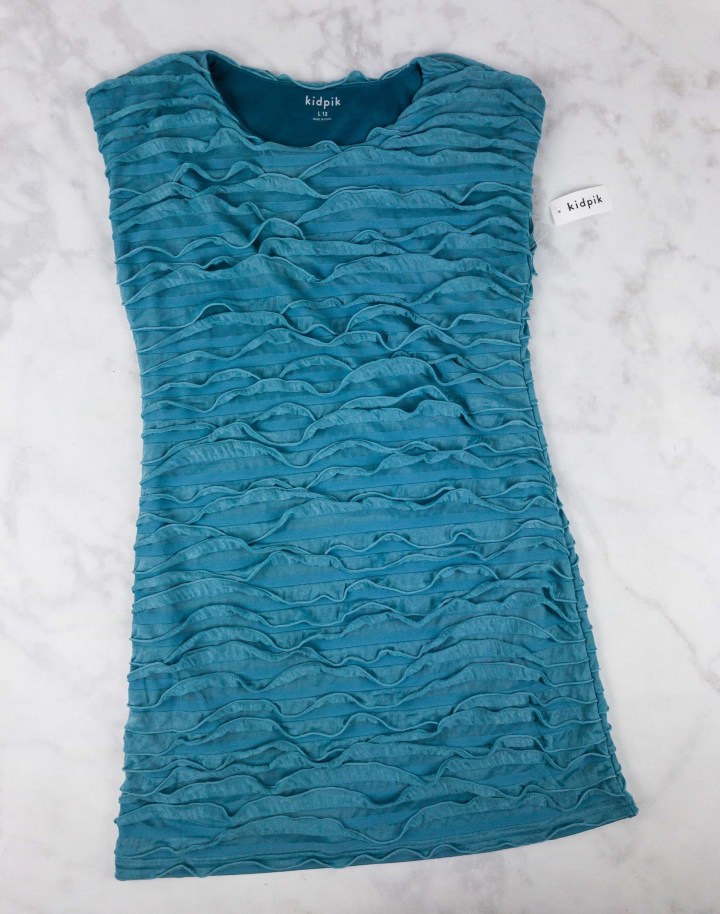 Ruffle Dress ($19.50): This dress is a beautiful blue color. Basically a standard sheath dress but with ruffles on it. Supercute and stylish, works great for a sea-themed birthday party.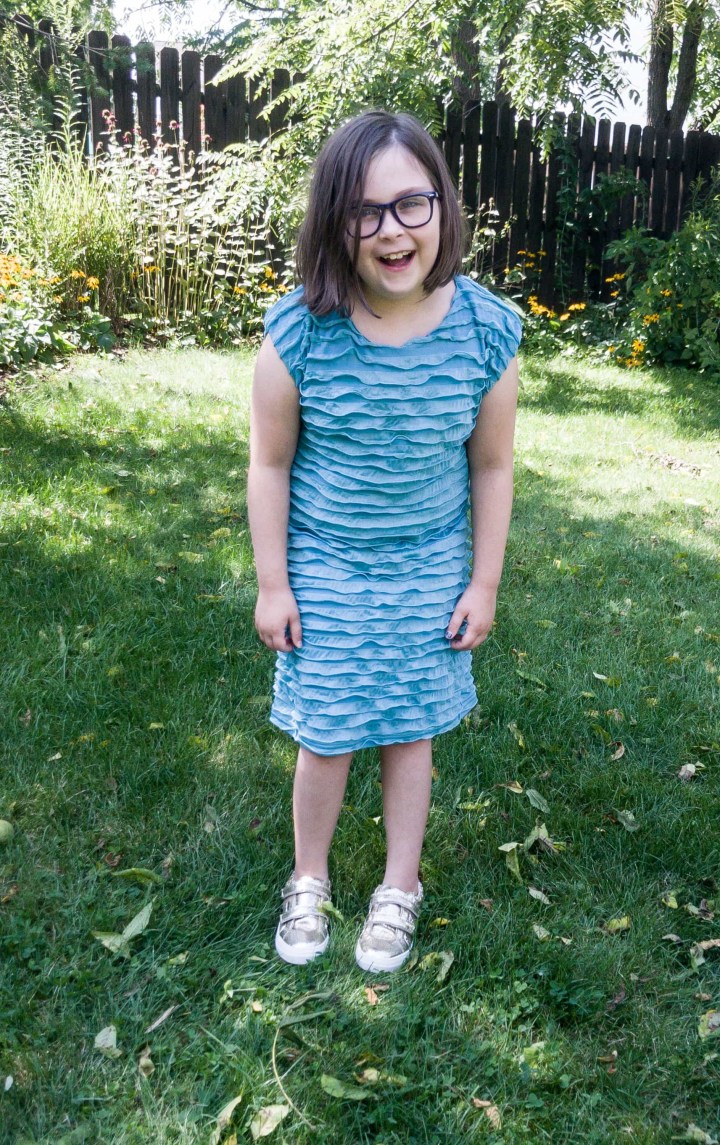 She thought this dress was excellent! It was comfortable and attractive and she wore it to go out to dinner with her grandparents. It was perfect to dress up an otherwise casual occasion.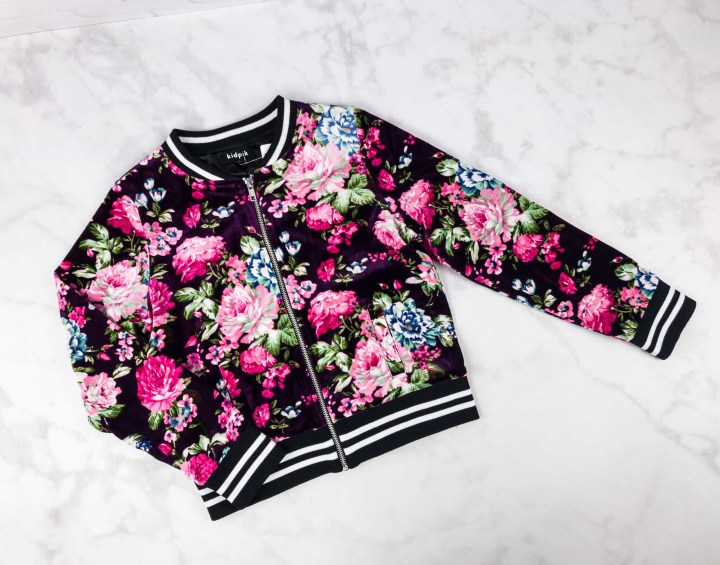 Floral Velour Baseball Jacket ($29.50): A cute floral jacket with black-and-white stripes around the collar, wrists, and bottom.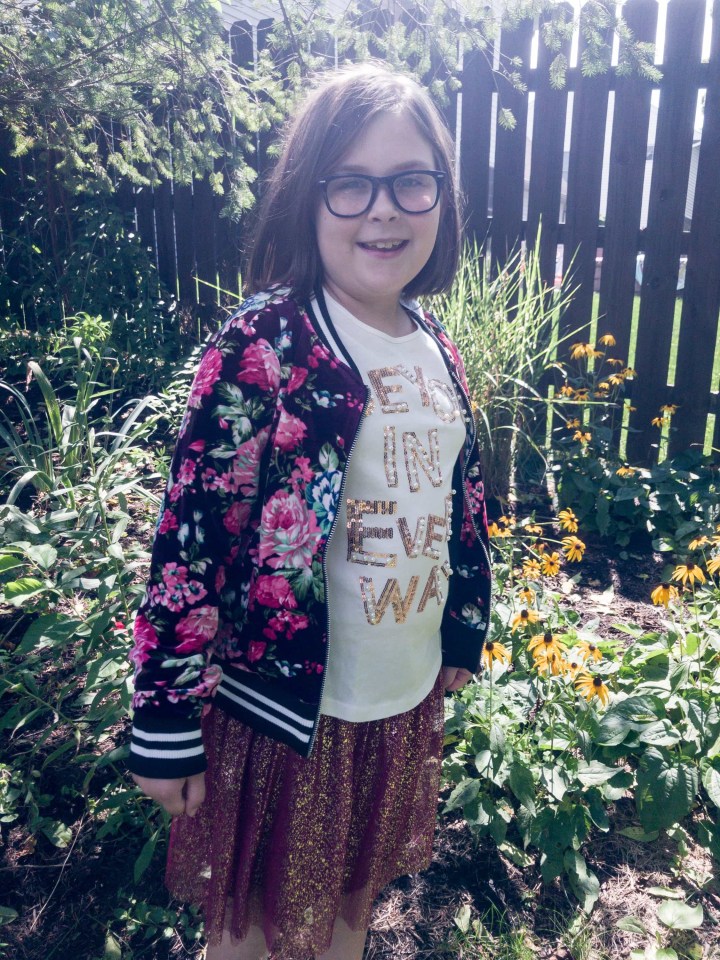 Obviously it matches the skirt above, but we keep them separate to avoid being overly matchy matchy. I'm particularly fond of the baseball ribbing at the cuffs and hems – it keeps it a little more fun!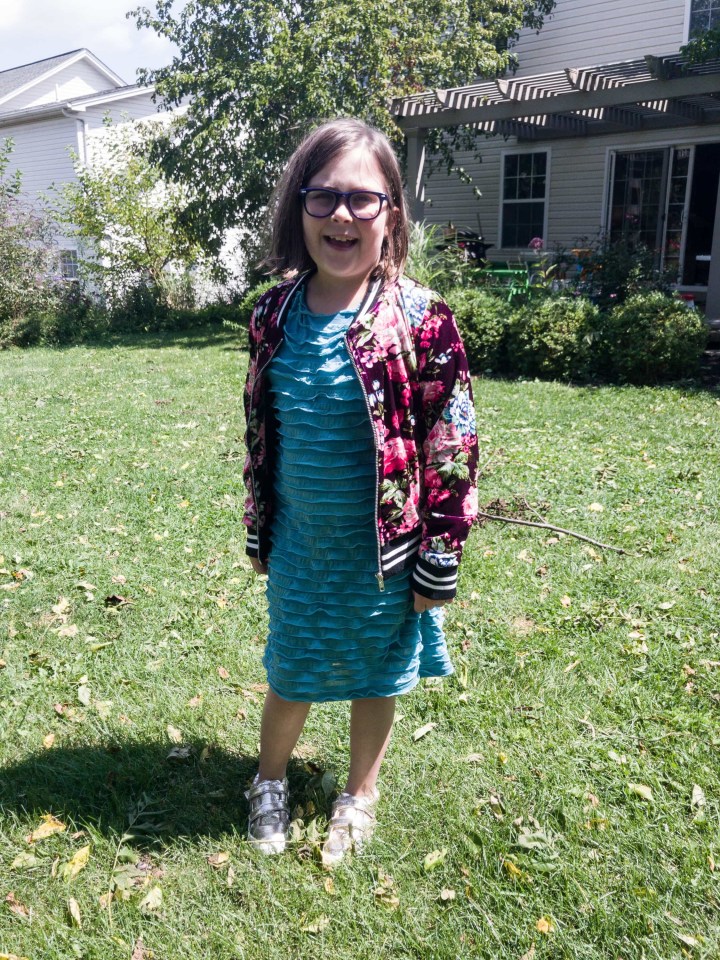 She's a super fan of the jacket and has been wearing it to school each day!
This box was a real winner for us. Every item was absolutely perfect, fit her style to a tee, were easy to wear, and my daughter has been reaching for them in her closet for weeks already. They have so many style options that if the clothes that match my daughter's profile don't work for your girl, just be sure to fill out the profile! I absolutely loved that I spent no time at all shopping for or selecting back to school clothes – with just one box she was all set (and if she needed more I could get the box more frequently). My daughter's wardrobe is filled with Kidpik goodies and they all hold up extremely well. We couldn't be happier with the box this fall!
What do you think about Kidpik?