Mommy Mailbox is a women's lifestyle subscription box with 4-6 surprise items.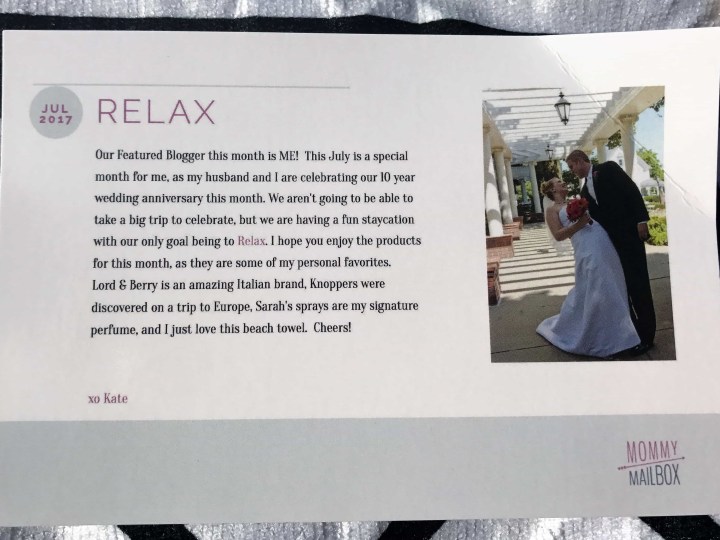 Each monthly Mommy Mailbox edition has been curated by a different guest blogger – however, this month it was curated by Kate Gray, the founder of Mommy Mailbox herself, in celebration of her 10 year wedding anniversary.  She chose the theme RELAX.
DEAL: Take $5 off the first box with a month-to-month subscription Use coupon code HELLO5.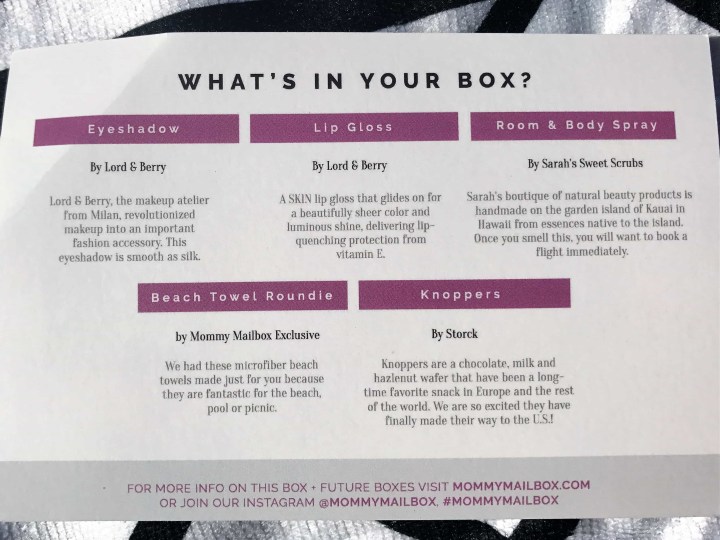 The information card gives bite-sized details on each item in the box!
Our box had 5 full-size goodies in it. Each Mommy Mailbox subscription box promises 4-6 items for $33.95. But, the retail value will be 2 to 3 times the price of the box! Cha-ching. And, shipping is free within the U.S.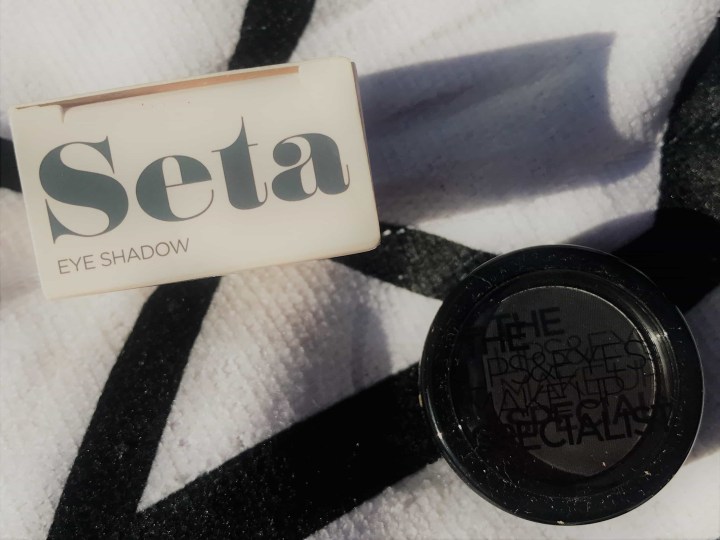 Eyeshadow by Lord & Berry ($15) – "Lord & Berry, the makeup atelier from Milan, revolutionized makeup into an important fashion accessory. This eyeshadow is smooth as silk."
The description of this eyeshadow on their website says that it is made with micronized raw materials that make it long lasting. I like that it is black. I plan on using it as a one step eyeliner, lid shadow.
Lip Gloss by Lord & Berry ($16) – "A SKIN lip gloss that glides on for a beautifully sheer color and luminious shine, delivering lip-quenching protection form vitamin E."
I like the sparkles. This is a great little gloss with just a touch of pinky peachy color.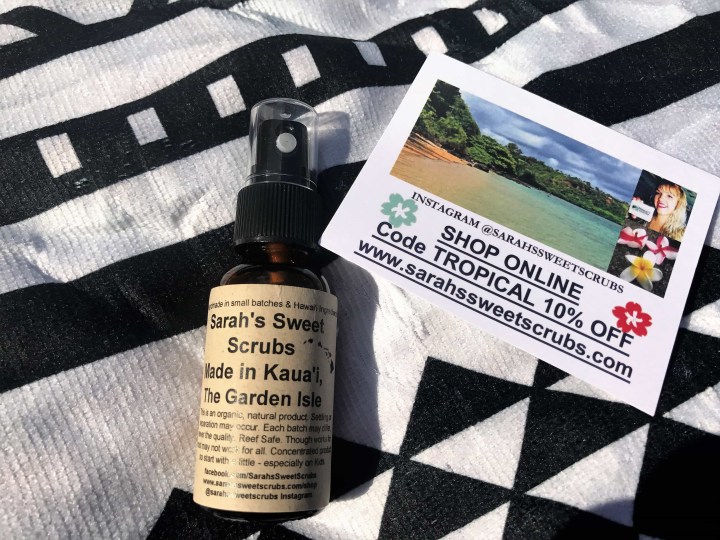 Room & Body Spray by Sarah's Sweet Scrubs ($25) – "Sarah's boutique of natural beauty products is handmade on the garden island of Kauai in Hawaii from essences native to the island. Once you smell this, you will want to book a flight immediately."
Okay, I have to admit, this isn't my favorite. It is made naturally with essential oils, which is great, but, to me, the scent is too mild. I don't dislike the smell, it is actually very nice. I just wish it was a little stronger.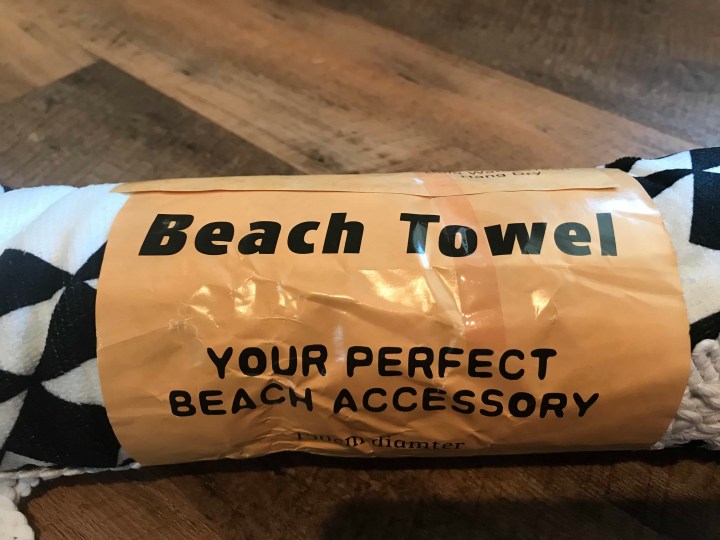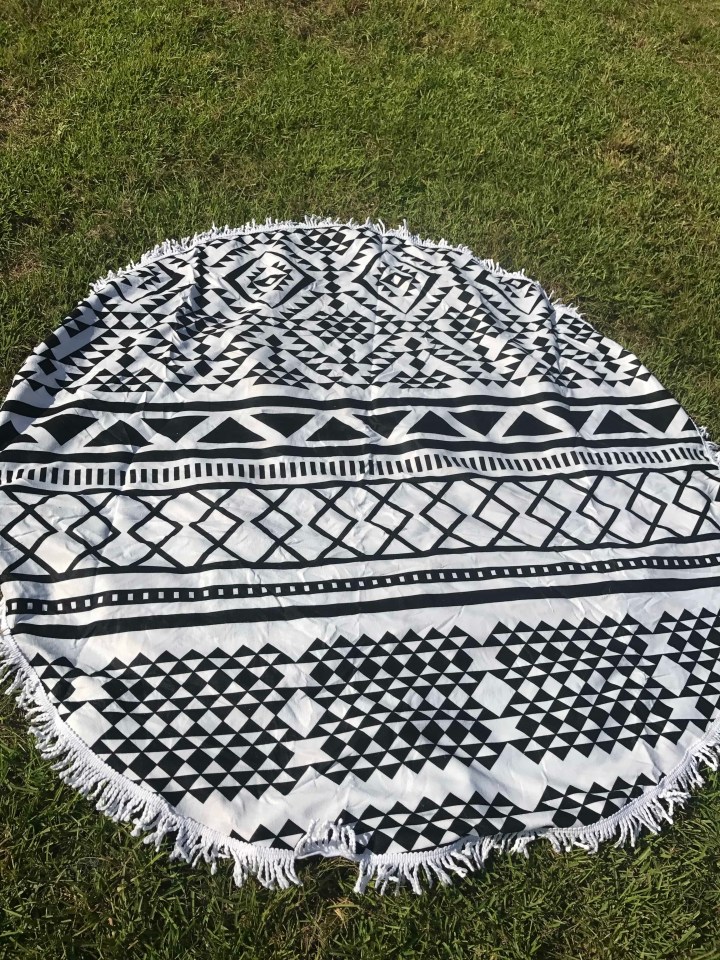 Beach Towel Roundie by Mommy Mailbox Exclusive (about $15) – "We had these microfiber beach towels made just for you because they are fantastic for the beach, pool or picnic."
This thing is awesome. I have been wanting one of these round beach towels. I would have preferred cotton (this one is 100% polyester), but it is still pretty cool. It is great for throwing out on the grass for an impromptu picnic.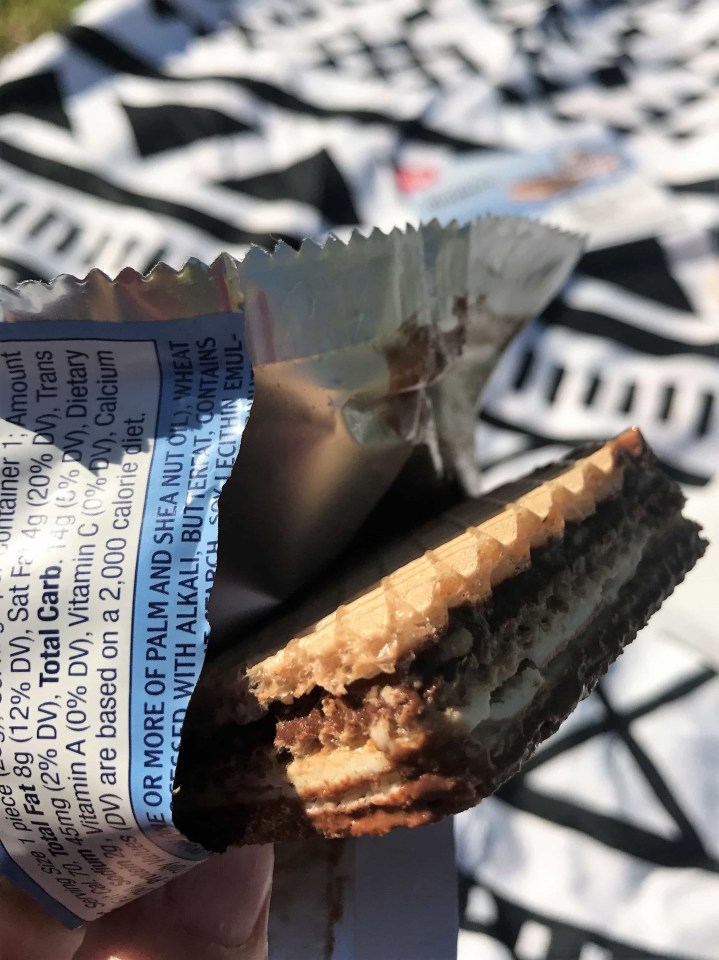 Knoppers by Storck (about $1.25 each in multipacks) – "Knoppers are a chocolate, milk and hazelnut wafer that have been a long-time favorite snack in Europe and the rest of the world. We are so excited they have finally made their way to the U.S.!"
It is hard to go wrong when you combine chocolate and hazelnut. I love it when they throw a yummy tidbit in the box that I have never tried before. And, these were delicious.
Mommy Mailbox is fresh with new curators and contents every month (some other boxes can get repetitive). And, the mix of items is great with beauty, household and snack items all thrown in. Plus, this month's value was over double the cost of the box, so it's a great deal too.
What do you think of Mommy Mailbox for this month?!