First Nibs is a monthly subscription of high-quality virgin chocolate bars by Raaka Chocolate. You can choose from either two bars a month ($19.95) or 3 bars ($24.95) and shipping is free in the U.S.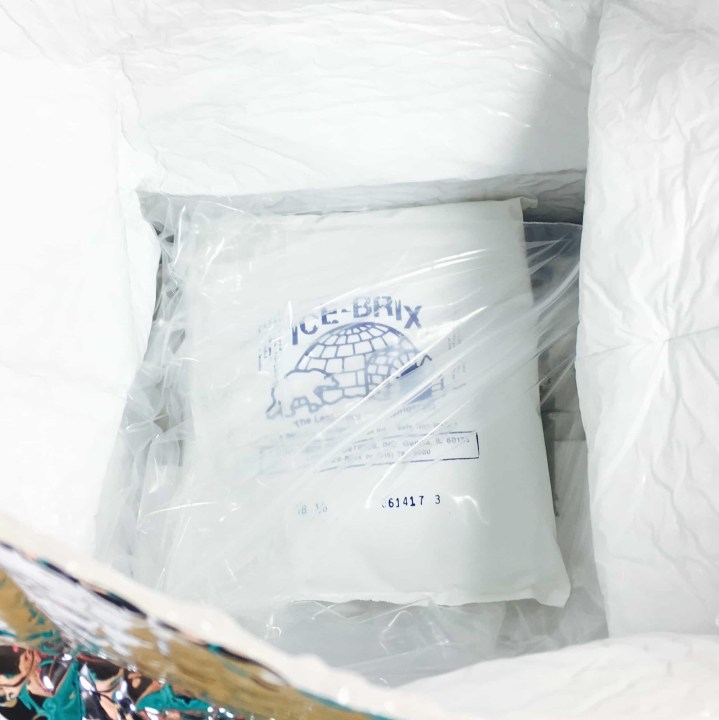 My bars were delivered by FedEx and were packed in an insulated silver bag with an ice pack on top. I've received chocolate with melted dry ice before, but this was an actual ice pack and I stuck it in my freezer for future use!
DEAL: Get 50% off your first month! Use coupon code 50HS OR 50FN.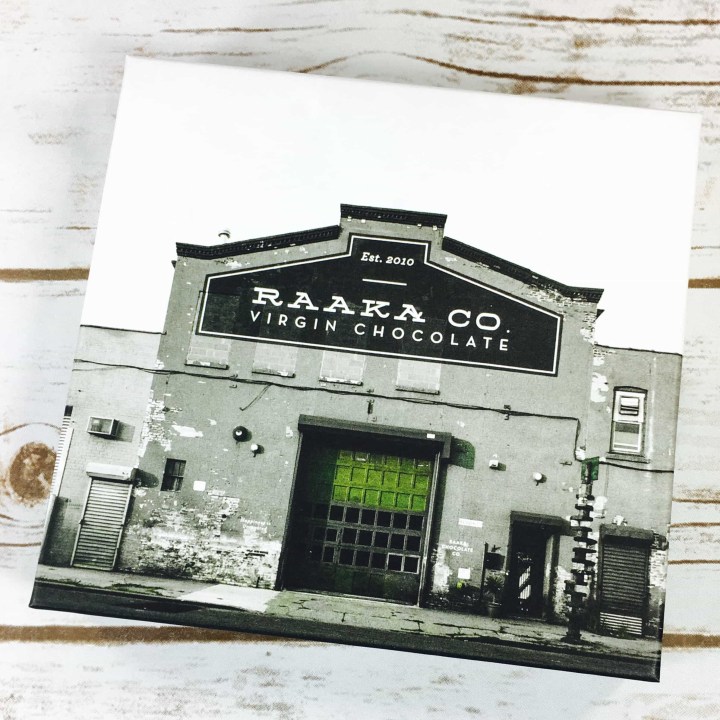 There was a box inside that has a shot of the Raaka factory, which is located in Brooklyn, NY. If you are in the area you can take a tour of the facility or even take a chocolate making class!
The inside of the lid had some more information on how Raaka makes their bars. "Raaka" means "raw' in Finnish, and they liked the sound of the name, which fits in with their use of unroasted cacao.
There was a note inside with info on the chocolates, and July was an ode to summer fruits.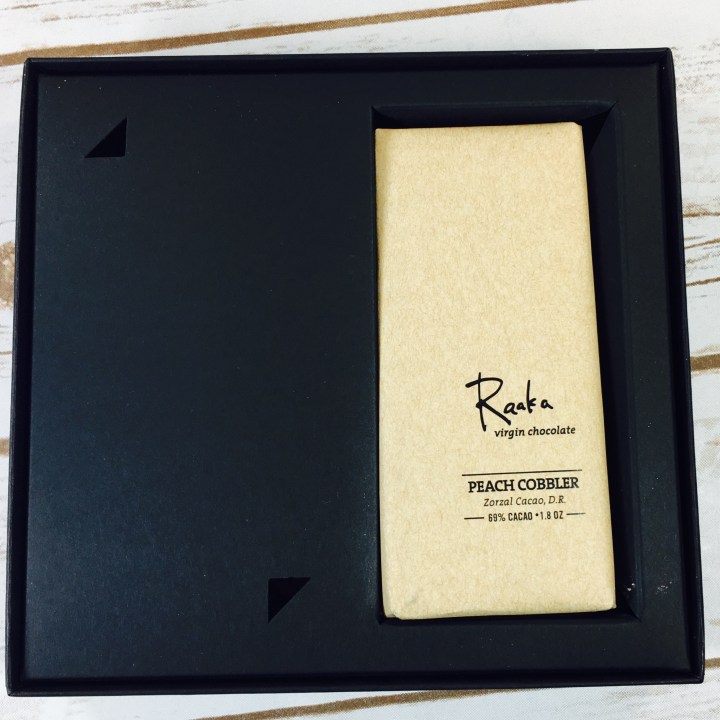 Yay, chocolate! The two-bar box comes with "two completely novel and seasonal chocolate bars", while the three-bar box comes with a classic bar.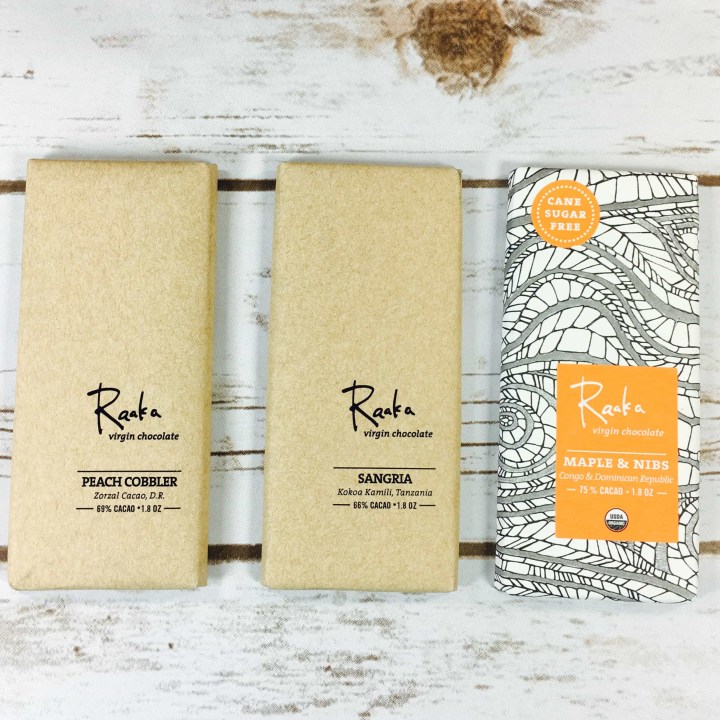 I am reviewing the three bar box!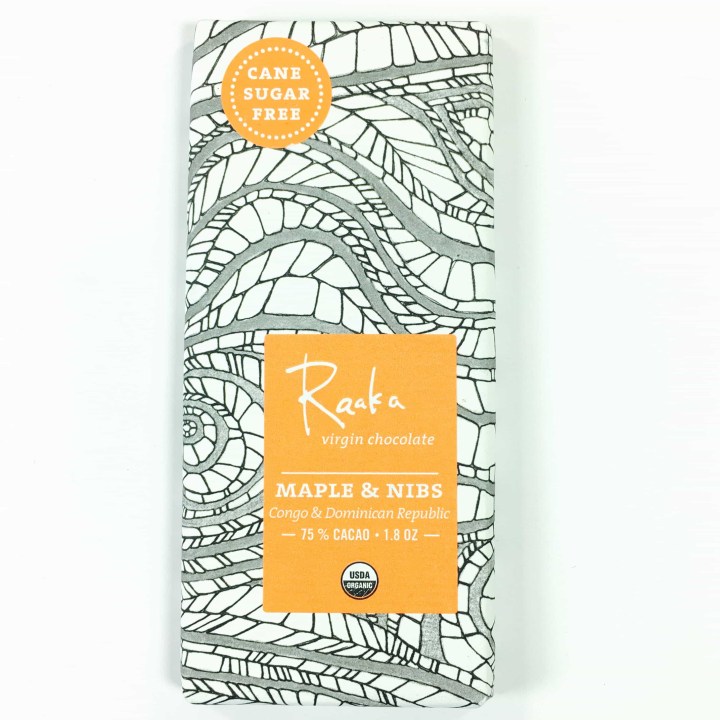 Maple & Nibs "We combine maple sugar and unroasted cacao for a rich, warm duo with deep fudge flavor. Toasted nibs add an addictive crunch. This bar reminds us of a pecan brownie. Pair it with a coffee or a good glass of whatever milk we're all drinking these days."
There are only three ingredients in this bar, yet it manages such deep flavor.
I love roasted cacao nibs – they remind me of roasted coffee beans but without the coffee taste. It doesn't taste like my homemade brownies, but is closer to one of those deep dark chocolate flourless brownies, and the nibs give it that nutty bite.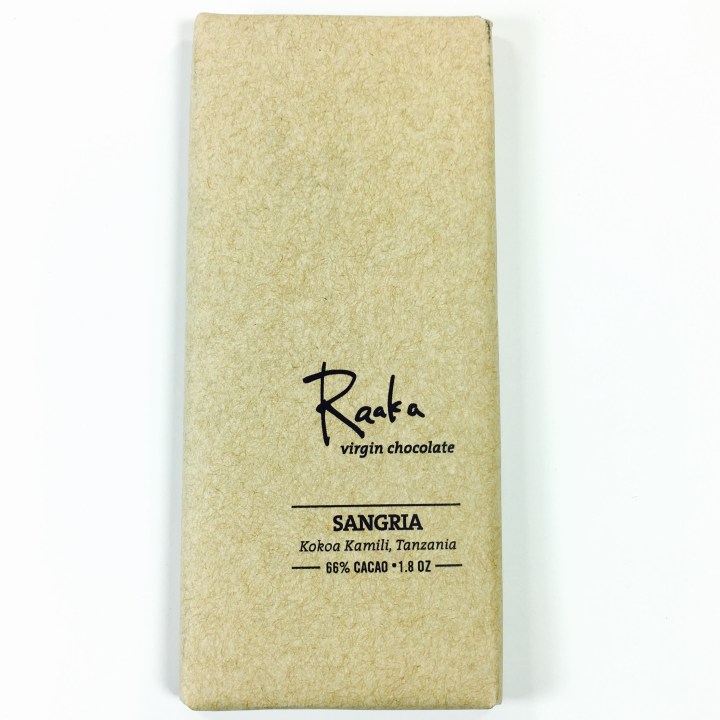 Sangria isn't listed in the online shop – it's one of the novel bars and I'm not sure if it will be available in the future.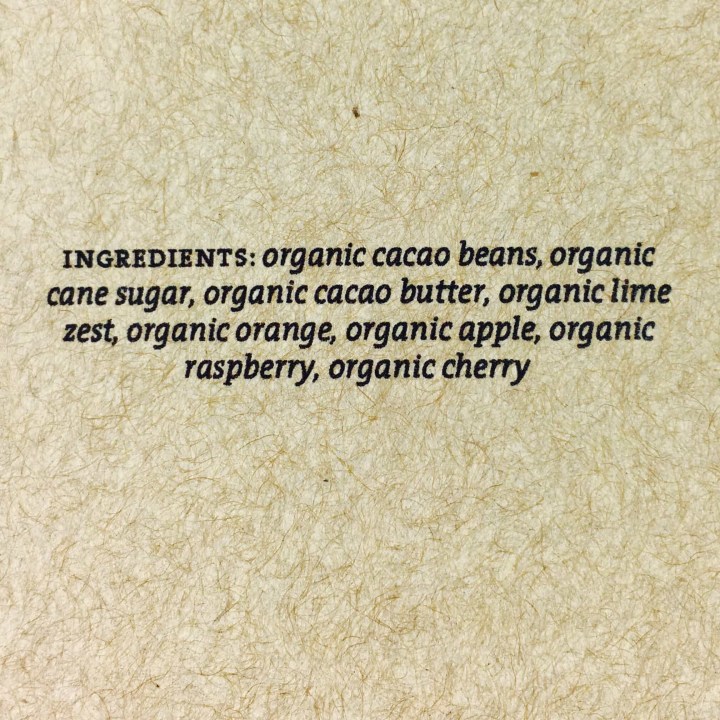 Again, a simple list of few ingredients, inspired by a popular summer sipper.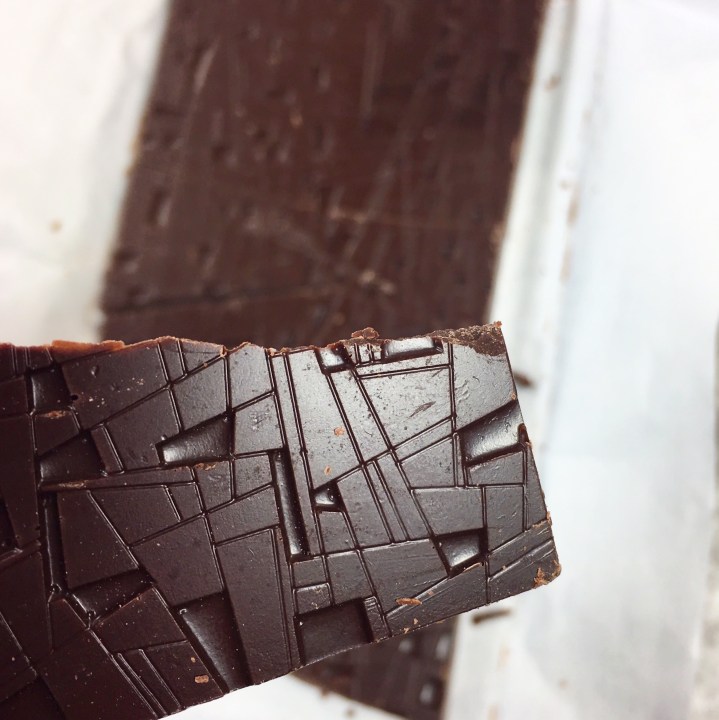 This was my favorite of the three. It has that dark chocolate flavor but it also has tangy/sweet nuances, like cherries and berries, and I loved it!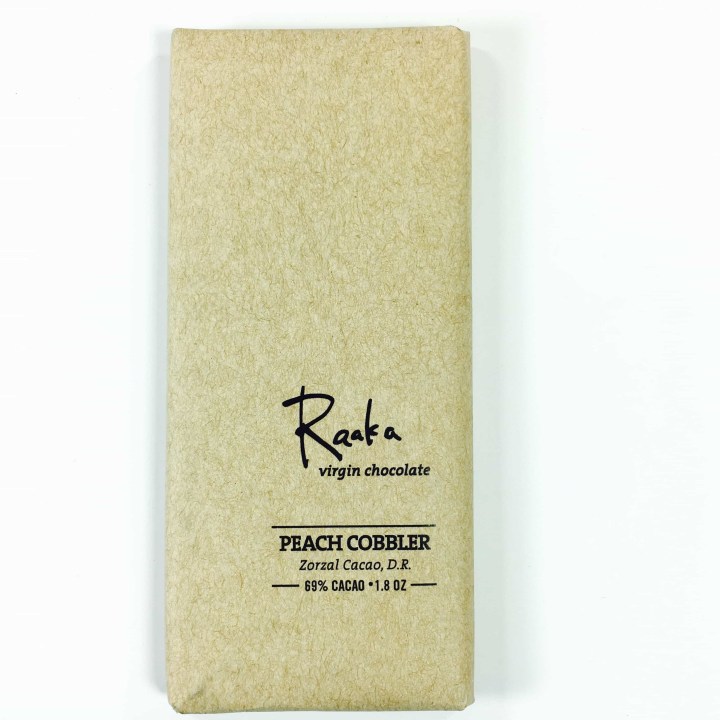 Peach Cobbler I don't know that I've ever put peach and chocolate together, but maybe I should try to do that more often in the future.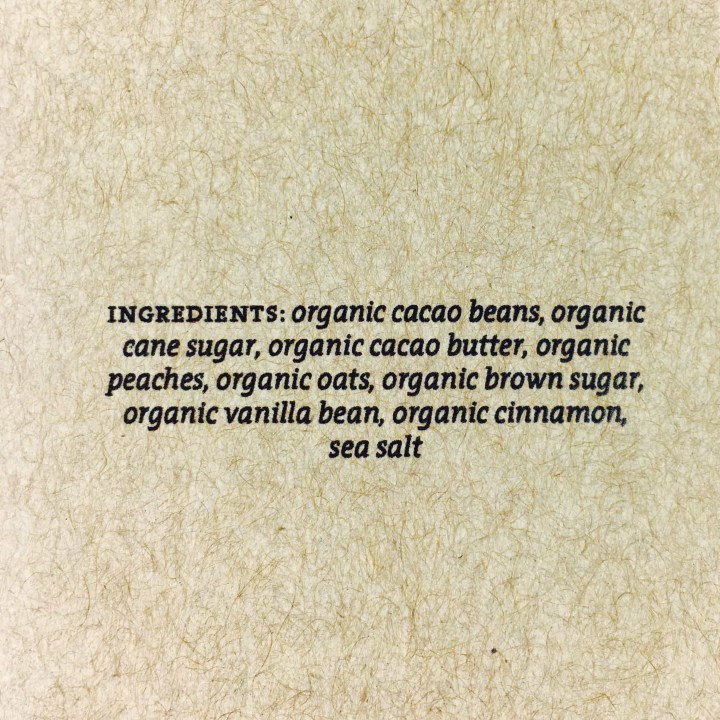 This one had the longest list of ingredients but they are still very simple.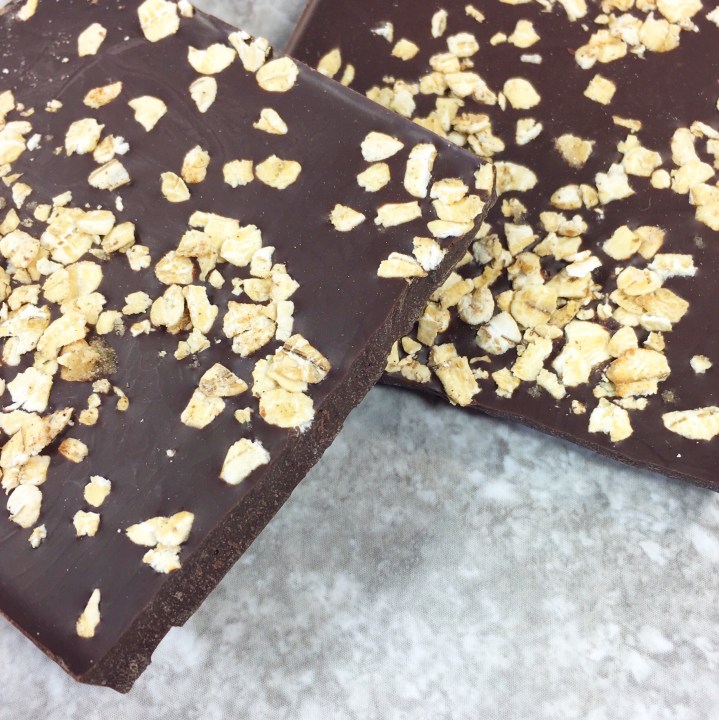 This is the bottom of the bar, but look at the crumble! They added nice texture to the bar and again, the fruit flavor was subtle but delicious.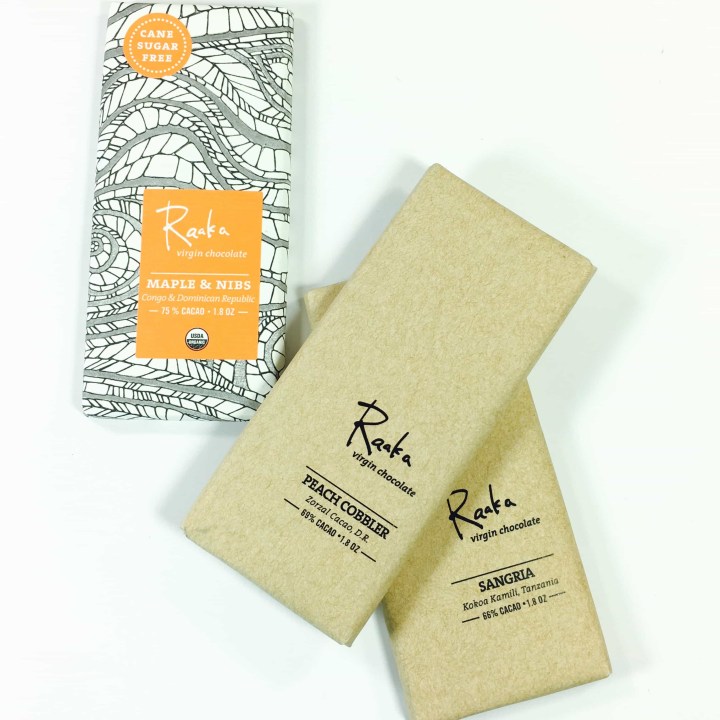 What can I say, this box was a hit with me and my family! Each bar was super smooth and had deep flavor, but they didn't all taste the same. The simple ingredients and care and quality that went into these bars shows, and I savored each bite, rather than scarfing it down in one go. Based on the price of the bars in the online shop, which are around $7.95 a bar, the box had a value of around $23.85. Shipping is included, which adds to the value, plus I have a new ice pack in my freezer!
Have you tried First Nibs by Raaka yet? Let me know what you think of the box in the comments!
Visit Raaka Chocolate First Nibs Subscription to subscribe or find out more!