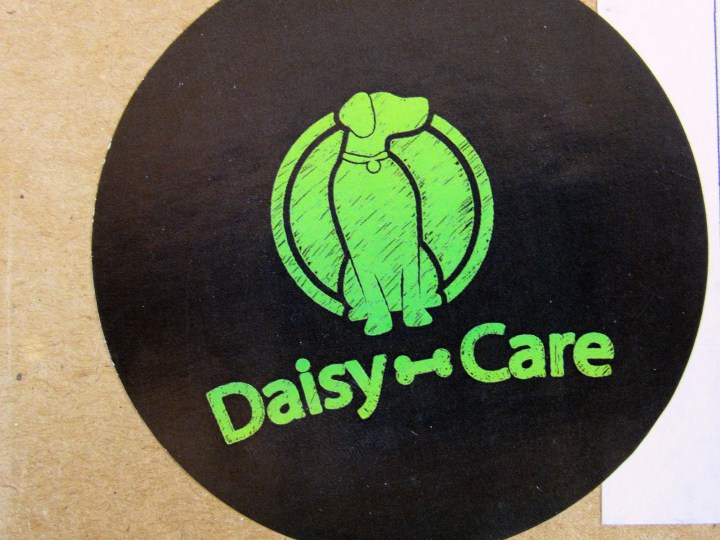 Daisy-Care focuses on the bonding experience between you and your dog with Everyday Subscription Care Packages which include delicious treats for your doggy! Daisy-Care boxes have two options. Option one is a Treats Subscription available in Small, Medium, and Large sized dogs. Option two is a Treats & Toy Subscription available for Small, Medium, and Large size dogs. The Treats & Toys Subscription is further customized with a Gentle or Ruff Toy. All dog treats are made in the USA. There is a toy sizing chart if you are unsure what size to order.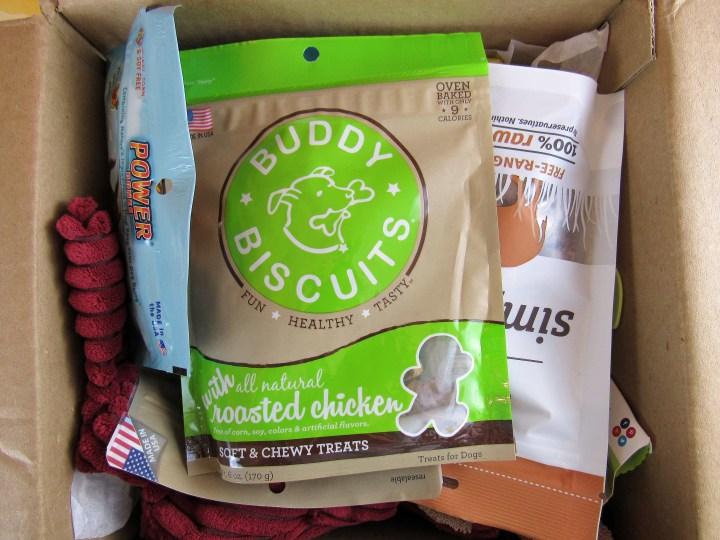 DEAL: Save 10% on any purchase with coupon code WELCOME.
Here are the items for the August Daisy-Care Box. Odie, our Borader, sat next to the box and gave me the sad eyes until I opened it for him. An information card was not included in the box, as the box is customized! This review is for the Everyday Treats and Toy Subscription Care Package – Large Dog. Bella the Rat Terrier, Daisy the English Shepherd, and Odie the Borader will be our reviewers.
It's an adorable Large HuggleHounds Plush Corduroy Durable Knotties Fox Dog Toy ($19.99 Amazon) hiding in the shrubbery. He has a  small squeaker in each paw and a large squeaker in his body. The 15″ toy is an excellent size for Daisy and Odie.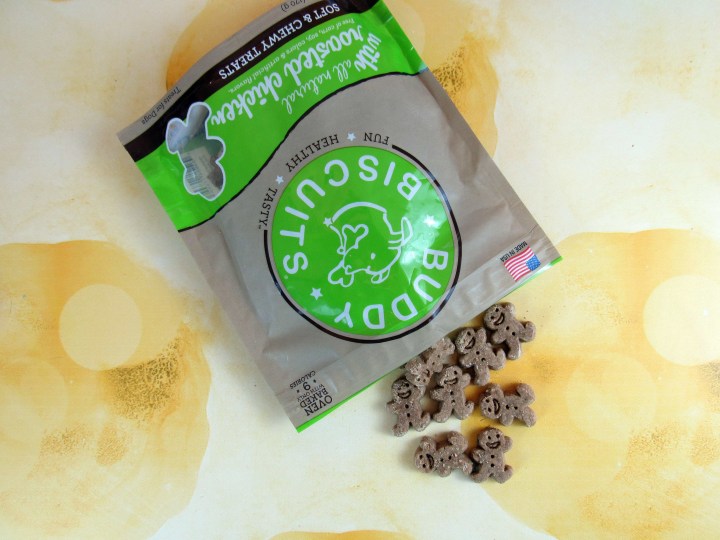 Bella and Odie found the Buddy Biscuits Roasted Chicken Soft & Chewy Treats (6 oz, $4.69 Chewy) to be irresistible. The Made in the USA treats do not contain corn, soy, colorings, or artificial flavors.
All three doggies were willing to show off their tricks to earn their Tricky Trainers Salmon Flavor Treats (14 oz, $9.18 Amazon). The Made in the USA treats are free of wheat, corn, and chicken. Daisy is a happy girl because I can use these treats in her treat ball.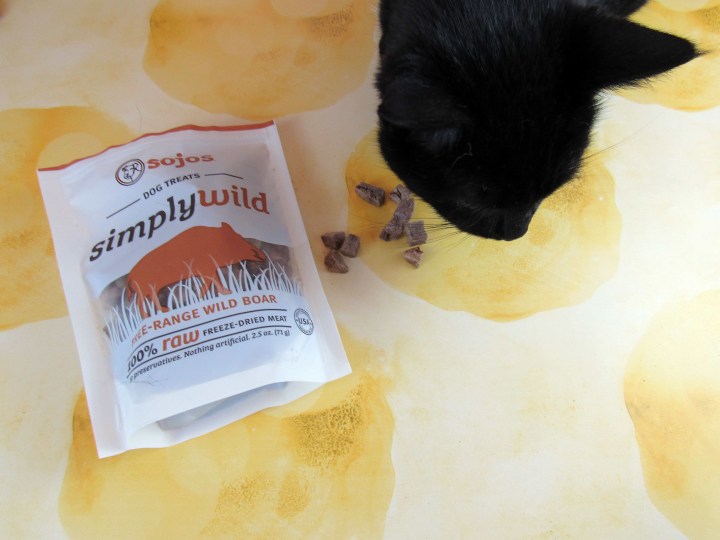 Look who is checking to see if the coast is clear to snatch a couple of Sojos Simply Wild Free-Range Wild Boar 100% Raw Freeze-Dried Meat Treats (2.5 oz, $10.45)! The handmade in the USA treats are made from 100% wild boar.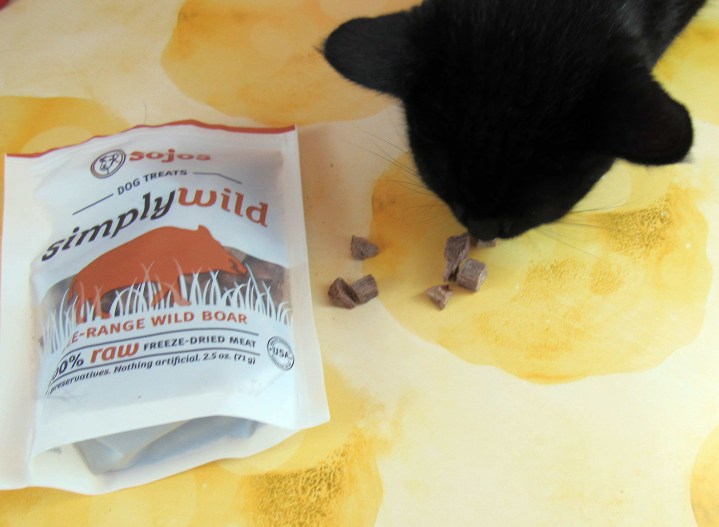 The training-size treats were enjoyed by all. They are freeze-dried by Sojos under their own roof in Minneapolis, Minnesota.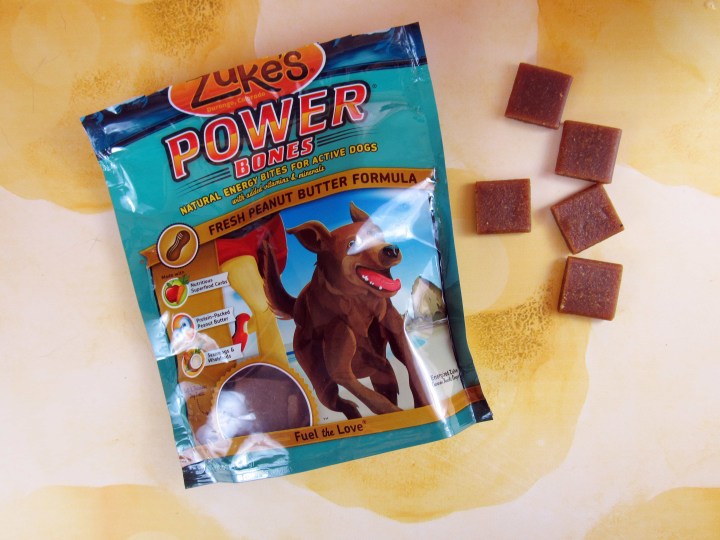 All three dogs love anything from Zukes including the woofilicious Zuke's Peanut Butter Power Bones Treats (6 oz, $5.43 Amazon). Feed the treats before, during, and after activities or as a snack. Odie wants them all because they contain delicious peanut butter.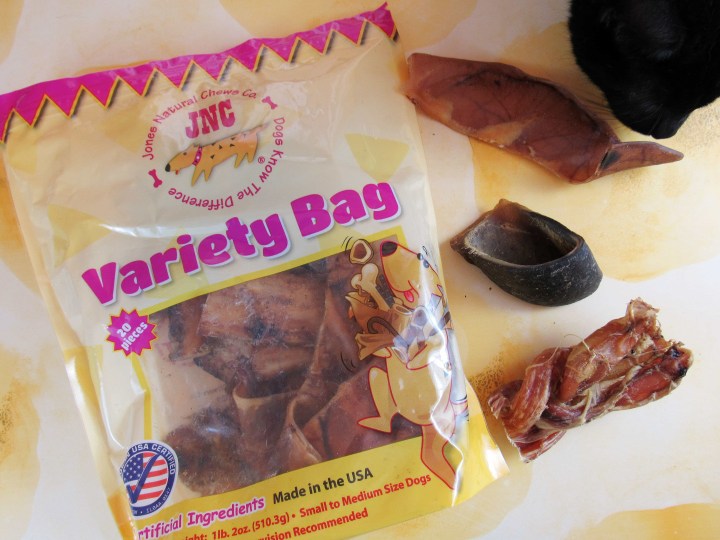 Odie watched Midna carefully as she gave the Jones Natural Chews Co Variety Bag (1 lb 20z, 20 pieces, $14.74) a good sniff and decided that they were not cat treats. The sourced and made in the USA treats delighted the dogs.
Odie did worry that he picked the wrong treat. He had too many choices.
I chuckled a bit because there is no way I would try anything in the bag, but I do appreciate the warning that it is not for human consumption.
Time for dog pictures! Bella refused to dress up and wear a bandana.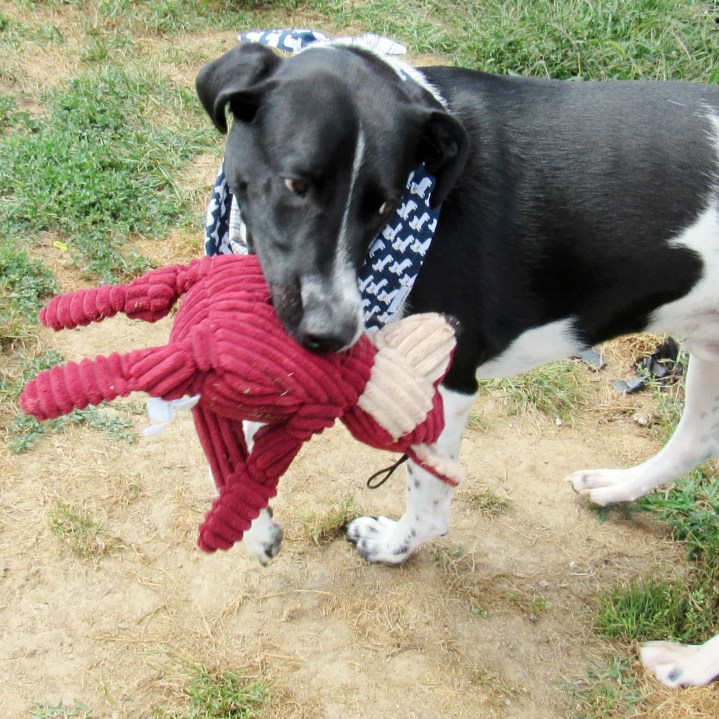 Odie is undecided if he wants to share his toy with Bella. He was more interested in carrying it around the yard than playing tug-of-war with her.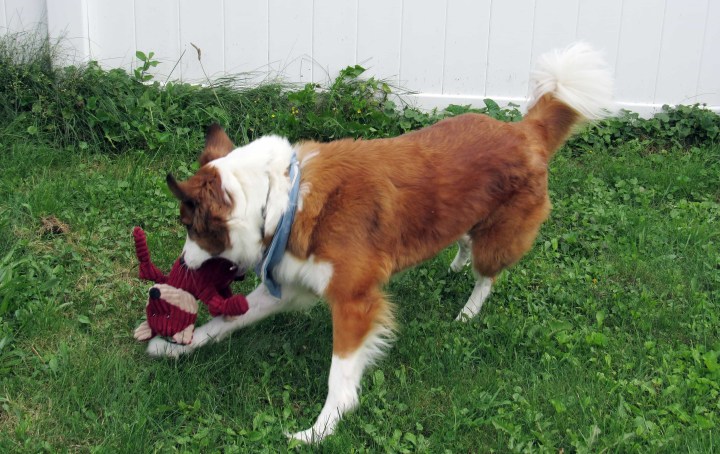 Daisy enjoyed catching her baby and trotting around the yard with him.
Odie is a happy dog as he smiles at the camera.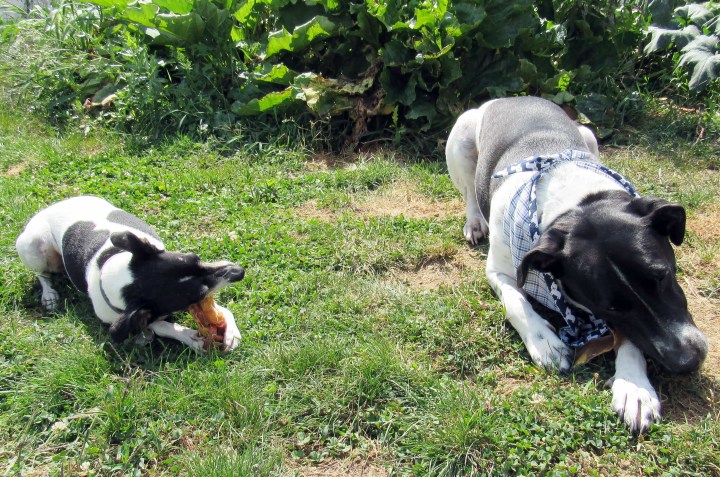 He decided that his treat was just as yummy as Bella's.
Daisy came out a little later and finished up Bella's chew. All three doggies had fun playing and taste-testing their treats before the storm came.
All three dogs and Midna loved the August Daisy-Care box. There were plenty of high-quality treats for them to enjoy.  The Hugglehounds  Fox Toy was adored by Daisy and Odie. Daisy-Care comes through with a fantastic care package for people to enjoy with their dogs!
Have you tried Daisy-Care yet? What do you think of this month's box?